Profile: Simon James – Phuket's jet-setting race officer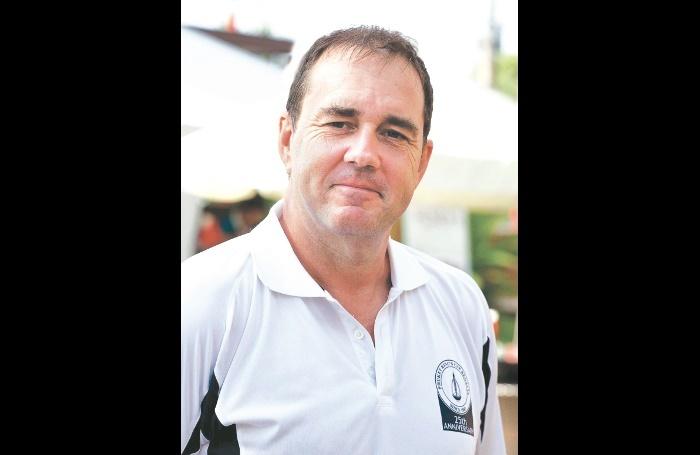 PHUKET: The yachts may change, the weather always, but one constant in the Phuket yacht racing firmament is Race Officer Simon James. Up at the crack of dawn and ready on the start line as the racers roll out their sails, Simon James has officiated at almost every regatta in the Andaman and the Gulf of Thailand since the turn of the century.
Despite his being a resident on the island, it's rare to come across him when there isn't a race in the offing. That's because as popular as he is for his steadfast on-water management in Thailand, he is equally in demand on the start boats of regattas across Asia and Oceania.
"To be honest, these are the only times I'm in Thailand these days," says Simon during our meet at the Phuket Yacht Club where he was prepping for the Multihull Regatta and getting organized for the Cape Panwa Hotel Phuket Raceweek.
Once he's packed up at Raceweek, he's back in the air. "The following week I'm in Hong Kong and China, then I'm off to the Hamilton Island Race Week in Australia. Back on August 29, then I go straight to the Asia Kiteboard Championships in China. Then a meeting for the China Cup, the Foiling Kiteboard Worlds, and after that I've got to go to the UK for an IRC meeting in Rourke. Then it's straight back out to Asia for the China Coast, the China Cup and the Hainan race – they're all back to back – then the Raja Muda (in Malaysia), then it's the King's Cup here in Phuket.
That final stop on the calendar, the King's Cup, is where Simon first officiated at the start line, back in 2000, but his involvement dates back to his first months in Phuket in 1995, when he came to the island to set up the RYA sailing school.
Simon went to work for yacht charter operator Sunsail and encouraged the company to get more involved in events like the King's Cup to better serve their client base. "We didn't have a big budget for sponsorship but we (Sunsail) could provide products and support."
That initial impetus from the island's largest charter outfit at the time led to long-term benefits for the island's top regatta. Today, the King's Cup boasts a 25-30 strong charter boat class, with a further 30 yachts chartered to compete across a range of other classes, making the charter yachts a significant component of the fun and games at the regatta.
Simon's involvement in regattas does not begin and end on the water. As representative for the UK's Royal Ocean Racing Club and a World Sailing International Race Officer, he is committed to training a whole new generation of Asian race officers at regattas around the region, who he admits will ultimately replace him.
He is also focused on helping to develop new and exciting formats of racing for the regattas he works on. This includes current negotiations to bring an international kiteboarding event under the umbrella of the King's Cup and a plan to deliver a whole new fleet of high-speed catamarans – the M32s – into the Asian circuit. These 32-foot cats have replaced monohulls for the world match racing series and Simon hopes to have them in a class of their own at the next King's Cup.
"The plan is to bring a container load of 6-8 boats to the region," he explains. "Basically the company ships them to an event and set up everything. Then the owners fly in, get on the boats and race them."
Despite his globe-trotting lifestyle, he still happily calls Phuket home and is well aware that his success as a race officer began right here.
"As far as I'm concerned, this is a great stop-off point in between going places," he says.
— Simon J Hand
Keep in contact with The Thaiger by following our
Facebook page
.


Have something to say? Scroll down to leave a comment, or visit our Thaiger Thailand Q&A Forum to discuss people, events, to-do and more with the local community.

John Legend & Chrissy Teigen check out the tastes at a Korat Market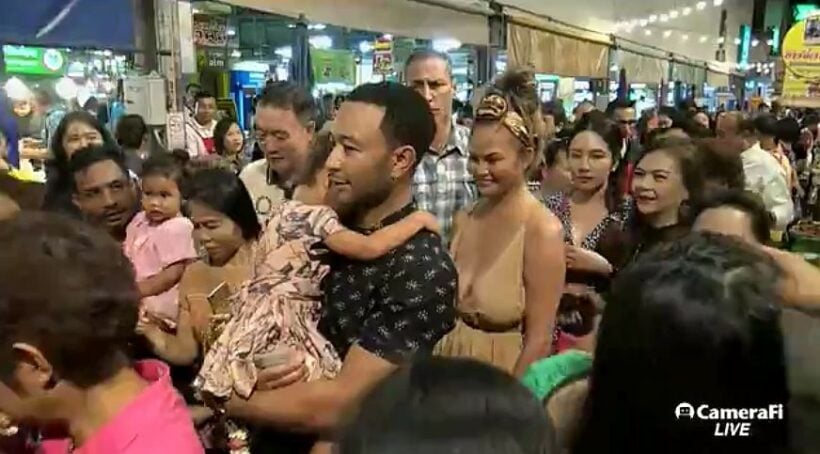 American music legend, John Legend, and his Thai-American wife Chrissy Teigen headed to a Nakhon Ratchasima food market only to be surrounded by locals trying to get a quick selfie.
The army of fans surround the musician, his wife and daughter to follow them around the market in the 25 minute Facebook post. It was smiles all around but as the video wears on so does the patience of the American singer whose only protection appears to be a plain-shirt body-guard who is at least 40 centimetres taller than everyone around him (he doesn't stand out at all).
A Thai policemen comes to their rescue and helps escort them somewhere a bit quieter.
Legend's model wife Chrissy Teigen is seen almost wearing her dress as any number of wardrobe malfunctions appear moments away from happening throughout the video.
The family were reported to have visited a number of famous Korat landmarks during their visit to the area.
Legend performed in Bangkok in March 2018 this year as part of his Darkness and Light tour.
Keep in contact with The Thaiger by following our
Facebook page
.
Phuket's lifeguards say goodbye to a champion of local beach safety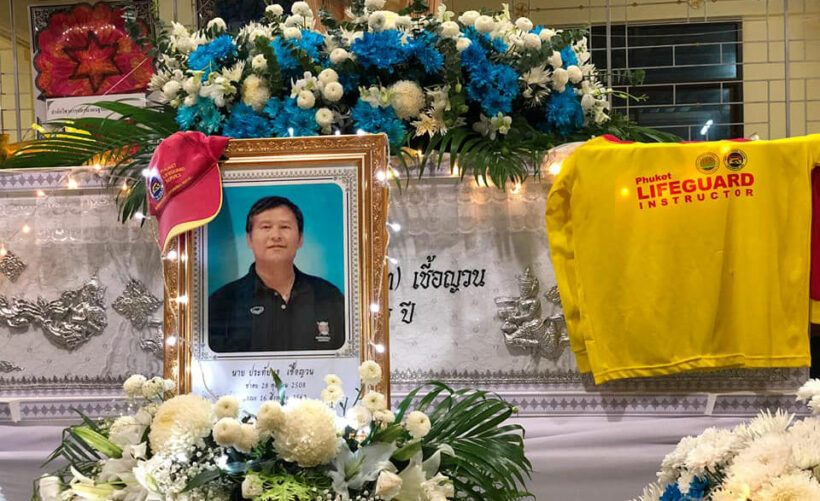 PHOTOS: Phuket Lifeguard Service
A commemoration ceremony has been held for Prathaiyuth Chuayuan, a local Phuketian who helped drive Phuket's first beach lifeguard services. He passed away on Friday morning after a heart attack.
He first experienced chest pains whilst delivering his daughter to school in Phuket Town on Friday morning, drove himself immediately to the Vachira Hospital nearby but succumbed to cardiac arrest around 9am.
He was 57 years old.
He worked with Australian lifesavers to help train local lifeguards and improve the skills of the Phuket's beach enthusiasts, and finally sought international accreditation for the growing body of competent Phuket lifeguards.
The Phuket Lifeguards Service, founded and run by Prathaiyuth and his wife Witanya, saved innumerable lives each year whilst battling Provincial Hall and local government for increased funding in annual contract negotiations.
Daren Jenner, a FOT (Friend of The Thaiger) and local safety officer for the International Surf Lifesaving Association, sent a message to us expressing his deepest condolences to Prathaiyuth's wife, family and friends.
"I had many good conversations with him over the years. He was a good-hearted man who did his best in difficult and changing circumstances. A very big loss for Phuket and the lifesaving community here. ISLA sends our deepest respect for his long commitment to ocean safety in SE Asia."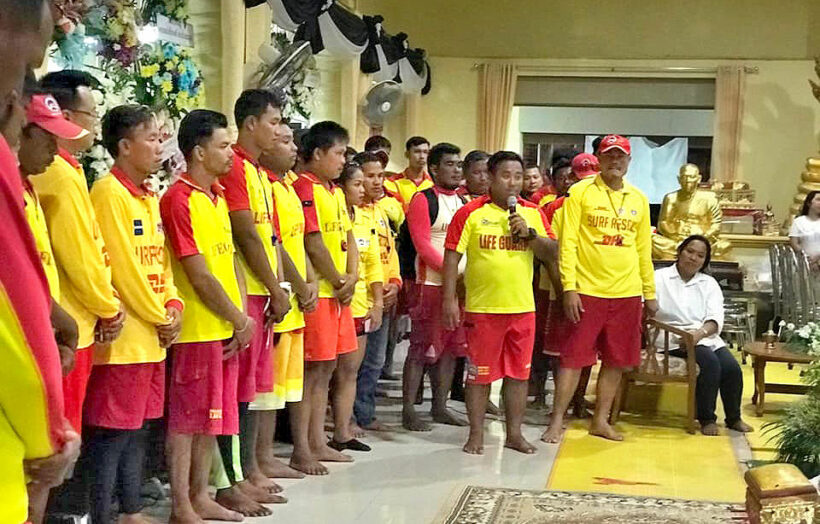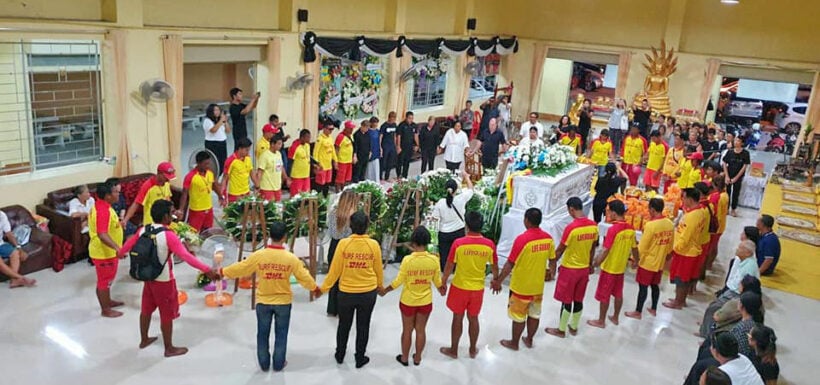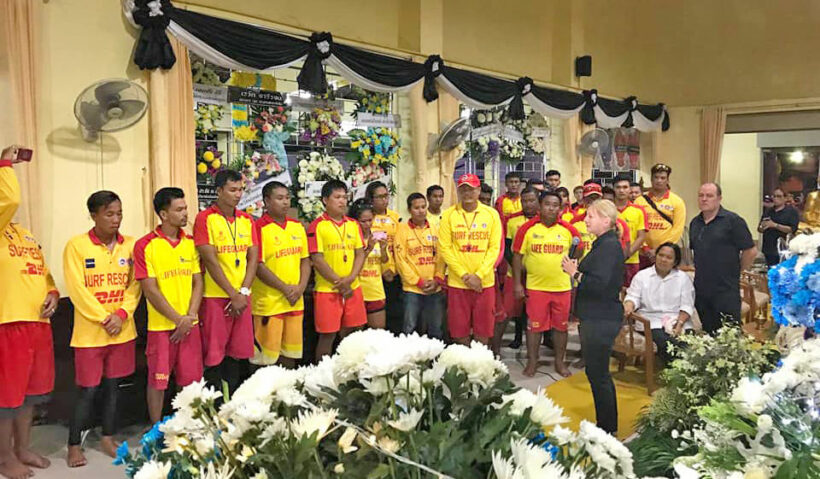 Keep in contact with The Thaiger by following our
Facebook page
.
Happy Birthday to Her Majesty Queen Sirikit, the Queen Mother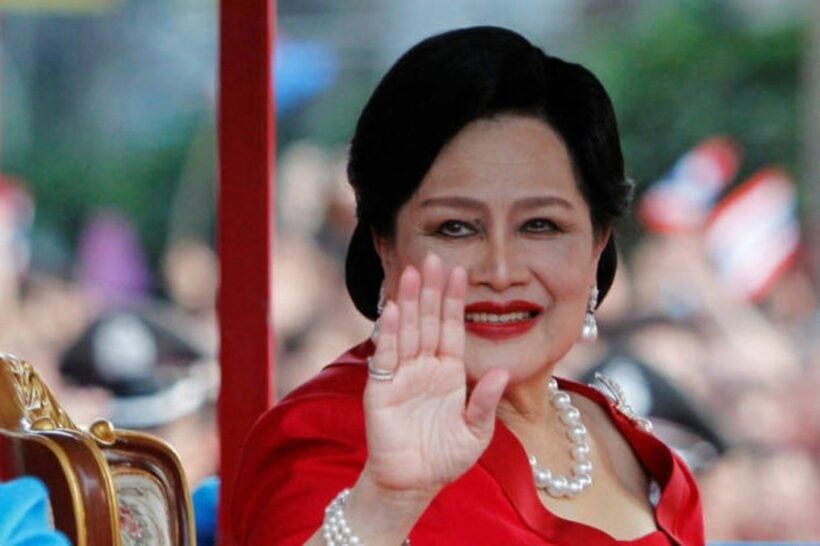 Today is the birthday of Her Majesty Queen Sirikit who was married to King Bhumibol Adulyadej. Following the Coronation of His Majesty King Maha Vajiralongkorn, her son, and his marriage to the new Queen Suthida, Queen Sirikit has now been bestowed the title of Queen Mother.
Her Majesty Queen Sirikit is the daughter of His Highness Prince Chandaburi Suranath (Mom Chao Nakkhatra Mangkala Kitiyakara) and Mom Luang Bua Kitiyakara (nee Mom Luang Bua Snidwongse).
She was born on August 12, 1932.  She attended kindergarten class at Rajini School, but subsequently went to St. Francis Xavier convent school at Samsen District in Bangkok.  Her father later on became Thai Minister to France, then to Denmark and, ultimately, Ambassador to the Court of St. James in England.  Her Majesty accompanied him and continued her general education in the three countries and lastly in Switzerland.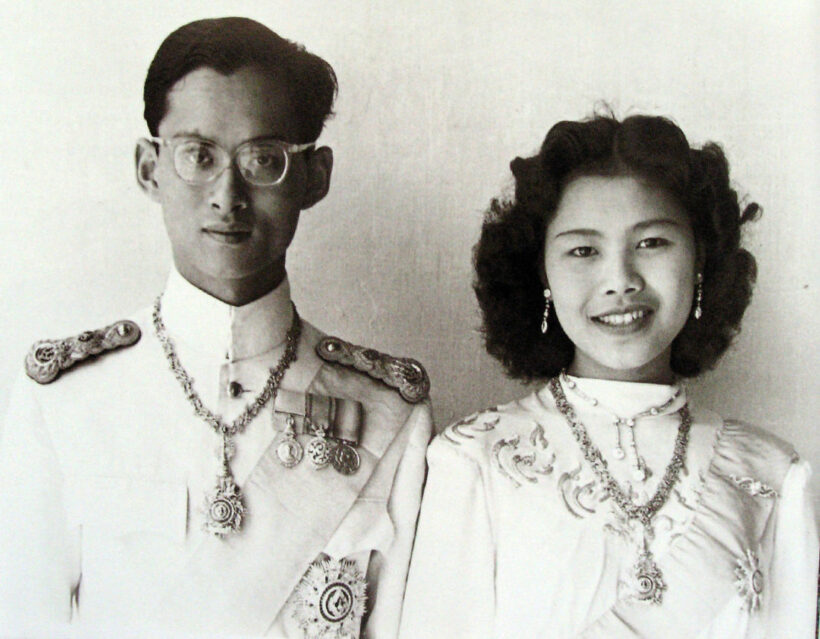 It was while her father was stationed in Paris that she first met His Majesty King Bhumibol Adulyadej, who was then studying in Switzerland but went now and then to Paris.  The chance meeting in Paris ripened into friendship and understanding.  When His Majesty met with a very serious motor accident in Geneva, Switzerland, and had to stay in a hospital at Lausanne, Her Majesty was a frequent visitor.
When His Majesty was well again and left the hospital, he was graciously pleased to arrange for Her Majesty to continue her studies at Riante Rive, a boarding school in Lausanne.  On July 19, 1949, Their Majesties were quietly engaged in Lausanne.  On March 24, 1950, Their Majesties landed in Bangkok by ship after a long absence.  On April 28 of the same year, the royal wedding took place at Pathumwan Palace.
The couple had three daughters and one son:
Princess Ubolratana Rajakanya (born 1951), married and divorced American businessman Peter Jensen, had two daughters and one son, their son was killed in the 2004 tsunami.
King Maha Vajiralongkorn (born 1952), married Suthida Tidjai just days before his Coronation this year. He has seven children from previous marriages.
Princess Maha Chakri Sirindhorn (born 1955), unmarried.
Princess Chulabhorn Walailak (born 1957), married Virayudh Tishyasarin, an Air Vice Marshal in the Royal Thai Air Force, had two daughters, divorced.
In 1956, King Bhumibol became a Buddhist monk for a period of time as is customary for Thai Buddhist males and Queen Sirikit served as Regent. Because of the excellent way she served as Regent, King Bhumibol gave her the style "Somdet Phra Nang Chao Sirikit Phra Borommarachininat" which would translate to Queen Regent.
Queen Sirikit is well known for her charitable work. She has been President of the Thai Red Cross Society since 1956. Through the Thai Red Cross, the Queen has been active in relief work for the many refugees from Cambodia and Burma in Thailand. The Queen took an active role in the aftermath of the tsunami disaster in southern Thailand in December of 2004. Tragically, the tsunami took the life of her grandson Bhumi Jensen, the son of her eldest daughter.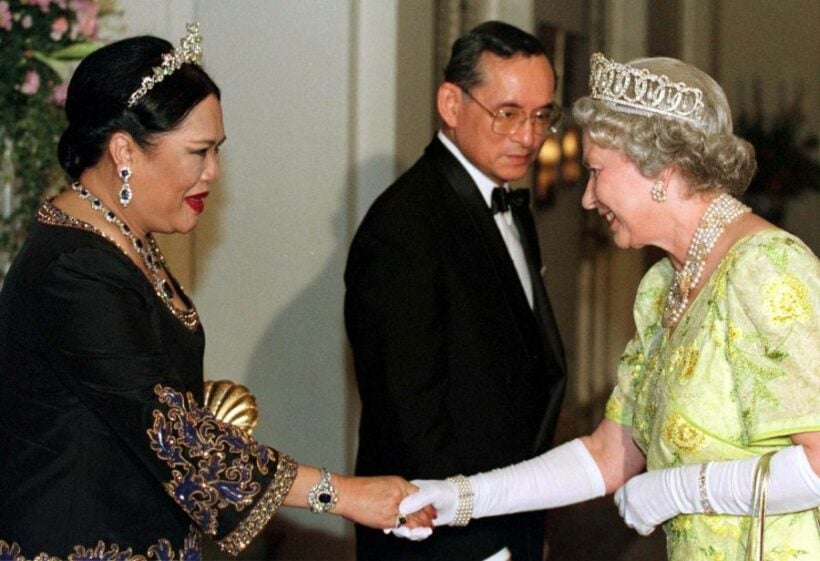 The health of King Bhumibol Adulyadej declined in his later years. The king resided at Siriraj Hospital in Bangkok for several years and Queen Sirikit also moved to the hospital to be with him.
On July 21, 2012, Queen Sirikit felt unsteady and staggered while exercising at Siriraj Hospital where King Bhumibol Adulyadej resided. Doctors determined that she has suffered a stroke. The Queen was not seen in public until August of 2013 when the King was discharged from the hospital. Since then, Queen Sirikit has refrained from making public appearances.
King Bhumibol Adulyadej died on October 13, 2016, at Siriraj Hospital in Bangkok, at the age of 88, following several years of illness.
Mothers Day in Thailand has been traditionally held on Queen Sirikit's birthday, and now with her new role as Queen Mother, the tradition continues.
Long live Queen Sirikit, the Queen Mother.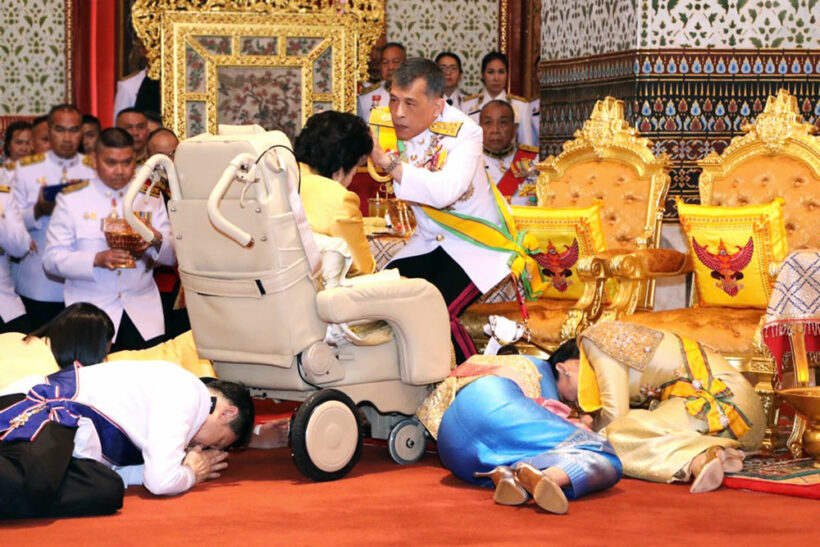 HM the King bestows the new role on his mother, Queen Sirikit, the Queen Mother, on the day after his coronation
Keep in contact with The Thaiger by following our
Facebook page
.