Andaman manta rays take flight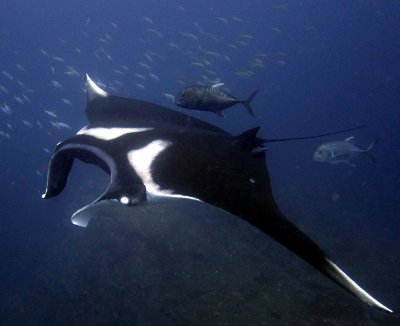 PHUKET: Dive companies like Sea Bees can guarantee a lot of aspects of their trips. They can guarantee a high-quality breakfast, good equipment and knowledgeable staff, but what they cannot guarantee are those precious and glorious sightings of roaming mega-fauna, like manta rays.

Every diver last week may have spotted the sweeping black wings of a manta ray in the distance or the iconic dorsal fin of a prowling shark, but even that is no assurance that either would be spotted the next day.

On board Sea Bees' futuristic looking and custom built catamaran, MV Stingray, I try not to think about the mantas as we pull away from the dock and head towards Koh Bon.

Koh Bon, renown for its charismatic mega-fauna, is part of the Similan Islands National Park, despite being almost 20 kilometers north of Island Nine.

After a 55-minute first dive, I'm unsure of the need for a second. We had spotted ornate Blue Dragon nudibranches, a white-tipped reef shark and two manta rays. Admittedly, the mantas had kept their distance, but the dive had been a text book checklist of what to see.

We splash in for our second dive, and follow the vertical wall to the step-down ridge of the island, searching for nudibranches and other small delights.

A manta sails in out of the blue.

Manta rays don't swim, they glide through water on their massive "wing span", averaging six meters.

It swoops in below us, like the shadow of a giant bird. An entire school of corbia, groupies to the rock-star manta, cluster and cling to the alien-looking life form and hide under its 'wings' (pectoral fins).

The manta makes one pass, then elegantly turns back towards us, this time moving up, closer to us. After several passes it disappears.

Stunned by the close encounter and desperately wanting more, we swim on.

Suddenly, there are two mantas, one following the other. They turn together chasing each other, like children playing tag.

All the divers floating there are awestruck. We're like a school of lame corbia, too slow to do anything but fantasize about being under the massive wings of the mantas.

They are playing.

They sweep, below our fins, their great wings outstretched. I spin as it passes just five meters below me.

I turn and one of the manta rays flies out of the abysse at me.

I can see between its gently curled cephalic lobes to its mouth, where imperceptibly small teeth are hidden. There is no fear, not only because this harmless creatures mostly feeds on plankton, but because of its eyes.

There is an intelligence in its eyes, a playfulness as it comes within three meters of me and then turns away.

It's time to go. The mantas are still putting on a show as we ascend for our safety-stop.

For the better part of forty minutes the mantas stayed with us.

Now, floating in the open blue, away from the step-down ridge we wait to surface, the whole time peeking down, still searching for them.

"The best dive of the season!" exclaimed Andrea Filippozzi, our instructor, as we hit the surface.

On the dive boat, even away from the customers, I can see the instructors' smiles glowing, as they publicly and privately gloat about having just partaken in the best dive of the season – something that's never guaranteed.
— Isaac Stone Simonelli
Keep in contact with The Thaiger by following our
Facebook page
.
Top 10 things to see and do in Phu Quoc, Vietnam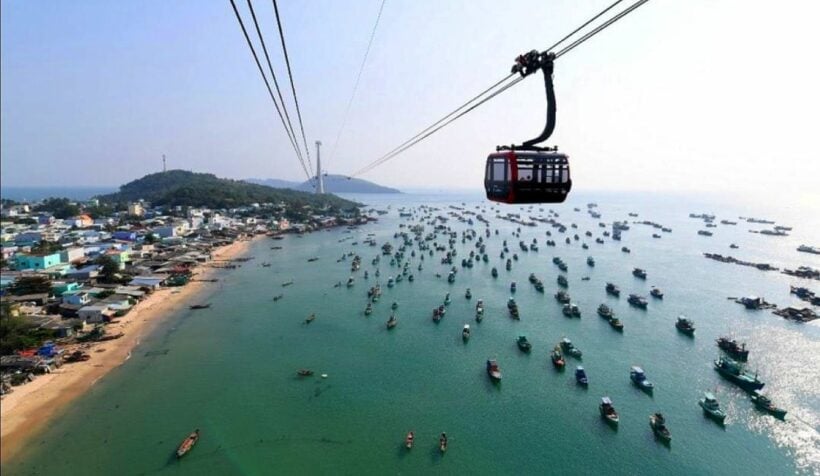 Phú Quốc is a Vietnamese island off the coast of Cambodia in the Gulf of Thailand (aka. Vịnh Thái Lan in Vietnamese). The island is actually closer to Cambodia than Vietnam. Phu Quoc is a rising star in the island destinations of south east asia. It has big ambitions and will catch up quickly with some key infrastructure already in place with more being hastily completed.
Long stretches of white-sandy beaches and resorts, most of which are along the palm-lined western coast. There are many, many resorts planned or in the midst of construction. More than half of the island is part of Phú Quốc National Park, which features mountains, dense tropical jungle, hiking trails and wildlife. Duong Dong is the largest town which the locals usually simply call Phu Quoc.
There are plenty of expat-owned bistros and bars that serve western and European tastes. You can also experience the local lifestyle by frequenting its many local markets and Buddhist temples.
There's already some completed dual-lane main arteries linking the main parts of the island, a new international airport and hundreds of accommodation options, from the backpacker to the five star.
Our best go at pronouncing the name of the island is POR WOK, not POO KWOK, as you'd think, but Vietnamese has a lot of difficult-to-pronounce tones so check with a local when you get there.
Food options are truly international with a broad range of tourists making up the early visitors to the island. For now, principally east Europeans, Chinese and Vietnamese.
The main attraction is the longest cable car ride in the world. It's an astonishing feat, linking the south of the island and hopping across three islands to a stand-alone resort on the southern-most island. Apart from being a world-class attraction, it's also an indication of the vast sums being invested in the island.
You can fly in to Phu Quoc from KL, Bangkok, Singapore or Ho Chi Minh City for now with more flights and carriers getting a foothold on the popular new island. You don't need a visa to visit Phu Quoc, a clear decision to kick off this new tropical destination by the Vietnamese government (for up to 15 days).
There's a three kilometre tourist strip reaching south from the main town centre. There's high-class bars, beach-clubs, tawdry souvenir shops, hundreds of restaurants serving up international flavours and some funky new shops opening up every month. If you want good Vietnamese food head into the main town.
Here are 10 things to do in Phu Quoc that will give you a range of flavours, colours and culture.

Phuket Quoc Cable Car
Wow, wow and WOW! The cable-car ride from Vietnam's Phu Quoc island to Hon Thom, aka. Pineapple Island, is a breathtaking experience. It's an astonishing tourist attraction on an island that has ambitions to be one of south east Asia's most popular tourist attractions. This attraction proves it.
The actual cable car ride, the longest in the world, soars over the sea, coral reefs, fishing villages and Phi Quoc's southern islands, with amazing views all along the way. You get 360 degree vistas of the An Thoi Archipelago.
As a quick mood killer, if you're afraid of heights, this experience may not be for you. Flying above the views below is breathtaking but you are flying a long way above the ground. Despite the windy day I travelled, the ride was very stable and you didn't get a sense that you were wobbling around in the air.
The cable car travels from a purpose-built faux-Italian 'ruins' entrance and hub to Hon Thom Nature Park. From the moment you arrive, and the staff greet you as you get out of your taxi/bus/motorbike, there's plenty of wow factor. For a small, relatively unknown Gulf of Thailand island, this is a grand experience and an enormous investment.
Once you arrive at Pineapple Island, after hopping over three other islands on the way, you are greeted by a man-made beach, water park and substantial infrastructure – some of it still being constructed. Everything on the island has been constructed to serve the arrivals from the cable car, there's no other way of getting to this remote island. You can spend a short time at the island or a long time.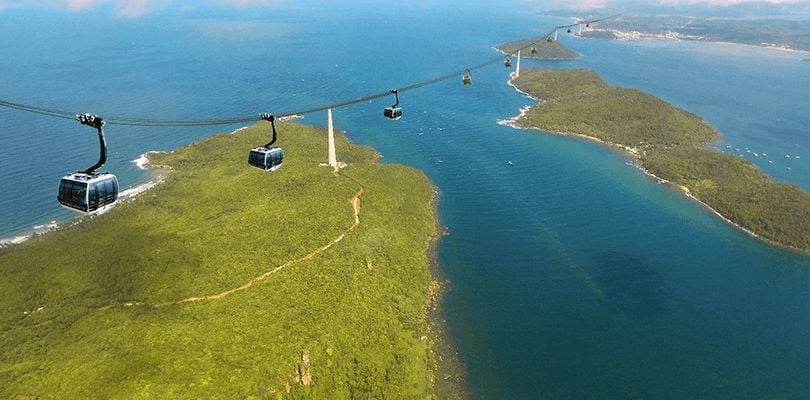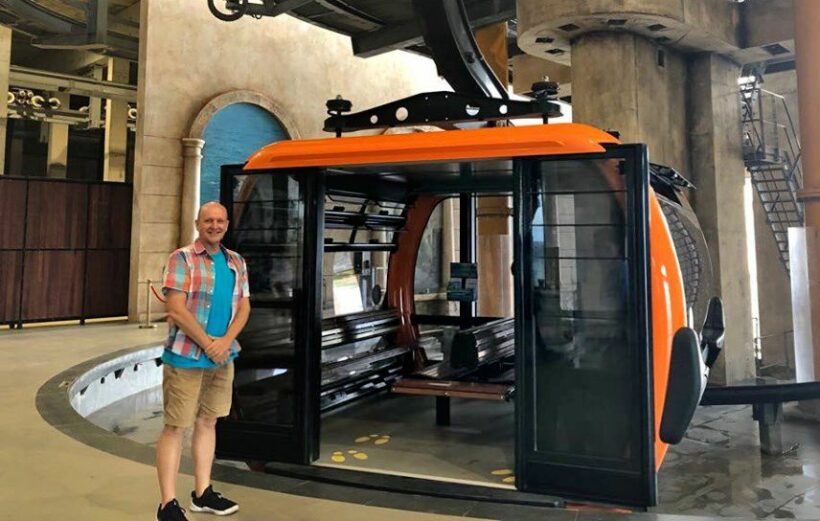 Phu Quoc Prison
Yes, a prison and perhaps a bit off the usual tourist map. Nonetheless, very interesting. It's a prison facility built by the French colonialist to punish Vietnamese people aka. Coconut Tree Prison. In 1967, Saigon Government rebuilt the Coconut Tree Prison into Phu Quoc communist prisoner prison in an area of 400ha, also known as Phu Quoc war prisoner prison, or Phu Quoc prison.
This was the largest place to keep communist soldiers in the South with more than 32,000 prisoners. Sometimes, this number was up to 40,000 people including political prisoners in several periods.
Slightly macabre but also a relic of a bygone era of Vietnam's tortured history, Phu Quoc prison is the living evidence for the extremely brutal crimes of aggression colonialism and imperialism, while it proved the indomitable spirit and valiant struggle of revolutionaries. The war prisoners in Phu Quoc prison suffered extremely savage punishments and tortures. There's plenty of mannequins propped up to provide a gruesome reminder of many of the tortures exacted on inmates.
The prison is located at the southern end of the island.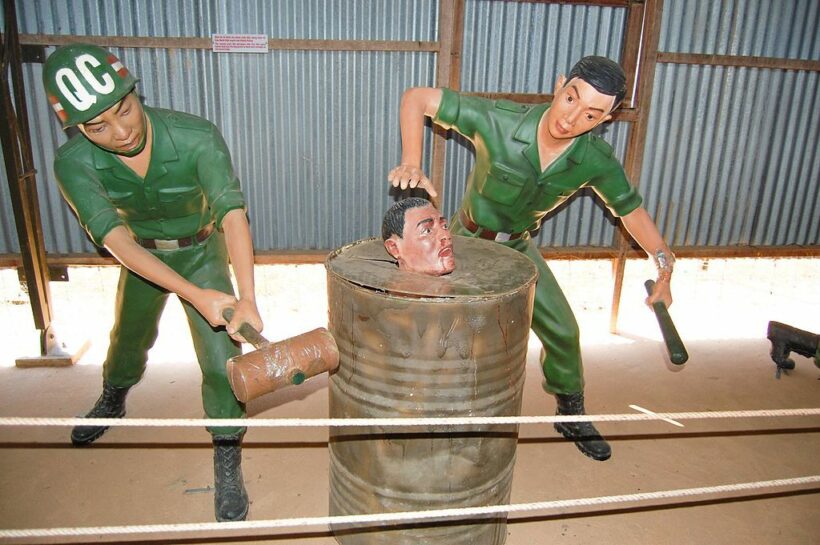 Horizon Bar
A bar and restaurant on the main beach, about 2 kilometres south of the main town centre. There's also plenty of other casual attractions that pop up at this beach from time to time.
The most permanent venue is the Horizon Bar which serves some great food along with the refreshments you'd expect. You're right on the sand, actually you can get a table in the sand which is a nice romantic touch for an evening meal or drink.
It's not as swanky as some of the new beach clubs opening up but it's a lot cheaper and casual as well. Looks a lot better at sunset and nighttime. There's better food on the island but the location and view are fantastic. Located on the tourist strip south of the main town.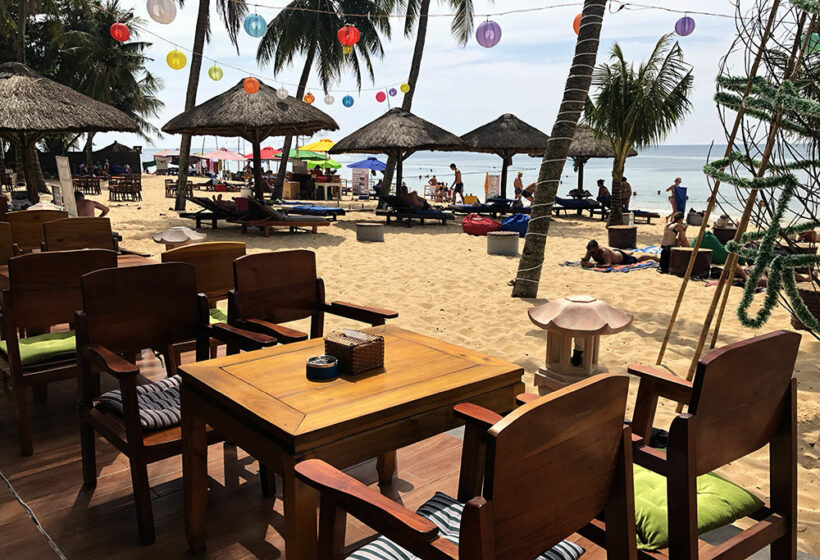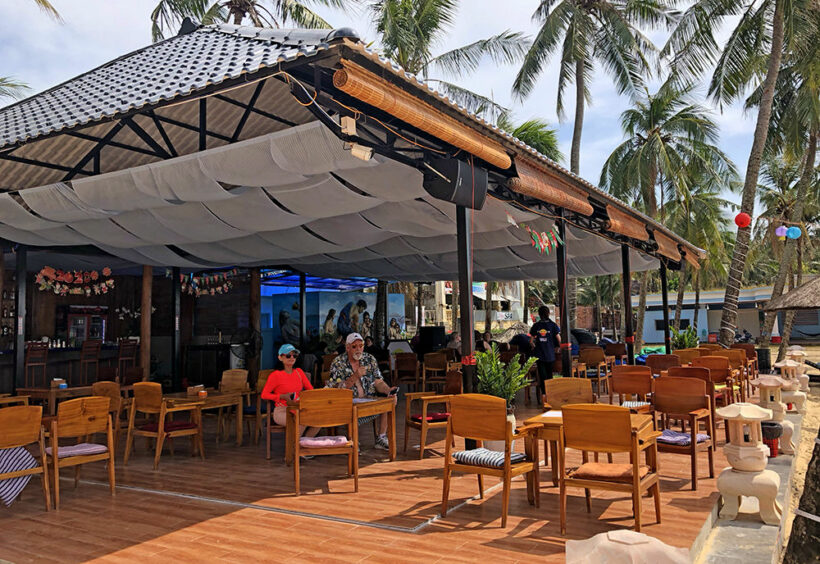 Also try the Sailing Club Phu Quoc for something a little more upmarket with prices to match.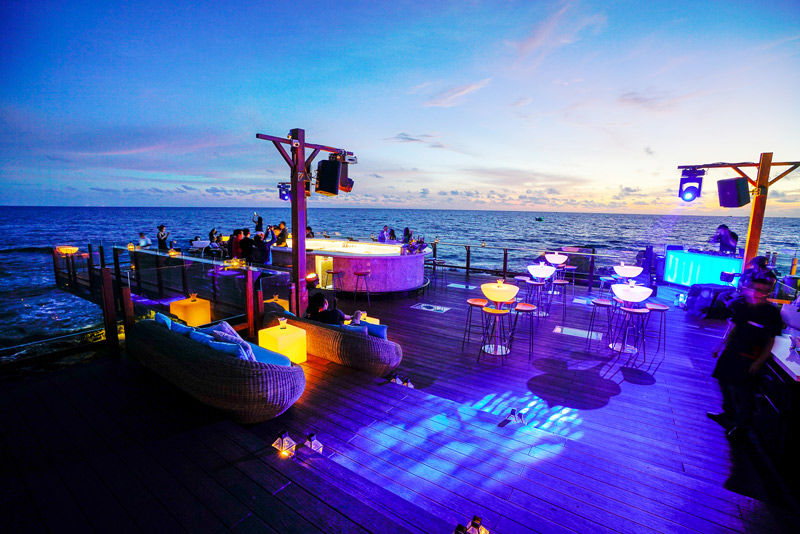 Long Beach
The main beaches are on the Gulf side of the island. But there's also a few excellent beaches facing Vietnam as well on the south east of Phu Quoc. The best on the south east side of the island is Long Beach.
Long Beach is the best known of the southern-end beaches and has a range of accommodation, casual restaurants, bars and beach clubs opening up. It's all about 2 kilometres off the main road. The main beach area has a range of beach attractions, jet-skis, vendors, sun lounges and a large selection of restaurants – all right on the beach. The clientele is very international.
BYO towels and suncream. The water is quite shallow and sand bars will show up at low tide.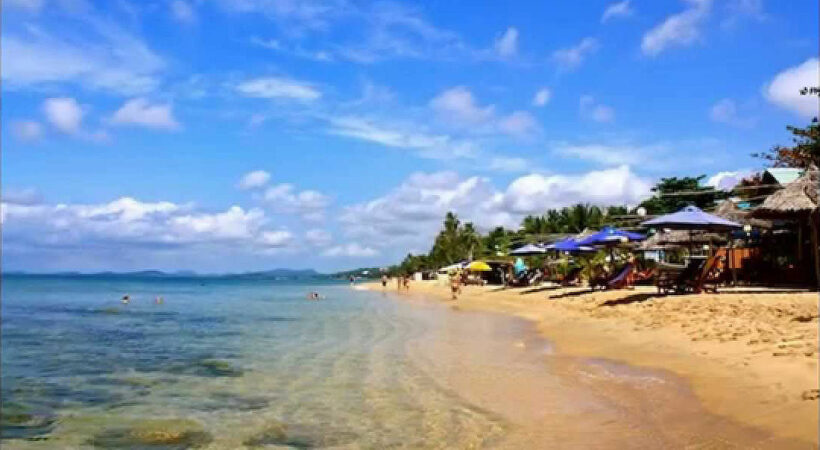 There was certainly a lot more people at this beach on the day we were there.
Ho Quoc Pagoda
The largest and most ornate of the island's temples, Trúc Lâm Hộ Quốc Zen has a number of pavilions and smaller temples all leading up to the tall white statue looking east towards Vietnam.
Dress appropriately. But there's also scarves and over-pants available at the main gate.
There's plenty of parking for motorbikes and cars and there's a vegetarian restaurant on site that provides free food for visitors.
To get there take the windy road off the main road for about 5 kilometres. A lot of it scoots along the coast with some terrific views. Directions on the link.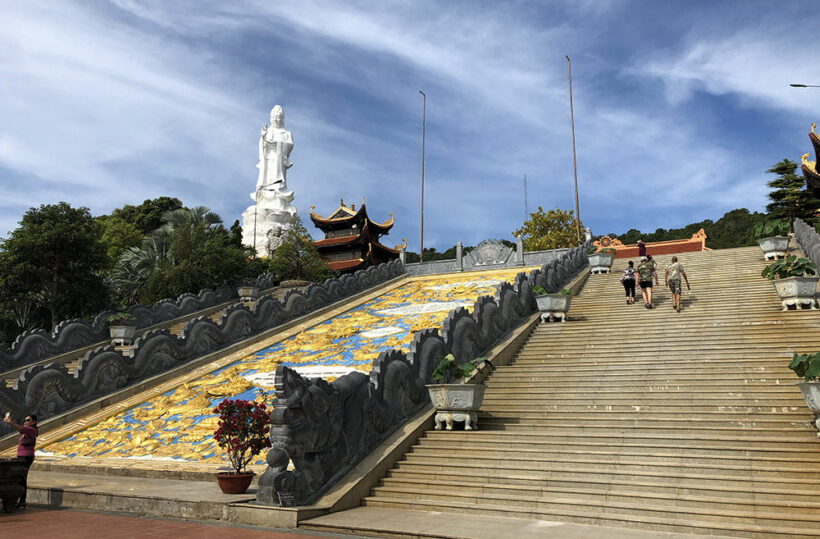 Island circle road
There are some key roads already sealed and completed, including plantings in the median strip. At the moment they're mostly carrying the island's locals on motorbike but they also allow you to easily get around to the key locations on good roads.
Although it doesn't reach to the very north or south of Phu Quoc, there is a circle road that takes you from one coast to the other with some spots to check along the way.
If you just take the trip, without any breaks, it will take 2-3 hours. The main things to see along the way are the fishing village and fishing pier at Làng Chài Hàm Ninh and the beach views along the eastern coast of the island. Làng Chài Hàm Nin is a bustling seaside fishing village with floating seafood restaurants specialising in crab dishes.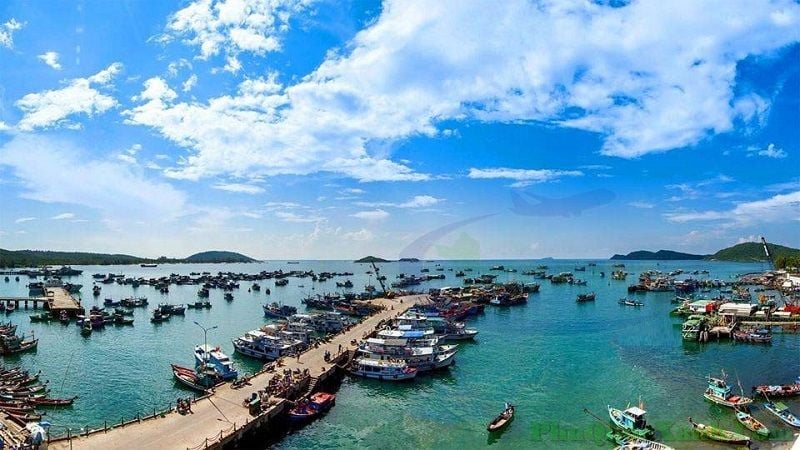 But you can see the island growing along these completed arteries in the next decade.
There's also good roads to the north and south taking you to some of the key beaches and attractions.
Vietnamese drive on the right hand side of the road. Car rentals are not common the island but motorbike rental is easy and cheap – around 150,000 Dong per day standard. Be careful and check your insurance first as any accidents on motorbikes may not be covered.
Vietnamese also enjoy tooting their horns to let other drivers know they're around.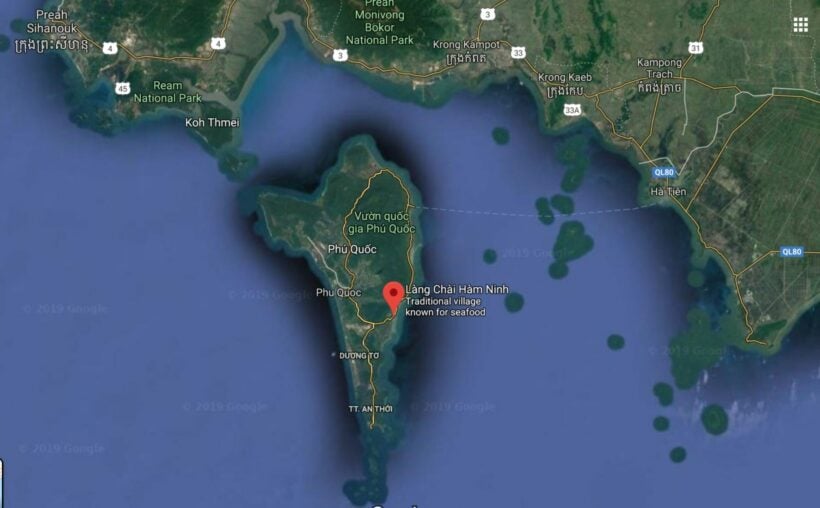 Dinh Cau Night Market
There's a vibrant night market operating seven days a week in the middle of the main town.
It offers a plethora of dining and shopping opportunities until late. Located along Vo Thi Sau Street in the main town of Duong Dong, this pedestrian market is about a five-minute walk from Dinh Cau Rock. This Phu Quoc market caters mainly to tourists but will have plenty of locals visiting as well.
Live fish, sea snails, crabs and scallops are kept in large tanks with prices listed on the board in front of every booth.
The Dinh Cau Night Market is more about food than the nick-nacks but it will keep you occupied for a few hours. There is some quite exotic local food available here, not for the feint-hearted. Proceed with caution.
I love Phu Quoc
Not a tourist attraction and not anything that will blow your mind except that this modern little business has encapsulated a bar, restaurant, beach-club and a quality menu in one convenient location. Just moments from the heart of the main town Duong Dong, I Love Phu Quoc is worth a visit at any time of the day. A sunset drink with the beach-side beats is a good start to anything you have planned later in the evening.
They also do a terrific breakfast at I Love Phu Quoc which is, other than hotels, a little difficult to find if you're used to a hearty western breakfast.

Dinh Cau Rock
Dinh Cau Rock, also has the Cau Temple sitting atop. The actual rock is an odd-shaped natural formation where local fishermen pray to before heading out on fishing excursions (the main town is a hub for the local fishing industry). Located just next to the Duong Dong Fishing Harbour, the rock it features a brightly-coloured lighthouse and Buddhist shrine – a popular photography spot for travellers and romantic walks along the pier. It sits at the entrance to the harbour where the fishing boats leave each day.
Dinh Cau Rock was constructed in 1937 to commemorate Thien Hau (the goddess of the sea), whom locals believe provides protection for fishermen heading out to the open sea.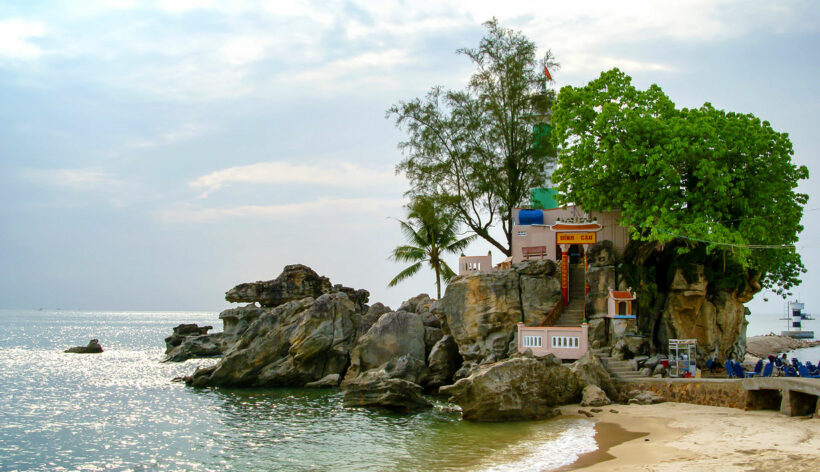 Keep in contact with The Thaiger by following our
Facebook page
.
BTS switches ON its domination of the pop world with their new album 'Map of the Soul:7'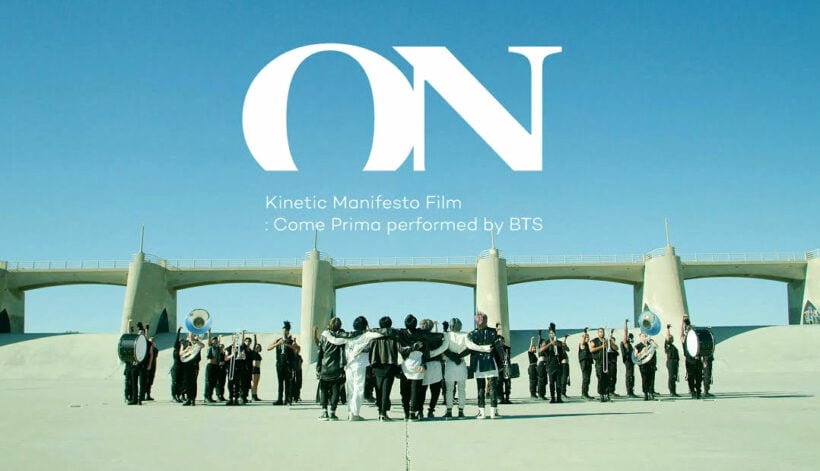 From the first determined drum stroke in the new BTS music video you get the sense that these guys mean business for their new album. The music video will likely kick over more than 50 million views in its first 24 hours since launch.
The world's biggest band BTS – in terms of album sales, stadium tickets sold, and sheer internet presence – has launched their latest studio album, their seventh, Map of the Soul:7. And they're spending their time launching it in the US, seen as the holy grail of pop for bands around the world.
The seven-member South Korean band has boldly gone where few 'foreign' language bands have gone before. Last year they notched up a major milestone becoming only the second band to have three consecutive No. 1 albums in the Billboard Chart in a 12 month period. The last band to do that was a British quartet called The Beatles… you may have heard of them.
But the white-washed world of American pop has been slow to come around to the invasion of the South Korean band that cut its teeth in the ultra-competitive world of K-pop before making headway in the international market. Indeed they've done just about everything differently than bands before and, somehow, etched out a brave new world of pop success, on their own terms.
Launching in June 2013, BTS (aka. Bangtan Boys, Bangtan Seoyondan, which translates as Bulletproof Boy Scouts), the seven members have played with hip hop, R&B, power ballads, pure pop and edgy rap styles. Seven years later their music is much more difficult to define as it crosses multiple genres and emerges as something new and distinct. 
But BTS is a lot more than its three letter acronym. BTS is RM, Jin, Suga, J-Hope, Jimin, V and Jungkook.
Much of their success is rooted in a few points-of-difference, all of them taken to new levels of professionalism and art.
• Every BTS music video is almost a piece of art, sometimes filmic and always beautifully crafted.
• BTS write, produce and perform. They act, sing, dance and rap. They are the total pop-package.
• BTS lean heavily on their authentic messages of loving yourself, acknowledging your shadows, accepting your frailties and, well, a lot of other 'young people' issues. Apart from the occasionally dark and 'real' messages in their music, all seven members appear humble and intelligent, and willing to share their ups and downs with fans (Band leader 'RM' has an IQ of 148).
• BTS have weaponised social media in a way never before attempted or achieved. YouTube, Facebook, Twitter, TikTok… they have accumulated a vast online fandom, called ARMY. It's easy to say that there has NEVER been such a motivated, dedicated fandom in music history, across borders, across languages.
• They have a well-catalogued rags-to-riches backstory, complete with hundreds of videos following their early days, failures and apprehension. From living together in a tiny dorm and cooking their own meals together, all the way to their world-wide popularity and chartered jets, it's a fascinating journey that adds to their appeal.
• They are genuinely likeable and have always, ALWAYS, thanked their legion of fans, first and foremost, for their success.

'7' has held its position at No. 1 on Amazon's bestsellers chart for nearly a month, and the upcoming US stadium tour (then to Europe and Asia) has already sold out. Even before its release, Map of the Soul: 7 was the fastest-selling album this year (4 million sales), selling four times the numbers of pre-release sales for Taylor Swift's Lover.
There's little doubt BTS will earn their fourth consecutive No. 1 debut on the Billboard 200.
Why '7'? The band says it's a salute to their seven years together as a band and, well, there's seven of them.
Their launch single (which follows two YouTube teaser music videos of the songs Shadow and Ego, plus a hugely popular performance of Black Swan on James Corden's Late Late Show – 39 million views), is ON.
The music video released yesterday is an alternative version of the collaboration featuring Sia on the album. ON is a catchy anthem starting out with a stripped back church-like organ breaking into a precision drum-band punching out the rhythms for the track.
As with most of their work, all BTS members get their chance to shine. Just when you think you're getting into the track (it's in Korean and English), it changes direction and surprises. Wait until you get to the dance break in the middle!
The new album has 20 tracks including some from the previous Map of the Soul: Persona. But this is certainly taking a darker and edgier turn for the band which, seven years on, has a rich tapestry of styles in their extensive repertoire.
Full Track List for Map of the Soul: 7
Intro: Persona
작은 것들을 위한 시 Boy With Luv (Feat. Halsey)
Make It Right
Jamais Vu
Dionysus
Interlude : Shadow
Black Swan
Filter 시차
Louder than bombs
ON
욱 UGH!
00:00 (Zero O'Clock)
Inner Child
친구 Moon Respect
We are Bulletproof : the Eternal
Outro : Ego
ON (Feat. Sia)
But there's stormy weather ahead for the band and ARMY with South Korea's compulsory military conscripton looming over the seven 20-something members. The oldest member, Jin, reaches 28 years of age in December this year which will force him to enter the mandatory 2 year military service. And that will be followed over the following four years by the other band members – Suga, J-Hope, RM, Jimin, V and Jungkook. Although there's been a strong media and online push to get an exemption for the group, (in 2019 BTS contributed $4.65 billion to the South Korean GDP), the members have all said they look forward to serving their country.
For now BTS are switched ON with their new album and their reshaping of the world pop industry will continue, for at least the rest of 2020.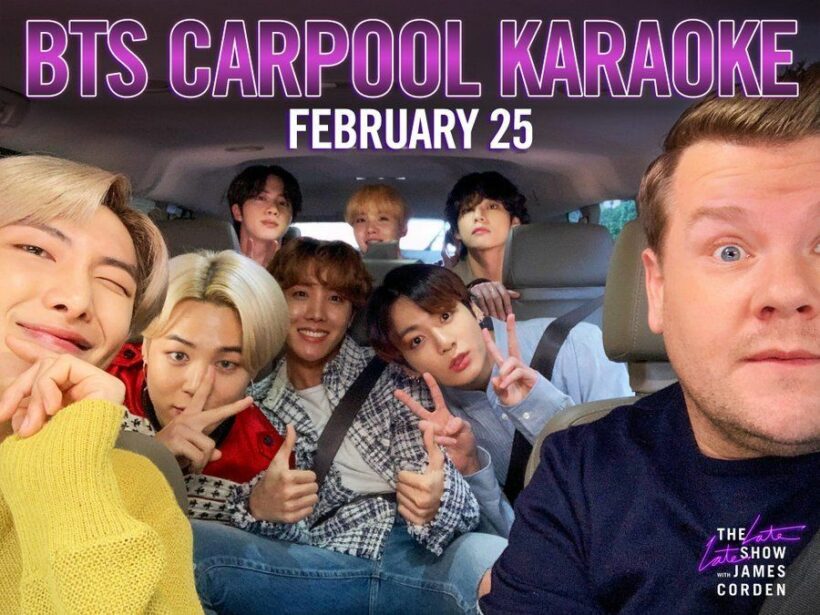 You know you've made it in the pop music world when you end up on Carpool Karaoke
Keep in contact with The Thaiger by following our
Facebook page
.
Thailand's abortion laws to be amended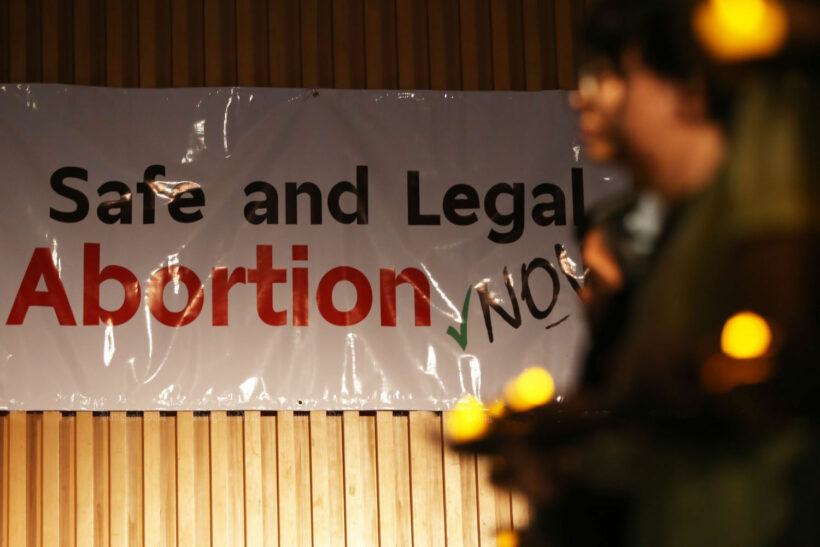 Thailand's Constitutional Court has ruled that a section of the Criminal Code is unconstitutional as it fails to hold men responsible for illegal abortions. The ruling will take effect on Febuary 13, 2021, twelve months after it was made. The court handed down the ruling after pro-abortion activist Srisamai Chueachart petitioned the court to rule whether Sections 301 and 305 of the Criminal Code conflict with provisions on rights and liberties under the Constitution.
Section 301 stipulates that a woman who has terminated a pregnancy by herself or allowed another person to do it is liable to three years in jail and/or a fine up to 60,000 baht. Srisamai argued that the wording of Section 301 means only women bear the legal consequences of illegal abortions, (even though men have an equal role in the conception of a child), which is against the principles of equality guaranteed by the charter. Thus, men who pressure their partners to seek illegal abortions must also be held legally accountable, according to the petition.
The court ruled Section 301 of the Criminal Code violates Sections 27 and 28 of the 2017 Constitution, which accords equal rights and liberty to men and women. However, the court found Section 305 does not violate the charter.
Section 305 of the Criminal Code exempts licensed doctors from prosecution if they perform an abortion for legitimate medical and/or other sound reasons, — such as pregnancies that pose a physical or mental health threat to the mother, for victims of sexual assault who are younger than 15 years old, or where the foetus shows severe and/or fatal abnormalities.
Srisamai insisted the section is outdated as it protects only physicians who perform abortions, but not other medical personnel who are part of the procedure.
On whether Sections 301 and 305 should be amended and how, the court ruled the two sections should be rewritten to be in compliance with the highest law. Activists have long campaigned for these two sections to be amended and for the Public Health Ministry regulate abortion.
SOURCE: Bangkok Post
Keep in contact with The Thaiger by following our
Facebook page
.