3 protesters die overnight in Yangon, Myanmar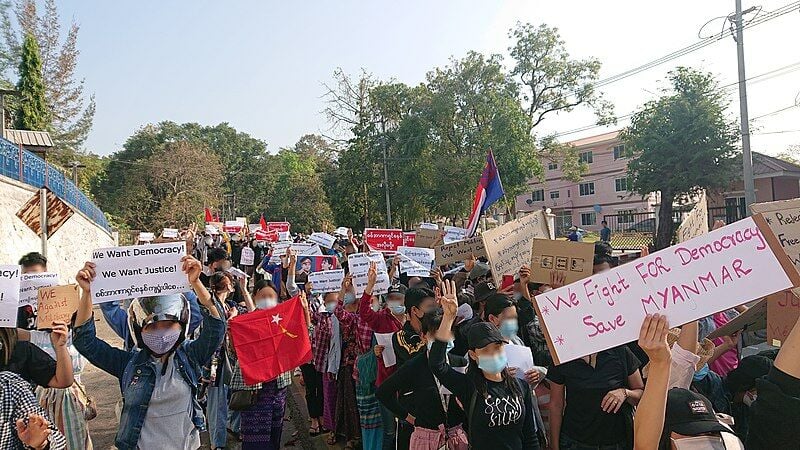 The latest tragic loss of life in Myanmar occurred in Yangon overnight. 3 protesters died at vigils in honor of those who have died since the military coup on February 1st, 2021.
The military has been using more force against all protests with over 70 lives now lost. The vast majority of demonstrations and arrests happen during the daytime and lately, the military has been targeting nighttime demonstrations.
The citizens of Myanmar continue to gather in larger numbers, calling for the release of civilian leader Aung San Suu Kyi and a return to democratic governance. The military had declared a 1-year state of emergency after the general election which Ms. Suu Kyi's NLD party had won by a large margin. The military had backed the opposition, who were demanding a rerun of the vote, claiming widespread fraud.
Footage appeared on social media yesterday which shows police removing 3 residents from the streets of Thaketa township in Yangon. Local residents went to the police station to protest and sounds of gunfire were heard later in the township.
2 Male Demonstrators were killed and one was shot in the head and the other person was shot in the side of their face above the neckline. It took some time for their bodies to be retrieved.
Both dead men had been supporters of Suu Kyi's National League for Democracy party and are currently being mourned by their relatives.
In Hlaing township, residents protested seeing the military and police in their neighborhood at night to arrest people. Stun grenades were used to disperse residents. An 18-year-old man was shot in the head and died soon after.
The military has denied responsibility for loss of life in the protests and defended seizing power by alleging widespread electoral fraud in November's election, which Suu Kyi's party won in a landslide.
SOURCE: Bangkok Post/ BBC News
Keep in contact with Thaiger by following our Facebook page.
Never miss out on future posts by following Thaiger.
$85 to retrieve the dead after bloody Burmese military clash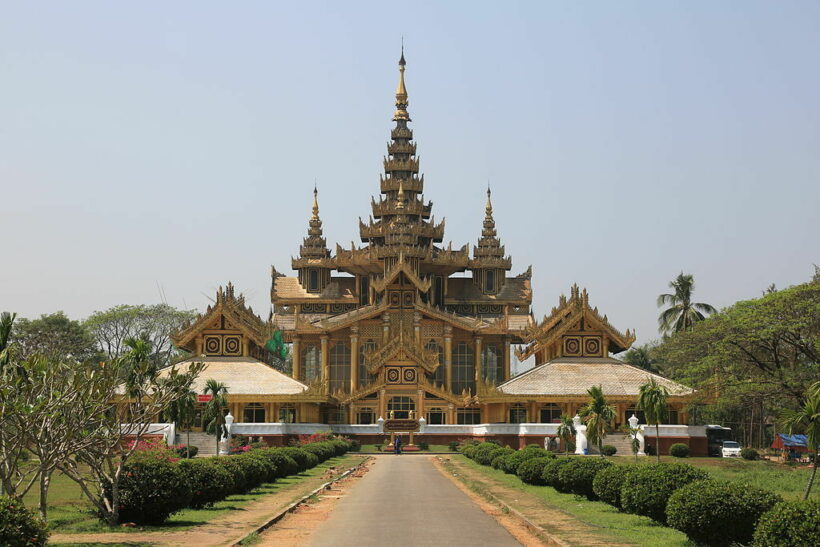 Activists say the Burmese military is charging $85 to families to recover the bodies that security forces killed in Friday's violent clash. The city of Bago, about 90 km northeast of Yangon, was raided by military forces with 82 people killed according to Assistance Association for Political Prisoners, a local advocacy group. Since the February 1 coup, the military has been systematically cracking down against peaceful protesters, detaining 3,000 people and killing over 700 more.
Eyewitnesses in Bago say the Burmese military used grenades, RPGs, and assault rifles to quell anti-coup protestors, forcing many villagers and activists to flee and go into hiding. Military security forces are going through the neighbourhoods now and have cut off internet access. Burmese forces claimed they were attacked by protestors while removing road barriers, alleging that demonstrators used homemade guns, shields, grenades, arrows and fire bottles.
In the aftermath of the bloody clash, the military charged families 120,000 Burmese Kyat (about $85) to collect the bodies of lost relatives. This was reported by Bago University Students' Union's Facebook page as well as Radio Free Asia's Burmese service.
NGO Human Rights Watch had published a call for the European Union to take action and implement strict sanctions on the Burmese military on Thursday. And yesterday the US Embassy in Myanmar joined the call, posting on Twitter, urging peace.
"We mourn the senseless loss of life in Bago and around the country where regime forces have reportedly used weapons of war against civilians. The regime has the ability to resolve the crisis and needs to start by ending violence and attacks."
A volunteer doctor who chairs the Red Cross in Bago had been detained by the Burmese military police on April 2, and yesterday a second volunteer doctor was taken after administering free medical aid to protestors, according to his family.
Meanwhile, the military's commander-in-chief and another spokesman maintain that the Burmese military are peacekeepers, trying to strengthen the democratic system of Myanmar by safeguarding the country and investigating a fraudulent election. They deny that they seized power and blame the violence and death in the country on protestors rioting.
SOURCE: CNN
Keep in contact with Thaiger by following our Facebook page.
Never miss out on future posts by following Thaiger.
More bitter clashes yesterday in Myanmar with the toll rising to 618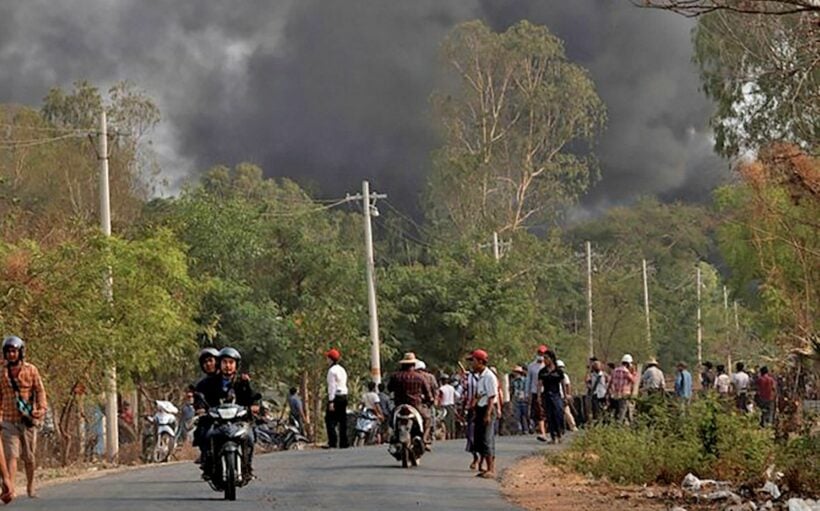 "618 Burmese civilians, including 48 children, have been killed by the army and their security forces since the February 1 coup."
The Assistance Association for Political Prisoners reports that Burmese soldiers have killed 80 civilian protesters near Yangon, Myanmar's largest city. Myanmar Now reports the number as 82…
"The junta's armed forces crushed a key protest stronghold in Bago's Ma Ga Dit road in a pre-dawn attack…. Soldiers have been stationed at the Zeyar Muni pagoda compound in the town and have taken dead bodies inside…. "There could be at least 57 dead bodies inside the pagoda compound as well as three bodies at a local morgue and one that was cremated immediately".
Witnesses say troops used rifle grenades against protesters in Bago.
"A leader of the protest column in Bago said no one could go outside as soldiers were shooting at anybody they saw on the streets," according to Myanmar Now.
The reporting of numbers of civilian deaths has become more complicated since the Army chiefs ordered a switch off of communications and internet, throttling the communications between people and groups inside the country. The story of the 82 people massacred in Bago took more than 24 hours to emerge.
Another Bago resident told AFP that Army officials wouldn't allow rescue workers near the bodies.
"They piled up all the dead bodies, loaded them into their army truck and drove it away," he told AFP.
Footage from Al Jazeera here…
Yesterday, in Tamu, Sagaing Region, in far northwest Myanmar, locals ambushed Burmese security forces with home-made rifles as they tried to enter the town to confront protesters. At least 3 soldiers and one local resident were killed in that clash.
Meanwhile, forces calling themselves the 'Three Brotherhood Alliance' of ethnic armed organisations attacked a police station yesterday, 25 kilometres outside of Lashio, deep in the northern Shan State near the Chinese border, resulting in the death of many police. Myanmar Now reports that 8 police were killed in the attack, including the police chief.
Troops from the Arakan Army , the ethnic Kokang Myanmar National Democratic Alliance Army, and the Ta'ang National Liberation Army were involved in the strike, according to local residents.
The Brotherhood Alliance is also a part of the Federal Political Negotiation and Consultative Committee led by the United Wa State Army, an organisation trying to unite Myanmar's disparate ethnic groups against the Burmese army.
In another update, according to AFP, 19 people were reported to have been sentenced to death for killing an associate of an army captain near Yangon, the first sentences of that nature announced on military-owned TV outlets. Only 2 of the sentenced are currently in custody, the others were sentenced in absentia.
SOURCES: AFP | Myanmar Now
Keep in contact with Thaiger by following our Facebook page.
Never miss out on future posts by following Thaiger.
UN special envoy in Thailand to meet Foreign Minister about Myanmar crisis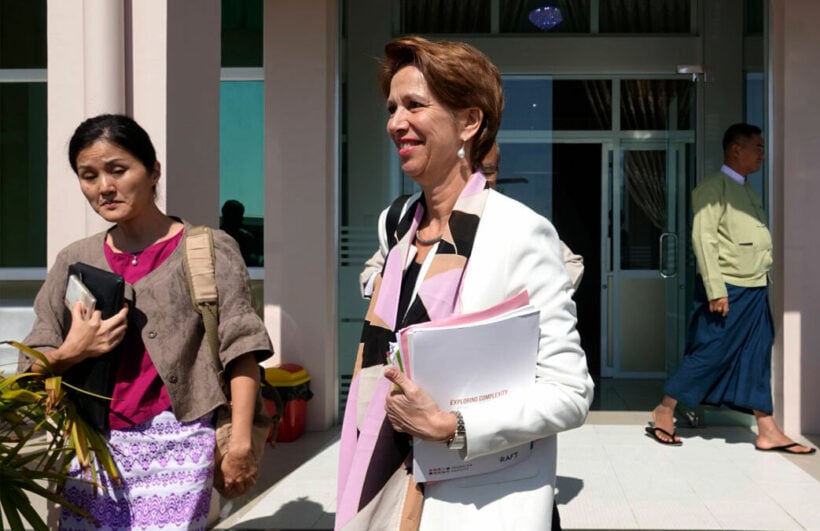 The UN's special envoy on Myanmar is meeting with Thai Foreign Minister Don Pramudwinai in ongoing diplomatic efforts to find a peaceful solution for the humanitarian crisis in Myanmar.
But Thai officials have put her quarantine ahead of the needs of the Burmese people with Christine Schraner Burgener, who arrived in Bangkok yesterday, having to spend 7 days in ASQ before meeting in person with FM Don. The special envoy received 2 doses of Covid vaccine before her departure to Thailand.
She is visiting Thailand as part of a quick (well, not so quick with the imposed 7 day delay) diplomatic tour around ASEAN nations to "explore possible solutions" to the continuing carnage in Myanmar brought about by the Tatmadaw following a military coup on February 1. Nearly 600 civilians have been killed by gangs of soldiers under orders to crackdown on protesters who insist on a return of the civilian Aung San Suu Kyi government.
In the November general election in Myanmar, the military backed parties only gained 17% of the total vote. Military chiefs say that there was "voting irregularities" despite Myanmar's independent election commission claiming the vote was "free and fair".
Christine Schraner Burgener, a former Swiss ambassador to Thailand, has served as the special envoy on Myanmar for 3 years. Her specific mandate from the UN is to "support the reform, reconciliation and democratisation processes in Myanmar, as well as to address violence in Rakhine State and Rohingya displaced persons".
Thailand's government whilst calling for a peaceful resolution has held back from more forceful language over the violence in the neighbouring country. The government has also come under fire from NGOs stationed on the border, monitoring the flow of refugees crossing from Myanmar, who claim the government has been doing little to help and, in some cases, just turning the refugees back and refusing them entry.
According to Thai PBS World, Thailand's Foreign Ministry says that Thailand is "deeply concerned".
"We are committed to cooperating and engaging constructively with the international community, including through the UN and ASEAN, in order to find a peaceful solution for Myanmar and its people. We hope that this visit to the region by the Special Envoy can contribute towards possible solutions."
AFP quoted UN spokesman Stephane Dujarric as saying that the junta in Myanmar has not yet given Burgener a "green light" to visit the country..
With the backing of the UN Security Council, Christine Schraner Burgener says she wants to visit detained civilian leaders, mostly from the NLD ruling party (before February 1, including the Myanmar President Wint Myint and Aung San Suu Kyi.
SOURCES: Thai PBS World | AFP
Keep in contact with Thaiger by following our Facebook page.
Never miss out on future posts by following Thaiger.