There's money in trash [video]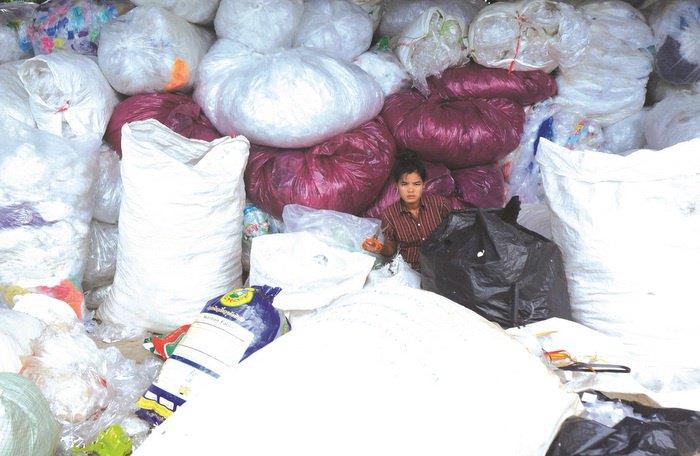 PHUKET: The island's monsoon-season seas continue to plaster popular beaches with rubbish, while the growing urban environment produces an average of 729 tonnes of trash a day.
Though deemed unsightly by expats, locals and tourists, the mass of junk does provide a living for numerous individuals, families and communities.
"About one ton of trash is swept onto two of Phuket's most popular beaches – Kata and Karon – every day," said a Kata-Karon Municipality Environmental Department officer, who declined to be named.
"We send people out to collect the trash from the beach daily. Though we don't record exactly how much is collected, it feels like much more trash is washing up this year and more people are talking about it. I think this problem will continue to grow.
"We really can't control the beach trash because it comes from the sea; all we can do is pick it up and encourage people not to litter."
However, some of what is being picked up has a great deal of value to those in the business of scavenging for recyclables.
The profits from reusable items and recyclables on the island swings big business money of hundreds of thousands of baht a month. Even entire communities, such as Plai Laem Saphan Hin and Klong Koh Pee, continue to support their families by picking through trash.
Garbage collectors working in the Phuket City Municipality area, such as 54-year-old Paitoon Jeraton, separate recyclables and electronics from the rest of the rubbish during their routes. Five trucks service the area two times a day, collecting about 144 tonnes of rubbish. From that, the municipality workers are able to glean about 4,000 baht each.
"We go to houses, restaurants, markets, hospitals and hotels to collect rubbish," said Mr Paitoon, who has been working as a garbage collector for about 28 years. "Basically, we collect tin cans, plastic bottles, pieces of plastic, metal, cables and cardboard."
With years of experience, garbage collectors know how to dismantle electronics, separating what can be re-sold and what is hazardous to dump. Hazardous waste is properly disposed of at the incinerator, Mr Paitoon confirmed.
The items saved from rubbish bins are sold to small recyclable collectors who are able to bundle the sorted items and re-sell them to production factories in the region. However, one business on the island has gone beyond just being a middle man in the world of recyclables.
BIG BUSINESS

"My father always said that trash is the gold that you can find everywhere," said Kanin Raksaraj, owner of the private garbage-collecting company Thanasup Recycle Phuket.
The company was founded about a decade ago during the construction of the Tesco Lotus in Samkong.
"They hired my father to transfer all of the debris from the construction site to the landfill, which is when it occurred to my father to also start transferring rubbish," Mr Kanin said.
After having won the business of a number of hotels, restaurants, shopping malls and government offices, Thanasup Recycle Phuket was able to start turning large piles of trash into piles of cash.
"We collect about five tonnes of trash per day and have about eight to 10 workers sorting and cleaning it so that it can be sold to a recycling plant in Songkhla," Mr Kanin said.
His employees are paid between 10,000 and 12,000 baht per month.
"After washing and separating the plastics based on quality, they are pressed into a cube so that they can be transferred to the factory in Sadao, where they melt the plastic so that it can be used again," Mr Kanin said. "Plastic that is too dirty to be cleaned up will be pressed into a different cube and sent to a factory in Bangkok."
Glass, however, is separated by color, ground into small pieces and then sold to a factory in Thalang for about one to two baht per kilogram.
"There are some items that people don't think about having any value at all, such as old pastries and bread, that we are able to re-sell to farms to use for fish or duck food," Mr Kanin said.
However, high quality plastics, worth about 47 baht per kilogram, and tin cans, which fetch about 40 baht per kilogram, are the real bread winners for the company.
"We are the only company that I am aware of that provides private rubbish pickup services that combine sorting recyclables to such a great profit," Mr Kanin explained. "We make hundreds of thousands of baht per month."
What cannot be sold is put back into the dump trucks to be taken to the Phuket incinerator at a cost of 530 baht per tonne. Hazardous waste costs 22 baht per kilogram and infectious waste costs 15 baht per kilogram, confirmed Prachoom Suriya, chief of the Environmental Division of the Phuket City Municipality.
Unfortunately, not all plastics fetch so much money. The Paktai Plastic Factory in Songkhla, not the one that Mr Kanin sells his recyclables to, offers 11 to 25 baht per kilogram for lower-quality plastics.
"We buy plastic bottles of various grades," said a Paktai Plastic Factory representative, who declined to be named. "We then melt the plastic and create plastic beads."
The beads are sold in 25-kilogram bags at a profit of about 1.04 baht to 1.52 baht per kilogram.
MOUNTING DAMAGE
Though numerous families rely on the trash produced by the island daily, the massive increase continues to be a cause of concern for government officials.
In May this year, it was re-confirmed that the two operational incinerators at the Saphan Hin landfill – a third one has been offline since 2012 – have a total burning capacity of 700 tonnes a day, falling short of the amount of rubbish produced on the island.
And though a 530-million-baht budget to fix the original, defunct incinerator has already been approved, the project will not be completed until April 2017.
"The bottom line is that people need to work on creating less trash in their daily lives. No matter what, some trash will be created. But we have to make sure we are dealing with it properly and not just dumping it into the ocean," said Meechai Theerapongpaisan, acting chief of the Environment Division of the Phuket City Municipality.
"As the island continues to expand and develop, we will do our best to manage the massive amounts of waste. However, people must join our efforts, preserve the beauty of our island and set an example for the millions of tourists who visit our province every year."
BOTTOM OF THE TRASH PILE
As the island's trash goes through the hands of garbage collectors, small-scale recycling operators or even a company such as Thanasup Recycle Phuket, it also continues to help feed many more mouths.
Members of the Plai Laem Saphan Hin community, comprising about 100 households, and Klong Koh Pee community, comprising 171 households, live abreast of Phuket's swelling landfill – deriving their livelihood from what can be found among the heaps of unburned trash.
"I make about 300 to 500 baht a day. Right now, times are tough, as there is a lot less trash to collect during low season and the municipality officers manage to burn most of the fresh trash before we have a chance to go through it," said 43-year-old trash picker Suchart Ayuyeun. Mr Suchart has spent the last 30 years of his life in the small community of shacks at the landfill site.
"Many members of the community have the same job as I do. We collect plastic bottles, garbage bags, electric cables and pieces of metal.
"There are lucky days too, when I find some money or accessories, maybe even a ring or watch that I could sell for ten thousand baht.
"Those are rare days though," he said with a laugh.

— Nattha Thepbamrung


Read more headlines, reports & breaking news in Phuket. Or catch up on your Thailand news.
New Zealander found hanged in Patong hotel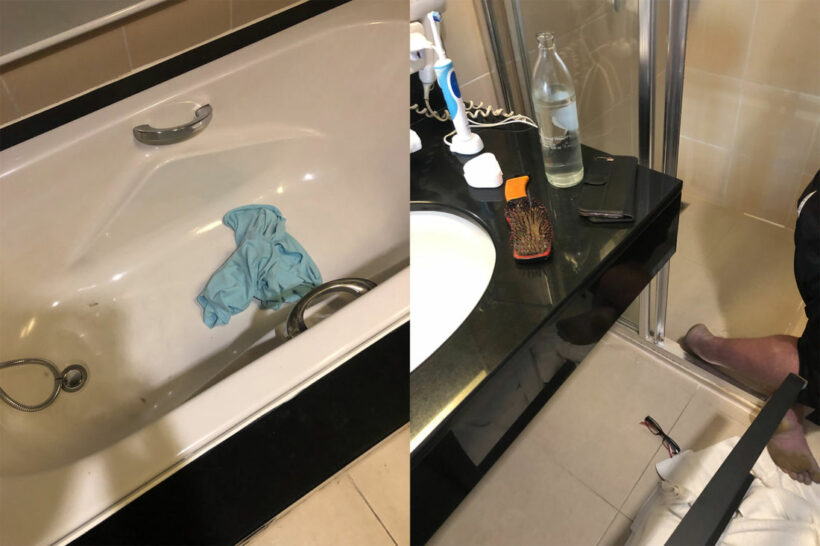 A New Zealand man has been found hanged in a room at a hotel in Patong.
Patong Police were notified the incident at the Deevana Plaza Hotel on Rat-U-Thit 200 Pi Road in Patong yesterday at 4pm.
Police and emergency responders arrived at the hotel room to find the body of a foreign man who was later identified as 49 year old Darrin John Pakenham from Auckland. He was found hanged using a belt inside the bathroom. Police report no signs of a struggle on his body. His body was taken to Patong Hospital for further examination.
The family of Mr. Pakenham raised the alert when they were unable to contact him. Staff went to check the man's room when they discovered him hanging in the bathroom.
The man's passport and phone were still in the room, along with 2,120 baht in cash, plus a small amount of Malaysian currency.
Police are continuing their investigation.
If you or anyone you know is in emotional distress, please contact the Samaritans of Thailand 24-hour hotline: 02 713 6791 (English), 02 713 6793 (Thai) or the Thai Mental Health Hotline at 1323 (Thai).
Central's new Suvarnabhumi lifestyle centre set to open late August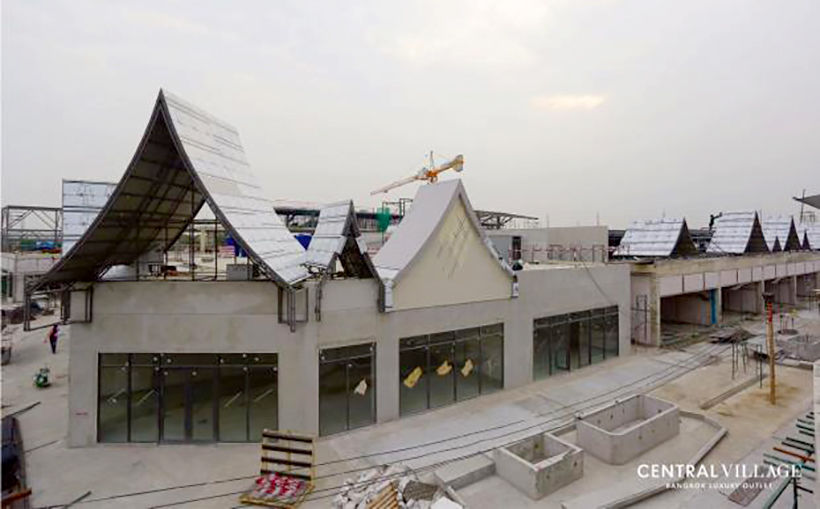 PHOTO: Central Pattana
Central Village, a new luxury retail outlet situated near Suvarnabhumi International Airport, is 70% finished. Wallaya Chirathivat, deputy chief executive of Central Pattana, says the new lifestyle shopping precinct is scheduled to open on August 31.
Central says that retail space in Phase 2 have now opened after Phase 1 of the retail development was totally booked. They report 65 brands have already booked their space in the new development.
Central says the new space is designed with a primary target audience of 25-40 with a monthly income exceeding 50,000 baht.
Ms Wallaya said in the Bangkok Post… "We aim to attract over 10 million Thai and foreign shoppers in the first year. World-renowned tourist destinations such as Britain, Japan and Hong Kong have their favourite outlets for tourists, and soon Thailand will be proud of Central Village. It will become a must-visit shopping destination to complete your trip."
Central Pattana also have a new Central concept store rising out of the ground in Cherng Talay, Phuket, between the Cherng Talay police station and Boat Avenue, on the east side of the road. It will be called Central Porto de Phuket.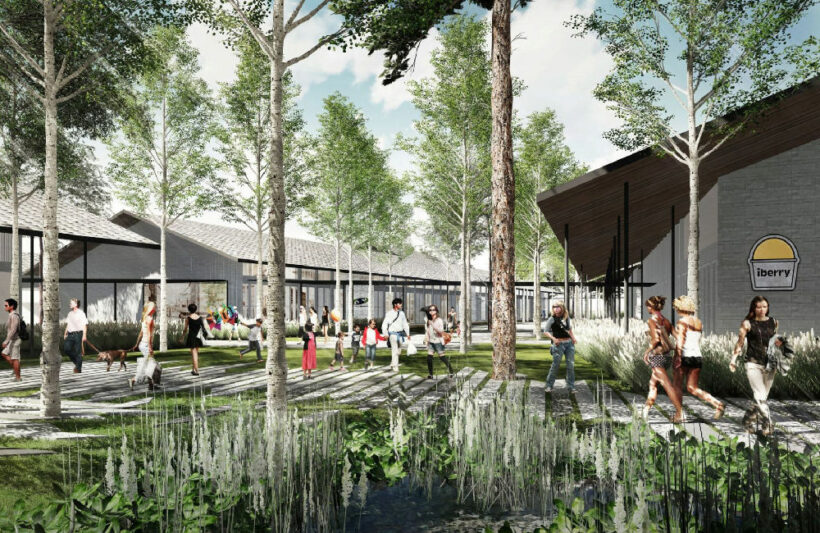 Phuket expat re-invents the way sewing machines work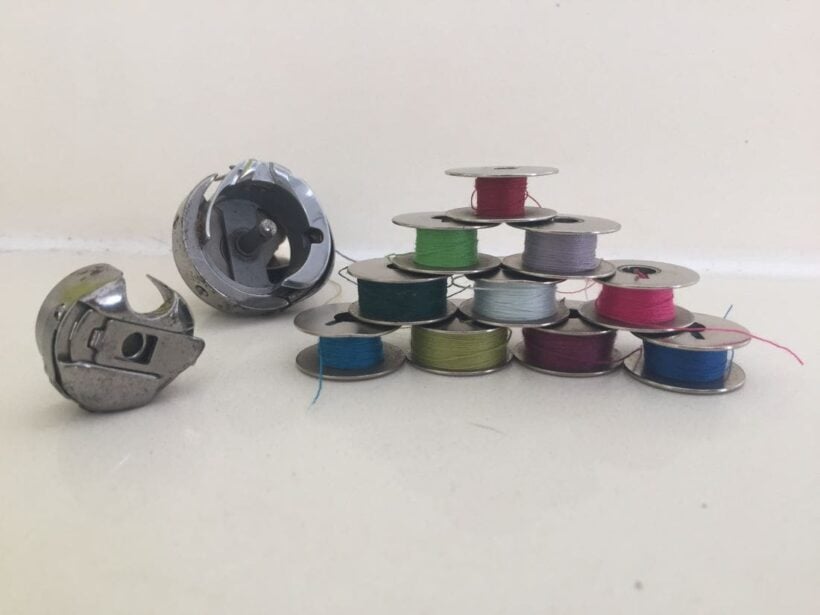 British inventor creates a new sewing system that eliminates the bobbin.
When you list the worlds top inventions the sewing machine is rarely included, it's lucky if it makes it into the top 50!
But there are very few moments in our daily life when we are not close to something that's been produced using a sewing machine.
Now a recent patent, developed by a Phuket expat, is set to bring the sewing machine back into the forefront. Templeton Hancock, a British sewing machine mechanic and former sewing machine demonstrator living in Rawai, has created a new Everlasting Bobbin Sewing (EBS) System that eliminates the need for constantly changing thread bobbins.
A bobbin is a spindle or cylinder, with or without flanges, on which wire, yarn, thread or film is wound. Bobbins are typically found in sewing machines, cameras, and within electronic equipment. In non-electrical applications the bobbin is used for tidy storage without tangles – Wikipedia
"The inception to create the EBS System came to me after a conversation I had with a customer who voiced her frustration with having to continually change the bobbin.  It made me question why no one had come up with a satisfactory solution to discard it."
"The EBS System offers huge benefits not just to manufactures but to everyone who regularly uses a sewing machine; it saves time, improves the quality and finish of garments, reduces waste and make the sewing machine more user-friendly and lessens the impact on the environment."
The first patented sewing machine was in 1790 to an Englishman, Thomas Saint. Over the next 60 years, the machine was modified and improved to something that is still mechanically recognisable in comparison to today's machines.
Since the 1980's there have been significant electronic advancements to the sewing machine, but the need for a refillable bobbin has always harkened back to its introduction in 1853.  Over the years, there have been many who have tried to solve this bobbin dilemma. The simple EBS System provides the solution.
So, how does it work?
With current technology, the needle and upper thread pass down into the machine bed.  As the needle draws back up, the upper thread is left behind, just slightly, but it is enough that a loop is formed.  Machines are timed so that a rotating hook underneath the machine, spinning off a centrally placed drive shaft, can catch this loop and pass it over the bobbin and bobbin case to create a locking stitch.
The EBS System is different.  The drive shaft is moved to one side and the hook is placed within a bearing which has drive teeth on its circumference. A void is now created within the bearing which allows for a thread feed tube to supply endless amounts of thread to freely pass without interruption from the rotating hook, eliminating the need for a bobbin.
The bobbin holds, on average for #40 weight thread, around 34.3m of thread.  In manufacturing this can equate to the bobbin running out on average, every 9-11 minutes. Methods of turn around to get the machine operational again can vary from 22 seconds to 3 minutes, cutting into the amount of hourly units produced and also increasing wastage/seconds garments for the item in production when the thread ran out. 
Analysis of Operation in manufacturing puts aside an average 20% of Standard Allocated Hours (SAH) for changing the bobbin, adjustments and staff rest breaks. By removing the need to refill the bobbin and using the EBS System, manufacturing can be increased by as much as 19%.
Realising the problem with the bobbin, many manufacturers have opted for using a chain stitch instead of a locking thread for seaming. The downside being that the chain stitch uses more thread, creates a bulkier seam and is not as strong as the lock stitch. 
By using the EBS System instead of a chain stitch, a factory making jeans (for example) could save an average of 8.9m of thread per unit produced (depending on method of manufacture), and at the same time produce a better quality garment with stronger and less bulky seams.  8.9 metres multiplied by the amount of units produced each day, week and month, equates to being considerable saving even before you add back in the garments that would usually be discarded as wastage/seconds which have now been mostly eliminated.
The EBS System is not just limited to clothing. Footwear, upholstery, luggage and automotive manufacturers are also to benefit from the lack of a bobbin.  When the bobbin thread runs out, holes have been made in the material and it takes a short time before the machine operator notices.
The precision of the fit and strength of the material has been compromised and a labour intensive task now begins to reinforce the stitch and try to match the holes already created in the material. 
A continuous stream of thread will reduce the amount of wastage of leather and vinyl products in the pursuit of perfection that is expected and demanded by consumers.
The EBS System is not just for industrial use.
The simplicity of the design makes it versatile to be used in the domestic market. The EBS System is a relief to home sewing enthusiasts whose interests are within home decor and quilting. No more will they suffer the frustration when the thread runs out in the middle of a project. 
The versatility of the EBS System is that it can also be used with the current refillable bobbin for those small repairs and quick fixes that would require a variety of short lengths of different coloured thread.
The EBS System also looks to the future. A.I. and automation is making advances into the sewing industry, but these machines still need to be carefully monitored as they still rely on the need for a refillable bobbin.  Using the EBS System machines will enable manufactures to run for 24 hours with very little supervision, with an endless flow of lower lockstitch thread.
US Patent #10156034  PCT#IB2019/050843
For further information contact Templeton Dean Hancock… templeton_dean@hotmail.com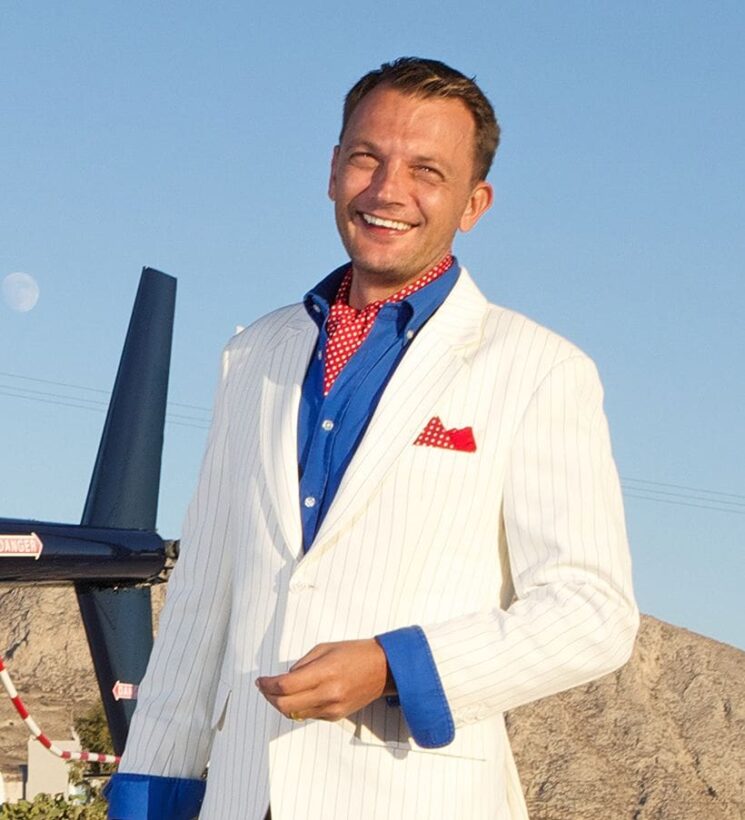 Templeton Hancock, Phuket-based seining machine mechanic and inventor