Larvae carve an itchy niche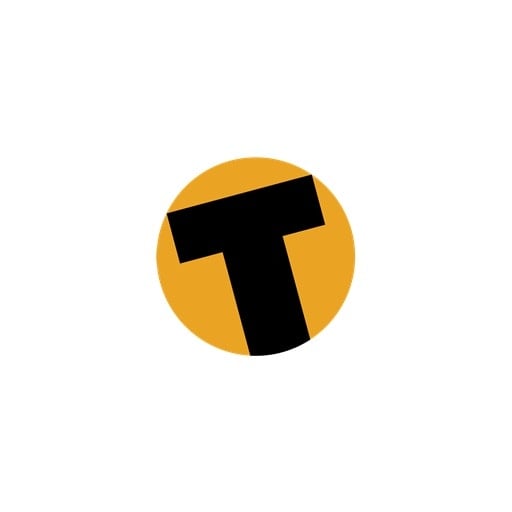 CHIANG MAI, PHUKET: Pity the poor housefly. Free of the ethical dilemmas facing humans, all it can aspire to in its short, frenetic life is to pass its genes onto the next generation. But with drought conditions lingering on in much of the country, flies are apparently finding it more difficult to locate piles of moist excrement in which to lay their eggs. The next best option, it appears, is inside the body cavities of unsuspecting mammals – preferably in buffalo or other large creatures with big noses and little ability to ward flies off. Perhaps it was only a matter of time before flies would discover that the body cavities of humans offered similarly cosy advantages. The first such instance reported recently happened in Phuket, where doctors at Wachira Phuket Hospital removed some 50 blood-engorged maggots from inside the ears of Anan Temtan, 84. K. Anan's relatives rushed him to the hospital on April 26 after he used cotton buds to relieve intense itching in his ears but ruptured his eardrums in the process, causing blood to stream from his ears. A doctor used tweezers to remove some of the maggots before resorting to a vacuum tool to suck the remaining maggots out. "We believe flies might have gone inside his ears to lay eggs, which hatched into larvae, causing the itching," said hospital Deputy Director Dr Somsak Nonthasri. Anan's granddaughter, Wimolrat Temtan, 19, said K. Anan had recently helped clean up a market in his neighborhood. Dr Somsak said he was surprised that K. Anan had not come to see a doctor sooner. Most people with something inside their ear canals would not be able to stand it for very long, he said. The next victim reported as falling prey to fly maggots was an unsuspecting pig farmer in Chiang Mai. The 38-year-old woman, whose name was not reported, didn't realize she was host to dozens of infesting larvae until her left cheek became so badly swollen that she needed an immediate operation. Dr Tawee Thanuparp-rangsan at Nakhon Ping Hospital in Chiang Mai said the 38-year-old patient came to see him at the end of March, complaining of severe pains in her left cheek. "I checked her nasal cavity and found many fly maggots there," he said. The doctor explained that the maggots had been feasting on tissue inside the patient's nasal cavity, leaving large festering wounds. The maggots had already eaten away so much tissue that some of the patient's bones were exposed, he added. The woman was immediately anesthetized and operated on and Dr Tawee removed 34 fly maggots from inside the woman's nose. "She then needed antibiotics to treat the bacterial infection for five straight days before being allowed to return home," he said, adding that the patient was a pig farmer exposed to a large numbers of flies on a daily basis. "Probably while she was sleeping, a fly went up her nose and laid its eggs, which then hatched into larvae," the doctor speculated. Dr Tawee believed this had been Thailand's first reported case of fly maggots growing in a human nose – but will it be the last?
NO Plastic Bag! @ Central Phuket
China has the most atheists. Indonesia and Philippines the most believers.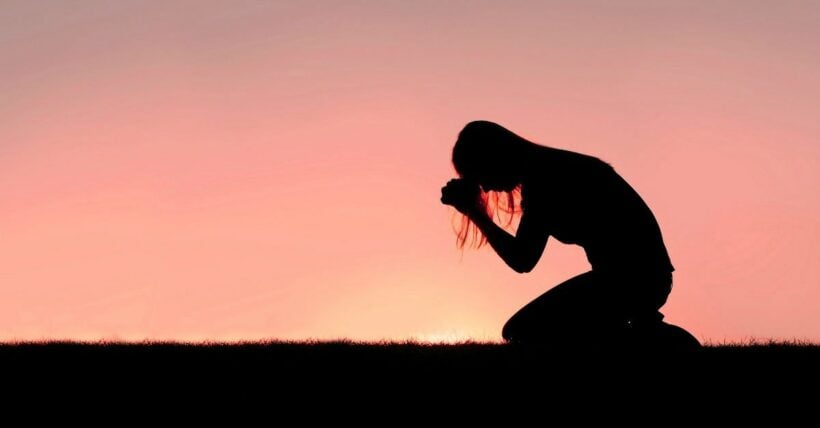 China is the least believing country in the world but belief in a God gets 100 per cent mention in countries like Indonesia, Bangladesh and Philippines, according to the survey by Gallup International.
According to the survey exploring religious tendencies of 66,000 people in 68 countries across the world, 62 per cent of people in the world define themselves as religious, 74% of people globally believe we have a 'soul' and 71% believe in a God. Another 56% believe in heaven, 54% in life after death and 49% in hell.
China has the highest percentage of atheists in the world with 67% not believing in any religion. Every seven out ten people are atheists, more than double than any other country. 23% consider themselves as non-religious. Less than 10% identify themselves as religious in China.
China's atheist percentage is followed by Japan, a long way behind in second place at 29%, Slovenia (28%) and Chech Republic (25%). Despite rapid industrialisation and urbanisation religion has stayed relevant in the South Korean region with only 23% identifying as atheist.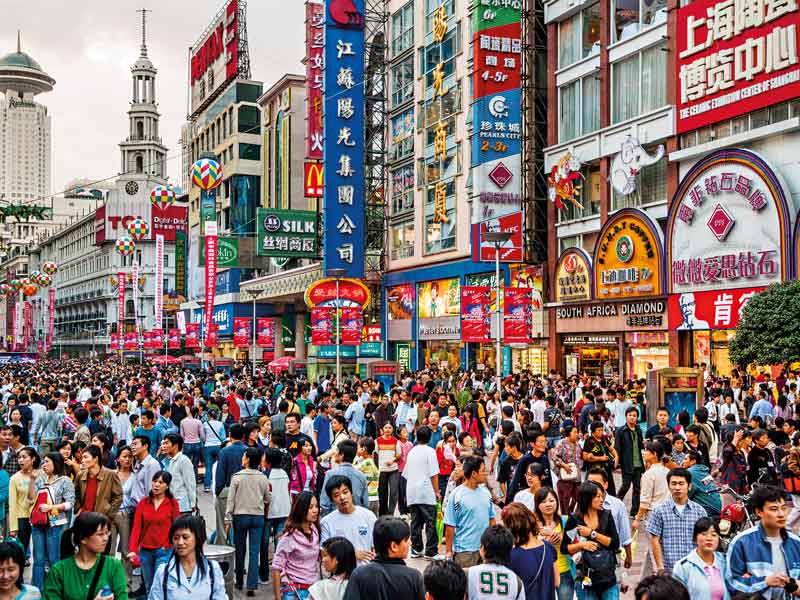 European countries like Belgium (21 %), France (21%) , Sweden (18%) and Iceland (17%) also have a large percentage of believing population.
Bangladesh, Indonesia and Philippines are the most believing countries with entire population claiming to believe in God, soul, hell and heaven. Thailand and Pakistan have 99% believing population, followed by India, Vietnam and Mongolia.
The survey shows that the levels of religiosity diminish as income and education levels increase. While 66% of people with low income affirm to be religious, this percentage drops to 50% among people with higher incomes. The same trend is verified in relation to education levels: 83% of people with lower education level are religious against 49% of higher level.
According to the survey there is a connection between religiosity, beliefs and socio-demographic characteristics like age, income and education level. As education and income levels grow higher, religiosity levels tend to go down. Also, the expression of different beliefs is higher among young people.
The level of education has a considerable influence on the perception of religion by the society. Women and young children show higher percentage for spiritual forces.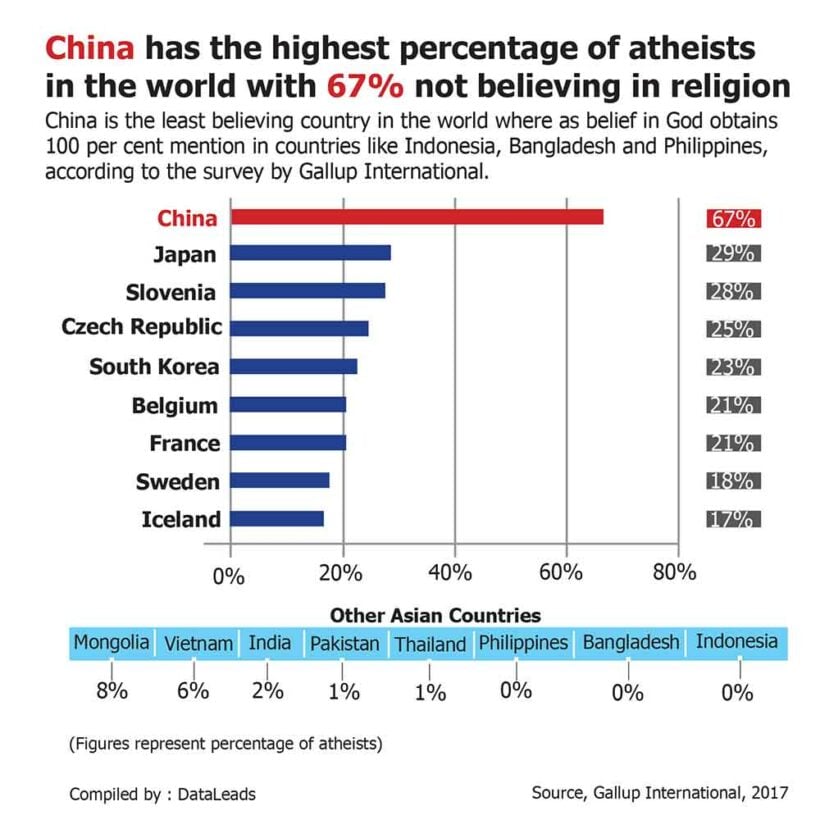 SOURCE: Data Leads
Stunning Malaysian election result ousts Barisan Nasional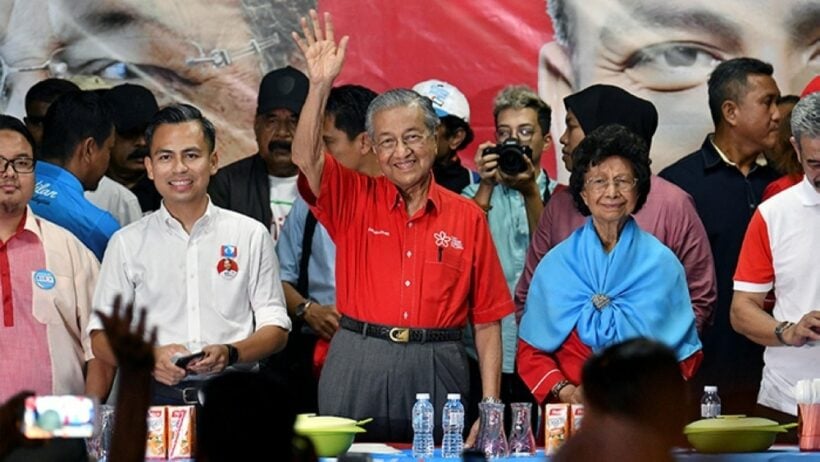 FILE PHOTO
Malaysia's Pakatan Harapan (PH) opposition coalition has crossed the minimum threshold of 112 seats needed to form government in Malaysia. The Election Commission continue to count a few remaining votes this morning but have confirmed the win of the Pakatan Harapan party and coalition members.
The result brings to an end the rule of Barisan Nasional (BN) and it's leader Najib Razak. Barisan Nasional, a nationalist right-wing government with strong links to it's ethnic Malay constituency, has dominated Malaysian politics for decades.
In a press conference just before the official confirmation, opposition leader and former Malaysian PM Mahathir Mohamad, now 92 years old, said his party had achieved a victory.
He said he hoped a swearing-in ceremony would be held on Thursday. Mr Mahathir will become the oldest elected leader in the world.
The final official results indicate PH had won 115 seats, with BN on 79 (these numbers will alter slightly as the counting finishes today).
The 92 year old pledged a government that would include a "young person", referring to criticism during the campaign that he was too old to lead Malaysia again. Mahathir said he would honour his agreement to help secure a royal pardon for jailed opposition leader Anwar Ibrahim. The two became the odd couple of Asian politics after decades working together, then becoming bitter enemies. Anwar was Mahathir's deputy PM at one stage but then fell out of favour.
But the two formed a curious coalition to bring down PM Najib Razak who they claimed was corrupt and had stained the country with the 1MDB financial scandal.
Mahathir said Anwar would have to win a by-election or be elected senator in order for him to take over as prime minister from Dr Mahathir, as per their agreement.
An upset was on the cards when unofficial results started trickling in about four hours after the ballot boxes were closed at 5.30 last night.
• 9pm – Bernama reported that caretaker Transport Minister Liow Tiong Lai, the president of BN component party Malaysian Chinese Association, had lost his Bentong seat.
• Caretaker Health Minister S Subramaniam, of BN coalition party Malaysian Indian Congress, was the next major casualty, losing his Segamat seat in Johor.
• 9.30pm, there was respite for BN when word came in that incumbent PM Najib Razak had successfully defended his Pekan seat in Pahang.
By 9.45pm last night, another four deputy ministers fell. At about the same time, it emerged that Mahathir would make a return to parliament after winning his Langkawi seat.
The result throws into doubt Najib Razak's position in his party.
While he had been praised for his fiscal policies, he was also unpopular for rolling out a goods and services tax in addition to being a target of unwanted international attention over allegations funds were misappropriated from a state fund he advised, 1Malaysia Development Berhad (1MDB). He has denied consistently any wrongdoing.
Mahathir had accused his former protege Najib of corruption and abuse of power before quitting UMNO to form his own party, Parti Pribumi Bersatu Malaysia.
But Mahathir has vowed: "We are not seeking revenge. We want to restore the rule of law."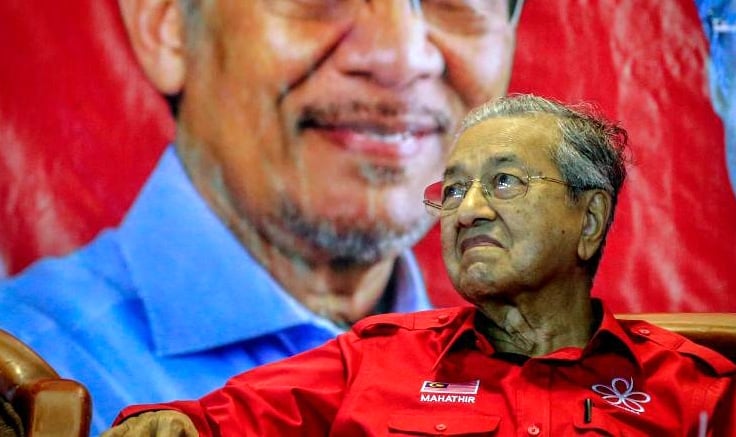 92 year old PM-elect Mahathir Mohamad, with a shirt emblazoned with his name, in case he forgot it whilst campaigning for the historic election.