30 dolphins greet visitors to Similan Islands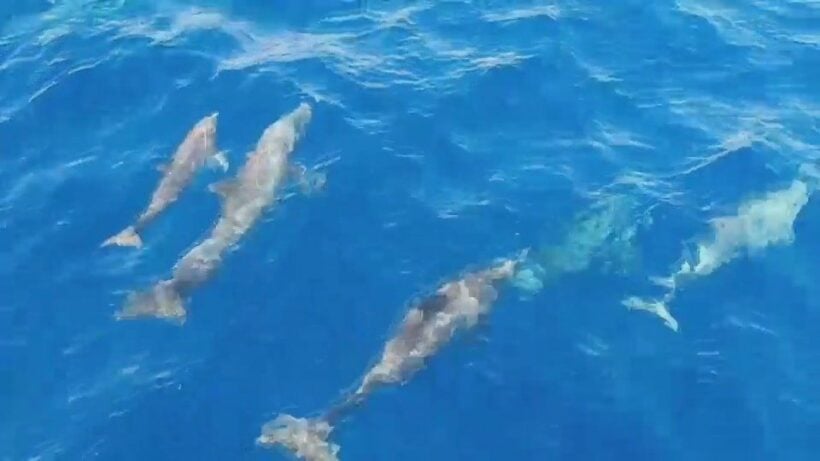 Tourists were treated to the sight of a school of dolphins in the Similan Islands off the Phang Nga coast on Sunday.
Tour organisers said that around 30 dolphins swam close to the boat six or seven miles offshore, creating excitement for passengers. It was the first time dolphins had been seen in the vicinity since October 15.
The Similan Islands National Park director said they were bottlenose dolphins and were among several species now returning to the area following a five-year closure of the park for environmental rehabilitation. Food is again plentiful there for them, he said.
Tourists are forbidden to feed wildlife lest the free handouts alter the animals' natural behaviour, and the park's waters are also very sensitive to contamination from human disease and marine debris, according to the director.
SOURCE: nationthailand.com
Keep in contact with The Thaiger by following our
Facebook page
.


Looking to jettison some items before jetsetting away or chartering a yacht? Look no further than Thaiger Classifieds where you can find and post items, work, property and more for free. Be sure to check out YonderTours for things to do in Thailand and tours across the country.

Read more headlines, reports & breaking news in South Thailand. Or catch up on your Thailand news.

SCAM – Thailand's PM2.5 micron smoke screen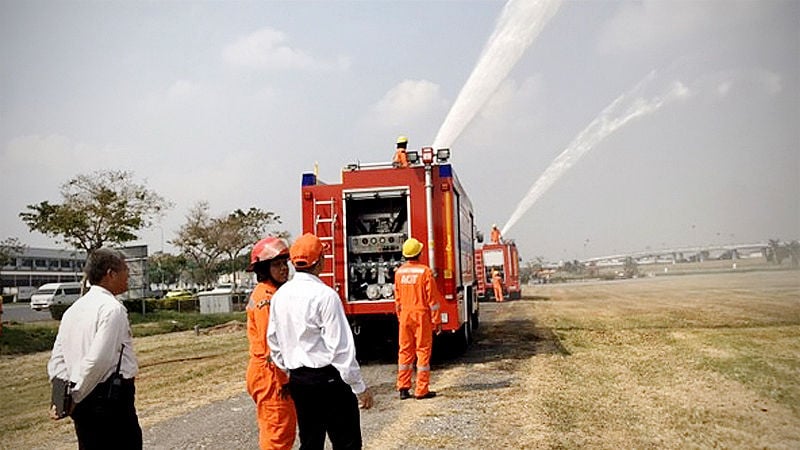 It's cars, it's the polluting buses, it's people burning too many incense sticks. Every year it's the same culprits in Bangkok, people driving their cars too much, polluting factories and old buses belching black smoke. All those things contribute to city pollution but are far from the main problem.
So the government, reactive as usual, rolls out its PR machine and invites the media to take photos of water cannons blasting thousands of litres of valuable water into the sky, doing precisely NOTHING to address the air pollution problem, beyond a short-term, extremely local solution. Very local indeed, and probably pleasing the assembled press as they enjoy a bit of overspray cooling them down. For the bigger air pollution problem, no help at all.
Even today the Bangkok media scrum was summoned to Suvarnabhumi Airport to get the story of the local airport solution where they've deployed water cannons that blast 144,000 litres of water per day about 50 metres into the air above the one of the airport's ring roads.
"The trucks will be deployed at 10am, 11am, 1.30pm and 2.30pm at the duty-free zone and along the Suvarnabhumi 2 Road, as these areas have high numbers of trucks and other vehicles passing through during weekdays."
We kid you not, there appears to some officials who actually think this grotesque waste of water is achieving something… anything, beyond a woefully useless media stunt.
"The airport has enforced pollution control regulations on all public vehicles running in theairport areas, which include taxis, shuttle buses, public buses, public vans and coaches. These vehicles were told to turn off the engine while waiting for passengers and make sure to have their vehicle condition checked regularly."
All this obfuscation from officials and the government is completely ignoring the PM2.5 micron "elephant in the room". Indeed, the oft-used "PM2.5 micron" word salad is just another way of confusing the public and shifting the narrative.
It's smoke, smog, haze, air pollution. And most of it is coming from fires deliberately lit by farmers who are providing crops for Thai multi-nationals, mostly corn, rice and sugar. The cheapest way to clear the land for the next crop is burning it to the ground. The machinery to complete that task without burning is expensive. Of course it's all about cutting costs, so lighting a fire and sending smoke into Thailand's skies is much easier… f**k the environment and the millions of people that are affected by the months of smoke-filled air.
Even the Pollution Control Department (an oxymoron indeed!) and its daily missives about the air pollution problem completely avoid any discussion about the forest and plantation fires, burning mainly in central and northern Thailand, and over the border in Myanmar. The northerly and north-easterly airstream at this time of the year casually wafts the offending smoke south, affecting the capital and its 10 million residents.
Here's today's active fires in and around Thailand, clearly identified by NASA satellites with constant updates. You can see active fires in Cambodia, Vietnam and Myanmar, but there is a big concentration in central, northern and north-eastern Thailand.

There's the evidence of where the smoke is coming from. Check out the link HERE. Pollution Control Department officials are able to click on the link too.
Or let's go to the Air Visual map which lists the air quality around the country (or the world) any time of the day. It also lists some of the key fires burning at the time.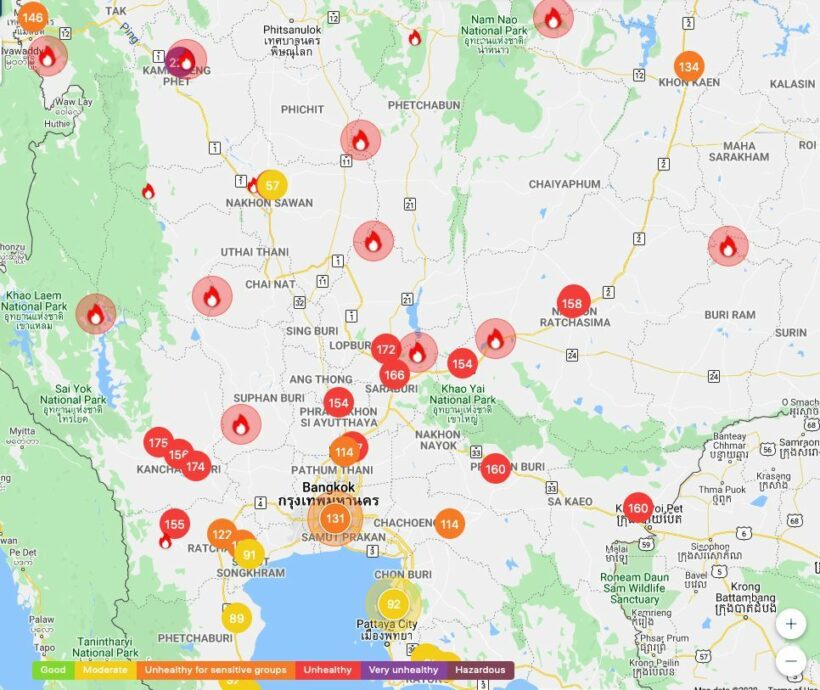 The information from Air Visual clearly shows the link between areas of poor air quality and the fires that are burning, also linked to the direction of the wind.
Bangkok's slightly improved air quality readings today have nothing to do with the water cannons blasting water into the sky at Suvarnabhumi and everything to do with changed, favourable wind conditions. If the problem was 'traffic' then Bangkok, a city of some 10 million people, would always have worse air quality than all the provincial air quality measurement stations.
At some stage the Thai government and public servants will be forced to bite the bullet and admit that the annual pollution problem is what it is – a cover up to protect large and powerful multi-nationals and their agricultural pursuits.
Now that Thai celebrities and some concerned residents are starting to see through the mist and fog of the misleading PR, and posting these air quality maps, their own experiences, and lack of confidence in the officials to address the problem, there is hope that public shaming might finally bring about some honesty and long-term measures to face the PM2.5 micron elephant in the room.
Keep in contact with The Thaiger by following our
Facebook page
.
MSG makes a comeback with a new campaign against the 'Chinese restaurant syndrome'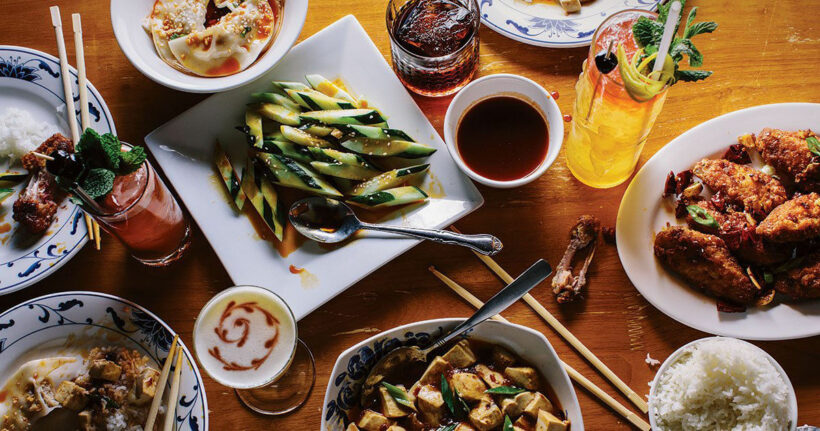 MSG, or monosodium glutamate, a common seasoning in many foods from Doritos, to salad-dressing and Thai food, is making a come back. Not that it really went away. But there was 50 years or so when it suffered, unreasonably, a poor reputation.
For years it was branded an unhealthy processed ingredient despite a lack of supporting scientific evidence. It became the whipping boy of Chinese restaurants with people alleging they would suffer from symptoms like dizziness and palpitations after eating Chinese food seasoned with MSG. It even earned the nickname "Chinese restaurant syndrome".
The Merriam-Webster even added "Chinese restaurant syndrome" to its dictionaries from 1993 after it became somewhat of an urban legend such that it became excepted that a lot of Chinese food contained MSG and that it was, somehow, bad for you. Despite hundreds of studies there has never been any repeatable experiments where it could be proven that monosodium glutamate was bad for consumer's health or could repeat the alleged side-effects in control groups.
It all started when a biochemist wrote a letter to the New England Journal of Science in 1968 saying that Chinese restaurant food left him "lightheaded and with odd aches and pains". The next issue of the journal published more purported side-effects.
That grew into a meme that Chinese food was dangerous for you and spread quickly, and even gained some early legitimacy by some medical professionals at the time. A 1969 scientific paper claimed that MSG was "the cause of the Chinese restaurant syndrome," and said it caused "burning sensations, facial pressure, and chest pain."
Subsequent scientific studies over the next half century have never been able to validate the 1969 paper's claims or find any link between the white salt-like substance and any side effects. Studies suggest that any correlation on side effects from eating MSG were probably psychosomatic.
MSG was first introduced in 1908 by a Japanese chemist Kikunae Ikeda, who was able to isolate unique flavour of a popular broth made from a seaweed called kombu. Ikeda described the flavour as neither salty, sweet, sour or bitter. It was unique. The taste came from the glutamate in the seaweed and earned the new, "fifth taste" which would be called "umami", neither salty, sweet, sour or bitter.
But MSG has been used as an active ingredient in many Asian foods, not the least Thai food where the white crystals are sprinkled liberally on favourite Thai dishes from the street stalls to the hi-so restaurants.
Now there's a campaign, "Redefine CRS" headed by Japanese food and seasoning company Ajinomoto to reflect the current knowledge about MSG and the impact of misinformation on the public's perception of Asian cuisine.
The whole Chinese Restaurant Syndrome was a western construct and never became a 'thing' in Asia. So Ajinomoto are calling out the half century of misinformation as "racist". If MSG was actually dangerous or could conjour up it's reputed side effects a long list of Asian countries and their populations would be walking around complaining about it.
"To this day, the myth around MSG is ingrained in America's consciousness, with Asian food and culture still receiving unfair blame. Chinese Restaurant Syndrome isn't just scientifically false, it's xenophobic."
In a video several Asian American figures, restaurateurs, and medical professionals spoke out against the misconceptions surrounding MSG and Chinese food. Famed restaurateur Eddie Huang, whose memoir was adapted into the hit sitcom "Fresh Off the Boat points out that MSG is not only delicious but found in hundreds of commonly used foods we use every day.
"Calling it Chinese restaurant syndrome is really ignorant."
The campaign proposes a redefinition of "Chinese restaurant syndrome"… "an outdated term that falsely blamed Chinese food containing MSG, or monosodium glutamate, for a group of symptoms."
Chances are, you've eaten it. You light be eating it right now as you snack and scroll through your phone. MSG is a common amino acid naturally found in foods like tomatoes and cheese, which people then figured out how to extract and ferment. This fermented glutamate salt is now used to flavour lots of different foods like stews or chicken stock and seasoning.
A joint study by the World Health Organisation and the UN Food and Agriculture Organisation "failed to confirm a link between MSG and the 'Chinese Restaurant Syndrome'. The syndrome itself was based on "anecdotal" evidence rather than any scientific fact."
As the new campaign points out, the public scare over MSG unfairly placed the blame on Chinese food. That myth persists in many western countries where Chinese food as is sometimes considered processed, unclean, or unhealthy.
So, head down to your local Chinese restaurant and thoroughly enjoy your meal because it tastes great, along with all the other Asian cuisines you love. If you feel 'icky, bloated and tingly' after your meal it's not the MSG, you probably just ate or drank too much.
As a side note, The Thaiger was involved in an experiment six years ago in Phuket when we had two control groups of three people. The six people were sat down and told we wanted to measure the effects of MSG in their food. All were given a standard Pad Thai Goong. One group was told the meal had been prepared with MSG, the other without MSG. In the interviews after, the group who ate the food prepared with MSG noted they had 'tingling around their lips', 'feeling of flush cheeks' and 'racing heartbeat'.
The other group, who were told their meals were prepared without MSG, had no complaints.
Then everyone was told that, in fact, the meals had been switched, so that the group who thought they had consumed MSG had eaten a Pad Thai Going without any MSG.
Hardly a scientifically-validated study but an indication how we can be easily convinced to believe anything.
Keep in contact with The Thaiger by following our
Facebook page
.
Prasitthichai speaks to the Thai media, "killings were unintentional"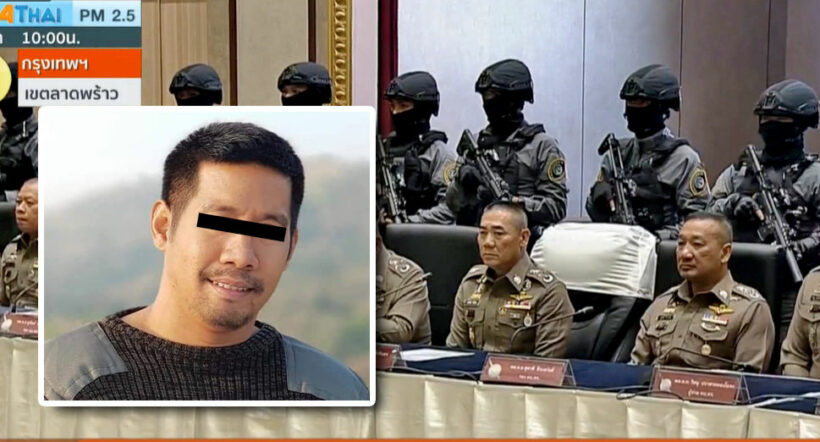 In a bizarre sequence of events, Thai media were able to directly question the suspect, who has allegedly confessed, of the cold-blooded murders of three, whilst injuring four others, on January 9 at a Lop Buri gold shop.
School principal Prasitthichai "Golf" Khaokaew is reported to have told police that he robbed the gold shop because he had financial problems and that the shooting of a female employee and a two year old were unintentional. They both died as a result of their wounds, along with a shopping centre security guard who was shot when the gunman was fleeing the scene of the crime.
Prasitthichai spoke to the media via telephone, at a media presser this morning at the Royal Thai Police headquarters in Bangkok. The media event was hosted by the national police chief, Pol Gen Chakthip Chaijinda. The assembled police chiefs were flanked by members of the special forces Hanuman assault team who arrested the suspect yesterday.
Prasitthichai told the assembled media that had to open fire because he "wanted to cause panic and clear the way as he approached the shop". He says he'd planned the robbery only 3 days earlier.
• He claimed that the shooting of the female employee was accidental claiming his glove got stuck in the pistol trigger when he tried to remove it, and his pistol accidentally discharged two shots.
• He claimed that he didn't see the 2 year old boy when he tried to shoot at a security guard. The wounded guard staggered out of the building and subsequently died on the road.
• He claimed he bought the gun's silencer from a friend on the Internet.
• Prasitthichai offered an apology, especially to the family of the 2 year old boy, "Title".
He told the assembled media that he was going to surrender to police tomorrow (January 24) but ended up being arrested by the Special Forces Hanuman Division whilst driving his car yesterday. Meanwhile police recovered stolen gold ornaments from the man's parents' house last night with the gold stuffed into steel tube rafter inside the roof. Police are also still searching for the silencer.
Thai PBS World have published some excerpts from the bizarre exchange between the reporters and the suspect on speaker-phone.
Q: Why did you have to shoot to kill the victims?
Prasitthichai: I only meant to shoot to frighten people.
Q: Did you plan the robbery in advance?
Prasitthichai: I thought about it for a few days.
Q: Why did you shoot at the gold–shop attendant again?
Prasitthichai: When I was on top of the counter and had my gun trained at the woman by hand-glove got tangled with the trigger. I tried to pull it off and caused the gun to fire twice.
Q: Why did you shoot 2 year old Titan?
Prasitthichai: I did not see him. I shot at the security guard to frighten him. The child could have been hit by the ricochet. I didn't mean to shoot at the child.
Q: Don't you have any sense of remorse? You still lived your normal life after what you had done.
Prasitthichai: I do regret. I saw news about what happened to the child and regret what I have done.
Q: How could you return to your normal life after what happened?
Prasitthichai: I tried to live a normal life and did not think about escaping. But deep down I regret what I did.
Q: If you wanted to frighten people, why didn't you just fire warning shots?
Prasitthichai: I did fire two shots at the gold show-case and didn't expect the bullets to hit the attendant. And then when I saw two customers (who were also shot) I just lost my mind. I want to say I am sorry and ask for pardon.
Q: What do you want to say to the families of the victims?
Prasitthichai: I want to say I am sorry, especially to the family of Titan and those of other victims. I am sorry and I want to ask for their mercy.
Q: Why did you use silencer and where did you get it from?
Prasitthichai: I bought it from someone my junior I know on the internet. I used it because I didn't want to frighten people with loud noises.
Q: Did you think of giving yourself up?
Prasitthichai: I did think about surrendering but didn't consult with anyone. I did everything by myself. My intention was to give myself up after January 24.
Q: Why January 24?
Prasitthichai: I had an assignment with students at my school that I needed to finish first.
Q: Was your first shot intentional or accidental?
Prasitthichai: It was intentional. I wanted to frighten people, to prevent people from getting near. But it ended up hitting Titan
Q: There was rumour that you committed the crime because you wanted to die, a daredevil act.
Prasitthichai: No. I did it because of my personal problems. I have to excuse myself now.
SOURCE: Thai PBS World
Keep in contact with The Thaiger by following our
Facebook page
.