The race for a vaccine: who to look out for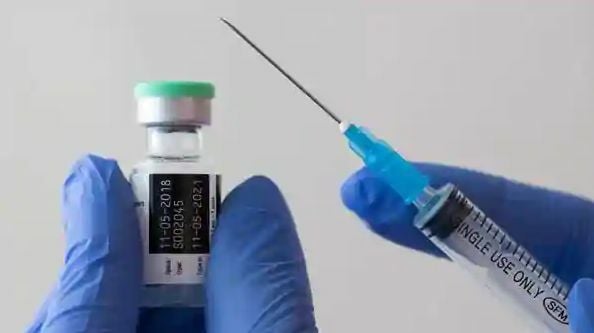 Background
COVID-19 is caused by SARS-CoV-2 from the coronavirus (CoV) family. CoVs are enveloped, positive-stranded RNA viruses with nucleocapsid, including the SARS-CoV of 2003 and MERS-CoV of 2012. CoVs generally cause respiratory illnesses that could also affect other organs, and those infected have a 2 – 14 day latency period, where patients are asymptomatic. This has made it much harder to quickly detect and prevent its spread. As such, most countries have started implementing contact tracing, which is mostly comprehensive around the world now as seen below.
The fight against COVID-19 (Thailand)
The director of the World Health Organisation is praising Thailand for being a successful model of Covid-19 containment. This is a result of over 40 years of investments by past and present governments to improve the public health infrastructure, including recruiting public health volunteers. Thailand has initially appeared to have escaped the worst of the viruses, with fewer than 4000 cases in November 2020.
However, there was a sudden outbreak at a large seafood market in December 2020 and in order to curb the possibility of a 'second wave' of infection, the government has instituted nationwide restrictions and closures will go into effect from Jan 4 to Feb 1. Public schools will be shut down for two weeks, and among those businesses affected are bars, nightclubs, boxing stadiums, cockfighting rings, massage parlours, and gyms. This will be a partial lockdown to prevent the new surge of infections. Shopping malls, restaurants, beauty salons, swimming pools and public parks remain open with strict social distancing guidelines, but these guidelines may be tightened in areas like Bangkok and other large provinces.
What is a vaccine?
A vaccine is a type of medicine that stimulates a person's immune system to produce antibodies against the virus. There are various types of vaccines, as shown in the table below, with some types still in development.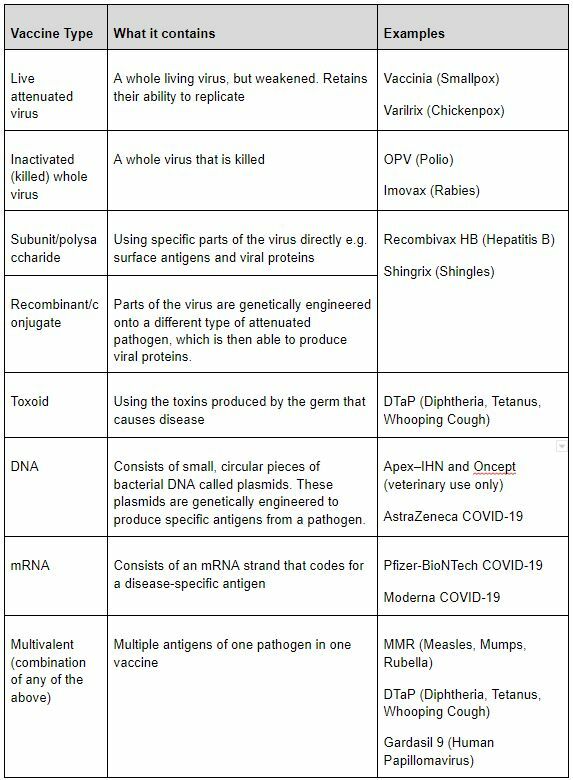 Interestingly, prior to the COVID-19 vaccines, there are no approved mRNA or DNA vaccines, and neither has ever been tested in a large-scale clinical trial for an infectious disease. This COVID crisis has been a great opportunity for these technologies to be pushed.
Types of Vaccines available
As of 3rd January 2021, there are three COVID-19 vaccine candidates that have been approved by various countries. The US Food and Drug Association (FDA) has approved Pfizer-BioNTech and Moderna, while the UK has approved the AstraZeneca vaccine as well. The Thailand government, on the other hand, now expects to take delivery of 2 million doses of a COVID-19 vaccine potentially as early as February. Thailand has also signed a deal with AstraZeneca to purchase 52 million doses of the AstraZeneca vaccine. Furthermore, private hospitals in the Kingdom are given permission to purchase their own vaccine supplies, as long as the vaccine is approved by the Food and Drug Administration of Thailand.
There are currently more than 50 COVID-19 vaccine candidates in trials worldwide, which are undergoing large-scale (Phase 3) clinical trials before allowed to be approved for use.
Pfizer Vaccine
The first vaccine candidate against the virus was developed by Pfizer and BioNTech. On 31st December, the World Health Organization listed Pfizer and BioNTech's COVID-19 vaccine for emergency use. Clinical trials show it to be more than 90% effective in preventing COVID-19 in participants without evidence of prior SARS-CoV-2 infection in the first interim efficacy analysis.
Moderna Vaccine
The second vaccine approved by the FDA is developed by Moderna and the National Institute of Allergy and Infectious Diseases (NIAID).
AstraZeneca Vaccine
The third vaccine approved for use in the UK is the Oxford-AstraZeneca, also made in the UK. The UK Medicines and Healthcare products Regulatory Agency (MHRA) has authorised two full doses of the Oxford vaccine, with the second dose to be given four to 12 weeks after the first. A Bangkok-based Siam Bioscience signed an agreement with AstraZeneca in late November to make 200 million doses of the British pharmaceutical firm's COVID-19 vaccine. This agreement will facilitate technology transfer to increase the production of the AstraZeneca vaccine. The Thailand government will secure 26 million doses of the vaccine for the locals, and more than half of this 200 million doses will be exported overseas.
CoronaVac Vaccine
This vaccine originates from Sinovac Biotech in China and contains inactivated COVID-19 viruses. Similar to its AstraZeneca counterpart, it can be stored in a standard refrigerator at 2-8 degrees Celsius. This is advantageous for use in developing countries which might not be able to store large amounts of vaccine at such low temperatures. Thailand will receive its first Covid-19 vaccines in February from Sinovac Biotech, numbering 200,000 doses. These first vaccines will go to the medical professionals, and will be given to the rest of the population in descending order of priority when the next 800,000 and one million doses of the Sinovac vaccine arrives by March and April respectively.
Comparison of the three approved vaccines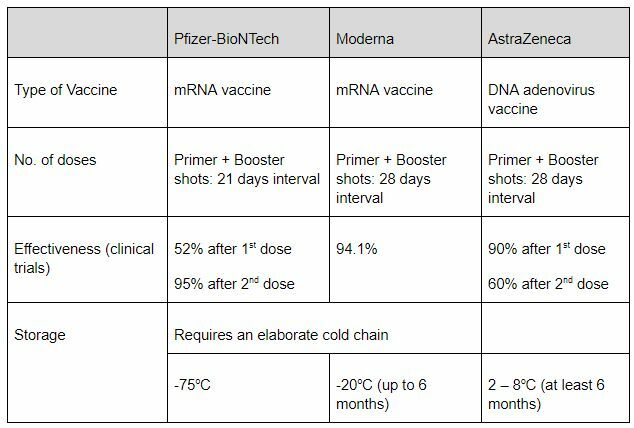 As with all vaccines, possible side effects of both COVID-19 vaccines are injection site pain, fatigue, headache, muscle pain, and joint pain. This is not unique to the COVID-19 vaccine, as these side effects are common across vaccines, which is simply an indication that the immune system is active and producing antibodies to fight the unknown pathogens.
Vaccine Side-Effects
No long-term side effects have been recorded, but observations are still ongoing as the first batches of vaccines are rolled out. As for pregnant or lactating mothers, preliminary animal studies show no signs of harm to the mother or fetus, but this is yet to be tested in humans.
But regardless, it is not a cause for concern, because before the screening for COVID-19 vaccines before use is a very rigorous process. Before vaccines can be delivered, the vaccines must be proven safe and effective in large (phase 3) clinical trials. Afterwards, there is a series of independent reviews and an external expert panel convened by WHO to analyse other risk factors for disease. Officials in individual countries decide whether to approve the vaccines for national use and develop policies for how to use the vaccines in their country based on the WHO recommendations.
Who gets the vaccine first?
COVAX is the vaccines pillar of the Access to COVID-19 Tools (ACT) Accelerator of the WHO. The COVAX Facility ensures global equitable access to a vaccine, particularly protecting health care workers and those most-at-risk. Only then can we mitigate the public health and economic impact of the pandemic.
Country-wide, individual governments have their own system of allocation, while following the WHO's guidelines for vaccine distribution. Generally, the tiering system is as follows:
Healthcare workers

Care home residents, people over 80

People over 50, young adults with health conditions

All other residents
Herd Immunity
Herd immunity is a concept that if enough people get vaccinated, the population will be better protected since the virus cannot spread as quickly. Given the high transmissibility of the virus, coupled with the high latency period of 14 days for symptoms to appear, curbing the spread of the virus is essential.
What else should we do, apart from vaccines?
While the vaccine will reduce one's likelihood of getting ill and afterwards hospitalized, there is still no confirmation yet whether being vaccinated prevents someone from transmitting the virus. Hence, those who have already got the vaccine should still wear masks and practice physical distancing, to prevent the virus from spreading airborne.
The virus can and will likely undergo mutation, creating what we call a new virus mutant or strain. This occurs via recombination, when a virus spontaneously mutates its surface antigens, or when multiple viruses infect a single organism, and during the reproduction process, the genomes of two viruses combine. This means that great precaution still needs to be taken, and there is no telling whether we would see a mutated COVID-19 strain.

Join the conversation and have your say on Thailand news published on The Thaiger.
Thaiger Talk is our new Thaiger Community where you can join the discussion on everything happening in Thailand right now.
Please note that articles are not posted to the forum instantly and can take up to 20 min before being visible. Click for more information and the Thaiger Talk Guidelines.