New electric ferries to ply the 'Venice of the East' in Bangkok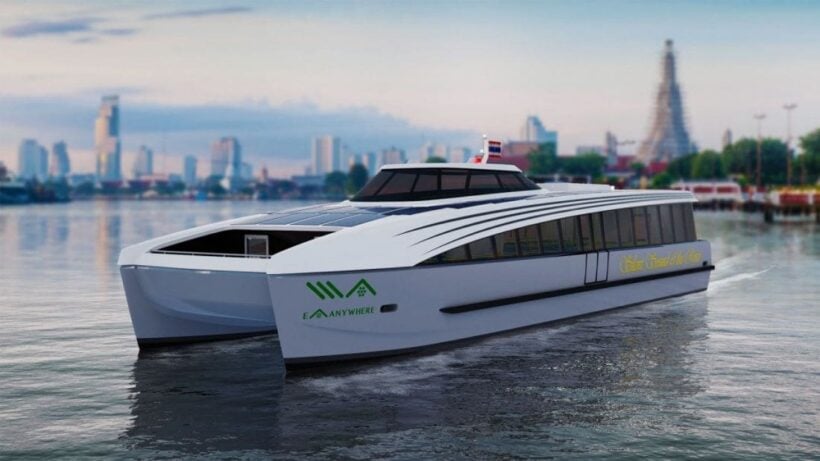 by Kwanchai Rungfapaisarn
A 1 billion baht project is under consideration to transform Bangkok into the "Venice of the East" (again?) and help ease the city's air pollution problems.
The project for electric-powered ferries to ply the Chao Phraya is backed by Energy Absolute, a Thai alternative energy technology provider, which yesterday said it will work with the Marine Department to introduce the service. The partners are hailing the project as a smart transport initiative.

Amorn Sapthaweekul, director and deputy chief executive officer of Energy Absolute, said the electric ferries, under the pilot stage of the project, will be on the river by the end of this year. The service will be operated by EA and its subsidiary Energy Mahanakorn Company, which will be in charge of manufacturing the EA Anywhere-branded charging stations for the vessels.

"We pride ourselves on being Thailand's leading innovative alternative energy company, focusing on delivering cutting-edge technology and environmental friendly solutions for better living," said Amorn.

"Today marks a significant milestone as we launch the first 100% Thai electric ferry prototype to be opened by the end of 2019. It aims to transform Thailand into a truly smart transport country, improving the standard of urban living quality and reducing pollution."

Amorn said that after the introduction of the Thai-owned electric car, badged MINE Mobility in March last year, EA has expanded the use of its battery technology with the planned launch of electric ferries.

The vessels will run from the Nonthaburi Pier to Wat Rajsingkorn Pier. The 20km stretch of river will be covered in less than 40 minutes.

"We plan to build 54 electric vessels at an investment of 1 billion baht. The transport service with the electric boats will start at the end of this year and all 54 boats will be fully operational by February next year," said Amorn.

"River transport can be used as another jigsaw connecting to the Bangkok Metropolitan Administration's entire public transportation network of electrical vehicles. The electric ferry project will return a good liveable city to the people of Bangkok, which is one of the most important tourism destinations in the country," said Amorn.

The ferries, which are designed by EA, are being produced by a local supplier for the company under a subcontracting arrangement.

The ferries will run with electric energy supplied by a battery with a capacity of 800 kilowatt hours. The boats, 24 metres long by 7 metres across, will use battery technology developed by EA. They can hold about 200 passengers.

EA plans to set up a battery manufacturing plant in Chachoengsao for its electric vehicle projects.

SOURCE: The Nation


Read more headlines, reports & breaking news in Bangkok. Or catch up on your Thailand news.
Specialist clinics for pollution-related symptoms to be set up around the country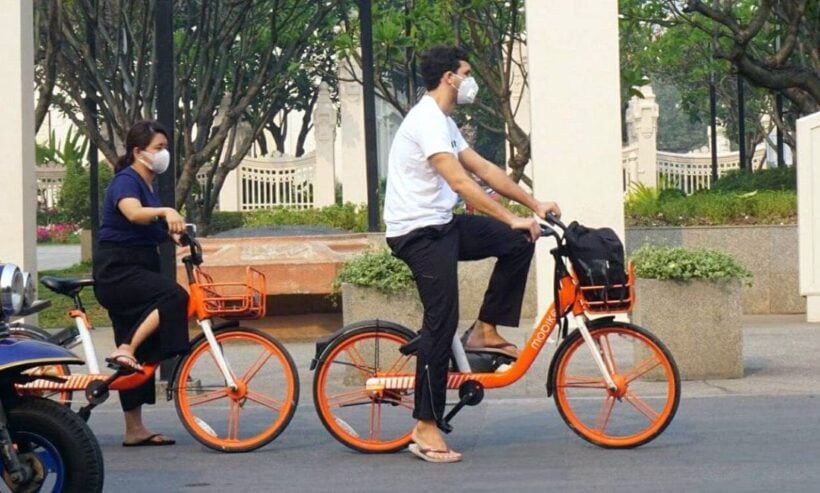 The Public Health Ministry says they are now preparing to set up specialised clinics to treat patients suffering from pollution-related symptoms in the northern parts of the country.

"At present, we have just one such clinic in the country. So, we have decided to introduce many more," according to permanent secretary Dr Sukhum Karnchanapimai.

He made the pledge in response to the high levels of choking smog and smoke that has been haunting several provinces of Thailand in recent months.

"We plan to set up pollution clinics in the North and the Northeast before the end of this year," Sukhum said.

Currently, the country's only 'pollution clinic' is located at Nopparatrajathanee Hospital in Bangkok.

According to the permanent secretary, the Medical Services Department has already prepared a manual on how to set up pollution clinics for hospitals to use.

Certain groups of people face a graver threat than the general population from dust problems: those working outdoors, young children, pregnant women, the elderly, asthma patients, and those suffering respiratory disorders.

Disease Control Department deputy director-general Dr Kajohnsak Kaewjarus said about 22,000 people had sought medical help about symptoms that could be associated with smog and air pollution.

"The most common symptoms concern respiratory disorders, heart and coronary-artery disease, eye inflammation and inflamed skin."

Health Department director-general Dr Panpimol Wipulakorn said people should try to protect themselves.

"Minimise exposure to dust. Keep your home clean. When going outdoors, wear a facemask. And if you develop health problems, go see a doctor," she said.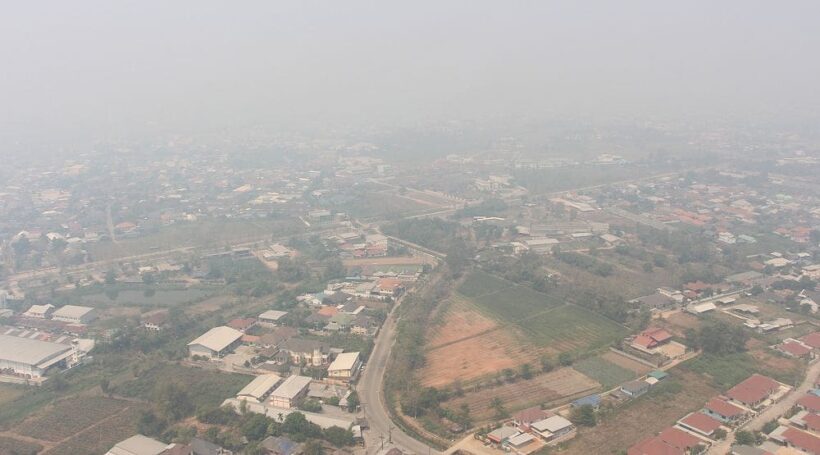 SOURCE: The Nation
Week kicks off with more choking haze and cancelled flights in the north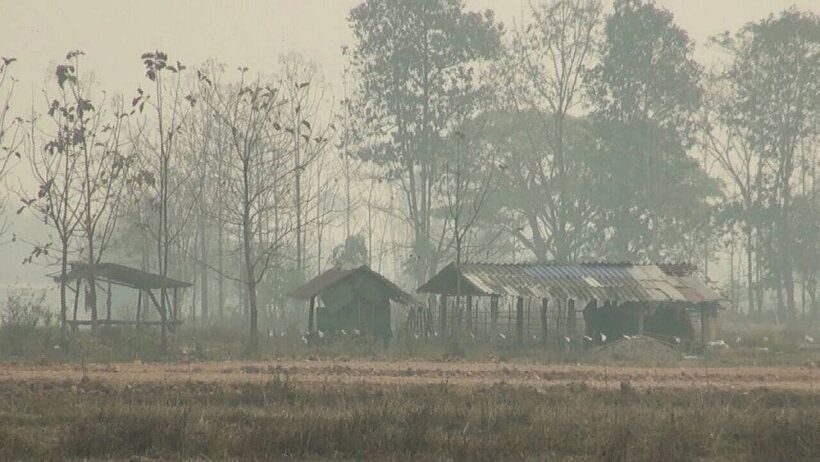 From Nan to Mae Hong Son, Phrae, Chiang Mai and Chiang Rai, choking smog continues to be a persistent problem and part of daily life in the North, where more than 400 brushfire hotspots have now been identified.
Most of the fires are in Mae Hong Son, on the far north-west border with Myanmar, which counted 100.
Bangkok Airways has already cancelled its morning flights between Chiang Mai and Mae Hong Son until at least next Sunday, extending the deadline from this weekend, saying there had been no improvement in visibility so the situation was too risky for flights.
Yesterday morning visibility at Mae Hong Son was just 1,600 metres, whereas Bangkok Airways requires 6,000 metres. At this stage other flights are continuing their schedule.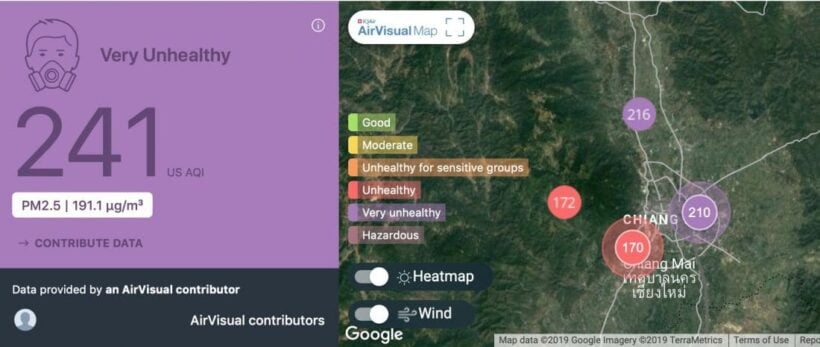 Areas north of Chiang Mai this morning, registering well above safe levels for air quality
The Pollution Control Department reported the level of PM2.5 – particulate matter 2.5 micrometres or less in diameter – in Mae Hong Son more than twice the safe limit of 50 micrograms per cubic metre.
Authorities say that deliberately set brushfires and plantation burn-offs are the main cause of the air pollution. With Mae Hong Son topping the list, Chiang Mai had 83 hotspots on Sunday, Phayao 54, Tak 49, Nan 38, Chiang Rai 37, Lampang 31, Phrae 24 and Lamphum 20.
Authorities in several provinces have declared total bans on outdoor burning, but farmers often risk the threatened fines because they have no other viable way to clear their land.
Several outdoor activities have been cancelled in Nan, such as sports tournaments, as a result of the danger to health.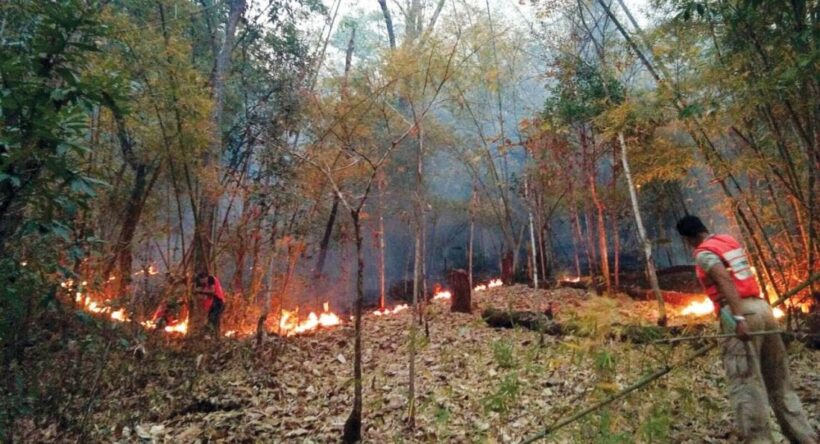 SOURCE: The Nation
Thailand's north continues to choke under record smoke levels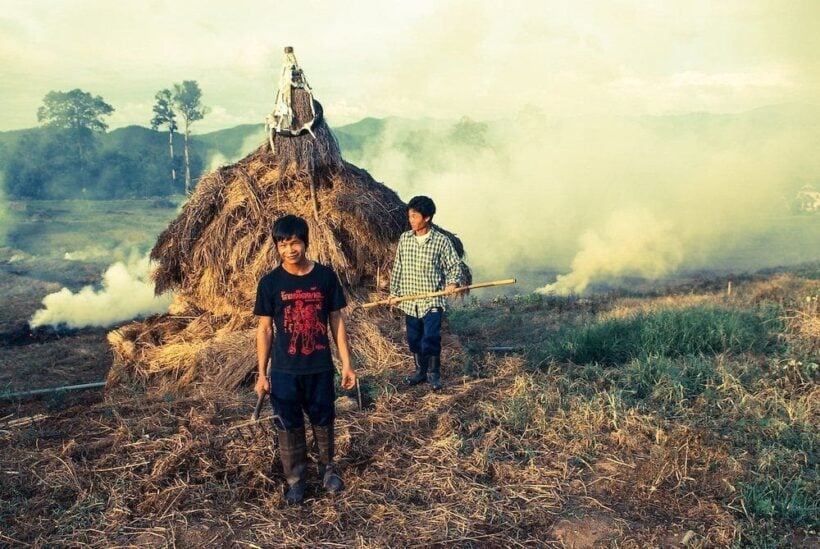 PHOTO: Burn-off of plantation land and forest fires continue to blanket the north in smoke – Thailand Discovery
For the fourth consecutive day Chiang Mai ranks as the world's most air-polluted city, with an air quality index (AQI) score of 282 this morning on airvisual.com.
Mae Hong Son meanwhile continued to battle multiple forest fires, and Lampang saw it Thammasat University campus suspended classes and office work until March 18 due to the severe haze. Bangkok Airways has also suspended its daily flights into Mae Hong Son airport from Chiang Mai but will review the situation over the weekend.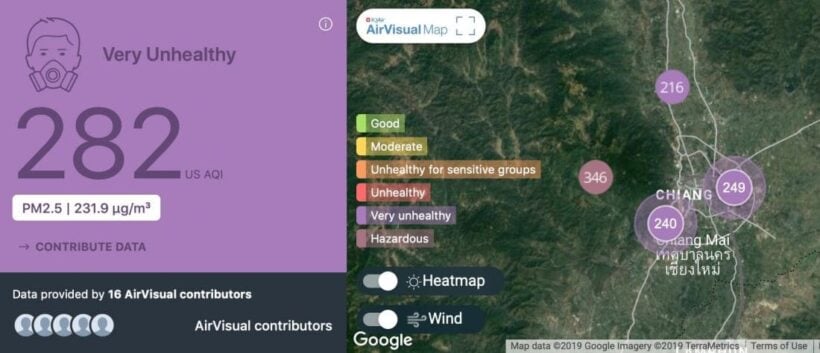 The Pollution Control Department reports that all nine northern provinces this morning had unsafe levels of PM2.5 dust particulates.
The Thai safety limit for PM2.5 is 50 micrograms per cubic metre or an AQI of 100. This morning's measurement of 282 is listed as 'unhealthy' by the internationally recognized website.
In Mae Hong Son, where satellite image reports had cited more than 100 hot spots for several consecutive days, the latest report found 104 hot spots in the province – with the largest number clustered in Pai district at 43 hot spots followed by Pang Mapha district at 33 hot spots, which is a slight drop from the previous day's 119 hot spots.
The satellite image report as of 2.18am cited 561 hot spots in nine northern provinces – Mae Hong Son (104), Chiang Mai (137), Chiang Rai (36), Nan (43), Phayao (94), Phrae (33), Lampang (61), Lamphun (28) and Tak (25).
A Thai friend of The Thaiger sent this video to us today….
https://web.facebook.com/thethaigernews/videos/2462678387293208/
The haze has inundated the region with poor visibility. It has now ravaged Mae Hong Son, especially its Doi Kongmu area, for two weeks and caused officials to dispatch fire engines to spray water throughout the city.
State officials and volunteers continue daily to battle forest fires, most of which have reportedly stemmed from villagers lighting fires in the forests. About 60% of the forest fires have occurred in beyond-reach steep mountainous areas and so continue to bellow smoke and strengthen the haze.
In Lampang, the Thammasat University campus suspended classes and stopped office work for until March 18 as a precaution to ensure students and staff can protect their health.
The university also suspended the use of outdoor fields and its stadium, said the deputy rector for litigation and administration, Professor Pairoj Kampusiri. The university also urged students and staff to wear effective face masks during this period.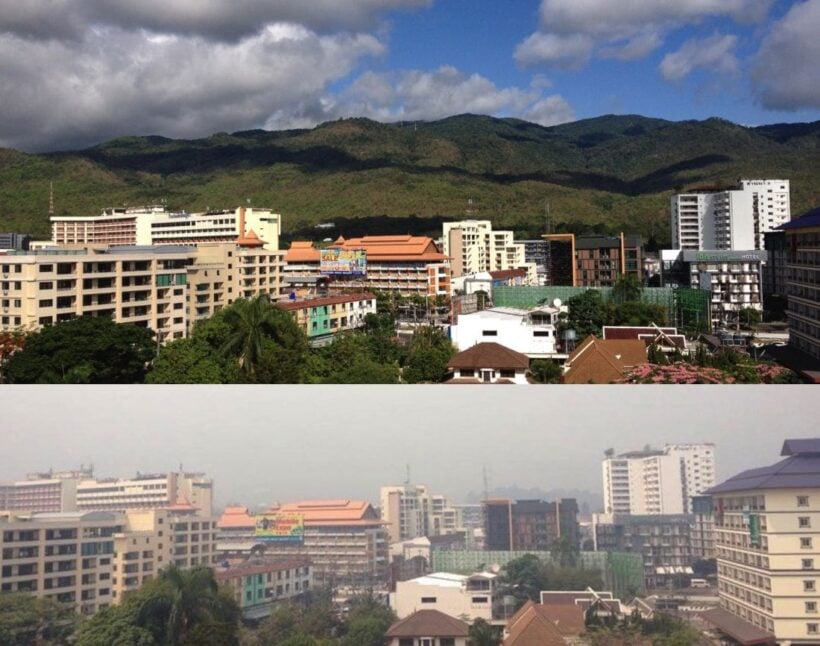 SOURCE: The Nation