Tour operators boycott visits to Similan and Surin islands to protest new restrictions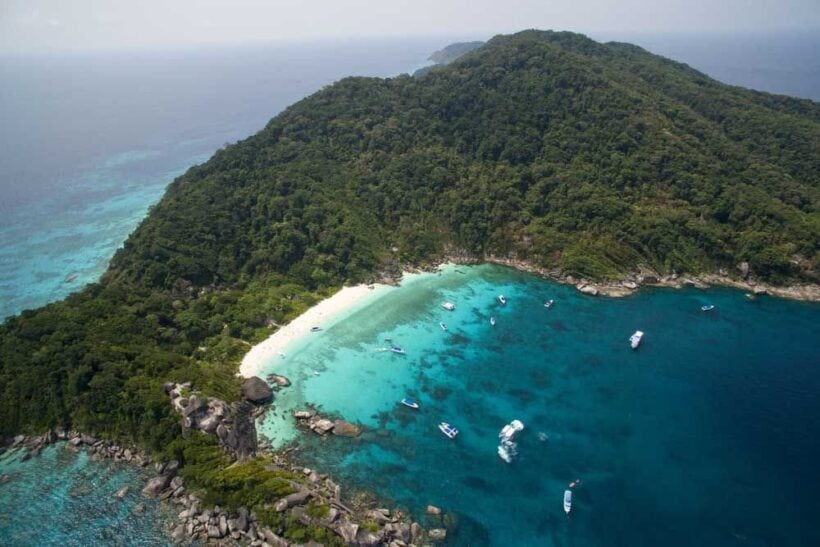 The tour operators have had enough of the winding back of tour boat operations and are now resorting to boycotting and 'disrupting' the tours in order to get their protests heard.
About 50 tour operators in Phuket and Phang nga say they're suspending boat trips to Similan-Surin islands in the Andaman sea (off the coast of Phang-Nga) today and tomorrow to protest against the decision of the Department of National Parks, Wildlife and Plants Conservation to limit the number of visitors to the islands to 3,850 a day. The number also includes 525 scuba divers.
Thai PBS reports that the limitation of visitors comes into force today after the two main islands re-opened to tourists after several months of closure during the monsoon season.
Besides the limitation of visitors, overnight stay-overs are not permitted.
Tour operators met yesterday in Ban Tap Lamu in Thai Muang district of Phang nga to discuss the new restrictions which they say they oppose.
They say their objections are because the restrictions would affect their business and that they've already accepted advance bookings to tour the islands before the department issued its new restrictions.
They say they will take their tourists to other tourist attractions Monday and Tuesday this week while awaiting response from the department.
Tour operators have been notified of the reopening of the two islands for visitors and the restrictions and to get themselves prepared with their vessels being properly checked to ensure their sea worthiness and equipped with enough life vests for their passengers.
The PM's Office Minister Kobsak Putrakul, who was in Phang nga over the weekend, received the tour operators' complaint and promised to bring it to the attention of the department chief.
SOURCE: Thai PBS
Keep in contact with The Thaiger by following our
Facebook page
.
Never miss out on future posts by
following The Thaiger
.
Similan Islands to reopen on October 15 with 'new normal' policy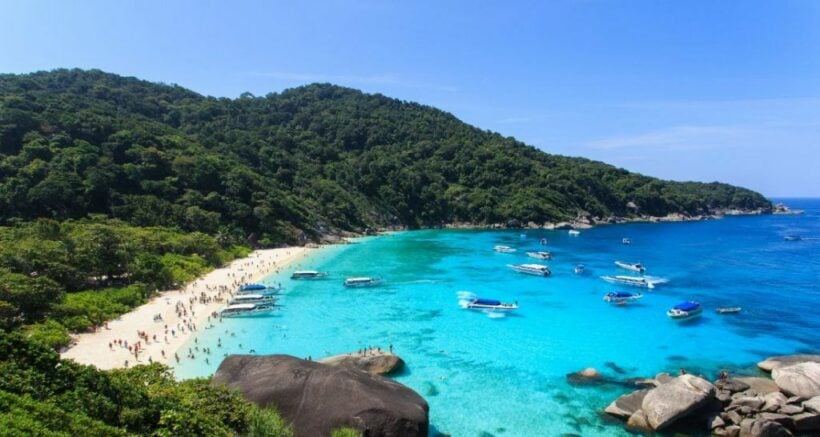 After being closed for the season, the Similan Islands National Park is opening back up on October 15, but this time with a "new normal" policy like social distancing, temperature checks and requiring staff and visitors to wear face masks. The national park in the Phang Nga province closes every year from mid-May to mid-October due to unsafe weather conditions.
The province's deputy governor Boonterm Ranumas says he expects the park's opening bring in domestic tourists, boosting revenues for vendors and tourism operators in the area.
The islands have a limit on the number of visitors to prevent ongoing environmental damage. Since the island is just opening under the new normal policy, visitors need to register before arriving to the island. Scuba diving excursions and overnight boat tours will be available.
"Some areas on the island are still closed during the re-opening but every national park officers are ready to assist and monitor travelers throughout their visit. A group of local volunteers would also gather to collect garbage around the island and to encourage visitors to protect the island environment."
SOURCE: Pattaya News
Keep in contact with The Thaiger by following our
Facebook page
.
Never miss out on future posts by
following The Thaiger
.
Newly discovered 3,000 year old cave paintings in Phang Nga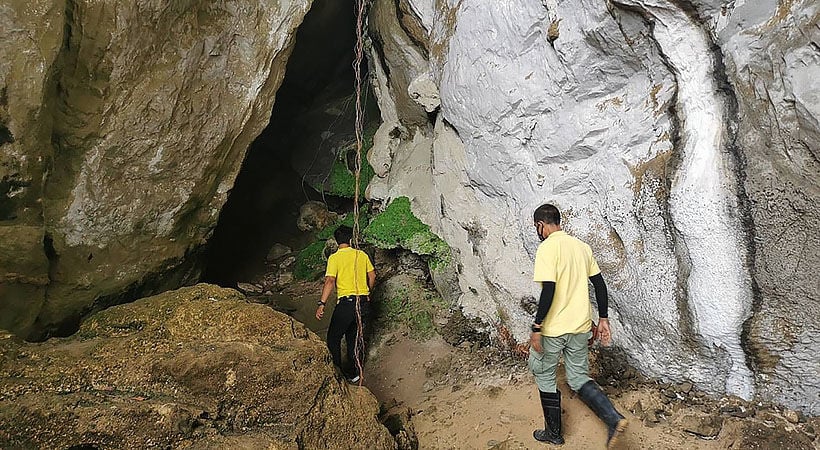 New cave art, reportedly at least 3,000 years old, has been discovered in the southern Phang Nga province's Phang Nga Bay Marine National Park. The head of the park says he he found the ancient paintings while leading park officials to investigate the Petch Pakarang Cave at Koh Talu in Takua Thung district on Friday. Currently there are 4 locations in the park where ancient paintings can be found… Khao Phra At Thao, Khao Nak, Khao Raya, and Khao Khien.
"A new set of ancient paintings were as same as other paintings found in Phang Nga Bay and nearby areas. We're waiting for related authorities to join our investigation. We assume these paintings were painted by ancient sailors who came to shelter from the monsoon. The Fine Arts Department says these paintings were done not less than 3,000 years ago."
Many of Ao Phang-Nga's limestone islands have prehistoric rock art painted on or carved into cave walls and ceilings, rock shelters, cliffs and rock massifs. Images at Khao Khian (the most visited cave art site) contain human figures, fish, crabs, prawns, bats, birds and elephants, as well as boats, weapons and fishing equipment, seemingly referencing some communal effort tied to the all-important sea harvest. Most rock paintings are monochrome red, though some have been traced in orange-yellow, blue, grey and black.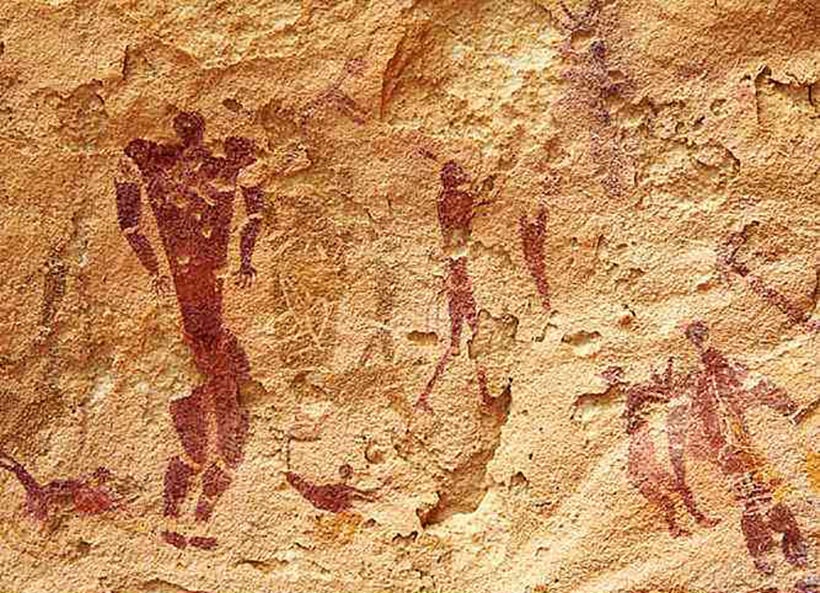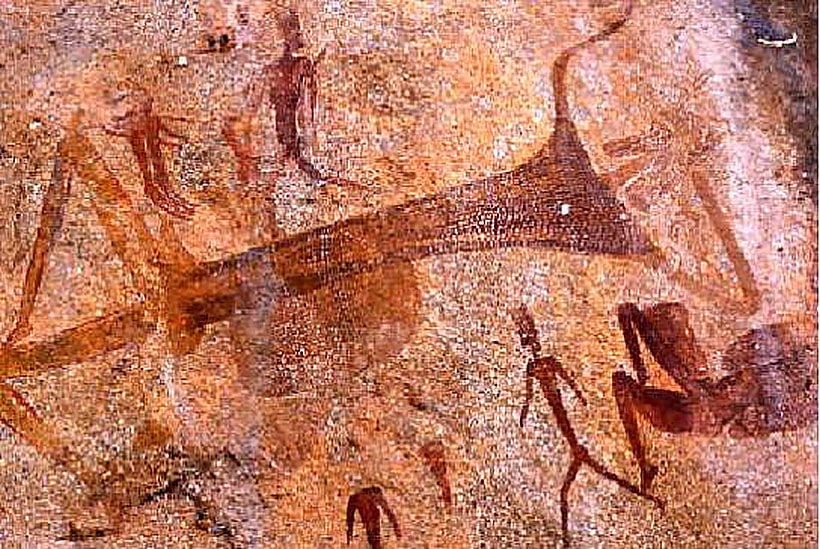 SOURCE: Nation Thailand
Keep in contact with The Thaiger by following our
Facebook page
.
Never miss out on future posts by
following The Thaiger
.
Provinces remind people about wearing face masks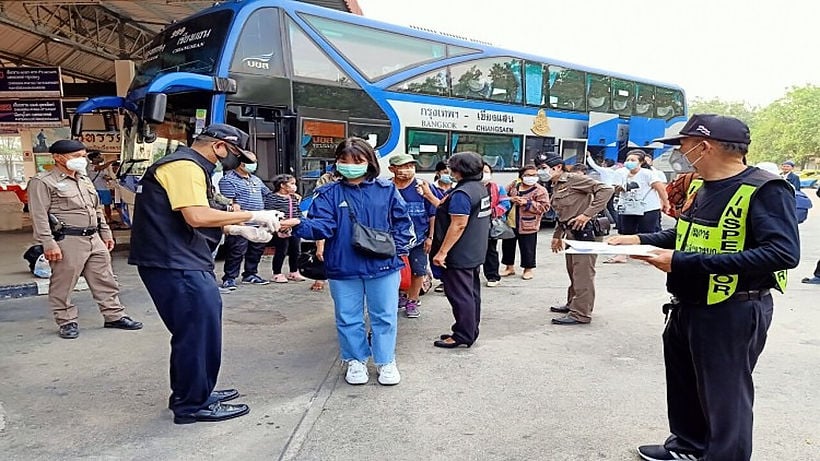 Individual provinces are stepping up safety measures since the roll out of Phase 3 of the lockdown relaxations. In Chanthaburi province, eastern Thailand on the Cambodian border, they've announced a "D-Day" against people leaving their homes without masks.
(The Thaiger predicts the authorities in Chanthaburi may not know a lot about what actually happened on D-Day.)
Authorities in Chanthaburi have noted travellers dropping their guard in terms of Covid-19 precautions, and public health officials there are urging people to keep their masks on in public, observe social distancing and avoid crowded places.
Chanthaburi's governor lamented that locals have been seen commuting without wearing masks, posing a risk of a second wave of infections. He says the province will enforce mask-wearing stringently with a 20,000 baht fine from today.
At Phuket's Bus Terminal 2, meanwhile, large numbers of people were seen buying tickets. The hub is practicing strict checks, including temperature screenings and enforced distancing. Sritrang Tours, which runs between Phuket and Hat Yai in the South, has reduced its bus loads from a maximum of 39 to only 19, and requires passengers to scan a QR code using the Thai Chana app before boarding. Those unable to do so will be required to fill out a form.
People traveling to Phuket are required to register on the Phuket Smart Check-in app when they enter the province. For now, that means when they cross Sarasin Bridge and go through the Tha Chatchai checkpoint.
Phang Nga Transport Terminal has similarly seen a rise in activity since restrictions on interprovincial travel were lifted on Thursday. Drivers at the terminal are required to report for temperature screenings as part of safety measures. They noted passengers have not reached their maximum yet, as only journeys to some southern areas and provinces, including Phuket, Su-ngai Golok and Betong are available.
SOURCE: NNT
Keep in contact with The Thaiger by following our
Facebook page
.
Never miss out on future posts by
following The Thaiger
.