Thailand travel 2023: Unveiling Instagram worthy wonders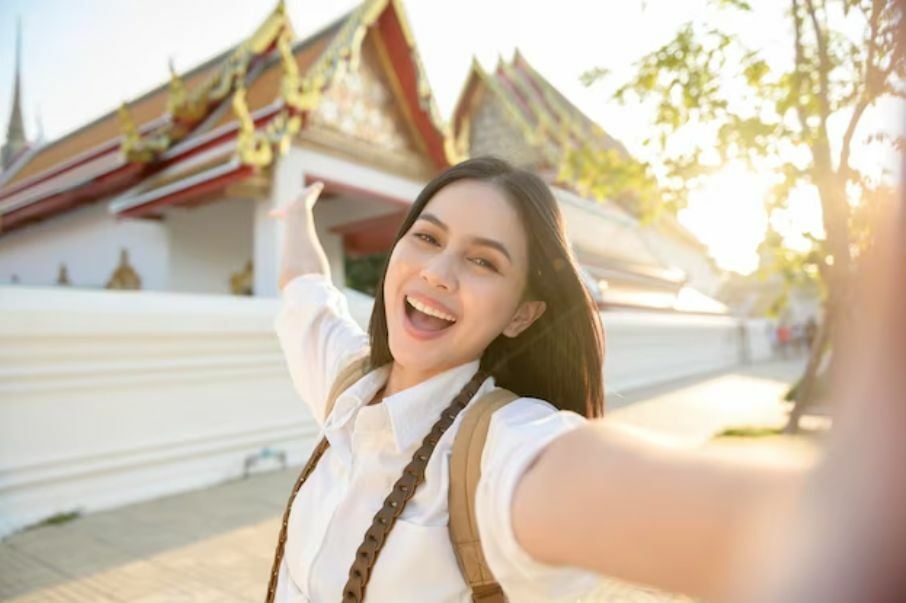 Thailand Travel 2023 is even more exciting with these most Instagram worthy spots in the country that will leave your feed looking nothing short of spectacular. Thailand, the mesmerizing jewel of Southeast Asia, has long been a favourite destination for globetrotters and photographers alike. With its breathtaking landscapes, rich cultural heritage, and mouthwatering cuisine, Thailand provides endless opportunities for awe-inspiring Instagram content. So, pack your bags, grab your camera, and get ready to embark on an unforgettable journey through this sublime country.
Instagram-worthy spots for Thailand Travel 2023
1. The Grand Palace and Wat Phra Kaew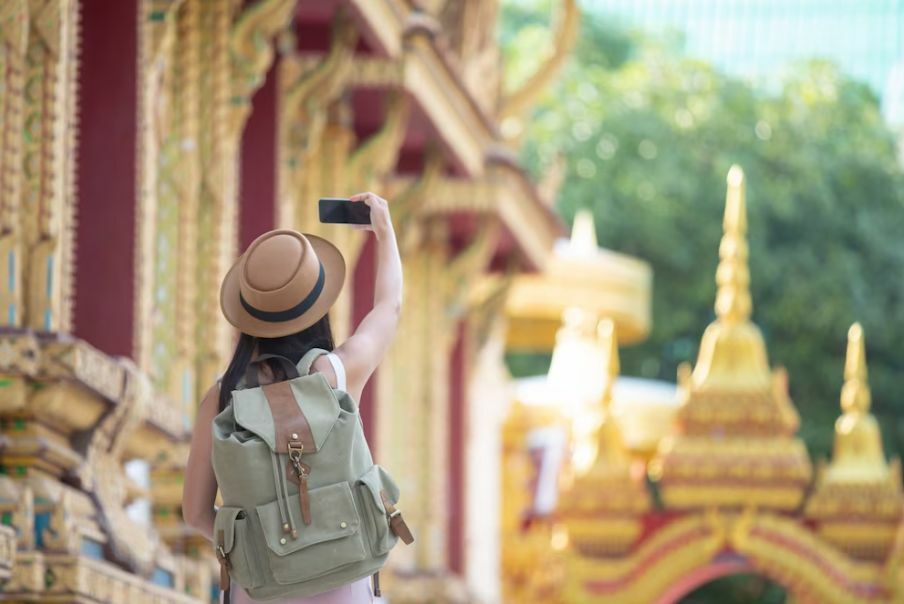 The Grand Palace and Wat Phra Kaew are among the most Instagrammable locations in Thailand, making them essential stops for Thailand travel in 2023. These iconic landmarks represent the epitome of Thai architecture, history, and culture, providing visitors with a visually stunning and immersive experience.
The Grand Palace, once the official residence of Thai royalty, features a multitude of majestic buildings and intricate designs. The vibrant colours, ornate details, and shimmering gold elements make it an ideal spot for capturing eye-catching photographs. Wat Phra Kaew, also known as the Temple of the Emerald Buddha, is located within the Grand Palace complex. It is considered the most sacred temple in Thailand, housing the revered Emerald Buddha statue. The temple's intricate design richly adorned with gold leaf and colourful glass mosaics, provides a sensational backdrop for Instagram-worthy shots.
In addition to the striking architecture, the Grand Palace and Wat Phra Kaew are surrounded by beautifully landscaped gardens, adorned with statues, fountains, and topiaries, further enhancing the photogenic appeal of these iconic landmarks. With their captivating beauty and cultural significance, the Grand Palace and Wat Phra Kaew are must-visit destinations for Thailand travel in 2023.
2. The White Temple, Chiang Rai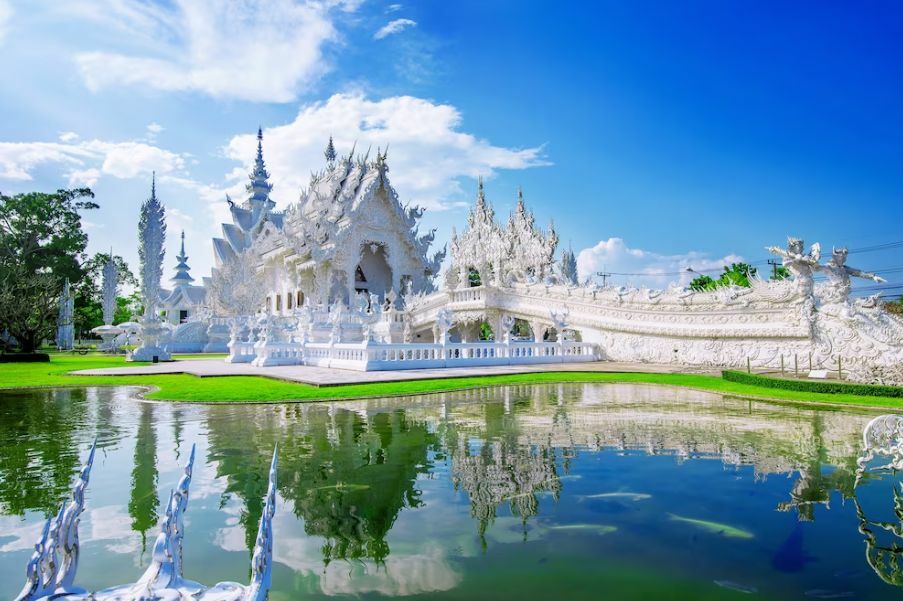 The White Temple, or Wat Rong Khun, in Chiang Rai, has become an increasingly popular destination for Thailand travel in 2023 due to its unique and captivating design. This unconventional temple is a contemporary masterpiece of Thai art and architecture, which sets it apart from traditional temples found throughout the country.
The striking white colour of the temple symbolizes the purity of Buddha, while the intricate details and mirror fragments embedded in the structure reflect light, creating a sparkling effect. This captivating appearance draws people to capture and share its beauty on Instagram. One of the key reasons why the White Temple is so Instagrammable is that it combines traditional Thai architecture with modern and unconventional design elements. The temple is filled with ornate sculptures and murals, depicting both religious and pop culture imagery which make for interesting and unique photo opportunities.
The White Temple is set amidst beautifully landscaped gardens and lush greenery, providing a picturesque environment for visitors. The tranquil ambience enhances the overall experience and makes it even more appealing for Instagram-worthy photos.
3. The Phi Phi Islands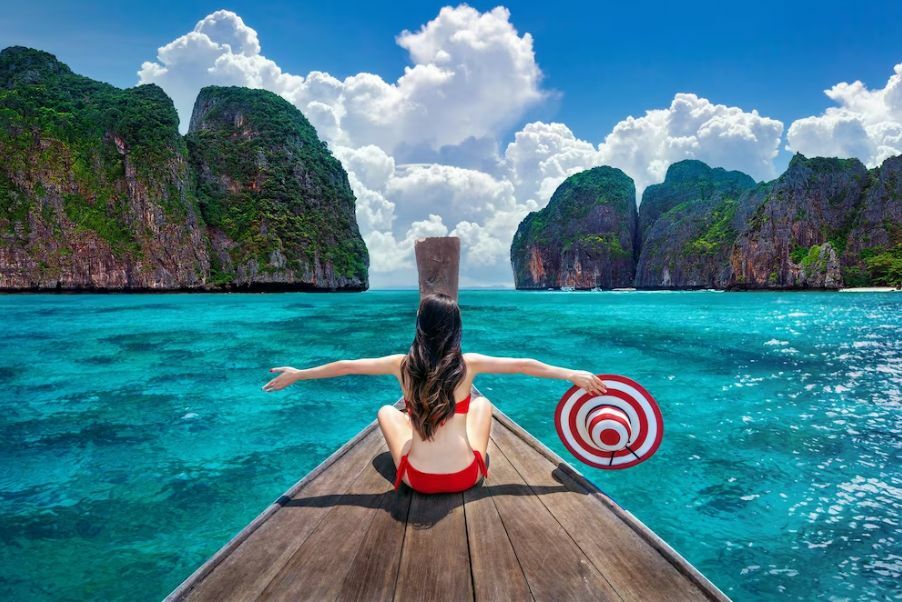 The Phi Phi Islands are an increasingly sought-after destination for Thailand travel 2023 due to their breathtaking natural beauty and idyllic landscapes, making them exceptionally Instagrammable. The Phi Phi Islands boast picturesque beaches, towering limestone cliffs, and lush green hills creating a scenic backdrop for Instagram photos. The islands are surrounded by clear, turquoise waters that are perfect for swimming, snorkelling, and diving. These beautiful waters not only offer thrilling experiences for visitors but also provide an attractive setting for Instagram-worthy shots.
The Phi Phi Islands are home to several iconic landmarks, such as Maya Bay (made famous by the movie "The Beach") and the viewpoint on Phi Phi Don Island. These famous spots attract tourists and Instagram users seeking to capture their beauty and share it with their followers. The islands are home to a diverse range of marine life and tropical birds, which can make for interesting and colourful photo subjects. Capturing these exotic creatures in their natural habitat adds a unique touch to Instagram feeds.
The Phi Phi Islands are renowned for their beautiful sunsets, which paint the sky in vibrant shades of orange, pink, and purple. Capturing these magical moments on camera makes for stunning Instagram posts that showcase the islands' natural beauty.
4. Doi Inthanon National Park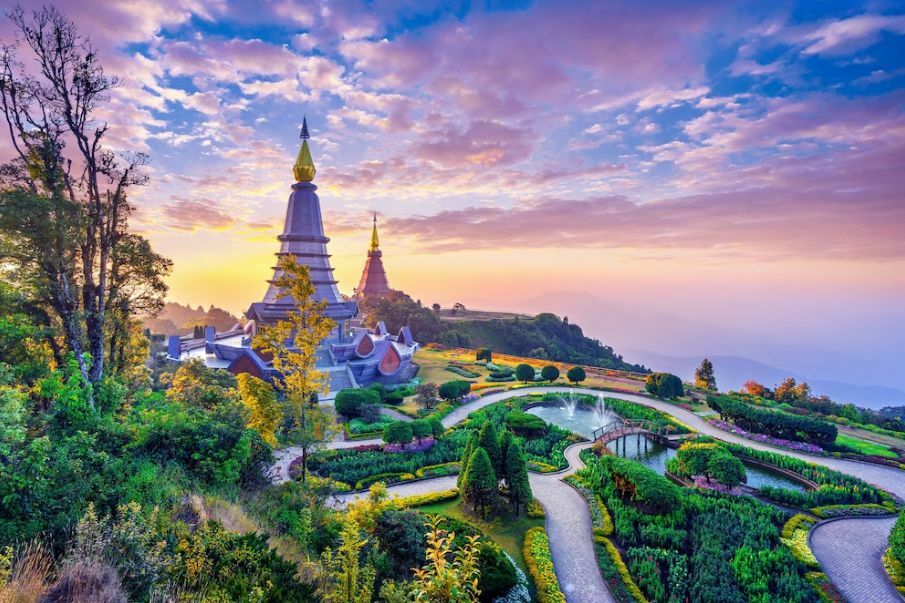 Doi Inthanon Park is so Instagrammable due to its diverse and stunning natural attractions, making it an ideal destination for those planning Thailand travel 2023. Doi Inthanon Park is home to the highest peak in the country, standing at 2,565 meters above sea level. The summit offers breathtaking panoramic views of the surrounding landscape, providing an impressive backdrop for Instagram photos.
The park boasts numerous gorgeous waterfalls, such as Mae Klang, Wachirathan, and Siriphum. The cascading waters set amidst lush greenery create a lively setting that is perfect for photography and Instagram sharing. Doi Inthanon offers various hiking trails that take visitors through the park's diverse landscapes, from dense forests to cascading waterfalls. These trails provide great opportunities for capturing stunning photos of nature and thrilling adventure experiences.
Doi Inthanon is home to several hill tribe communities, such as the Karen and Hmong people. Visiting these villages offers a unique cultural experience and the chance to capture authentic moments of daily life, traditional costumes, and handicrafts, adding a distinctive touch to Instagram feeds.
5. Wat Arun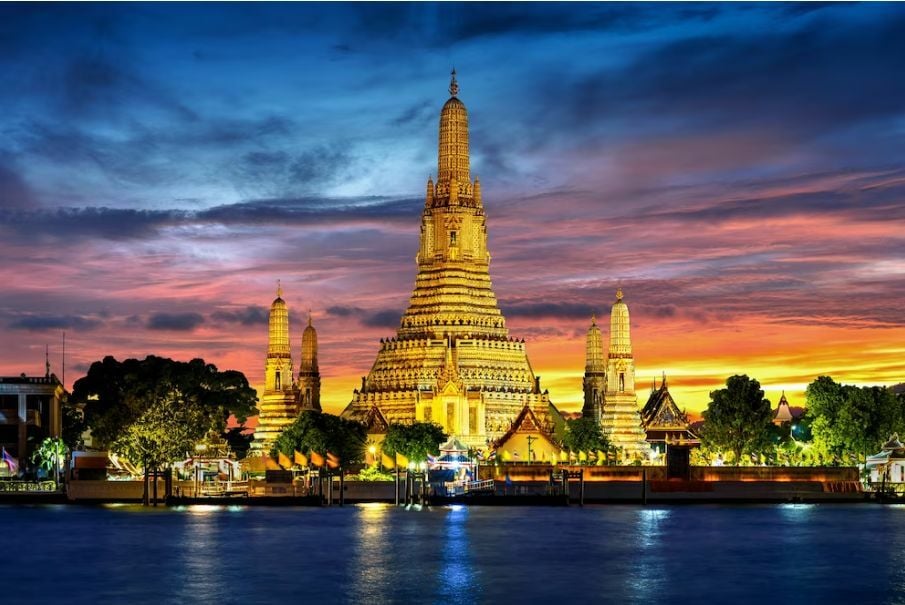 Wat Arun, also known as the Temple of Dawn, is Instagrammable due to its unique architectural design, intricate details, and stunning riverside location. As a popular destination for Thailand travellers in 2023, it offers visitors a visually captivating experience that translates beautifully into photographs.
Wat Arun features a distinct design with a central prang (Khmer-style tower) that stands 70 meters tall. This architectural masterpiece is adorned with colourful porcelain and seashells, creating a visually striking appearance that draws in photographers and Instagram users. The temple is decorated with intricate carvings, mosaics, and statues of mythical creatures, showcasing the craftsmanship and artistic skills of Thai artisans. These details not only highlight the temple's cultural significance but also add interest and depth to photographs.
Wat Arun is situated on the banks of the Chao Phraya River, providing a picturesque backdrop for Instagram-worthy shots. The river adds an element of serenity to the scene and creates stunning reflections of the temple when the lighting is just right.
6. Railay Beach, Krabi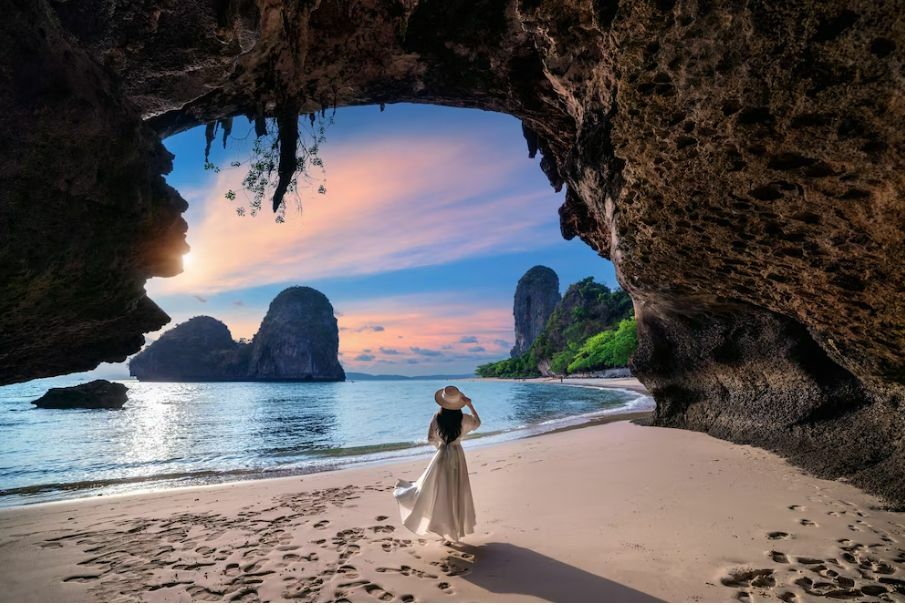 Striking natural beauty, exclusivity, and diverse activities makes Railay Beach the top destination for Thailand travel in 2023. Accessible only by boat, Railay Beach has an exclusive and remote feel, adding to its charm and allure. This serene atmosphere allows visitors to capture the natural beauty of the beach in their photographs. Influencers often engage in exciting activities to create engaging content for their followers. Railay Beach offers various adventure activities like rock climbing, snorkelling, and kayaking, which make for thrilling and visually appealing content.
Additionally, the dramatic limestone cliffs, turquoise waters, and powdery white sands create a striking backdrop for photography. The beach's surrounding cliffs are home to hidden lagoons and caves that are accessible through hiking trails or by boat. These secret spots provide opportunities for capturing enchanting and mysterious photos, adding a sense of adventure and discovery to the content.
7. Erawan National Park, Kanchanaburi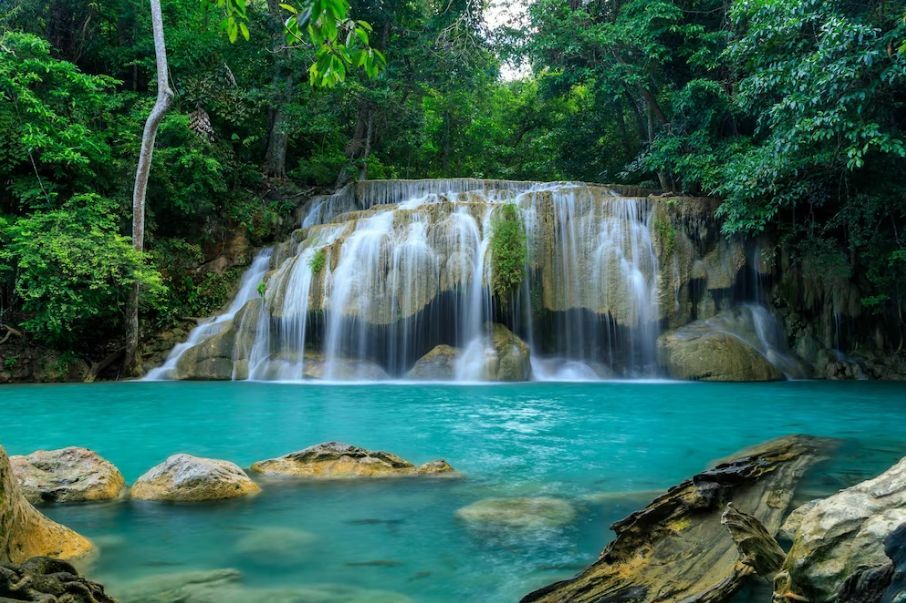 The park's stunning natural beauty, captivating waterfalls, and beautiful greenery make it one of the top spots for Thailand travel in 2023. The park's main attraction, Erawan Waterfall, is a magnificent seven-tiered waterfall that cascades through the lush forest. Each tier offers unique pools and rock formations, providing numerous photo opportunities to capture the sublime beauty of nature.
The clear emerald pools at the base of the waterfall tiers invite visitors to take a refreshing dip, creating visually appealing images of people enjoying the natural beauty of the park. Get your swimsuit and flaunt your beauty in the pristine waters of Erawan park. Additionally, the park offers various hiking trails that lead to the different tiers of the waterfall, offering visitors the chance to capture the stunning scenery and their adventure experiences. These trails provide a perfect setting for both landscape and action photography.
As a protected area focused on conservation, Erawan National Park appeals to eco-conscious travellers who want to showcase the importance of preserving natural beauty on their Instagram feeds. Photographs from the park can help raise awareness about the value of such flawless environments.
Travel Easy in Thailand
It is no secret that Bangkok is the prime destination for tourists every year. With so much to explore, you just cannot have enough of this bustling, beautiful city. Wondering what activities you can do to get the most out of your time in Thailand's capital? Click here.
Expats
Guides
Tourism News
Travel

Join the conversation and have your say on Thailand news published on The Thaiger.
Thaiger Talk is our new Thaiger Community where you can join the discussion on everything happening in Thailand right now.
Please note that articles are not posted to the forum instantly and can take up to 20 min before being visible. Click for more information and the Thaiger Talk Guidelines.