Phuket's monsoon – here comes the green season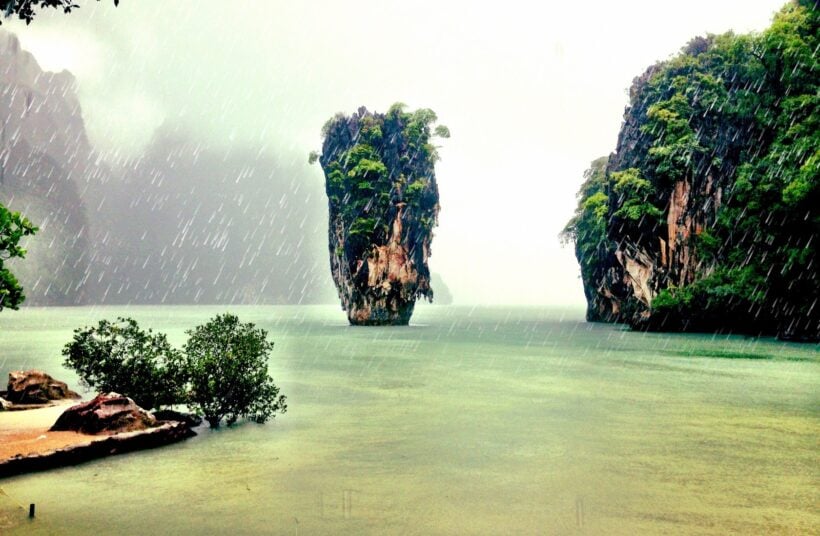 by Bill Barnett of c9hotelworks.com
Rainy season often brings a shroud of darkness over the island, when strong showers can even make it difficult seeing anything farther away than the short span across the road from my office. Imagine pulling a hoodie over your head on a sunny day and dropping suddenly into the netherworld of dimly lit shadows.
These green season weather changes seem to bring out the dark side of Phuket's residents. All too often around the traps, in distant tones, or else plying the internet chatter, comes the rabid talk about the utter worthlessness of our current crop of tourists.
Just hash tag in #cheap, #stampeding groups, or #emerging markets and you'll soon get the vibe. It's nasty, petty and viewed through a tunnel so long and deep that there is seemingly no escape out the other end.
My mind often flashes back to the art house movie with an ethnic twinge, 'A Day Without Mexicans', which chronicles a mysterious happening which results in all the Latinos disappearing one day from a California town. It's a funny, profound and a somewhat sad tale of myopia gone over the edge.
What would happen here in Phuket if suddenly all of the tourists disappeared? The strange thing after all, is that the people who do the loudest complaining or constantly voice their grumbling discontent are mostly expatriate residents. I can't reconcile their rationale, given that these same folks must have arrived at one point as a tourist who eventually just decided to take a permanent island vacation.

GRAPHIC: intoPhuket
I'm still a relative newcomer, having landed here a bit after the Millennium, but I can still recall the days before Central Festival appeared, when traversing the island was a fast and simple task. Over more than a decade, Phuket's prosperity has seen the rapid rise of an urban resort island in the throes of what could be summed up as growing pains.
Today, the bountiful offering includes quality medical institutions, international schools that can be counted on both hands, marinas, malls, restaurants, housing estates and attractions. You can connect to flights around the world directly whether you are headed down under, to Europe, the Middle East or throughout Asia.
Where we once lived in the land of little or no choice, today the options are varied. Sure, as quantity came, one of the knock-on effects was a quality offering. You no longer have to travel to Bangkok or Singapore to shop or find those objects of desire. The world has come to Phuket.
How did this all happen? Tourism has provided jobs, income, and opportunity not only for Thais but also for a growing number of expatriates. Where better to raise a family or start a business and still be able to live in one of the finest tropical islands on earth.
And yet the voices of discontent arise. Popular themes include the nostalgic musings wondering why Phuket can't Phuket be the way it used to be, and how come the new stream of travellers aren't well behaved like those from a bygone era? For me, nostalgia is an old man's game best undertaken from a bar stool.
Remembering is good, but living in the present is an even better adventure.
Bashing tourists harkens back to those who oppose immigration. What fuels these illogical thoughts are the human spirit's dark sides of racism, intolerance and closed-mindedness. The world is a big place, with more and more people arriving every day; face it, our journey today is one without maps to a place we've never been before.
Yes, my patience has been tested by those who complain about traffic or crowded beaches. Do you really think Villa Market, where you happily ply around the aisles, would be here if the property market had not been spun out of the tourism sector?
To sum it up, I'm not adverse to those around me voicing their opinions or complaints, but please just keep a balanced, mindful view of how we got to where we are, and appreciate those tourists who bring their hard-earned currency to spend here in Phuket.
As to what the future may bring, Edward T McMahon voiced it very well when he said, "Growth is inevitable and desirable, but destruction of community character is not. The question is not whether your part of the world is going to change. The question is "how?"

Join the conversation and have your say on Thailand news published on The Thaiger.
Thaiger Talk is our new Thaiger Community where you can join the discussion on everything happening in Thailand right now.
Please note that articles are not posted to the forum instantly and can take up to 20 min before being visible. Click for more information and the Thaiger Talk Guidelines.