Mini-marathon, through the sea – LangSuan Mini Marathon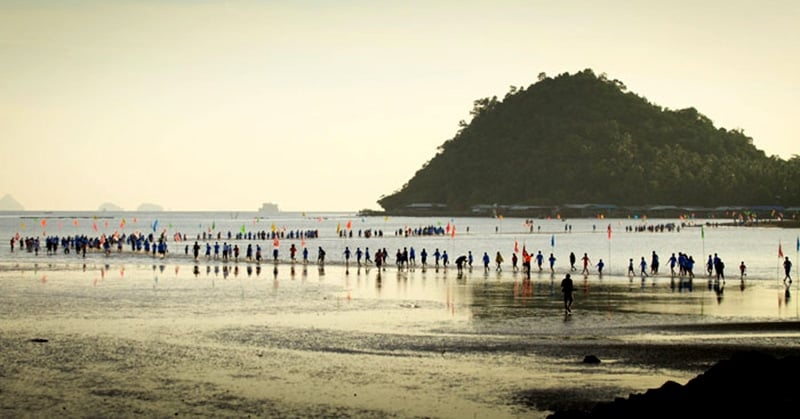 Thailand's only annual mini-marathon that features a run through the sea to an offshore island, the LangSuan Mini Marathon, is returning for its 14th year on June 17, 2018, in Paknam Lang Suan sub-district, a peaceful coastal town in Chumphon province.
Each year, this running event inspires runners from Thailand and around the world to take part in the 14 kilometre mini-marathon that starts at the HTMS Chakri Naruebet Ship Model in Paknam Lang Suan sub-district. There's also a 5 kilometre fun run that starts at the Mu 13 village centre in Bang Nam Chuet sub-district.
Both race routes feature a scenic coastal road and conclude with the highlight at the final kilometre – a run through the sea at low tide to the finish line on Pitak Island. The depth of the sea in the final stretch is about 30 cm.
The race courses take advantage of the low tide that occurs every year at Paknam Lang Suan in June, creating a large stretch of sand dune between the shore and the island. Pitak Island itself is a small fishing village, where homestay experiences are also available for visitors seeking to explore local ways of life.
Registration for the 14th LangSuan Mini Marathon 2018 is open on at the Lang Suan District Office. Runners in both categories can also register at the HTMS Chakri Naruebet Ship Model registration point on Saturday, June 16 (13.00-20.00 hrs.), and on the event's date, June 17 (04.00-06.00 hrs.) at the two starting points. The Mini Marathon starts at 06.19 hrs., while the gun for the Fun Run goes off at 06.39 Hrs.
All runners who take part in the event will receive a souvenir medal while the top ten finishers receive trophies. All runners in fancy costumes will receive special gifts.
Food and accommodation are available at the child development centre in Paknam Lang Suan Municipality, Laem Son Health Park (runners are asked to bring their own bedding).
Parking, luggage storage and bus services to the race event from Lang Suan Station are available on June 16 from 10.00 hrs. and HTMS Chakri Naruebet to Mu 13 village centre on June 17, from 04.00 hrs. until the close of the competition.
The 14th LangSuan Mini Marathon 2018 is supported by Lang Suan District Office in cooperation with Chumphon Provincial Administration Office, Bang Nam Chuet District Office, Paknam Lang Suan Municipality, The Village Headman Association, Tourism Authority of Thailand and many other generous sponsors.
For more information, contact the TAT Champion Office…
TELEPHONE: 07750 1831-2 or 07750 2775-6
EMAIL: tatchumphon@tat.or.th
Keep in contact with The Thaiger by following our
Facebook page
.


Are you considering a medical procedure abroad? With Thaiger Medical you can research hospitals and doctors, choose a destination in Thailand or abroad, and book an appointment today.

Out of 37 countries, Thailand has the worst pension system, says Bloomberg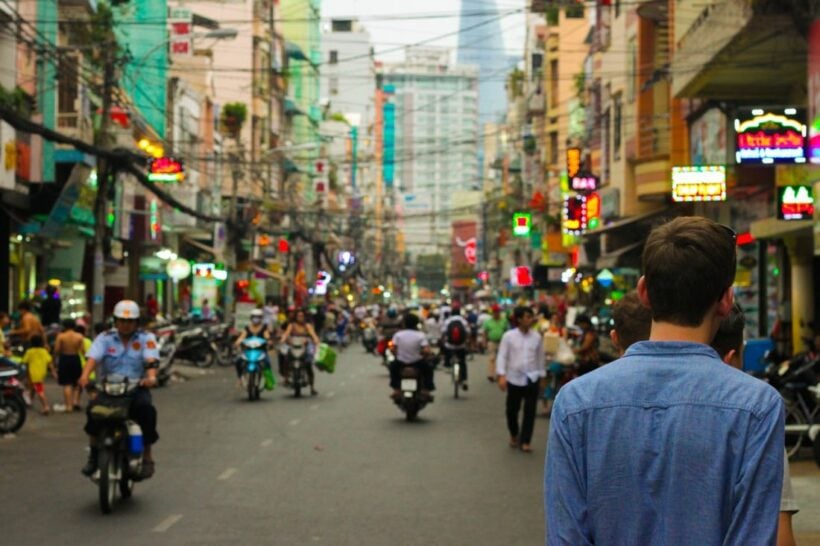 Thai Residents reports that on Sunday, Bloomberg published an article on the world's best pension systems, using information gathered from the 2019 Melbourne Mercer Global Pensions Index.
The survey looked at the pension systems of 37 countries with metrics including employee rights, savings, the number of homeowners, growth of assets, and growth of the economy. The purpose of the analysis was to determine what was needed to improve state pension systems and to gauge the level of confidence citizens had in their state pension system.
The Netherlands and Denmark were found to have the world's best state pensions, with Australia, Finland, Sweden, Norway, Singapore, New Zealand, Canada, and Chile next. Out of all 37 countries, Thailand finished last, with what the report described as an extremely ineffective and ambiguous system.
"Thailand was in the bottom slot and should introduce a minimum level of mandatory retirement savings and increase support for the poorest."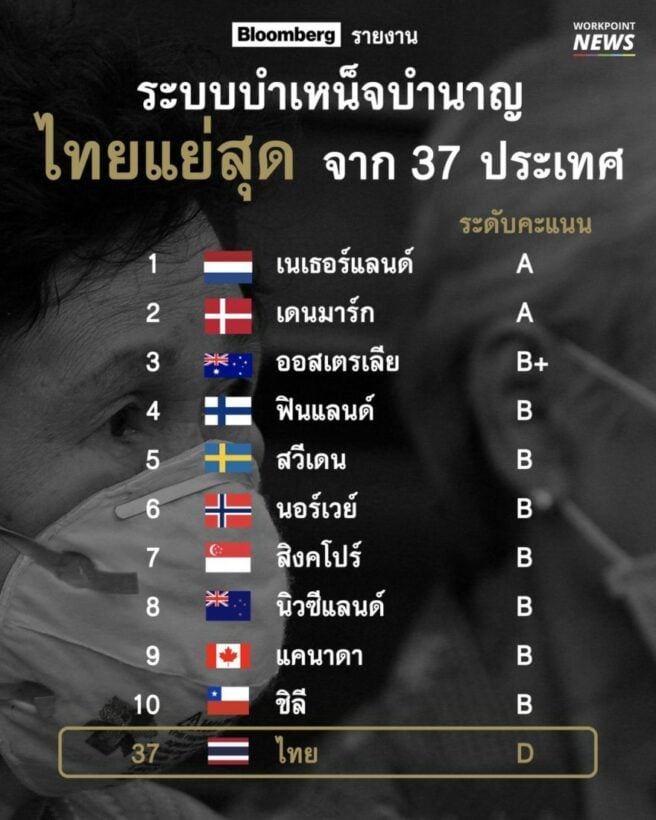 Photo: WorkpointNews
Thai Residents states that only those employed within the government system in Thailand are eligible for a pension based on salary. For most Thai citizens, pension amounts vary from 600 baht to 1,000 baht a month, depending on the recipient's age.
A report carried out by The Securities and Exchange Commission (SEC) advises Thai citizens to have at least 4 million baht saved by the time they retire, but Thai Residents reports that 60% of Thai retirees have less than 1 million baht in savings, with one in three citizens who have reached retirement age are forced to continue working in order to survive.
SOURCE: thairesidents.com
Keep in contact with The Thaiger by following our
Facebook page
.
Tax on salt content being considered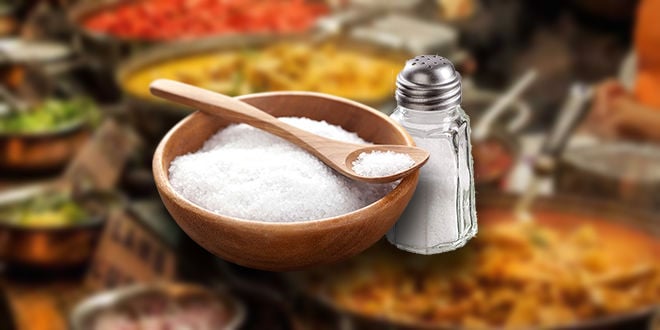 The Excise Department is considering imposing a tax on the salt content of food to encourage food producers to reduce the sodium content of snacks, instant noodles and seasoning cubes.
The director of the Office of Tax Planning said that the department is discussing a limit on the amount of sodium food can contain, in line with the standard set by the World Health Organization (WHO), which is 2,000 milligrams of salt per day.
In reality, Thai people consume an average of 1,000 milligrams per meal, making their daily intake well above WHO guidelines, according to the director.
He said any tax imposed would be at a level which would encourage food producers to reduce the sodium in their processed food without being punitive, adding that the proposal isn't intended to generate more tax revenue, but to help protect the health of consumers. Excessive sodium in the diet can lead to high blood pressure and kidney disease.
Fish sauce, soy sauce and salt would not be taxed.
SOURCE: thaipbsworld.com
Keep in contact with The Thaiger by following our
Facebook page
.
Water shortage warnings in 22 provinces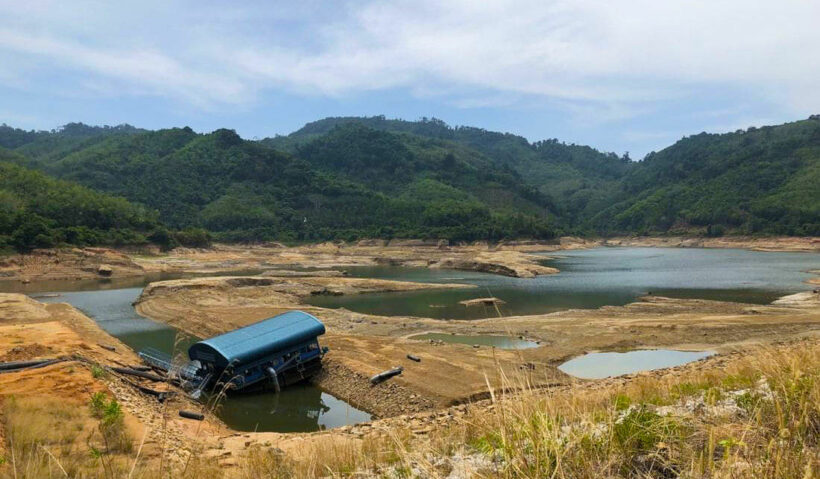 People living in 22 Thai provinces are being warned to prepare for shortages of drinking water during the upcoming dry season, due to start on November 1st.
The warning was issued by the National Water Resources Office, citing low levels in reservoirs, which are the main sources for tap water production waterworks in 22 provinces.
Areas at risk identified by the office are in northern, north-eastern, eastern and southern provinces.
Measures have been adopted by agencies charged with dealing with water shortages. including dredging water channels to allow greater volumes of water to flow into reservoirs, drilling underground wells, enlarging storage ponds and the purchase of water to supply to those in urgent need.
The Royal Irrigation Department has announced that people should use water sparingly.
There are currently about 6 billion cubic metres of usable water in reservoirs in the affected provinces, with 5 billion cubic metres reserved for consumption and ecological preservation, leaving only 1 billion cubic metres for use in agriculture.
This means farmers in the Chao Phraya river basin may not be able to grow a second crop of rice this year.
SOURCE: thaipbsworld.com
Keep in contact with The Thaiger by following our
Facebook page
.