Amnesty International says Myanmar bombing civilians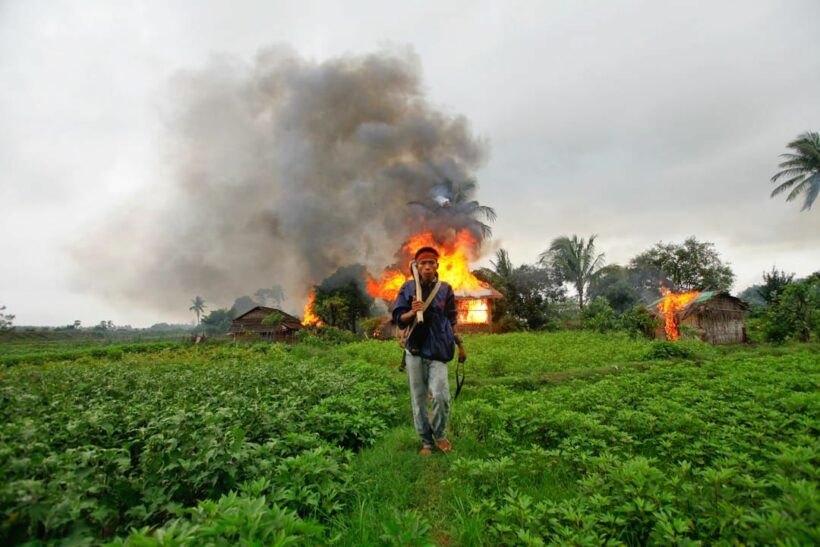 Myanmar is bombing its own people, according to Amnesty International. The human rights watchdog says it has evidence that indiscriminate airstrikes by Myanmar's military, also known as the Tatmadaw, are killing civilians, including children, amid a worsening armed conflict in the country's Rakhine and Chin States.
The attacks, and other serious human rights violations, are taking place in towns and villages where internet communication has been cut off for over a year. Locals have been kept in the dark over the threat of Covid-19 and denied information about humanitarian assistance. Rakhine State has been largely free of the coronavirus, but cases were on the rise in June.
Amnesty's Asia-Pacific regional director says that whilst Myanmar authorities were urging people to stay at home to help stop Covid-19, in Rakhine and Chin states its military was burning down homes and killing civilians "in indiscriminate attacks that amount to war crimes".
"Despite mounting international pressure on the military's operations in the area, including at the International Court of Justice, the shocking testimonies we have collected shows just how deep impunity continues to run within Myanmar military ranks."
In May and June, Amnesty interviewed more than 20 ethnic Rakhine and Chin villagers affected by military operations, which included airstrikes and shelling; analysed satellite images of burned villages, and verified video footage showing violations by the Burmese military.
The conflict has escalated since the January 4 2019 attack by the Arakan Army, an ethnic Rakhine armed group, against several police posts in northern Rakhine State. The incident prompted a retaliatory order to 'crush' the AA and marked a turning point in the escalation of the conflict, which has since displaced tens of thousands. The UN High Commissioner for Human Rights estimates that in recent days an additional 10,000 people fled their homes as a result of heavy fighting and warnings of advancing military operations.
Myanmar officially labelled the AA an unlawful organization on March 23. Fighting surged between March and May, while Myanmar also faced its first Covid-19 cases. More than 30 civilians were killed or injured in May alone, according to the UN. The victims were predominantly from Buddhist and Christian ethnic minorities, though media reports have also documented violations against Rohingya civilians.
The military's airpower has inflicted immense damage and human suffering. Soldiers also appear to regularly confiscate or destroy civilian property and commandeer monasteries as bases. Amnesty documented the use and confiscation of civilian property by soldiers in Rakhine State and northern Shan State in 2019.
Residents say soldiers took rice, firewood, blankets and clothes, mobile phones and personal documents, gold bracelets, and necklaces. Livestock was slaughtered or taken. Myanmar soldiers also knocked down doors, broke windows, and damaged small Buddhist shrines kept at home.
Amnesty also documented incidents of the burning or destruction of villages in different townships in Rakhine and Chin States. Satellite imagery of several affected villages shows widescale burning consistent with Myanmar military tactics. The military and the AA have blamed each other for the burning.
They say they have not been able to document operations and abuses by the Arakan Army in the reporting period due to Covid-19 travel restrictions and limited access to affected areas and witnesses. But reports suggest the army has continued a pattern of abuses previously documented including endangering the lives of civilians during attacks, intimidation of local communities, and arbitrary deprivation of liberty.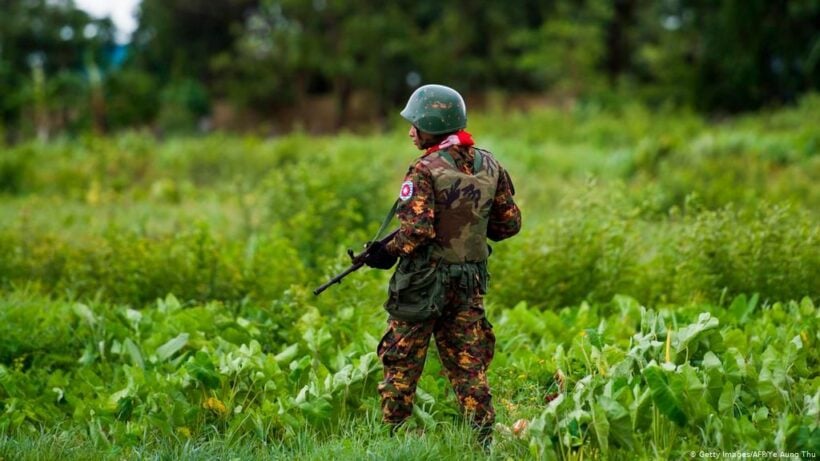 SOURCE: Amnesty International
Keep in contact with The Thaiger by following our Facebook page.
Never miss out on future posts by following The Thaiger.
UN condemns violence in Myanmar as at least 18 killed in clashes with authorities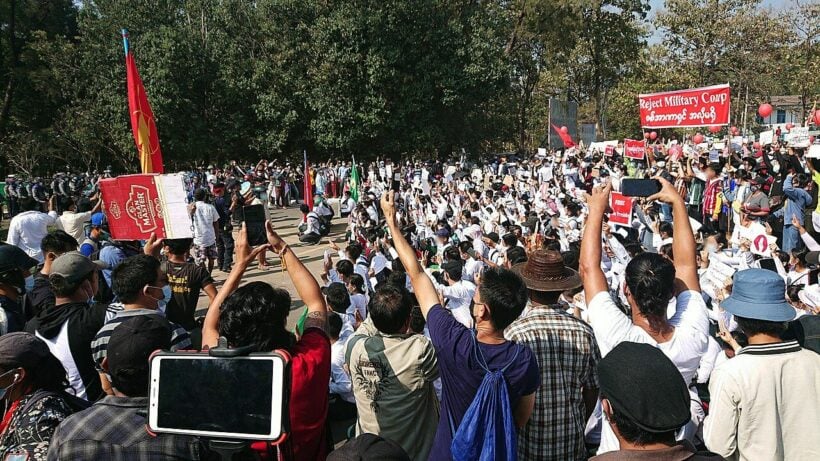 The UN human rights office (OHCHR) has called for an immediate end to the use of force in Myanmar, after at least 18 people were killed in violent clashes yesterday. Those opposed to the February 1 military coup have been taking to the streets, with police and military forces opening fire in what was the deadliest day so far.
A spokesperson for UN Secretary-General António Guterres says he condemned the use of force against protesters, which resulted in at least 30 people being injured and 18 killed.
"He is deeply disturbed by the increase in deaths and serious injuries. The use of lethal force against peaceful protestors and arbitrary arrests are unacceptable."
The Burmese army claims that the parliamentary elections, in which State Counsellor Aung San Suu Kyi was elected, were fraudulent. She was arrested on February 1, along with several members of her administration. According to media reports, she is due to appear in court today.
The UN Ambassador to Myanmar also condemned the military coup in a General Assembly address in New York and called on the international community to act. He has since been fired.
OHCHR spokesperson Ravina Shamdasani has also condemned the violence, saying the Burmese people have the right to peacefully protest in the name of democracy.
"The people of Myanmar have the right to assemble peacefully and demand the restoration of democracy. These fundamental rights must be respected by the military and police, not met with violent and bloody repression."
After clashes between protesters and the military and police, deaths have been reported in Yangon, Dawei, Mandalay, Myiek, Bago and Pokokku, with Shamdasani claiming tear gas and stun grenades were used against protesters. She has slammed the use of force and condemned the arrest and detention of activists.
"Use of lethal force against non-violent demonstrators is never justifiable under international human rights norms. Since the beginning of the coup d'état, the police and security forces have targeted an ever-increasing number of opposition voices and demonstrators by arresting political officials, activists, civil society members, journalists, and medical professionals.
"Today alone, police have detained at least 85 medical professionals and students, as well as 7 journalists, who were present at the demonstrations. Over 1,000 individuals have been arbitrarily arrested and detained in the last month – some of whom remain unaccounted for – mostly without any form of due process, simply for exercising their human rights to freedom of opinion, expression and peaceful assembly."
The military coup of February 1 came as Myanmar was edging towards democracy after years of army rule. It has been condemned by countries around the world and brought hundreds of thousands of Burmese onto the streets to demand an end to military rule and the restoration of democracy.
SOURCE: UN News
Keep in contact with The Thaiger by following our Facebook page.
Never miss out on future posts by following The Thaiger.
Myanmar's representative to UN urges strong action against military after increasing violence against protesters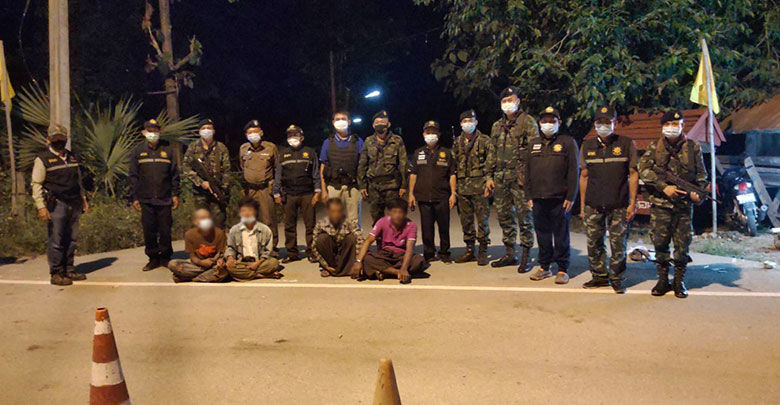 A representative to the UN for Myanmar is urging the "strongest action" to be used against the military after it has used increasing amounts of violence against anti‐coup protesters. The latest round in violence occurred as riot police violently broke up peaceful protesters, arresting over 100 people in 3 major Myanmar cities.
Kyaw Moe Tun made the appeal to the UN General Assembly in New York asking for the international community to end the junta's rule in his country, while displaying the 3 finger salute that has been adopted from the Hunger Games as a symbol of resistance from anti‐coup supporters.
"We need… the strongest possible action from the international community to immediately end the military coup, to stop oppressing the innocent people, to return the state power to the people, and to restore the democracy."
Former UN ambassador for the US, Samantha Power, also tweeted her support for the movement.
"It's impossible to overstate the risks that #Myanmar UN ambassador Kyaw Moe Tun just took in the UN General Assembly."
UN envoy to Myanmar, Christine Schraner Burgener, also agreed saying the use of lethal force against protesters was "unacceptable."
So far, at least 5 people have been killed since the overthrow, which has seen police open fire on protesters. Thandar Cho, a street food vendor, says she saw police point their guns in a threatening manner towards apartments during the rallies.
"They beat young protesters with rods and cursed them while doing it."
A Japanese journalist, Yuki Kitazumi, was also allegedly arrested according to a Facebook post by his assistant, Linn Nyan Htun, during the crackdown.
He "was beaten on the head by baton but he was wearing a helmet."
The military has justified the coup by alleging that the 2020 November democratic elections, which saw Aung San Suu Kyi's National League for Democracy elected by landslide, were fraudulent.
Suu Kyi was arrested, along with other leaders, and is now facing 2 charges of illegally posessing walkie-talkies in her home and for breaking Covid-19 rules. But her lawyer, Khing Maung Zaw, is concerned as he has still not made contact with her, saying it is dire to get her permission for him to represent her in court.
"It's very important to get her signed power of attorney before the hearing starts on March 1 because we won't be allowed to act as her defence counsels if we cannot file (it)."
"Then Daw Aung San Suu Kyi will be rid of her right of fair trial without a legal counsel."
SOURCE: The Phuket News
Keep in contact with The Thaiger by following our Facebook page.
Never miss out on future posts by following The Thaiger.
Indonesian and Thai foreign ministers meet with Myanmar counterpart, seek peace after coup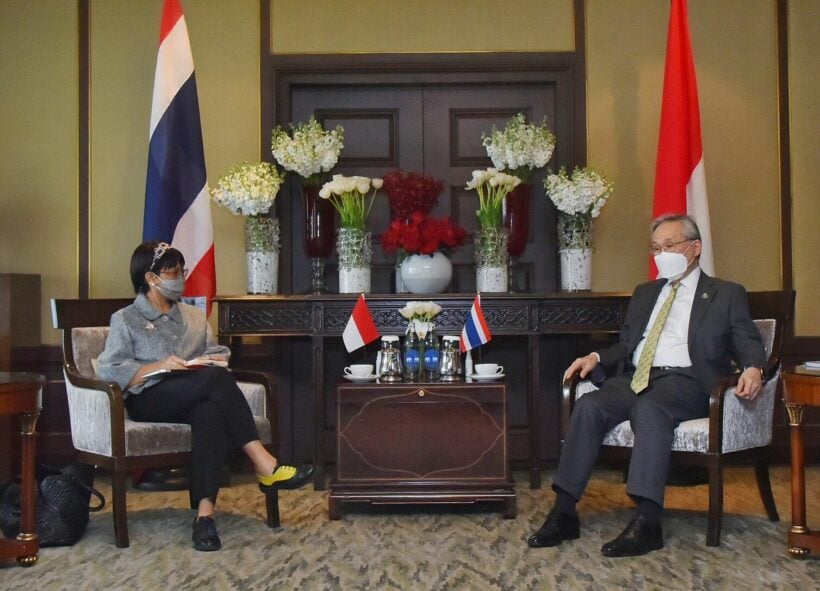 To seek a peaceful solution in Myanmar after the country's military seized power, foreign ministers of Indonesia and Thailand met with the new, military-appointed foreign minister of Myanmar Wunna Maung Lwinat at Bangkok's Don Mueang Airport for a brief, 20 minute discussion.
Both the Indonesian and Thai counterparts say they want peace, but the Indonesian foreign minister says Thailand has a "special position" to play because of its proximity to Myanmar and the number of Burmese nationals in Thailand. The Thai-Myanmar land border is 2,400 kilometres long. There are around 2 million Burmese people who live in Thailand.
With the elected civilian government pushed out and many political leaders arrested, including Aung San Suu Kyi, who won the election for state counsellor in a landslide and also served as the foreign minister, there have been daily protests in Myanmar. A strike on Monday shut a number of businesses. Burmese nationals living in Thailand have even held demonstrations in Bangkok. Some rallied outside the US Embassy in Bangkok, calling on the American government to step in.
The meeting between the 3 foreign ministers was the first overseas visit for a senior Myanmar official since the military coup on February 1. A spokesperson for the Thai Foreign Ministry, Tanee Sangrat, says the ministry insists on peace and stability in Myanmar and hopes to see the situation improve.
"It was also a good opportunity for Thailand to directly listen to Myanmar about issues that Myanmar prioritizes, as well as exchanging opinions on issues important to the people for both countries."
At a press conference in Jakarta, Indonesian Foreign Minister Retno Marsudi said she asked her Myanmar counterpart to "prioritise the safety and wellbeing" of the people. She says all 10 members of the Association of Southeast Asian Nations must respect the principles in the ASEAN Charter which outlines principles of democracy as well as protection for human rights and fundamental freedoms.
"This shuttle diplomacy is surely not easy to do during the times of pandemic, but Indonesia has to do it because there are some principles that must be respected…Indonesia chooses not to stay silent…To do nothing is not an option."
Indonesia has been pushing for a special ASEAN foreign ministerial session to discuss the Myanmar situation. Thai and Indonesian foreign ministers also discussed potentially holding an informal ASEAN meeting in August. The forum has not met in person since the Covid-19 pandemic.
SOURCE: Kyodo News
Keep in contact with The Thaiger by following our Facebook page.
Never miss out on future posts by following The Thaiger.