Weird World News: Serving surf 'n' turf – from love to six feet under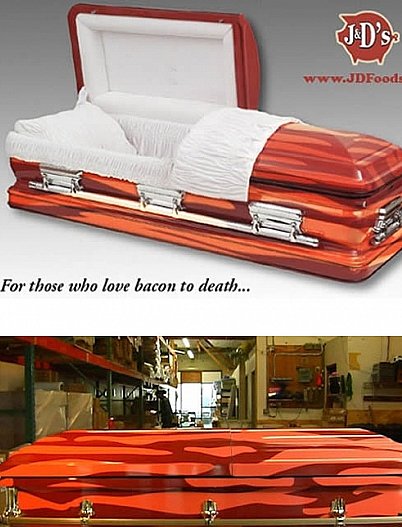 PHUKET: This week's Weird World News round-up serves up an awkward and dangerous mix of surf 'n' turf, taking you from cheap love, to a fishy and possibly untimely death and finally wrapping you up like a filet mignon and burying you.
Japanese chefs balloon up over new blowfish laws
A NEW law coming into affect in October is cutting out the hearts of the highly trained and licensed fugu (blowfish) chefs of Tokyo, Reuters reported.
For more than 60 years, slicing and dicing blowfish in Tokyo has been the calling for a small group of strictly regulated and licensed chefs, due to the deadly toxicity of parts of the fish.
The poison known as tetrododoxin is found in parts of the blowfish, including the liver, heart, intestines and eyes, and is so powerful that even a tiny amount will kill. Every year there are reports of people dying after preparing blowfish at home.
"We have spent time and money in order to obtain and use the blowfish license, but with these new rules anybody can handle blowfish even without a license," fugu chef Hashimoto told Reuters.
The Tokya Metropolitan Government said the change in the law is hoped to slash the prices of fugu dishes, bringing Tokyo level with the rest of the nation.
"Outside of Tokyo, the regulations for blowfish are even more relaxed, and yet there are hardly any poison-related accidents," Hironobu Kondo, an official at the city's Food Control Department, told Reuters.
Though thrill-seeking diners are reputed to seek out chefs who leave just enough of the poison to make the lips tingle, blowfish professionals scoff at this as urban legend, noting that ingesting even that much of the poison would be hazardous.
"I don't want people to forget that you can actually die from eating blowfish," said Hashimoto.
May you be forever wrapped in bacon
A BACON coffin is one of the newest products to hit the American-bacon-obsessed market.
There were scoffs when American chain-restaurant Deny's introduced its bacon ice cream sundae last year, but that hardly raises the lid on J&D Foods, which has started selling a casket with an unmistakably bacon-strip paint job.
Looks aren't everything, and the company that brought you bacon salt and baconnaise knows it. The casket comes with a bacon-scented air freshener to keep corpses smelling delicious.
"We think that your final resting place deserves the eternal glory that is bacon," the company's website said.
For those thinking of making the almost 93,000-baht investment for a final send-off, the casket is made of 18-gauge gasketed steel lined with ivory crepe linen and comes with a memorial tube and an adjustable bed and mattress.
To see the video launch of the "crispy coffin", click here.
— Isaac Stone Simonelli
Keep in contact with The Thaiger by following our
Facebook page
.
Man stung by scorpion hiding in bag of fruit
PHOTO: Wikiwand
A Bangkok man has taken to social media to warn fruit lovers to check fruit thoroughly before eating it, after he was stung by a baby scorpion hiding in a bag of langsat fruit.
Pennung Chaiyachit says he put his hand in the bag, which contained about 2 kilos of the fruit, when he felt a sharp pain as if his thumb had been cut.
Mr Pennung washed his thumb and poured some rubbing alcohol on it but, despite there being no visible wound or any bleeding, his pain began to get worse and he decided to drive to hospital.
While waiting to see a doctor, Mr Pennung did an internet search which revealed a breed of tiny scorpion that can live on langsat fruit and has particularly powerful venom.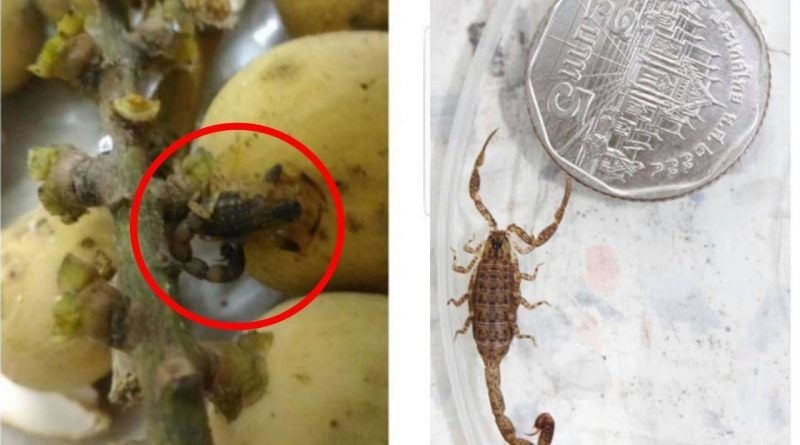 The doctor decided to keep Mr Pennung in overnight as a precaution, giving him antibiotics and administering pain relief through IV.
Mr Pennung documented his experience on Facebook as a warning to others, advising them to always check bags of fruit thoroughly and always wash fruit before peeling.
SOURCE: Thai Residents
Keep in contact with The Thaiger by following our
Facebook page
.
Pet leopard not a hit with neighbours in Chonburi, Thailand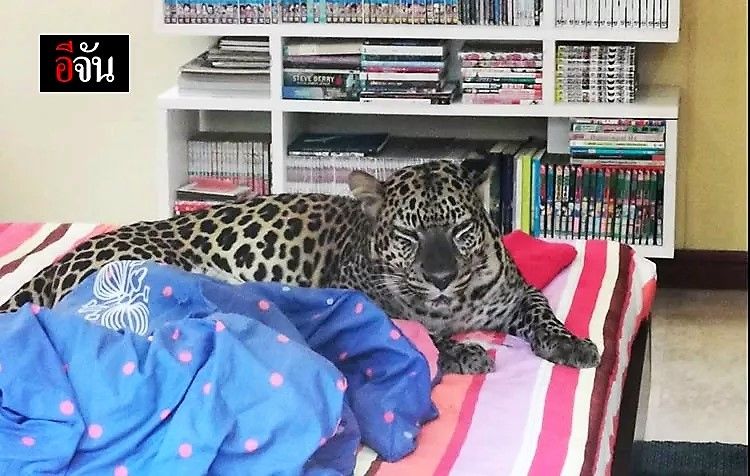 A couple in Chonburi, eastern Thailand, have not ingratiated themselves with neighbours after it was revealed they're keeping a pet leopard in their home.
It's understood that a Thai woman known as Nittiya, and her foreign husband, nationality unconfirmed, have just recently moved to the area from Chiang Mai, and news of their unusual pet has put neighbours very much on edge.
The couple have just had a visit from the Thailand Wildlife Enforcement Network (Thailand-WEN) after anxious villagers notified officials, saying they believed the leopard had been acquired illegally.
They added that the leopard was living in the couple's home and being treated as a pet, expressing concern that it could escape and attack people.
Yesterday, officials visited the home, which is surrounded by a 3-metre-high wall. Nittaya explained that the couple have had the leopard – named Typhoon – since it was born 4 years ago, producing the required documentation for inspection.
Officials agreed that the couple have the right to keep the leopard, but will need to apply for a new licence to keep it in its new location.
SOURCE: Thai Residents
Keep in contact with The Thaiger by following our
Facebook page
.
JetSki crashes into shop in Kamala, Phuket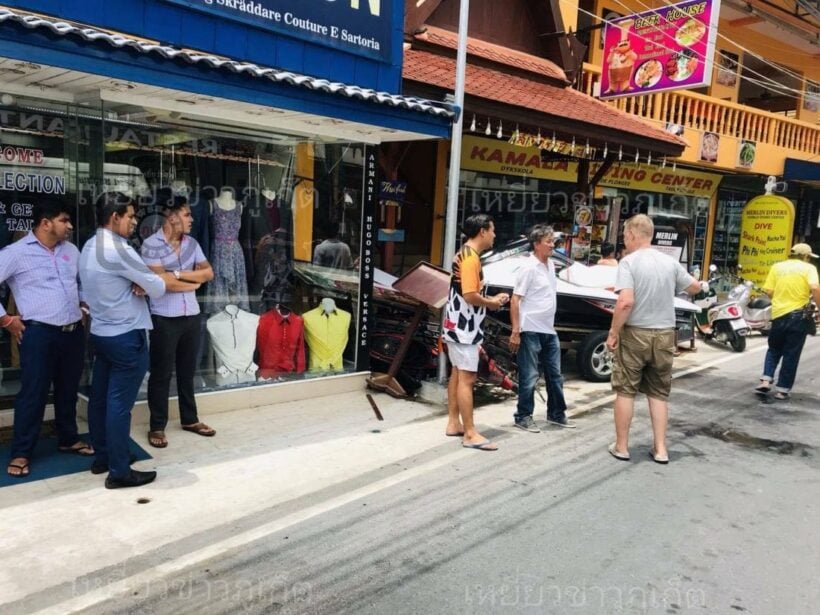 PHOTOS: Newshawk Phuket
Not often we get to write this headline… "JetSki crashes into shop in Kamala".
The jetski was being towed by a Saleng (motorcycle and side-car) through the streets of Kamala this afternoon when, for reasons we don't yet (probably brake failure), the whole shebang went AWOL and ended up running into the front window of some tourist shops.
The jetskis are a common sight going through the backroads of the various west-coast shopping areas at the start and end of each day, on their way to the beach to hire to tourists, usually in a convoy with the jetski staff riding shotgun on top.
This time it was a lone JetSki, being towed by a saleng, that somehow veered off the street and into the roadside Kamala shops.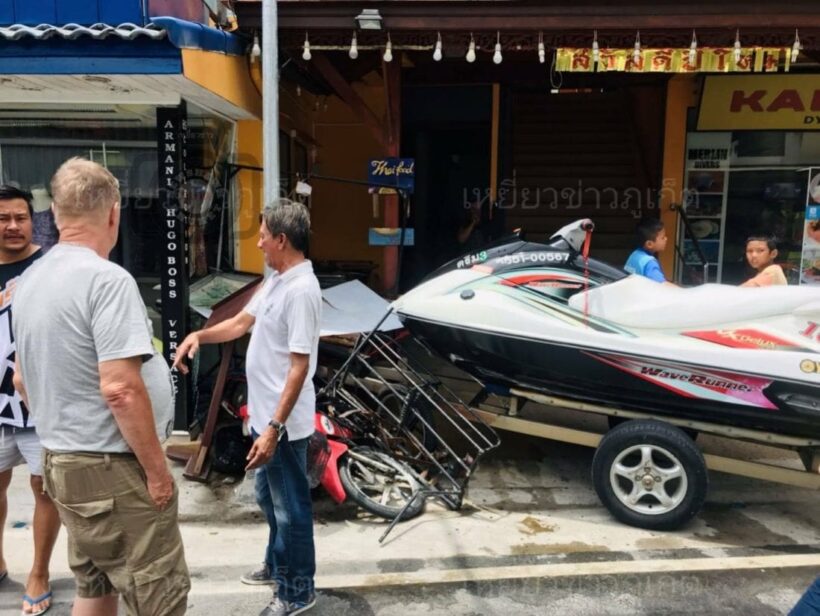 Keep in contact with The Thaiger by following our
Facebook page
.