Weird World News: Serving surf 'n' turf – from love to six feet under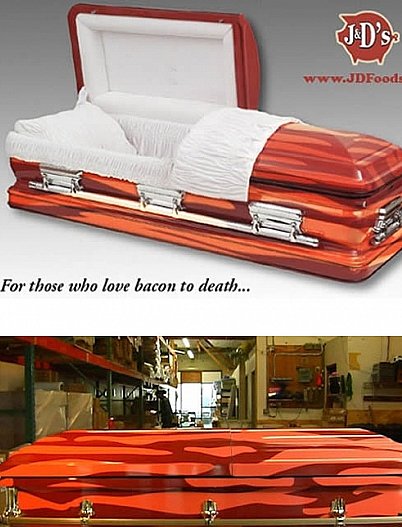 PHUKET: This week's Weird World News round-up serves up an awkward and dangerous mix of surf 'n' turf, taking you from cheap love, to a fishy and possibly untimely death and finally wrapping you up like a filet mignon and burying you.
Japanese chefs balloon up over new blowfish laws
A NEW law coming into affect in October is cutting out the hearts of the highly trained and licensed fugu (blowfish) chefs of Tokyo, Reuters reported.
For more than 60 years, slicing and dicing blowfish in Tokyo has been the calling for a small group of strictly regulated and licensed chefs, due to the deadly toxicity of parts of the fish.
The poison known as tetrododoxin is found in parts of the blowfish, including the liver, heart, intestines and eyes, and is so powerful that even a tiny amount will kill. Every year there are reports of people dying after preparing blowfish at home.
"We have spent time and money in order to obtain and use the blowfish license, but with these new rules anybody can handle blowfish even without a license," fugu chef Hashimoto told Reuters.
The Tokya Metropolitan Government said the change in the law is hoped to slash the prices of fugu dishes, bringing Tokyo level with the rest of the nation.
"Outside of Tokyo, the regulations for blowfish are even more relaxed, and yet there are hardly any poison-related accidents," Hironobu Kondo, an official at the city's Food Control Department, told Reuters.
Though thrill-seeking diners are reputed to seek out chefs who leave just enough of the poison to make the lips tingle, blowfish professionals scoff at this as urban legend, noting that ingesting even that much of the poison would be hazardous.
"I don't want people to forget that you can actually die from eating blowfish," said Hashimoto.
May you be forever wrapped in bacon
A BACON coffin is one of the newest products to hit the American-bacon-obsessed market.
There were scoffs when American chain-restaurant Deny's introduced its bacon ice cream sundae last year, but that hardly raises the lid on J&D Foods, which has started selling a casket with an unmistakably bacon-strip paint job.
Looks aren't everything, and the company that brought you bacon salt and baconnaise knows it. The casket comes with a bacon-scented air freshener to keep corpses smelling delicious.
"We think that your final resting place deserves the eternal glory that is bacon," the company's website said.
For those thinking of making the almost 93,000-baht investment for a final send-off, the casket is made of 18-gauge gasketed steel lined with ivory crepe linen and comes with a memorial tube and an adjustable bed and mattress.
To see the video launch of the "crispy coffin", click here.
— Isaac Stone Simonelli
JetSki crashes into shop in Kamala, Phuket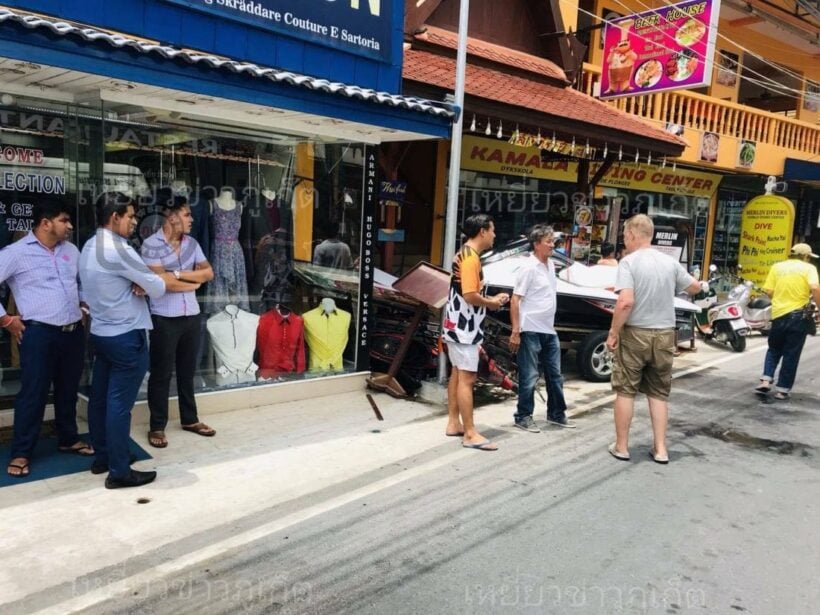 PHOTOS: Newshawk Phuket
Not often we get to write this headline… "JetSki crashes into shop in Kamala".
The jetski was being towed by a Saleng (motorcycle and side-car) through the streets of Kamala this afternoon when, for reasons we don't yet (probably brake failure), the whole shebang went AWOL and ended up running into the front window of some tourist shops.
The jetskis are a common sight going through the backroads of the various west-coast shopping areas at the start and end of each day, on their way to the beach to hire to tourists, usually in a convoy with the jetski staff riding shotgun on top.
This time it was a lone JetSki, being towed by a saleng, that somehow veered off the street and into the roadside Kamala shops.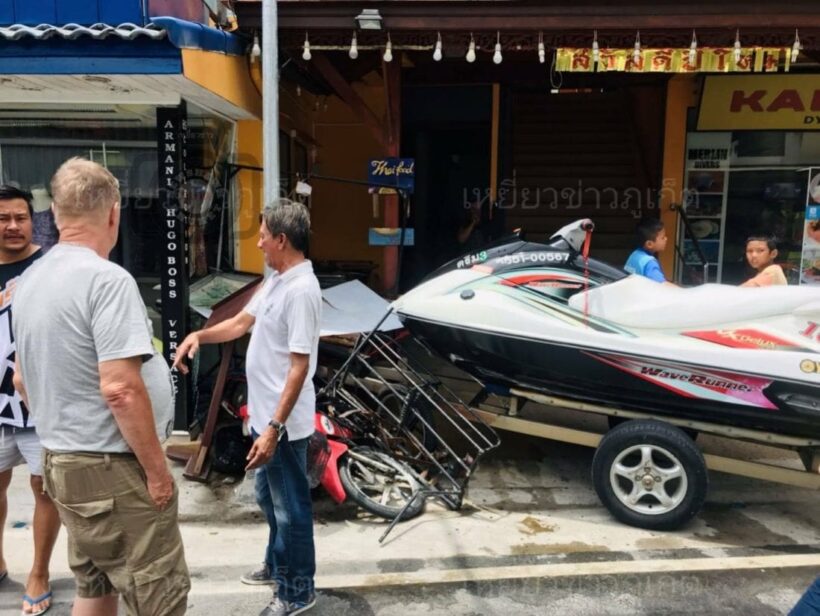 NO Plastic Bag! @ Central Phuket
China has the most atheists. Indonesia and Philippines the most believers.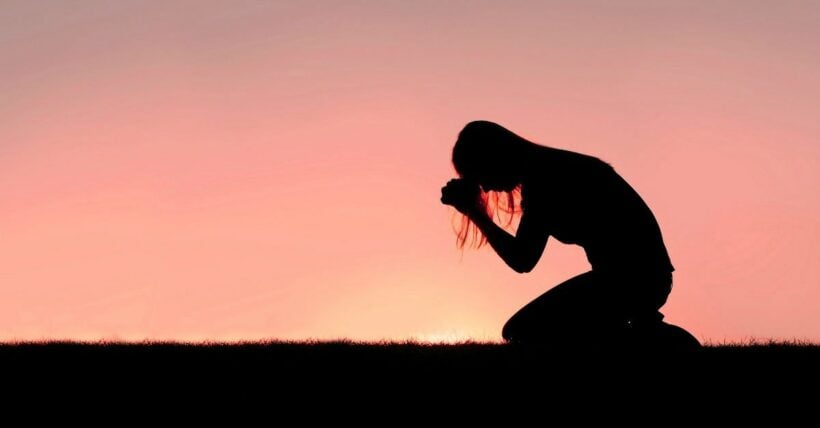 China is the least believing country in the world but belief in a God gets 100 per cent mention in countries like Indonesia, Bangladesh and Philippines, according to the survey by Gallup International.
According to the survey exploring religious tendencies of 66,000 people in 68 countries across the world, 62 per cent of people in the world define themselves as religious, 74% of people globally believe we have a 'soul' and 71% believe in a God. Another 56% believe in heaven, 54% in life after death and 49% in hell.
China has the highest percentage of atheists in the world with 67% not believing in any religion. Every seven out ten people are atheists, more than double than any other country. 23% consider themselves as non-religious. Less than 10% identify themselves as religious in China.
China's atheist percentage is followed by Japan, a long way behind in second place at 29%, Slovenia (28%) and Chech Republic (25%). Despite rapid industrialisation and urbanisation religion has stayed relevant in the South Korean region with only 23% identifying as atheist.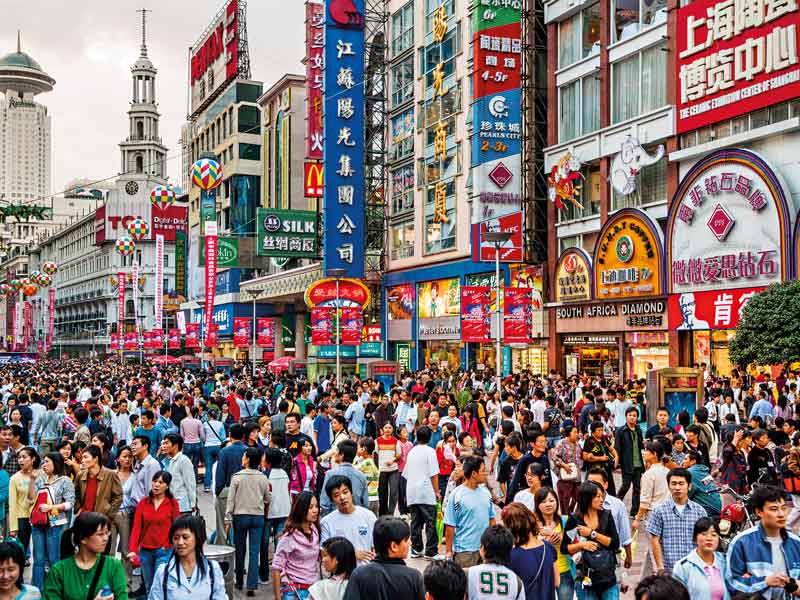 European countries like Belgium (21 %), France (21%) , Sweden (18%) and Iceland (17%) also have a large percentage of believing population.
Bangladesh, Indonesia and Philippines are the most believing countries with entire population claiming to believe in God, soul, hell and heaven. Thailand and Pakistan have 99% believing population, followed by India, Vietnam and Mongolia.
The survey shows that the levels of religiosity diminish as income and education levels increase. While 66% of people with low income affirm to be religious, this percentage drops to 50% among people with higher incomes. The same trend is verified in relation to education levels: 83% of people with lower education level are religious against 49% of higher level.
According to the survey there is a connection between religiosity, beliefs and socio-demographic characteristics like age, income and education level. As education and income levels grow higher, religiosity levels tend to go down. Also, the expression of different beliefs is higher among young people.
The level of education has a considerable influence on the perception of religion by the society. Women and young children show higher percentage for spiritual forces.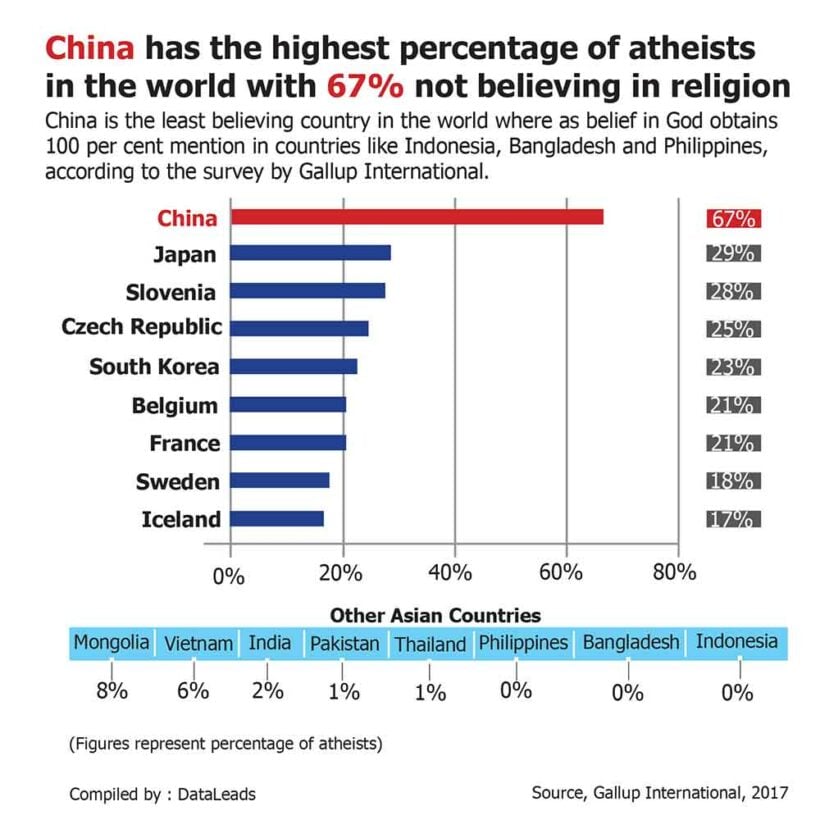 SOURCE: Data Leads