Getting ready for the big one – Myanmar's earthquake threat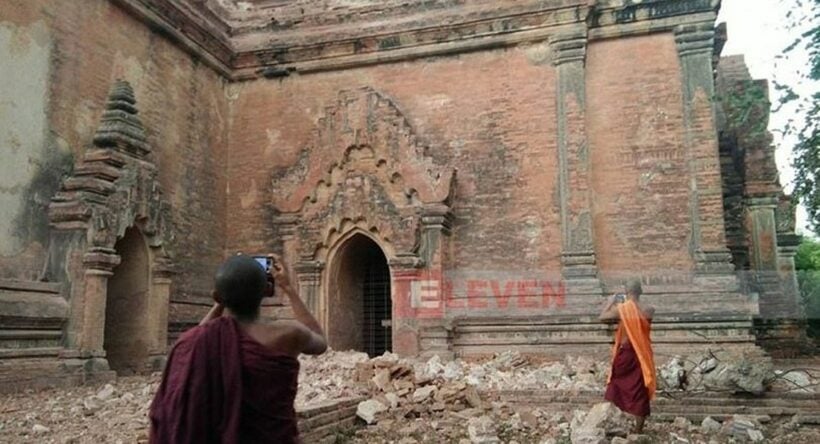 Special report from partners Voice of America
Last month, the residents of Yangon, Myanmar's largest city, felt a strong bump in the night. Their national leaders in Naypyidaw, the country's thinly populated capital, were also stirred from their sleep.
A magnitude 6.0 earthquake struck between the two cities, in the early hours of January 12.
The Southeast Asian country is well accustomed to earth tremors but there are fears that the catastrophe of a major earthquake would overwhelm Myanmar's already thinly stretched government and undo the fragile development gains of recent years.
Myanmar's key cities, Yangon, Naypyidaw and the northern hub of Mandalay, all sit close to the Sagaing Fault, which bisects Myanmar from northern Kachin State, through the central Dry Zone, and into the Andaman Sea.
In addition, the country's west is rattled by the continued subduction of the Indian Plate beneath the Burma Platelet. In the eastern highlands the Kyaukkyan Fault was the source of Myanmar's strongest recorded earthquake, measuring 8.0, in 1912.
A network of more than 30 seismic monitoring stations, launched across Myanmar last year, picks up four to five minor earthquakes each day, according to the Earth Observatory of Singapore, which worked on the project.Big ones, exceeding 7.0, hit roughly once a decade, according to seismic data for the past 170 years.
The big one
The Sagaing Fault exposes up to 10 million people to disaster and casts a shadow over the development of Yangon, the commercial capital. With rural to urban migration increasing, the government projects Yangon's 5.2 million population to almost double by 2040.
The city's infrastructure, characterized by badly maintained British colonial relics and cheap modern blocks built over decades of regulatory chaos, struggles to cope even with day to day activity.
According to geologists, the fault segment that exposes Yangon is due for a large quake. Professor Myo Thant, vice chair of the Myanmar Earthquake Committee, told VOA the recurrence interval for a 7.0-and-above earthquake is 80-100 years. The last one to strike the segment was in 1930, killing more than 550 people.
But there are signs the government is becoming more aware of the threat.
The Chauk effect
Myo Thant, and fellow Earthquake Committee vice chair Saw Htwe Zaw, an engineer, have been laboring for the past two decades to plot the country's seismic risk, partnering with foreign universities and institutes as well as U.N.-Habitat, the United Nations' urban division.
Both told VOA they are encouraged by the high-level activity of recent months.This included a U.N.-assisted crisis-room simulation for the national and Mandalay Region governments on Feb. 1-2 in Naypyidaw.
The table-top exercise was the first real-time test of the National Disaster Management Committee, chaired by Vice President Henry Van Thio, outlined in the 2013 Natural Disaster Management Law.
A nearly $1 million project backed by the European Commission was launched in December to draw up an earthquake Preparedness and Response Plan and Resilience strategy, as well as rolling out earthquake education across vulnerable areas.
In late January, two schools in Yangon's outskirts conducted a tsunami evacuation drill as part of a regional, Japanese-funded program to address a threat directly linked to earthquakes. SEEDS Asia, a Japanese-registered organization that aided the exercise, has also been conducting workshops in schools in coastal Yangon and Ayeyarwady regions.
Myo Thant and Saw Htwe Zaw of the Earthquake Committee credited the response to the 6.8-strength Chauk earthquake in August 2016, which ravaged temples in the tourist site of Bagan in central Myanmar, with pushing earthquakes up the government's agenda.
"Sometimes these shocks are the best opportunities to build both government and public interest," Yoko Okura, SEEDS Asia country representative, told VOA.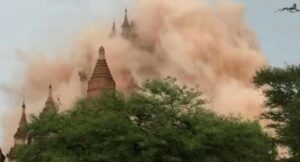 A state of ruin
Addressing Yangon's neglected urban infrastructure has become a core priority, but safety standards conflict with government desires for big investment and a quick expansion of the housing stock.
A new, earthquake-sensitive building code, overseen by engineers from the Earthquake Committee, was presented to the government last year.It has yet to be worked into law or even translated from English into Burmese, according to Saw Htwe Zaw, and it's unclear when it will take effect.
The code would provide a solid safety blueprint for planned expansions and satellite towns in Mandalay and Yangon, but it would do nothing for older buildings.Many in Yangon are in a state of ruin.
The absence of a viable insurance market and a general lack of funds for costly repairs don't help, neither do the Building Completion Certificates issued by the Yangon municipal government, which don't require any later assessments, even on resale.
But the Earthquake Committee has conducted earthquake risk assessments of several towns and cities, including Mandalay, and is now assessing Yangon, starting with a few townships, with a view to producing retrofitting guidelines.Meanwhile, the World Bank has agreed to fund the reinforcement of around a dozen public buildings in Yangon.
A low base
The unpredictable nature of earthquakes, and the lengthy intervals between major quakes, pose challenges to improving public awareness."People forgot earthquakes easily," said Myo Thant.
By contrast, 2008's Cyclone Nargis, said to have killed more than 138,000 people, is within recent memory, and its lingering effects of displacement and poverty remain visible.
Myanmar's internationally reviled military junta drew condemnation for its handling of Cyclone Nargis, by spurning an international relief effort while largely failing to stem the death and destruction for which the country was so badly prepared.But international humanitarian and development partnerships have evolved since limited democratic reforms began in 2011.
Shashank Mishra, a program manager for U.N.-Habitat, told VOA the government has been very receptive to outside advice and assistance on natural disasters."There's a lot of momentum now," said Mishra.
But earthquake preparedness is starting from a very low base.A basic arrangement of ward-level assembly points and reinforced shelters stocked with provisions remains generally absent across Myanmar's towns and cities.
Saw Htwe Zaw admitted there is "still a long way to go" before the country catches up with the grave risks it faces.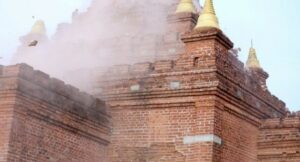 STORY: Voice of America
Keep in contact with The Thaiger by following our
Facebook page
.
Tour De France comes to Phang Nga – L'Etape Thailand on October 27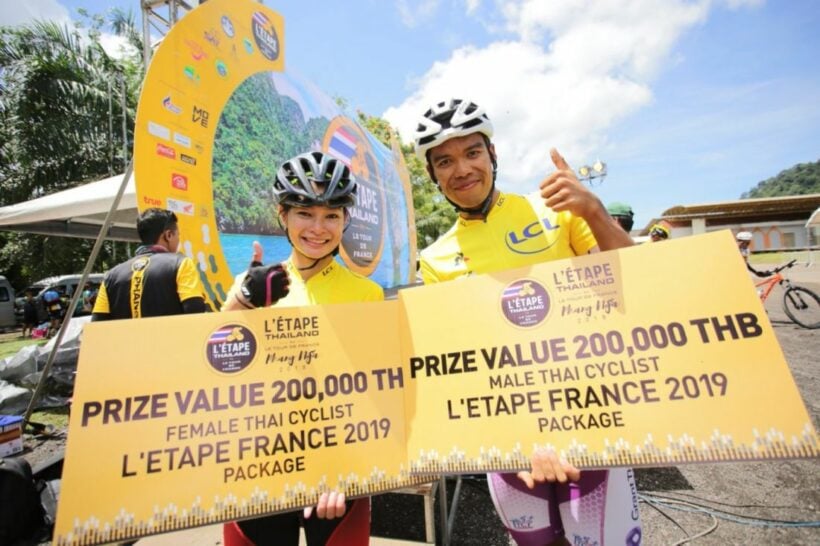 PHOTO: L'Etape Thailand by Le Tour De France
Thailand will be the first country in ASEAN to attract the world-class cycling event to Thailand for local and international cyclists to experience a challenging and scenic ride on a course comparable to the world's most popular cycling event, The Tour De France.
The event is being held around Khao Lak in Phang Nga on October 27.
"L'Étape by Le Tour De France" will be an organised participation event allowing amateur cyclists to face the same challenges and race conditions as if they were riding in the Tour de France. Additionally, there will be activities and an Expo including a travelling Tour De France museum to welcome newcomers to the event.
L'Étape by Le Tour De France is one of the most popular events operated by Tour de France and been held in 11 countries over five continents. Its founding event, L'Étape du Tour, started in France in 1993, and expanded in the 2010s to the US, Australia, UK, South Korea, Colombia, Brazil and others. In 2017, there were about 50,000 participants.

Here is a list of the Khao Lak events in Phang Nga…
The race 159 KM Super Early Bird (Limited)
• The race 159 KM (Individual)
• Thais baht 2,500 baht
• Foreigners 2,600 baht
The race 159 KM (Group 5 Pax)
• Thais 2,500 baht
• Foreigners 2,600 baht
The race 159 KM (Group 8 Pax)
• Thais 2,500 baht
• Foreigners 2,600 baht
The race 159 KM (Group 10 Pax)
• Thais 2,500 baht
• Foreigners 2,600 baht
The race 70 KM Super Early Bird (Limited)
• The race 70 KM (Individual)
• Thais 2,500 baht
• Foreigners THB 2,600
The race 70 KM (Group 5 Pax)
• Thais 2,500 baht
• Foreigners 2,600 baht
The race 70 KM (Group 8 Pax)
• Thais 2,500 baht
• Foreigners 2,600 baht
The race 70 KM (Group 10 Pax)
• Thais 2,500 baht
• Foreigners 2,600 baht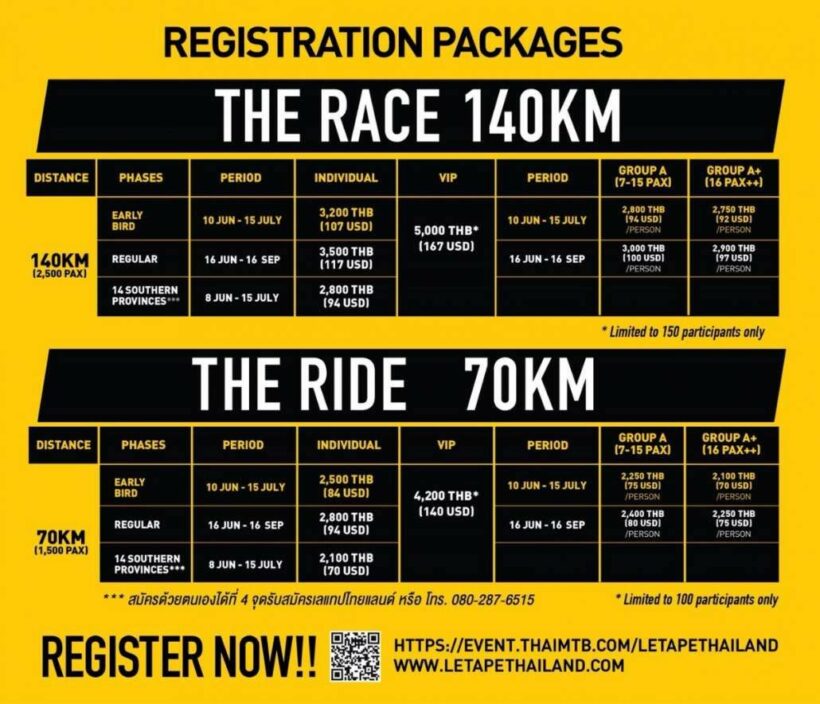 Keep in contact with The Thaiger by following our
Facebook page
.
Key ally rejects PM Johnson's Brexit plan – Sterling sags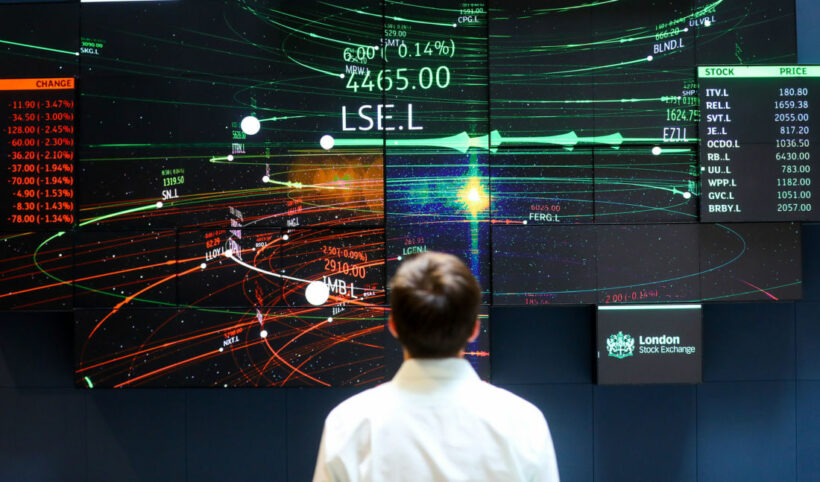 The British Pound tumbled again today after UK PM Boris Johnson's key ally in parliament said it "could not support" his plans for a Brexit deal, throwing a spanner in the works – just as Britain and the EU were closing in on an agreement.
The comment caused an immediate reaction from this morning's Asia Pacific markets.
After years of wrangling, the two sides said they were edging towards the basis for a treaty allowing Britain to avoid an economically catastrophic "no-deal" exit from the European Union.
With both teams working through the night, EU negotiator Michel Barnier said there had been "good progress, and work is ongoing", while France's deputy foreign minister said Thursday a deal was "within reach but is not guaranteed".
There had been optimism that a deal was in the offing, just two weeks before Britain is due to leave the bloc, as they worked towards a solution on the vexed question of British-ruled Northern Ireland.
But Northern Ireland's Democratic Unionist Party (DUP) dropped a bombshell hours before the start of a crunch EU summit Thursday, saying it cannot support the plan.
"As things stand, we could not support what is being suggested on customs and consent issues, and there is a lack of clarity" on Value Added Tax, the DUP, which props up Johnson's government, said in a statement on Twitter.
"We will continue to work with the Government to try and get a sensible deal that works for Northern Ireland and protects the economic and constitutional integrity of the United Kingdom."
DUP leader Arlene Foster had met Johnson several times this week to discuss the progress of talks and had described as "nonsense" previous reports that she was ready to give way.
The pound, which earlier in the day was hovering at five-month highs around $1.2877 sank to $1.2750 before edging back slightly, while it also lost ground to the euro.
The DUP are against any deal that would tie Northern Ireland to EU rules but cut the rest of the United Kingdom loose.
Markets react
In early trade, London's FTSE added 0.1%, Paris was flat and Frankfurt eased 0.2%. In Asia, most markets were in the red, with traders unable to take advantage of weak US retail data that raised the chances of another Federal Reserve interest rate cut. Comments in the Fed's Beige Book update on the economy also pointed to a slowdown.
Hong Kong added 0.7% but Shanghai finished 0.1% lower and Tokyo lost 0.1%.
Sydney sank 0.8%, Singapore shed 0.7% and Seoul retreated 0.2%t, with Wellington and Manila also off. There were gains in Taipei, Mumbai, Bangkok and Jakarta.
Speculation about a possible US rate cut provided support to higher-yielding currencies against the dollar, with the Australian dollar 0.6 percent up and the South Korean won 0.1 percent stronger. The Thai baht, the Mexican peso and the South African rand also posted healthy gains.
Oil prices fell after data pointed to a sharp rise in US stockpiles that reinforced worries about the impact on demand from the China-US trade war and the global economic slowdown.
Key markets today
Pound/dollar: DOWN at $1.2784 from $1.2817 at 2100 GMT
Euro/pound: UP at 86.65 pence from 86.33 pence
Euro/dollar: UP at $1.1081 from $1.1073
Dollar/yen: UP at 108.80 yen from 108.71 yen
London – FTSE 100: UP 0.1 percent at 7,175.09
Tokyo – Nikkei 225: DOWN 0.1% at 22,451.86 (close)
Hong Kong – Hang Seng: UP 0.7% at 26,848.49 (close)
Shanghai – Composite: DOWN 0.1% at 2,977.33 (close)
West Texas Intermediate: DOWN 56 cents at $52.80 per barrel
Brent North Sea crude: DOWN 55 cents at $58.87 per barrel
New York – Dow: DOWN 0.1% at 27,001.98 (close)
SOURCE: Agence France-Presse
Keep in contact with The Thaiger by following our
Facebook page
.
Five days to move out – restaurant encroaches on Nakhon Si Thammarat creek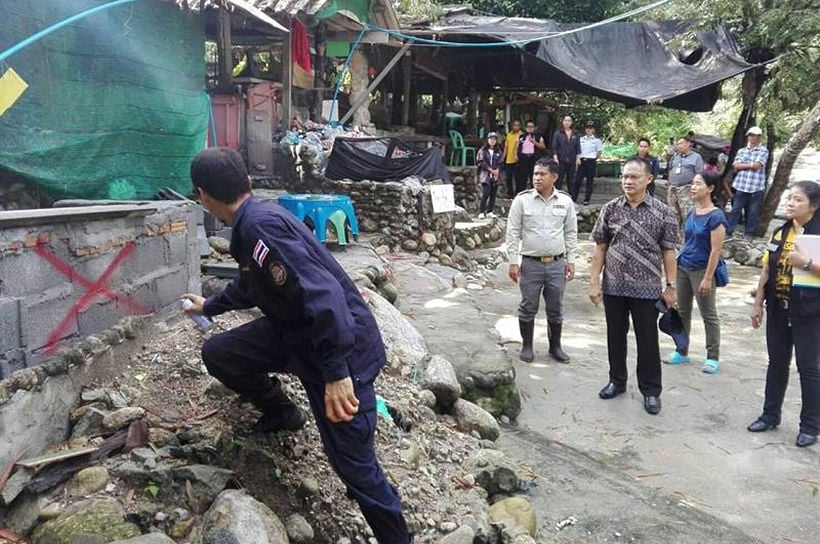 PHOTO: Facebook/Strong Club – Sufficiency mind, anti-corruption
A restaurant in Nakhon Si Thammarat has been exposed for illegally encroaching on the Baan Kiriwong creek and constructing permanent foundations and infrastructure. They've been ordered by authorities to move out.
The Nation reports that a Facebook page titled "Strong Club – Sufficiency mind, anti-corruption" posted a photo with a caption on October 14, alluding to the illegal encroachment. The concrete platform runs for about 60 metres along one side of the stream.
The restaurant had allegedly created a cement platform in the creek and set up tables and chairs at Baan Kiriwong, which has become famous as an eco-attraction for tourists in the Nakhon Si Thammarat province, west of Krabi on the Gulf of Thailand.
The area also serves as a natural flood warning system, so, in the event of flash floods, the locals send emergency warnings to people in the town to prepare for approaching flood waters.
The Facebook page owners had asked the local government to inspect the area to ensure more damage wasn't inflicted on the forest and the Baan Kiriwong creek.
On Tuesday, the Lansaka district governor and rangers went to the scene and questioned the owner of the restaurant. The restaurant owner was given an ultimatum to break up and remove the cement platform and move the restaurant out of the area within five days.
SOURCE: The Nation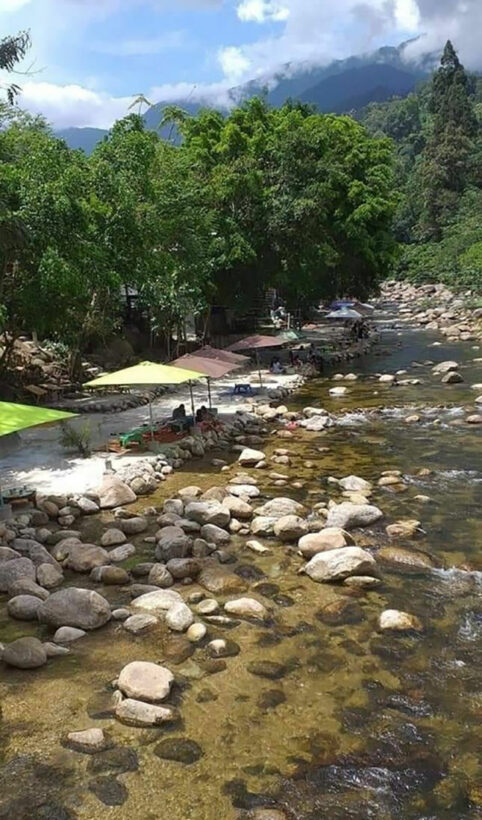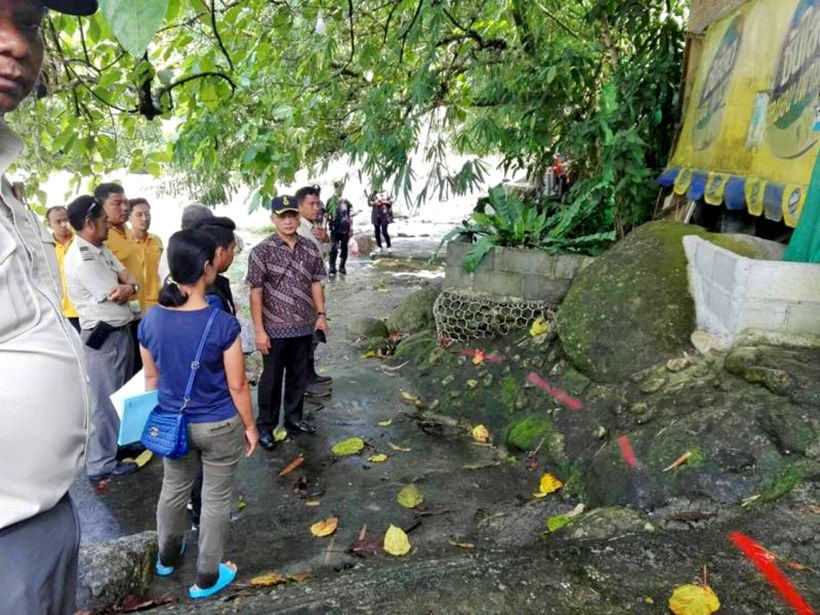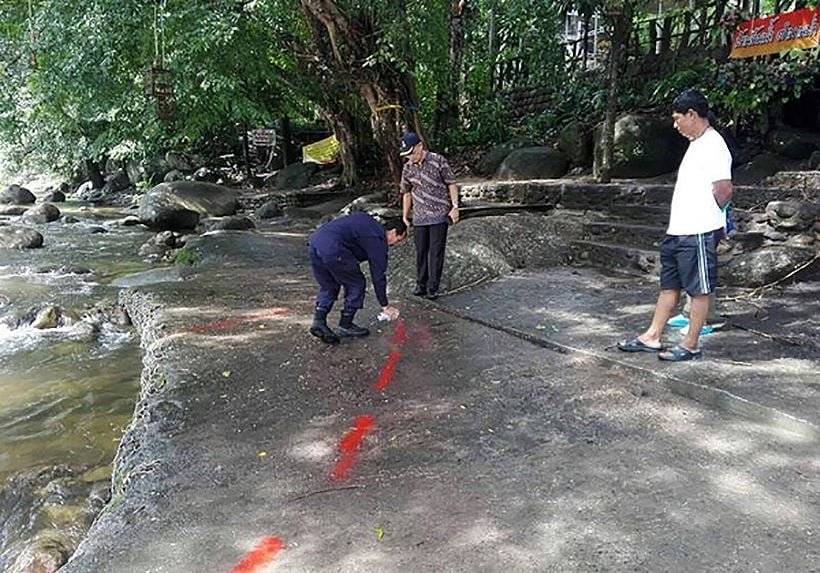 Keep in contact with The Thaiger by following our
Facebook page
.