A moment with Map Abday – Phuket Lifestyle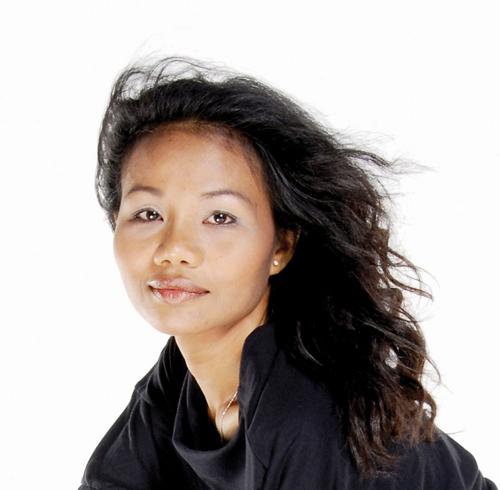 PHUKET: Art is the expression of human creative skills and imagination, typically in something that can be experienced visually, such as drawing, painting or sculpture. Such works are appreciated primarily for their beauty or emotional power.
Indeed, many people try to define what art is, but its meaning is constantly evolving, and the concept of art means different things to different people. For local artist Map Abday, art is in everything she can see.
"Art is not just about drawing or painting, but in everything around you, even in the clothes you wear," Map says.
Map was born in Southern Thailand and throughout her life, even as a very young girl, she has seen the world through its colors. Map studied Art at Thaivichitsilp Art School in Bangkok and also at the Poh-chang Art Institution – a long-standing art school which was established over 100 years ago by Thailand's King Rama VI.
After her studies, Map began working as an interior designer for La Scala and travelled extensively in Spain, France and Italy. It was during this time that she decided that she wanted to dedicate her working life to art and to becoming an artist in the true sense. Since that time, she has defined the success of her art in her own terms, unrelated to the critical or financial approval of each piece.
Map works in the medium of acrylic paint on canvas and takes her main inspiration from nature. She is fascinated by the universe – the miracle of nature, mountains, natural surfaces of ancient rocks, old castles, patterns of shells, art from around the world, layers of leaves and even interior design or great pictures in advertising or magazines. She truly loves textures. Map's inspiration also comes from her favorite books Above the World, Inside Our Body, as well as Buddha image magazines, which contain pictures of old Buddha images that have been buried under the ground for years until their color was changed by natural oxidation.
Map previously worked in an expressionist style, which is a kind of semi-abstract painting. She has been doing abstract painting for more than 13 years now.
"If someone had told me that to understand how to splash colors, create character, fragmentation and combine colors perfectly would take about 10 years, I would have quit long ago. Luckily, no one told me that," Map says with a laugh.
Nikola Tesla, a forgotten genius known for his contributions in the creation of modern alternating current electricity is Map's favorite scientist, and you can see symbolic aspects of Tesla's work in her paintings. This electric symbolism often takes the form of thunderbolts.
"From matter to energy, from realistic to abstract," Map Abday decribes her very first painting Blue Mountain. It is Based on a photograph where you can see a mountain, road and meadow. Map's painting is an abstract interpretation using similar colors. When you study the painting thoughtfully and change your vision to emotion, you can see the a shared tone in the two pictures: feel the mountain, imagine the blue sky reflecting the mountain, the rocks and meadow are represented in 18 different shades of blue. Map has changed the realistic to the abstract and given the painting a sense of life which is lacking in the photograph.
In addition, Map tries to convey her memory of spring emerging from winter in Canada in her painting Early Spring. This was her first romantic, soft painting, but despite the softness, she conveys the rugged power of nature. The painting has a mix of superimposed colors, which create a gentle, soothing feeling. After a long cold winter, comes spring and trees bursting into life. Streaks of turquoise green represent the trees, the vanilla color of cedar signifies hope and regeneration and raindrops across the painting unify and bring it to life.
"This is the beauty of abstract works, it's the visitors themselves who can think about the picture of their own, who can say what it looks like," Map says.
Natural Poet is also one of Map's works which reveals that nature is the most beautiful, creative, and powerful poet. While, Summer Wood is a colorful painting showing the beauty of Summer time which you can see from the mix, blend, and combination of colors on the painting.
"I do want to change people's feelings to inspiration. Actually, inspiration is everything. Without inspiration, you just can't do anything," Map says.
Map is now showing her paintings along with three other artists: John Underwood (sculpture), Hannah Pearce (mixed media) and Adriano Trapani (photography) in their exhibition Textures which can be seen at the Underwood Art Factory, located on the Bypass Road from now until July 14.
For more information, contact Map on 081 696-3901 or email at info@phuketlifestyle.com
— Anthika Muangrod

Join the conversation and have your say on Thailand news published on The Thaiger.
Thaiger Talk is our new Thaiger Community where you can join the discussion on everything happening in Thailand right now.
Please note that articles are not posted to the forum instantly and can take up to 20 min before being visible. Click for more information and the Thaiger Talk Guidelines.