Phuket tourist detained two days for capturing fish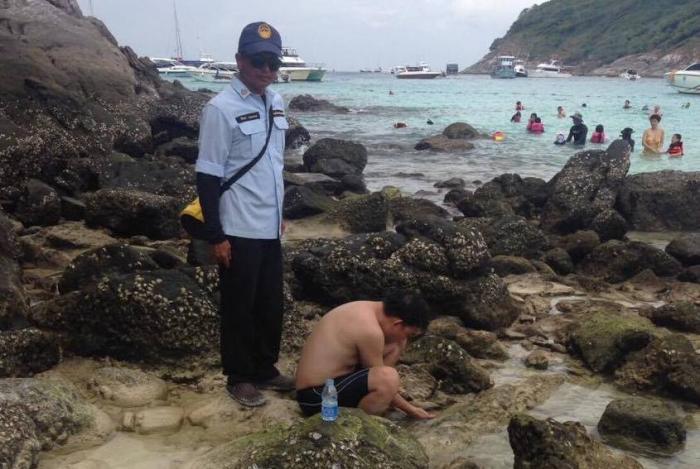 KOH RACHA: A tourist was arrested and jailed yesterday for catching and keeping two fish at a beach on Phuket's Racha Island.
The arrest was made after locals reported the man collecting live fish in a water bottle at Plub Pla Beach.
At about 2pm, Fisheries Officer Nares Choopueng, along with Marine and Coastal Resources Conservation Department (DMCR) officials, confronted the Chinese tourist while he was capturing the fish.
"We found Huang Yong Jia, 35, with a small water bottle containing two live fish next to him. We arrested him and sent him to Chalong Police Station, where he was legally processed and detained for two days without bail," said Mr Nares.
Phuket authorities have cracked down on tourists at Koh Racha in the past few weeks as locals have reported that such acts are damaging their island's marine life (story here).
Artificial coral and buoys were also installed on the island earlier this month to preserve the natural environment there (story here).
— DMCR Source
Keep in contact with The Thaiger by following our
Facebook page
.
Top 10 things to do in Phuket when it rains (2019)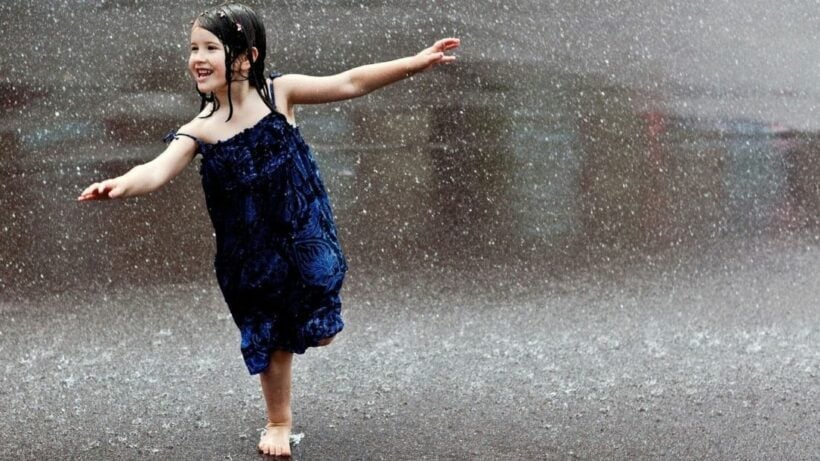 Phuket really only has two seasons – wet and dry. The wet season usually runs from April to November each year and when it rains, it pours! But there's still plenty to do on the island, rain or sunshine. Best of all it's still going to be around 30 degrees so it's not cold or unpleasant. A 20 baht plastic poncho from 7-Eleven or Family Mart will sort of keep you dry.
Here are a few ideas to keep you entertained on one of those rainy days…
There's the famous Simon Cabaret in Patong – there is also the companion show in Samkong – better parking and a newer theatre but much the same show. "The prettiest girls in Asia" they say. Completely family friendly but be prepared for a few questions after the show if you take the kids. Also, if you want to get a picture with one of the performers after the show you'll need to hand over 100 Baht or so for the pleasure.
The shows are bright, spectacular, fun and a lot of fun. You'll forget about the rain and wet outside. In the middle of the island adjacent to the Samkong intersection is the Aphrodite Show, in the same vein as the Simon Star shows.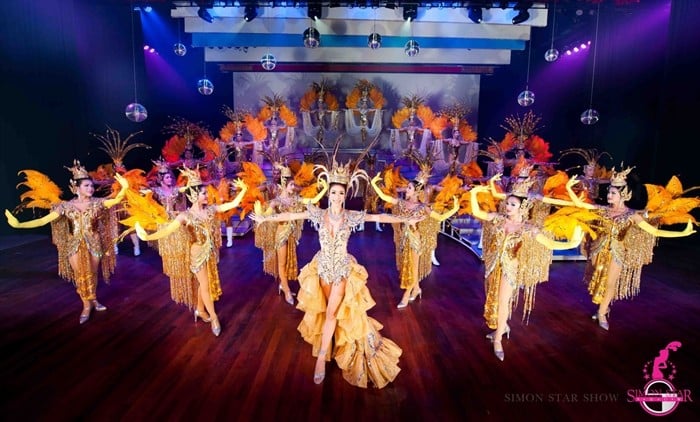 One of the best shows on the island. There's pre-show 'walk around' displays where you can see Muay Thai matches, traditional Thai villages and elephant shows (you can choose not to attend these if you're ethically sensitive about animal shows). Then it's into the theatre for an astonishing show about Thai culture and history which will blow your mind. For everyone in the family.
I've been 20 or more times – always take tourist friends there for a lesson in Thailand 1.0. Almost impossible to explain what you'll see but, believe me, it's worth the price. There's also a mega-international buffet available before the show. Take your appetite. Even when it's wet or raining, the show is always on – they cleverly adapt the schedule to fit around the rain.

Head to one of the island's big international shopping centres for some retail therapy if there's a bit of rain outside.
There's Central Festival and the adjoining Central Floresta in the middle of the island, Jungceylon and Central (over the road) in Patong.
Both have plenty of label brands and excellent food options. There are also excellent cinemas at both locations (Jungceylon and Central Festival) where tickets will probably cost you a fraction of what you pay in your home country (unless you come from Nigeria where it's quite cheap I hear). Cost around 230 baht+ unless you go on cheap-Wednesday when the tickets are half-price.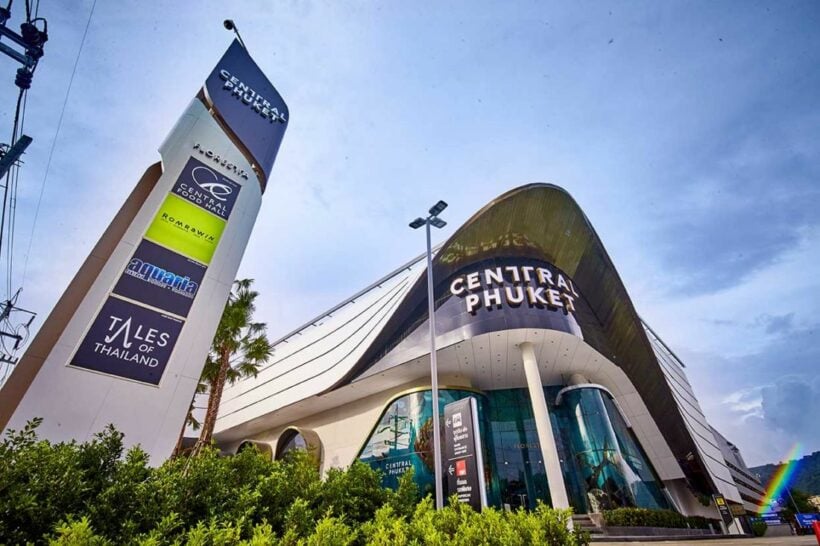 It has been much publicised that riding the incredibly intelligent elephants is cruel. Be part of the change and visit one of the best elephant sanctuarys in Thailand. Education is power, help spread the word that it is no longer acceptable to jump on the saddle. Yes it is an outdoor activity, but you are going to get wet anyway when you wash the elephants so get out there and play with the elephants.
The Elephant Jungle Sanctuary is a home for retired working elephants, set amongst three camps in remote sections of Phuket. It doesn't matter if it's wet and raining in Phuket – elephants love the wet!
There are a number of better, more elephant-friendly, alternatives around Phuket these days, all with the elephant's welfare as paramount. Also the Elephant Retirement Park, Phuket HERE.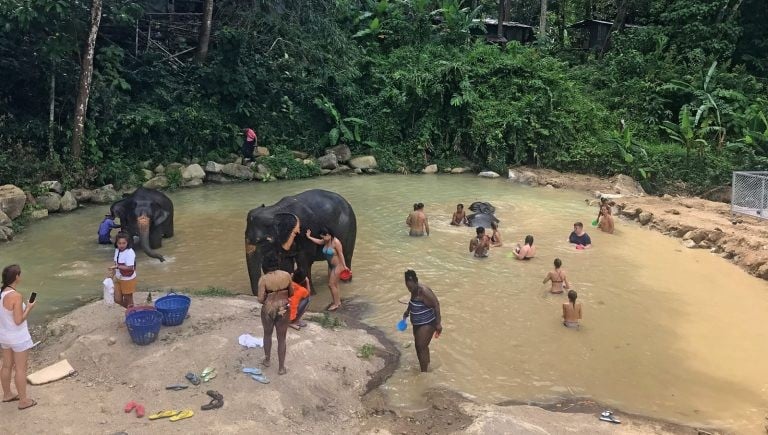 You deserve it. There's plenty of alternatives and style of massage all over the island, well, all over Thailand. A traditional Thai massage – firm, medium or light – will be an experience you'll always remember. Don't ask for firm unless you're prepared for some PAIN! Despite the publicity, most massages don't include a happy ending. Unless you're in Patong, you're probably not going to get that 'optional extra'.
There are also plenty of spas for all sorts of additional indulgences. Many of the bigger international hotels have excellent spas for 'walk-in' customers. Leave the rain and wet outside and enjoy.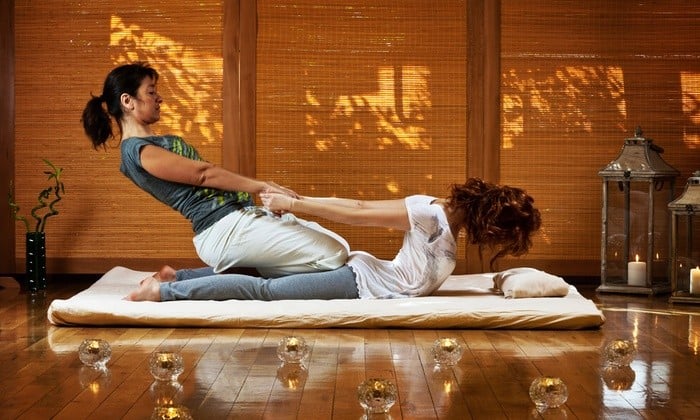 6. Go for a walk on the beach
It's still warm, the beaches are still amazing, the monsoonal air is fresh off the Andaman Sea and you can enjoy the drama of nature doing what it does. Also, be amazed at the people who have paid their hard-earned money to visit Phuket and, whether it's raining or not, are determined to go to the beach. And they do, sometimes with tragic consequences. Always obey the flags on the beach.
Red means DON'T GO SWIMMING. Rain, sunshine, wet… the beaches are always amazing.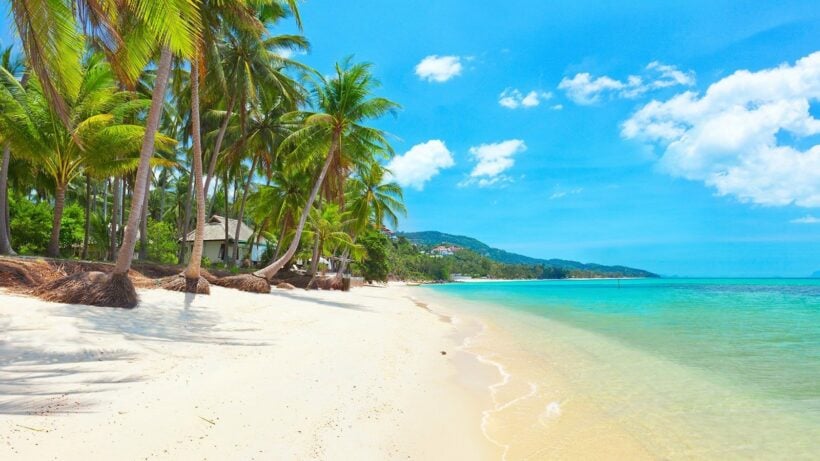 The 16 lane SF Strike Bowl can be found on the 3rd floor of Jungceylon Shopping Complex in Patong.
During your bowling period, you can order food and drinks from a wide range of options on the menu and all come with reasonable price. This is a good and relaxing venue you can spend time with while you are waiting for someone going shopping or for your movie time. There's also other kids activities on the same floor, and a modern cinema with all the latest films.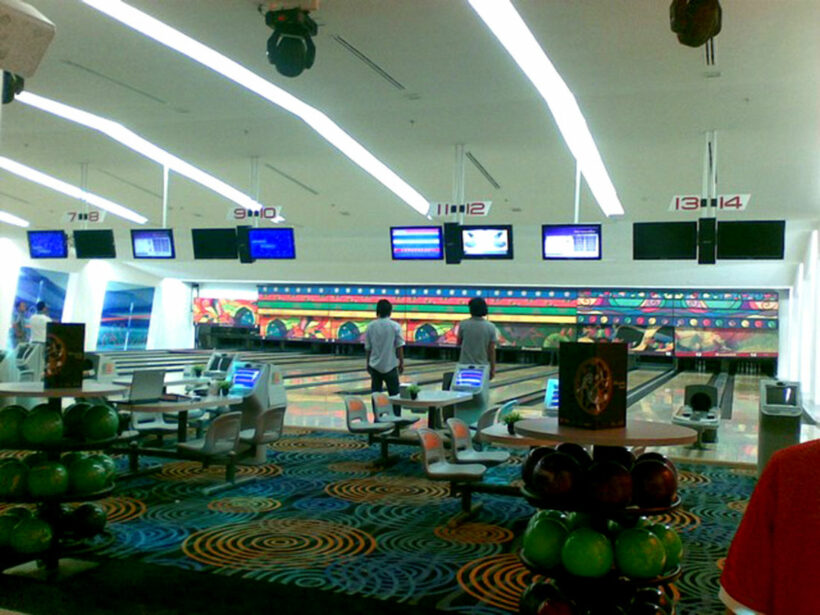 Located in the very south of the island at Panwa Beach the Phuket Aquarium is an excellent spot to escape the weather and learn about the underwater world around Phuket. It is also safe for the children to roam inside and let them discover the seahorses, turtles and deep sea creatures. Good for a couple of hours, try and plan your trip outside of school pick up and drop off times as the journey South can be a long one.
There's also a new international-standard aquarium, 'Aquaria Phuket', at Central Floresta in the middle of the island. They are having a soft opening until September 2019, then it's fully open. It will be one of the best aquarium displays in souther east asia.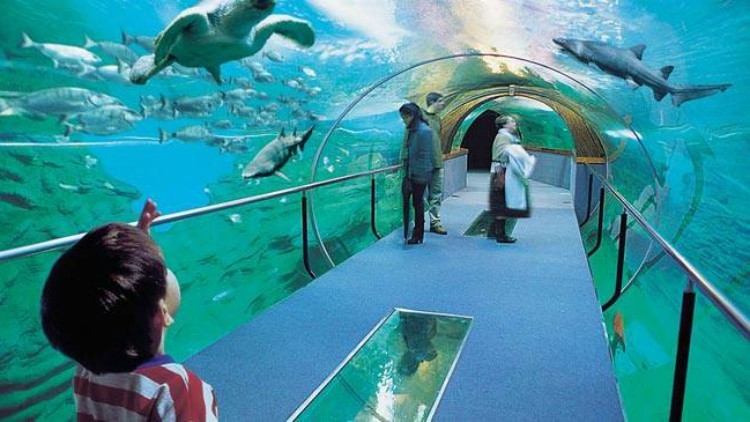 We love this place. A few hours of optical illusions and laughs. Great for the kids and the big kids as well. Located in the middle of Phuket Town. Take your camera or your mobile phone. An interesting back-story to the franchise of Trick Eye museums about a South Korean artist… you'll learn more about it when you go there. Perfect for a Phuket rainy day.

Admit it, we all talk about taking Thai cooking class but few of us do. Hey, why bother with all that pesky preparation, cooking and doing the dishes when we can get magnificent street food for 50 baht, almost anywhere (except Patong where you'll pay a bit more). Most of the larger hotels all have their own Thai cooking lessons. But for the best of the best head to the Blue Elephant Restaurant right on the border of Old Phuket Town for a memorable experience. The Sino-Portuguese building used to be the old Governor's residence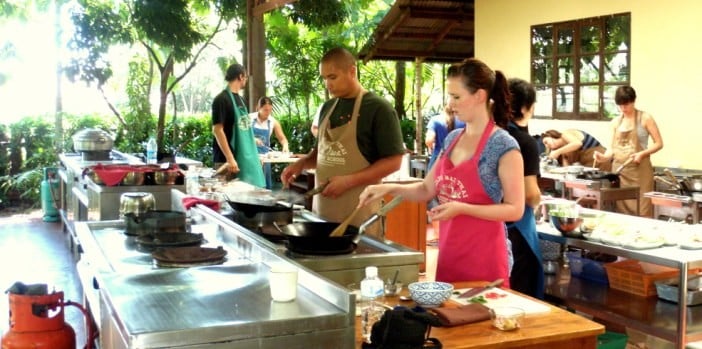 So get out and enjoy Phuket, whether it's sunny, wet or raining. Even if it is raining, remember the rain is warm!
Keep in contact with The Thaiger by following our
Facebook page
.
Clean the Beach Boot Camp takes on Nai Harn Beach on World Clean Up Day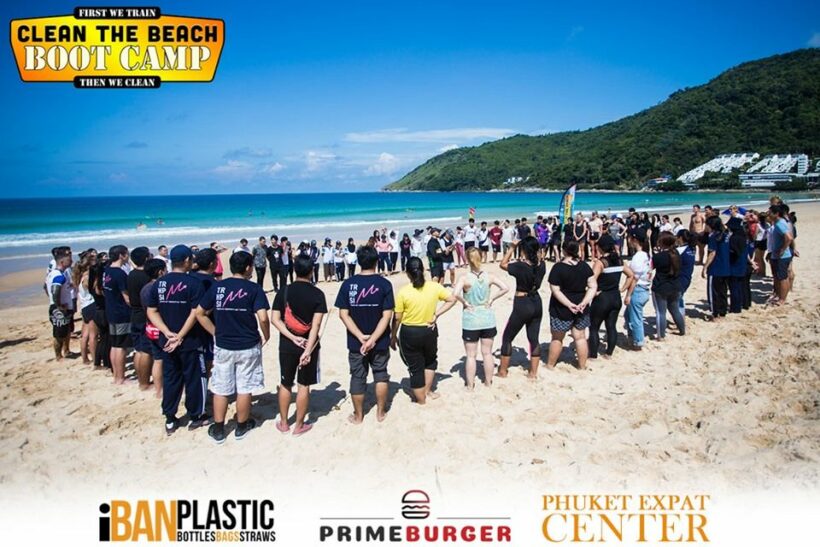 A very special Clean The Beach Boot Camp (CBBC) took place on last Saturday in support World Clean Up Day. In total, 170 people, including 120 students from the Faculty of Hospitality and Tourism at the Prince of Songkla University in Kathu headed to Nai Harn Beach, one of the island's favourites in the island's south. 
Involving some 18 different nationalities, Krix Luther, the founder of CBBC and iBan Plastic, provided participants with a very active and fun workout before cleaning the beach. Now in its 7th year, CBBC has become a global movement, visiting beaches all over the world with the aim of keeping them and the oceans beautiful, clean and free of trash. 
In total, 35 large bin bags (180 kilograms) of various garbage was collected (mostly single-use plastic). Nai Harn Beach was left in a much cleaner state than when the volunteers arrived and, at the end of the beach clean-up, all participants were treated to a delicious, free burger, from Prime Burger in Patong, sponsored by the Phuket Expat Centre. 
Well done to everybody who took part in this epic CBBC, and a special well done to the 120 volunteer students from the Faculty of Hospitality and Tourism at Phuket's PSU.
Krix Luther looks forward to seeing people at the next Clean the Beach BootCamp to get involved and keep our beautiful beaches clean.
"You can help keep Thailand clean by saying no to single-use plastic."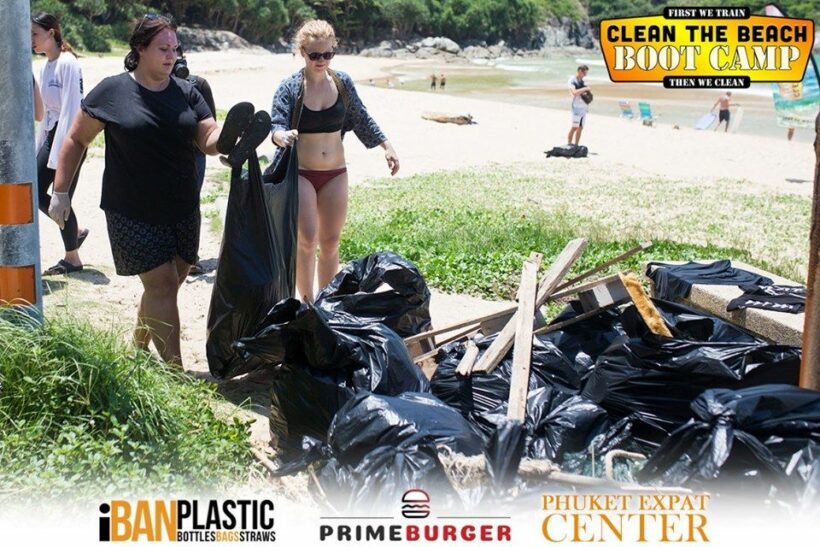 Keep in contact with The Thaiger by following our
Facebook page
.
Smoke-laced smog envelops Phuket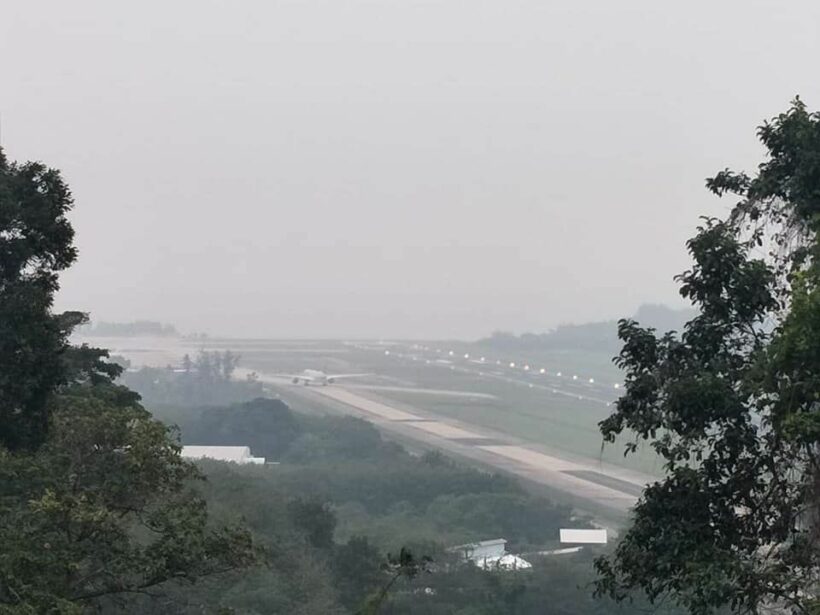 MAIN PHOTO: Phuket International Airport – Phuket People's Voice
Phuket awakes today enveloped by an eerie sea of smoke-laced mist and smog – a combination of light winds, smoke blowing up the Malacca Strait from the Indonesian plantation fires and low seasonal cloud. The conditions have reduced visibility generally around the island to less than a kilometre.
Planes have still been landing at Phuket International Airport without disruption but airport officials say they are monitoring the situation and getting feedback from pilots.
Officially, the Thai Meteorological Department forecast is for a cloudy day with rain, and its hoped that the monsoonal winds may kick in during the day. But the prevailing winds are also the direction from where the problem is happening, from the south and south-west.
Cloudy with scattered thundershowers and isolated heavy rain in Ranong, Phangnga, Phuket, Krabi and Trang. Minimum temperature 23-25 °C. Maximum temperature 29-33 °C. Southwesterly winds 20-35 km/hr. Wave height about 2 meters and above 2 meters in thundershower areas.
Singapore ran its showcase annual street-circuit Grand Prix last night amid the regional smoke crisis, caused by intentionally lit fires on the Indonesian islands, mostly Sumatra and Kalimantan. Indonesia President Jokowi has sent officials, army and fire-fighters to the areas to battle the blazes, arrest the farmers and representatives from the companies responsible. Some 30,000 people are now deployed to solve the urgent, but seasonal, problem.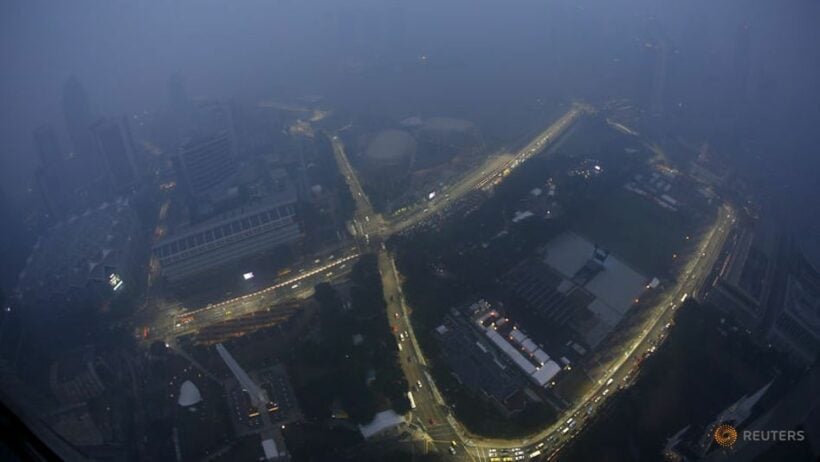 Singapore GP Circuit last night – Reuters
Meanwhile the air quality readings for Phuket this morning indicate the air pollution is three times the world upper-limit standard of 50 micrograms per cubic metre of air. Southern Thailand is also suffering the poor air quality with Narithawat also recoding readings over 150 this morning.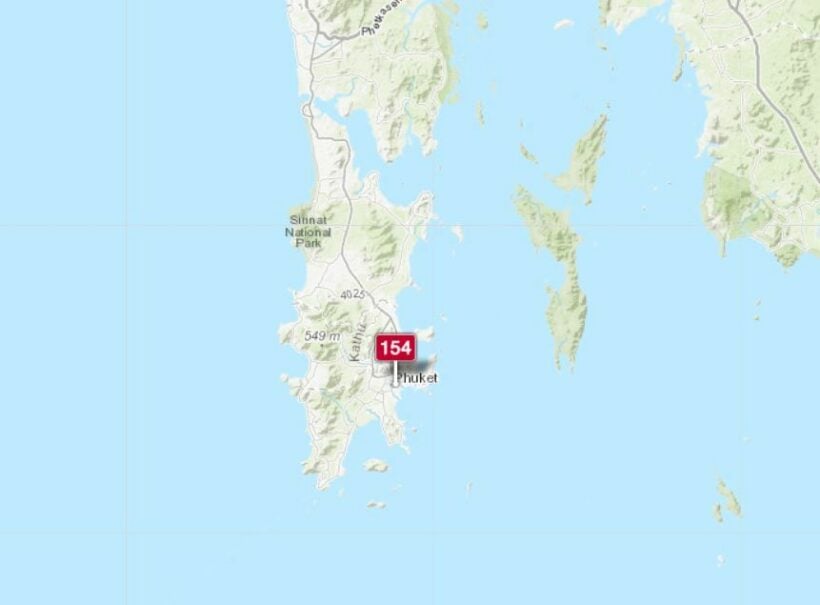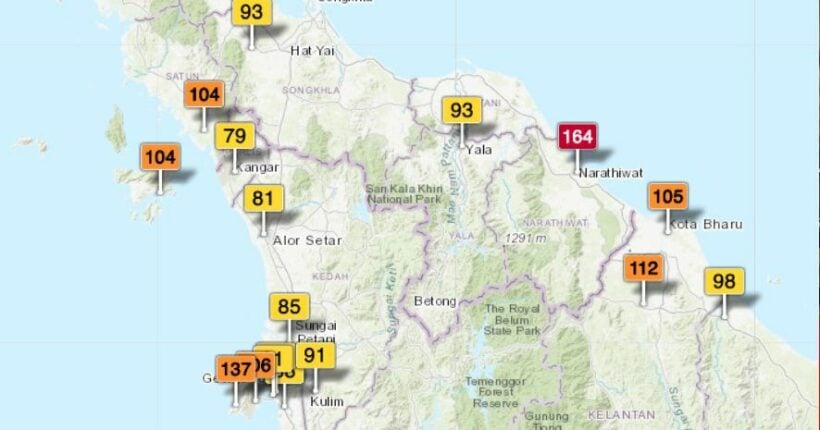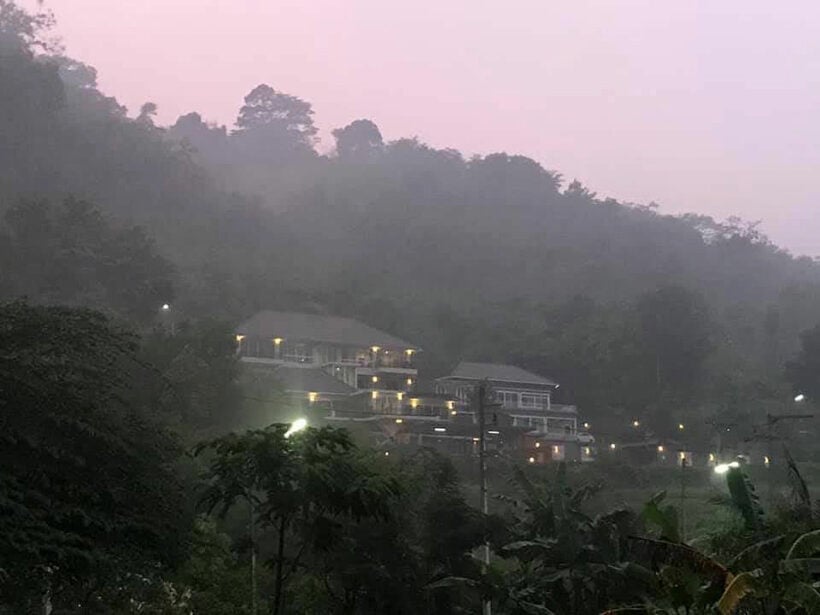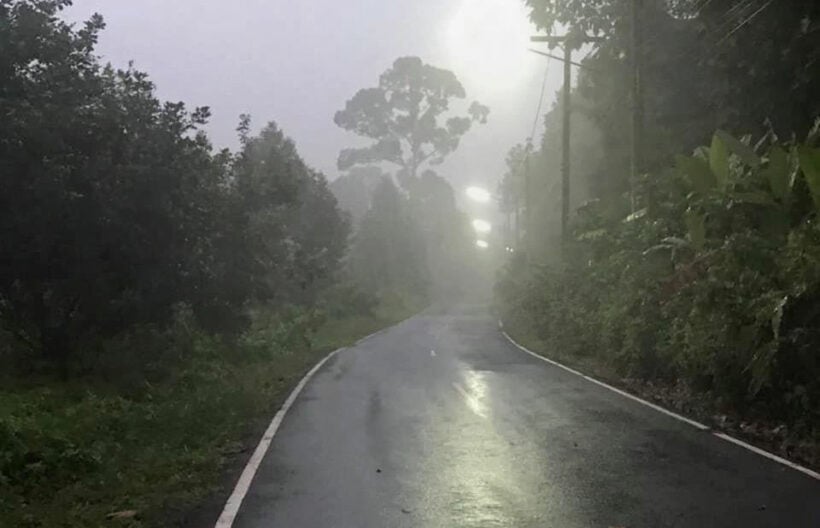 Phuket enveloped by misty smog causing a traffic hazard and reducing visibility – Ajarn GC
Keep in contact with The Thaiger by following our
Facebook page
.