Khon Kaen police investigate tyre puncture epidemic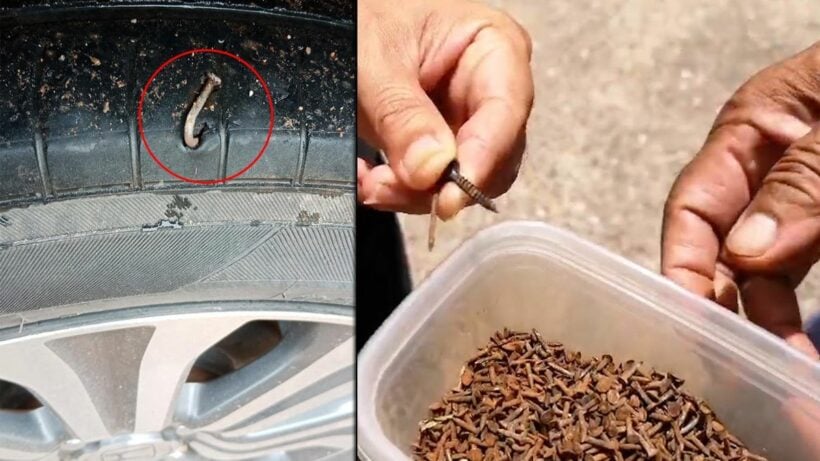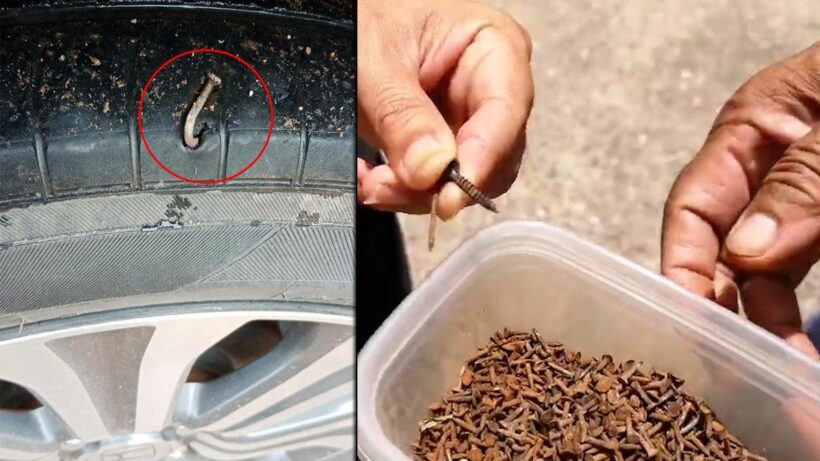 10 vehicles have been damaged after hundreds of nails were dumped on a road in Khon Kaen, north east Thailand. Police don't know whether the nails were maliciously dumped on the road or if it was an accident.
The nails were found in front of the Nong Go school in Khon Kaen. At least 10 motorbikes and cars have been affected and ended up with flat tyres after driving over the nails. Some cars had up to 10 nails stuck in their tyres. Locals in the area rushed to pick up the nails from the road filling buckets with the dumped nails.
A retired teacher from Nong Go, Kranuan District, Teerapong Sanhom, is one of the victims of a flat tyre. He told police he was driving along the road when he drove over the nails scattered all over the road. Police say that whoever dropped the nails did so over a 700 metre stretch of the road. Some of the district's car or motorbike owners have had 2 or 3 vehicles affected.
Teerapong says he saw another motorbike driver with a flat tyre driving past his home.
"Other victims told me that they too have had punctured tyres."
Teerapong wondered why the drivers happened to have a flat tyre near his home and checked the road in front of his home and found it scattered with nails, big and small. Locals have been trying their best to pick up the nails hoping that other drivers won't end up with more damage and punctures. There has been so many nails that some have turned to sweep the nails onto the side of the road and pick them up later.
Teerapong checked the vehicles at his home and discovered 3 had been damaged. The cost of repairing the tyres has been about 1,000 baht each.
Police are continuing to investigate where all the nails came from.
SOURCE: Thai Residents
Keep in contact with The Thaiger by following our Facebook page.
Never miss out on future posts by following The Thaiger.
Head of army band shot dead at military base in north-east Thailand – VIDEO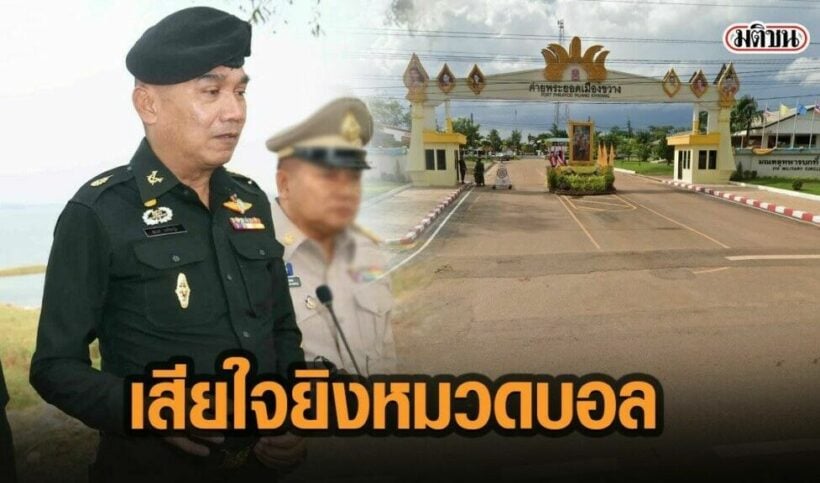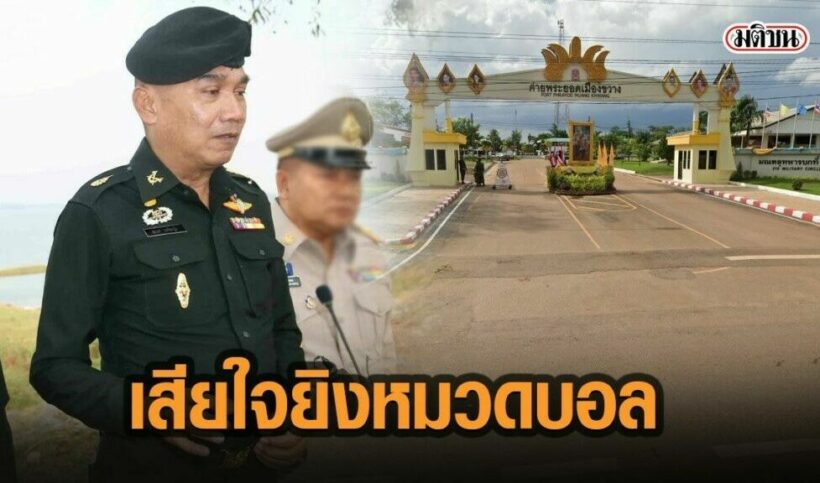 An army band leader has been shot dead at a military camp in the north-eastern province of Nakhon Phanom, with police launching a murder investigation. 34 year old Rungchalerm Pansawasdi was shot 3 times in the head and neck, at the Phra Yod Muang Kwang army base on Wednesday evening. He had just returned from having dinner with his wife, who had dropped him off and driven away.
Rungchalerm was getting on a motorbike when a man approached and shot him at point-blank range before running off. According to a Bangkok Post report, the victim was rushed to Nakhon Phanom Hospital but died a short while later.
Army commander Samart Jintasamit says the perpetrator is likely to be from the army base, adding that the gunman may have been following Rungchalerm for some time and may also have had someone else acting as a lookout. Samart says the gunman appeared to know that the back of the camp is currently being re-fenced, saying he could have escaped that way.
The police, who were at the camp the following afternoon to collect evidence, are working on the case with the help of the military. It's understood the victim had recently requested a transfer due to conflict with a colleague. An autopsy is being carried out at Srinagarind Hospital, in the north-eastern province of Khon Kaen.
SOURCE: Bangkok Post
Keep in contact with The Thaiger by following our Facebook page.
Never miss out on future posts by following The Thaiger.
Thai Public Health Ministry starts cannabis cultivation project in Buri Ram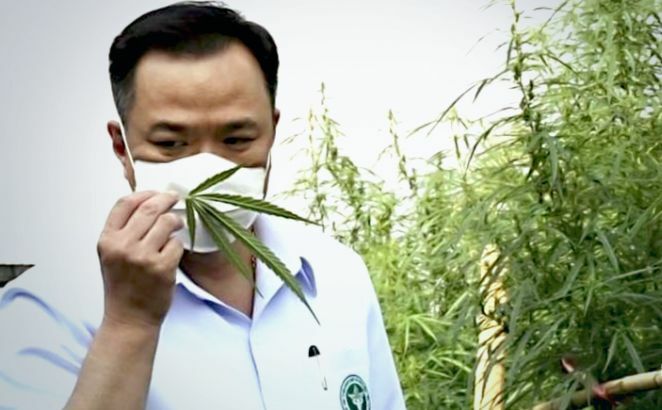 A cannabis cultivation project is being launched by Thailand's Public Health Ministry in the Isaan province Buri Ram. 6 cannabis plants will be given to each member of the local Non Malai Community Enterprise as a pilot project on commercial cultivation of cannabis, according to the director of the ministry's cannabis research group, Kitti Losuwannarak.
Cannabis flowers and buds will be sent to the Khu Muang Hospital in the province. Other parts of the plant will be processed as health products, according to Nation Thailand. Thailand recently removed parts of the cannabis plant with low levels of the psychoactive component tetrahydrocannabinol, aka THC, from the narcotic's list. Parts of the plant with high levels of THC, like the buds, are still classified as a Category 5 drug under Thailand's Narcotics Act.
Since the declassification of of cannabis leaves and stems with low levels of THC, a cannabis cafe opened up in Prachin Buri, east of Bangkok, serving dishes with cannabis leaves. A Bangkok dessert shop also announced it is adding cannabis leaves to their pandan and coconut pancakes.
SOURCE: Nation Thailand
Keep in contact with The Thaiger by following our Facebook page.
Never miss out on future posts by following The Thaiger.
Man arrested in northeast Thailand, accused of producing fake bank notes
Police in the north-eastern province of Si Sa Ket have arrested a 37 old man accused of producing counterfeit currency. Phichaphob Phankham was detained at a property in the Nong Phai district as part of an investigation into a trail of fake 100 baht notes in circulation in Si Sa Ket and neighbouring provinces. Police say his arrest follows the capture of 2 other suspects earlier this week.
"Earlier on Wednesday, we had arrested 2 suspects for using counterfeit bills at top-up kiosks in Si Sa Ket and seized over 300 fake bills."
Nation Thailand reports that during Phichaphob's arrest, police found a photocopier with 3 real 100 baht bills inside, as well as 45 fake 100 baht bills, a paper cutter, and packs of photocopier paper. The suspect has confessed to producing fake 100 baht bills, saying he would use them at phone top-up kiosks in Si Sa Ket and the neighbouring provinces of Surin and Yasothon.
It's understood the accused has only just come out of prison, having been released on December 25. He has confessed to producing the counterfeit currency since January 24. He has been charged with making and using fake currency, which carries a penalty of anything from 10 years to life in prison and fines of between 20,000 and 40,000 baht.
SOURCE: Nation Thailand
Keep in contact with The Thaiger by following our Facebook page.
Never miss out on future posts by following The Thaiger.