Khon Kaen police investigate tyre puncture epidemic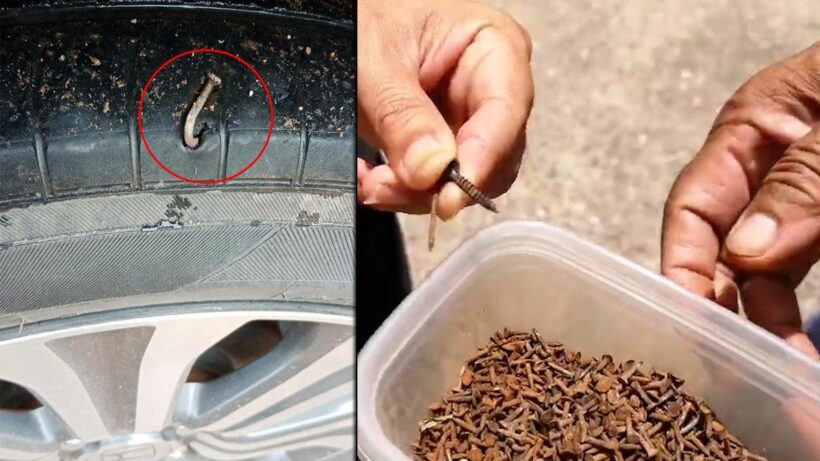 10 vehicles have been damaged after hundreds of nails were dumped on a road in Khon Kaen, north east Thailand. Police don't know whether the nails were maliciously dumped on the road or if it was an accident.
The nails were found in front of the Nong Go school in Khon Kaen. At least 10 motorbikes and cars have been affected and ended up with flat tyres after driving over the nails. Some cars had up to 10 nails stuck in their tyres. Locals in the area rushed to pick up the nails from the road filling buckets with the dumped nails.
A retired teacher from Nong Go, Kranuan District, Teerapong Sanhom, is one of the victims of a flat tyre. He told police he was driving along the road when he drove over the nails scattered all over the road. Police say that whoever dropped the nails did so over a 700 metre stretch of the road. Some of the district's car or motorbike owners have had 2 or 3 vehicles affected.
Teerapong says he saw another motorbike driver with a flat tyre driving past his home.
"Other victims told me that they too have had punctured tyres."
Teerapong wondered why the drivers happened to have a flat tyre near his home and checked the road in front of his home and found it scattered with nails, big and small. Locals have been trying their best to pick up the nails hoping that other drivers won't end up with more damage and punctures. There has been so many nails that some have turned to sweep the nails onto the side of the road and pick them up later.
Teerapong checked the vehicles at his home and discovered 3 had been damaged. The cost of repairing the tyres has been about 1,000 baht each.
Police are continuing to investigate where all the nails came from.
SOURCE: Thai Residents
Keep in contact with The Thaiger by following our
Facebook page
.
Millions headed home for holiday long weekend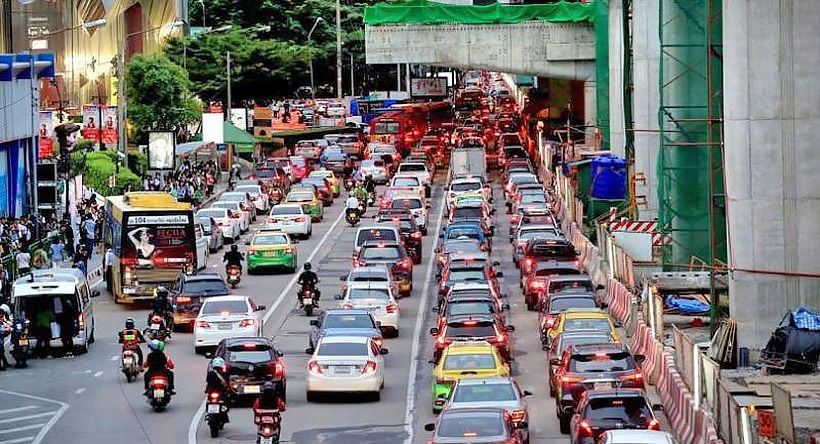 The Transport Ministry says more than 2 million people used public transport on Friday, leading up to the Asahna Bucha Day and Buddhist Lent holiday weekend, to travel to their provincial homes. Some headed for a short domestic holiday. Asahna Bucha Day is today, while tomorrow marks the beginning Buddhist Lent. Because both fall on the weekend, Monday is a public holiday.
The permanent secretary for transport says some 2,272,275 people boarded public transport on Friday, about 8% more than predicted. In terms of private cars, 2,684,726 vehicles either entered or left Bangkok, about 16% lower than expected. He says there were 54 traffic incidents on Friday and yesterday, with 9 deaths and 47 injured. Many of the incidents, 40%, involved pickup trucks. He says the most common cause, at around 60%, was speeding.
Considering the large numbers using public transport services, the secretary said he's instructed state agencies to strictly enforce health and safety measures minimise the risk of Covid-19 contagion. Transport personnel and passengers are required to maintain physical distancing in terminals and buses, have their body temperature checked, wear a face mask and use the Thai Chana app to check in and out of terminals.
The chief of Khao Yai National Park in Isaan's Nakhon Ratchasima says the number of visitors has increased since it reopened on July 1, following months of closure due to Covid-19… more than 3,000 holidaymakers have logged their entry via the QueQ app so far.
Overall, he says, visitors have cooperated by having their temperature checked and using Thai Chana app, but the most common problem is that visitors tend to take off their facemasks upon entry, prompting officials to issue warnings.
He told the press speed cameras have been installed around the park to help prevent animals being hit by cars.
The number of visitors to popular tourist spots in the park is still being limited to prevent overcrowding amid Covid-19 fears. These spots include the Khao Yai visitor centre, Haew Suwat waterfall, Lam Ta Khong campground, and Pha Kluai Mai campground and waterfall, as well as Haew Narok waterfall.
SOURCE: Bangkok Post | mcot.net
Keep in contact with The Thaiger by following our
Facebook page
.
Man arrested for triple fatal shooting in Nakhon Phanom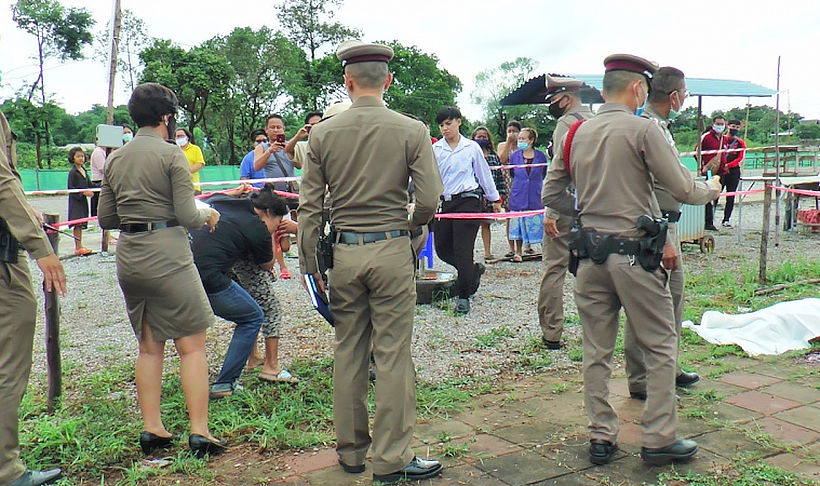 Police in the Isaan's Nakhon Phanom have arrested a man for the shooting death of his wife and 2 of her family members. The suspect reportedly confessed he acted out of jealousy after learning his wife wanted to return to her ex-husband.
41 year old Noppadol Nuamsamlee was arrested shortly after the fatal shooting of his wife, 23 year old Sujittra Chiangbai, her sister, 25 year old Jittra Chiangbai, and their mother, 45 year old "Lawan," in Muang district yesterday afternoon. Police conducted a re-enactment this morning, a standard procedure in Thai police investigations.
Authorities say the incident began after Noppadol and his wife left their house to go shopping. While driving his pickup truck, Noppadol demanded to know why his wife was still in touch with her ex-husband, with whom she had a 5 year old son.
After stopping on the roadside, he allegedly assaulted his wife, who phoned her sister for help. When Jittra and her mother arrived, Noppadol allegedly fired at them as they tried to intervene. He then fired 2 shots at his wife before fleeing. All 3 women died at the scene. Police later arrested the suspect on the road.
During questioning, the suspect reportedly admitted he shot the women "in a fit of jealousy". He told police he became angry after finding records of chats between his wife and her ex-husband on her mobile phone.
Noppadol, a resident of Bang Lamung district in Chon Buri, was due to appear in Nakhon Phanom provincial court today to face charges of murder and carrying a firearm in public. Police say they will oppose bail.
60 year old Paijit Chiangbai, who lost his two daughters and his wife, says he never imagined Noppadol, who had lived with his younger daughter for a year, could have shot his family. He says he arrived at the scene shortly after the shootings and Noppadol pointed the gun at him and threatened to fire if he tried to intervene. He says he will never forgive the suspect and doesn't want him released on bail.
Paijit also says he never thought his daughter would return to her former husband, as they had been separated for a long time and he already had a new family. Noppadol also has an 8 year old daughter from a previous marriage.
25 year old Ratchadaporn Thongkhlee, a friend of Jittra, claims the suspect had earlier threatened to shoot her and Jittra.
SOURCE: Bangkok Post
Keep in contact with The Thaiger by following our
Facebook page
.
Thousands arrested nationwide for illegal motorbike racing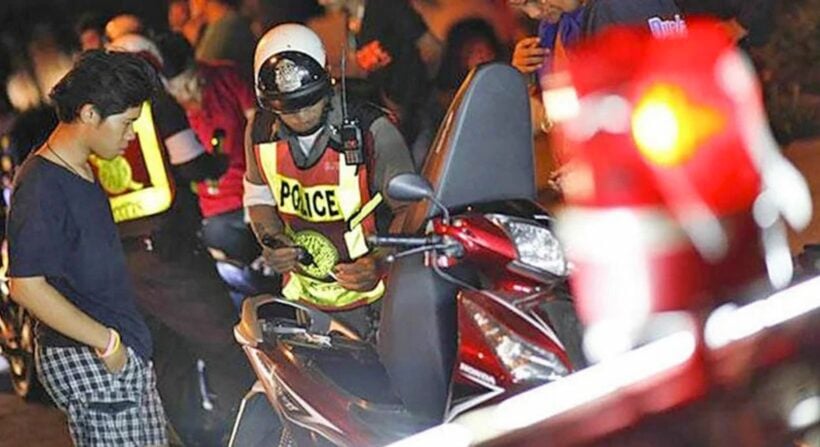 Since the lifting of the national curfew on June 14, gangs of illegal street racers, known as "dek waen" or "vanz boys" have quickly returned to Thailand's roads. From June 20-30, police arrested more than 5,600 racers and seized more than 17,700 bikes nationwide. PM Prayut Chan-o-cha has warned against gatherings and street racing, and says that regardless of the curfew police should take action against the racers, even threatening a renewed curfew. During the curfew, public complaints on illegal street races dropped from over 600 to less than 300 a month.
The assistant national police chief says Bangkok police and the Provincial Police Region 1 which covers the lower central plains, arrested 109 such racers, seized 11,743 motorcycles and prosecuted 3,088 shops for illegally modifying motorcycle parts. Most modifications were to motorcycles' exhaust pipes, increasing the noise they make, thus the locally coined word "vanz." Police also put 668 parents of illegal racers on probation.
The Provincial Police Region 8, covering the lower South, says it seized 237 motorbikes and 311 illegally modified exhaust pipes, and put 175 young motorcyclists and 28 parents on probation. Police in the northeastern Ubon Ratchathani province arrested 85 motorcyclists and seized 317 motorcycles and about 300 modified exhaust pipes. Police in the northeastern province of Nakhon Ratchasima arrested 476 motorcyclists and seized 665 bikes and 204 substandard exhaust pipes.
The Provincial Police Region 6, which oversees part of the North, arrested 6 racers, put 1,921 motorcyclists and 212 parents on probation and seized 1,306 motorcycles.
The Provincial Police Region 7 which also covers lower south provinces put 5,009 motorcyclists on probation and seized 4,632 bikes and 357 modified or substandard exhaust pipes.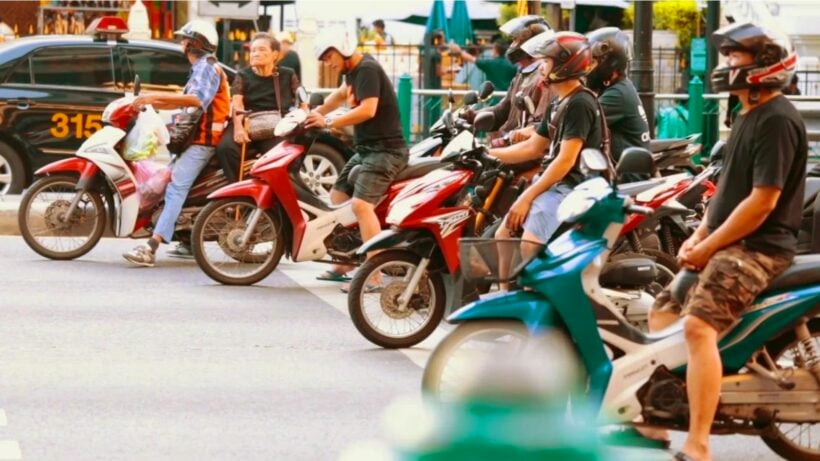 SOURCE: Bangkok Post
Keep in contact with The Thaiger by following our
Facebook page
.