Russian tourist drowns in red flag swimming zone in Trat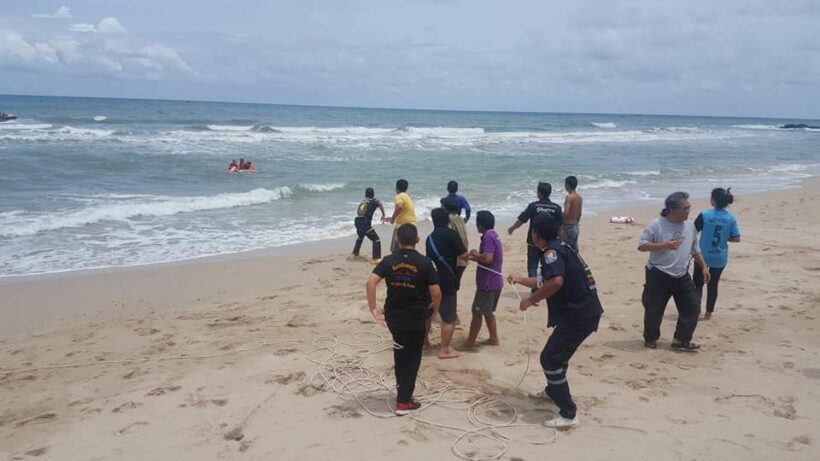 PHOTOS: The Pattaya News | Siam Rath
A Russian tourist has drowned at a beach on Koh Chang in Trat, far east Thailand, in the red-flagged, no swimming zone yesterday.
Navy officers on Koh Chang are warning tourists going to beaches with red flags along the shore to stay out of the water when there are high waves in the monsoon season.
55 year old Vladimir Antonov was found floating face down 300 metres from shore. Local rescue workers and Navy officers patrolling the beach rushed out to bring him back to shore. He was later pronounced dead when he arrived at the local hospital. The Russian Embassy have been informed.
His 45 year old wife said they had been staying at a hotel two kilometres away. She told police that her husband had been hit by a big wave and been swept away.
SOURCE: The Pattaya News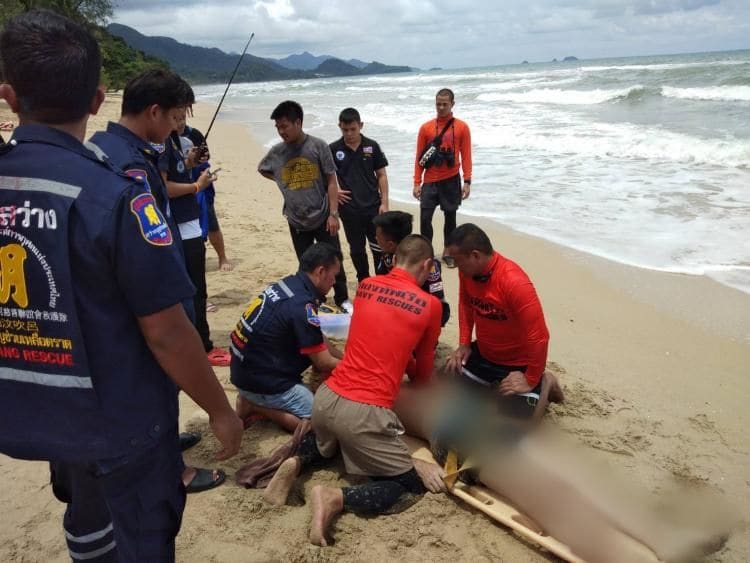 Keep in contact with The Thaiger by following our
Facebook page
.
Study shows most Thai people live hand to mouth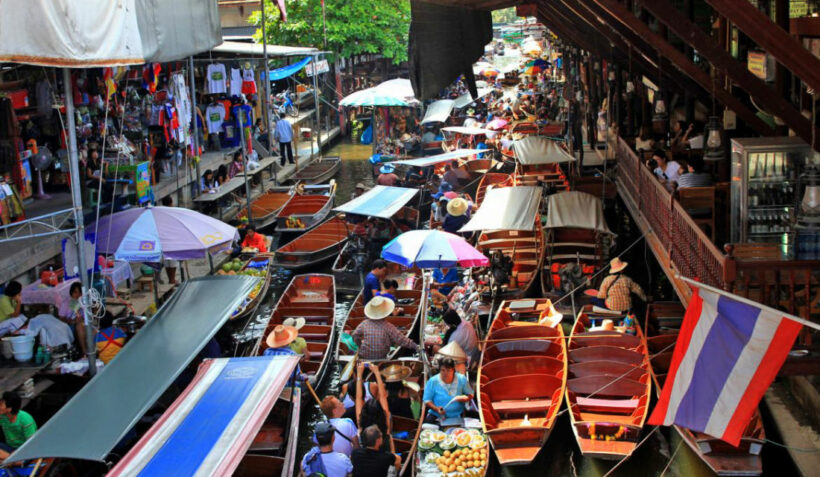 PHOTO: eTamping
Nearly half of Thailand's citizens aged 18-65 are spending everything they earn on monthly bills and living expenses, leaving them with nothing to put aside as savings. A study carried out by GoBear, an international financial comparison site, reveals that the highest percentage of people living paycheck to paycheck (53%) are those in the 36-45 age group.
51% of both the 26-35 and 56-65 age groups say they too only earn enough money to cover bills and living costs. Thai Residents reports that many Thai citizens want to retire by the age of 53, but the latest findings show that most would not have the means to do so.
Benjarong Suvarnkiri from digital banking channel ME by TMB says Thai people face a funds shortage each month, meaning they regularly have to move money back and forth in order to meet their financial commitments.
The number of people dealing with recurring money problems is higher in Thailand than almost every other country in Southeast Asia, including Indonesia, despite the fact that Thais typically earn more than those in countries like Indonesia.
The GoBear findings also reveal that 15% of Thai people have no savings to tide them over in the case of unemployment and have no retirement fund, despite most saying they want to retire at the age of 53.
This age is lower than the preferred retirement age of citizens in other Asian countries such as Hong Kong, the Philippines and Indonesia, with Thai Residents also reporting that Thai people generally start saving or investing much later than those in other countries.
SOURCE: Thai Residents
Keep in contact with The Thaiger by following our
Facebook page
.
Her Royal Highness Princess Sirindhorn hospitalised for infection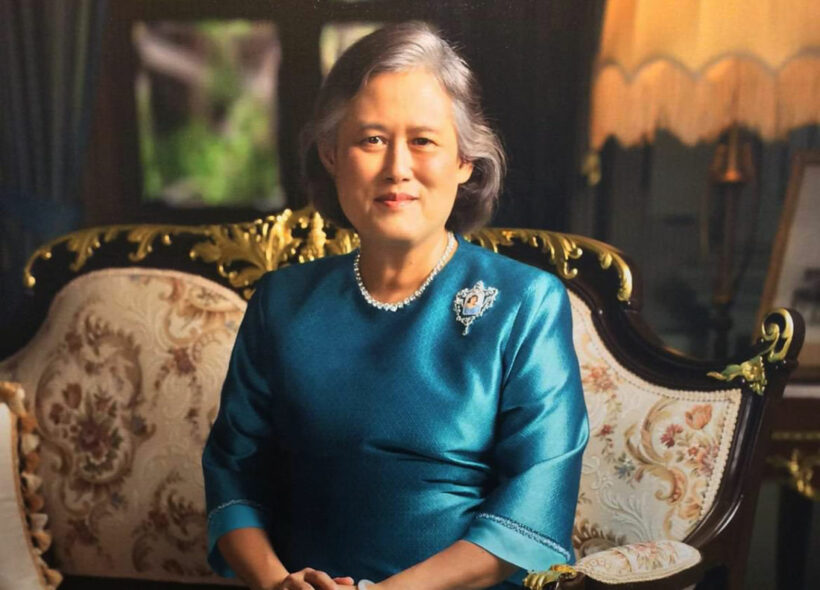 The Bureau of the Royal Household confirms that Her Royal Highness Princess Maha Chakri Sirindhorn is being treated for an infection and inflammation of the digestive tract at King Chulalongkorn Memorial Hospital in Bangkok.
The Palace has reported that the princess was admitted yesterday on the recommendation of a medical team caring for her. She had been suffering with stomach pains and a fever.
The hospital has diagnosed an infection and inflammation of the large intestine, and is now being treated with antibiotics.
Her Royal Highness has been advised to remain in hospital for the duration of her treatment and postpone any official engagements.
SOURCE: Bangkok Post | Thai PBS World
Keep in contact with The Thaiger by following our
Facebook page
.
Convicted human traffickers ignore 99% of court orders in Thailand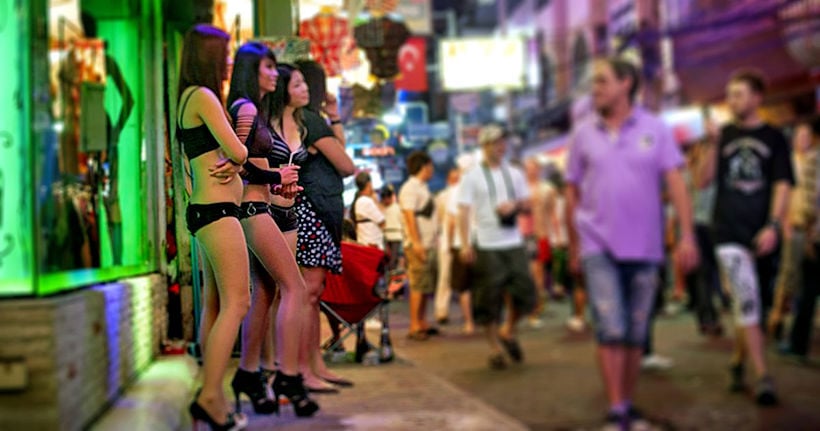 Human traffickers in Thailand have ignored court orders to pay compensation to victims in more than the 99% of convicted cases in recent years. The flouting of the court orders is fuelling fears that many survivors could be victimised again.
Thai courts have ordered traffickers to pay their victims more than $4.3 million for damages caused in about 1,335 cases since 2014, but the compensation was paid in only five cases, excluding cases settled out of court, according to Reuters.
While Thailand has rescued a record-breaking 1,000+ trafficking victims this year along, activists are concerned that the failure to pay compensation leaves them in fresh danger. A spokesman for the Human Rights and Development Foundation says… "It's an important issue that is unfortunately being neglected."
The Human Rights and Development Foundation provides free legal aid to migrant workers and trafficking victims.
The Thai government is considering amending its 1999 anti-money laundering laws to allow offenders' assets to be seized to compensate victims. Seized assets are currently state property but it's unclear when this will be reviewed by the cabinet.
"This money will enable victims to start a new life and prevent them from being re-trafficked. However the government's role in assisting victims in pursuing the claims is still not clear."
Thailand is home to about 610,000 modern 'slaves', according to the Global Slavery Index published by the rights group Walk Free Foundation. This means that about one in 113 of its 69 million people is enslaved – forced or blackmailed into working against their will, often with little or no pay.
Trafficking victims are automatically compensated through a government fund which provides living and rehabilitation expenses and lost wages. But the Human Rights and Development Foundation says these sums are insufficient for victims to rebuild their lives.
While Thai law allows victims to claim compensation from convicted traffickers, offenders have refused to pay in more than 1,000 cases.
The US called on Thailand in June to increase compensation to victims in its annual Trafficking in Persons report. They ranked Thailand as a Tier 2 country, meaning it is making significant efforts to combat the crime.
SOURCE: Reuters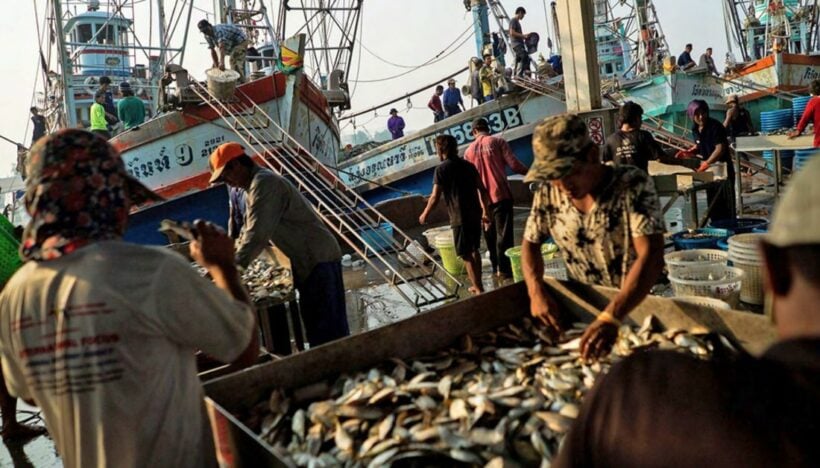 Keep in contact with The Thaiger by following our
Facebook page
.