Has Alexa been laughing at you?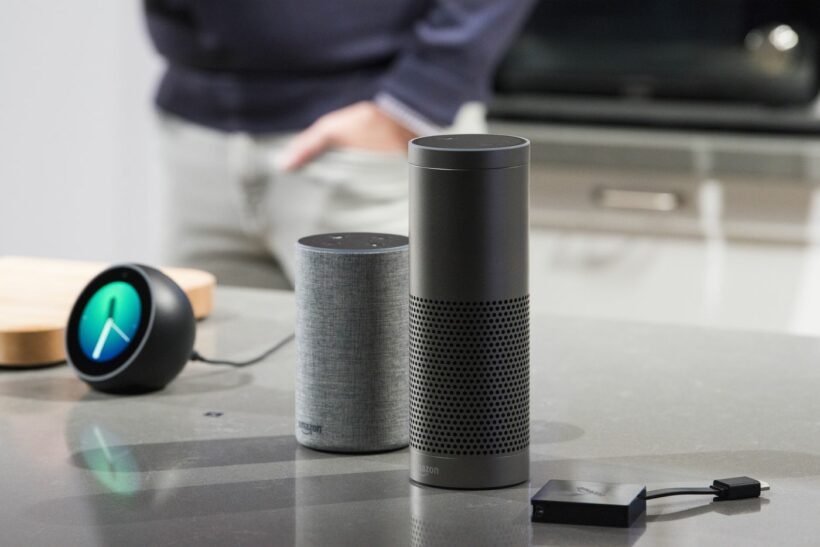 Voice recognition personal assistants are all the rage at the moment, sometimes with hilarious results. Alexa is a offering from Amzon and might be having the last laugh. (By the way Amazon's CEO Jeff Bezos was found to be the world's richest man in a Bloomberg article today).
Anyway, Amazon is promising to keep virtual assistant Alexa from spontaneously cackling, giving people eerie feelings about what the artificial intelligence might be plotting.
Users of smart speakers with Alexa assistant software have comically expressed their fears in recent weeks on Twitter, even posting video snippets of speakers infused with the software laughing menacingly for no apparent reason.
"If Alexa is laughing at you to your face, just imagine what it says about you behind your back," read a quip posted at Twitter by @mattblaze. Darker posts wondered playfully whether fears about artificial intelligence turning on humans were coming real.
Amazon says they're looking into what was going on and found that sometimes Alexa mistakenly registers the phrase "Alexa laugh" and obeys.
"We are changing that phrase to be 'Alexa, can you laugh?' which is less likely to have false positives," an Amazon spokespersonsaid.
And, Alexa is being modified to say "Sure, I can laugh," before cackling. Streaming television titan Netflix took the opportunity to spotlight a Black Mirror dystopian series known for twisted, unanticipated consequences of new technologies.
"Just brainstorming some @blackmirror titles while Alexa laughs maniacally in the distance," read an @netflix tweet.
The tweet included a picture of a multi-story, modern book shop overlaid with "The Bookstore That Enslaved Humanity."
Amazon began as an online book seller. One video of a cackling Alexa posted at Twitter on February 23 had logged more than a million views.
"I unplugged Alexa and she's still laughing," one Twitter user quipped.
Launched in 2014 by Amazon, the Alexa digital assistant has spread from the company's Echo voice-commanded speakers to millions of devices, even cars. Alexa competes in the digital assistant market with offerings from tech titans including Apple, Google, and Microsoft.
Phuket tourist decides hotel awning more comfortable than his room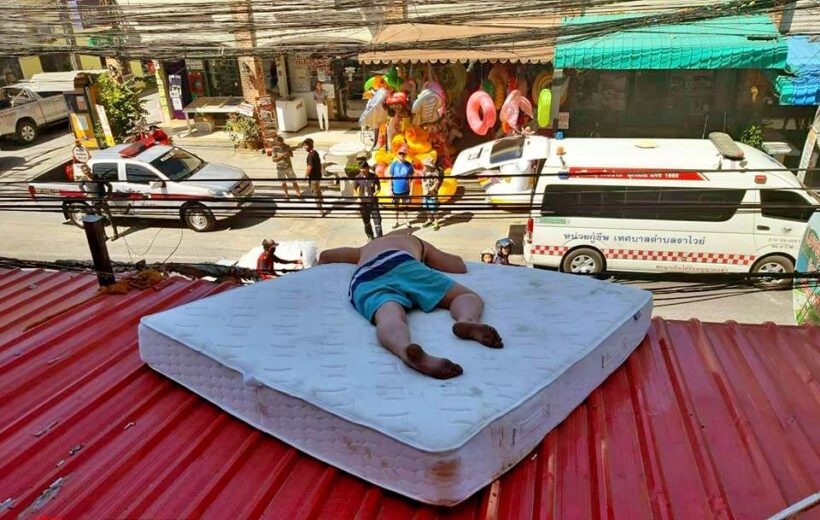 PHOTOS: / Rawai Rescue workers / Phuket Tourist Police
The Phuket Tourist Police have been notified that a tourist had jumped from a building in Rawai and ended up on a steel awning covering the bottom floor today. But that wasn't, in fact, what had happened.
The local Tourist Police say the owner of the building told staff at the Tourist Assistance Centre that the tourist had checked into the room on February 13.
The tourist didn't actually jump down from the building but had moved a mattress from his room on to the awning and slept on it (mosquitos!!) He was also drunk and damaged some property inside the room.
The man is a 37 year old Estonian tourist. He was staying at the room with a 25 year old male friend.
Chalong Police have charged them both with being drunk and damaging property. They have said that they will pay for all damages to the owner of the property. They are heading back home on February 26.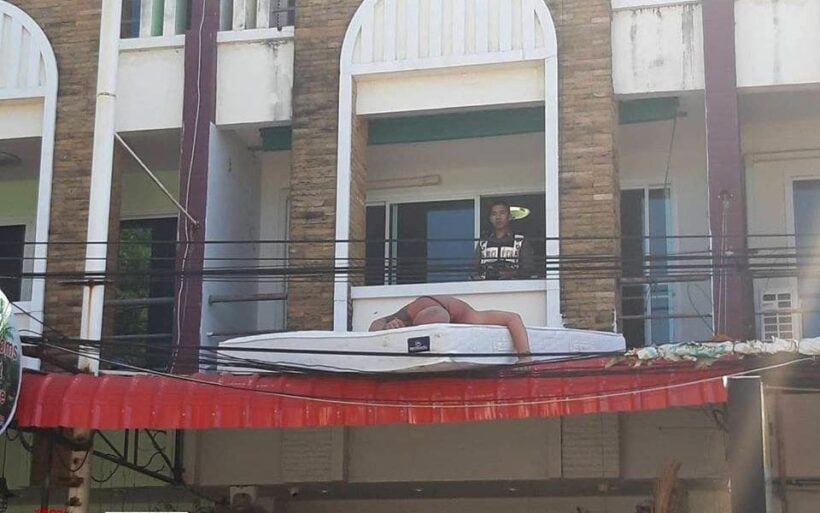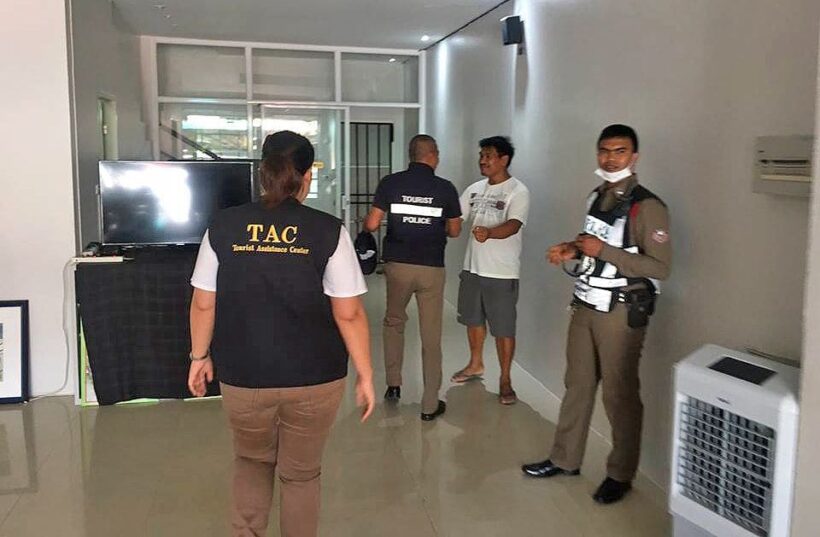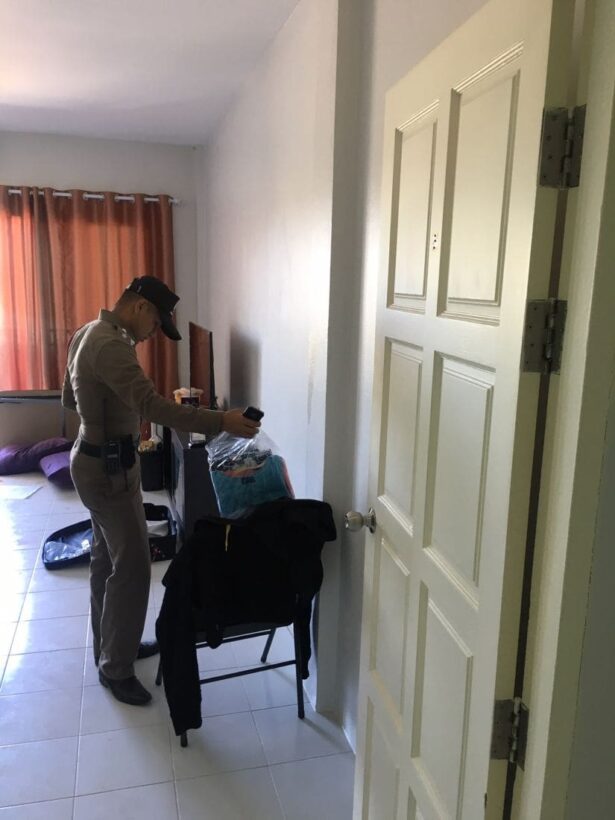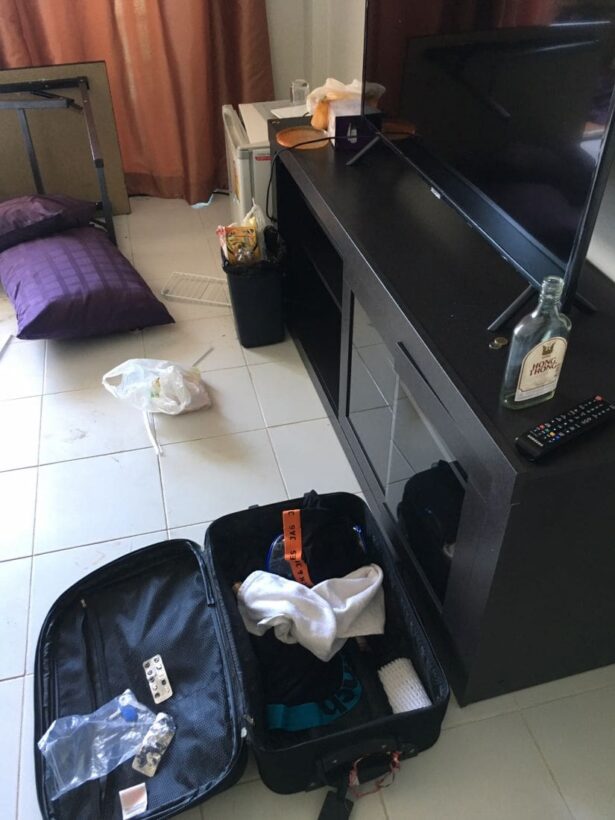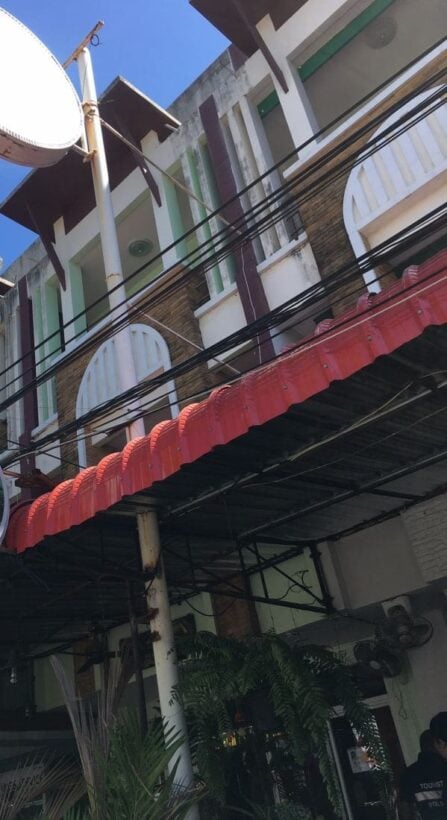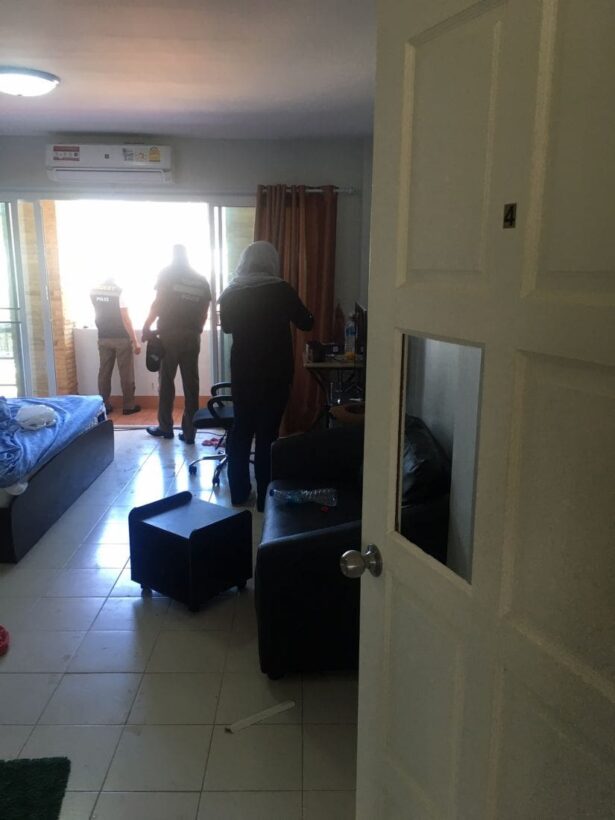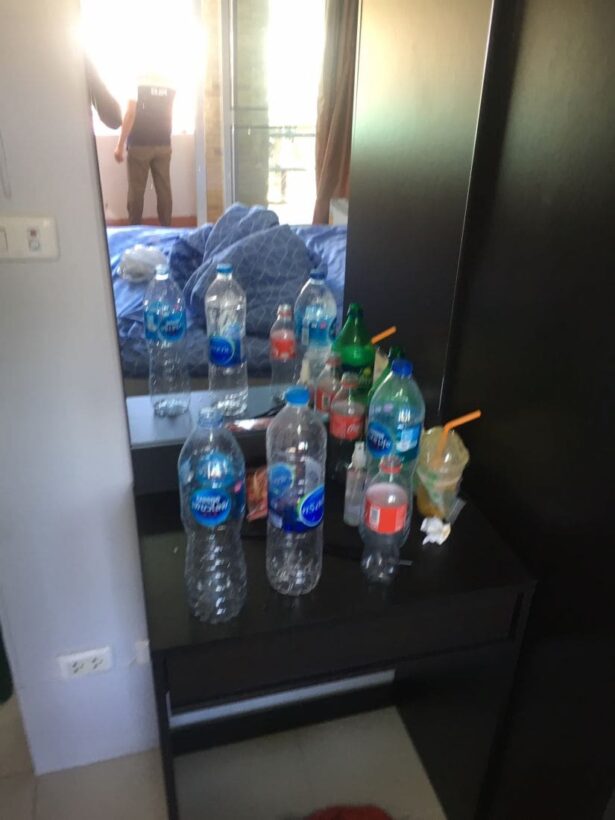 Thai exports fall 5.7 percent in January, year-on-year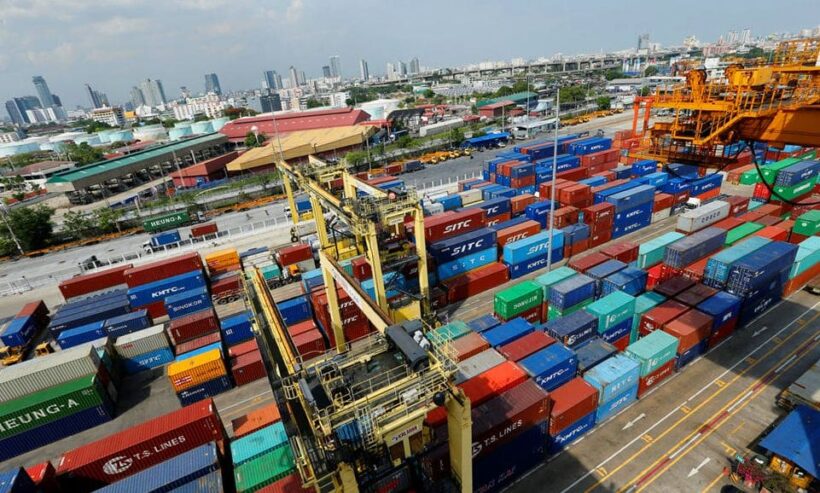 Thai export results have dipped for the third straight month, falling more than 5.65% compared to a year earlier. The fall was a lot bigger than expected, according to the Thai commerce ministry.
Shipments contracted 1.72% in December, compared to a year earlier as well.
January's export drop was due to falling shipments of rice, gold, electronics and cars, according to the ministry. Digging into the numbers, exports to the US rose 8.3% in the first month of the year, compared to January 2018, but exports to China slumped 16.7%.
The strong Thai baht, Asia's best performing currency this year, has increasingly hit exports, particularly rice orders.
Checking imports for the same period, and the numbers jumped surprisingly 13.99% year on year, after sliding 8.15% in December 2018. Analysts say the surge in imports was partly due to imports of arms and military weapons.
There was a trade deficit of $4.03 billion in January, compared with a forecast surplus of $320 million surplus. December 2018 had a $1.06 billion surplus.
But the ministry says they are still forecasting export growth of 8% for 2019 after a 6.7% increase last year.
American backpacker refuses to pay for girl he brought back to hostel, punches staff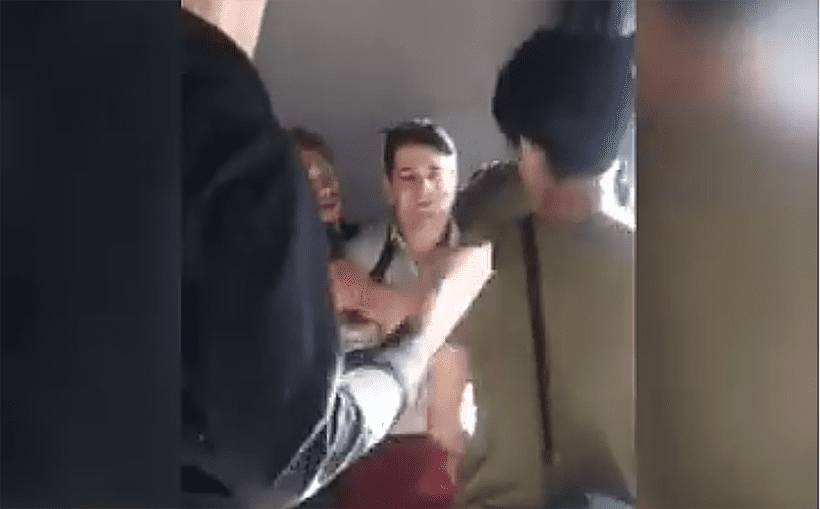 An American backpacker tourist, visiting Chiang Mai, had to be restrained after getting into a squabble with hostel staff after being asked to leave the premises.
The video of the altercation was shared on Reddit by 'EatPrayFart'.
Following a night out, the backpacker brought a girl back to the mixed dorm room that he shared with nine other people. The report alleges the two had sex and were making a lot of noise.
The following morning the man was asked to leave the premises for breaking hostel rules. The staff also demanded he pay 200 baht for allowing the girl to stay in the dorm with him.
The man refused to pay and a fight followed, caught on camera, in the reception of the hostel.
In the footage the American man can be seen punching a member of the hostel staff before being restrained by another man. Some comments in the original post say that the man was also asked to leave by some of the other people staying in the dorm.
The report suggests the man was later taken into custody by Chiang Mai police.