30 arrested for violating emergency decree, 18 teens jailed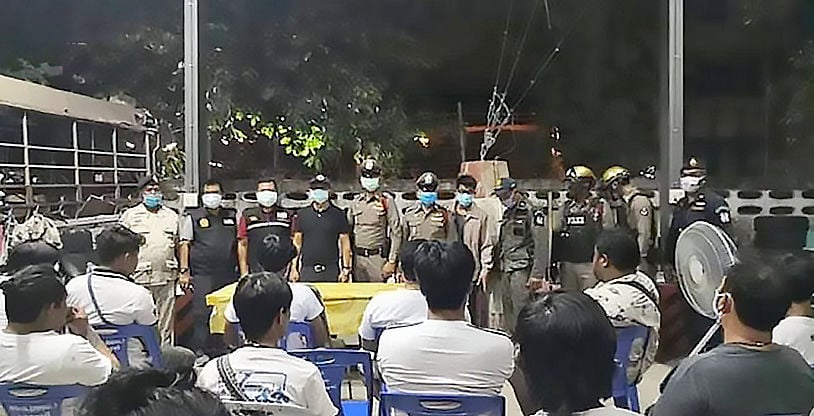 18 teenagers have been jailed for violating the Emergency Decree by holding a party and abusing drugs in Ayutthaya, north of Bangkok. Yesterday prosecutors indicted the teenagers for breaching the decree, taking part in a mass gathering and drug use.
The teens were arrested on Monday after officials got a tip off from local residents. Homeowners reported illegal drugs were being taken at a party held at a raft house on the Chao Phraya River. Authorities seized marijuana, ketamine, ecstasy pills and drug paraphernalia from the teens in the house.
The court sentenced two defendants to a month in jail for defying the Emergency Decree. The remainder got four month jail terms for violating the decree and drug abuse.
Meanwhile, police in in the northern Udon Thani province, near the Laos border, arrested 12 men yesterday for gathering and drinking in breach of thedecree on Thursday. Local officials went to a house Ban Na Sai after hearing about a group of men drinking together. Police say they were disturbing the neighbours by playing loud music from a car.
The men told officers that they were debt collectors but had been laid off due to the Covid-19 coronavirus outbreak. They said they were having a birthday party for a friend before they returned to their homes in Nakhon Ratchasima, Chaiyaphum, and Uthai Thani provinces .
The men at first resisted arrest, saying they only partied in the house, and didn't go out anywhere else. This prompted police to call for reinforcements to arrest them. They've now been charged with defying the emergency decree and face a jail term and/or a fine of no more than 40,000 baht each.
Source: Chiang Rai Times | Bangkok Post
Keep in contact with The Thaiger by following our Facebook page.
Never miss out on future posts by following The Thaiger.
Lack of social distancing at BTS stations in Bangkok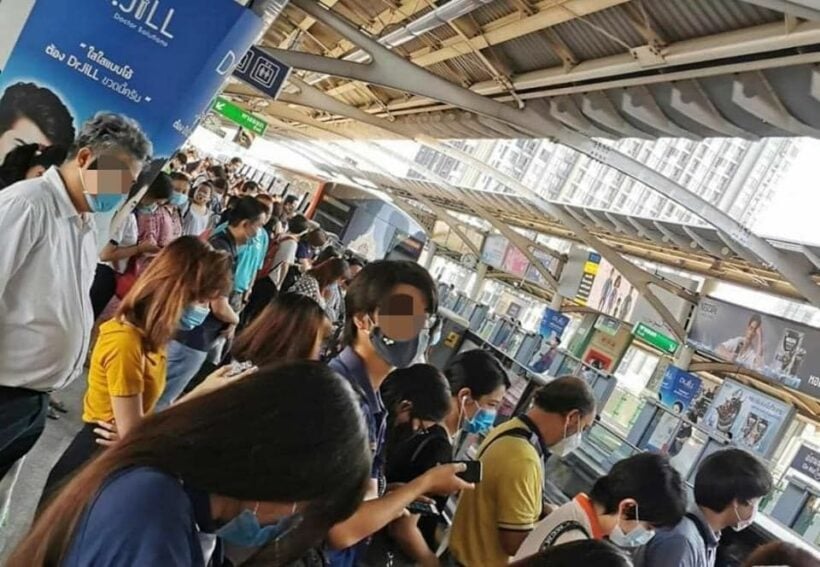 This morning with thousands of people heading off to work, they ended stranded at BTS stations after services were hit by a "technical error". A post via twitter at 6:03 am from BTS SkyTrain authorities, states "there has been a technical error from on the rail line near National Stadium and Siam stations, the delay will take roughly 10 minutes. We are sorry for any inconvenience."
Meanwhile travellers kept streaming onto the platforms and squashed into the area while waiting for the trains.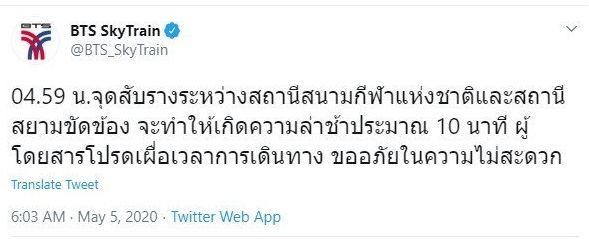 Pictures of BTS travellers waiting in line at the stations went viral today, contradicting the best intentions and attempts at social distancing as required by the Public Health Ministry.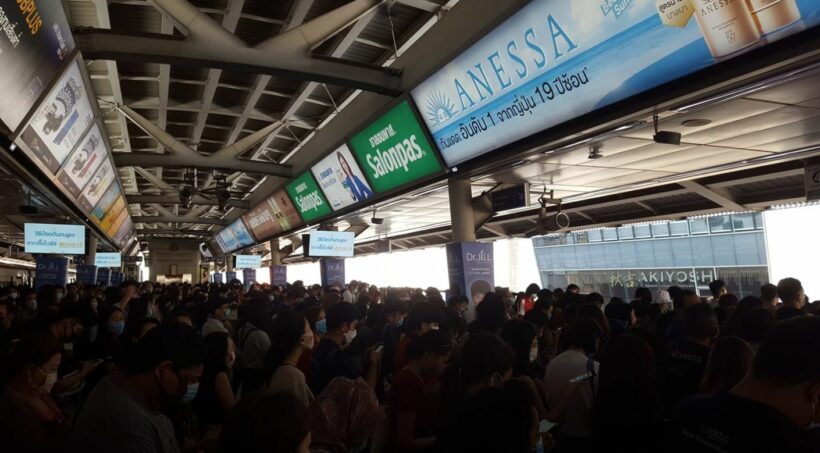 SOURCE: The Nation
Keep in contact with The Thaiger by following our Facebook page.
Never miss out on future posts by following The Thaiger.
Bangkok Governor orders 34 'at risk' businesses to stay closed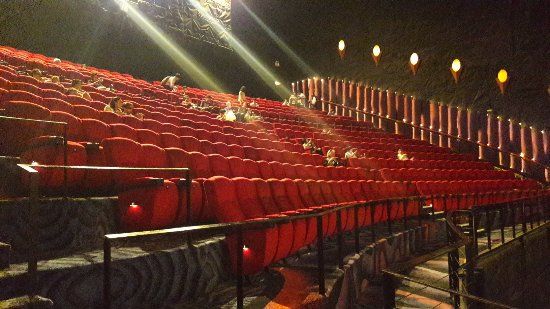 Here's 34 types of businesses that will remain closed around Bangkok until at least May 31. Bangkok's Governor Aswin Khwanmuang ordered the temporary closure of these 34 locations that pose a risk for Covid-19 infection. This only pertains to businesses in Bangkok.
1. Theatre, cinema, playhouse
2. Pub, bar, entertainment venue
3. Water park, amusement park
4. Playground, children's play areas in the market including floating markets and flea markets
5. Department stores (except the supermarket area, pharmacies, miscellaneous goods that are essential, retail stores, telecommunication businesses, banks and government and state enterprises offices)
6. Zoos
7. Billiards or snooker venue
8. Bowling alley or arcade
9. Game centre and internet cafe
10. Public pool or similar business
11. Rooster fight ring
12 Fitness centre
13. Museum
14. Exhibition location, exhibition centre and convention hall.
15. Library
16. Nursery
17. Elderly care
18. Boxing stadium
19. Martial arts school or gym
20. Tattoo parlour
21. Dance school
22. Race track
23. Sauna or steaming room
24. Massage parlour
25. Amulet shop
26. Weight loss shop or beauty clinics
27. Massage house
28. Banquet hall
29. All performances in public areas
30. All types of arenas
31. Skating or rollerblade park
32. Beauty salon (only allowed to cut, wash, and set the hair without other customers waiting in the shop)
33. Sports stadium (only sports that do not need multiple players while clubhouse must be closed to prevent people from gathering)
34. Parks (open only for individuals to exercise, such as walking, running, or bicycling while keeping social distancing).
Keep in contact with The Thaiger by following our Facebook page.
Never miss out on future posts by following The Thaiger.
Media, don't be fooled by protesters – Finance secretary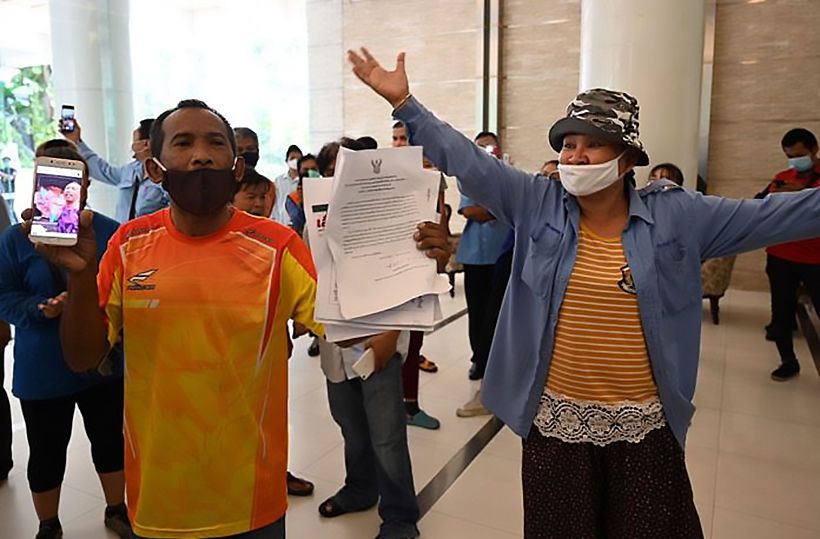 Media outlets are being duped by highly visible protesters trying to attract media attention in their efforts to receive the 5,000 baht "No One Left Behind" handouts, according to Finance permanent secretary Prasong Poonthanate. He even accuses the protesters and says many have already received the subsidy cash, but are demanding more. As an example he mentioned the recent case of a taxi driver who tried to scale the perimeter fence of the Finance Ministry as media filmed the incident.
The cabbie, identified as Pongpicharn Thanathirapong, was at the Ministry on Thursday to demand that the handout be wired to his account that day, saying he'd gotten a text message telling him to show up at the Ministry to file his claim.
Prasong told the media on Friday that the Ministry is ready to help people affected by the Covid-19 pandemic, adding that his officers have been working nonstop to speed up distributing the money those in urgent need. He also mentioned another protester who, he alleges, brought arsenic with him, which he had intended to swallow in front of the media.
On Monday, a 59 year old woman swallowed a large volume of rat poison in front of the Finance Ministry after shouting "None cares about me! There's no one to take care of me!" She collapsed and went into shock, and was rushed to hospital. She survived. Several other suicides have been linked to desperation over the financial ruin brought by the pandemic.
Prasong alleged another incident in which a woman collapsed in front of the Finance Ministry, then falsely accused a guard who rushed to help her of trying to assault her.
"What can we do? We are civil servants who must be patient and try to explain the situation to them. We asked them to return home after completing complaint forms, to avoid the risk of spreading the virus, but some refused."
He urged the media not to accord the protesters "an undue level of coverage."
SOURCE: Thai PBS World
Keep in contact with The Thaiger by following our Facebook page.
Never miss out on future posts by following The Thaiger.