Weird World News: Trinity of time teams up for postmortem sex, kebabs and asteroid mining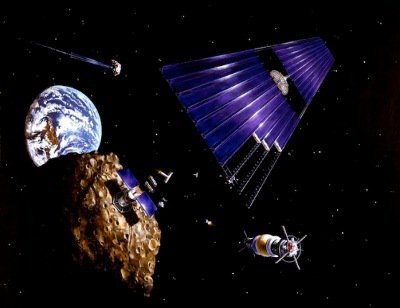 PHUKET: This week's Weird World News round-up is dedicated to the trinity of time: past, present and future. Postmortem sex-laws in Egypt , a stab victim stemming a wound with a kebab and billionaires funding asteroid mining projects all made headlines this week.
Passed away, Egypt plans "Farewell Intercourse Law"
RUMORS that Egyptian husbands will soon be legally allowed to have sex with their dead wives – for up to six hours after their passing have been circulating in the media, as reported by The Daily Mail.
The controversial new law possibly being introduced by the Islamist-dominated parliament is said to be covered by "alleged religious interpretations" rules, according to reporting by Egyptian journalist Amro Abdul Samea.
The topic of a husband having sex with his dead wife entered the public conversation in May 2011, when Moroccan cleric Zamzami Abdul Bari said marriage remains valid even after death.
To be fair though, Zamzami also said a woman has the right to have sex with her dead husband, reported alarabiya.net.
Now the controversial topic has possibly been added to a variety of other laws focusing on woman's rights, which include lowering the age of marriage to 14 and ridding of women's rights for education and employment.
Egypt's National Council for Women is campaigning against the changes, saying that "marginalizing and undermining the status of women would negatively affect the country's human development", reported The Daily Mail.
Stabbing victim stays present with doner kebab
A British man who had his throat slashed in a fight, only survived by stemming the gushing wound with a doner kebab, reported The Sun.
The quick-thinking James Hobbs, 37, used the unopened Turkish dish as a compression bandage.
Despite having lost over six pints of blood from the five-inch knife wound, doctors told Mr Hobbs that the £3.40 (170 baht) stuffed pita had given paramedics enough time to get him to the hospital, and saved his life.
At the hospital, Mr Hobbs had emergency surgery to open his windpipe so he could breathe and 27 staples to seal the cut.
The altercation that ended with Mr Hobbs stuffing the kebab into his throat wound, started when he visited Jamie Edney's home and accused him of having an affair with his girlfriend.
Before opening the door to Mr Hobbs' banging and kicking Mr Edney armed himself with a knife, The Mirror reported.
After receiving several blows from Mr Hobbs' fists, Mr Edney struck out with the knife and slashed Hobbs' throat.
Mr Edney was jailed for five and half years by Bristol Crown Court this week after being convicted of grievous bodily harm with intent to wound.
However, The BBC reported that the judge showed leniency to Mr Edney because he wasn't the one who started the altercation, handing down the lowest possible sentence he could, given the charge.
Future asteroid mining missions backed by billionaires
The future we were promised in the science-fiction books and movies of our childhood has arrived as Google Incorporated executives Larry Page and Eric Schmidt join other billionaires to bankroll an asteroid mining venture, reported Reuters.
The company, Planetary Resources, aims to open deep-space exploration to the private industry, and will initially focus on developing and selling extremely "low-cost" robotic spacecraft for surveying missions.
However, within five to 10 years the company expects to switch from building observation platforms to tapping into the mineral resources of the thousands of asteroids that pass relatively closely to Earth.
Things get even more odd with this seemingly futuristic operation as the company explains that not all mining missions would be returning precious metals and minerals to Earth. In addition to mining for platinum and other precious metals, the company plans to tap asteroids' water to supply orbiting fuel depots, which could be used by NASA and others for robotic and human space missions.
"If you look back historically at what has caused humanity to make its largest investments in exploration and in transportation, it has been going after resources, whether it's the Europeans going after the spice routes or the American settlers looking toward the west for gold, oil, timber or land," said co-founder Peter Diamandis.
"Those precious resources caused people to make huge investments in ships and railroads and pipelines. Looking to space, everything we hold of value on Earth – metals, minerals, energy, real estate, water – is in near-infinite quantities in space. The opportunity exists to create a company whose mission is to be able to go and basically identify and access some of those resources and ultimately figure out how to make them available where they are needed," he said.
Planetary Resources was founded about three years ago and currently employs about 20 people. It is overseen by former NASA Mars mission manager Chris Lewicki.
The company declined to discuss specifics about how and when asteroid mining would begin. However, Mr Diamandis did mention that a 30-meter long asteroid can hold as much as US$25 billion (about 771bn baht) to US$50bn (about 1.5 trillion baht) worth of platinum at today's prices.
Company co-founder Eric Anderson told Reuters, "We have a long view. We're not expecting this company to be an overnight financial home run. This is going to take time."
— Isaac Stone Simonelli

Join the conversation and have your say on Thailand news published on The Thaiger.
Thaiger Talk is our new Thaiger Community where you can join the discussion on everything happening in Thailand right now.
Please note that articles are not posted to the forum instantly and can take up to 20 min before being visible. Click for more information and the Thaiger Talk Guidelines.