Gardens by the bay – Singapore's horticultural showcase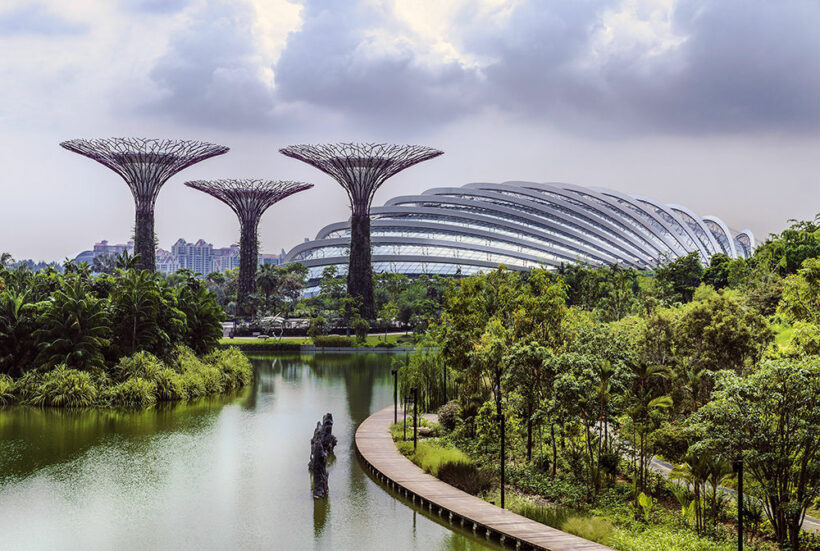 You don't have to be a green-thumb to be amazed by this architectural and horticultural wonder.
Gardens by the Bay is an independent organisation responsible for developing and managing one of Asia's most stunning garden destinations. The destination is a must-see visit on a quick stop over or as part of your extended time in the Lion City. Make sure you allow a full morning or afternoon, even an entire day, to walk around the many exhibits and secret garden worlds.
Gardens by the Bay, opposite the Marina Bay Sands complex in Singapore, is led by a multidisciplinary team of professionals who have been involved in the greening of Singapore, working alongside international and local experts to develop the astonishing architectural, arboreal and floral attraction. It's an ever-evolving, living and breathing display set under two glass domes (an architectural wonder in their own right). 
Gardens by the Bay has earned numerous awards and accolades including the World Building of the Year in 2012, the President's Design Award (Singapore) in 2013, the Outstanding Achievement Award by the Themed Entertainment Association in 2014, the Largest Glass Greenhouse (Flower Dome) in the Guinness World Records for 2015, and even a TripAdvisor Certificate of Excellence in 2016. 
It has an in-house team of skilled landscape designers, horticulturists, arborists, engineers, plant health, garden and turf management experts, as well as plant research and orchid breeding professionals, who leverage on the extensive global network of plant sources cultivated during the development days.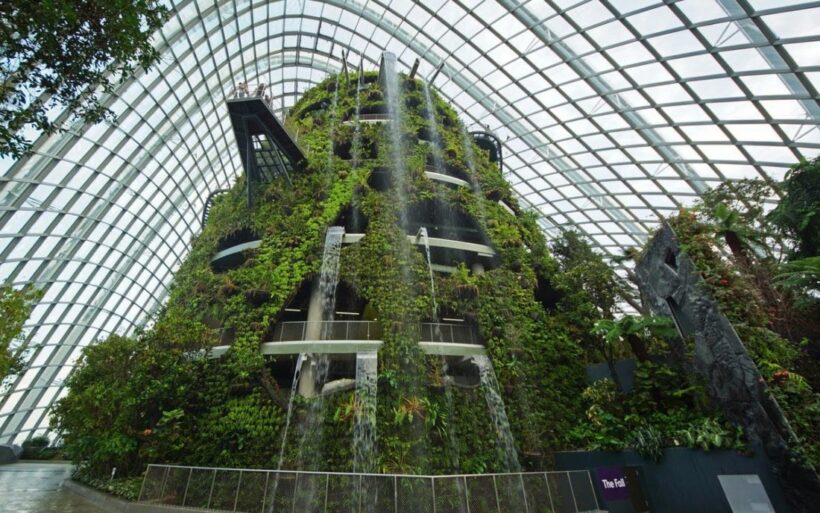 The two main domes are the Flower Dome and the Cloud Forest.
The Flower Dome is a celebration of flowers from around the world with various special displays throughout the year, depending on the seasons. You can meander your way though the extensive paths and walkways, read about the displays or just sit and soak in the wonder of colour.
The Cloud Forest takes you into the world of rainforests where you gaze up in wonder at soaring waterfalls and man-made mountains of lush tropical and cool-climate rainforest species. Or take an elevator up to the top and wander through the tree tops and enjoy the view. This display hits a high note early when you first walk though the doors and are confronted by a 30 metre cascade of water from 10 different man-made waterfalls, the tallest of its type in the world.
Originally constructed as a nature reserve park, a government strategy to convert the city from a "Garden City" to a "City In A Garden", it is much more than just a botanical garden.
The area encompasses the Cloud Forest, the Flower Dome Conservatory, Heritage Gardens, various art installations and locations to just wander and relax. There are also audio tours available which will take you on a guided tour.
So, so much more than just a garden, it's an education about bio-diversity, a hugely enjoyable afternoon or evening stroll around the world of plants and flowers. Warmly recommended for the entire family.
The Gardens are located at 18 Marina Gardens Drive, Singapore, opposite the Marina Bay Sands Hotel and adjacent to the Singapore Eye ferris wheel.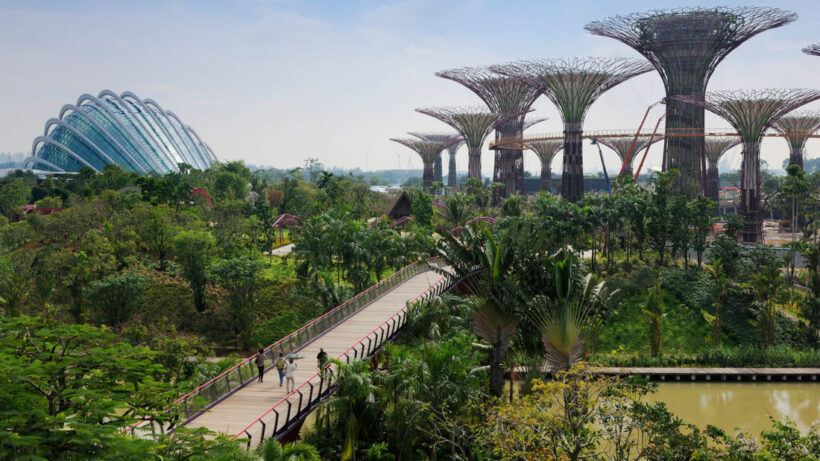 Keep in contact with The Thaiger by following our
Facebook page
.
Singapore megachurch suspends services, goes online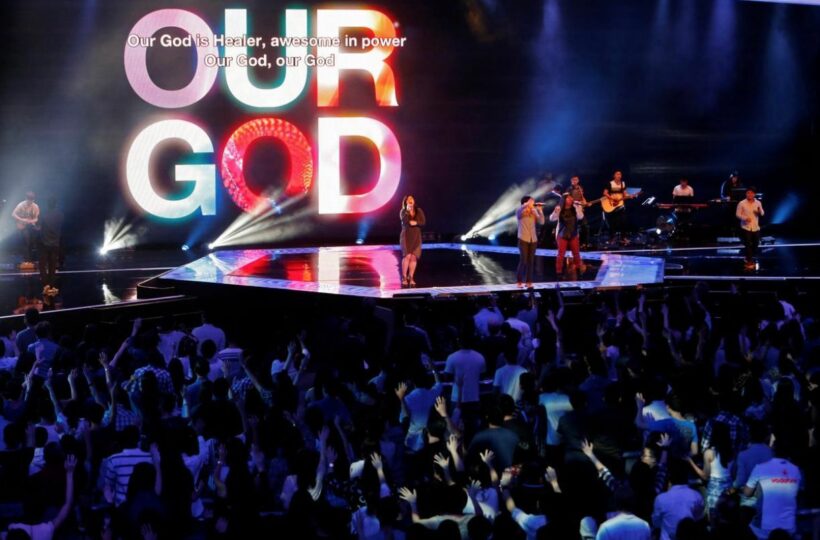 Facing a burgeoning crisis in the southeast Asian island-state, Singapore's biggest megachurch, with a congregation of 16,000, will stop holding services this weekend due to the rising number of coronavirus cases and instead broadcast its lively, gospel-style message online. City Harvest Church is one of the most profitable churches in Asia, but has been embroiled in a corruption scandal in recent years.
The decision comes after Singapore yesterday reported its biggest jump in coronavirus cases to date: up eight cases to a total of 58, with several clusters linked to church gatherings. A Facebook video from the church gave worshippers the message, even calling the virus by its scientific name:
"The leadership has been deliberating over what is the wisest and most responsible thing to do for our church in view of the increasing number of cases of COVID-19 in this past week. This is a temporary measure. We look forward to the day when the situation stabilises and we can all come back together for service again."
Other religious groups are also cancelling activities across the multi-faith island nation, and the government has advised businesses to defer or cancel all non-essential large-scale events.
Authorities are trying to calm unease after they raised the virus alert level last week and triggered panic-buying of staples like rice and toilet paper.
The outbreak has revived memories of SARS pandemic in 2002-03 which killed more than 30 people in Singapore and nearly 800 worldwide.
SOURCE: Reuters
Keep in contact with The Thaiger by following our
Facebook page
.
Doctors advise good hygiene as the best protection against coronavirus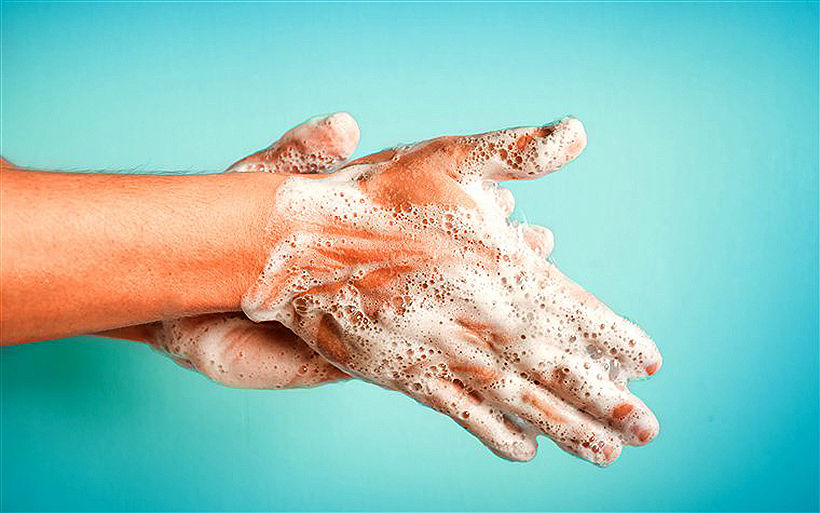 "China's healthcare system and disease outbreak control capabilities have improved dramatically since 2003 and I believe they will contain the outbreak."
As the coronavirus outbreak in Hubei, central China evolves, and as it continues to spread outside China's borders, health practitioners and medical authorities are advising people to protect themselves by maintaining simple, practical hygiene practices such as washing your hands often. An advisory from medical chain Raffles Medical in Singapore, which recommends washing your hands frequently, says human coronaviruses (and flu) are most commonly spread from an infected person to others through…
• the air by coughing and sneezing
• close personal contact, such as touching or shaking hands
• touching your mouth, nose, or eyes after touching an object or surface with the virus on it, before washing one's hands
Although vaccination against the seasonal influenza does not guarantee protection, Raffles Medical says people should still get vaccinated, especially if they are planning to travel.
"This will prevent you from contracting influenza symptoms and signs that may mislead screening authorities at temperature checkpoints, and result in unnecessary anxiety and delays to your travel."
Dr Edwin Chng, medical director of Singapore's Parkway Shenton, recommends travellers should avoid contact with live animals and consumption of raw or undercooked meats and avoid close contact with people who are unwell or showing symptoms of illness. However, infectious disease experts say there was no need to be unduly worried as Singapore is better prepared to handle an outbreak today. Professor Paul Tambyah, from the department of medicine at the NUS Yong Loo Lin School of Medicine, says the coronavirus outbreak in Wuhan could be like the H1N1 outbreak in 2009, which quickly spread all over the world.
Fortunately, the outbreak was less severe than feared, he said. But in any case, Singapore is even better prepared than in 2009 in terms of testing, equipment and resources.
"I think that we should be concerned but there are plenty of measures in place to detect cases, isolate and treat them appropriately in Singapore as well as in the other countries in the region."
"Ensure good hand hygiene, stay away from live animal markets, seek medical attention from your GP if you are not feeling well and are still not better after three, four days."
"China's healthcare system and disease outbreak control capabilities have also improved dramatically since 2003 and I believe they will contain the outbreak."
Meanwhile the use of face masks as a preventative measure for uninfected patients remains of doubtful use in general public. Read more HERE.
Keep in contact with The Thaiger by following our
Facebook page
.
Coronavirus UPDATE: 107 dead, more cases in Singapore and 1 in Cambodia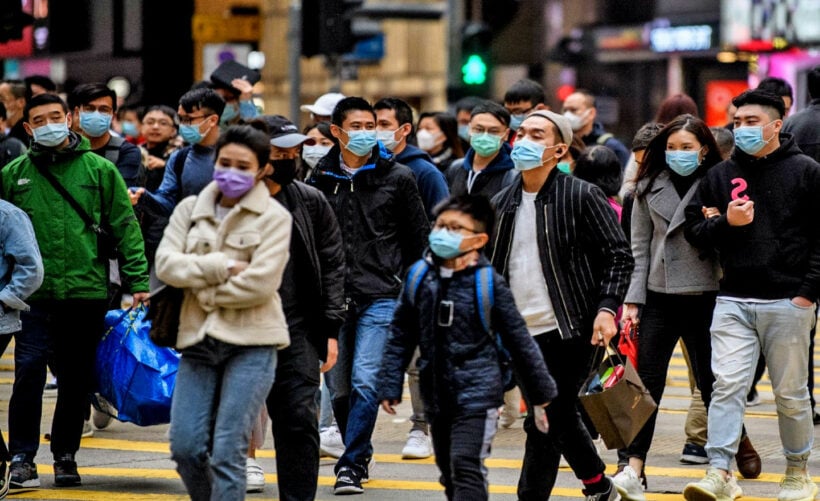 The death toll in China from the respiratory illness called the Wuhan Coronavirus or the Novel Coronavirus, has now reached 106, according to Channel News Asia. There are no deaths reported outside China and the vast majority of deaths are in the province of Hubei (76) where Wuhan is the capital.
The number of total confirmed cases has risen to 4,515 as of January 27. The numbers from the National Health Commission in a statement, up from 2,835 reported on January 26.
Chinese authorities have postponed the start of the spring semester for schools and universities across the country, stretching the end of the Chinese New Year holiday three additional days, from this Thursday to the following Sunday.
Meanwhile, the Philippines' Bureau of Immigration has taken decisive action and will temporarily stop issuing tourist visas on arrival to Chinese nationals "to help ensure the country remained free of the new coronavirus".
Comparison between SARS and Coronavirus HERE.
A statement from the Chinese education ministry says teaching institutions around the country would reopen on a case-by-case basis. School administrators had been instructed to, as a precaution, "require students not to go out, not to gather, and not to hold or participate in centralised activities".
The virus, which first emerged in the Chinese city of Wuhan, has since been identified in more than a dozen other countries, including the first confirmed patients in Canada and Sri Lanka. No deaths, connected to the virus, have been confirmed outside China.
China last week locked down up to 15 cities in central China's Hubei province – the biggest quarantine operation on record. City authorities are racing to build two new hospitals specifically to isolate new cases and treat virus patients.
The World Health Organisation confirmed yesterday that it "remained unclear" if the coronavirus is contagious during its incubation period, before symptoms appear. It hasn't confirmed assertions made by Chinese authorities over the weekend that people who are infected could spread the disease before they showed any outward symptoms of fever.
Current situation
• The youngest confirmed case is a 9 month old girl in the Chinese capital.
• A fifth case of the coronavirus is confirmed in Singapore, according to the Ministry of Health. The confirmed case is a 56 year old Chinese female from Wuhan who arrived in Singapore with her family on January 18.
• Cambodian authorities have confirmed the first case of coronavirus yesterday. The patient is a Chinese man who arrived with his family from Wuhan to Sihanoukville, on the Gulf of Thailand, in early January. Thailand is conducting checks on all people crossing over the land border from Cambodia into Thailand.
• Thailand and Hong Kong have now both reported eight confirmed cases of coronavirus infection. The US, Taiwan, Australia and Macau have five. Singapore, Japan, South Korea and Malaysia have four. France has three; Canada and Vietnam have two. Nepal and Cambodia each have one case.
• The lockdown, affecting 56 million people, principally in Hubei cities and other strategic locations, could actually be making the situation worse, according to some medical experts. They say the lockdowns slow the movement of critical medical supplies and also make the lockdown cities a hotbed of panic.
• Stocks have tumbled and oil prices fallen over the past 24 hours as the spread of coronavirus spooks investors around the world. China's yuan has also fallen in value, while investors continued their move into safe havens like gold. China's A-shares, the mainland share markets in Shanghai and Shenzhen, is down by more than 5% yesterday.
• In the US, at least 110 people are being tested for coronavirus. Three University of Washington students, recently returned from Wuhan, China, have become sick and are being tested for the virus, but officials claim they are not confirmed cases. The three have been isolated and treated in their dorms and not hospitalised.
The Mayor of Wuhan
Wuhan's leading Communist Party officials have offered to step down amid the growing criticism that the local authorities' response was too slow. Mayor Zhou Xianwang says that he and Ma Guoqiang, the city's Communist party secretary, will take responsibility for the crisis and resign to "appease public indignation."
The mayor says the ban on travel is "unprecedented in human history". The ban was enacted last week and effectively cut off the city of 11 million people. Medical workers in the city continue to accuse the Wuhan civil government of reacting too slowly to the crisis. Residents are using social media to complain about the ban on travel that is making it difficult to get food and health care into the city.
Yesterday, Wuhan shops remained mostly closed. But supermarkets, fresh produce markets and shops, and pharmacies, remained open. Many pharmacies report that they have run out of protective masks and hand disinfectant.
Wuhan's streets remain mostly free of cars. Many residents walked or rode bicycles to do their shopping.
Read our comparison between the SARS virus outbreak, nearly 20 years ago, and the novel coronavirus HERE.
SOURCES: Forbes | Channel News Asia | New York Times | Science Today
Keep in contact with The Thaiger by following our
Facebook page
.