Thailand urged to shun single-use plastic

by Pratch Rujuvanarom
Thailand's environmental experts are urging people to make small changes in their lifestyle to help tackle the huge plastic waste menace.
They say it's important for people to make small changes in their daily lives in order to cut down on the huge amount of plastic waste being generated.
Thailand faces critical problems caused by plastic pollution. The country produces more than 2 million tonnes of plastic waste per year and ranks sixth among countries with the largest amount of mismanaged plastic waste.
Public officials from the public sector and academics pointed out on Thai Environment Day yesterday that the problem of plastic pollution can be solved through behaviour adjustment and active participation by everyone, along with the proper policy support from the authorities.
Yesterday's commitment by retail outlets to reduce or eliminate the use of plastic bags was, mostly, a failure with few stores getting behind the one-day initiative. But there were a few notable exceptions with most Tesco Lotus stores being active in the promotion. At the other end of the spectrum, most 7/11 and Family Mart stores had no changes to the use of plastic bags at their stores, and street vendors mostly didn't even know about it.
Single Use Plastics. The BIG issue for Thai Environment Day.

Posted by The Thaiger on Monday, December 3, 2018
Natural Resources and Environment Minister General Surasak Karnjanarat said plastic waste pollution is one of the biggest problems facing Thailand.
"Thai people throw away some 45 billion single-use plastic bags per year, which amounts to about 12 per cent of overall household waste nationwide."
Surasak said the government was focused on seriously addressing the problem. The Public Health Ministry have stopped distributing plastic bags in every public hospital since October, while the National Park, Wildlife and Plant Conservation Department is also planning to ban plastic bags in all 154 national parks across the country.
Despite their promises, most shops were found to be still providing their customers with plastic bags. Jiaranai Vithidkul, a PhD student at Chulalongkorn University, says she has been avoiding plastic bags for a long time and this environmentally friendly behaviour was not as difficult as many people thought it to be.
"People usually think that giving up the use of plastic bags and adopting a low-waste lifestyle is too radical. But from my experience, I can say that there are many easy ways that urbanites like us can avoid producing unnecessary waste," Jiaranai said.
"For example, I usually take an extra fabric bag with me all the time to carry shopping items instead of asking for a plastic bag, and when I have lunch at the university canteen, I always use stainless steel spoons and forks to eat noodles instead of single-use chopsticks."
She said these little adjustments that she made in her daily life were very easy and if many people did the same, the outcome would be really big, as the production of a large amount of waste can be avoided.
However, she admitted that the hardest part of changing habits for a greener lifestyle was the addiction to the convenience of plastic.
"I admit that plastic makes our lives much easier and provides convenience. As we have got used to this convenience for quite a long time, it has made us feel that we cannot do without plastic, even though before the invention of plastic we could live perfectly well without it," Jiaranai said.
Read Tim Newton's opinion piece about yesterday's Thai Environment Day HERE.
ORIGINAL SOURCE: The Nation


Are you considering a medical procedure abroad? With Thaiger Medical you can research hospitals and doctors, choose a destination in Thailand or abroad, and book an appointment today.

The Patong Bay Hill Resort – where your holiday begins!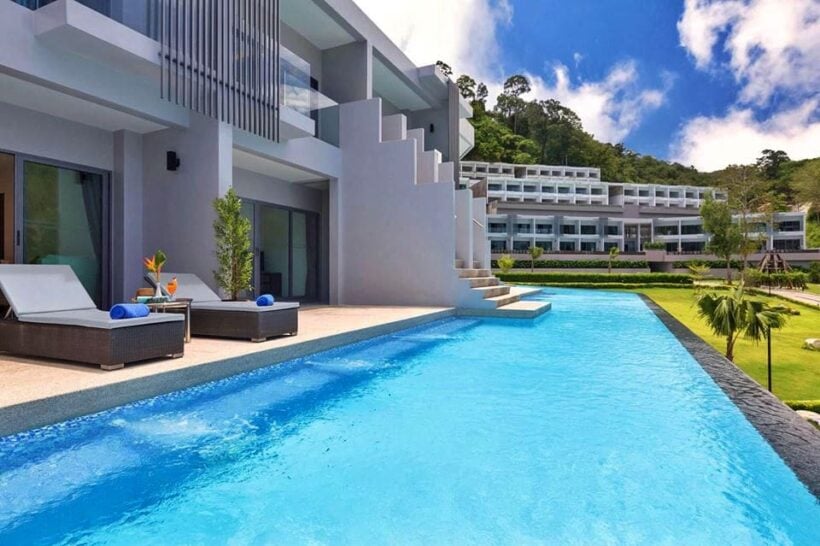 Nestled into the hills above Phuket's popular Patong Beach, the modern Patong Bay Hill Resort is a luxurious resort which overlooks the ocean and the eclectic neighborhood below. 
Welcome to Patong Bay Hill Resort 
Set in a beautifully landscaped garden, Patong Bay Hill Resort is set amongst the natural, tropical environment of Patong's Hasib-pee Hill. The resort offers majestic panoramic city and ocean views over the Andaman Sea. While private and secluded, Patong Bay Hill Resort is a just a few minutes away from Patong Beach and all of the nightlife, dining and entertainment this popular tourist destination has to offer. 
The atmosphere of Patong Bay Hill Resort is tranquil and serene. If you are looking for total relaxation while on holiday, Patong Bay Hill Resort is where your holiday begins! The resort consists of 16 buildings with 383 units. 138 of those units are on the ground floor and have direct access to a refreshing swimming pool.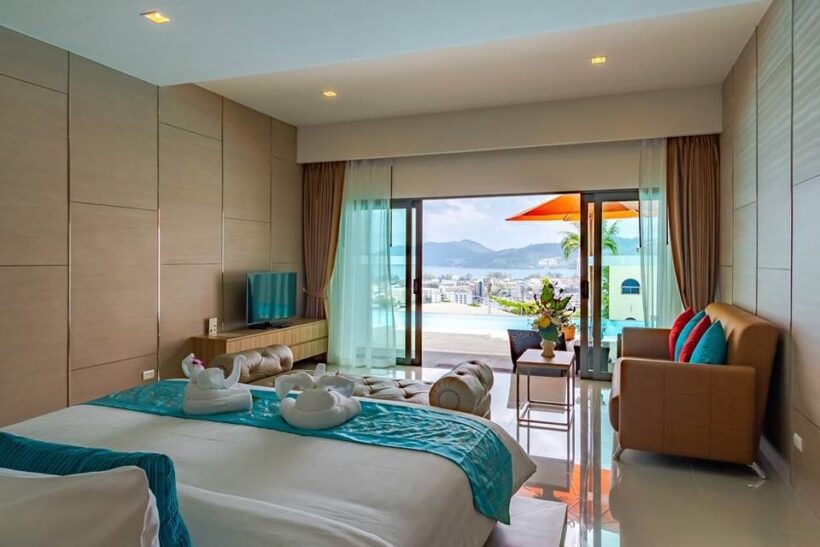 Patong Bay Hill Resort Accommodation 
The 2 bedroom suites at Patong Bay Hill Resort are luxurious. Each suite is built in a modern style with fine, contemporary furnishings. Each suite boasts a terrace or balcony with either a garden or sea view, and full amenities are provided for guest's comfort and relaxation. A few of the suites even have a private jacuzzi!
A full range of amenities are offered to guests staying at Patong Bay Hill Resort. The 2 bedroom suites have a kitchenette and microwave, as well as a minibar. For the tech savvy, each suite has both satellite and cable TV. Free high speed WiFi is also available throughout the resort, allowing those who need to work while on holiday to remain connected to the outside world. 
To ensure guest's utmost comfort, bathrobes and bedroom slippers are provided along with toiletries. There is also an evening turndown service, which is a hallmark of high quality hotels and resorts. Let us prepare the bed, so that when your day is done, all you need to do is slip in!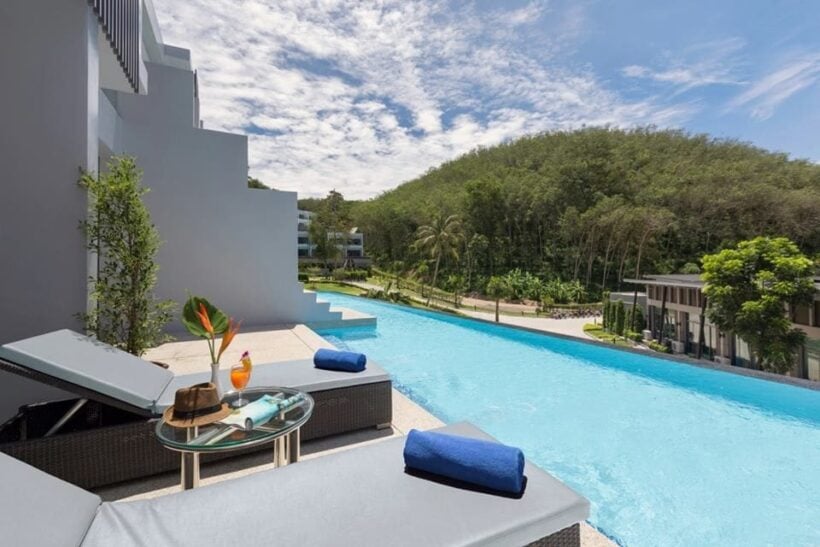 The Restaurant at Patong Bay Hill Resort 
Delicious food & beverage offerings are available at Patong Bay Hill Resort. The on-site restaurant at Patong Bay Hill Resort serves a delectable range of traditional Thai cuisine as well as a variety of international favorites. Breakfast at the resort is a splendid affair. The breakfast buffet features a live egg station as well as a mix of Asian and international breakfast choices. Lunch and dinner options are also available at the on-site restaurant. For those looking to sate their thirst, the restaurant features an extensive beverage menu which also includes cocktails & spirits. Fresh juices and soft drinks are also available. 
Book Your Stay at Patong Bay Hill Resort
Ready to book your stay at Patong Bay Hill Resort? For further queries and questions, get in touch with us. We look forward to welcoming you to Patong Bay Hill Resort, a modern, luxurious resort on the tropical island of Phuket, Thailand.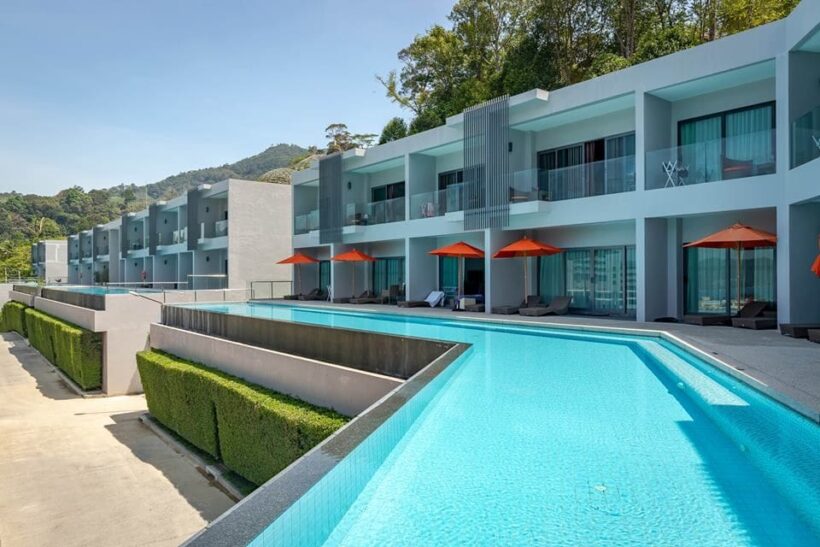 Visit www.patongbayhill.com to learn more! 
New WHO world road death report – Thailand drops to number 8 but still high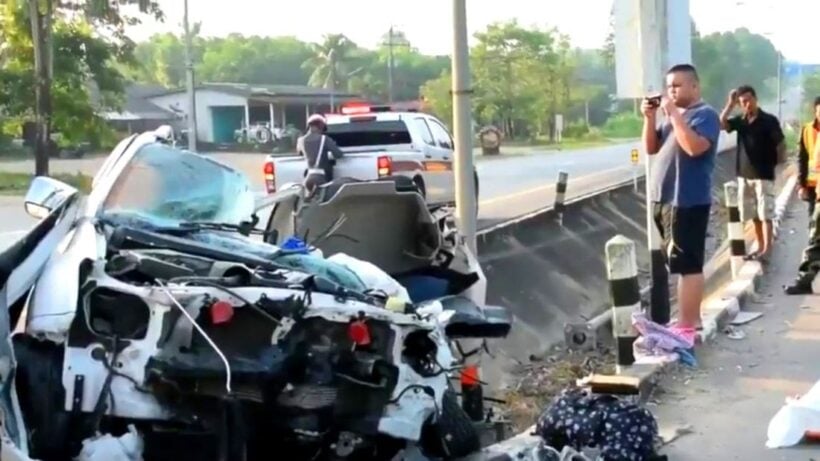 Thailand's roads remain some of the deadliest in the world. But the Kingdom has dropped from its previous number two position to number eight, behind a collection of backwater African states and other undeveloped countries.
A new report by the World Health Organisation shows that the road safety situation in Thailand hasn't improved. The shocking news is outlined in a the WHO report, Global Status Report on Road Safety 2018,
The report indicates the death rate per 100,000 population in Thailand was 32.7. This ranks Thai roads as at least the deadliest in ASEAN and amongst the deadliest in the world.
Only seven other nations fared worse than Thailand, while the countries with the highest road traffic death rate per 100,000 population were Liberia, Saint Lucia, Burundi and Chad.
The report, compiled using data from 2016 from 175 countries, shows that Europe has the safest roads with 9.3 deaths per 100,000 population. The African continent had the worst rates.
The report shows that there is an average of 22,491 people killed on Thai roads every year. South east Asia, where motorcycle-related deaths account for 43 percent of the total road toll, had an average of 20.7 deaths per 100,000 population.
Globally, the report found that the situation regarding road traffic deaths is worsening, with someone killed in a road accident every 24 seconds somewhere in the world.
The WHO road death Hall of Shame…
1. Liberia – 35.9 (per 100,000 people)
2. Saint Lucia – 35.4
Equal 3. Burundi and Zimbabwe – 34.7
Equal 4. Democratic Republic of Congo and Venezuela (Bolivarian Republic of) – 33.7
5. Central African Republic – 33.6
6. Thailand – 32.7
7. Burkina Faso – 30.5
8. Namibia – 30.4
9. Cameroon – 30.1
10. Mozambique – 30.1
John Mayer coming to Bangkok for the first time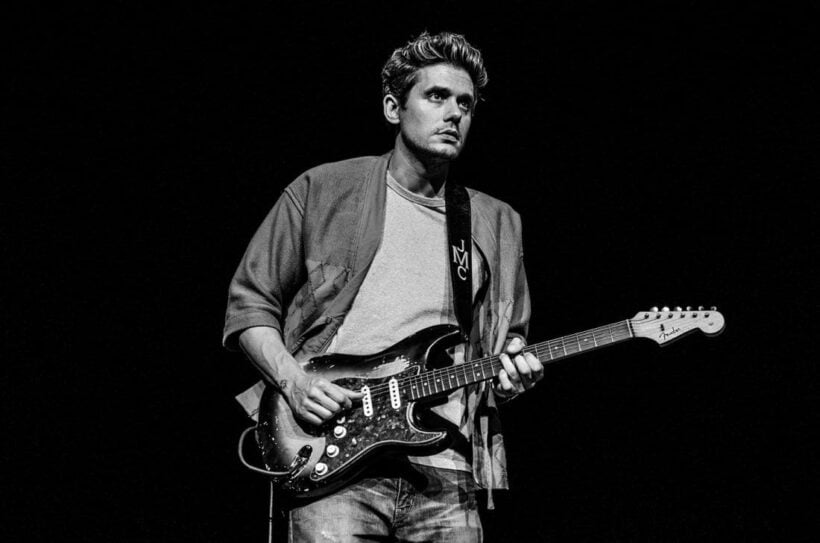 IMAGE: John Mayer Instagram, Billboard.com
John Mayer will be playing in Bangkok on April 3, 2019 for his newly announced 'Australia & Asia Tour 2019'. The 41 year old American, hailing from Connecticut isperforming for the first time in Thailand. Tickets will be released at a later date but put a circle in your calendar.
Mayer's most famous songs include "Gravity", "Your Body is a Wonderland'" and "Daughter", his talent has also lead him to play alongside legends such as BB King and Eric Clapton.

Here is  small peak into the talented John Mayer: