Bib Gourmand 2018 – Bangkok Michelin Guide listings for every budget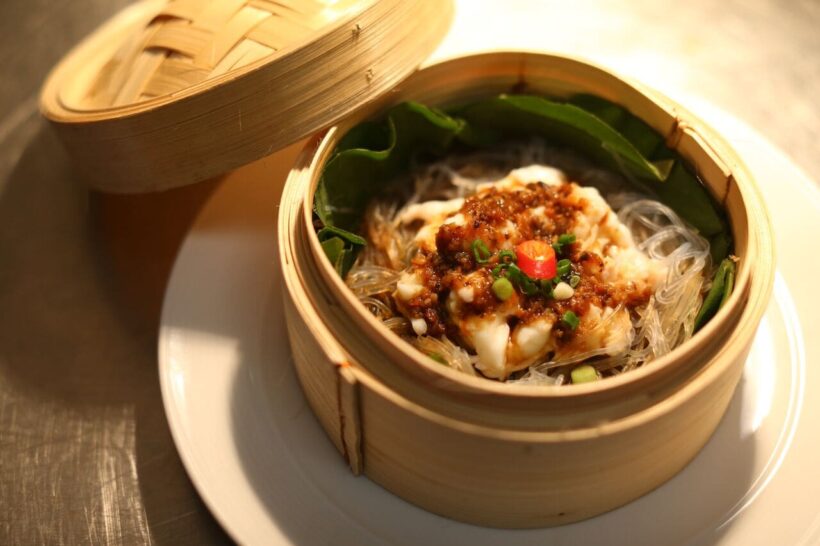 Following the recent launch of the first-ever edition of the MICHELIN Guide Bangkok, that has generated a lively buzz around town and has put Michelin-starred Bangkok restaurants in the global spotlight, Michelin has now started to promote the 'Bib Gourmand' distinction and make it widely known among food aficionados and others in Thailand.
The Bib Gourmand list highlights more affordable restaurant options than those typically recognized with the Michelin Star. Michelin Star and Bib Gourmand distinctions, however, will together help boost the reputation of Bangkok as the city of amazing cuisine in all types and price ranges.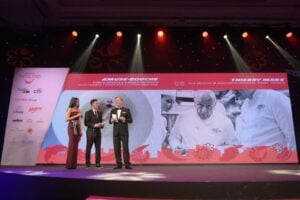 Dating back to 1954, the MICHELIN Guide took the first step to indicate restaurants serving "good cuisine at a reasonable price," reinforcing its commitment to quality for everyone. This recognition had gained high popularity, and later became the 'Bib Gourmand' distinction presented annually since 1997.
The symbol of Bib Gourmand, featuring the famed 'Bibendum' or 'Michelin Man' licking his lips, serves as a label for an authentic cuisine carefully prepared and inexpensively priced.
The maximum price point that identifies affordability is determined by local economic standards. In the case of Bangkok, the Bib Gourmand recognizes eateries that offer quality cuisine at a maximum price of 1,000 baht (the price is for a three-course meal: starter, main course, and dessert – exclusive of beverage).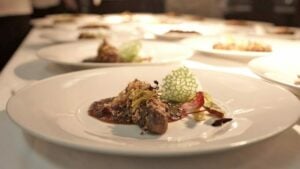 Segsarn Trai-Ukos, Country Director of Michelin Siam Co. Ltd., says, "the Bib Gourmand plays a role as significant as the Michelin Star, in promoting Bangkok as the city of diverse and dynamic culinary scene with fine-dining restaurants, casual eateries, and moderately-priced street food establishments. The Bib Gourmand not only offers local and foreign food enthusiasts to experience a Michelin-rated restaurant at an affordable, value-for-money price; but also serves as a testament that a high-quality, delicious meal is not always expensive."
In the debut edition of 2018 MICHELIN Guide Bangkok, there are 35 restaurants taking the spotlight as Bib Gourmand honorees. Among them, 18 are street food establishments – like Polo Fried Chicken (Soi Polo), a restaurant that has operated for 50 years and is famous for its garlic fried chicken with perfectly crispy skin on the outside and flavorful tender meat on the inside; Jok Prince, a famous food stall hidden in a narrow alley offering smooth and savory rice porridge with a smoky aroma, topped with either a raw egg or a century egg; and Yentafo Convent, a stall serving pink noodle soup, made with tomatoes and sweet potatoes, for more than 40 years.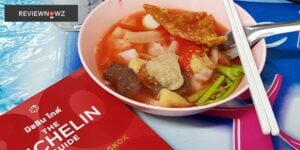 The remaining 17 are restaurants such as Baan, where the husbandry and provenance of the ingredients is paramount: beef used in the Massaman curry is from an Islamic farm in Pak Chong, and sustainable seafood is sourced from southern Thailand; and The Local, an authentic Thai restaurant in a colonial-style building where dishes are crafted from secret family recipes and represent all regions of Thailand.
Yuthasak Supasorn, Governor of the Tourism Authority of Thailand, stated: "In the first edition of MICHELIN Guide Bangkok, the number of Bib Gourmand restaurants doubles the number of Michelin-starred restaurants. In addition, around half of the Bib Gourmand honorees are street food establishments. This signifies the charms of Bangkok as the city of good value and reasonably priced restaurants, as well as a top destination for street food.
"The Bib Gourmand basically provides an opportunity for small but excellent eateries to earn recognition and fame – thus encouraging the enhancement of culinary excellence for Thailand and the growth of local economy. Both distinctions, Bib Gourmand and Michelin Star, will serve as a magnet drawing tourists and food enthusiasts from around the world to experience the remarkable diversity of Bangkok's dining scene themselves."
View the full selection of the MICHELIN Guide Bangkok 2018, in English and Thai HERE.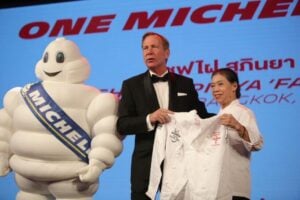 - Tanutam Thawan
Ladyboy job applicant turned down over her sexuality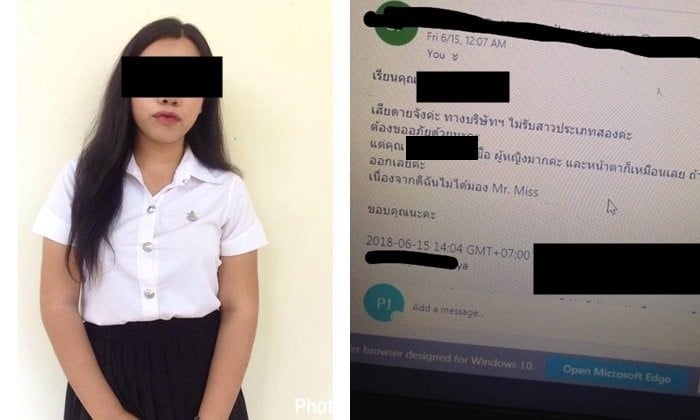 PHOTO: Sanook
A recently graduated lady boy has taken to Facebook to claim that she was turned down for a job at a trading company because she was discriminated against based on their sexuality.
She posted a screenshot of an email in which the company said "sorry but we don't accept type two women" ('Type Two Women' is the term used in Thai language for ladyboys.)
Reaction from friends and netizens was swift – they asked… "What era is this?" condemning the email and the company.
One poster said that they should be glad they turned them down – they are clearly not a professional company, reported Sanook.
Legislation exists in Thailand whereby those who believe they are the victim of sexual discrimination can make a case in such circumstances.
STORY: Sanook
Some of the responses on social media over this issue on ThaiVisa…
From 'Greenchair' – They are over 18, they are not boys at all. They are men. Or transgender men to be precise. Most understand this and prosper very well in the areas of life where they can excel. Such as healthcare services, in the beauty industry, elderly care, fashion, jewellery. A company that was involved in male body building might not be suitable. Be who you are and get over it for goodness sake. 
From 'Bluesofa' – Sexual prejudice. Perhaps the ladyboy might be taken to court for masquerading as a female?
From 'Bluebspunk' – People have the right to be identified as the gender they know them selves to be. It's not a choice, it's who they are. Companies should not be allowed to discriminate against someone because of who they are. This applies whether they are gay, straight, transgender, male, female.
Meet Bangkok's friendly neighbourhood midwife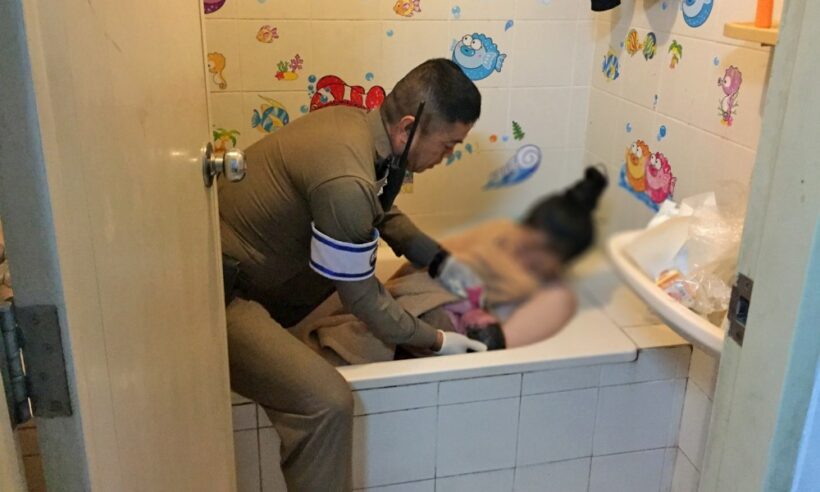 A traffic police captain, trained under a project initiated by HM the late King Bhumibhol Adulyadej, has helped another mother deliver a baby girl. This is the 33rd child born with his assistance.
Pol Captain Pichet Wisetchok, a deputy inspector of Traffic Police Sub-division 6, rushed to M Palace Apartment on Soi Chokchai 4 in Bangkok's Wang Thong Lang district at 6.20am yesterday morning when he was informed that a woman was in labour and might be unable to get to her local hospital in time.
Finding 27 year old Iraya Deeprasit in labour in her bathtub, he helped her give birth to a girl weighing 3.1 kilograms. After the girl – Iraya's second child – was delivered safely, a medical team from Rajvithi Hospital arrived and took care of the mother and baby, before taking them to Paolo Hospital on Soi Chokchai 4.
Pichet is well-known among social networkers who have been tracking his record of assisting mothers to delivery on roads or in other emergency cases. His fans say he is more capable than a gynaecologist.
Pichet was trained under a project initiated by the late King when Bangkok's traffic congestion had become so bad that pregnant women were often caught in traffic and had to give birth on the city's streets.

SOURCE: The Nation
Heroin-swallowing smugglers nabbed in Chiang Mai and Bangkok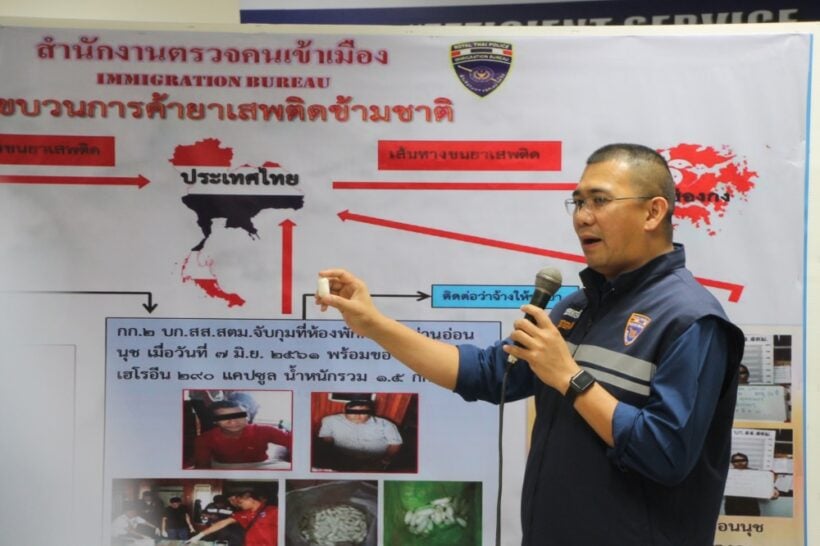 15.5 kilograms of heroin is a serious amount of illicit narcotics.
Six Nepalese and one Indian national have been accused of being members of a transnational drug-trafficking syndicate, They've been transporting drugs by having people swallow dozens of capsules containing heroin and were arrested last week.
The Nepalese suspects were identified as Singha Bir Gongbotamang, Sudarshan Thapa, Prasad Gurung, Suresh Tamang, Abashesh Gurung and Kare Gurung while the Indian national was identified as Lal Gurung. All were aged between 36 and 62.
Chuchat said Gongbotamang was the first to be arrested on June 6 after being found with 15.5 kilograms of heroin in his luggage while waiting to board a plane from Chiang Mai International Airport to Bangkok.
The following day, police raided a condominium in the Soi Sukhumvit 77 (On Nut) area of Bangkok's Suan Luang district and arrested Lal Gurung and Thapa. They also seized 1,450 grams of heroin, a digital scale, and plastic capsules for smugglers to use when swallowing heroin for transportation to a third country. Another search of a nearby apartment on June 8 yielded the remaining four suspects, who were linked to the previously nabbed trio.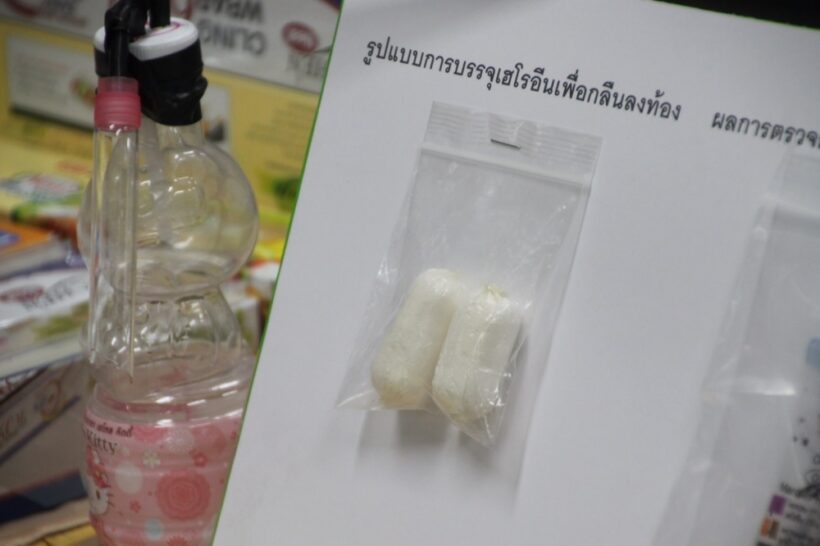 Immigration Police 2 superintendent Pol Colonel Pravit Sirithorn said the men were allegedly hired to swallow heroin capsules – with each expected to ingest at least 50 capsules – to avoid the authority's detection while travelling through Suvarnabhumi International Airport to Hong Kong.
The police investigation found that Gongbotamang paid 2 million baht for the heroin in Myanmar and smuggled it into Thailand. The six men would then swallow capsules containing the heroin before travelling to Hong Kong in exchange for about 100,0000 baht in payment per head.
Police initially charged the three earlier arrested men with having heroin in their possession with intent to sell, and revoked the visa of the four later-arrested men over prohibited behaviour under the Immigration Act 1979.

STORY: The Nation