Bib Gourmand 2018 – Bangkok Michelin Guide listings for every budget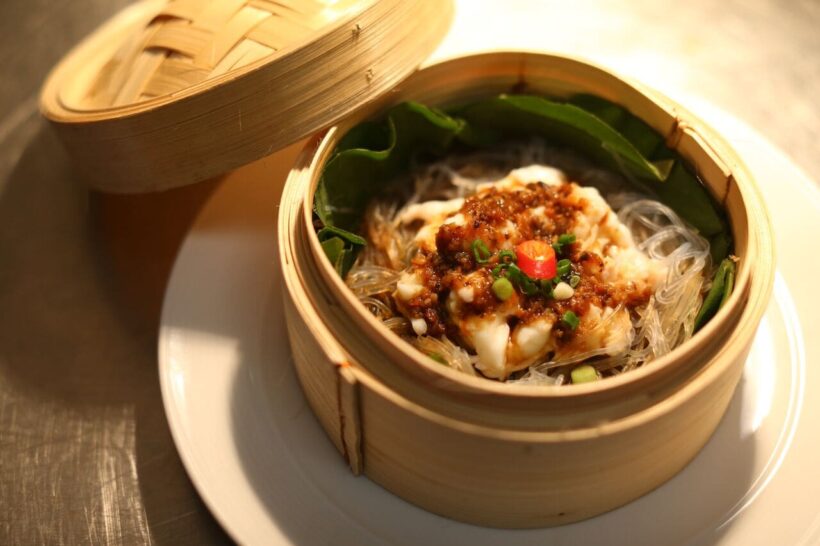 Following the recent launch of the first-ever edition of the MICHELIN Guide Bangkok, that has generated a lively buzz around town and has put Michelin-starred Bangkok restaurants in the global spotlight, Michelin has now started to promote the 'Bib Gourmand' distinction and make it widely known among food aficionados and others in Thailand.
The Bib Gourmand list highlights more affordable restaurant options than those typically recognized with the Michelin Star. Michelin Star and Bib Gourmand distinctions, however, will together help boost the reputation of Bangkok as the city of amazing cuisine in all types and price ranges.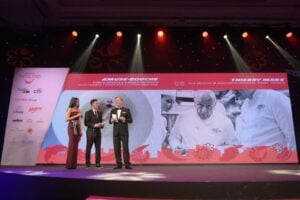 Dating back to 1954, the MICHELIN Guide took the first step to indicate restaurants serving "good cuisine at a reasonable price," reinforcing its commitment to quality for everyone. This recognition had gained high popularity, and later became the 'Bib Gourmand' distinction presented annually since 1997.
The symbol of Bib Gourmand, featuring the famed 'Bibendum' or 'Michelin Man' licking his lips, serves as a label for an authentic cuisine carefully prepared and inexpensively priced.
The maximum price point that identifies affordability is determined by local economic standards. In the case of Bangkok, the Bib Gourmand recognizes eateries that offer quality cuisine at a maximum price of 1,000 baht (the price is for a three-course meal: starter, main course, and dessert – exclusive of beverage).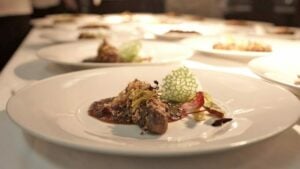 Segsarn Trai-Ukos, Country Director of Michelin Siam Co. Ltd., says, "the Bib Gourmand plays a role as significant as the Michelin Star, in promoting Bangkok as the city of diverse and dynamic culinary scene with fine-dining restaurants, casual eateries, and moderately-priced street food establishments. The Bib Gourmand not only offers local and foreign food enthusiasts to experience a Michelin-rated restaurant at an affordable, value-for-money price; but also serves as a testament that a high-quality, delicious meal is not always expensive."
In the debut edition of 2018 MICHELIN Guide Bangkok, there are 35 restaurants taking the spotlight as Bib Gourmand honorees. Among them, 18 are street food establishments – like Polo Fried Chicken (Soi Polo), a restaurant that has operated for 50 years and is famous for its garlic fried chicken with perfectly crispy skin on the outside and flavorful tender meat on the inside; Jok Prince, a famous food stall hidden in a narrow alley offering smooth and savory rice porridge with a smoky aroma, topped with either a raw egg or a century egg; and Yentafo Convent, a stall serving pink noodle soup, made with tomatoes and sweet potatoes, for more than 40 years.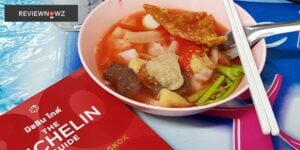 The remaining 17 are restaurants such as Baan, where the husbandry and provenance of the ingredients is paramount: beef used in the Massaman curry is from an Islamic farm in Pak Chong, and sustainable seafood is sourced from southern Thailand; and The Local, an authentic Thai restaurant in a colonial-style building where dishes are crafted from secret family recipes and represent all regions of Thailand.
Yuthasak Supasorn, Governor of the Tourism Authority of Thailand, stated: "In the first edition of MICHELIN Guide Bangkok, the number of Bib Gourmand restaurants doubles the number of Michelin-starred restaurants. In addition, around half of the Bib Gourmand honorees are street food establishments. This signifies the charms of Bangkok as the city of good value and reasonably priced restaurants, as well as a top destination for street food.
"The Bib Gourmand basically provides an opportunity for small but excellent eateries to earn recognition and fame – thus encouraging the enhancement of culinary excellence for Thailand and the growth of local economy. Both distinctions, Bib Gourmand and Michelin Star, will serve as a magnet drawing tourists and food enthusiasts from around the world to experience the remarkable diversity of Bangkok's dining scene themselves."
View the full selection of the MICHELIN Guide Bangkok 2018, in English and Thai HERE.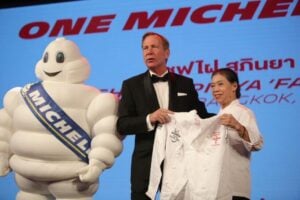 Keep in contact with The Thaiger by following our
Facebook page
.
Never miss out on future posts by
following The Thaiger
.
Strong winds "blow" shipping container off a stack and onto a truck, injuring the driver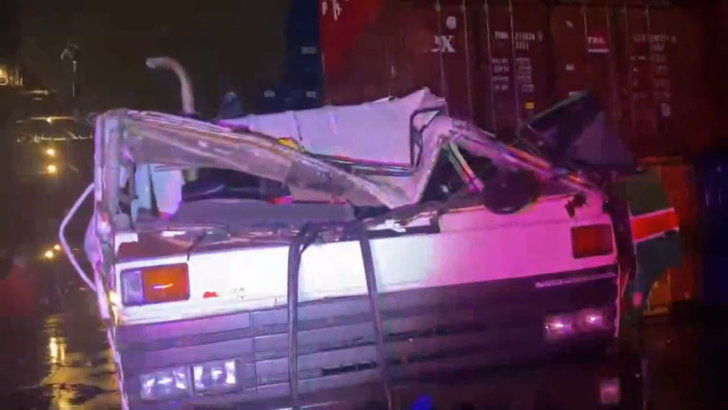 A truck driver was critically injured after strong winds from last night's storms caused a shipping container to fall from a 7 storey stack at the Samut Prakan port, south of Bangkok, and smash down onto an 18 wheel truck with the driver inside.
Workers rushed to pull the driver, Raphin Noiwanit, out of the crushed truck. They say he was unconscious and ruched to Pu Chao Saming Phrai Hospital. 5 other shipping containers were knocked off from the 7 storey stack during the storm around 9:30pm last night. Only 1 of the containers landed on the truck parked below. The workers say it was "unbelievable" that the winds could be strong enough to take down 6 heavy shipping containers.
SOURCE: Nation Thailand
Catch up with the latest daily "Thailand News Today" here on The Thaiger.
Keep in contact with The Thaiger by following our
Facebook page
.
Never miss out on future posts by
following The Thaiger
.
Bangkok heist nets gold ornaments valued at 5.6 million baht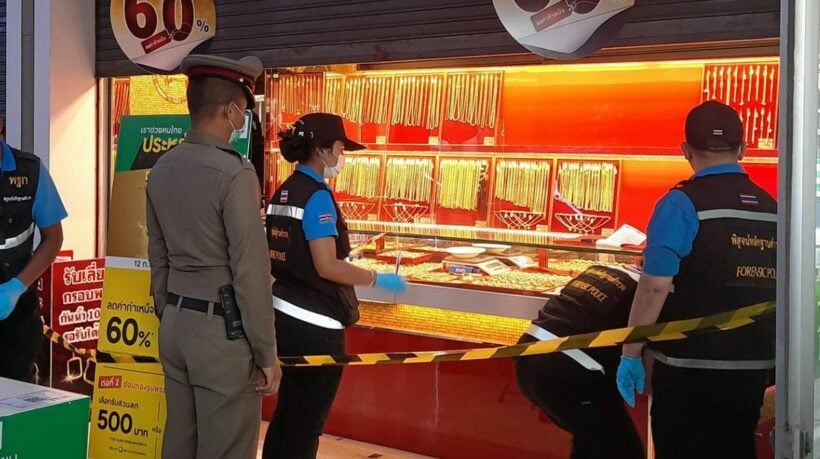 Police are searching for a man who allegedly robbed a Bangkok gold shop at gunpoint, stealing gold ornaments valued around 5.6 million baht. The man allegedly pointed a gun at employees, forcing them to hand over 3 trays of gold ornaments.
The Yaowarat Krungthep shop is located at the entrance of Tesco Lotus in Bangkok's Lat Phrao district. Since the shop is near the building's entrance, it was easy for the alleged robber to escape and drive off on a motorcycle, according to Chokechai police.
The selling price for the gold ornaments are 28,350 per piece, according to the Gold Traders Association. Altogether, it's estimated the alleged robber ran off with about 5.6 million baht worth of gold.
Police are reviewing the shop's surveillance camera footage as well as video from outside the Tesco Lotus and nearby roads. Deputy police chief Suchart Theerasawat says they have a lead on the suspected robber, but are fact checking evidence before making an arrest.
SOURCE: Bangkok Post
Catch up with the latest daily "Thailand News Today" here on The Thaiger.
Keep in contact with The Thaiger by following our
Facebook page
.
Never miss out on future posts by
following The Thaiger
.
Van passengers hospitalised after gas leak on the way to Roi Et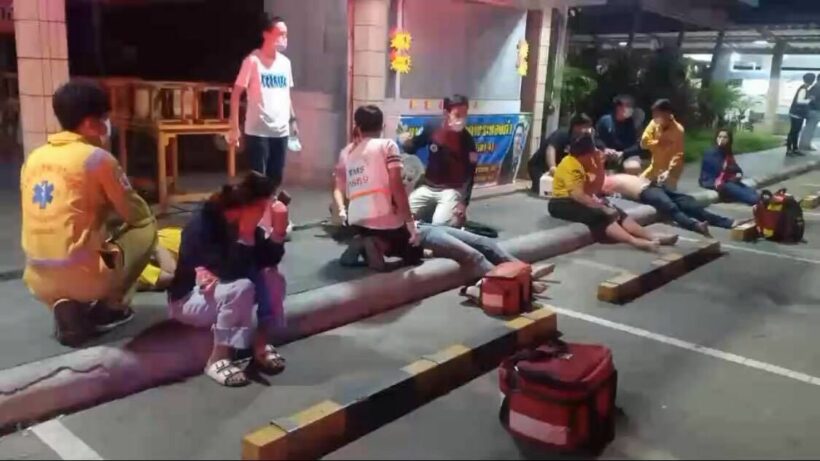 Passengers in a van leaving from Bangkok ended up in the hospital after a gas leak went unnoticed. Many passengers began to feel dizzy and nauseous. Some had difficultly breathing before falling unconscious. Some passengers were even found foaming at the mouth.
The 34 year old driver, identified as Jakpong, was hired to drive the passengers from Bangkok to the Roi Et province in Thailand's north east. He says he started noticing a burning smell when passing through Ayutthaya, just north of Bangkok. Jakpong stopped briefly at a gas station, but then continued to drive. A passenger started feeling nauseous and asked to stop again.
When the van stopped again at Nakhon Ratchasima's Pak Chong District, the passenger who complained of nausea fainted while walking to the restroom. Other passengers tried to stand up, but some also fainted.
The petrol station attendants called emergency responders to attend to the van full of sick people. All 9 people in the van were sent to Chong Nana Hospital. A doctor from the hospital says some passengers report they had difficulty breathing and dizziness before falling unconscious. Some were found foaming at the mouth.
The driver told emergency responders that he was only slightly dizzy. The driver says he had no idea there was a gas leak. Police are still investigating.
SOURCE: Thai Residents
Catch up with the latest daily "Thailand News Today" here on The Thaiger.
Keep in contact with The Thaiger by following our
Facebook page
.
Never miss out on future posts by
following The Thaiger
.