Highlights trận Mallorca vs Barcelona: Thắng tưng bừng ngày La Liga tái xuất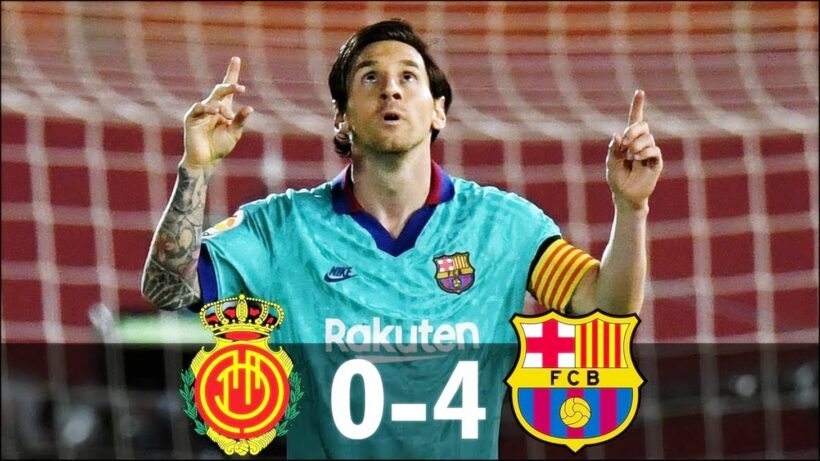 Ở trận đấu giữa Mallorca với Barcelona thuộc vòng 28 La Liga diễn ra rạng sáng nay, Lionel Messi góp bàn ấn định chiến thắng 4-0 cho Barca trên sân khách Iberostar.
Trở lại thi đấu sau ba tháng nghỉ chống dịch, Barcelona cho thấy họ vẫn sung sức và sắc bén. Bằng chứng là đội khách chỉ mất hai phút để làm tung lưới Mallorca. Sau khi nhận quả tạt từ Jordi Alba, Arturo Vidal băng vào đúng tầm đánh đầu hạ gục thủ môn Manolo Reina.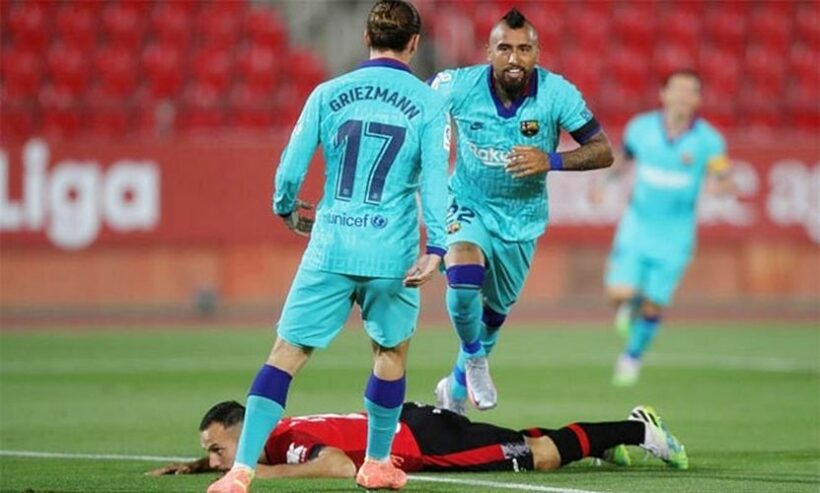 Đã có bàn thắng mở tỷ số sớm nên Barca thi đấu khá ung dung, nhưng không vì thế mà Messi cùng đồng đội có chút lơ là. Họ vẫn thi đấu vững vàng dù không quá áp đảo.
Bàn thắng thứ hai của Barca là minh chứng rõ nhất cho sự khác biệt về đẳng cấp giữa hai bên. Sau khi đoạt bóng giữa sân, Messi chỉ cần một đường chọc khe đơn giản để Alba băng xuống cánh trái, trước khi chính anh băng vào đánh đầu dọn cỗ cho Martin Braithwaite. Có bóng trong khoảng không gian trống trải, tiền đạo người Đan Mạch dễ dàng sút vào giữa khung thành khiến thủ môn đội chủ nhà phải ngậm ngùi vào nhặt bóng.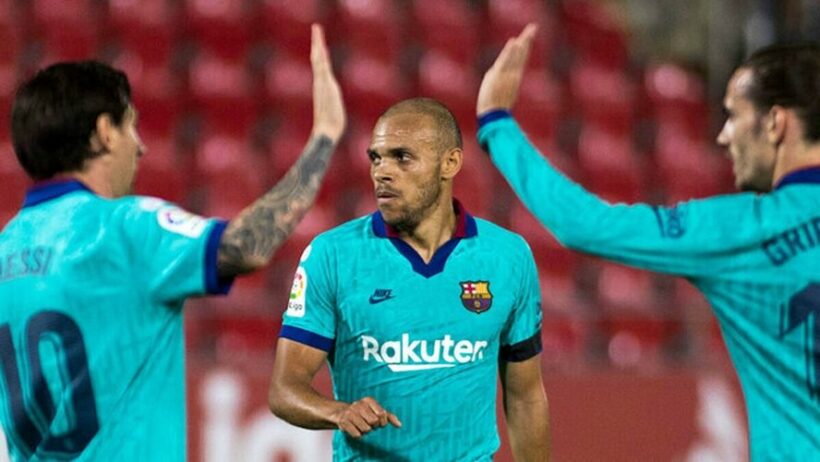 Braithwaite (giữa) chứng minh giá trị với Barca.
Khoảng thời gian giữa trận, một sự cố "bất đắc dĩ" xảy ra. Ở phút thứ 53, dù sân đóng cửa với khán giả, bất ngờ có 1 nam thanh niên mặc áo số 10 của ĐT Argentina đã lẻn vào sân rồi giơ điện thoại chụp ảnh selfie với Jordi Alba. Sau đó, anh chàng này còn ngang nhiên chạy ngang sân để cố gắng selfie thêm với Lionel Messi. Rất nhanh chóng, các nhân viên bảo vệ đã vào sân và tóm gọn CĐV quá khích này để đưa anh rời sân.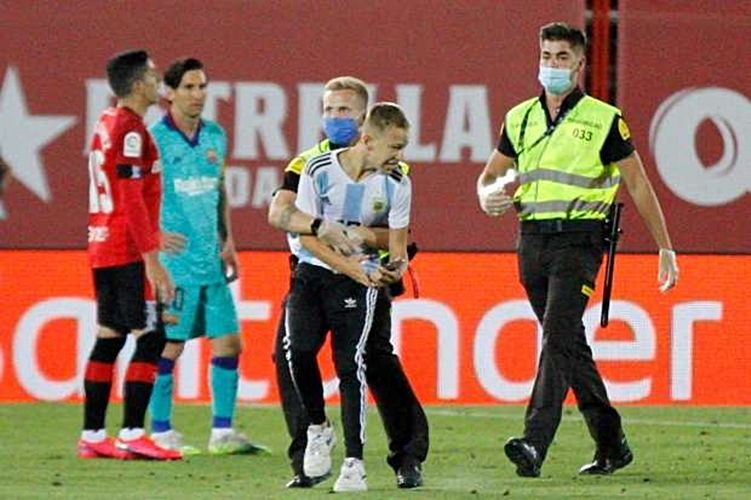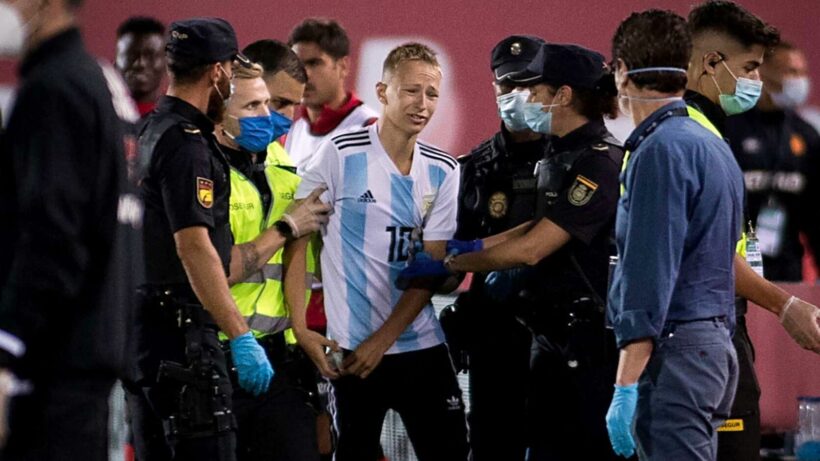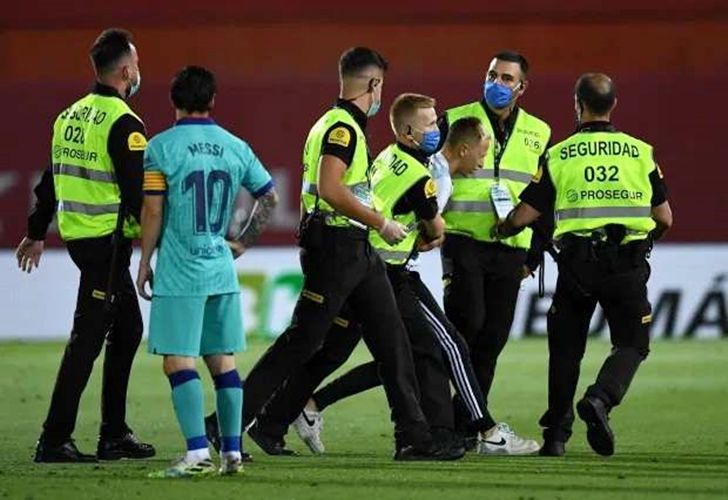 Anh chàng CĐV quá khích mếu máo khi bị "tống cổ" ra khỏi sân.
Suarez vào sân từ phút 57 thay Griezmann, ngay lập tức cho thấy rõ đóng góp hiệu quả qua những pha phối hợp với Messi. Cặp bài trùng thường xuyên uy hiếp khung thành Mallorca. Sự ăn ý giữa họ cũng giúp những vệ tinh xung quanh, như Braithwaite, Alba, Ronald Araujo, có thêm cơ hội dứt điểm.
Mặc dù đã rất nỗ lực nhưng Mallorca không thể chống cự lại một Barca quá sắc bén và mạnh mẽ. Đội khách lần lượt ghi thêm 2 bàn ở phút 79 bởi Alba và ở phút bù giờ thứ 3 bởi Messi, đây cũng là bàn thắng ấn định chiến thắng 4-0 cho Barcelona.
Với 1 bàn thắng và 2 đường kiến tạo, Messi đã đánh đấu ngày trở lại hoàn hảo cho Barca với chiến thắng chung cuộc 4-0. Nhà đương kim vô địch vượt lên trên năm điểm so với Real Madrid, đội sẽ tiếp Eibar trong trận đấu tối 14/6.
Tỷ số chung cuộc: Mallorca 0-4 Barcelona
Ghi bàn: Vidal 2′, Braithwaite 37′, Alba 79′, Messi 90'+3
Đội hình thi đấu:
Mallorca: Reina (c), Sastre (Gámez, 45), Raíllo, Valjent, Pozo, Pedraza (Baba, 56′), Dani Rodríguez, Salva Sevilla (Salibur, 84′) Kubo, Cucho Hernández (Lago Junior, 45′) and Budimir (Abdón Prats, 84′).
Barca: Ter Stegen, Sergi Roberto (Semedo, 71′), Piqué, Araujo, Jordi Alba, Busquets (Arthur, 71′), Arturo Vidal (Rakitic, 45′), De Jong (Junior, 85′) Messi, Griezmann (Luis Suárez, 56 ') and Braithwaite.
Nguồn: VnExpress

Join the conversation and have your say on Thailand news published on The Thaiger.
Thaiger Talk is our new Thaiger Community where you can join the discussion on everything happening in Thailand right now.
Please note that articles are not posted to the forum instantly and can take up to 20 min before being visible. Click for more information and the Thaiger Talk Guidelines.