Suphan Buri Governor believes kidnapping probably the motive – missing two year old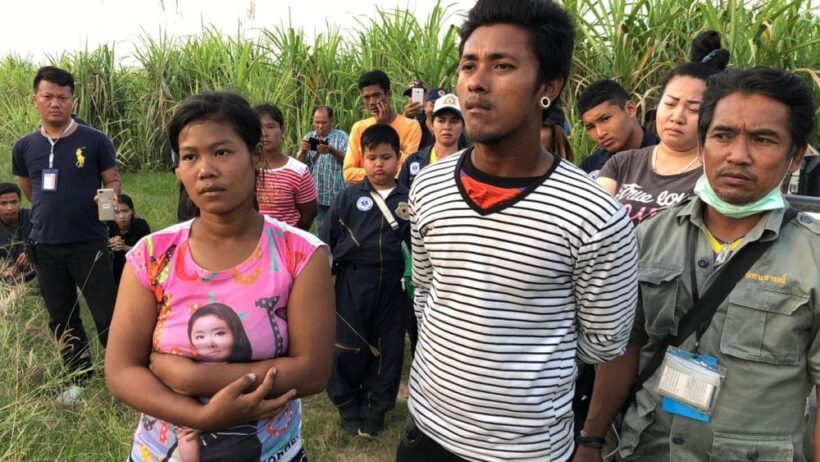 by Wattanapol Matcha
Suphan Buri Governor Nimit Wanchaithanawong has opened up with his personal reflections on the ongoing search saying that he suspected the two year old Burmese boy missing since last Monday was likely kidnapped. Suphan Buri is just north-west of Bangkok.
The Governor say he believes the boy has been taken out of the area after a search mission involving 300 people through a 200 rai plantation over the weekend returned empty-handed.
The missing boy, Sului Piew, was walking in Suwanwat Moo 9 village in tambon Sa Phang Lan of U-Thong district with his three year old sister eight days ago.
She has told police that a man took her brother by the hand and led him away. Nimit, who presided over today's meeting of agencies that took part in the search mission, said officials and volunteers had searched the 200-rai plantation, a 1,000-rai nearby area and also scoured five local ponds.
So, it was likely the boy was not in the area anymore.
As the boy was said to have been led away by a man, Nimit said police would focus on kidnapping as a motive.
"Tomorrow (Tuesday), we'll move the operation centre from the plantation to the Sa Yai Som Police Station so the precinct superintendent and U-Thong district chief can interview people again in the kidnapping motive probe," he said.

STORY: The Nation
หึงโหด! ผัวเก่ายิงผัวใหม่ของเมียเก่าแล้วยิงตัวตายตาม ผัวใหม่เคราะห์ดีแกล้งตาย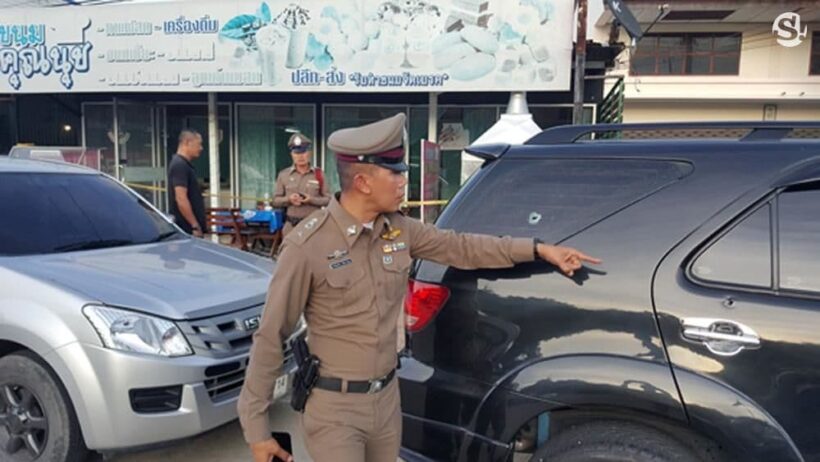 เมื่อเช้าวันนี้ (4 มิ.ย.) เกิดเหตุชายอายุ 52 ปี นายมานะ เหมือนแก้ว ยิงขมับฆ่าตัวตายข้างเมรุวัดแสวงหา จ.อ่างทอง หลังบุกยิงนายบุญส่ง พงษ์ประเสริฐ อายุ 43 ปี เลขาธิการนายก อบต.วังน้ำเย็น ที่จ.สุพรรณบุรี ซึ่งเป็นแฟนใหม่ของภรรยาเก่าคือน.ส.กฤษดาพร อายุ 39 ปี
โดยที่เกิดเหตุบุกยิงเป็นร้านขนม ริมถนนสายชัยนาท-สุพรรณบุรี ภายในร้านพบปลอกกระสุนปืนขนาด 11 มม. ตกกระจายเกลื่อนทั้งในร้าน พื้นถนนหน้าร้าน และในกระบะท้ายรถอีซูซุหน้าร้าน อีก 1 ปลอก
น.ส.กฤษดาพร ให้การว่า คนร้ายที่ก่อเหตุเป็นอดีตสามีเก่า มีลูกด้วยกัน 2 คน และเคยร่วมกันทำมาหากินค้าขายสินค้าโอทอป แต่หลังๆ มาสามีเก่าไม่ช่วยงานและทะเลาะกันบ่อย ตนทนไม่ไหวจึงขอเลิก และเมื่อ 1 เดือนที่ผ่านมาก็ได้ลงบันทึกประจำวันไว้ว่าจะไม่ยุ่งเกี่ยวกันอีก แต่สามีเก่าก็ยังไม่ลดละและขู่จะฆ่าตนและลูกชาย ตนจึงได้แจ้งความไว้อีกรอบ
ด้านนายบุญส่ง เล่าว่า ตนเคยเห็นสามีเก่าของฝ่ายหญิง แต่ไม่คิดว่าจะหมายเอาชีวิตตน ขณะเกิดเหตุตนและญาติๆ มาช่วยฝ่ายหญิงขนของเข้าร้าน ทันใดนั้น คนร้ายซึ่งตนจำได้ว่าเป็นสามีเก่า ขับรถกระบะมาด้วยความเร็วแล้วจอดหน้าร้าน จากนั้นคนร้ายได้เปิดประตูรถ ชักอาวุธปืนขึ้นมาหันปากกระบอกปืนมาที่ตนพร้อมลั่นไกทันที โชคดีที่ตนหลบได้ทัน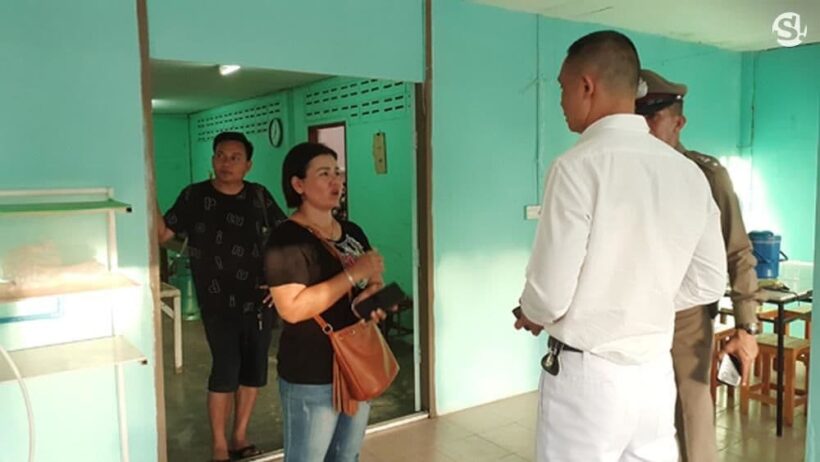 ตนหนีไปในโรงกลึงข้างร้าน ขณะที่คนร้ายวิ่งตามมาและกระหน่ำยิงอีกหลายนัด เมื่อไม่มีทางหนีจึงแกล้งตาย เมื่อคนร้ายเห็นตนแน่นิ่งไปก็ยืนดูผลงานก่อนจะวิ่งกลับออกไปหน้าร้าน และใช้ปืนยิงรถของตนอีกสองนัด จากนั้นก็หลบหนีไป
ขณะที่ ที่จ.อ่างทอง ตำรวจพบศพนายมานะอยู่ในรถที่เบาะคนขับ มีบาดแผลถูกยิงจากขมับขวาทะลุขมับซ้าย โดยมีปืนพกขนาด 11 มม.ตกอยู่ในรถ ที่ประตูรถด้านซ้ายมีรอยถูกกระสุนทะลุ และพบหัวกระสุน 1 หัว ตกอยู่ห่างจากรถประมาณ 15 เมตร
หลังเกิดเหตุบุกยิง ตำรวจจากจ.สุพรรณบุรีได้ขออนุมัติหมายจับนายมานะ ลงวันที่ 3 มิ.ย. แต่นายมานะที่ไม่ทราบว่าเหยื่อแกล้งตาย ไปหลบหนีไปที่ข้างเมรุวัดดังกล่าวในช่วงดึกของวันเดียวกัน และยิงตัวตายในเวลาต่อมา
ขอบคุณเนื้อหาจาก ไทยรัฐออนไลน์ และ Sanook
ขอบคุณภาพจาก Sanook
ขอบคุณวีดิโอจาก Sanook
Thai teenager dies in Tokyo after mother appealed for help to find missing son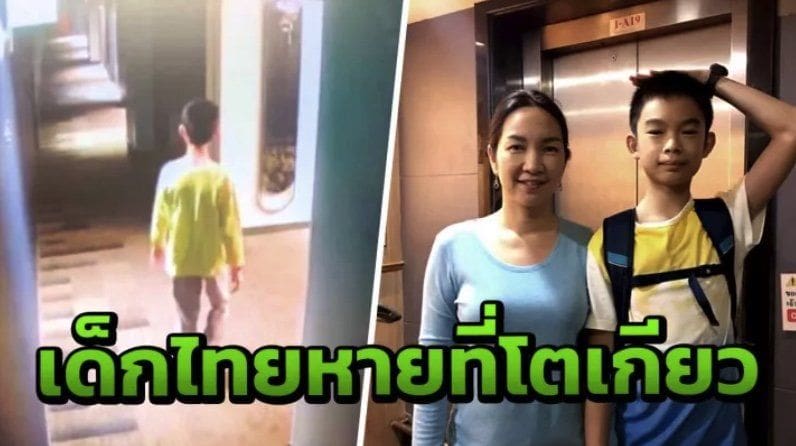 PHOTO MONTAGE: Thai Rath
A teenage Thai boy has died mysteriously in Tokyo following an unspecified accident.
Only yesterday, Yuwajitra Watchara-arpa appealed for assistance after her 14 year old son went missing from a downtown Tokyo hotel last Monday night.
Leading up to the discovery of his body, the last time Thian Sukhanonsawat was seen was on CCTV as he walked towards a lift at the Mercure Tokyo Ginza hotel.
The family had arrived on Monday at 2pm to check in. His family say he was wearing night clothes and hotel slippers when he apparently took the lift.  The family said he left with no jacket, no money and no phone.
Police used sniffer dogs but to no avail. There are no further details about the accident and death of the Thai teenager.
SOURCE: Thai Rath | Facebook.com
รักต้องฆ่า หนุ่มบุกยิงหัวแฟนเก่าตายคาที่ ก่อนยิงตัวตายตาม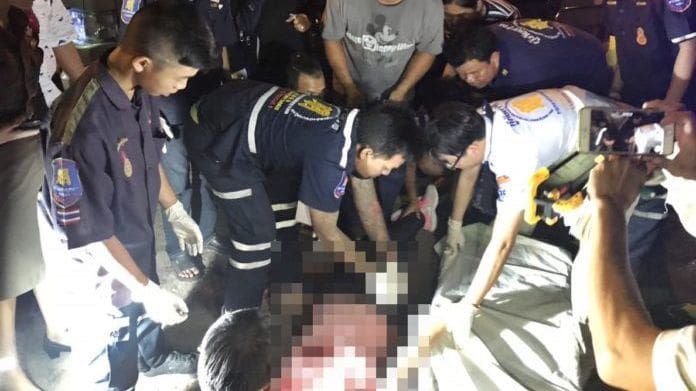 เมื่อเวลา 18.00 น. ของวันที่ 14 ม.ค. เจ้าหน้าที่ตำรวจเมืองระยองรับแจ้งเหตุคนร้ายใช้อาวุธปืนยิงกัน มีผู้เสียชีวิตและบาดเจ็บ บริเวณหน้าสำนักงานบริษัทวอเตอร์ ดอกเตอร์ จำกัด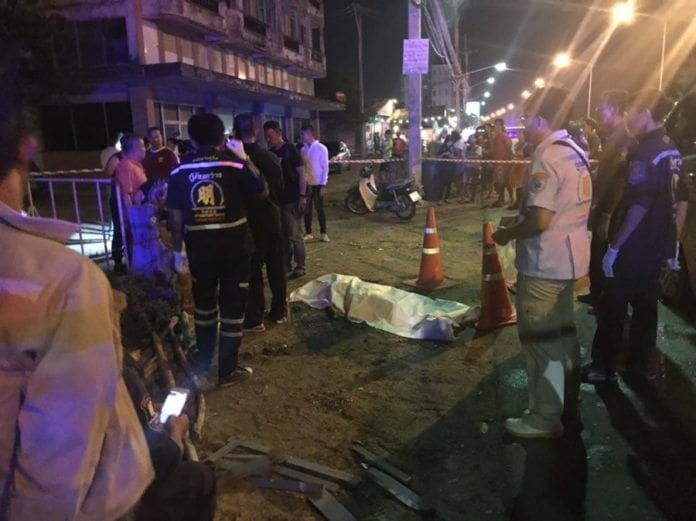 ที่เกิดเหตุพบรถเก๋งยี่ห้อนิสสัน เซฟิโร่ สีดำชนเสาไฟฟ้าริมถนนและมีรอยกระสุนที่กระจกด้านคนขับสองรูและที่ประตูรถ ห่างออกไปไม่ไกล พบศพผู้หญิงหงายจมกองเลือด มีบาดแผลถูกยิงเข้าที่ขมับซ้าย 1 นัด หน้าอก 1 นัด และขาขวา 1 นัด ใกล้กันพบร่างของชายนอนหายใจรวยริน มีบาดแผลถูกยิงเข้าที่ศีรษะด้านขวา มีอาวุธปืนขนาด 9 มม.ตกอยู่ใกล้กัน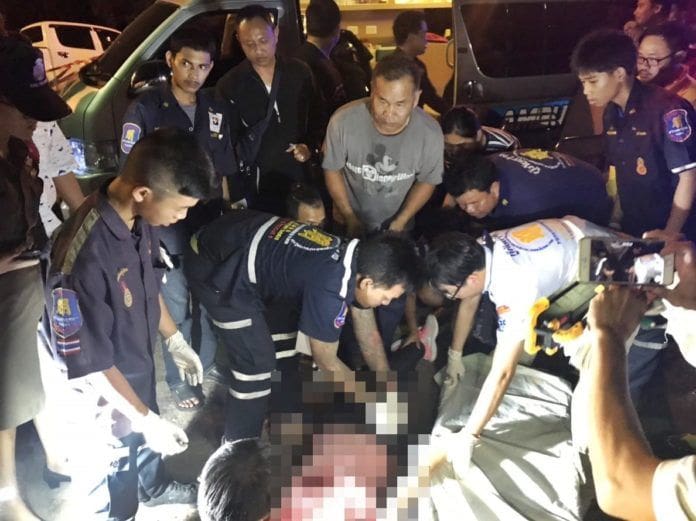 สอบสวนทราบว่า ทั้งคู่เป็นเเฟนเก่าที่เลิกรากันมานานแล้ว แต่ฝายชายยังราวีไม่เลิก จนนำไปสู่การก่อเหตุยิงหญิงสาวจนเสียชีวิต ก่อนยิงตัวตายตามแต่ไม่สำเร็จ ล่าสุดนอนอยู่ในห้องไอซียู โรงพยาบาลระยอง
รายละเอียดเพิ่มเติม : khaosod.co.th