Over 400 flights affected after THAI Jumbo skidded off runway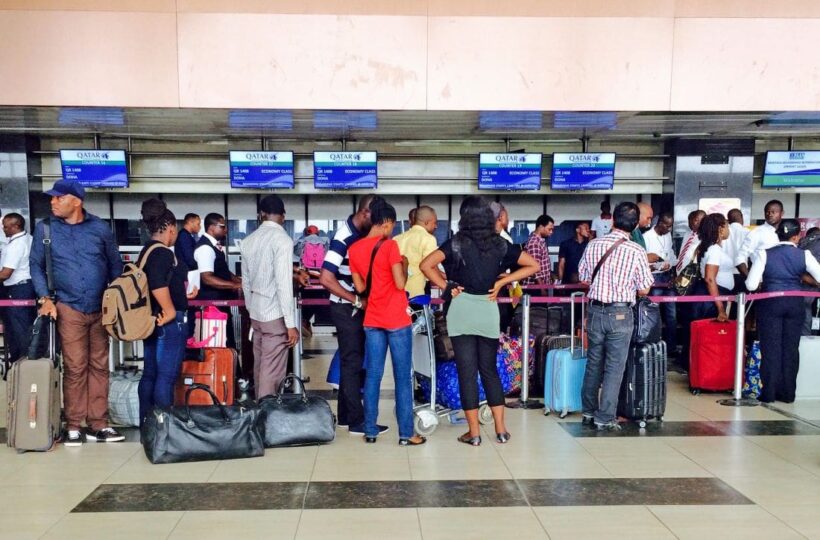 In the wake of Monday's slip-sliding Jumbo that ended up in the grass verge after skidding off the main runway at Suvarnabhumi, it's been revealed that the wayward Thai Airways 747-400 delayed 448 arriving or departing flights.
The plane ended up with some of its wheels submerged in the soft grass.
Transport Minister Arkhom Termpittayapaisit says that the western runway ended up out of service from 12.30am to5 pm after Thai Airways International's flight TG 679 inbound from Guangzhou, southern China, skidded off the runway and its left-side wheels got stuck. It was raining heavily at the time.
He said the temporary close of the western runway left the eastern runway the only runway still operating. The troubled runway was reopened at around 4 pm after mechanics succeeded in moving the plane out of the runway space.
The delayed flights included 179 incoming flights which were forced to stay airborne for some time before they could finally land and another 264 flights departing from the airport. Five flights were diverted to secondary airports.
At this stage no official word from Thai Airways about how the plane ended up off the runway.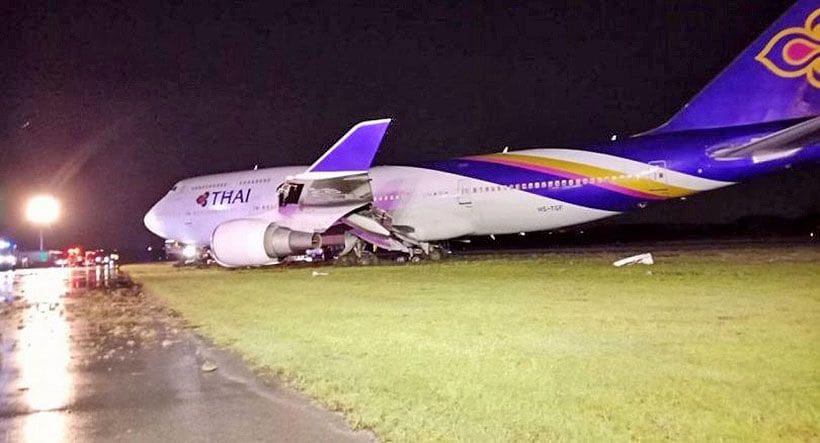 Looking to jettison some items before jetsetting away or chartering a yacht? Look no further than Thaiger Classifieds where you can find and post items, work, property and more for free.

Read more headlines, reports & breaking news in Bangkok. Or catch up on your Thailand news.

Chinese charged over test-taking scam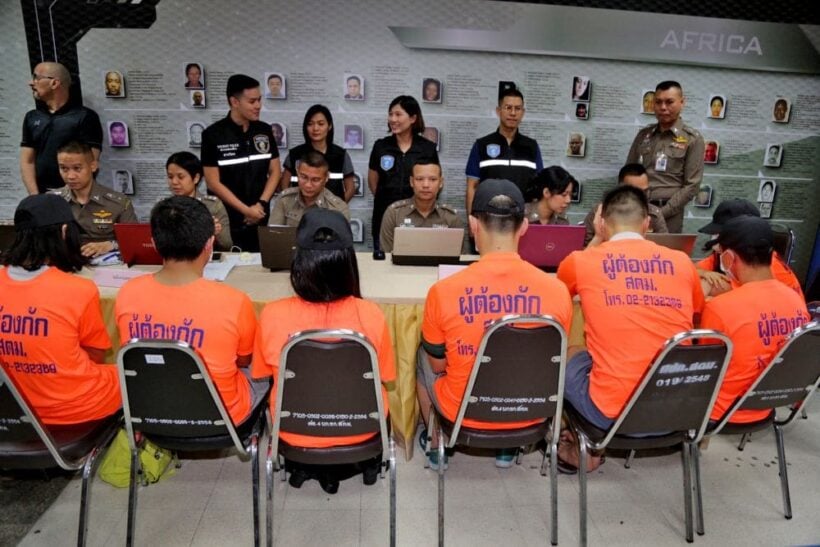 by Khanathit Srihirundaj
A scam of a different kind has been uncovered today. In this case no one was being harmed but the system was being cheated.
The Nation reports that Thai police have arrested seven Chinese who were allegedly hired to take ACT (American College Testing) exams on behalf of other test-takers who wanted good results in order to apply to study in the United States.
The first batch of five suspects – Chinese nationals between the ages of 29 and 33 – were arrested on Friday afternoon at the ACT examination site at Mahidol University's Salaya Campus in Nakhon Pathom.
The five suspects reportedly confessed to police that they had been hired to take the ACT exams on behalf of the real applicants for between 10,000 and 20,000 yuan (about 47,500-95,000 baht) per person.
They said a China-based agency had helped coordinate with the customers and arranged for their accommodation, travel expenses and fake passports – containing the real applicants' details, but with the suspects' photos – to undertake the task.
They were to get good results in the exam, discard the fake passports and travel back to their home countries, police quoted them as saying.
The second batch of two suspects – Chinese nationals 28 year old He Liu and 39 year old Huang Xiofan were arrested on Saturday at the ACT examination site at NIST International School in Bangkok's Watthana district.
Police also found that Liu was carrying eight fake passports, and he reportedly confessed to having previously taken exams for hire in various countries, including the Philippines, Malaysia and Vietnam.
The seven suspects, whose Thai visas have been revoked, were all charged with using forged passports, while Liu faces the additional charge of having fake passports in his possession for the purpose of selling them, Surachate said.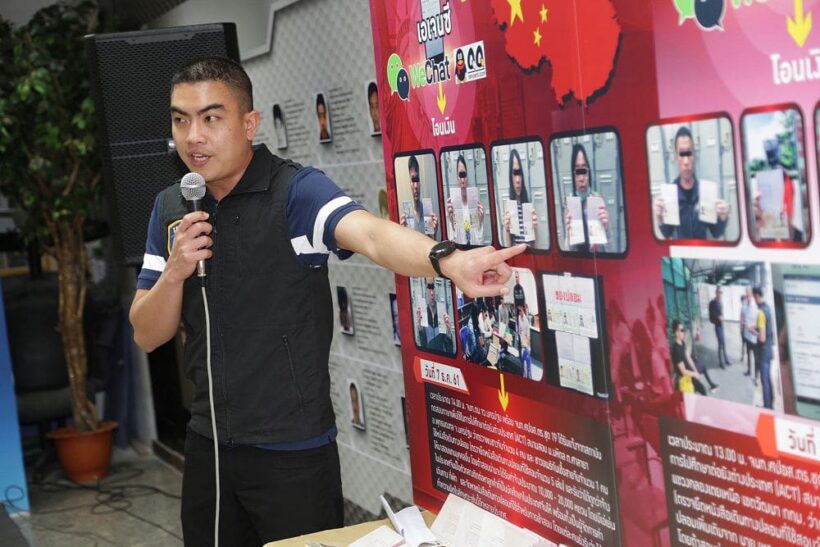 STORY: The Nation
Top 10 most popular Asian cities 2018 – Agoda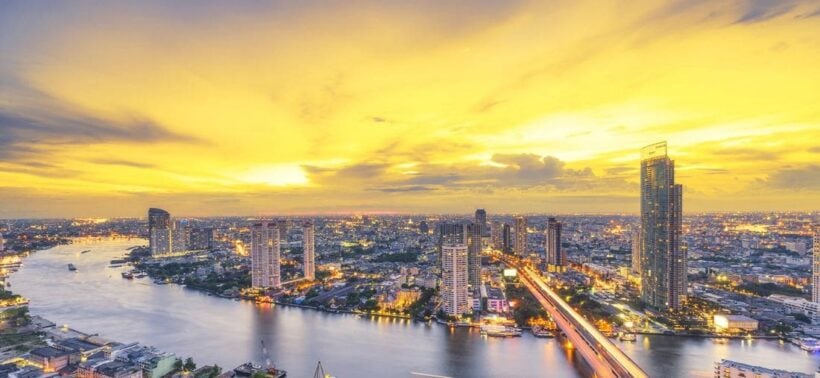 Bangkok ranks on top of the list of most-visited Asian city tourist destination for 2018. This is from Agoda, a fast-growing online travel booking platform. With millions of online bookings each year they have the data to back up their findings.
Other cities in the top 10 include Tokyo, Kuala Lumpor, Hong Kong, Osaka, Taipei, Seoul, Singapore, Bali and Pattaya.
Agoda says both Thai and foreign tourists would normally lodge in Bangkok for a night or more before continuing to the other destinations.
Agoda also reported that Thailand was placed second after Japan among Asian countries most visited by tourists because of the country's rich cultural and historical tourist attractions, clean beaches and world-class cuisine.
The 10 most popular cities among Thai tourists are Bangkok, Pattaya, Chiang Mai, Hua Hin, Phuket, Tokyo, Khao Yai, Chon Buri, Krabi and Chiang Rai.
The most-favoured country for sight-seeing among Thai tourists is Japan followed by Singapore.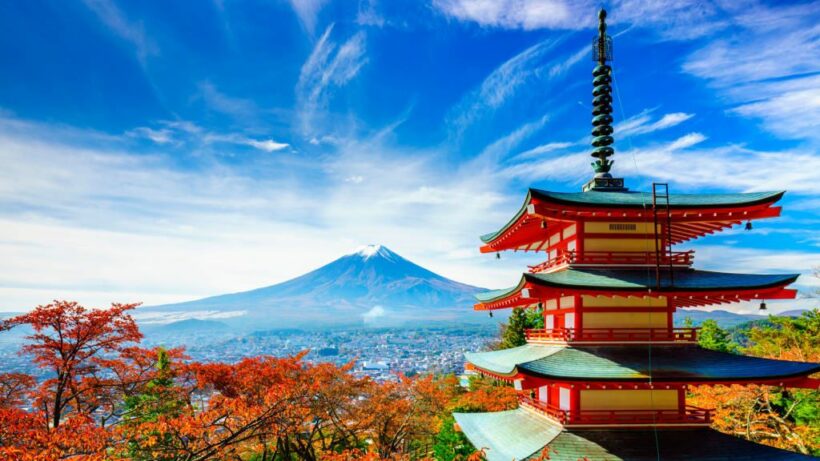 Two foreigners arrested over cannabis oil raid in BKK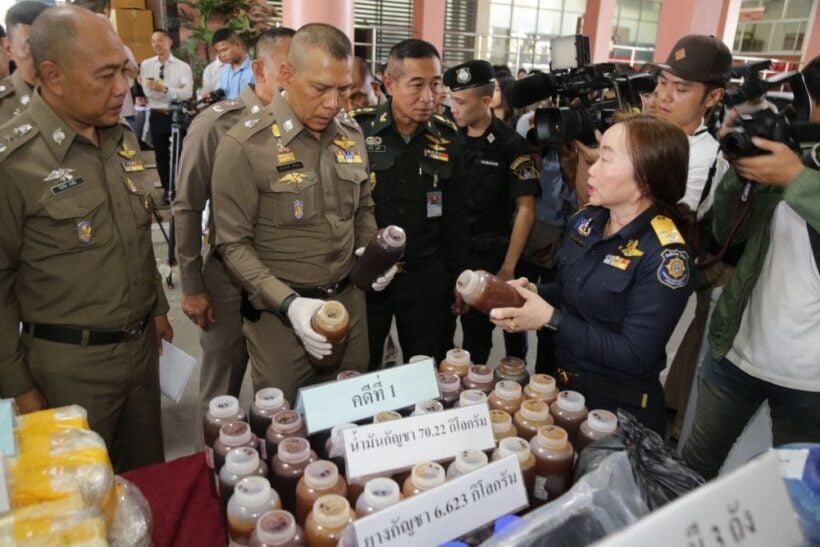 PHOTO: The Nation
A Canadian, a Brit and two Thais were arrested last week following a drug raid in Bangkok.
67 year old David Kulik from Canada was arrested last Monday in Chon Buri alongside 64 year old Brit, Joseph Toole.
The Thai Narcotics Suppression Division raided the warehouse in the Bang Phli area of Samut Prakan, south of Bangkok, which they say they operated for over a year producing cannabis oil.
During the bust Police seized 70 kilograms of oil and 6.6 kilograms of cannabis resin.
The cannabis was smuggled from Laos to the warehouse in southern Bangkok, where after having been processed into oil, was then exported to Belgium and other European countries.
Police claim that it was Joseph Toole, a former doctor, who was in charge of the oil production while Kulik helped finance the operation.  They also believe that it is a Japanese national who heads the operation.
SOURCE: ThaiVisa