Great southern comforts – Narathiwat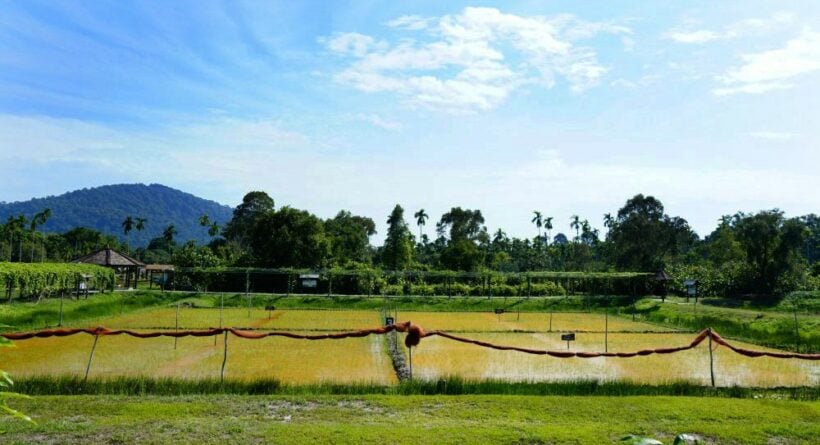 by Pattarawadee Saengmanee
The southern province of Narathiwat is a great place to chill, unspoilt by mass tourism and full of southern surprises. Narathiwat shares a border with Malaysia.
A stone's throw from the Narathiwat airport are the white sands of Ban Ton Beach where I stretch out while my media friends tuck into a Southern-style lunch in Chulabhorn marine camp's Sala Koei Had restaurant. Trepidation at being smack in one of the three southernmost provinces in Thailand where violence has been part of life for more than a decade prevented me for joining them but the tension seeps away as I fall under the charm of the local life and calm beach vibes.
The fishing village of Ban Ton is famous for creating colourfully painted traditional korlae boats in an interesting mix of Thai, Malay and Javanese styles. Veteran craftsman Ahama Salae, 51, has been building the boats for 37 years and beams happily as he welcomes us to his dock to explain the basics of carpentry.
Using takhian sai wood (Shorea gratissima) to ensure durability, Bae Ahama has adapted the designs to resemble a Thai-style long boat so that a fisherman can easily pull his boat up onto shore. The bow and stern are higher than the hull and can hold two to five tons of goods.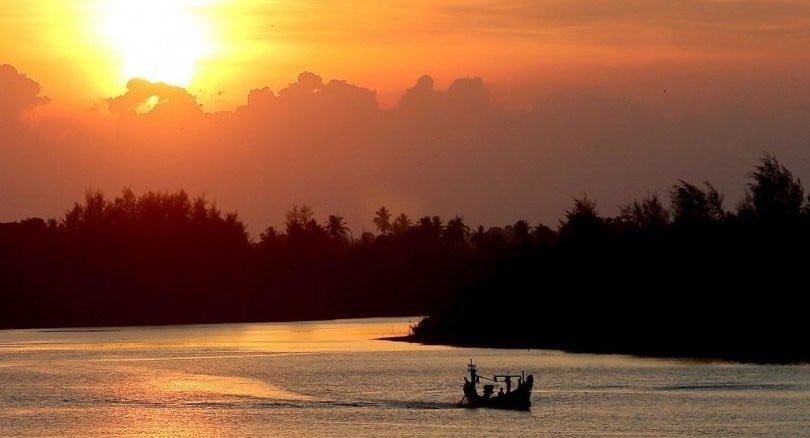 "Our young generations are no longer interested in this career so I'm the only korlae boat builder in the village now. I have 10 customised orders on my waiting list and I reckon it will take me about three years to finish the work. The prices start from 400,000 baht including materials and painting," says Bae Ahama, who also serves as village head.
Korlae boats come in lengths of six to 12 metres and are real workhorses, lasting for seven to 30 years. Bae Ahama says he fumigates all the wood to soften the texture before shaping the pieces into the structure of the boat.
"I use special glue made from amber, chopped hemp sacks and coconut residue to connect all the pieces of wood to give the boat a seamless look. I spend four to eight months creating each vessel based on size and patterns, which I design to suit each customer."
A short distance from the deck is the house-cum-gallery of artisan Horsee Binda-oh, who crafts model korlae boats ranging in size from 12 centimetres to 2.5 metres and is also happy to show how it's done. Prices start from 500 baht.
"We use santal wood to produce miniature boats because it's durable and resistant to termites while the oars are made of bamboo. The design is the same regardless of the size of the model but it's the colours that catch the eye. They're painted with unique Javanese Yawo motifs as well as traditional and contemporary Thai graphics," Bae Horsee says.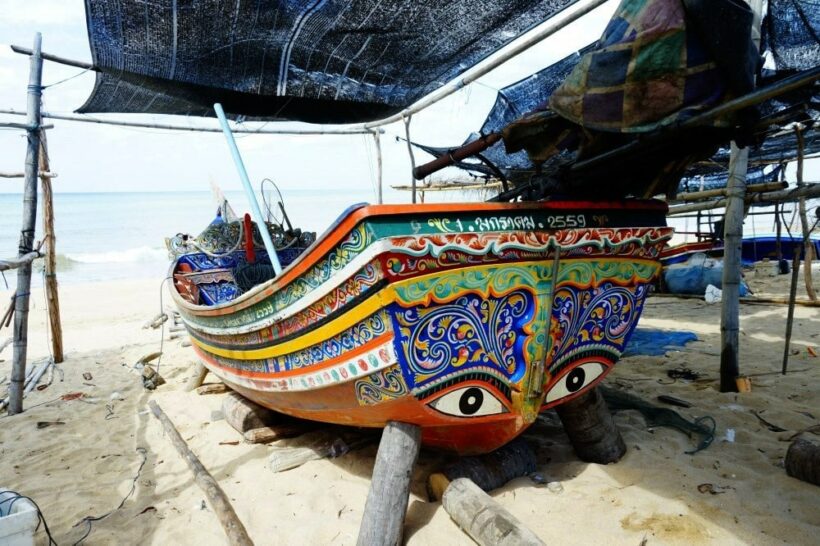 We are reminded of Narathiwat's history of violence by the multitude of checkpoints manned by armed soldiers as we make the one-hour journey along Highway 4084 to Tak Bai district. It's home to the popular Pa Eng shop, which offers a selection of top-quality fragrant, salted fourfinger threadfin and is run by Prasit, the second generation of the Chaikitwattana family.
Considered as the king of salted fish, Tak Bai's fourfinger threadfin make their home in the rich mud at the confluence of the Sungai Getting, Bangnara and Golok Rivers. The price starts at 1,600 baht per kilogram.
"Salted fourfinger threadfin fish is a popular Chinese delicacy that tastes great with both steamed and boiled rice. My mother always used her special recipe to cook the salted fish for our family and friends and it became so popular that she set up her own shop," Prasit says.
After a thorough wash and removal of the offal, the fish is fermented in quality sea salt from Pattani for two nights. Prasit spends two or three weeks drying them in a net dome to protect them from flies and other creatures.
"The secret technique is to thresh the fish with a bottle four or five times while they're drying to make them tender. We pick only fish measuring about 40 to 60 cm or weighing around 800 grams."
We cross the Tak Bai River by the way of the iconic 345-metre-long Koi Roi Pee Bridge, a popular place to watch the sunset, and learn that the original one was built with wood to transport villagers from the mainland to Koh Yao.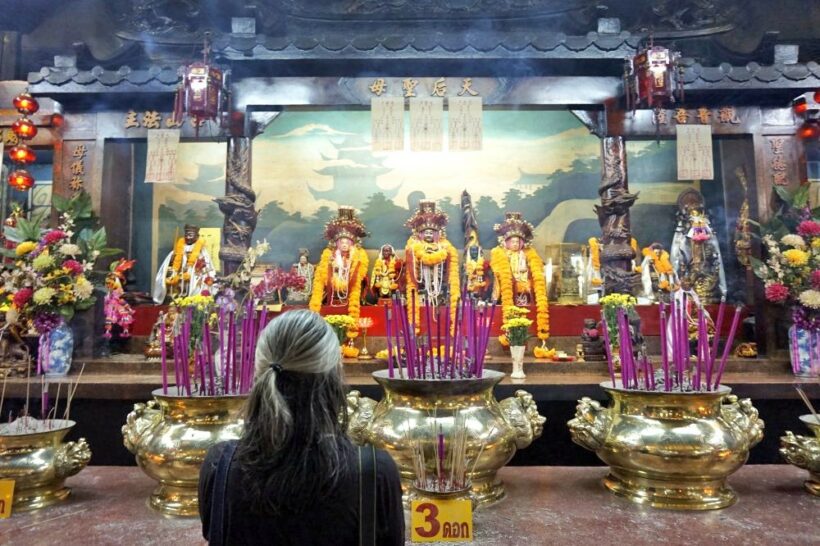 Spread over nine km, the island houses a Muslim fishing community and a giant Thai flag flutters in the breeze indicating the border of Thailand and Malaysia. As we go further into the island, we're greeted by friendly young residents and spot a herd of goats munching contentedly on the pastureland. It's a far cry from the Narathiwat that so often makes the news.
In Su-ngai Kolok district, the highly revered To Mo Shrine is crowded with local residents and pilgrims from Malaysia and Singapore, all of them asking the gods for fortune, business success and good health. Built in 1952, it houses a carved wooden statue of the Goddess of the Ocean along with her old joss stick pot that was moved from the original shrine on To Mo Mountain after World War II, as well as sculptures of other Chinese deities.
The next day starts with a Southern-Chinese-style breakfast of bak kut teh with deep-fried doughsticks and dim sum, hot coffee and Thai tea.
Tummies full, we head to the Pikunthong Royal Development Study Centre in Kaluwo Nuea district and learn about His Majesty the late King Bhumibol Adulyadej's soil aggravation project. Stretching over a 1,740-rai plot of land, the centre was established in 1982 and offers visitors a free 40-minute farm tour conducted by specialists.
Lush with towering local plants, it bills itself as a living museum featuring massive rice fields and demonstration plantations of Nam Hom coconuts, durians, 36 kinds of bananas, palms, citrus tangerines, Hom Kradang-nga rice and torch ginger flowers.
"Acid soil covers 1.7 million-rai of land around Thailand and 40 per cent is in the South. Some 900,00 rai have been developed already. Our centre conducts research to help local farms boost their output of agricultural products like Pattalung and Hom Kradang-nga rice," says specialist Anurak Buaklekly.
"Her Royal Highness Princess Maha Chakri Sirindhorn has also set up a botanical garden to research and interbreed 60 kinds of purple plants and flowers as well as economic crops like paco, cucumber, Chinese kale and pak choi."
Visitors can walk along a long bridge to explore the swamp forest and say hello to the very tame goats at the open farm or check out the soil museum that combines acid soils from around the country. There's also a unique collection of handicrafts, garments and home furnishings from a local community on show and for sale.
• Thai AirAsia and Thai Smile offer daily flights between Bangkok and Narathiwat.
• Pa Eng shop is in Jehhe Market, Tak Bai district and open daily from 8am to 5pm. Place an order by calling (073) 581 145.
• Pikunthong Royal Development Study Centre is in Kaluwo Nuea district. Admission is free. Call (073) 631 033 or visit Pikunthong.com.a28.readyplanet.net
SOURCES: The Weekend Nation
Keep in contact with The Thaiger by following our
Facebook page
.


Looking to jettison some items before jetsetting away or chartering a yacht? Look no further than Thaiger Classifieds where you can find and post items, work, property and more for free. Be sure to check out YonderTours for things to do in Thailand and tours across the country.

Read more headlines, reports & breaking news in South Thailand. Or catch up on your Thailand news.

30 dolphins greet visitors to Similan Islands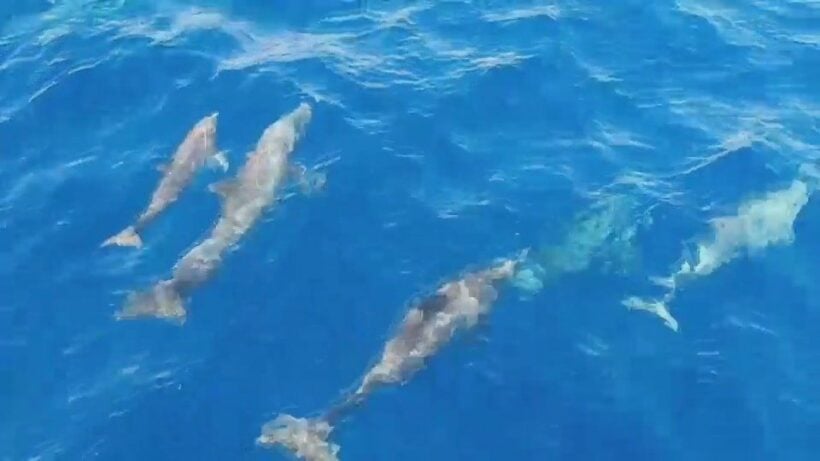 Tourists were treated to the sight of a school of dolphins in the Similan Islands off the Phang Nga coast on Sunday.
Tour organisers said that around 30 dolphins swam close to the boat six or seven miles offshore, creating excitement for passengers. It was the first time dolphins had been seen in the vicinity since October 15.
The Similan Islands National Park director said they were bottlenose dolphins and were among several species now returning to the area following a five-year closure of the park for environmental rehabilitation. Food is again plentiful there for them, he said.
Tourists are forbidden to feed wildlife lest the free handouts alter the animals' natural behaviour, and the park's waters are also very sensitive to contamination from human disease and marine debris, according to the director.
SOURCE: nationthailand.com
Keep in contact with The Thaiger by following our
Facebook page
.
Whale freed by drilling team in Gulf of Thailand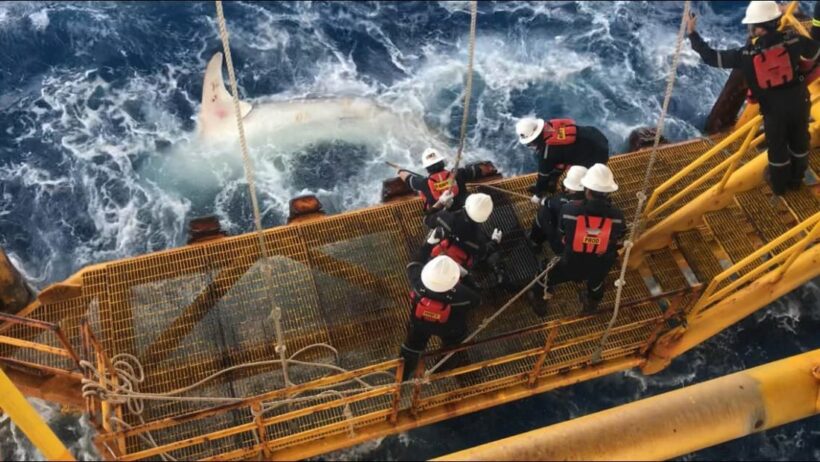 On Saturday six drilling team members at Erawan offshore field spent about 30 minutes cutting a rope tied to the tail of a Bryde's whale that apparently swam towards the structure seeking help, according to the Bangkok Post.
The rope was believed to have been tied to its tail by fishermen after the whale became trapped in a net, but the whale managed to escape, dragging the rope with it.
The rescue mission's account was posted on Facebook and drew widespread praise. "Thumbs up for you guys. It wasn't an easy job," one commentator wrote.
The platform is about 140 kilometres off the shore of Nakhon Si Thammarat province.
One worker, who filmed the operation, said it took place at 2pm on Saturday, and that all staff members were overjoyed to save the whale.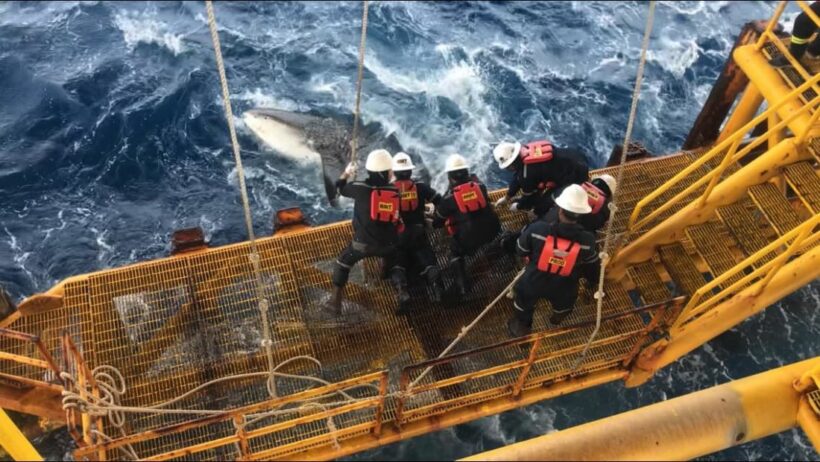 Photo: Nat Panupong Taps
Another staff at the platform said the whale was about five metres long and weighed 200 kilogrammes. The operation took around 30 minutes in rough seas before the team was finally able to cut the rope from the whale's tail, he added.
Bryde's whales have been sighted in many areas in the Gulf of Thailand, the latest one about two weeks ago off the central province of Prachuap Khirikhan. The Marine and Coastal Resources Department says the sightings indicate the richness of marine resources in the gulf.
In April, another drilling team from the same company rescued a stranded dog found at sea about 200 km from shore. The dog was later named Boonrod and adopted by a Chevron official working at the platform, who took the pet home with him to Khon Kaen province during his work leave.
SOURCE: bangkokpost.com
Keep in contact with The Thaiger by following our
Facebook page
.
Southern Thailand braces for rough weather and rain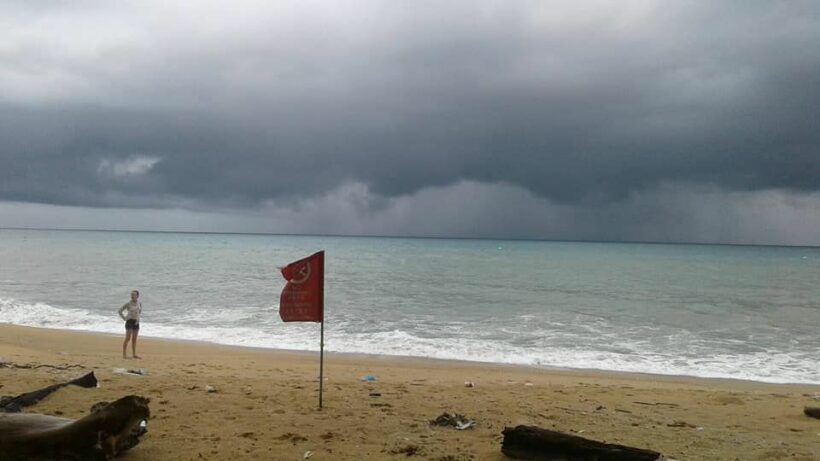 The Thailand Meteorological Department issued a weather warning for southern Thailand with torrential rain forecast to hit the region throughout the weekend. The heavy monsoon over the Gulf of Thailand and south of the country is being blamed for the rough weather, with the TMD predicting flash flooding in many areas.
(Phuket, Hat Yai and Hua Hin's forecast below)
"Waves are expected to reach 2 metres in height in the lower Gulf of Thailand and possibly higher at the height of the storm. Ships are advised to proceed with caution."
For the north and northeast of Thailand, the TMD forecasts strong winds and cooler mornings as the arrival of the "winter" season, coupled with a moderate high-pressure system, causes temperatures to dip.
Hua Hin's five day forecast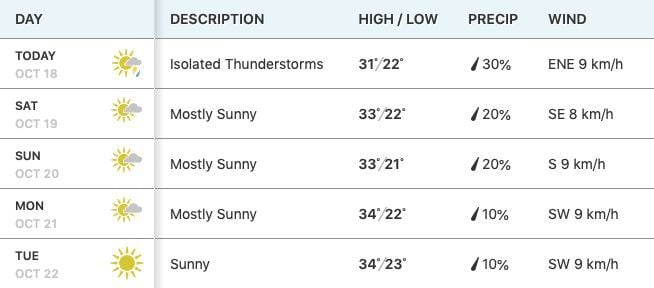 Phuket's five day forecast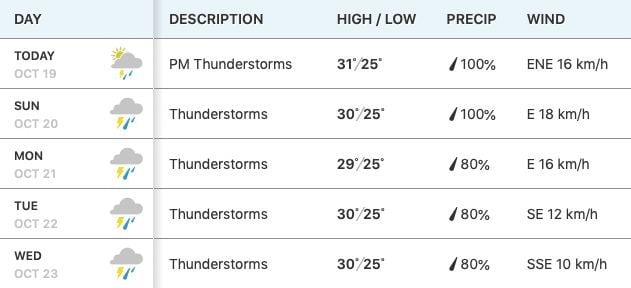 Hat Yai's five day forecast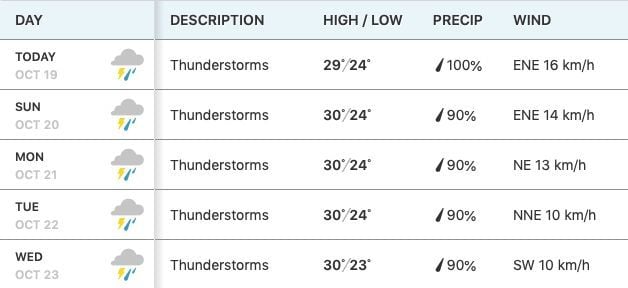 SOURCE: The Nation | weather.com
Keep in contact with The Thaiger by following our
Facebook page
.