Flying into history, the mighty Airbus A380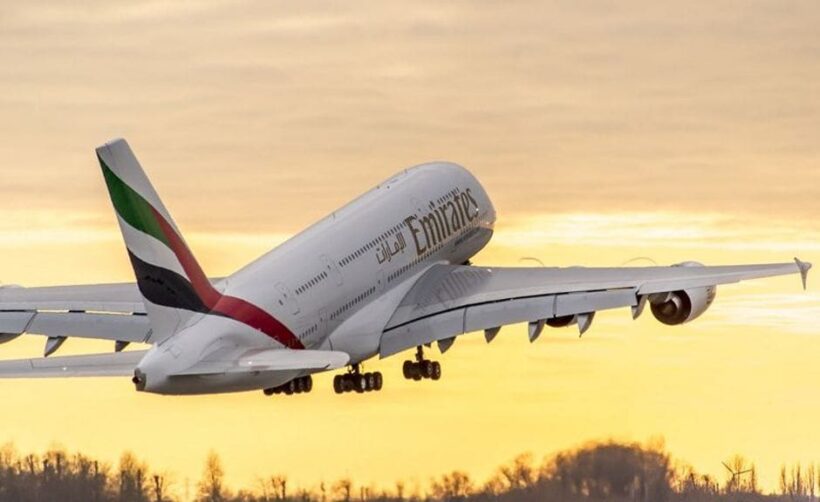 In an era where airlines are now run by accountants instead of pioneers, aviators or passionate flyers, it's no wonder we're seeing the passing of an important aviation milestone this week.
The Airbus A380, a passenger favourite, failed to ignite the interest it needed to sustain new orders and and a continuation of the program of building, selling and servicing the world's largest passenger aircraft. With its first flight in 2007, the demise of the program just 12 years later is a sad day for Airbus. Although they've largely paid for the enormous investment with the sales racked up to date, the company will fail to capitalise on the blood, sweat and tears of such an astonishing aviation engineering feat.
As of today, there are 313 firm orders from 16 customers for the passenger version of the A380-800. 234 have already been delivered to 13 customers as of last month (January 2019).
I recall seeing my first A380 at Melbourne "Tullamarine" Airport back in 2007 when early-adopter QANTAS toured their first A380 around the nation's airports. Compared to every other aircraft flying at the time, including the mighty 'Jumbo Jet', the Boeing 747 (the 747-400 was the popular model still flying at the time), the mega Airbus was a scene-stealer. It was enormous but also, as it limped off runways, a majestic beast that defied gravity.
To get such a mighty plane into the air, before it came to the end of existing runways, took a lot of refinement in wing design and new engines. But that was just the start – the things passengers wouldn't really notice.
Inside, the proportions were astonishing. If configured as all-economy seating they could carry up to 800 passengers. No airline decided to go in that direction, instead setting up three-class configurations on the two floors of seating. Most airlines were carrying 450-500 passengers.
Ironically, the month that Airbus Industries announced to the world the end of the A380 program, it was also the 50th anniversary of the launch of the first Boeing Jumbo 747, the aircraft Airbus was hoping to eclipse in size, economy and passenger-carrying capacity. The Jumbo, being sold now as the 747-800, is still being manufactured, outlasting its European competitor.
Commercially, the superjumbo's days are now numbered. The announcement from Airbus follows the cancellation of several orders by key airlines, principally the UAE Emirates and Japan's ANA.
But with Airbus' continuing mechanical and service support, the current A380s have potentially decades of flying ahead. We might still be able to enjoy their size, service and quietness into the 2040s, maybe beyond.
I flew on the A380 in Business, Premium Economy and Economy classes over a decade and thoroughly enjoyed the experience. Whist the seating was really nothing exciting (the accountants made sure they were still packing in the seat), there was a sense of space unknown on any other aircraft.
But, for passengers, the most commonly noted experience on the A380 was the quietness. You could have a normal-voice conversation where usually you had to talk over the dull roar of the engines in other aircraft.
(This is in contrast with the noisiest passenger plane I ever flew on in the late 1960s, the British-built Vickers VC10. Touted as the 'whisper jet' of course it was noisiest plane around, especially if you sat down the back where the pairs of engines, mounted either side of the tail, made any conversation impossible.)
As the flying leviathan would thunder along the runways you are pushed back into your seat but there was little fuss or drama sitting inside. Although you hoped it would lift its nose before it go the end of the runway, there was little sense that you were accelerating to take-off speed.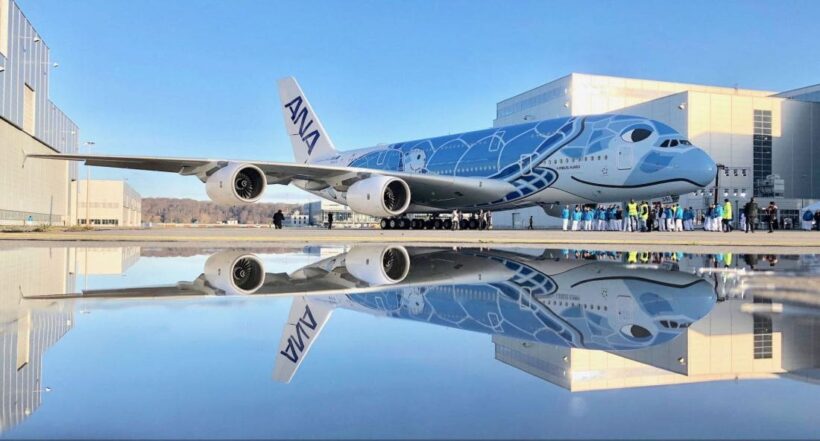 The promise of greater luxury in the sky was one of the selling points of the A380 for fliers used to the cramped conditions of smaller aircraft or tight seating configurations, even in bigger machines like the Boeing 747 and 777.
Beds, staterooms, bars, butlers, saunas – the start-up airlines trotted out the fancy configurations for first class customers. Of course 99.9% of flyers would, as usual, be crammed into the same same economy seats with the crying babies and queues at the toilets.
And, as memorable as a flight on the A380 would be, the food was always crap – all airline food is crap (has anyone actually chosen to fly one airline or another because they had better food?)
Whilst Airbus spent the last decade trying to convince world airlines that the A380 was the 'future of aviation', the designs were already on the drawing board for smaller, more flexible, nimble and economical aircraft before the first mega-Airbus got off the ground.
Boeing's 787 program, its updated 777 and even Airbus' own A350 were able to carry customers for lower cost-per-passenger than the A380. And that's ALL that matters now.
Whilst it remains an inspiring, even beautiful, plane, the days of passion in the skies are over. The Juan Tripps and Howard Hughes – early aviators and businessmen who were behind the 'ideas' of the great aircrafts of the 40s, 50, 60s and 70s – no longer exist. Running an airline now is a cut-throat numbers game where passenger needs and comfort are the lowest priority.
The wonder of aviation, the joy of flying, the excitement of travel, is now replaced by long immigration cues, hordes of other passengers, cramped seating and crap food (I know, it's just a bugbear of mine – I never touch the soggy rubbish served on planes).
So it's a sad farewell to this majestic plane but, like opera diva Dame Nellie Melba, the mega-jet will be making many more appearances despite announcements of her retirement.
I hope you get the chance to fly on an Airbus A380 if you haven't so far. And consider the dreams and skills that were employed to make this engineering marvel reach for the sky.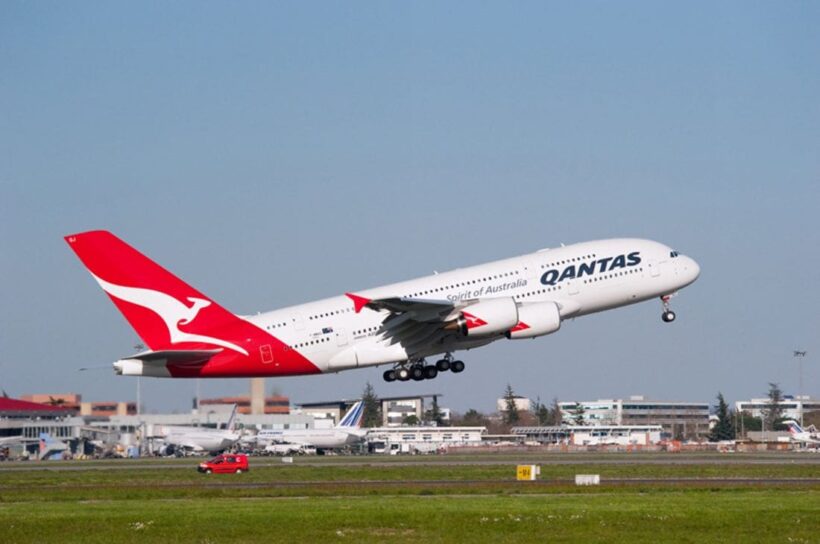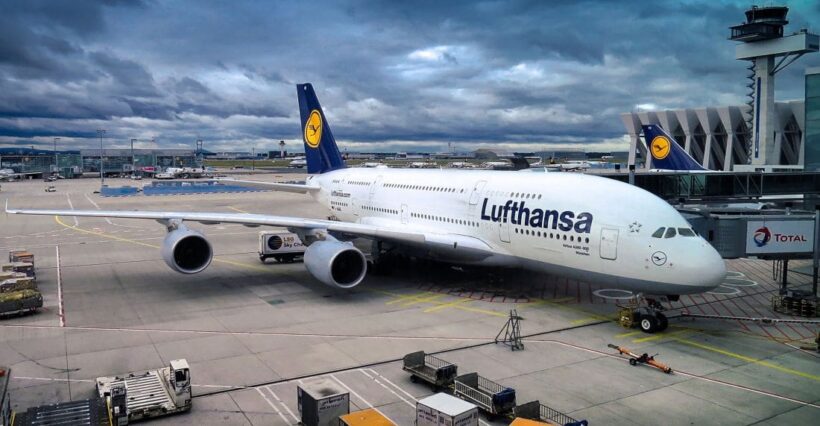 Find more SE Asian News courtesy of The Thaiger.

Broke? Find employment in Southeast Asia with JobCute Thailand and SmartJob Indonesia. Rich? Invest in real estate across Asia with FazWaz Property Group or get out on a yacht anywhere with Boatcrowd. Even book medical procedures worldwide with MyMediTravel, all powered by DB Ventures.

Looking to jettison some items before jetsetting away or chartering a yacht? Look no further than Thaiger Classifieds where you can find and post items, work, property and more for free. Be sure to check out YonderTours for things to do in Thailand and tours across the country.
Thai Smile opens new Bangkok-Kolkata route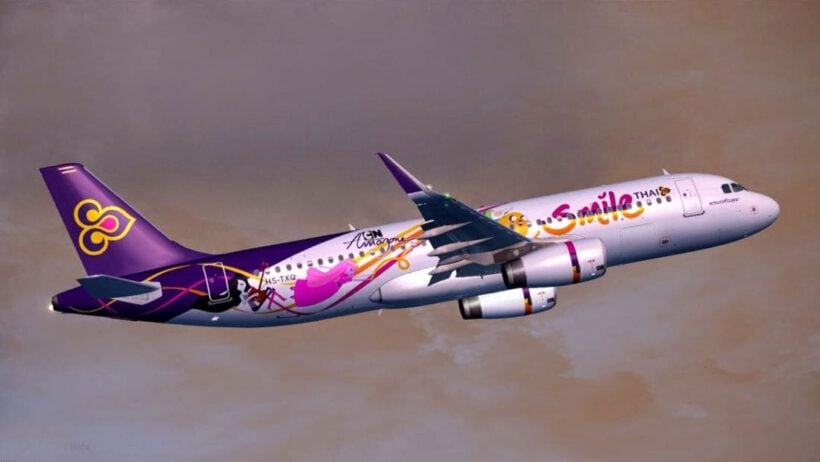 Jumping on the tourism bandwagon between India and Thailand, Thai Smile Airways has announced a new route from Bangkok to Kolkata, starting from March 31.
The airline will operate five flights a week (Tuesday, Thursday, Friday, Saturday and Sunday) from Suvarnabhumi Airport in Bangkok to Kolkata, East India. The airline says the new route is "in line with its business plan to continuously expand the portfolio of destinations offered to passengers".
The Bangkok-Kolkata route features both Smile Plus (Premium Economy) and Smile Class (Economy class). Passengers will be offered an in-flight meal and beverage service, seat selection and free baggage allowance up to 40 kilograms.
Thai Smile is also offering a special discount for tickets on the inauguration of the new route, with prices starting at 3,740 baht one way (all inclusive) for travel from March 31 onwards.
The Bangkok-Kolkata service is one of three summer schedule routes to India offered by Thai Smile from Suvarnabhumi, starting on March 31. The others are Lucknow (three flights/week) and Mumbai (seven flights/week).
Will Asian airlines allow female flight attendants to leave the make up and tight clothes at home?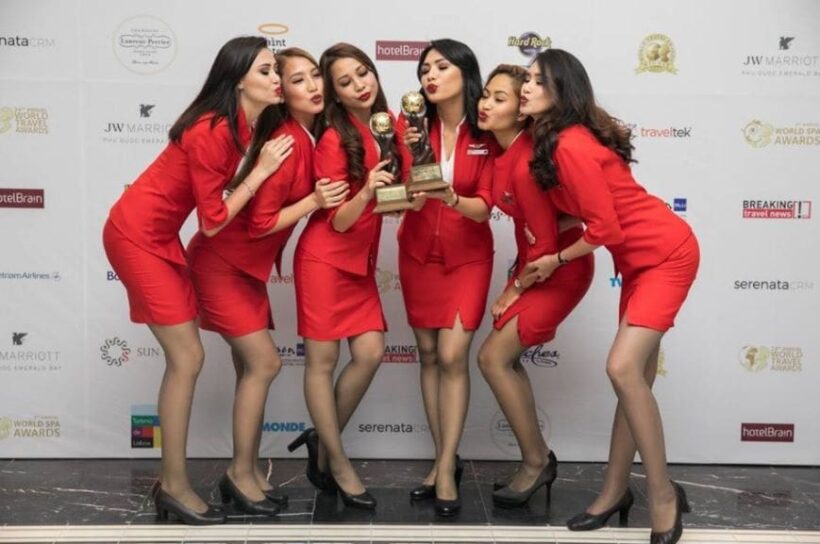 Some regional airlines, principally AirAsia and Vietnam's VietJet Air are being criticised for putting young female flight attendants in tight-fitting clothes or revealing outfits either on the job or in promotional videos.
The local online 'outrage' follows an announcement this week that Britain's Virgin Atlantic has dropped a requirement that female flight attendants wear makeup. This sees Virgin join other major carriers that have eased their dress and grooming requirements after complaints about turning female employees into sex objects.
Just over a year ago, two Malaysian ruling party lawmakers chided the homegrown low-cost airlines AirAsia and Firefly for dressing their stewardesses in uniforms that are "too revealing".
Senator Abdullah Mat Yasim, a division chief of the, then, ruling Umno party, said in Parliament the fitted attire of AirAsia's and Firefly's female flight attendants can "arouse passengers", the New Straits Times reported.
VietJet took matters a step further with some racy promotions and select flights featuring bikini-clad flight hostesses. The airline is owned by a woman who hasn't been afraid of using 'sex' to help launch the Vietnamese budget airline.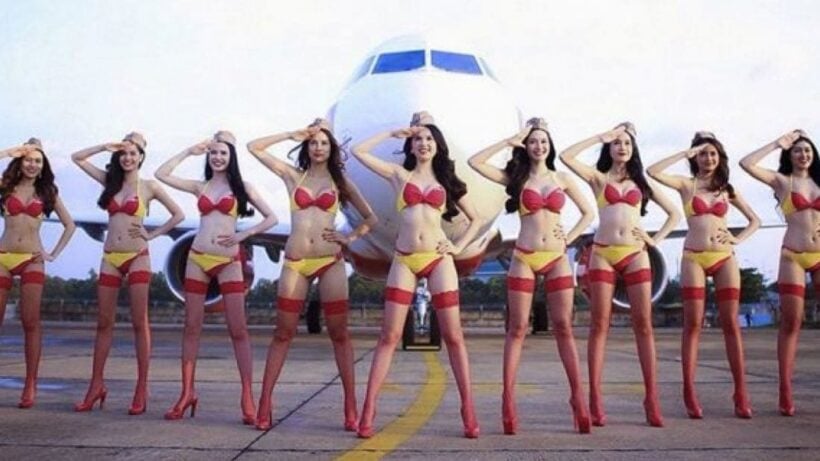 Meanwhile, Virgin Atlantic announced this week that female cabin crew members can work without wearing makeup. If they want to keep using lipstick and foundation, they must stick to an approved palette of shades.
A Virgin airline executive said the changes – which also include making it easier for women to wear pants over Virgin's familiar red skirts – came after listening to employees.
"Not only do the new guidelines offer an increased level of comfort, they also provide our team with more choice on how they want to express themselves at work," Virgin Atlantic Executive Vice President Mark Anderson said in a statement.
Objectification of women is still an issue at U.S. carriers. Last year, a US flight attendant union said its survey indicated that nearly two-thirds of U.S. flight attendants suffered harassment during their careers, ranging from suggestive comments to groping.
Last month, a separate union that represents American Airlines cabin crews objected to a video showing people dressed as flight attendants performing a musical number that suggested American uses sex appeal to attract high-paying passengers. The airline said it had no involvement in the skit.
Top 10 things to see in Phuket, on a budget (2019)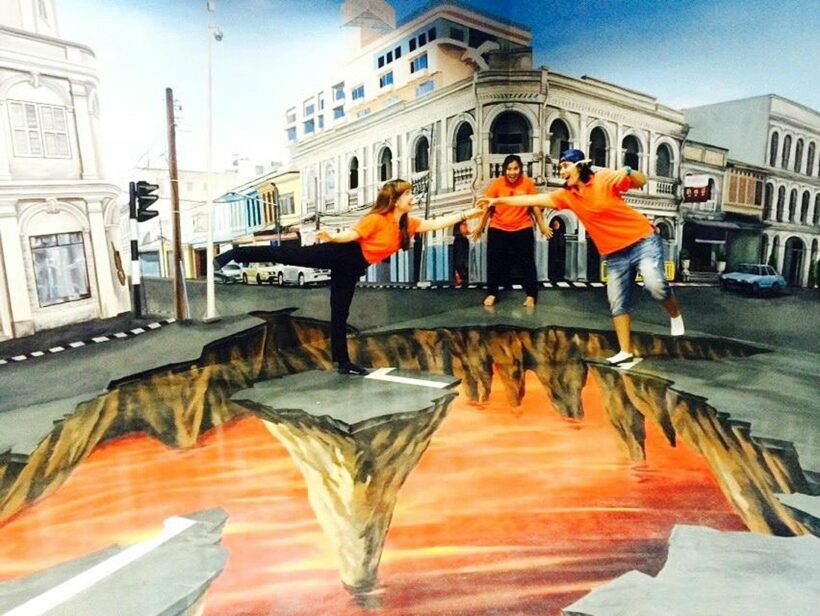 PHOTO: The Trick Eye Museum in Phuket Town
We can't all afford to stay in the lap of luxury in five star properties, and spend our Sunday's at extravagant hi-so brunches. Good luck to those who can! In Phuket you can have fantastic experiences that either cost you nothing or not much more.
Here is, in no particular order, our Top 10 things to see in Phuket on a budget….


Simon Cabaret/Simon Star/Aphrodite
Nothing like a big lady boy show! The ones in Phuket are family-friendly, world-standard presentations with astonishing costumes, sets and, mostly, appalling dancing – there's only so much you can do with a metre high headpiece and gaffer tape holding all your 'bits' in place. If you haven't been you MUST. Hard to not to enjoy yourself. Does it rival the big shows in Las Vegas? No. Is it worth the 1000 baht and a few hours on a humid night? Definitely.
At the end of the show you will get the opportunity to have your photo taken with the performers. Although they don't tell you before, you will be expected to pay for the pleasure. 100-200 baht is about the going rate. The three shows are in different parts of the island – the most famous Simon Cabaret in Patong which has been going for an astonishing 27 years without missing a beat.
OK, it's not 'cheap cheap' but it's worth every baht of your Phuket budget! Simon Cabaret. Aphrodite.



Trick Eye Museum

Right in the heart of Phuket Town and deserves your time. Bring a camera. You'll walk around various elaborate large interactive art and find you can pop yourself into the scene in a very clever way. Tickets start at 500 baht and you can spend an easy two hours or so. There's some car parking next door to the old Pearl Hotel otherwise go by taxi, plenty around that part of town. Popular with local and international schools for day trips too. The Trick Eye Museum will easily fit into your Phuket budget, no tricks!


Massage
Almost anywhere, anytime and something to fit into your Phuket budget. For less than 500 baht you're going to get to relax and indulge in one of Thailand's unique pleasures. In Patong you will hardly walk 10 metres without hearing the cry 'massage!?' But the better massages are out of tourist town, and usually much cheaper. Leaving out the more infamous massage available in less-reputable venues, there is usually a selection of different massages you can enjoy. If the sweet little Thai lady asks if you want it gentle or hard, be warned if you go for the 'hard' option you'll be screaming at times! The Thai massage can be quite firm and a challenge for the uninitiated, and those 'sweet' 5 foot Thai ladies will wind you up in knots, despite their petite stance. Start tame and go for a 1 hour foot massage. Read up more about massage and spa locations around Phuket HERE.



Upside Down House

Located on the ByPass Road in Samkong this is a curious wander around a house that's, well, upside down. Too many photos would spoil the fun but you'll fill an hour and snap off plenty of selfies in this attraction that will make you see the world from a whole different angle. Tickets for adults are 350 baht and children 190 baht. The Upside Down House won't turn your Phuket budget upside down


Any Temples

Of course you should visit a temple, or 'Wat'. Wat Chalong is largest complex of temples on the island. Buddhist temples have their own conventions and rules to read up about before you visit so you'll get the most out of your visit. Some of the temples have become distinctly commercial in recent years so best to try and find the ones that will give you the most authentic experience. Free unless you choose to make a donation.
THIS article about 'Things NOT to do' in Thailand will provide a bit of guidance for first time temple visitors. When it comes to budget tourism in Phuket you'll find nothing more fulfilling and low cost than visiting the island's magnificent temples.



Coral Island

So you've already come to a tropical island in Thailand. But many enjoy exploring the 30 or so other islands around Phuket. Some are a LONG way, some will have you travelling in a van for a a few hours before you even get on a boat. Others are really close, like Coral Island, just off the coast of Chalong. There are plenty of organised tours to Coral island and, depending on your tour and the beach you end up on, you'll have a great day or an awful day battling crowds you probably thought you'd be getting away from.
Coral Island has become really popular in the past five years so be prepared your tropical island getaway experience with a few others as well. We don't recommend any particular tour company but here's a start for you HERE something for all Phuket budgets. (In the website it says Coral Island is '10 kilometres south of Phuket'. It's not. It's only a kilometre or so of the shore from Chalong)



Khao Rang

A mid-island diversion from the history of Phuket Town and shopping at Central Festival, Khao Rang (also known as Rang Hill) is a popular viewpoint hangout for locals. It is located on the north side of Phuket Town and has stunning views over island. There are a number of restaurants and bars located on the hill offering local dishes and their most famous specialty is ice coffees.
The most popular at Khao Rang Breeze Restaurant and Tunk Ka expect to pay slightly above local prices for food and beverages. They call it a hill, but it's actually only 150 metres high which is not so tall at all, however the views are amazing from the viewpoint even at the low height and the landscaped gardens are beautiful under foot. Be careful of the monkeys up there who come out around sunset to forage for food… and iPhones! We're sure a visit here will fit into any Phuket budget.




Spend the Day at the Beach

It's one of the highlights of coming to Phuket, so go and get some sand between your toes. There are busy beaches and you'll also find almost totally deserted beached. At just 100 baht for a subbed, including the beach crew who sweep away your sand from your chair, it's a steal (on the major tourist beaches).
The Andaman Sea has crystal clear water during high season (December through May) however during the green season (June through November) the ocean is rough and it is not recommended to swim on the West Coast. With restrictions being enforced with the number of chairs allowed on the beach, and in certain zones, it can be fun trying to secure one later in the day.
Layan, Kamala, Surin and Patong Beaches are all zoned for chairs. Also note that at Patong Beach there are dedicated smoking zones too so if you are going to indulge you must do it in the smoking zones otherwise large fines could be imposed.

Catch the latest movie at the cinema
Especially great on a wet day in Phuket or if you need to take a load off from all the shopping at Central Festival or Jungceylon going to the cinema is well priced and features all the latest movies, including in English or with English sub-titles. Starting at just 140 baht a ticket (on selected days) for a standard seat through to 350 baht for a lazy boy style chair, right up to 900 baht for first class (totally worth the money) it's a cheap way to spend a couple of hours.
First Class in Phuket is comparable to a standard ticket in most Western countries, the doors open one hour before and you can have refreshments and a light snack before heading in, included in the price. Waiters bring in "complimentary popcorn, soft drinks" as well as a blanket for your viewing pleasure and the lazy boy seats go almost flat so you can enjoy the movie in comfort.
Thailand is very traditional, and respectful to the Royal Family, so before any movie they play the King's Anthem. All patrons stop munching, stand up and pay their respects.



Bang Wad Dam

Located in the middle of the island, South to North and East to West, the Bang Wad Dam in Kathu is a water reservoir that services much of Phuket. It has a 6km circle road around it and is shaded from the sun by lush trees and fauna. It is incredibly popular with the locals and expats who are getting in their daily exercise. There is (usually) minimal traffic and, if you don't mind the odd snake and creepy crawly, a perfect spot to to pound the pavements or ride your bike or motorbike.
If your up early on a Sunday morning there are regular runs/walks as well as charity events to participate in. It is also recommended to run/walk all in the same direction – if you don't know which way you soon will! Buy a fresh coconut or cold drink on your way round and support the local community.