Airline staff mock young girl over her name – Abcde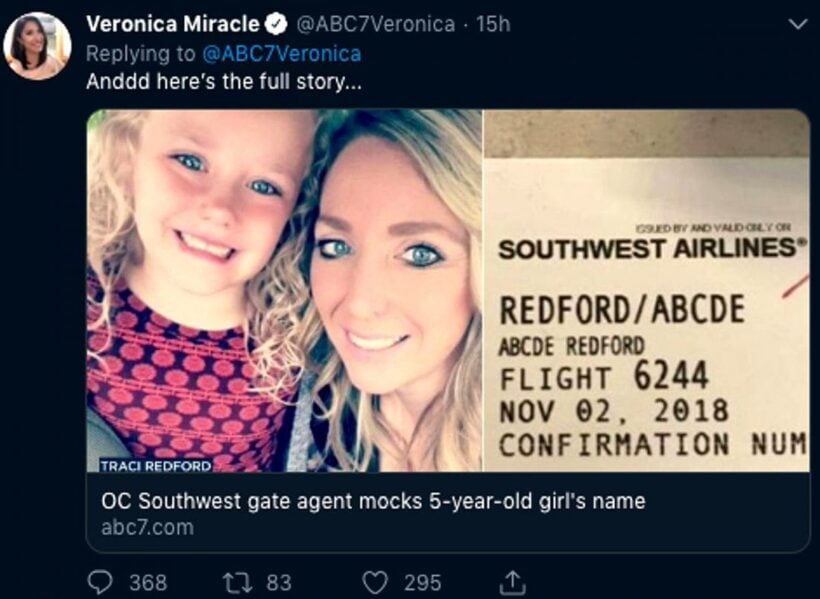 An American discount airline has apologised to a mother after she claimed the staff laughed at her five year old daughter's name.
The daughter is called Abcde.
The name, according to the mother, is pronounced 'Ab-si-dee'. The airline staff also and posted a picture of her boarding pass with the unusual name.
The mother said she was outraged.
"The gate agent started laughing, pointing at me and my daughter, talking to other employees. So I turned around and said, 'Hey, if I can hear you, my daughter can hear you, so I'd appreciate if you'd just stop,'" she said according to America's ABC News.
The incident took place at John Wayne Airport in Orange County, California. The mother and daughter were heading to El Paso, Texas on a Southwest Airlines flight.
A spokesperson for the airline has offered a "sincere apology to the family".
"We take great pride in extending our Southwest Hospitality to all of our Customers, which includes living by the Golden Rule and treating every individual with respect, in person or online."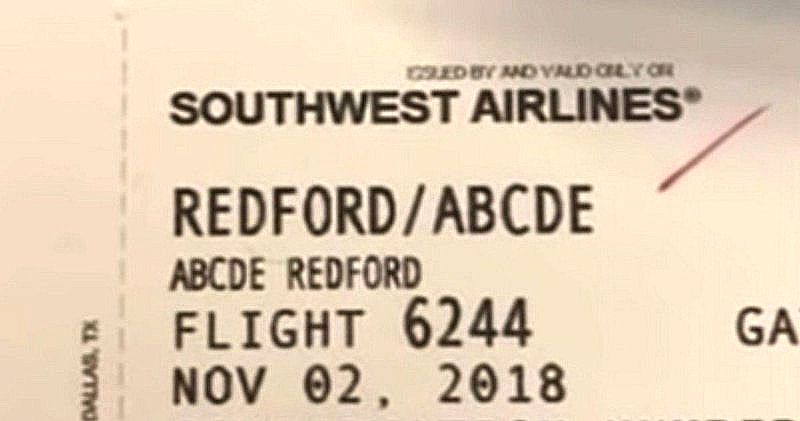 Looking to jettison some items before jetsetting away or chartering a yacht? Look no further than Thaiger Classifieds where you can find and post items, work, property and more for free.

Floating clinic opens in Kanchanaburi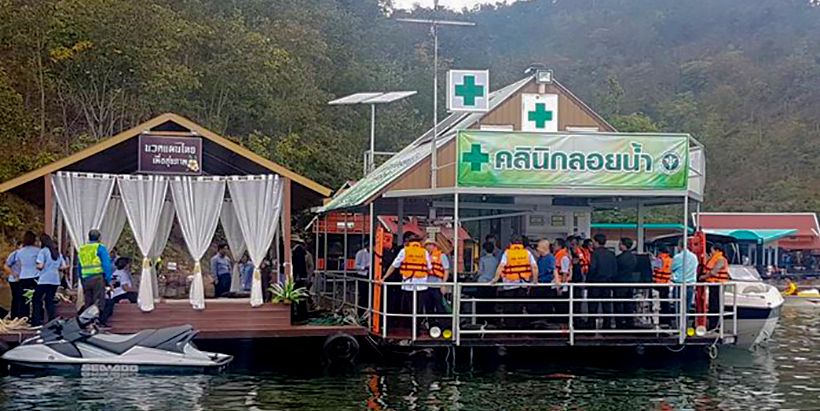 PHOTO: Pattaya Mail
Last week saw residents and visitors to Srinakaring Dam in Sri Sawat district, Kanchanaburi, in Thailand's west, witness the first day of operations of a new floating medical unit.
The Bangkok Post reports that the dam is a huge tourist magnet which attracts 800,000 tourist a year in an area where 140 businesses operate and over 600 towing rafts reside. Due to reports of accidents (sometimes with fatal results) the Public Health Ministry's Health Region 5 came up with the 'floating clinic'.
The clinic boasts a solar cell power system able to function during power outages, as well as modern and efficient communications systems in case of emergencies. The floating clinic is equipped with beds for check-ups, respirators, medical supplies and basic lifesaving equipment.
The project will provide help to tourists and locals in case medical attention is required. Depending on the severity there are referral vessels such as jet skis and speedboats available for quick access to local hospitals, with helicopter landing pads planned for the near future.
SOURCE: The Bangkok Post 
Top 10 most popular Asian cities 2018 – Agoda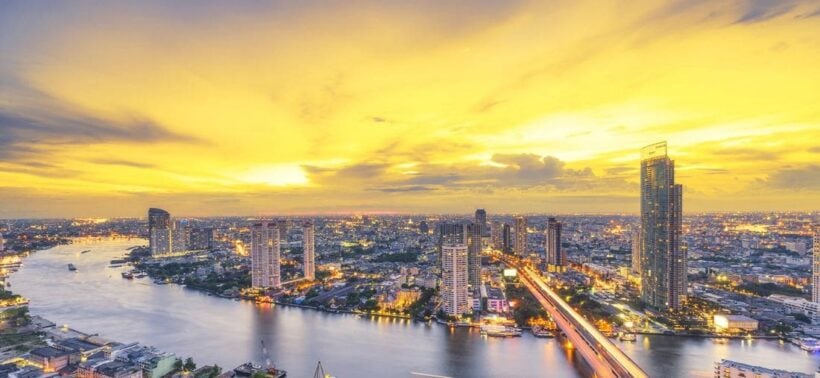 Bangkok ranks on top of the list of most-visited Asian city tourist destination for 2018. This is from Agoda, a fast-growing online travel booking platform. With millions of online bookings each year they have the data to back up their findings.
Other cities in the top 10 include Tokyo, Kuala Lumpor, Hong Kong, Osaka, Taipei, Seoul, Singapore, Bali and Pattaya.
Agoda says both Thai and foreign tourists would normally lodge in Bangkok for a night or more before continuing to the other destinations.
Agoda also reported that Thailand was placed second after Japan among Asian countries most visited by tourists because of the country's rich cultural and historical tourist attractions, clean beaches and world-class cuisine.
The 10 most popular cities among Thai tourists are Bangkok, Pattaya, Chiang Mai, Hua Hin, Phuket, Tokyo, Khao Yai, Chon Buri, Krabi and Chiang Rai.
The most-favoured country for sight-seeing among Thai tourists is Japan followed by Singapore.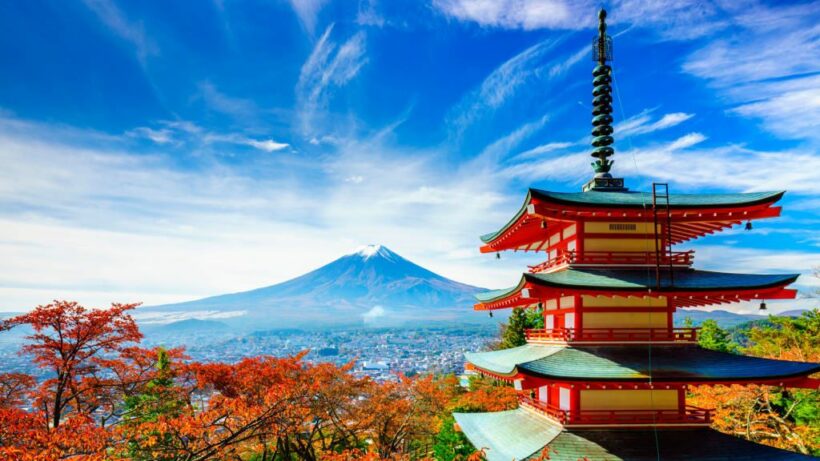 Nude couple pictured on top of Egyptian pyramid sparks investigation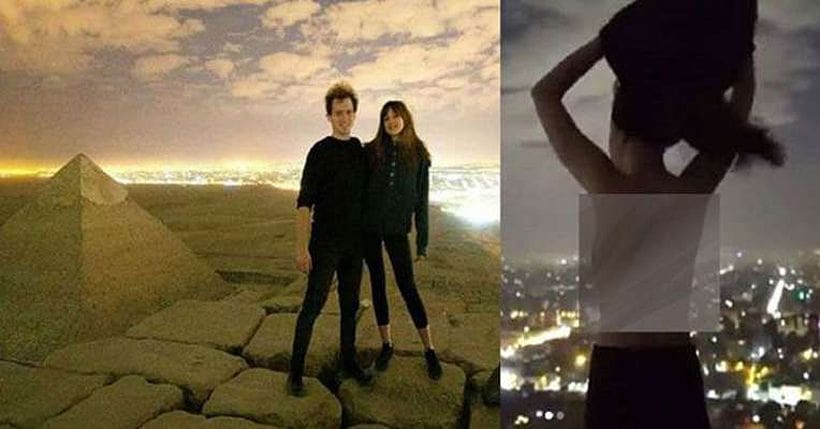 "Climbing pyramids is illegal in Egypt, with critics saying the incident shows a disregard for the nation's laws and its conservative society."
The question of tourists and their behavior at national monuments and popular sites comes up again today. This time in Egypt…
Read the report HERE.
"A video that shows a foreign couple in a naked embrace at the summit of the Great Khufu Pyramid of Giza is sparking reaction among Egyptians.
The three-minute video recorded at night shows a man and a woman scaling what appears to be the Great Pyramid of Giza with the skyline of Cairo in the background. When they reach the top, the video shows the woman taking off her shirt and finishes with a still image of them in a naked embrace.
Minister of Antiquities Khaled al-Anani called it a violation of public morality, and said the incident and the video will be investigated by the attorney general."
It's happened often enough in Thailand where locals believe that foreign tourists have 'defiled' their monuments with poor behaviour. The incidents are often innocent affairs where tourists have climbed over something the locals perceive as sacred, all the way to posing with their naked butts in front of famous temples.
Read about that fiasco HERE.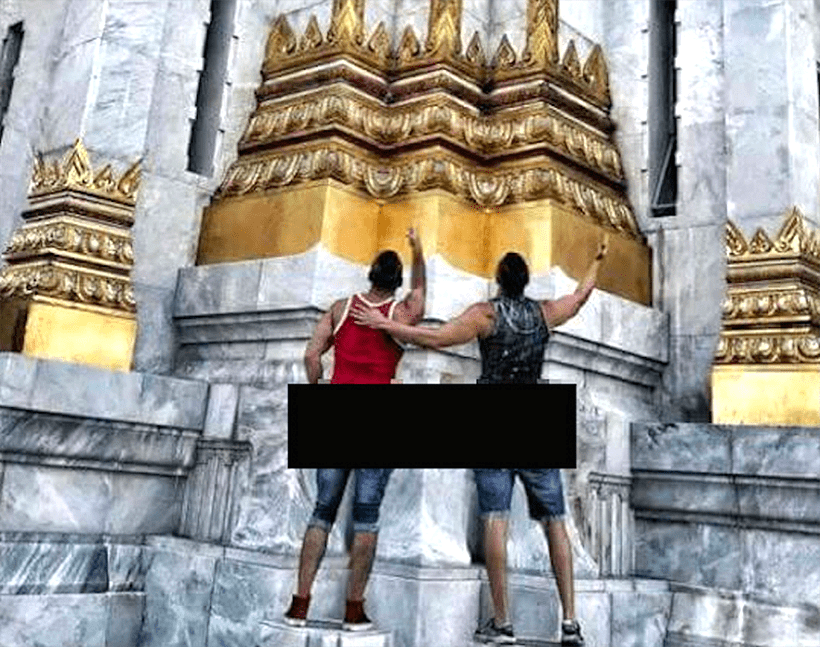 Or a more recent example in Chiang Mai HERE.
Or this one in Ayutthaya HERE.
How can tourists know exactly what is expected of them at some of these monuments? Is it the responsibility of local authorities to alert foreign tourists about expected behaviour? In some case it may not be 100% clear about what is, and what isn't, allowed.
Share your thoughts on our Facebook post about the topic HERE. You haven't 'liked' our Facebook page? Make sure you do when you're there and keep up-to-date with what's happening in Thailand.