Top 10 sunset bars in Phuket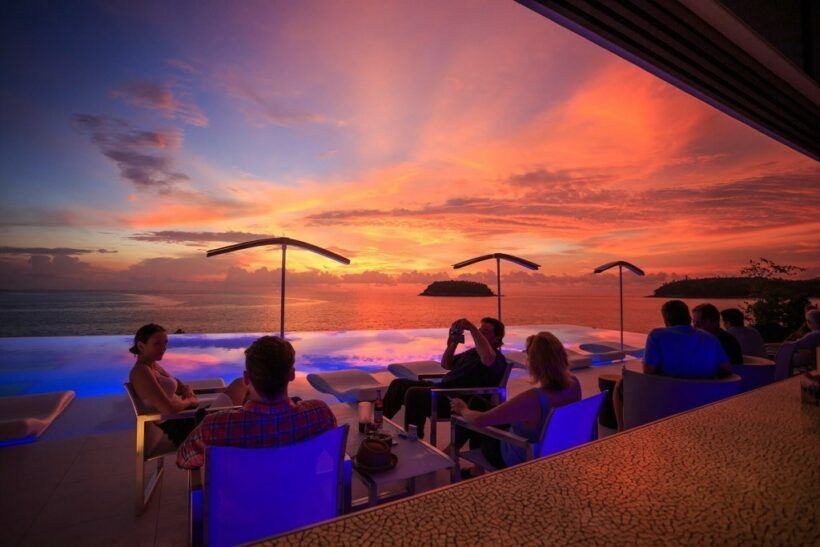 PHOTO: Kata Rocks. A premier view and top spot to catch the nightly sunset.
The island of Phuket, with its dramatic east and west coast clifftops, means we have an abundance of ocean-facing rooftop bars and restaurants where we can enjoy a perfectly chilled beverage while taking in the beautiful scenery. There are so many great locations to catch the sunset on the island it is very difficult to choose the ten "best" (we could rattle off 20 without blinking) so apologies to other worthy contenders who might be on the list in the future.
Here is, in no particular order, our Phuket Top Ten Sunset Bars on the island of Phuket….
Rang Hill is a popular hangout for locals especially and located on the north side of Phuket Town. It has stunning views over island. There are a number of restaurants and bars located on the hill offering local dishes and their most famous specialty is ice coffees. The most popular at Khao Rang Breeze Restaurant and Tunk Ka.  They call it a hill, but it's actually only 150 metres high which is not so tall at all, however the views are amazing even at the low height. There's also an excellent viewpoint to catch your postcard view of Phuket Town and the south of the island beyond.

2 360 Degrees at The Pavilions Resort
As the name suggests 360 Degrees at The Pavilions Resort has uninterrupted panoramic views of Layan and Laguna. 360 is a magical spot with fairy lights in the trees, has excellent service, delicious tapas and mouth watering cocktails. It opens just in time for sunset at 5.30 pm and a place where we love to sit in the lounge chairs and take it all in. Chef Belinda Tuckwell foodie style features in all outlets at Pavilions and the perfect fusion with the cocktails in the bar. An absolute must for any visitor or resident in Phuket.

3 On Top at Swissotel Resort Phuket Patong Beach
An oasis in the middle of the madness in Patong, On Top is located on the 7th floor of the Swissotel Resort Phuket Patong Beach. More recently it has established itself as a cool vibe for in house guests and locals, happy hours and live DJs add to the ambience not to mention the million dollar views, prior to this it was more popular for events and private parties.

4 Escape Rooftop Bar at Novotel Phuket Karon Resort & Spa
The newest member to the rooftop bar club, Escape, at the Novotel Karon opened late in November 2017 with an extensive cocktail list, and to keep the munchies away an equally impressive tapas and antipasto selection. Open daily from 6pm Escape has a rustic feel with varying specials throughout the week, including "Double Trouble" on Tuesday (buy one get one free on selected drinks) and "Treasure Box" on a Thursday where you have keys to a lucky draw treasure box with many different prizes and deals.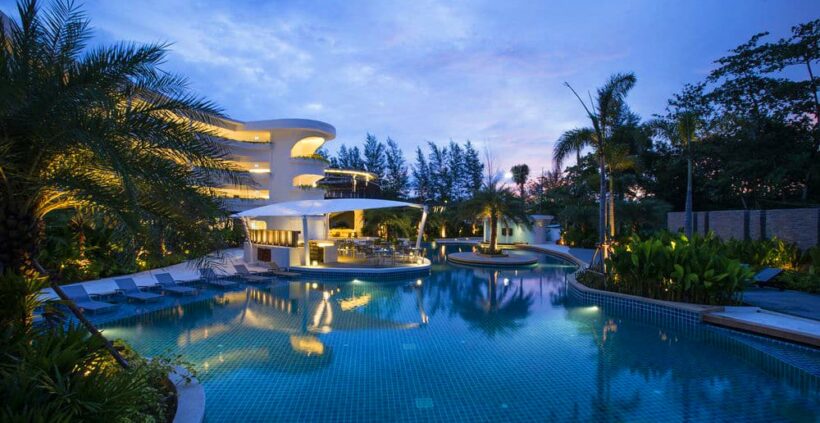 Located in the heart of Patong on the rooftop of The Kee Resort, The Sky Lounge has an enticing vibe with DJs and daily happy hours. Unlike many bars the happy hour is from 5.30pm – 8.30pm with classic cocktails as well as their signature cocktails all just 150 baht, locals beers 100 baht and house wines 150 baht. Whether your looking to dance the night away or spend a quiet romantic evening with your loved one The Kee Sky Lounge is a great place to do both.

Set on the edge of the resorts stunning floating swimming pool with unparalleled views of the Andaman Sea, Kata Rocks Bar is chic in design with funky creative cocktails paired with sumptuous tapas. The impressive team of mixologists create unique and left of the middle cocktails that are not found anywhere on the island, the resort itself has its own branded Gin which features in many of the drinks list. My personal favourite is their Lycheetini which is crisp short drink made from vodka, lychee, lime juice and a dash of palm sugar, problem is I can't just have the one! Try their non-alcoholic home-made ginger beer too.

They say a picture paints a thousand words, don't be fold by the plastic chairs and rustic tables at Wassa Homemade Bar, though ascetically underwhelming, the drinks list and to-die-for views are very impressive. Placed at the top of Phuket Hill facing perfectly West for sublime sunsets Wassa is a local hangout and also for expats in the know. Like any locally owned and operated bar the Thai menu accompanying the drinks is tasty and cheap as.

The relaunch of Vanilla Sky Bar & Gastro Pub at Cape Sienna is a welcome back to the ultra cool rooftop bar to the Phuket scene. It is positioned perfectly on the cliffs of Kamala's Nakalay Bay to take in the stunning Phuket sunsets. With daily happy hour specials from 5-6pm, occasional guest DJ spots and delicious Gastro Pub dishes, Vanilla Sky Bar is an institution for locals, tourists and expats. With stunning sea views, creative craft cocktails, modern stylish Gastro Pub food it is a fabulous place to hang with friends, say hi to Pepe the resorts F&B Director a good guy and always up for a chat.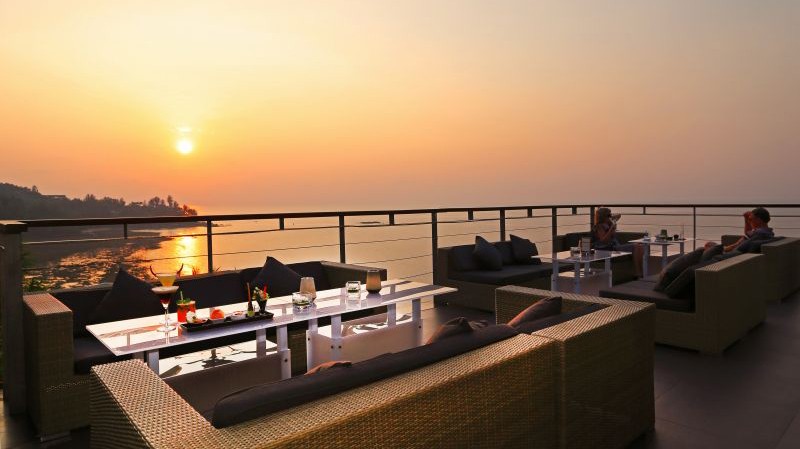 9 Baba Pool / Nest at Sri Panwa
Sri Panwa Resort at the very bottom of Cape Panwa has the rare 360 degree ocean views around Phuket. The award winning Baba Pool Club and Baba Nest has lounge chairs positioned and sunken in the mirrored splash pool the colours alone during sunset are fabulous. High end cocktails matched with a high end prices, Baba is a cool hangout with friends and family but perhaps just for a special occasion.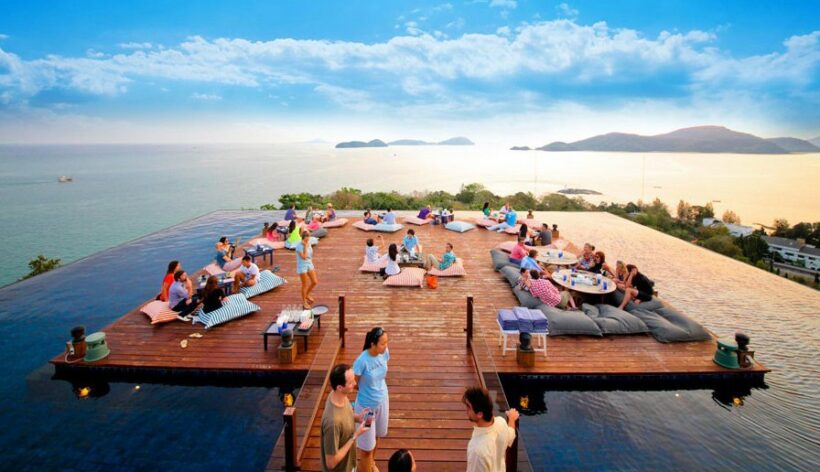 10 Talung Thai at Paresa Resort
Located on the 'Millionaires Mile' in Kamala, Talung Thai at Paresa Resort has dramatic high cliff views over the Andaman Sea with like so many West coast properties, amazing sunsets. You are welcomed to the bar with floor to ceiling wine fridges that immediately say 'wow', the drinks list is award winning and their mixologists have competed year on year at the Thailand best of the bests Diegeo cocktail competitions. Monthly cocktails specials and as well as the resorts signature cocktails keep you going back for more. My personal favourite is the Thai inspired 'Chilli and Lime Caipiroska' the perfect combination of spice and sour.



Find restaurant and food listings around Phuket at Thaiger Bites.

Find more Thai Life top 10s and top 10s in Thailand on The Thaiger.
Is cooking endangered rays on 'MasterChef Thailand' OK?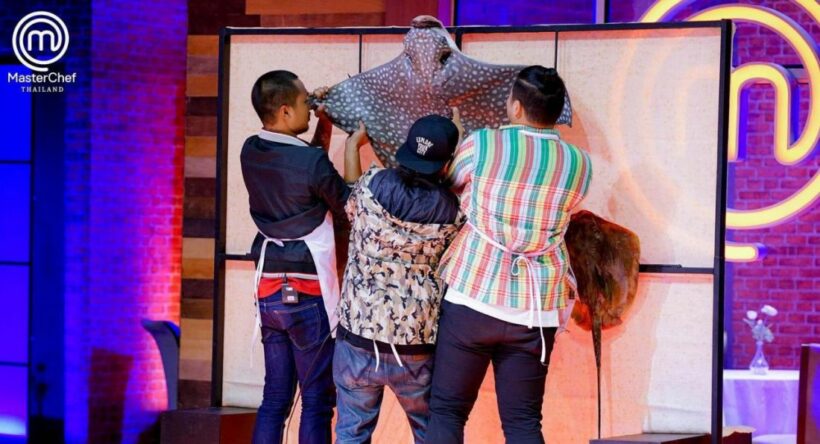 The cooking of what appeared to be spotted eagle rays during the MasterChef Thailand TV show on World Wildlife Day last night is sparking social media outrage over the appropriateness eating endangered species on mainstream media.

Despite experts confirming that fishing, cooking and eating spotted eagle ray is completely legal in Thailand, as Thai law still does not include the species in the country's protected animal list, many people say that the use of endangered species as cooking material on the popular TV show jeopardised the efforts to conserve these and other rare animals.

Earlier on World Wildlife Day, which highlights the conservation of marine biodiversity, the reality cooking-competition show "MasterChef Thailand" had selected stingrays as the main ingredient for the program.

But after the show had aired it was noticed that the rays used in the TV show were the rare spotted eagle variety.

The discovery has sparked hot debate on social media over the legality and appropriateness of consuming this endangered marine species, with one side strongly pointing out that the consumption of endangered rays was unacceptable, while the other side argued that such stingrays were not that rare and their consumption was widespread in the Kingdom.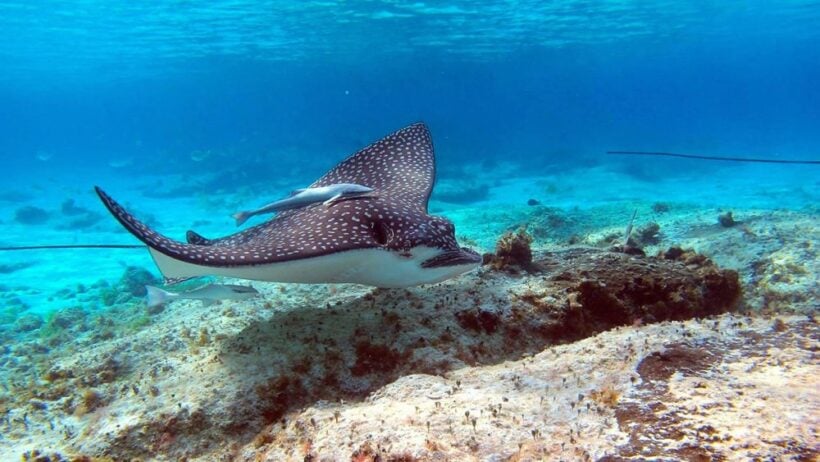 Thon Thamrongnawasawat, a leading marine biologist at Kasetsart University's Faculty of Fisheries, said the exact ray species that had been used on the TV show had not yet been confirmed, but it was very likely the fish were one of two spotted eagle species – Aetobatus ocellatus, which can be found in the tropical Indo-West Pacific region, or Aetobatus narinari, which live in the Atlantic Ocean.
According to the International Union for Conservation of Nature (IUCN), both spotted eagle ray species have conservation status, as they are endangered by unsustainable fishing and habitat loss and their populations are in decline.
Aetobatus ocellatus is listed as vulnerable on the IUCN red list, while Aetobatus narinari is listed as near-threatened, Thon said.
The marine biologist confirmed that despite the international conservation status of both species, their consumption on the TV show would have been legal, because these ray species were still not protected under Thailand's animal conservation law.
SOURCE: The Nation
A toast to female chefs – Women in Gastronomy 2019 Bangkok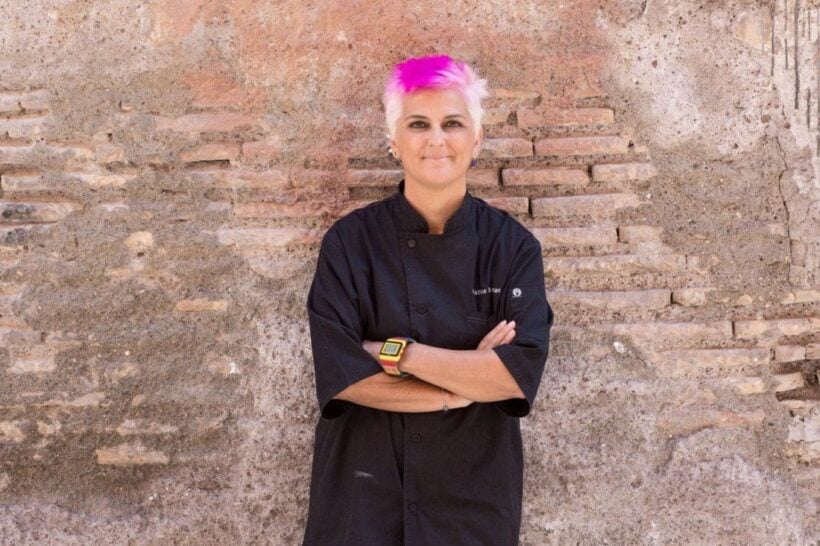 Leading female chefs and wine makers will gather in Bangkok for the International Women's Day culinary forum at Banyan Tree on March 8.
The second edition of the global food forum Women in Gastronomy (WIG) organised by Gastronauts Asia will showcase an array of acclaimed female food personalities from Thailand and beyond. The full-day symposium will feature presentations and panel discussions, as well as a Bangkok street food lunch prepared by several of the chefs.
This year's program will also introduce a new feature – women in wine – bringing together some of Italy's most prestigious wine producers for tastings and more.
WIG 2019 will focus on Italy as part of the celebration of the 150th anniversary of diplomatic relations between Italy and Thailand.
The event will be headlined by chef Cristina Bowerman from Michelin-starred restaurant Glass Hostaria in Rome, one of Italy's most celebrated chefs. She is regarded as an inspiring chef in the mainly male-dominated field of haute cuisine. Bowerman completed a course in Culinary Arts in the US and returned to Italy in 2004. She won a Michelin star in 2010 for her highly modern cuisine, and she's the only female chef in Rome holding the accolade.
The special Bangkok Street Food lunch will feature distinctive dishes by Nooror Somany-Steppe from Blue Elephant, Saki Hoshino from 80/20, Jutamas Theantae from Karmakamet, Pichaya Utharantharm – a judge from Top Chef Thailand, Rungthiwa Chummonkhon from The Front Room, Pantong Pratumpak from Err, Naree Boonyakiat, Rangsima Bunyasaranand and Renu Homsombat and Portntip Eumanan from Banyan Tree Bangkok.
On March 8 and 9, guests can also experience special Thailand meets Italy 4-hand dinners by Cristina Bowerman and first winner of Top Chef Thailand Chudaree Debhakam. Cooking together for the first time ever, Bowerman and Chudaree will present an exclusive tasting menu revolving around seasonal, local Thai ingredients. The six-course dinners will be paired with top Italian wines in a private area at Vertigo rooftop restaurant. The dinner costs 4,900 baht per person or 6,900 baht with wine pairing.
The conference and lunch on March 8 costs 1,900 baht while the wine master class and tasting is priced at 1,600 baht. The full day experience costs 3,200 baht.
Find out more by visiting www.WomenInGastronomy.Asia, or call (02) 286 7821.
Olta is the newest 'olternative' in Bangkok's Suan Phlu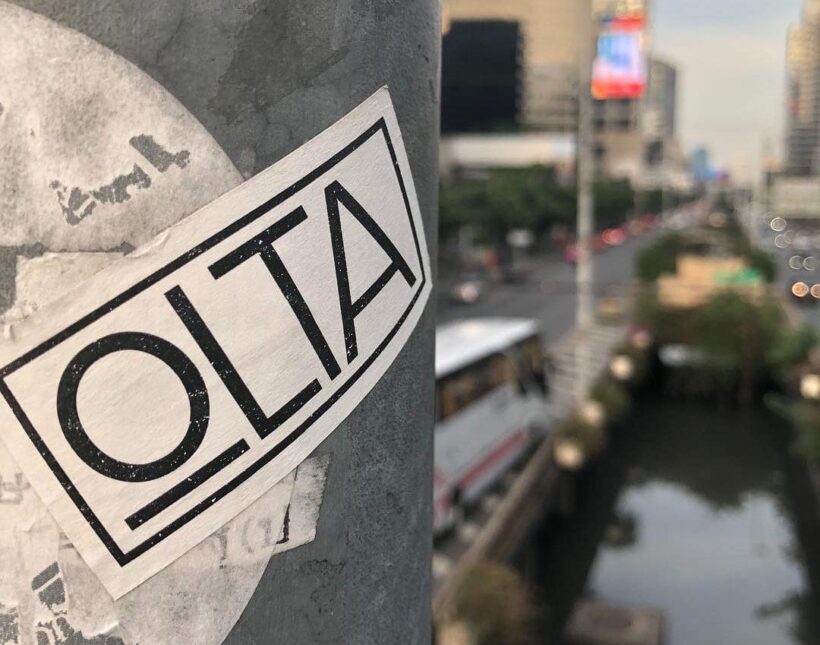 Scottish Chef Jamie Wakeford, of noted Phuket restaurant Bampot Kitchen, is rolling out a new restaurant in Bangkok.
Themed as 'modern British', and named Olta, the outlet has just opened in the Suan Phlu neighborhood.
The Suan Phlu area is described as one of Bangkok's latest dining enclaves, with new fashionable openings arriving every month. Currently, Suan Phlu is currently the IT restaurant area in the capital. This street is interesting for foreigners because it is in early stages of gentrification – the old shop houses are still there, along with the great street food stalls you expect, but now these have been joined by a new generation of funky modern venues appealing to locals, expats and tourists.
Suan Phlu is located on upscale Sathorn Road, close to many of the large five-star hotels – The Metropolitan, Banyan Tree and The Sukhothai. If you are arriving by BTS, it is easiest to get off at Chong Nonsi and take a short taxi.
Hitting the road to Bangkok, Wakeford is mixing up classic dishes and local taste with a talented innovative approach at Olta.
A cozy bar completes the offering. Looking for what's new in Bangkok? Olta certainly should make the top of the list.
Best wishes to Jamie Wakeford and his new BKK team.