Top 10 sunset bars in Phuket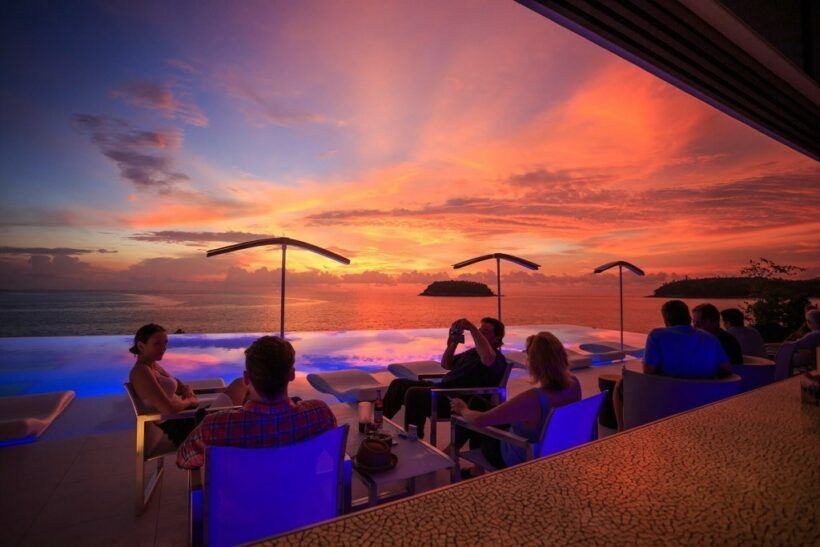 PHOTO: Kata Rocks. A premier view and top spot to catch the nightly sunset.
The island of Phuket, with its dramatic east and west coast clifftops, means there is an abundance of ocean-facing rooftop bars and restaurants where you can enjoy a perfectly chilled beverage while taking in the beautiful scenery. There are so many great locations to catch the sunset on the island it is very difficult to choose the ten "best" (we could rattle off 20 without blinking) so apologies to other worthy contenders who might be on the list in the future.
Here is, in no particular order, our Phuket Top Ten Sunset Bars on the island of Phuket….
Rang Hill is a popular hangout for locals especially and located on the north side of Phuket Town. It has stunning views over island. There are a number of restaurants and bars located on the hill offering local dishes and their most famous specialty is ice coffees. The most popular at Khao Rang Breeze Restaurant and Tunk Ka.
They call it a hill, but it's actually only 150 metres high which is not so tall at all, however the views are amazing even at the low height. There's also an excellent viewpoint to catch your postcard view of Phuket Town and the south of the island beyond.

As the name suggests 360 Degrees at The Pavilions Resort has uninterrupted panoramic views of Layan and Laguna. 360 is a magical spot with fairy lights in the trees, has excellent service, delicious tapas and mouth watering cocktails. It opens just in time for sunset at 5.30 pm and a place where we love to sit in the lounge chairs and take it all in. Don't miss the 'Bubbles and Beats' with The Thaiger 102.75 FM's Garry Holden there on Thursday and Saturday nights. An absolute must for any visitor or resident in Phuket.

An oasis in the middle of the madness in Patong, On Top is located on the 7th floor of the Swissotel Resort Phuket Patong Beach. More recently it has established itself as a cool vibe for in house guests and locals, happy hours and live DJs add to the ambience not to mention the million dollar views, prior to this it was more popular for events and private parties.

The newest member to the rooftop bar club, Escape, at the Novotel Karon opened late in November 2017 with an extensive cocktail list, and to keep the munchies away an equally impressive tapas and antipasto selection. Open daily from 6pm Escape has a rustic feel with varying specials throughout the week, including "Double Trouble" on Tuesday (buy one get one free on selected drinks) and "Treasure Box" on a Thursday where you have keys to a lucky draw treasure box with many different prizes and deals.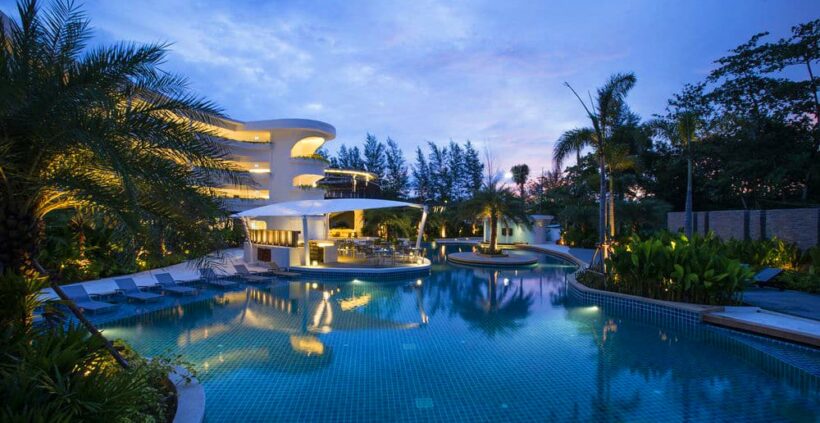 Located in the heart of Patong on the rooftop of The Kee Resort, The Sky Lounge has an enticing vibe with DJs and daily happy hours. Unlike many bars the happy hour is from 5.30pm – 8.30pm with classic cocktails as well as their signature cocktails all just 150 baht, locals beers 100 baht and house wines 150 baht. Whether your looking to dance the night away or spend a quiet romantic evening with your loved one The Kee Sky Lounge is a great place to do both.

Set on the edge of the resorts stunning floating swimming pool with unparalleled views of the Andaman Sea, Kata Rocks Bar is chic in design with funky creative cocktails paired with sumptuous tapas. The impressive team of mixologists create unique and left of the middle cocktails that are not found anywhere on the island, the resort itself has its own branded Gin which features in many of the drinks list. My personal favourite is their Lycheetini which is crisp short drink made from vodka, lychee, lime juice and a dash of palm sugar, problem is I can't just have the one! Try their non-alcoholic home-made ginger beer too.

They say a picture paints a thousand words, don't be fold by the plastic chairs and rustic tables at Wassa Homemade Bar, though ascetically underwhelming, the drinks list and to-die-for views are very impressive. Placed at the top of Phuket Hill facing perfectly West for sublime sunsets Wassa is a local hangout and also for expats in the know. Like any locally owned and operated bar the Thai menu accompanying the drinks is tasty and cheap as.

The relaunch of Vanilla Sky Bar & Gastro Pub at Cape Sienna is a welcome back to the ultra cool rooftop bar to the Phuket scene. It is positioned perfectly on the cliffs of Kamala's Nakalay Bay to take in the stunning Phuket sunsets. With daily happy hour specials from 5-6pm, occasional guest DJ spots and delicious Gastro Pub dishes, Vanilla Sky Bar is an institution for locals, tourists and expats. With stunning sea views, creative craft cocktails, modern stylish Gastro Pub food it is a fabulous place to hang with friends, say hi to Pepe the resorts F&B Director a good guy and always up for a chat.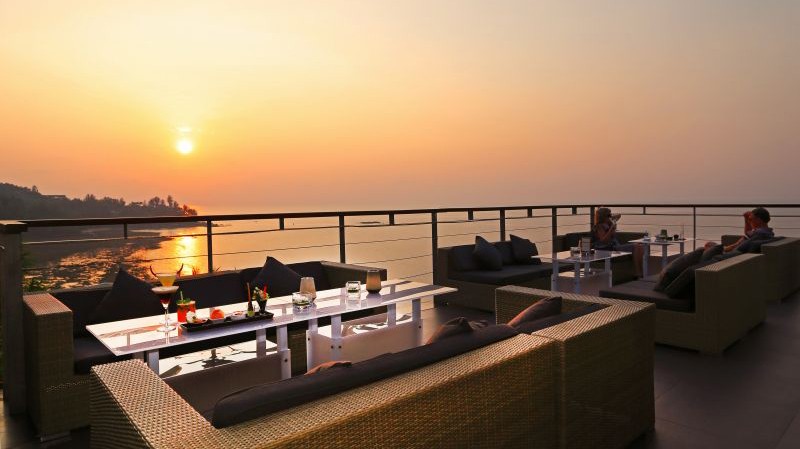 Sri Panwa Resort at the very bottom of Cape Panwa has the rare 360 degree ocean views around Phuket. The award winning Baba Pool Club and Baba Nest has lounge chairs positioned and sunken in the mirrored splash pool the colours alone during sunset are fabulous. High end cocktails matched with a high end prices, Baba is a cool hangout with friends and family but perhaps just for a special occasion.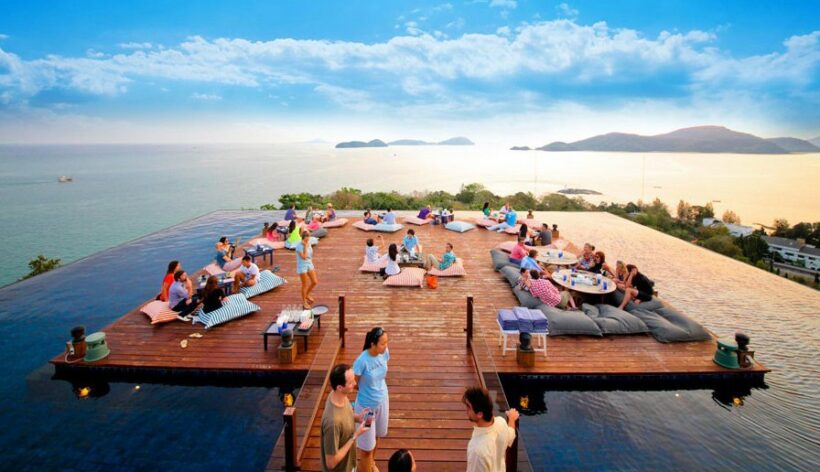 Located on the 'Millionaires Mile' in Kamala, Talung Thai at Paresa Resort has dramatic high cliff views over the Andaman Sea with like so many West coast properties, amazing sunsets. You are welcomed to the bar with floor to ceiling wine fridges that immediately say 'wow', the drinks list is award winning and their mixologists have competed year on year at the Thailand best of the bests Diegeo cocktail competitions. Monthly cocktails specials and as well as the resorts signature cocktails keep you going back for more. My personal favourite is the Thai inspired 'Chilli and Lime Caipiroska' the perfect combination of spice and sour.

📱 Download our app on Android or iOS for instant updates on your mobile
📧 Subscribe to our daily email newsletter
👍 Like/Follow us on Facebook
🔔 Subscribe to or Join our YouTube channel for daily video updates
Thai Airways food landing in 7-Eleven next month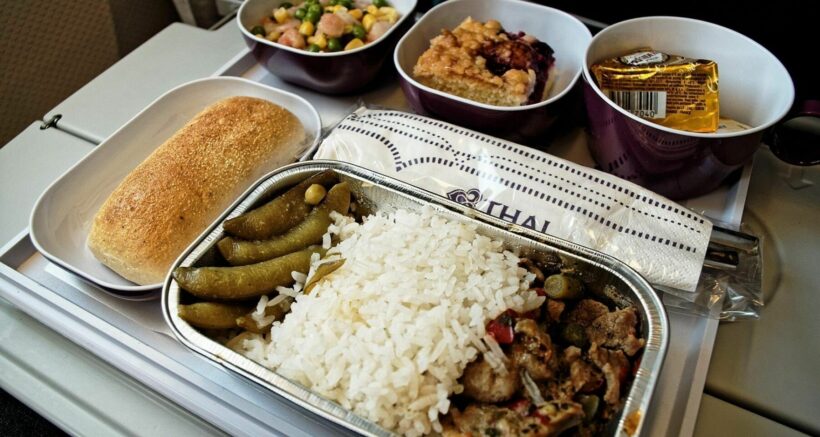 Warning. Some low-altitude turbulence is coming to a 7-Eleven near you. Thai Airways has cooked up a new money-making scheme during Covid-19 to sell its airline food in 7-Eleven. Set to take off on April 15, the mostly grounded and indebted airline will attempt to offset its losses during the pandemic by selling food in the ubiquitous convenience store and other supermarkets throughout Thailand.
It's a clever strategy for a struggling company, but will customers take the bite? Surely a few crispy pork and rice dishes will knock the edge of that 300 billion baht debt!
Claiming that their busy flight schedule has always previously stood in the way of the airline's foray into the fast food market, Thai Airways now has the supply (and time) with most flights grounded by the pandemic's decimation of the travel industry and less hungry mouths to feed in the sky.
The first meals schedule to arrive on the shelves of 7-Eleven just after the Songkran holiday are Thai Airways' halal chicken biryani dish, and the traditional Thai dish nam phrik long ruea, crispy and fluffy fish and sweet pork served in a fermented shrimp chilli paste. The primary push into the food industry will be more unusual meals to stand out in 7-Eleven's selection.
The question remains whether the food selection will fly off the shelves, but the airline's hopes are high after their airline launched pop-up restaurants in September and the public ate it up. It seems that, contrary to a million stand-up comedy jokes about how terrible airline food is, people have really missed it with so much cancelled travel due to border closures and restrictions.
Thai Airways hopes this creative departure from their main business will help bolster the struggling airline, who were previously denied a government bailout after declaring bankruptcy last year. They have tried everything from the pop-up restaurants to jumbo yard sales to renting out flight simulators. Even with the sharp reduction of flights due to the pandemic, flying will still be the company's main mealticket, but they hope meal sales will make up for low ticket sales until the travel industry recovers.
So stow your tray table and fasten your seat belt as we see if the 7-Eleven offerings of Thai Airways' food takes off.
(The Thaiger has a better solution. Let 7-Eleven lease Thai Airway's grounded planes and run the whole business instead)
SOURCE: Coconuts Bangkok
📱 Download our app on Android or iOS for instant updates on your mobile
📧 Subscribe to our daily email newsletter
👍 Like/Follow us on Facebook
🔔 Subscribe to or Join our YouTube channel for daily video updates
Bring on the heat… here's our list of the spiciest Thai food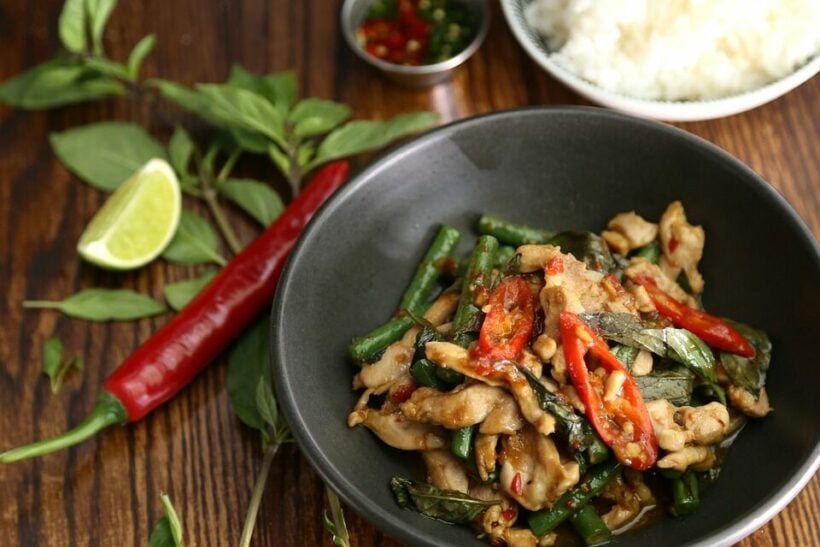 Thai food is raved about as one the best cuisines in the world… and the spiciest. The small red and green Thai chillies are typically what gives the dishes that extra kick, while dried chilli flakes and chilli paste, known as nam prik pao, are often served on the side to make the dishes even spicier.
While some foreigners come to Thailand with a palate prepared for spicy food, others can't handle the heat and Thais will typically lessen the spice level for visitors, calling it "phet farang," a more mild spice level for foreigners. Some restaurants and street food vendors may ask "Gin phet dai mai?" meaning "Can you eat spicy food?" For yes, say "dai," and for no, say "mai dai."
The spice level for many dishes can vary depending on the number of chilli peppers. Many spicy Thai dishes come with a side of cucumbers and other herbs and fresh vegetables to help bring down the heat.
We've come up with a list of the top 16 spiciest Thai dishes. Can you handle the heat?
1.Kaeng tai pla – Thai southern-style curry with fish entrails
Even some Thais don't try this dish, so be warned. Kaeng Tai Pla is one of the most well-known local dishes in the south of Thailand and one of the spiciest Thai meals.
Kaeng Tai Pla is known for its combination of salty, hot and spicy flavors. The main ingredient is the fish entrails that are fermented with salt for around a month before it's cooked. A special chilli paste is made specifically for the dish from garlic, shallots, white peppers, black peppers, dried chillies, kaffir lime vest, lemongrass and turmeric. The curry is typically served with a side of rice or rice noodles as well as a large plate of fresh vegetables to help with the heat.
2. Kaeng pa – Thai curry with vegetables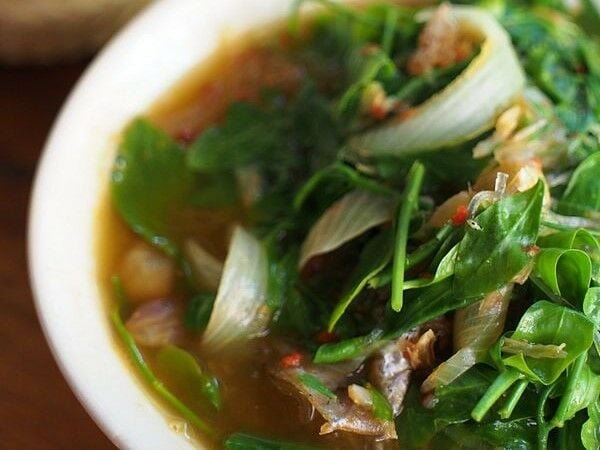 Kaeng pa, which means "jungle curry," is a watery, hot and flavourful curry. There's no coconut milk added to cool it down, so be warned. It's one of Thailand's spiciest curries. It's made with kaffir lime peel and leaves, lemongrass, green peppercorns, galangal, garlic and chilli. Traditional Kaeng pa was made with wild boar, but today, the curry is typically made with pork, chicken or fish.
3. Tom yum – Classic hot and sour soup
Tom Yum is one of the most well known Thai foods. The spicy soup, known for its herbal flavors, is made from lemongrass, kaffir lime leaves, galangal, tamarind, chillis, mushrooms and coriander. It's typically made with shrimp or a large prawn (tom yum goong), but can also be made with chicken (tom yum gai.) Coconut milk is often added to the soup, which lowers the level of spiciness and sweetens the flavour. To make it extra spicy, ask for the clear tom yum without coconut milk called tom yum nam sai.
4. Leng sab – Sour and Spicy Pork Neck Bone Soup
Leng Sab is a simple, but spicy dish and is very popular among Thais. It has a similar taste to Tom Yum, but has a sharper tanginess and a unique aroma from the green chillis. The dish is usually served hot with a large piece of well-boiled, soft pork neck in a flavorful broth. Lime juice and green chillies are added in to give a tanginess and heat. It's garnished with coriander and spring onions. It's typically served with a side of rice.
5. Kua kling – Stir-fried meat with curry paste
Kua Kling is a famous stir-fried dish from Southern Thailand. Typically made with minced pork, Kua Kling has salty and spicy flavours as well as aromatic notes of various herbs and spices. It's less spicy than Kaeng Tai Pla, but still extremely spicy. The dish can be served with rice and fresh vegetables like cucumber, Thai eggplant and other greens to help with the heat.
6. Kaeng som – Spicy and sour yellow curry soup
Kaeng Som, which translates to "orange curry," is a southern-style curry known for its salty, sour and spicy tastes. It's made from a combination of herbs and spices, and seasoned with shrimp paste, salt and lime juice. People usually add fish as well as bamboo and coconut shoots to the curry. Sides of a Thai-style omelet and a deep fried fish go well with the curry.
7. Som tum – Green papaya salad
Som tum is one of the most famous Thai foods and is a "must try" dish when visiting Thailand. Som tum is made from shredded unripe papaya, tomatoes, asparagus beans, lime, dried shrimp, chilli peppers, palm sugar and fish sauce.
Typically, a som tum vendor will ask how many chillies you'd like. "Mai sai prik" means "no chilli," but let's be honest, som tum without chilli is not real som tum. Around 3 or 4 chillies is normal, but very spicy. Some add 10 or more chillies. The salad goes well with sticky rice and grilled chicken, known in Thai as "gai yang."
There's also other variations of som tum, such as som tum pon la mai which is a fruit verison of the recipe with apple, tomato and corn in the same spicy seasoning as the original. There's also som tum pu pla ra which has raw crab and fermented fish sauce.
8. Phad kaphrao – Stir-fried meat with chilli and holy basil
Phad kaphrao is one of the most popular dishes in Thailand. The simple stir-fried dish is made with meat, typically chicken or pork, with chilli, garlic and holy basil. Some pad kaphrao dishes are made with shrimp, squid or crispy pork. It's served with a side of steamed rice, which helps to minimize the heat. It also pairs well with a fried egg, or "khai dao" in Thai.
9. Phad chaa talay – Stir-fried spicy seafood
Phad chaa talay is packed with a variety of herbs and spices, giving it a unique flavour combination, and of course, heat. This spicy dish is made with a variety of seafood like squid and prawns cooked with chilli, kaffir lime leaves, green peppercorn and fingerroot. The dish is sometimes made with pork, chicken or fish. It's usually eaten with a side of rice.
10. Khai phad khamin – Stir-fried spicy chicken with turmeric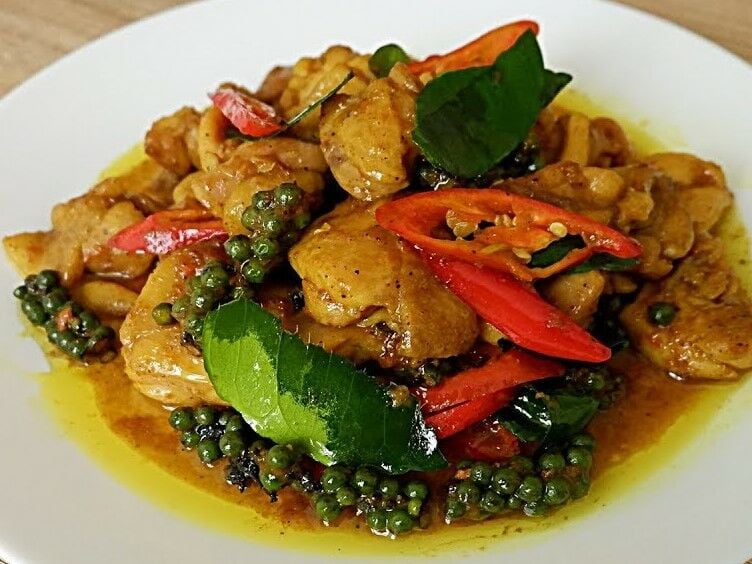 Khai phad khamin is a spicy dish with rich flavours of Thai herbs and spices. Turmeric is the dish a bold yellow. A paste for the dish is made with turmeric, garlic and black pepper. It's garnished with chillies and kaffir lime leaves. While it's not as spicy as some Thai dishes, the turmeric and black pepper are sure to make you sweat.
11. Tom sab kradook on – Spicy and sour soup with pork cartilage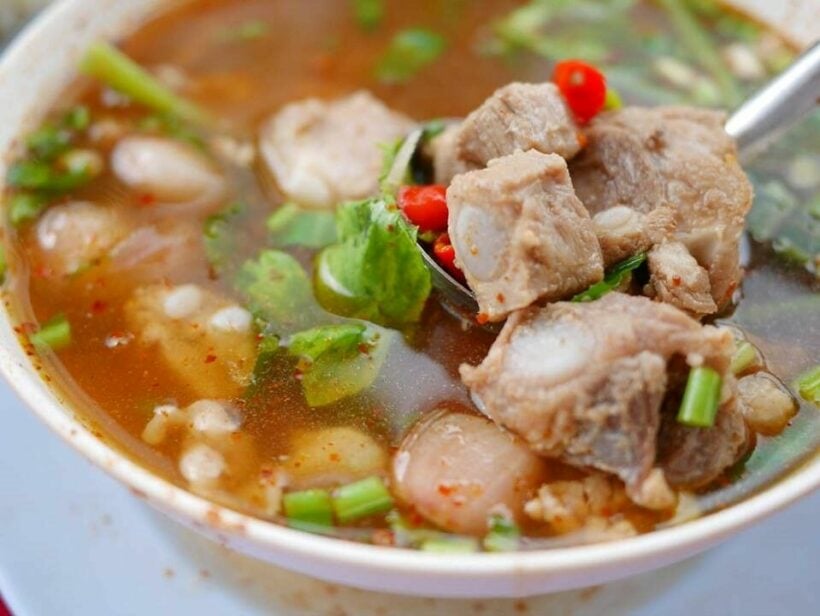 Tom sab kradook is based with the same ingredients as tom yum (lemongrass, kaffir lime leaves, galangal, chilli and coriander) but is added with deep-fried dry chilli. It has the spicy and sour taste of tom yum with a smokiness from the deep-fried chillies. Pork cartilage is a popular meat for the dish. The soup is normally accompanied with rice.
12. Gung kua phrik klua – Stir-fried spicy shrimp with chillies and salt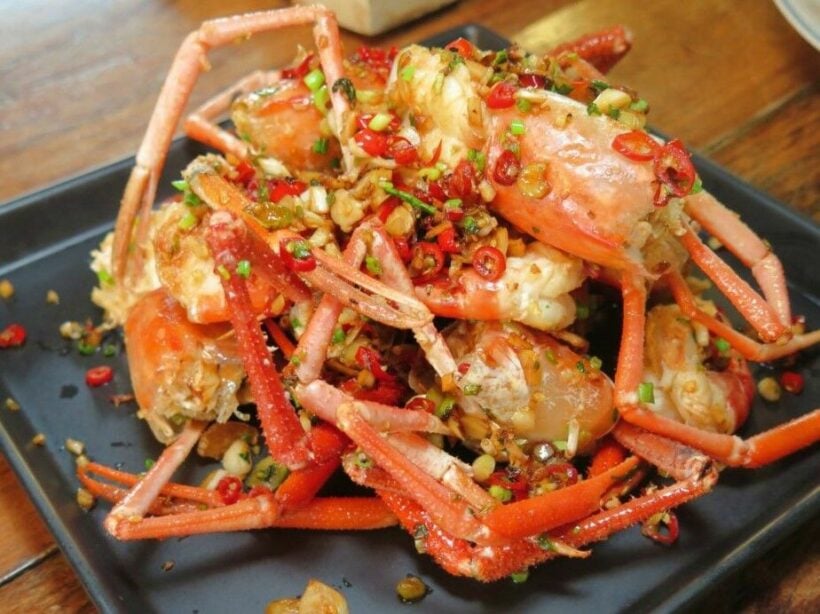 Gung kau phrik klua is a simple dish often offered at Thai restaurants. It's stir-fried shrimp with 2 main seasonings: chilli and salt. A pinch of pepper and some fish sauce are also added to enhance the natural sweetness of the shrimp. It goes nicely with a bowl of rice.
13. Nua phad phet bai yee ra – Stir-fried beef with red curry and tree basil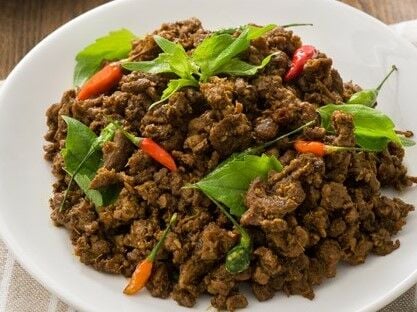 Nua phad phet bai yee ra is stir-fried beef cooked in a thick paste, which is made with the same ingredients as red curry: shallot, galanga, lemongrass, kaffir lime zest, dried chilli, white pepper, coriander seeds, cumin and garlic. It's topped with tree basil and pair nicely with rice.
14. Nam phrik kapi – Shrimp paste chilli dip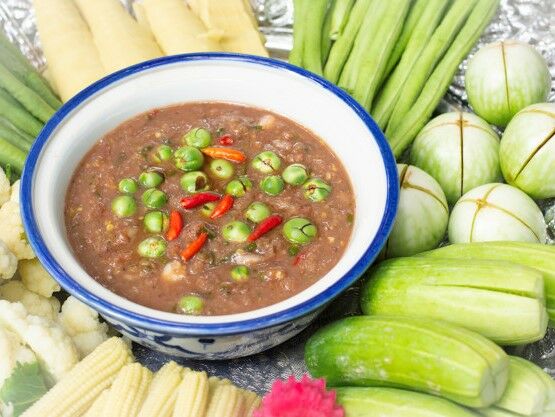 Nam phrik kapi is the staple chilli dip of Central Thailand. The dip is a savoury combination of salty, tangy and spicy. Shrimp paste gives the dominant salty favour. Chillies, garlic, shallot, lime juice and palm sugar are mixed in. The dip is typically served with deep-fried mackerel, steamed vegetables and rice.
15. Pad phrik khing – Stir-fried dry curry with long green beans and meat
Pad phrik khing is a more mild spice level than some of Thailand's spiciest dishes. The stir-fried dish can be made with different kinds of meat, like seafood, pork or chicken as well as green beans. Red curry paste, ginger and kaffir lime leaves make up a unique flavour. A salted egg goes well with the dish.
16. Mu phad phrik phao – Stir-fried pork with roasted chilli paste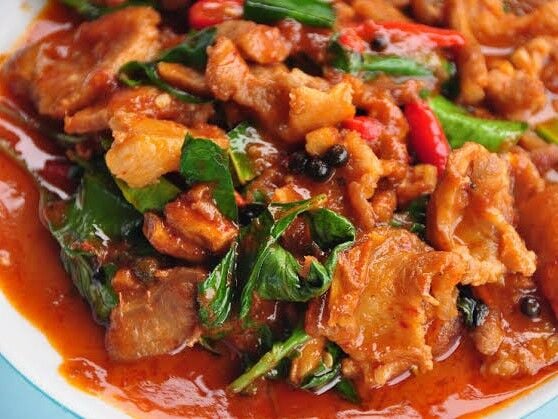 Mu phad phrik phao is stir-fried pork with roasted chilli paste, which gives the dish a hint of sweetness and sourness. Sweet basil is often added. Some use other types of meat like chicken, crispy pork or fish. It's best with a bowl of rice.
📱 Download our app on Android or iOS for instant updates on your mobile
📧 Subscribe to our daily email newsletter
👍 Like/Follow us on Facebook
🔔 Subscribe to or Join our YouTube channel for daily video updates
Phuket Thai food treats you need to try | VIDEO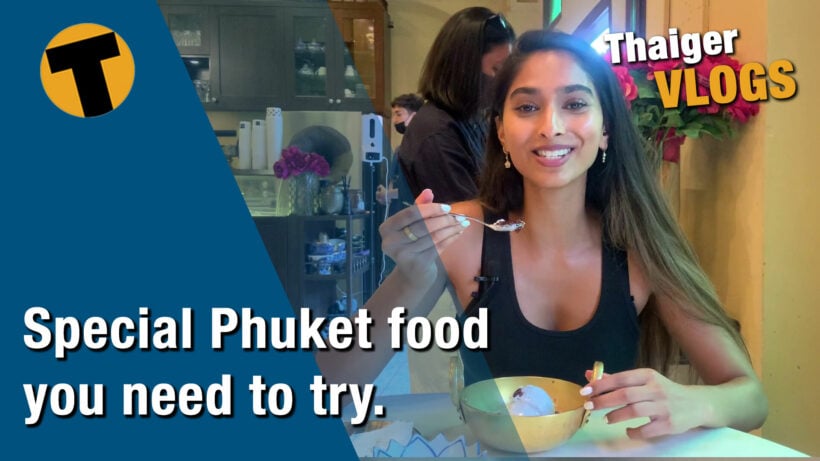 Nimz, our new Thaiger Vlogger takes you on a tour of some uniquely Phuket foods, although you may find them in other provinces these days as well. A lot of southern Thai food can be very spicy and features a lot of seafood, but Nimz went for the 'less' spicy (mai phet) options.
Tell us about your favourite Thai treats and if you'd tried something special in Phuket.
Locations…
Arpong – https://goo.gl/maps/arfbjUkF8eK3SZnPA
Ao aew – https://goo.gl/maps/kb6B1iC8XXT9Wfxb9
Bicomoi – https://goo.gl/maps/CKqQvvs84zongamh9
O Tao – https://goo.gl/maps/cT3w4QWvt51QTXmG8
📱 Download our app on Android or iOS for instant updates on your mobile
📧 Subscribe to our daily email newsletter
👍 Like/Follow us on Facebook
🔔 Subscribe to or Join our YouTube channel for daily video updates