Profile: Lisa Haydon – Bollywood superstar in Phuket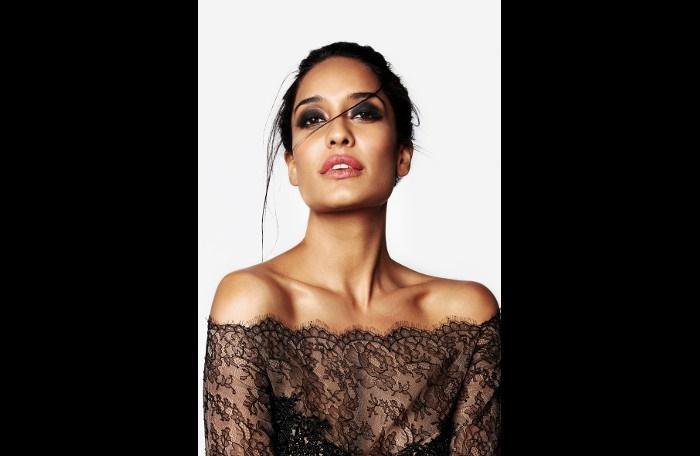 PHUKET: Supermodel, Bollywood star and host of 'India's Next Top Model', Lisa Haydon has an enjoyably hectic professional life. Riding the wave of her popularity gives her little time to relax, however, particularly following her critically acclaimed role in the 2015 movie 'Queen' and her appearance in this year's top-grossing madcap comedy-romance 'Housefull 3'.
But when the star does squeeze in a few days off set, she will often find her way to the laid back shores of Phuket, where she can catch up with old friends and re-energize for the next wave of work.
It was on just such a visit that the Phuket Gazette recently caught up with Lisa at a luxury west coast villa resort.
It's been a particularly tough year for the Bollywood celeb, but she shows little intent of slowing down.
"I've just finished shooting for India's Next Top Model and it's just gone on air. So we spent about a month and a half working on that project, and right before that I had the film release for Housefull 3. The last few months have been quite intensive work," she explains. "I'm going back to India next to shoot a film called 'Oh, the Troubles of the Heart' ('Ae Dil Hai Mushkil'). After ten days of doing that, I'm actually going on holiday, taking a month off."
It will be a month, she admits, that will also include a shoot in the UK. Not that she's complaining. in the twelve years since she first stepped in front of a camera in Australia, her star has never been brighter.
Lisa admits that she often looks to her large family for advice on the roles she chooses. "I wouldn't say they guide me in my career, but it's really interesting to have a perspective from people not in the business," she says. "So, I do take advice from them. I've never said this on record, but my dad reads all of my scripts. He doesn't do it to keep an eye on me – I always make him read them because in some ways I perceive him as being the audience."
Lisa has often spoken of the enjoyment she finds in big family discussions around the dinner table. But the family took a terrible hit earlier this year. Lisa's mother, Anna, passed away.
It was while volunteering with Mother Theresa that Anna met Lisa's father, Venkat. Experiencing her mother's commitment to social work and helping those in need has shaped Lisa's outlook on life.
"I grew up doing a lot of social work in India, working with people who needed rehabilitation in terms of drug and alcohol abuse, cancer or HIV patients, and abused women," Lisa says.
"My mother was very involved [in social work] throughout her entire life, except for the last ten years when she was a bit older and had eight children. Then she played that role in a different way – taking care of us."
A wry smile lights her face as Lisa recalls fond memories of a family complete. Her eyes shine, but she blinks away the tears. Ever the pro. When her mother passed away, Lisa's hectic schedule of shoots and press calls left her little time to mourn the loss. Her short stay in Phuket was the first chance she'd had to fully come to grips with the space left empty in her life.
"I think it's very important to play your different roles in life as they come along," she says. "That's something that I'm aware of and would like to do more, but I'm also an actor and it's very difficult to wear every hat at the same time.
"But, I would like to put that hat back on at some point."
— Simon J Hand
Keep in contact with The Thaiger by following our
Facebook page
.


Have something to say? Scroll down to leave a comment, or visit our Thaiger Thailand Q&A Forum to discuss people, events, to-do and more with the local community.

John Legend & Chrissy Teigen check out the tastes at a Korat Market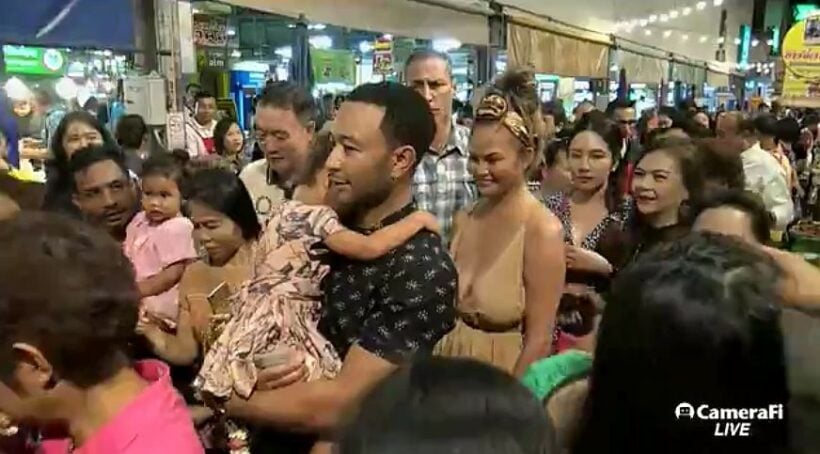 American music legend, John Legend, and his Thai-American wife Chrissy Teigen headed to a Nakhon Ratchasima food market only to be surrounded by locals trying to get a quick selfie.
The army of fans surround the musician, his wife and daughter to follow them around the market in the 25 minute Facebook post. It was smiles all around but as the video wears on so does the patience of the American singer whose only protection appears to be a plain-shirt body-guard who is at least 40 centimetres taller than everyone around him (he doesn't stand out at all).
A Thai policemen comes to their rescue and helps escort them somewhere a bit quieter.
Legend's model wife Chrissy Teigen is seen almost wearing her dress as any number of wardrobe malfunctions appear moments away from happening throughout the video.
The family were reported to have visited a number of famous Korat landmarks during their visit to the area.
Legend performed in Bangkok in March 2018 this year as part of his Darkness and Light tour.
Keep in contact with The Thaiger by following our
Facebook page
.
Phuket's lifeguards say goodbye to a champion of local beach safety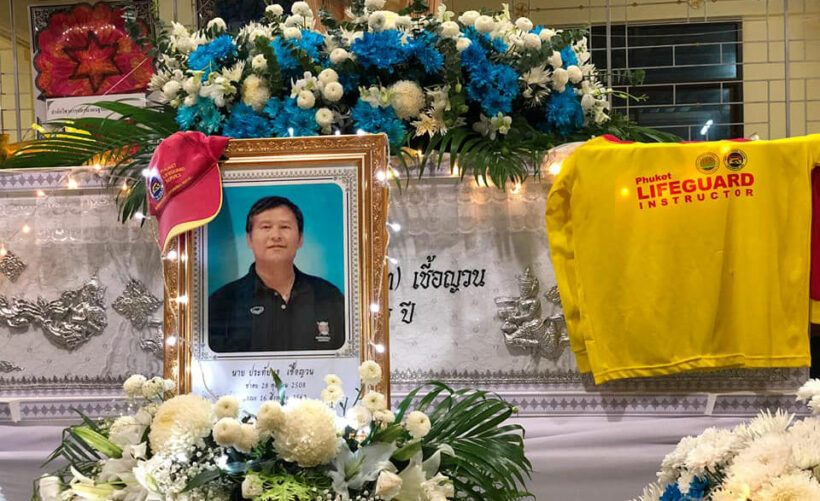 PHOTOS: Phuket Lifeguard Service
A commemoration ceremony has been held for Prathaiyuth Chuayuan, a local Phuketian who helped drive Phuket's first beach lifeguard services. He passed away on Friday morning after a heart attack.
He first experienced chest pains whilst delivering his daughter to school in Phuket Town on Friday morning, drove himself immediately to the Vachira Hospital nearby but succumbed to cardiac arrest around 9am.
He was 57 years old.
He worked with Australian lifesavers to help train local lifeguards and improve the skills of the Phuket's beach enthusiasts, and finally sought international accreditation for the growing body of competent Phuket lifeguards.
The Phuket Lifeguards Service, founded and run by Prathaiyuth and his wife Witanya, saved innumerable lives each year whilst battling Provincial Hall and local government for increased funding in annual contract negotiations.
Daren Jenner, a FOT (Friend of The Thaiger) and local safety officer for the International Surf Lifesaving Association, sent a message to us expressing his deepest condolences to Prathaiyuth's wife, family and friends.
"I had many good conversations with him over the years. He was a good-hearted man who did his best in difficult and changing circumstances. A very big loss for Phuket and the lifesaving community here. ISLA sends our deepest respect for his long commitment to ocean safety in SE Asia."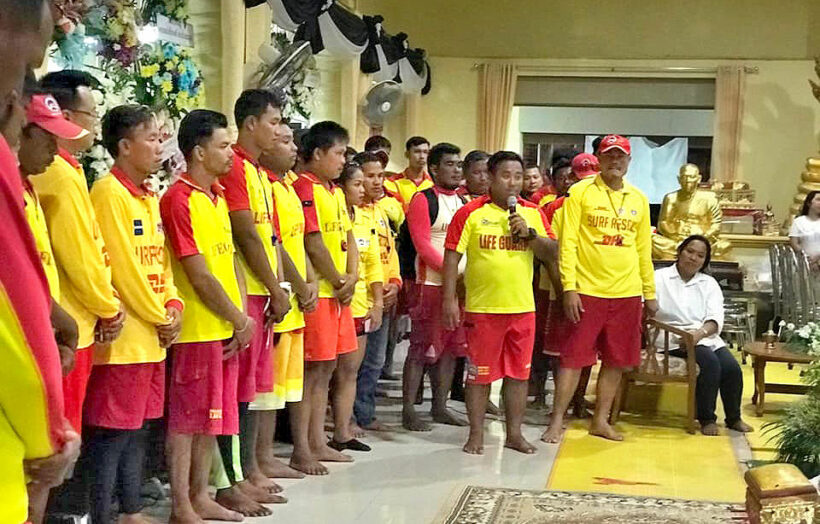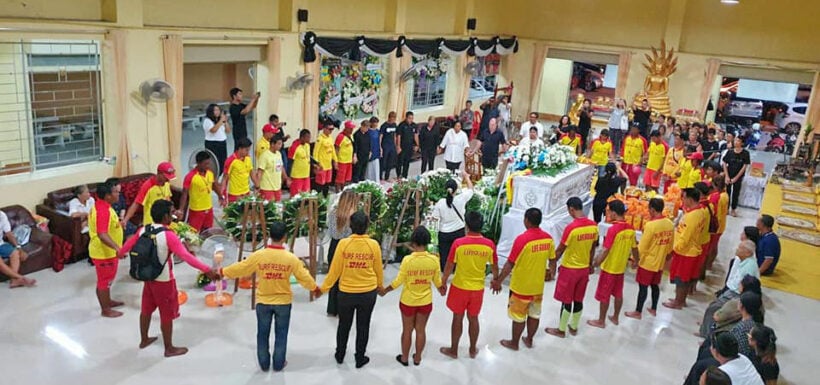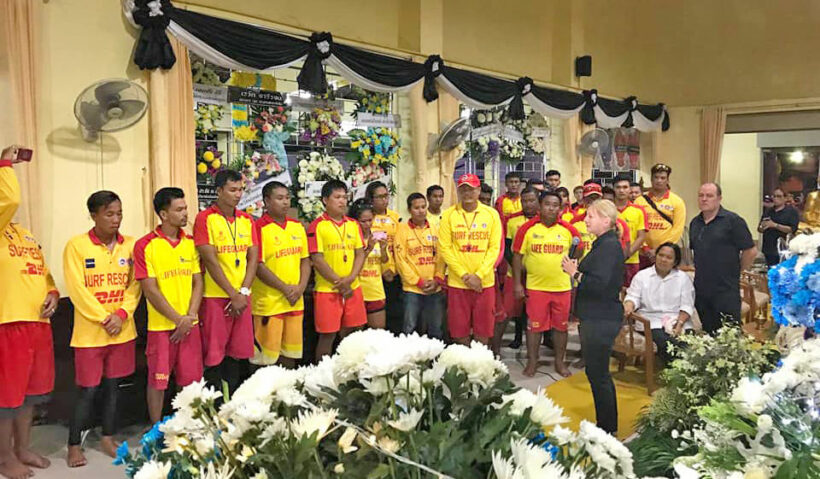 Keep in contact with The Thaiger by following our
Facebook page
.
Happy Birthday to Her Majesty Queen Sirikit, the Queen Mother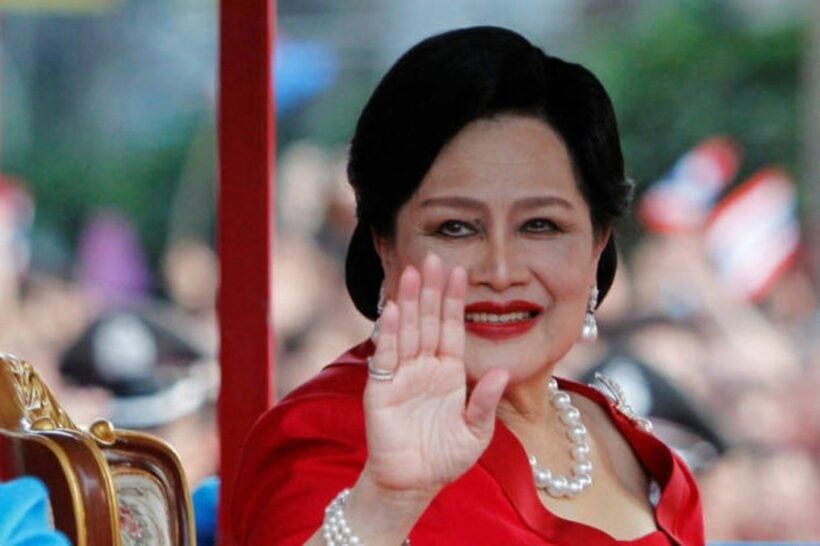 Today is the birthday of Her Majesty Queen Sirikit who was married to King Bhumibol Adulyadej. Following the Coronation of His Majesty King Maha Vajiralongkorn, her son, and his marriage to the new Queen Suthida, Queen Sirikit has now been bestowed the title of Queen Mother.
Her Majesty Queen Sirikit is the daughter of His Highness Prince Chandaburi Suranath (Mom Chao Nakkhatra Mangkala Kitiyakara) and Mom Luang Bua Kitiyakara (nee Mom Luang Bua Snidwongse).
She was born on August 12, 1932.  She attended kindergarten class at Rajini School, but subsequently went to St. Francis Xavier convent school at Samsen District in Bangkok.  Her father later on became Thai Minister to France, then to Denmark and, ultimately, Ambassador to the Court of St. James in England.  Her Majesty accompanied him and continued her general education in the three countries and lastly in Switzerland.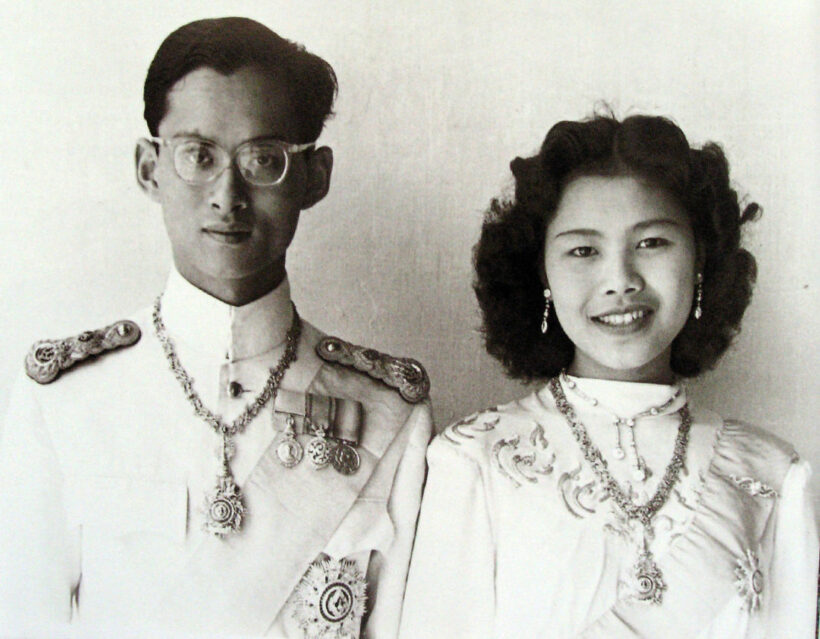 It was while her father was stationed in Paris that she first met His Majesty King Bhumibol Adulyadej, who was then studying in Switzerland but went now and then to Paris.  The chance meeting in Paris ripened into friendship and understanding.  When His Majesty met with a very serious motor accident in Geneva, Switzerland, and had to stay in a hospital at Lausanne, Her Majesty was a frequent visitor.
When His Majesty was well again and left the hospital, he was graciously pleased to arrange for Her Majesty to continue her studies at Riante Rive, a boarding school in Lausanne.  On July 19, 1949, Their Majesties were quietly engaged in Lausanne.  On March 24, 1950, Their Majesties landed in Bangkok by ship after a long absence.  On April 28 of the same year, the royal wedding took place at Pathumwan Palace.
The couple had three daughters and one son:
Princess Ubolratana Rajakanya (born 1951), married and divorced American businessman Peter Jensen, had two daughters and one son, their son was killed in the 2004 tsunami.
King Maha Vajiralongkorn (born 1952), married Suthida Tidjai just days before his Coronation this year. He has seven children from previous marriages.
Princess Maha Chakri Sirindhorn (born 1955), unmarried.
Princess Chulabhorn Walailak (born 1957), married Virayudh Tishyasarin, an Air Vice Marshal in the Royal Thai Air Force, had two daughters, divorced.
In 1956, King Bhumibol became a Buddhist monk for a period of time as is customary for Thai Buddhist males and Queen Sirikit served as Regent. Because of the excellent way she served as Regent, King Bhumibol gave her the style "Somdet Phra Nang Chao Sirikit Phra Borommarachininat" which would translate to Queen Regent.
Queen Sirikit is well known for her charitable work. She has been President of the Thai Red Cross Society since 1956. Through the Thai Red Cross, the Queen has been active in relief work for the many refugees from Cambodia and Burma in Thailand. The Queen took an active role in the aftermath of the tsunami disaster in southern Thailand in December of 2004. Tragically, the tsunami took the life of her grandson Bhumi Jensen, the son of her eldest daughter.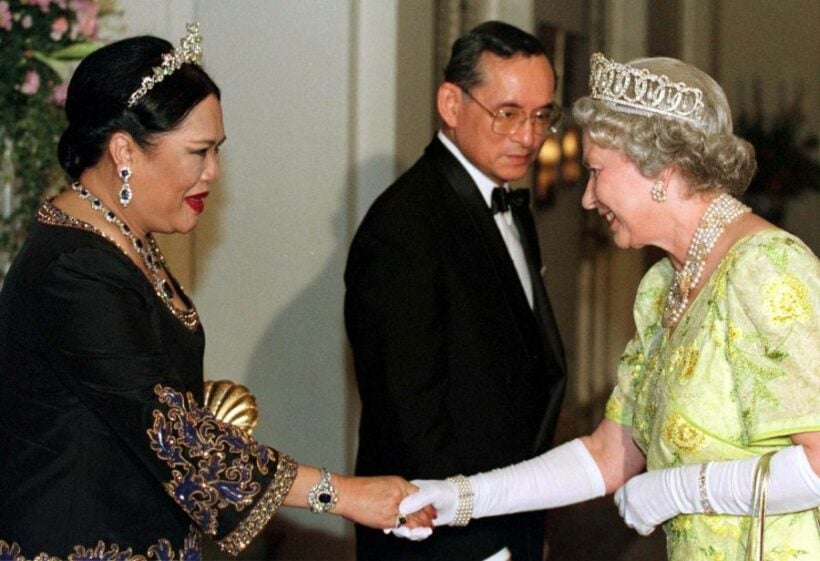 The health of King Bhumibol Adulyadej declined in his later years. The king resided at Siriraj Hospital in Bangkok for several years and Queen Sirikit also moved to the hospital to be with him.
On July 21, 2012, Queen Sirikit felt unsteady and staggered while exercising at Siriraj Hospital where King Bhumibol Adulyadej resided. Doctors determined that she has suffered a stroke. The Queen was not seen in public until August of 2013 when the King was discharged from the hospital. Since then, Queen Sirikit has refrained from making public appearances.
King Bhumibol Adulyadej died on October 13, 2016, at Siriraj Hospital in Bangkok, at the age of 88, following several years of illness.
Mothers Day in Thailand has been traditionally held on Queen Sirikit's birthday, and now with her new role as Queen Mother, the tradition continues.
Long live Queen Sirikit, the Queen Mother.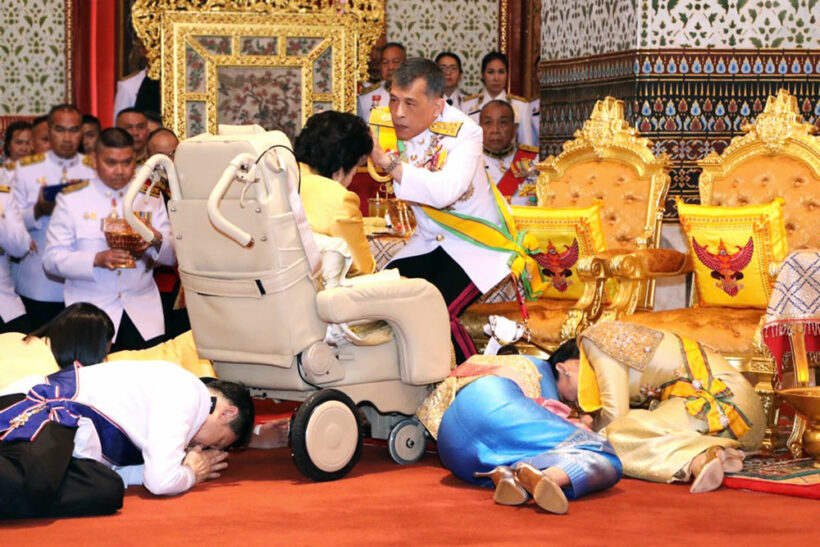 HM the King bestows the new role on his mother, Queen Sirikit, the Queen Mother, on the day after his coronation
Keep in contact with The Thaiger by following our
Facebook page
.