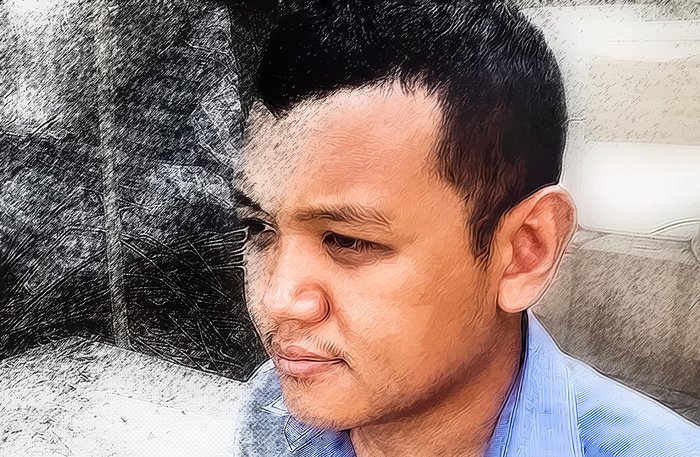 PHUKET: One of the most famous ceremonies that is synonymous with Phuket's Vegetarian Festival, or Jia Chai, is the soul-stirring parade of 'ma song' ('spirit mediums), who are often seen stabbing objects through their cheeks or slashing their tongues with knives, as they believe this sacrifice will take away bad fortune, sickness and danger from those who take part in the festivities.
Thitipong Saisutthikul, 26, a hotel assistant general manager has been a ma song for seven years.
"I declined to be a ma song for five years before I gave in," said Thitipong.
"To become a ma song, you must be chosen by 'Phra' [the angel's spirit] and I was chosen."
He recalled the first time that he became possessed by his Phra, Ong Sun Tai Sai, six years ago.
"I was hanging out in my house and suddenly my body became paralyzed. I was frozen like that for a few hours until I became unconscious and started speaking Chinese. I was told that after I spoke, I wrote down the name of my Phra in Chinese letters and ever since I have taken on the duty of being a ma song."
Mr Thitipong said that the tools he uses during festival rituals are the classic ones used in the legend of the Jia Chai.
"I normally use sharp steel or swords to stab my cheeks. It doesn't cause pain, as I am unconscious at the time, but I have never used the fancy tools that people have started using recently."
He noted that, although the ceremony is meant for the ma song to suffer for other people, there is a legend and process to it and he does not agree with changing tools to attract more attention.
"There are some weapons that are mentioned in the legend, such as sharp steel and swords, but many people have now started using wheels, trees, guns or even bicycles."
"I don't think it's appropriate and it's more for fashion and not tradition. Many ma songs are campaigning and trying to tell others to follow the legend."
Mr Thitipong explained that during the festival, the ma song must go to the shrine and wait until their Phra possesses them. After they are unconscious, the shrine staff will sit them down, clean their cheeks with alcohol and use sharp steel to open a hole on each cheek and put in the object that the ma song had chosen beforehand.
After the processions, the ma song will return to the shrine where a medical team and shrine staff will remove the tools from his cheeks while the ma song is still possessed in order to avoid pain.
After the wounds are cleaned and closed, a ceremony is performed to lure the spirit out of the ma song so that they will become conscious again.
"I never feel bad about having scars on my face or feeling pain after the ceremony. I realize that I have been chosen and I am honored to sacrifice myself to help people during the Jia Chai Festival."
And, though he said that Jia Chai has changed a lot from when he was young, he is glad to see that people are still interested and keep to the strict guidelines and traditions, such as wearing white and not eating any animal products.
"It's good to see people coming from other provinces and other countries to join the festival and ceremonies. Though they may not understand it completely, by involving themselves in the festival they will receive health and merit."
— Nattha Thepbamrung
Keep in contact with The Thaiger by following our
Facebook page
.
Never miss out on future posts by
following The Thaiger
.
Absent actress slapped with 33 year sentence for drugs by Appeals Court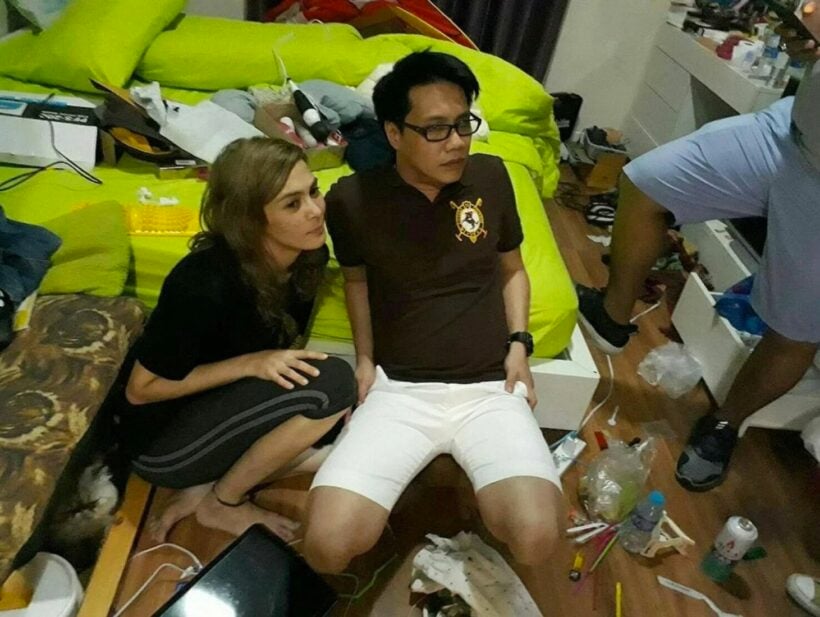 The Appeals Court has refocused attention on the case of TV actress and former Miss Teen Thailand Amelia "Amy" Jacobs, after handing down new sentences were much higher than the initial court's, with the defendant having reportedly fled the country last year. 30 year old Amelia, was originally sentenced to 3 months in jail, suspended for 2 years, and fined 5,000 baht by the Min Buri Court for taking drugs in August 2018.
On Thursday the Appeals Court revised the sentence and handed down life imprisonment and a fine of a million baht for the drug offence. But the court reduced the sentence and the fine to 33 years and 4 months and 666,666.67 baht, citing her useful testimony. The actress failed to appear for court's ruling and the sentence was read in her absence.
Amy reportedly flew out the country on August 22 last year, while the suspended jail term was still in effect. A warrant has been issued for her arrest, with the statute of limitations lasting 30 years.
In a Facebook post, high-profile activist Atchariya Ruengrattanapong said the actress left on August 22 last year for Dubai and never returned. The deputy Immigration Bureau chief said his office is looking into her whereabouts but could not disclose the information to the public.
Amelia was arrested along with her boyfriend, Punyawat Hirantecha, at a house in Bangkok on September 19, 2017, following the arrest of a man who claimed he bought drugs from Punyawat. Crystal meth was found in his possession.
SOURCE: Bangkok Post
Keep in contact with The Thaiger by following our
Facebook page
.
Never miss out on future posts by
following The Thaiger
.
Police: No foul play in Vorayuth witness's death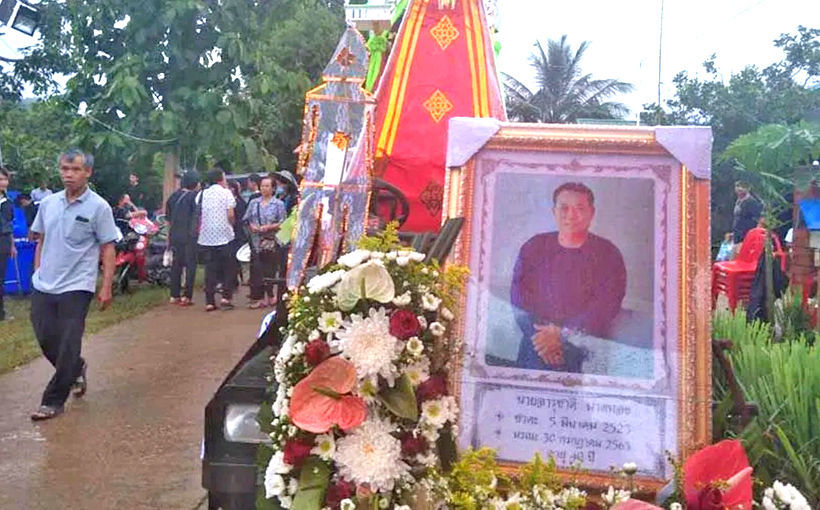 Police today ruled out the possibility of murder in the death of a key witness in Red Bull drinks heir Vorayuth "Boss" Yoovidhya's hit-and-run case. The regional police commander in Chiang Mai, where the witness died in a motorcycle incident last month, said new autopsy results found no trace of any suspicious substance apart from alcohol in Jaruchart Mardthong's body. Investigators ruled his death a drunk driving incident. A high concentration (218 milligrams) of alcohol was found in his bloodstream.
"All the evidence suggested that it was an accident. We also found no evidence which suggests the driver of the other motorcycle knew Jaruchart before they met."
The other motorcyclist was identified as Somchai Tawino, but no charges have yet been filed for his involvement in the incident, according to police.
Jaruchart was one of 2 witnesses who told investigators that Vorayuth was driving under 80 kmph when his Ferrari crashed into a patrol motorcycle, killing senior police officer Wichian Klanprasert in Bangkok in 2012. Their testimonies are believed to have contributed to prosecutors' decision to drop the charges against Vorayuth.
His abrupt death during renewed scrutiny over the case prompted many to believe a conspiracy was involved. PM Prayut Chan-o-cha himself instructed authorities to secure Jaruchart's body for further examination earlier this month, just hours before it was due to be cremated.
Investigators will also question Pasin Akaradejthanachot, an aide to the former Chiang Mai Senator Chuchai Lertpongadisorn, who stole and destroyed Jaruchart's phone from the hospital.
Pasin had said to police that he was concerned about the photos of him taken with Jaruchart, which could have affected his campaign for a local election.
SOURCE: Khaosod English
Keep in contact with The Thaiger by following our
Facebook page
.
Never miss out on future posts by
following The Thaiger
.
Panel says Boss Voovidhya arrest warrant still stands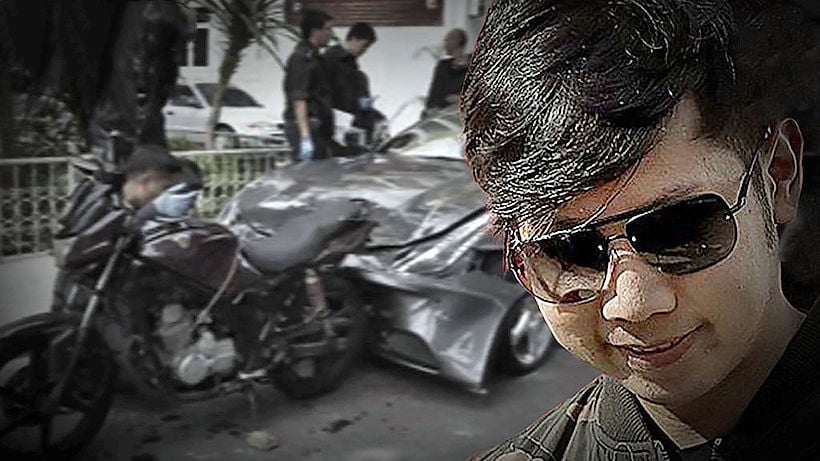 The arrest warrant for Red Bull scion Vorayuth "Boss" Yoovidhya remains in place, despite a request from police that it be withdrawn, according to the head of the independent panel examining the 2012 hit-and-run case. Vicha Mahakun, who chairs the panel, was speaking yesterday after a second meeting of the panel, ordered by PM Prayut Chan-o-cha amid public outrage over public prosecutors' decision not to indict Vorayuth.
The panel learned from the chief judge of Southern Bangkok Criminal Court that police had requested the warrant be cancelled but the move was opposed by a group led by former Bangkok senator Rosana Tositrakul, who petitioned the court against the police request.
The court therefore asked police to withdraw their request, which they eventually did, according to Vicha, who added that especially since the Office of the Attorney General has announced new evidence in the case and that a fresh probe is likely to be ordered, "the warrant should not be revoked."
Vicha says his panel is due to question the Attorney General's team.
The deputy chief of Bangkok's Thong Lor police station says investigators will question new witnesses as soon as they receive an order from the OAG. He was responding to the OAG's findings about a formal inspection of the speed of Vorayuth's Ferrari when it crashed into the rear of the motorcycle of 47 year old police officer Wichian Klanprasert, killing him, on September 3, 2012. It also referred to a medical exam on the suspect that found narcotics, including cocaine, in his bloodstream.
A member of the panel said Tuesday the new evidence involves statements by 2 experts about the Ferrari's speed at the time of the fatal crash. Prayuth Petchkhun, who is also a deputy spokesman for the OAG, told the House committee on Law, Justice and Human Rights yesterday that a new piece of evidence found by the OAG's panel showed Vorayuth's Ferrari was going as fast as 177 kmh.
The report was prepared by a physics lecturer at Chulalongkorn University's Faculty of Science. The discovery of narcotics in Vorayuth's body also justifies additional charges against the suspect and a new probe into the substances, according to Prayuth.
SOURCES: Chiang Rai Times | Bangkok Post
Keep in contact with The Thaiger by following our
Facebook page
.
Never miss out on future posts by
following The Thaiger
.