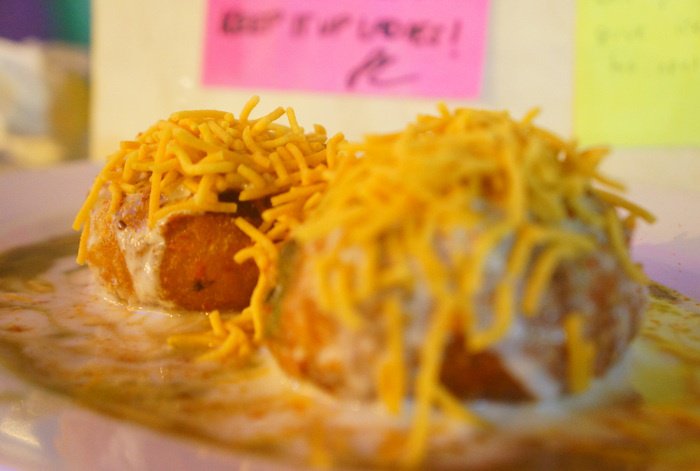 PHUKET: The dishes served up by Spice Box's chef, Savita Sriram, are the Indian version of the Southern American soul food that makes New Orleans a must-stop destination on any foodie's travels – they are simply everything you want from Indian food and nothing you expect.
"We are not a fancy restaurant. We are not tandoori chefs. We are none of that; we don't claim to be," says Chef Sriram with the air of an old friend. "We give good solid food. The kind of food that if you travel anywhere in India, you will find in a small, little restaurant.
"The kind of food you eat in a big restaurant, that's not the kind of food you would eat at home at all. You can't eat like that, that heavy creamy stuff. This is what we eat on a daily basis. And that's what we want to introduce to people."
The funky, little Indian restaurant nestled into one of the many industrial storage containers of Phuket's Boat Avenue serves up truly authentic, home-style dishes, which means patrons, who quickly become friends of the owners – Chef Sriram and Sonu Kapoor of Events International – have to re-adjust what they think about when they think Indian food.
"In India, 'curry' means many things, it means vegetable, as well as meat. It just means a preparation, a dish. So even aloo gobi is a curry, though traditionally for the western palate it's different because it's dry like a stir fry, but in India it's a curry."
Though aloo gobi, which is basically spicy potatoes and cauliflower, is nothing like the curry found in Europe, it has quickly become a crowd favorite at Spice Box, explains Chef Sriram. However, this doesn't mean everything prepared in an Indian kitchen is a curry. Kebabs, and samosa are different, but if you eat it with rice or naan, then it's a curry.
Because Indian curries have travelled the world, they are very different things to different people. In British cuisine a lamb rogan josh is a spicy, bright-red curry. However, because Spice Box serves home-style cooking, it's a very mild curry – even for a foreigner.
"So we do kind of like a mix. Because it's home cooking, it's not very spicy, but I add spice for people who would like it. However, when it's made in its pure form, it's actually not spicy," explains the chef.
Chef Sriram, originally from Bombay – yes, when she was living there last it was still Bombay – also serves up a traditional southern curry.
"This has mustard seeds. They have quite a sharp bite, a bitter bite. And this curry leaf, that's a very specific herb, very specific to southern India," she says. "And it doesn't grow here. So we've actually both brought our plants back from India and nurtured them over the years – so it's very precious that curry leaf, but it imparts a very subtle, beautiful aroma and taste."
Though Spice Box plates up more mild dishes than are eaten in other Indian restaurants in Phuket, it does spice it up a bit. Moving away from a true home-cooked meal, which would usually only have a few spices, such as coriander, and fresh ingredients such as ginger, garlic, lime and chili, Chef Sriram incorporates garam masala in almost every dish.
"You roast the cloves, cinnamon, star anise, peppercorns, cardamom (green and black pods) – there are about seven different spices – and make a powder, and that's called garam masala. Garam means hot, as in warm, because it creates a heat within your body. Masala basically means 'spice mix'," Chef Sriram says.
"It's all the spices that people came to India for. This was basically the reason India was colonized. We had all these spices, and they were traded like gold," she says with a big laugh. "And now, we just use them willy-nilly everywhere."
With a customer base that tips the scales at about 80 per cent returning customers, Spice Box is looking to keep the buzz going in Boat Avenue along with the help of Events International.
Co-owner of Spice Box, Sonu, will be roping off an area on May 30 and setting the stage for international renown, American standup comedian Tom Rhodes.
The Evening News describes Tom as, "brash, abrasive, but exceptionally funny!" while Edinburgh Festival says, "Highly recommended, if you want a fast thinking razor sharp and above all – irreverently funny show."
Though the colorful, open-air restaurant might seem like an odd venue for an American comedian, who has taken the New York City stage for Comedy Central Presents, it is in fact a perfect match – as long as it doesn't rain.
At the heart of it, the food, the show and the people behind putting it all together, are the souls of community builders, who are bringing new tastes, spectacles and edgy comedy to our little part of the world.
— Isaac Stone Simonelli