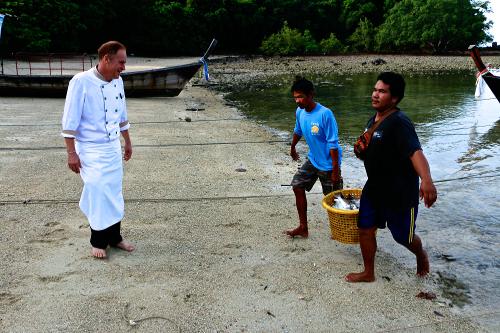 PHUKET: Chef Scott Flaxman came all the way from Zimbabwe, via England, France, Germany, Switzerland, Ireland and Morocco, before he finally landed on Kao Yao Yai, 15 kilometers east of Phuket.
There, he became the Chef and F&B Manager of GLOW Elixir Koh Yao Yai Resort – a place he now proudly calls home.
Voted one of the best chefs in Phuket by Prestige Magazine, and the restaurant he now manages being listed in the Best Restaurants guide from Thailand Tatler – Chef Flaxman's cooking skills are unquestionable.
To witness him in action, make sure you have your TV tuned in to Thai channel seven at 11 o'clock tonight (November 13) when the next episode of the ever-popular Iron Chef Thailand airs.
And for an exclusive interview with Scott Flaxman, make sure to pick up the November 23 Issue of the Phuket Gazette.
— Maciek Klimowicz