Food Scene
Phuket Eats: Off Course – The 19th hole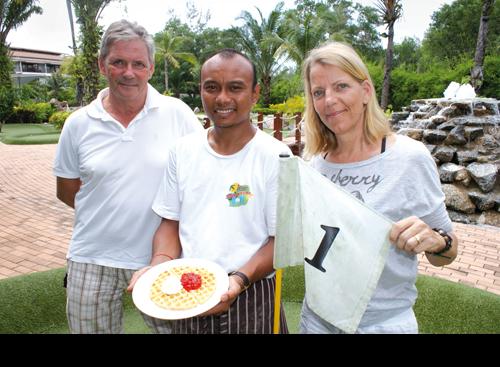 PHUKET: Finding somewhere to spend a day with the whole family while keeping everyone happy can sometimes be a challenge in Phuket. Often, kid-friendly activities can leave the adults twiddling their thumbs and wishing they could be somewhere else. The owners of Phuket Adventure Mini-Golf in Bang Tao, Pia and Thomas, have solved this problem by creating a family-friendly venue that everyone can enjoy.
Their unique Adventure Golf course is not your typical 'putt-putt' golf course, but rather a miniature replica of a full-sized 59-par 18-hole golf course, which provides a fun challenge for kids and also lets adults brush up on their putting skills. But golf is certainly not the only reason to visit, their restaurant Off Course provides delicious meals in an alfresco setting
Thomas says that their aim was to fill a gap in the market in Bang Tao, where family activities were sorely lacking, especially in the the evening.
"We wanted to create a family venue where parents could enjoy a meal while keeping an eye on their children."
In keeping with the family friendly atmosphere, the Off Course menu has plenty of crowd-pleasing favorites such as burgers, pizza, pasta and classic Thai dishes. Thomas says that their pizzas are the most popular menu item and it's not surprising who doesn't love pizza? Alongside the standard pizza toppings, such as capricciosa and margherita there are some unique 'signature' pizzas such as the Pizza Phuket with chicken marinated in yellow curry powder and a Spicy Phuket with red curry chicken. Thomas and Pia have also injected a bit of their native Sweden into the pizza making.
"We make the pizzas 'Swedish style', with a thin and crispy crust and a blend of good quality cheddar and mozzarella cheeses" he says.
Having tasted the aforementioned Pizza Phuket I can testify that the perfectly cooked crispy base creates a perfect contrast with the tender chunks of marinated chicken – definitely give this one a try.
The other menu favorites include the huge selection of beef, Wagyu beef and chicken burgers with a great variety of toppings. There's a Hot Chili Burger for spicy food fans, a Hawaiian Burger for a tropical twist, and of course, the decadent Bacon and Cheese Burger for all those meat-lovers out there. All the beef burgers are made from 100 per cent Australian Black Angus gourmet beef and can be ordered in 150 or 200 gram sizes. After tasting Thomas and Pia's pizza creation, I thought it was only sensible to try their signature Mango Delight Burger, which has a slice of succulent grilled mango, red wine vinegar marinated shallots and fresh lettuce, served with a bowl of crispy shoestring fries and mango-mayo on the side. For those who like the sweetness of pineapple on their burgers, I humbly suggest you try mango next time, it is simply fabulous.
For dessert, the Swedish theme continues, with light and fluffy waffles made to Thomas and Pia's secret recipe. You can choose between the traditional strawberry jam and whipped cream topping or indulge in one with chocolate sauce and ice-cream. There is also cheesecake with raspberry coulis and passion fruit or try a grilled banana with chocolate and crushed cashew nuts.
To keep the little ones happy and well fed, there are a range of fun children's meals with cartoon inspired names such as Shrek's fish fingers and Sponge Bob's hot dog, which are sure to suit even the most fussy eaters. In fact, children's parties are Phuket Adventure Mini-Golf's specialty and no matter how big or small the celebration, they can take care of all the details.
"We can organize everything, if parents want face-painting or jumping castles, they just let us know, we can tailor the party to suit any theme and budget.
We can organize activity leaders or nanny's to take the stress off parents and keep the kids entertained all-day.
We can also do customized staff parties, team-building and other kinds of events for up to 200 people," says Pia.
The golf course is also fully floodlit so it's also perfect for evening events or parties or even just to enjoy a sunset cocktail from their extensive drinks list. So next time you're looking for a place to take the family for a fun-filled day and a great meal, make sure you head to Phuket Adventure Mini-Golf.
— Mark Knowles