Aussies in Asia: The Thai island life of media man Tim Newton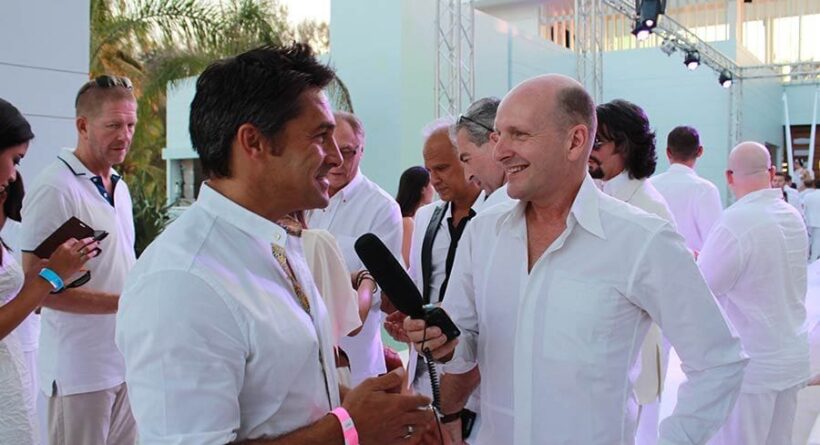 Featured in this week's edition of mediaweek.com.au
There's also a tropical island buzz about the way Thaiger conducts its business
What do you do if you're a middle-aged entrepreneurial spirit, a self-confessed media junkie who's put in 20 years in Australian radio, then invested in a Chinese boat-building business and went bust?
If you're Tim Newton, you pack your bags and head for a tropical island like Phuket where you can eat cheap Thai food and hang up a shingle saying you're in media business mode again, but fully embracing the digital world.
That was Newton's move in 2012, and now, after some savvy moves, he's heading Thaiger, which he launched basically as just an FM radio station in October 2016 when he and a friend bought the digital assets of the once print-heavy Phuket Gazette, which had shut up shop.
"They had run a weekly newspaper for 24 years," Newton told Mediaweek.
"They decided to pack it up, turn the lights out and go home. But they'd had nearly 20 years of website growth and had also kicked off YouTube, Instagram, Facebook and Twitter.
"When The Thaiger bought the digital assets of Phuket Gazette in August 2017, we also took over the ongoing 'story swap' relationship that The Nation [national newspaper] and the Gazette had enjoyed before.
"The Thaiger and The Nation still share stories. The Nation provides the foundation for our national story coverage."
In February this year Thaiger also collaborated with another online news service, Thai Visa, to further the TV news briefs Newton has also been doing.
"I'd tinkered with doing a daily TV news brief – about five minutes – with a previous employer," he said.
"There was nothing else like it in Thailand at the time. I ended up doing about 700 episodes in total, the last 100 at The Thaiger in collaboration with Thai Visa, which was wanting to streamline a lot of its content and so outsourced its daily news to The Thaiger.
"At our peak the program was getting up to an average of 20,000 views a day. Once it reached about 60,000 views but, for a boutique news company, the leverage on meager resources was just too difficult to rationalise. We now do twice-weekly TV reports about various topical issues, which fit the flow of the 'instant' news cycle much better and are quicker to edit."
Now Newton's eating more expensive Thai food and said, "We now have the fourth-largest English-speaking media company in Thailand with plans to be Numero Uno by the end of 2019.
"The entire Thaiger project has seen very swift growth in a market where it's difficult to get your voice heard through the white noise of digital and social media."
There's also a tropical island buzz about the way Thaiger conducts its business – it's a company without an office and a radio station without a studio.
"Your office is your computer and, as long as you have WiFi, the office can be open, anywhere, any time," Newton said.
"An office is a waste of good real estate and whatever rent you're paying is better spent on boosting posts on social media. You want to have a meeting? There are plenty of great coffee shops for all that stuff.
"The staff, all seven of us, are linked up with some sexy apps, which makes much better sense than running around an office. Be mobile, be flexible."
With the radio station Newton said, "We work entirely in the 'cloud'. Brilliant automation software and some deft DJs make it all work. We never see each other – the three DJs all live in separate parts of the island – we've got a very successful template that can work anywhere for a fraction of the running costs of centralised studios and links to transmitters, etc.
"It took us a year to get it all working properly but there is no way we'd ever go back to having a studio and running radio the 'old' way."
Newton's success as a localised news provider and island media entrepreneur is the result of an interesting media career in Australia.
"I started out writing promotional props for Melbourne radio 3AW in the early 80s with zero intention of ever actually being on the radio or in front of a camera," he explained.
"But serendipity was to play its part and I ended up producing radio programs for 3AW and (in those days) the Macquarie Network, even doing some fill-ins for programs.
"I was involved in the setup of a few public broadcasting stations – at one I hosted the breakfast show for three years. Then it was news-reading with the FOX/MMM/Gold newsrooms in Melbourne, while owning and running roller skating rinks and restaurants.
"Somehow, again completely unplanned, I ended hosting a regular show on JOY Melbourne, a station dedicated to the GLBTI voice.
"Without a 'format' I was able to come up with all sorts of different programming ideas and we were the first to do a live coverage of the Sydney Gay and Lesbian Mardi Gras – something the stations went on to perfect over the years. Real colour radio!
"We also developed a current affairs format called The Spin, which was slightly subversive and slightly controversial. I think that's where I cut my teeth in a real love for the medium. Somehow we won the Deutche Welle Award for the best public radio talk show in Australia.
"That's sort of 20 years in radio wrapped up. It all just 'happened' without any plan."
But back to now and plans Newton may have for the future.
"In the next 12 months you will see a basic consolidation of all the changes in the past year. We will introduce another radio station, either in Phuket or Bangkok, purely for branding.
"We will monetise and improve our Classifieds and Jobs pages. I might try to take a few days off sometime as well. I'm 60 next year and I'm just loving immersing myself in all this new media, making lots of mistakes and finding new ways to reach out, report the news and tell stories."



Have something to say? Scroll down to leave a comment, or visit our Thaiger Thailand Q&A Forum to discuss people, events, to-do and more with the local community.

Read more headlines, reports & breaking news in Phuket. Or catch up on your Thailand news.
Leo returns to 'The Beach'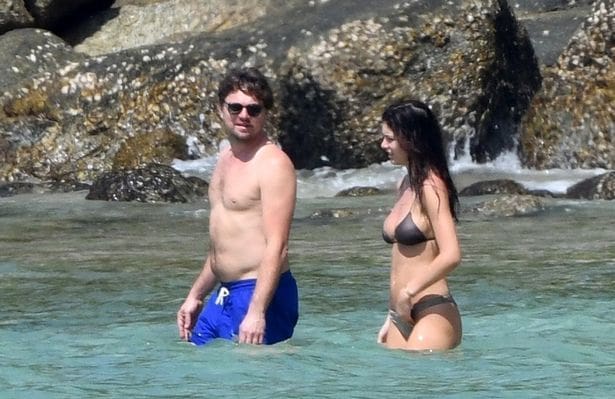 … well, a beach in Phuket anyway.
PHOTO: BACKGRID
It's 19 years since Leo DiCaprio starred in 'The Beach'. The film made both Leornado and Maya Bay famous. Maya Bay on Koh Phi Phi is now closed but Leo has made a return to Phuket island where he shot many of the scenes for the film (including at the On On Hotel in Phuket Town).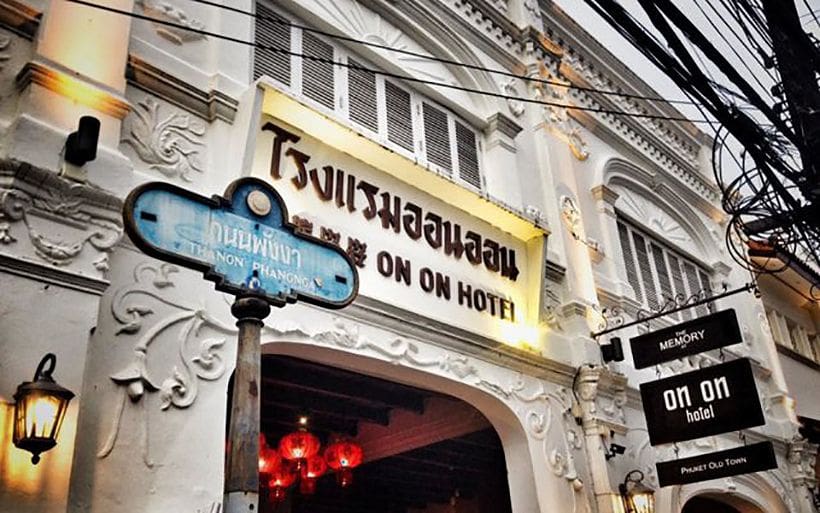 Now the Mirror Online reports that Leornardo has returned to Thailand with his 21 year old model girlfriend Camila Morrone for a break at the luxury resort Amanpuri in Phuket.

Leonardo DiCaprio in the 2000 film shot in Thailand 'The Beach'
The Mirror suggests that the 44 year old is a little out of shape compared to his bronzed boy bod in 'The Beach'.
"But despite a heavy workout regime of volleyball and kissing, it looks like even Leo can't hold back the sands of time."
Leo and his current gf Camila (whose stepfather is Al Pacino) first sparked romance rumours in December 2017, according to the Mirror report, when they were seen shopping together in Los Angeles, where the Morrones lives.
ORIGINAL ARTICLE: Mirror Online
Hua Hin expat postpones attempt to cross the Gulf. On a paddle board!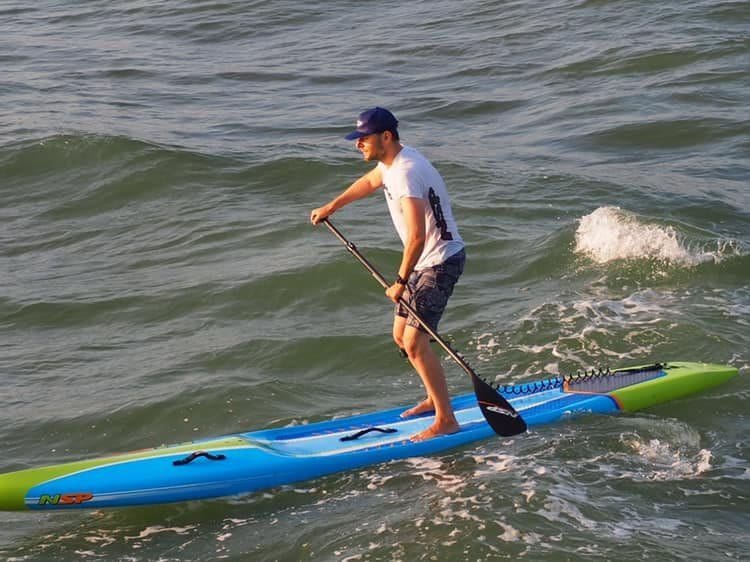 A Russian living in Hua Hin is attempting to cross the Gulf of Thailand. And he's not going on the daily ferry. His mode of transport is just a paddle board.
Vladimir Kruchinin was scheduled to depart on Monday from the shores of Pattaya, according to his Facebook page.
"Exciting times at 4am for the start of our Pattaya to Hua Hin crossing… but it was not to be with technical difficulties with the support boat… back for another attempt soon!"
37 year old Vladimir will navigate the 110 kilometres across the Gulf of Thailand from Pattaya to Hua Hin using just his stand up paddle board. Bad weather on Monday forced him to postpone his initial departure date. He says he first started paddle boarding in 2016 and became hooked after renting a board from a resort at Sam Roi Yot beach.
"At that moment, I fell in love with stand up paddle boarding and within a week I had my own first board", Vladimir told Thaivisa.
He told Thaivisa how he has lived in Hua Hin with his wife and son since 2012.
"Since that time, the sport plays a major role in my life. Thanks to SUP, I have improved my physique, have discovered many interesting places and have found new friends".
"Usually in the daytime, I travel around 20 to 40 kms. When you are surrounded by such beautiful scenery in Thailand, a long way doesn't seem so far. The first time I paddled over 70 km in one day, I realised that much greater lengths were possible.
"I had a dream of crossing the Gulf of Thailand from Pattaya to Hua Hin. At first, I was scared at the thought, but now I am determined to do it. The path will take me across about 110 km. I'm yet to achieve such distances in a day but I believe I am capable".
You can follow Vladimir's progress HERE.
SOURCE: ThaiVisa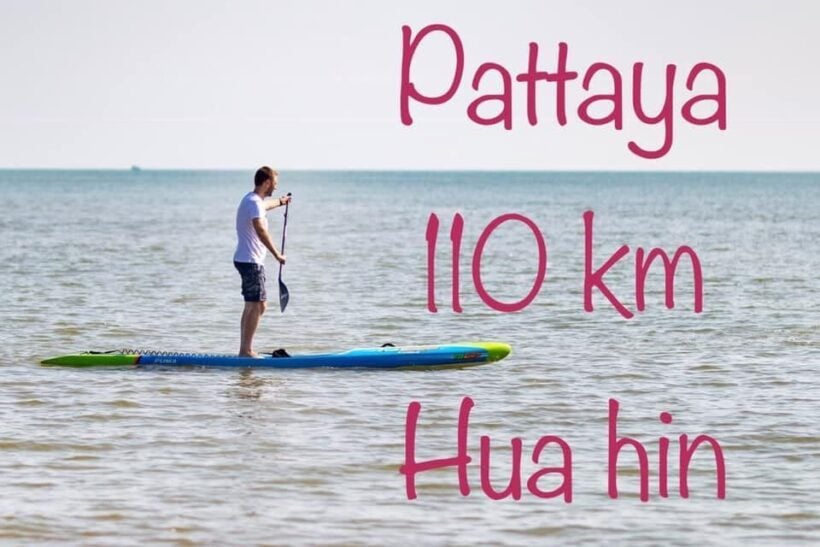 VIDEO: British pianist performs at Thai Elephant Sanctuary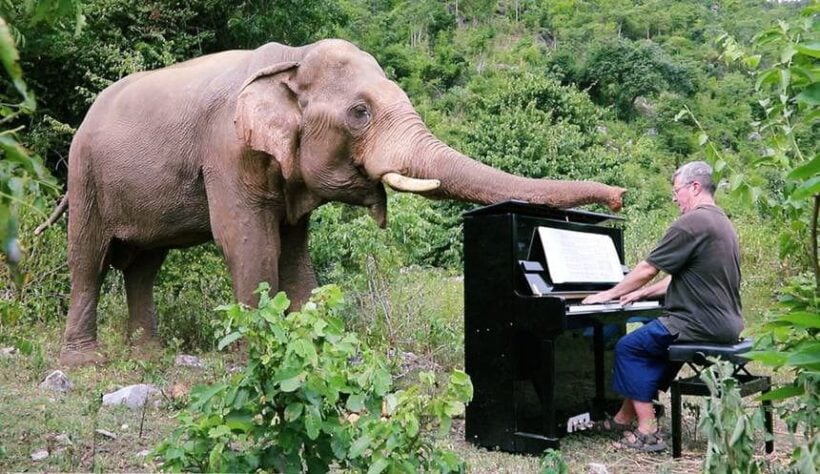 PHOTO: Tree Hugger
Paul Barton is a British classical pianist who seems to have made some new friends. At the Elephants World Retirement Sanctuary in Kanchanaburi province in Thailand, Barton has gotten himself a rather 'big' fanclub.
A frequent visitor to the sanctuary, the musician enjoys taking his piano out in front of a herd of elephants and serenades these mighty pachyderms. In the video below watch as Mr. Barton's music sweeps you away and the surreal image of his audience, trying to quietly eat at the same time, appreciating the finger work.
Having studied at London's Royal Academy of Arts, Barton hopes that these gentle creatures can find some solace in his renditions.
There has been much criticism on social media regarding the treatment of elephants in the tourist trade, with Thailand often being a topic of conversation. Many elephants who come to the sanctuary come from overworked backgrounds which sometimes leaves them disabled.
In this second video (below) watch as Barton plays for a very special elephant, Ampan, who is 80 years old and considered 10 years over the average elephant lifespan. Blind in one eye and barely being able to see with the other, its mesmerising to see a creature of such size have a appreciation for french classical composers.
SOURCE: EuroNews