Aussies in Asia: The Thai island life of media man Tim Newton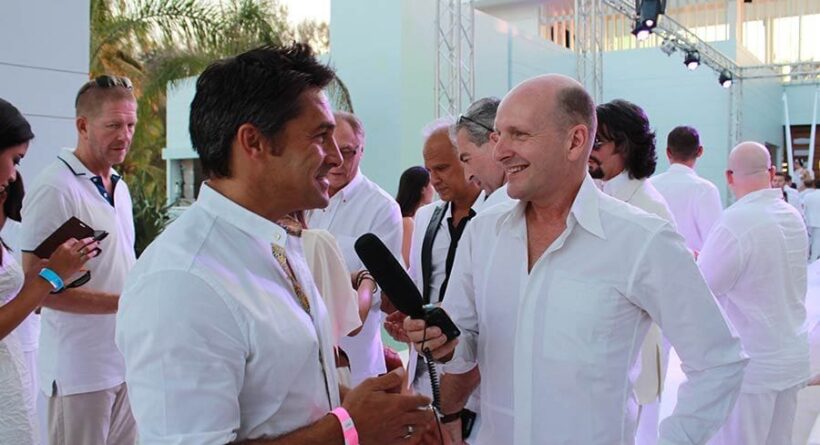 Featured in this week's edition of mediaweek.com.au
There's also a tropical island buzz about the way Thaiger conducts its business
What do you do if you're a middle-aged entrepreneurial spirit, a self-confessed media junkie who's put in 20 years in Australian radio, then invested in a Chinese boat-building business and went bust?
If you're Tim Newton, you pack your bags and head for a tropical island like Phuket where you can eat cheap Thai food and hang up a shingle saying you're in media business mode again, but fully embracing the digital world.
That was Newton's move in 2012, and now, after some savvy moves, he's heading Thaiger, which he launched basically as just an FM radio station in October 2016 when he and a friend bought the digital assets of the once print-heavy Phuket Gazette, which had shut up shop.
"They had run a weekly newspaper for 24 years," Newton told Mediaweek.
"They decided to pack it up, turn the lights out and go home. But they'd had nearly 20 years of website growth and had also kicked off YouTube, Instagram, Facebook and Twitter.
"When The Thaiger bought the digital assets of Phuket Gazette in August 2017, we also took over the ongoing 'story swap' relationship that The Nation [national newspaper] and the Gazette had enjoyed before.
"The Thaiger and The Nation still share stories. The Nation provides the foundation for our national story coverage."
In February this year Thaiger also collaborated with another online news service, Thai Visa, to further the TV news briefs Newton has also been doing.
"I'd tinkered with doing a daily TV news brief – about five minutes – with a previous employer," he said.
"There was nothing else like it in Thailand at the time. I ended up doing about 700 episodes in total, the last 100 at The Thaiger in collaboration with Thai Visa, which was wanting to streamline a lot of its content and so outsourced its daily news to The Thaiger.
"At our peak the program was getting up to an average of 20,000 views a day. Once it reached about 60,000 views but, for a boutique news company, the leverage on meager resources was just too difficult to rationalise. We now do twice-weekly TV reports about various topical issues, which fit the flow of the 'instant' news cycle much better and are quicker to edit."
Now Newton's eating more expensive Thai food and said, "We now have the fourth-largest English-speaking media company in Thailand with plans to be Numero Uno by the end of 2019.
"The entire Thaiger project has seen very swift growth in a market where it's difficult to get your voice heard through the white noise of digital and social media."
There's also a tropical island buzz about the way Thaiger conducts its business – it's a company without an office and a radio station without a studio.
"Your office is your computer and, as long as you have WiFi, the office can be open, anywhere, any time," Newton said.
"An office is a waste of good real estate and whatever rent you're paying is better spent on boosting posts on social media. You want to have a meeting? There are plenty of great coffee shops for all that stuff.
"The staff, all seven of us, are linked up with some sexy apps, which makes much better sense than running around an office. Be mobile, be flexible."
With the radio station Newton said, "We work entirely in the 'cloud'. Brilliant automation software and some deft DJs make it all work. We never see each other – the three DJs all live in separate parts of the island – we've got a very successful template that can work anywhere for a fraction of the running costs of centralised studios and links to transmitters, etc.
"It took us a year to get it all working properly but there is no way we'd ever go back to having a studio and running radio the 'old' way."
Newton's success as a localised news provider and island media entrepreneur is the result of an interesting media career in Australia.
"I started out writing promotional props for Melbourne radio 3AW in the early 80s with zero intention of ever actually being on the radio or in front of a camera," he explained.
"But serendipity was to play its part and I ended up producing radio programs for 3AW and (in those days) the Macquarie Network, even doing some fill-ins for programs.
"I was involved in the setup of a few public broadcasting stations – at one I hosted the breakfast show for three years. Then it was news-reading with the FOX/MMM/Gold newsrooms in Melbourne, while owning and running roller skating rinks and restaurants.
"Somehow, again completely unplanned, I ended hosting a regular show on JOY Melbourne, a station dedicated to the GLBTI voice.
"Without a 'format' I was able to come up with all sorts of different programming ideas and we were the first to do a live coverage of the Sydney Gay and Lesbian Mardi Gras – something the stations went on to perfect over the years. Real colour radio!
"We also developed a current affairs format called The Spin, which was slightly subversive and slightly controversial. I think that's where I cut my teeth in a real love for the medium. Somehow we won the Deutche Welle Award for the best public radio talk show in Australia.
"That's sort of 20 years in radio wrapped up. It all just 'happened' without any plan."
But back to now and plans Newton may have for the future.
"In the next 12 months you will see a basic consolidation of all the changes in the past year. We will introduce another radio station, either in Phuket or Bangkok, purely for branding.
"We will monetise and improve our Classifieds and Jobs pages. I might try to take a few days off sometime as well. I'm 60 next year and I'm just loving immersing myself in all this new media, making lots of mistakes and finding new ways to reach out, report the news and tell stories."



Have something to say? Scroll down to leave a comment, or visit our Thaiger Thailand Q&A Forum to discuss people, events, to-do and more with the local community.

Read more headlines, reports & breaking news in Phuket.

Enterprising young Cambodian impresses with multi-lingual skills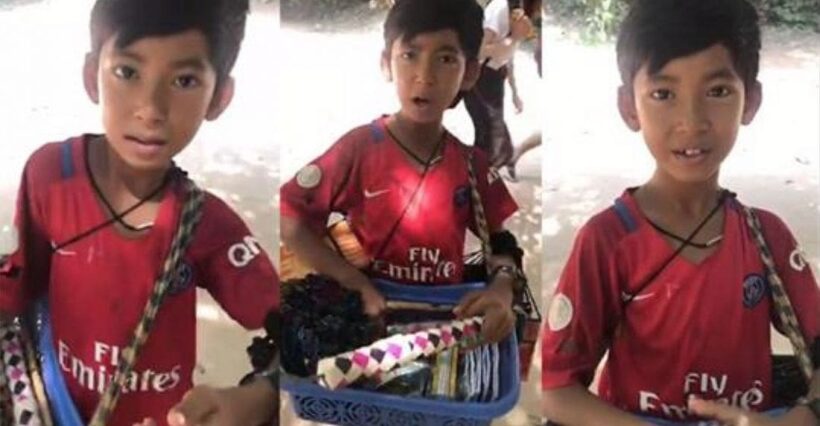 Young vendors become very resourceful at extracting money from tourists. All in the quest of making an honest living and bringing some money to their families. This young boy seems to have knowledge of at least seven languages, obviously representing the most popular languages spoken by the tourists he speaks to during his daily rounds.
Netizens are impressed by his talents but some are saying that the boy has to develop this skill in order to survive. A translation follows some of the many languages he is able to use in his daily work. Let's hope he gets the opportunity to use his skills in a prosperous career in the future.
We'll take five of whatever you're selling!
Making ends meet – washing cars for 5,000 baht a day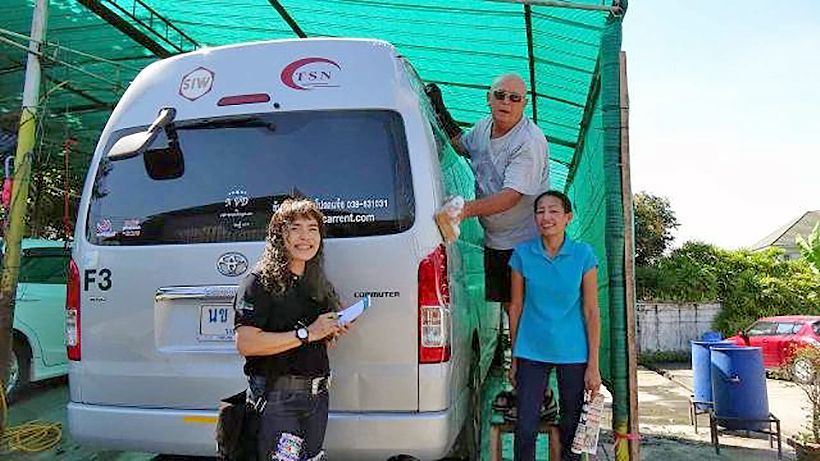 A 70 year old Aussie expat has rolled up his sleeves and ended up with a prosperous little local business in Rayong. An Australian pensioner is washing cars in Rayong to make ends meet.
And he's reported to Ban Muang reported that he and his wife are earning a decent income. Thai customers have been heaping praise on 70 year old William Pearl for his car cleaning business.
William started the "Ran O" car-care business with his wife Srinuan Sukcharoen. The shop is in the city district of Rayong on Rat-u-thit Road.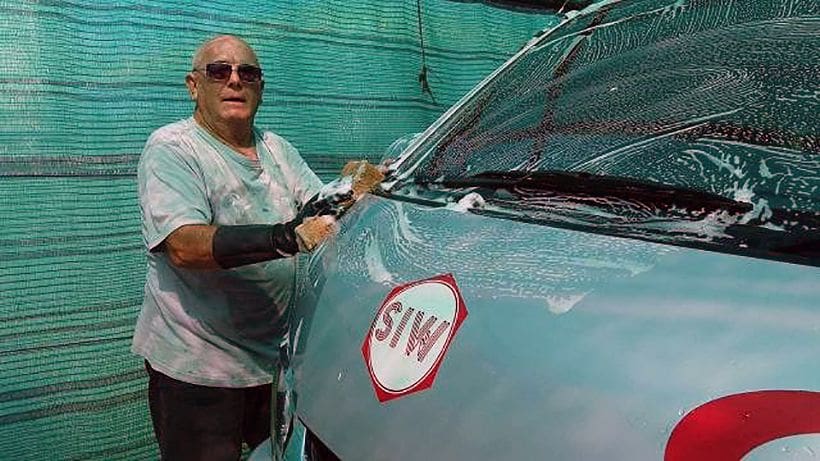 Ban Muang reports that he has been helping out with the cleaning of cars since the start of the year.
"It was much better to be out doing something useful and the shop was making 5,000 baht to 6,000 baht a day cleaning an average of 20 cars."
His wife gives the cars a wipe while Mr Pearl gets out the hose and shampoo.
"I'm not tired – I love it" he said.
Kids from the local schools are employed in their free time for 300 baht a day, he added.
SOURCE: Ban Muang
Leicester City players arrive in Bangkok for Vichai's funeral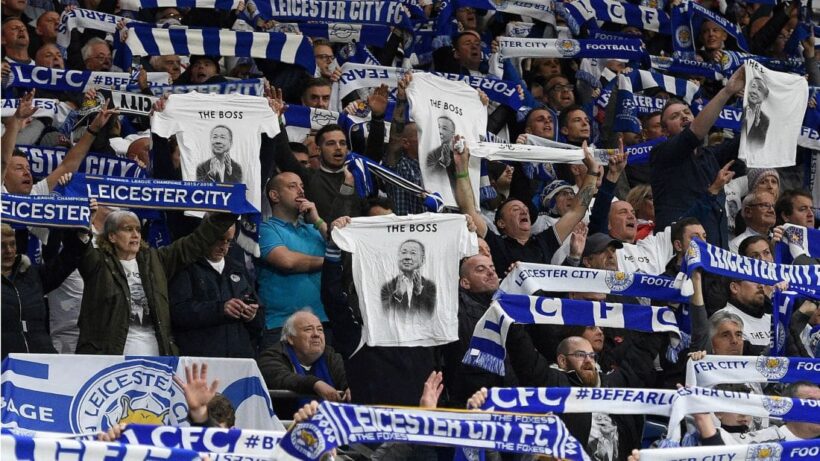 PHOTO: Goal.com
Leicester City football club players and fans have paid emotional tributes to Vichai Srivaddhanaprabha, who died in a helicopter crash last week, ahead of last night's Premier League match against Cardiff City.
Meanwhile, Leicester City players and officials have arrived in Thailand to attend the funeral of the club's owner and mentor at Wat Thepsirin in Bangkok.
His Majesty the King has provided funeral water and bestowed an octagonal funerary urn for the royally-sponred funeral rite.  Several prominent business, political, sports and entertainment figures and celebrities attended the first day the week-long rites ceremony yesterday (Saturday).
The Leicester City players attended services today and will attend again tomorrow (Monday) after beating Cardiff 1-0 in the first game since his death.
Before the match they wore T-shirts featuring a picture of Vichai while fans held banners expressing their condolences.  They stood for a minute's silence along with Leicester City staff and fans ahead of the kick-off.