The 48 best cities in the world in 2019, have your say.

PHOTO: LA, one of the top five cities in the world
What do New York, Melbourne and Chicago have in common? They're listed as the top 3 cities in the world for 2019 in the latest Time Out Index survey.
London, LA and Montreal fill up the next three places.
So what's the greatest city in the world? It's not an easy question to answer, afterall cities are full of people and people are full of contradictions. Some urbanites want world-beating restaurants and unforgettable things to do at every turn.
Others prefer affordability, good public transport or friendly neighbours. But the Time Out Index survey thinks they've found a way to discover what makes a city great, and which cities are leading the way as more and more of the world's population joins the great urban migration. They quizzed thousands of city-dwellers all around the world for the latest survey and Top 48 list.
In partnership with Tapestry Research, they asked almost 34,000 anonymous city-dwellers, around the world, about food, drink, culture, nightlife, community, neighbourhoods, overall happiness and other factors, such as their city's beauty, affordability and convenience.
But the people they surveyed, along with the survey's editors, don't really like Asia's city offerings.
You don't get to an Asian city in the list until #10 (Tokyo), and then #22.
And that was Mumbai in India.
Beyond that, Singapore #29 (how can Mumbai be listed as a better city than Singapore?!), Shanghai #35, Delhi #37, Hong Kong #41, Bangkok #45, KL #46 and Beijing #47
Read the full list HERE.
And comment on our Facebook post about the list HERE. Which is YOUR favorite city?


Find more SE Asian News courtesy of The Thaiger.

Broke? Find employment in Southeast Asia with JobCute Thailand and SmartJob Indonesia. Rich? Invest in real estate across Asia with FazWaz Property Group or get out on a yacht anywhere with Boatcrowd. Even book medical procedures worldwide with MyMediTravel, all powered by DB Ventures.

Find more Thailand top 10s on The Thaiger.
Top 10 ways to cope with the humidity in Thailand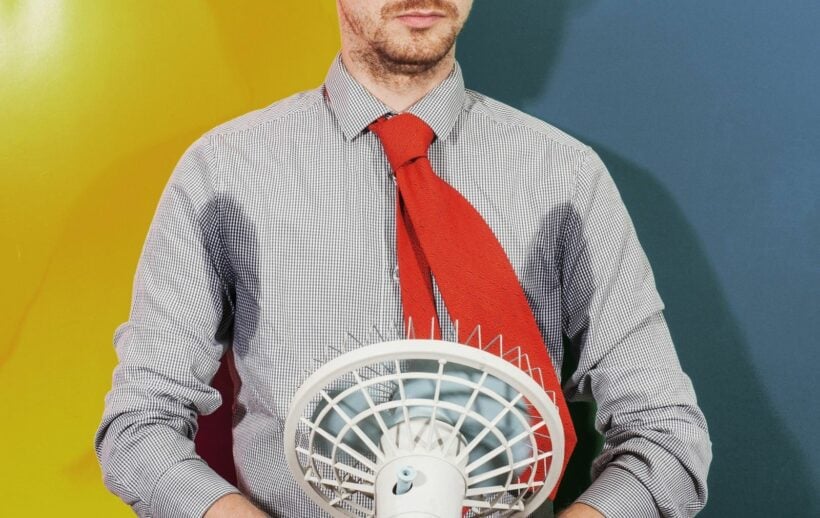 It's humid most of the year in Thailand. In the southern areas, during the 'wet season', it's hot and humid all the time. You will sweat, a lot. Or in the case of ladies, you will perspire. Plenty of showers and common sense are your best simple advice. You WILL get used to it after a month or so and probably never worry about it again. In the meantime, here's the Top 10 ways to do something about it…
1. Drink plenty of water
Drink lots of (bottled) water. Don't drink out of the taps, even in the fanciest of hotels. Drinking lots of water will keep you hydrated and help you avoid headache, nausea and dizziness. If you come from a cooler climate you will find yourself needing to drink at least twice as much as you did before. (The Thaiger suspects that the water supply in many built up areas is probably potable these days – the 'don't drink the tap water' story has been around for three decades. But be safe and drink the bottled water, it's very cheap in Thailand.)

2. You need more salt than usual
…but most Thai food has plenty of salt already. When sweating you lose a lot of salt in the form of sweat. Just eating a few Thai meals each day will provide you with all the salt you need. But the evils of adding extra salt aren't quite as evil when living in Thailand.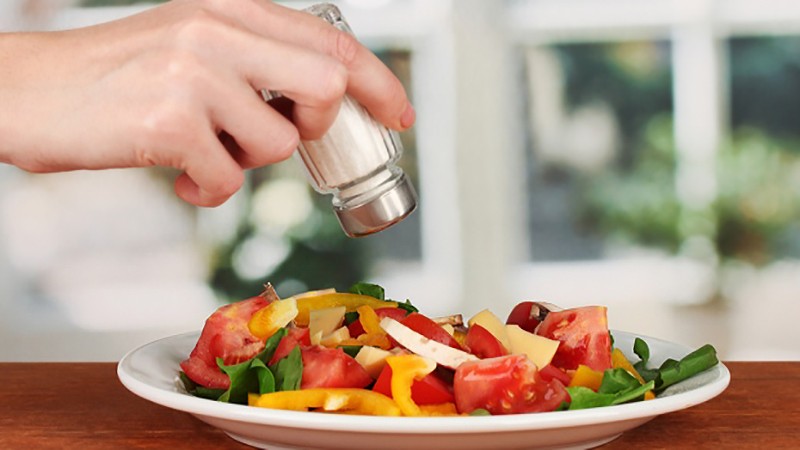 3. Wear loose fitting clothing made from natural fibres
Most of the time you're only going to be wearing a single layer. Go for light colours and natural fabrics like cotton and linen. You will almost never wear a jacket or need a tie. Ladies, think 'hot summer days'. Here's your excuse to wear one of those outrageous tropical print shirts. But don't feel too inclined to get your gear off – the Thai's don't appreciate TOO much skin – respect the local customs regarding skimpy clothing. Speaking of your clothes, beware closing the wardrobe door in the wet season. Without air circulation, after even less than a week, you'll open to wardrobe doors to a sea of black mould. Just leave them open.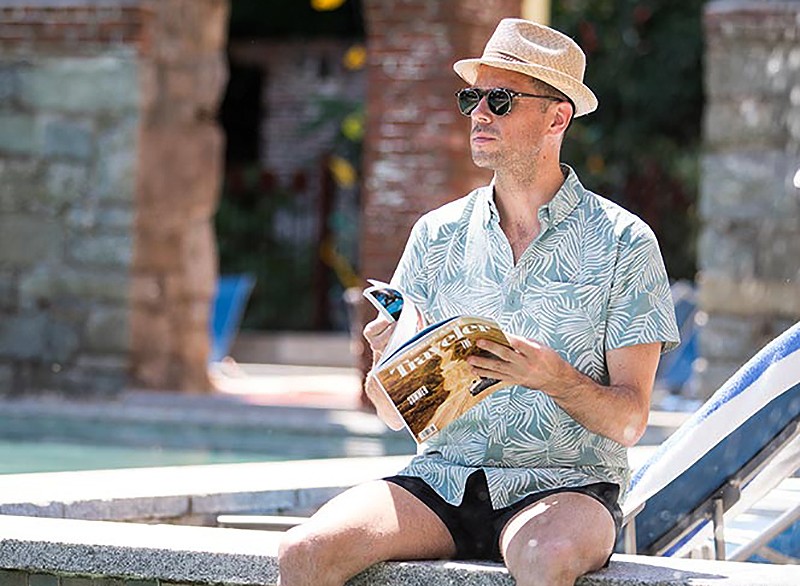 4. Exercise first thing in the morning or last thing at night
Don't exercise in the middle of the day unless you're insane. The heat of the day is best spent shopping, inside an air-conditioned office or as a siesta time. Go for a swim, take a nap. If you do need to be outside refer Item 3! All the running events (getting increasingly popular around Thailand) are held around 4 or 5 am. Get the idea? Take a bottle of water with you and drink more than you might usually drink during your exercise.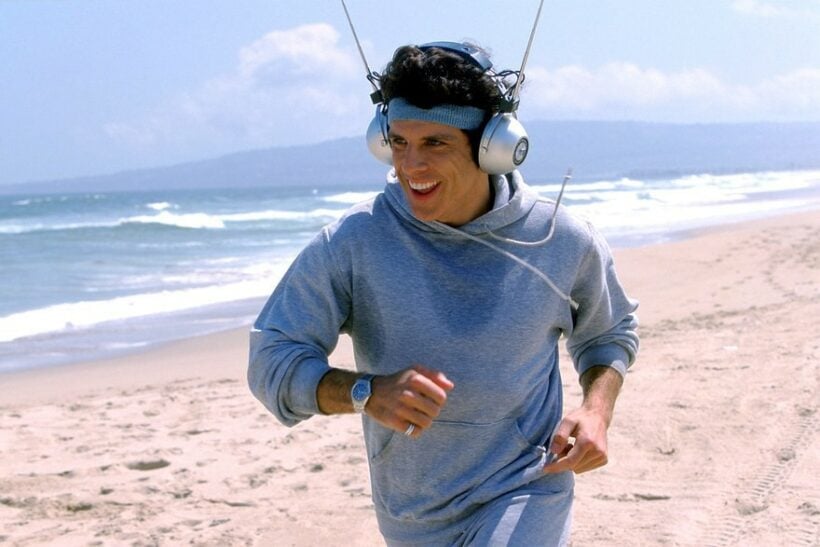 5. Wear a hat
Hats can be fashionable but in Thailand they're also very functional. A hat will stop sweat dripping down your face and prevents the sun hitting you directly on your head, face or eyes. Sunglasses are also very important to protect your eyes from damaging UV. They also tell your brain that it's not quite as bright as it actually is. Shade, generally, is worth pursuing as standing out in the sun, at any time, can really drain your energy and dehydrate you faster. Although the sun light isn't particularly intense, it is hot, hot, hot when added to the humidity level.

6. Take your time – sabai, sabai
There's no need to rush – adjust to a slower pace. Do what the locals do. Thai's rarely rush around and tend to manage their pace to the levels of the heat and humidity. Rushing around will just heat up your body temperature and expose your body to heat-stress. Sabai, sabai (relax!)

7. Avoid air-conditioning, if you can
OK, it's hot, we get it, but AC will likely cause your body even more stress if you spend all day in an air-conditioned room. Seek out cool places, sure, but try a fan, sitting in a cool breeze or under a tree. AC will really dry your air passages and your skin. For sleeping turn on the AC for an hour before you go to bed then use the ceiling fan (or a floor fan) for the rest of the night. Very few locals, even expats, will use AC for sleeping.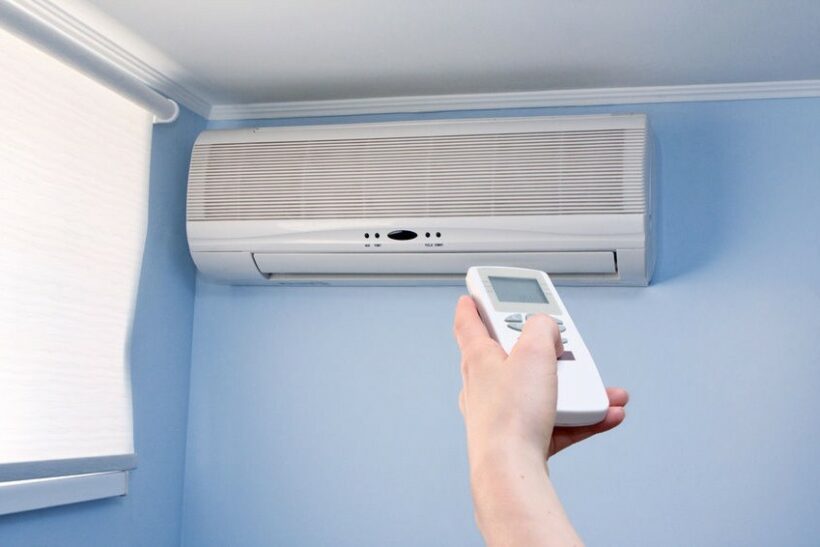 8. When in Rome, do as the Romans do
When it Thailand, watch the locals. They're not running around the streets in the middle of the day and enjoy many showers during the day as well. Turn down the hot water when you head to the shower. Many Thais don't even have hot water connected to their shower. Why bother? Especially if you live in the southern areas where the running water is quite warm, like the tropicals seas. A cold-water shower a few times a day will help keep you cool and refreshed. After showering it's a good precaution to use some talcum powder in the 'nether regions' as sweat build-up and bacteria will thrive in a humid climate, sometime leading to rashes and itching. Nasty!

9. Mop up the sweat
You will sweat. Your body needs to sweat to help maintain your body temperature. A damp towel carried around in a plastic bag will be a perfect way to wipe your face, neck or hands from time to time. Some of us perspire more than others but there's no problem in mopping up the perspiration from time to time – you're not the only one sweating you know.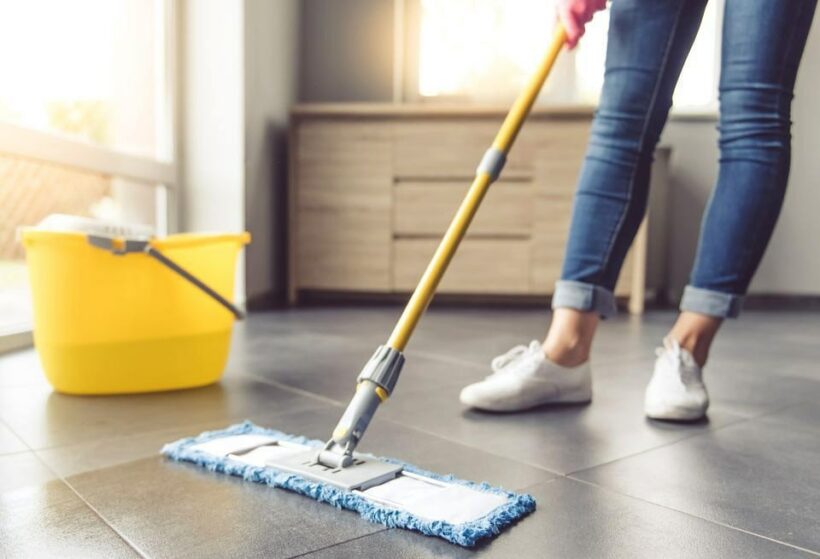 10. Eat healthy, light food
Lighter, less stodgy food is going to make your body work less to digest and keep you feeling a lot cooler and refreshed. Local fresh fruit and salads should be included in a humid-climate diet. Some of the Thai spicy dishes can be quite light as well but maybe keep off the heavier curries until the evening. Coconut water is available everywhere, cheap and very refreshing. You also have the prefect excuse for an ice-cream too!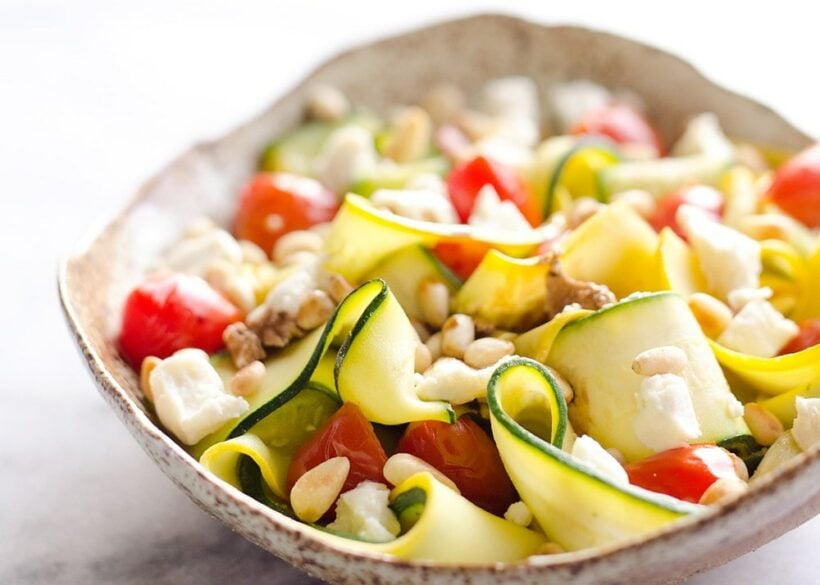 Top 10 fine dining restaurants in Phuket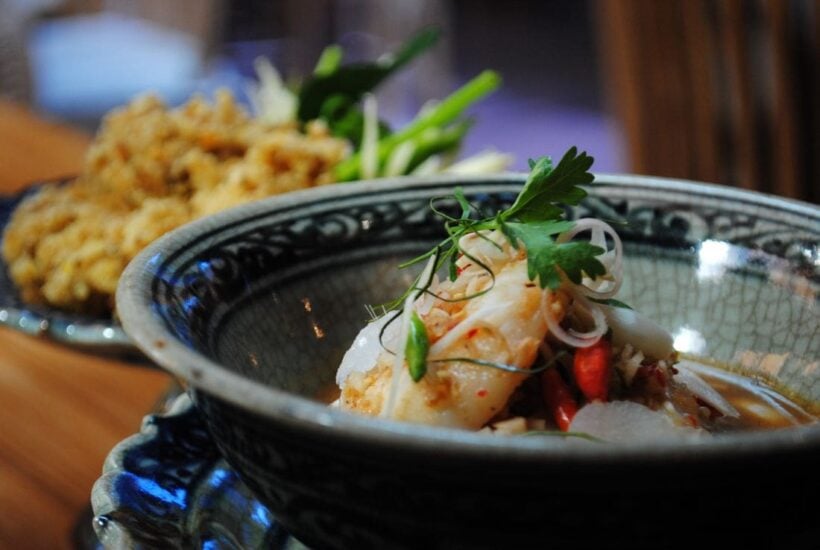 There are many fine-dining experiences in Phuket. And there are some that, whilst not traditional fine-dining, deserve to be rated amongst the best and worthy of a visit. Here, in no particular order, is the list of the Top 10 Fine-Dining Restaurants in Phuket you just have to visit when on the island.
The 9th Floor
Patong. The 9th Floor Restaurant & Bar, located in The Sky Inn Condo in Patong is a rare hidden gem offering award-winning Mediterranean cuisine. The 9th Floor has created a unique dining experience with spectacular sunset, and a dramatic night view of Patong with a refreshing sea breeze. The well-trained "Angels" are there to guide you through the exclusive menu and the 300-label+ wine list.
If you're looking for an unforgettable night while you're at dreamy Phuket, the 9th Floor Restaurant promises an experience that will send you to cloud nine. Perched on the, well, ninth floor of the Sky Inn Condotel, you'll be able to take in sensational views of the city or the spectacular sunset through the cascading floor-to-ceiling glass windows. You're also served by 'Angels', a team of elegant women who are renowned for their stellar service. All this plus elegant yet unpretentious Mediterranean fare that has sated the appetites of hungry diners for the past 10 years, what's not to like?
While the restaurant remains loyal to its Swiss roots with four types of fondue offered as the cornerstone of the menu, the selection here's impressive and expansive. If you're a true aficionado of classic cuisine, be sure to look out for the 9th Floor's monthly degustation evenings for a finely curated experience. To complete the night, take your pick from their newly expanded selection of premium wines and spirits. Think gin and whisky from Scotland, rum from Nicaragua, and many many more. If you need any recommendations, just ask any one of your friendly 'Angels'! Now, who can resist a great meal, spectacular views, and exceptional service?
Website | Facebook | Bookings  081 079 2699

White Box
Kalim. The White Box Restaurant of Phuket, is the quintessentially elegant, white-washed beach restaurant in Phuket, attracting both tourists and locals alike. This Phuket restaurant offers an experience which blends the best fine French and Thai Cuisine on the island.
Once a famous Kalim beach-front house, this stunning venue was redesigned as an elegant Phuket restaurant, decorated in white and blue, boasting a mediterranean ambiance, while keeping a minimalist style.
This Phuket restaurant boasts a location which is nothing short of breathtaking. With unobstructed views of Patong Bay, and waves almost crashing at your feet, this restaurant in Phuket is paradise.
An impressive three-storey complex by Kalim Beach, this is a one-stop experience for dinner, drinks, and an after party. Built on huge granite rocks, White Box is like the beach house you've always wished you had: tastefully decorated in white with an expansive view of the surrounding sea and coasts, serviced by a superb kitchen and wait staff.
Food here is 'Mediterranean Asian' shot through with refined French sensibilities, revolving around seafood-heavy plates. Hokkaido scallops are served as a light carpaccio atop a bed of wilted spinach and pickled artichoke hearts, then dressed with little more than olive oil and a touch of lime.
Website | Facebook | Bookings 076 346 271

Infuse Restaurant
Located 5 min from Boat Avenue, Infuse Restaurant by Diamond Resort is a sophisticated yet undemanding venue serving up European and Thai dishes under the expert and creative direction of Executive Chef Rieno Huyghebaert. Offering his elegant take on rustic home style meals, options include juicy burgers, delicious pizzas, authentic Thai and real European tastes. 'Gusto Francese Pizza' and 'Smoked Salmon Salad' are highly recommended.
The restaurant is inspired by a contemporary loft design for a more casual business lunch, or for an exciting family dinner, or set menu events, Infuse caters to your need. Guests can choose to sit inside, or in an outside space with a pool view.
Website | Facebook | Instagram|Bookings 076 609 542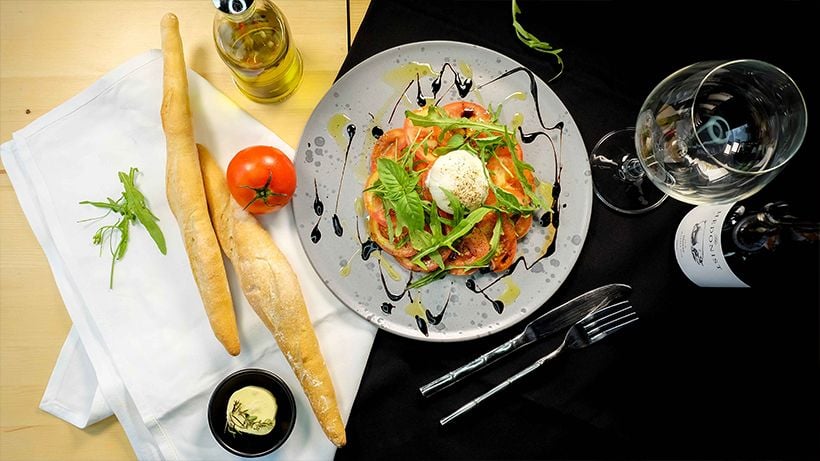 PRU
Nai thon. PRU takes its name from Phuket's indigenous lore: a place where the wild forest meets the sea. At this confluence of land and water, the earth is verdant and nourishing, enlivening the local cuisine and stirring epicurean ambitions with newfound creativity.
Inspired by Phuket's legacy as a culinary crossroad and the island's unique terroir, PRU at Trisara is pursuing our own culinary ambition – to elevate farm-to-table cooking to a new level. We use nature's gifts from our own farm and do our part to give back, ensuring that life's cycle continues to blossom and ripen.
Our meals tell a story, drawing out subtle and bold flavours from the herbs, flowers, plants and roots that grow wild in our garden, producing dishes that are both poetic and honest. Our culinary style is founded on Western tradition and influenced by the exotic, regional cuisine at our locale.
Bookings 076 310 100

Thong Dee – The Kathu Brasserie
Kathu. Not quite 'fine dining' but a very popular restaurant of excellent integrity in Phuket which was the Trip Advisor Most Popular Restaurant in Phuket for 2017. You will treated like a fine-dining guest and the food is reliably excellent.
"We invite You for a great dining experience,
Where You come as You Are and leave like a Star
Located on a quiet street, just 10 min drive from Patong,
You will find a fine choice of European Classics, Thai Cuisine & House Specialties
with something to suit every occasion and pocket
On Sundays We serve our famous Sunday Roasts – All day from 12pm-22pm
Come and make a Memory with us in a modern, warm and friendly ambiance
with chillax tunes playing and free pool table on 2nd floor."
Bookings 076 319 323

Black Ginger
Nai Yang. This fusion Thai fine dining restaurant sits within the scenic surroundings of The Slate five-star hotel. The distinct indoor and outdoor dining space incorporates traditional Thai architectural style with contemporary design and luxurious touches, set on a platform over the hotel's lagoon. The restaurant's chef Anongrat Meklai cooks up classic and modern Thai dishes using fresh, locally sourced ingredients, and is particularly well known for her flavorful som tam, tom yum and Panang curry.
Bookings 076 327 006

Acqua
Kalim. This award-winning restaurant in Kalim Beach showcases the modern Italian cuisine of the accomplished Sardinian chef Alessandro Frau, with a particularly extensive range of Italian wines and modern interiors exhibiting chic black and white décor. The exceptionally appealing menu comprises dishes such as yellowfin tuna carpaccio marinated in extra virgin olive oil and lemon, topped with fresh artichokes and bottarga, Sicilian red prawns with jus, poached Maine lobster, and wood fired roasted suckling pig with saffron.
Bookings 076 618127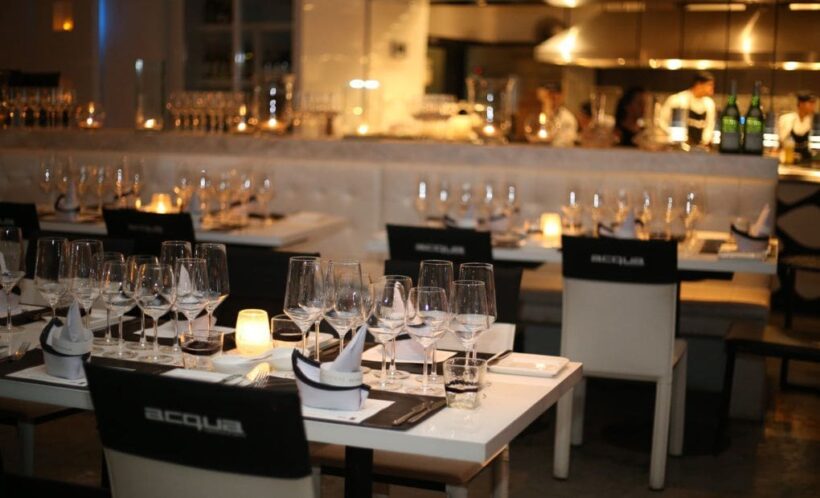 Royal Namtok
Unique, bespoke, boutique. After 20 years running their own award-winning, high-class restaurant "De Tafeljoncker" in Antwerp/Belgium, Marc and Corry shipped all their decorations and equipment to Phuket where they build in 2007 a private villa which at five o'clock it turns into a French, fine dining restaurant.
Chef Marc De Schrijver (owner) creates French classic dishes with a personal touch of healthy/detox, Thai Plants, herbs and local, natural products and flavors.
Your host, Corry Ringoet (owner) takes care of the guests with a personalized service with eye for details, also table cooking in front of the guest,  that many suspected had long ago, died out.
Only six tables,  richly decorated with golden plates and silver cutlery, crystal glassware and napkins in engraved silver napkin holders to pamper you and your table friends, celebrating special moments.
Their motto:  "Dining out must be a precious moment, fine gastronomy served with an eye for details".
Bookings 087 263 7327

Siam Supper Club
This chic bar and grill is considered one of Phuket's most sophisticated drinking and dining spots, combining elegant interiors with West Coast cuisine and an ambience created by jazz and lounge music. Expect to see aged grilled tenderloin steaks, fresh seafood and an array of pasta and pizza dishes on the menu. Perhaps start with the Wagyu beef carpaccio or pan-seared foie gras, followed by lobster ravioli, pizza Napoletana or classic tom yum goong, with one of the restaurant's indulgent desserts to finish.
Bookings 076 270 936

Blue Elephant
Phuket Town. Be transported away from the hustle and bustle of Phuket Town as you step into the lush rounds of the Blue Elephant. Located in the 105 year old Phra Pitak Chinpracha Mansion, which was built in the Sino-Portugese style and combining elements of traditional Feng Shui in its architecture, Blue Elephant is Thai cuisine at its finest.
At Blue Elephant, award-winning Chef Nooror Somany Steppe takes diners on a culinary adventure commencing with traditional Thai heritage dishes through to her vision of the "Thai Kitchen of Tomorrow". Specialty dishes drawn from the royal courts and literature of the Kings of Thailand give diners a most delicious history lesson.
Drawing inspiration from Chef Nooror's myriad of travels and overseas experiences as a Star Chef, and accurately reflecting the present-day cosmopolitan nature of Thailand, diners can also expect to see Western classics with a decidedly Thai twist – Croquettes Koong Kiew Wan is a fusion dish inspired by the strong relationship between Thailand and Belgium, while Thai red curry paste and sweet chill sauce give the Crispy Crab Soufflé an extra zest.
Bookings 076 354 355

The Boathouse Restaurant
Kata. The Boathouse hotel sits on the shores of Kata Beach, affording guests ocean views from their rooms and as they dine at the celebrated restaurant. The Boathouse Restaurant offers both Thai and western cuisine in a fine dining setting with indoor and outdoor seating and a wine list that has consistently won awards each year. As an added incentive for dining here, the restaurant provides complimentary transfers for diners staying in the Kata and Karon area.
Bookings 076 330 015

Top 10 things to see in Phuket, on a budget (2019)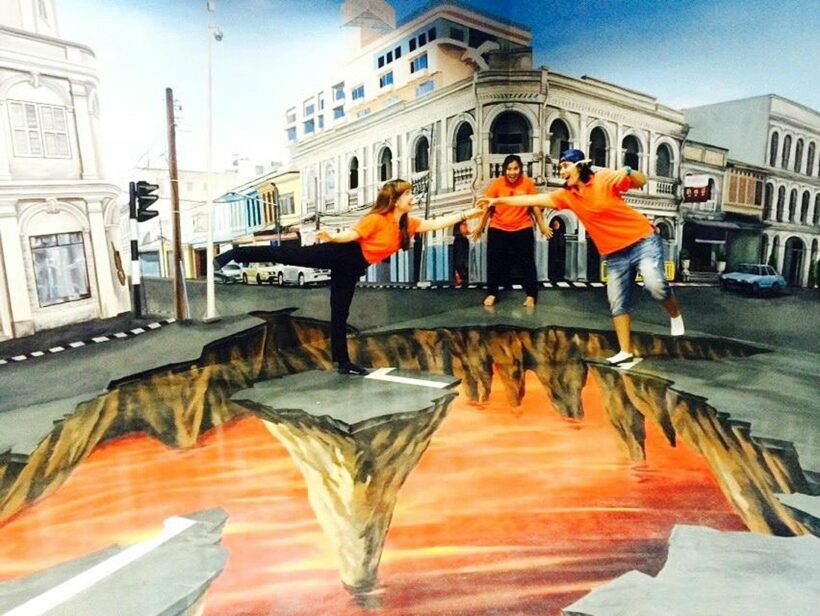 PHOTO: The Trick Eye Museum in Phuket Town
We can't all afford to stay in the lap of luxury in five star properties, and spend our Sunday's at extravagant hi-so brunches. Good luck to those who can! In Phuket you can have fantastic experiences that either cost you nothing or not much more.
Here is, in no particular order, our Top 10 things to see in Phuket on a budget….


Simon Cabaret/Simon Star/Aphrodite
Nothing like a big lady boy show! The ones in Phuket are family-friendly, world-standard presentations with astonishing costumes, sets and, mostly, appalling dancing – there's only so much you can do with a metre high headpiece and gaffer tape holding all your 'bits' in place. If you haven't been you MUST. Hard to not to enjoy yourself. Does it rival the big shows in Las Vegas? No. Is it worth the 1000 baht and a few hours on a humid night? Definitely.
At the end of the show you will get the opportunity to have your photo taken with the performers. Although they don't tell you before, you will be expected to pay for the pleasure. 100-200 baht is about the going rate. The three shows are in different parts of the island – the most famous Simon Cabaret in Patong which has been going for an astonishing 27 years without missing a beat.
OK, it's not 'cheap cheap' but it's worth every baht of your Phuket budget! Simon Cabaret. Aphrodite.



Trick Eye Museum

Right in the heart of Phuket Town and deserves your time. Bring a camera. You'll walk around various elaborate large interactive art and find you can pop yourself into the scene in a very clever way. Tickets start at 500 baht and you can spend an easy two hours or so. There's some car parking next door to the old Pearl Hotel otherwise go by taxi, plenty around that part of town. Popular with local and international schools for day trips too. The Trick Eye Museum will easily fit into your Phuket budget, no tricks!


Massage
Almost anywhere, anytime and something to fit into your Phuket budget. For less than 500 baht you're going to get to relax and indulge in one of Thailand's unique pleasures. In Patong you will hardly walk 10 metres without hearing the cry 'massage!?' But the better massages are out of tourist town, and usually much cheaper. Leaving out the more infamous massage available in less-reputable venues, there is usually a selection of different massages you can enjoy. If the sweet little Thai lady asks if you want it gentle or hard, be warned if you go for the 'hard' option you'll be screaming at times! The Thai massage can be quite firm and a challenge for the uninitiated, and those 'sweet' 5 foot Thai ladies will wind you up in knots, despite their petite stance. Start tame and go for a 1 hour foot massage. Read up more about massage and spa locations around Phuket HERE.



Upside Down House

Located on the ByPass Road in Samkong this is a curious wander around a house that's, well, upside down. Too many photos would spoil the fun but you'll fill an hour and snap off plenty of selfies in this attraction that will make you see the world from a whole different angle. Tickets for adults are 350 baht and children 190 baht. The Upside Down House won't turn your Phuket budget upside down


Any Temples

Of course you should visit a temple, or 'Wat'. Wat Chalong is largest complex of temples on the island. Buddhist temples have their own conventions and rules to read up about before you visit so you'll get the most out of your visit. Some of the temples have become distinctly commercial in recent years so best to try and find the ones that will give you the most authentic experience. Free unless you choose to make a donation.
THIS article about 'Things NOT to do' in Thailand will provide a bit of guidance for first time temple visitors. When it comes to budget tourism in Phuket you'll find nothing more fulfilling and low cost than visiting the island's magnificent temples.



Coral Island

So you've already come to a tropical island in Thailand. But many enjoy exploring the 30 or so other islands around Phuket. Some are a LONG way, some will have you travelling in a van for a a few hours before you even get on a boat. Others are really close, like Coral Island, just off the coast of Chalong. There are plenty of organised tours to Coral island and, depending on your tour and the beach you end up on, you'll have a great day or an awful day battling crowds you probably thought you'd be getting away from.
Coral Island has become really popular in the past five years so be prepared your tropical island getaway experience with a few others as well. We don't recommend any particular tour company but here's a start for you HERE something for all Phuket budgets. (In the website it says Coral Island is '10 kilometres south of Phuket'. It's not. It's only a kilometre or so of the shore from Chalong)



Khao Rang

A mid-island diversion from the history of Phuket Town and shopping at Central Festival, Khao Rang (also known as Rang Hill) is a popular viewpoint hangout for locals. It is located on the north side of Phuket Town and has stunning views over island. There are a number of restaurants and bars located on the hill offering local dishes and their most famous specialty is ice coffees.
The most popular at Khao Rang Breeze Restaurant and Tunk Ka expect to pay slightly above local prices for food and beverages. They call it a hill, but it's actually only 150 metres high which is not so tall at all, however the views are amazing from the viewpoint even at the low height and the landscaped gardens are beautiful under foot. Be careful of the monkeys up there who come out around sunset to forage for food… and iPhones! We're sure a visit here will fit into any Phuket budget.




Spend the Day at the Beach

It's one of the highlights of coming to Phuket, so go and get some sand between your toes. There are busy beaches and you'll also find almost totally deserted beached. At just 100 baht for a subbed, including the beach crew who sweep away your sand from your chair, it's a steal (on the major tourist beaches).
The Andaman Sea has crystal clear water during high season (December through May) however during the green season (June through November) the ocean is rough and it is not recommended to swim on the West Coast. With restrictions being enforced with the number of chairs allowed on the beach, and in certain zones, it can be fun trying to secure one later in the day.
Layan, Kamala, Surin and Patong Beaches are all zoned for chairs. Also note that at Patong Beach there are dedicated smoking zones too so if you are going to indulge you must do it in the smoking zones otherwise large fines could be imposed.

Catch the latest movie at the cinema
Especially great on a wet day in Phuket or if you need to take a load off from all the shopping at Central Festival or Jungceylon going to the cinema is well priced and features all the latest movies, including in English or with English sub-titles. Starting at just 140 baht a ticket (on selected days) for a standard seat through to 350 baht for a lazy boy style chair, right up to 900 baht for first class (totally worth the money) it's a cheap way to spend a couple of hours.
First Class in Phuket is comparable to a standard ticket in most Western countries, the doors open one hour before and you can have refreshments and a light snack before heading in, included in the price. Waiters bring in "complimentary popcorn, soft drinks" as well as a blanket for your viewing pleasure and the lazy boy seats go almost flat so you can enjoy the movie in comfort.
Thailand is very traditional, and respectful to the Royal Family, so before any movie they play the King's Anthem. All patrons stop munching, stand up and pay their respects.



Bang Wad Dam

Located in the middle of the island, South to North and East to West, the Bang Wad Dam in Kathu is a water reservoir that services much of Phuket. It has a 6km circle road around it and is shaded from the sun by lush trees and fauna. It is incredibly popular with the locals and expats who are getting in their daily exercise. There is (usually) minimal traffic and, if you don't mind the odd snake and creepy crawly, a perfect spot to to pound the pavements or ride your bike or motorbike.
If your up early on a Sunday morning there are regular runs/walks as well as charity events to participate in. It is also recommended to run/walk all in the same direction – if you don't know which way you soon will! Buy a fresh coconut or cold drink on your way round and support the local community.