Thaiger Briefing – June 12, 2018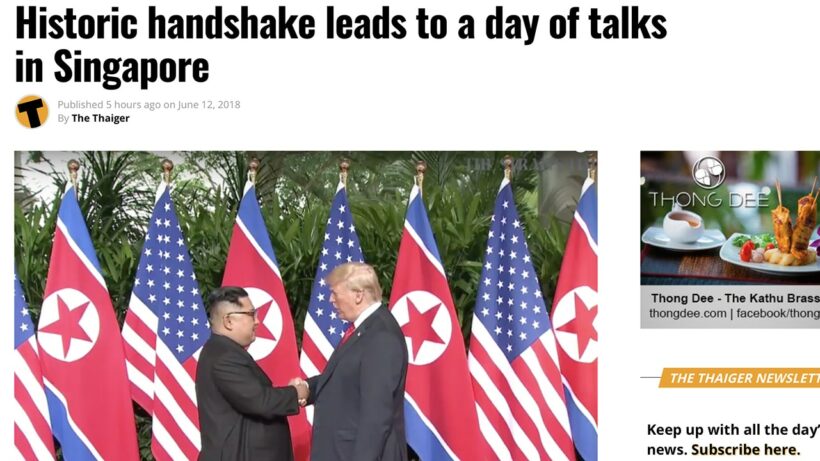 Pattaya 'sex orgy' hotel named; party sponsored by Singha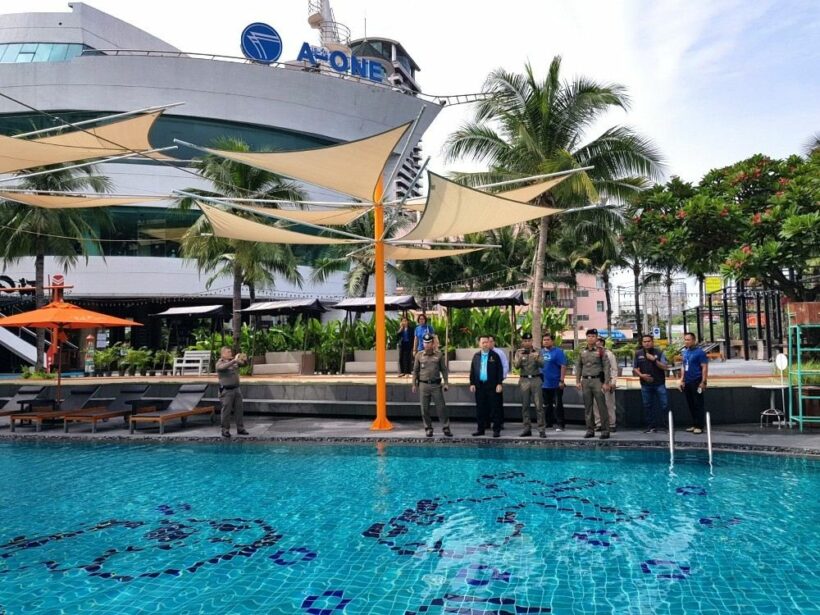 The hotel at the centre of claims it hosted a sex orgy has been named as the A-One The Royal Cruise in North Pattaya.
Earlier story from The Thaiger HERE.
On Monday morning, the resort's police chief and local authority supremo were met by hotel executive Somchai Ratana-ophat, who admitted that the party had taken place at the hotel on Saturday between 3pm and 11pm. It had been organised by foreigners, and 1,000 participants paid between 550 and 1,100 baht a head. Thai female models were hired by the organisers.
Naris Niramaiwong, the district chief, said that the hotel had a valid licence, and that the police would handle the other matters. Pol Colonel Apichai Krobpetch admitted that the participants had all been wearing swimsuits, but the party still constituted an affront to public morals and was obscene. He promised a full investigation and possible action against the organisers, models, tourists, photographers and those who posted a video of the event.
The "Kolour Beachside Party" was well advertised and was the second such event. The Thaiger notes that the poster advertising the event says 'Singha Presents' indicating the the Singha Corporation were one of the main sponsors. The Thaiger has a contact number for Singha Corporation when District Chief Naris needs to question the huge Thai food and beverage corporation.

The We Love Pattaya news site on Facebook said the party had utilised state-of-the-art sound and light systems, had experienced deejays in attendance and featured a special stage in the centre of a pool.
Two beachfront pools were used for the party. A video of nearly one-minute duration was still being widely viewed and shared online, said We Love Pattaya. Naris warned people not to hold sex or drug parties in Pattaya.
Thai Visa notes that chief Naris is the man who walked in on an old British tourist in a short-time sex room on Valentine's Day last year.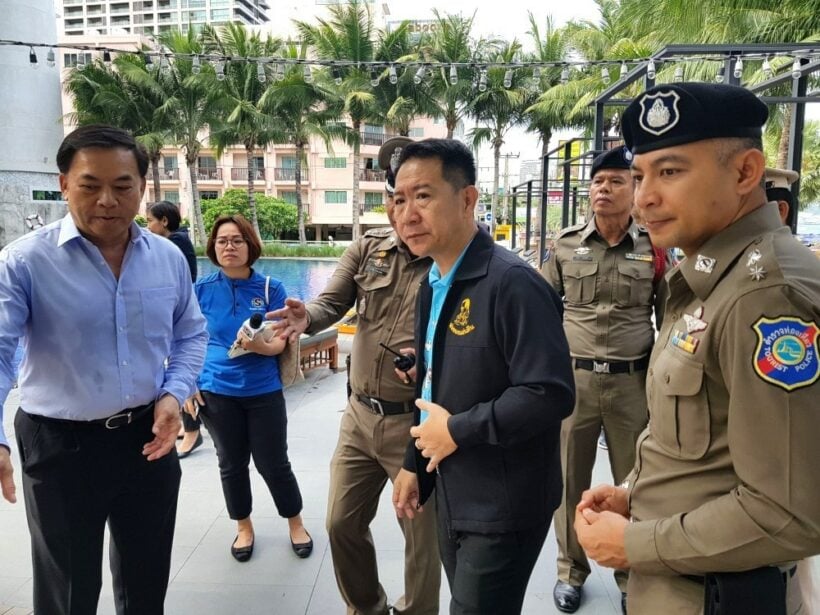 A video published on YouTube exposes the full horrors of people at a pool party drinking, playing music and, even worse, enjoying themselves.
Two kilometres away is the family-themed Walking Street where young women wear skimpy outfits to lure men into consuming large quantities of alcohol and providing them with other wholesome family-related services.
SOURCE: The Nation
The new Blue Tree waterpark and entertainment precinct unveiled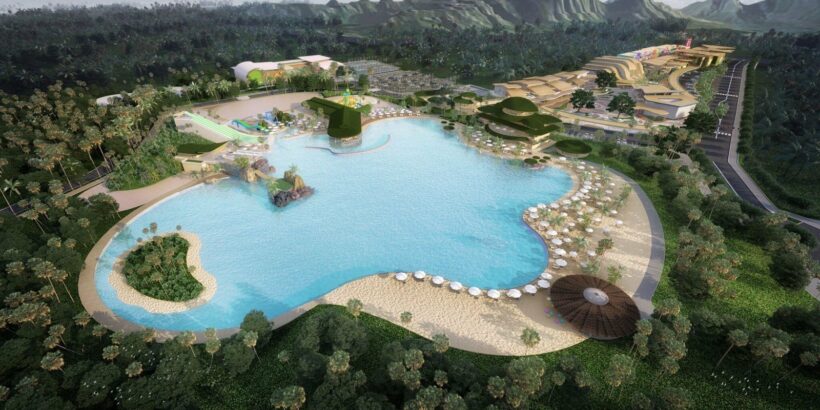 Phuket's tourism industry has received a major shot in the arm with the unveiling of the new Blue Tree Phuket – a US$40 million investment and multi-dimensional destination waterpark and entertainment complex set over 140 rai in Cherng Talay.
Positioning themselves as 'Phuket's premier family attraction', Blue Tree is the island's first international-standard, fully integrated waterpark and family entertainment complex.
The complex will feature a compelling mix of retail, destination dining, waterpark, beach club, and health and fitness with its star attraction at its centre – Blue Tree Lagoon – designed and built by world-leading US-based water attraction specialists Crystal Lagoons.
Opening early next year, Blue Tree is led by Michael Ayling, former Managing Director of Laguna Phuket.
"We are delighted to be announcing what we feel will be a key component in Phuket's tourism future as we are confident Blue Tree will appeal to families looking for high quality entertainment," said Michael.
The 10 rai (17,000 sqm) Blue Tree Lagoon, designed by world-renouned Crystal Lagoons, is the star attraction of Blue Tree Phuket.
"Phuket's tourism market has changed considerably over the past ten years. We now see strong demand for inland attractions driven by Thai families, residents of the island and the growth of the independent-travelling international tourism market. All three markets have one thing in common: a need for high-quality, family-focused entertainment away from the beach. This is what we will deliver," he said.
Blue Tree Phuket will offer a Water and Entertainment park, a four-storey vertical Beach Club, Fitness Zone, Kid's Club and multiple retail spaces. In addition, 17 restaurants and food outlets will cater to all tastes and budgets, centred around the complex's star attraction: Blue Tree Lagoon.
The 17,000-square-metre man-made lagoon has been designed by Crystal Lagoons, who most recently completed a mega inland lagoon project in the family attraction capital of the world, Florida. It is flanked by artificial beaches and offers an aquatic playground for family-friendly and adrenaline-driven activities such as a Slip N Fly, water slides, splash zone and even cliff jumping.

Michael Ayling
Aside from utilising state-of-the-art technology to maintain water clarity, Blue Tree Lagoon also boasts eco-friendly credentials. Powered by Crystal Lagoons' sustainable technology, the lagoon uses up to 100 times fewer chemicals and 50 times less energy than conventional swimming pool systems.
The vertical Beach Club is open throughout the day and into the night.
Blue Tree has been in development for the past two years, from the master planning stages to partnership selections and management – with environmental sustainability a core component of the project's DNA and fundamental to its promotion of an active and healthy lifestyle.
"Blue Tree has natural borders. These are thick, mature rubber plantations that surround the project and emphasise the lush tropical environment found throughout the grounds. The name itself is testament to our commitment – a green and blue oasis in the shape of a tree, with deep roots and strong connections to the destination, its heritage and its future," said Michael.
"Phuket will always be known for its spectacular sea and sand, but there's been a clear demand for inland entertainment alternatives for some time now and this will fit the bill, showcasing a lesser known side of Phuket but one that will appeal to both middle class Thai families and Amanpuri guests in one strategically located destination."
Admission fees will be kept affordable with a pay-and-use concept, while full access to all activities will be priced lower than 1,000 baht.
Find out more about Blue Tree HERE.

Sea turtle has laid eggs on Nai Thon Beach after ten years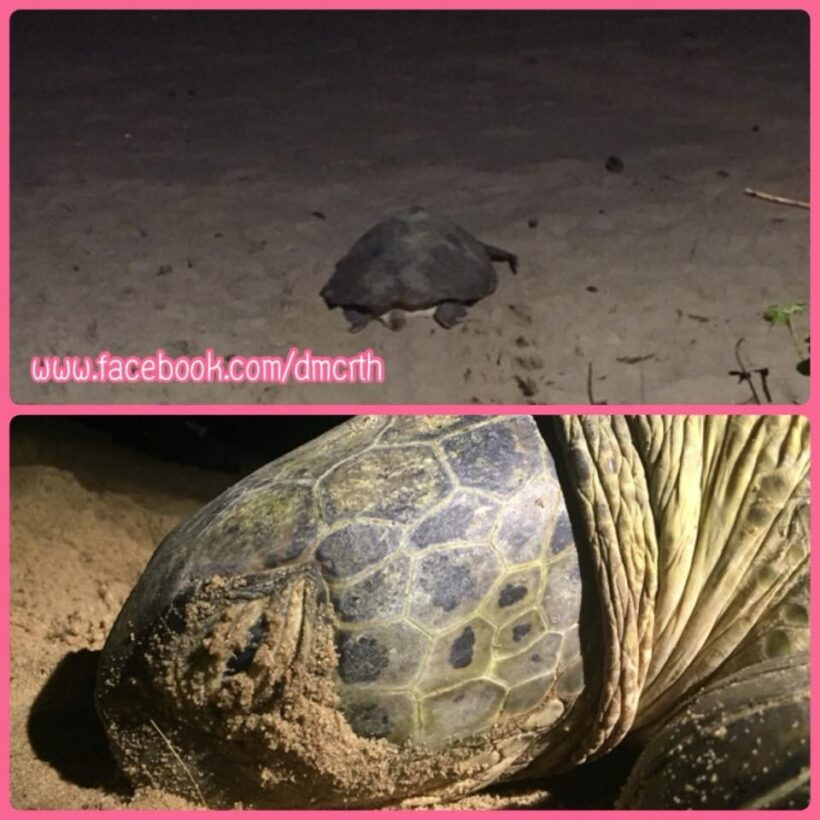 A sea turtle laid a clutch of eggs at Nai Thon Beach yesterday (August 19).
The Department of Marine and Coastal Resources (DMCR) reported that a one metre green turtle laid eggs on Nai Thon Beach in front of Trisara Hotel. Four more nests have also been found near but no eggs have been laid over the weekend.
The eggs haven't been moved as officials want the eggs to be hatched in a natural environment, in their now time. The hotel has been asked to move beach chairs away from the area in order to allow the turtle come up onto the beach to lay more eggs. The hotel has also been asked not to spotlight the beach and avoid night activity on the beach. DMCR officials are taking care of the eggs on the beach and keeping in touch with the hotel.
DMCR information  indicates that 2008 was the latest year that a turtle was found laying eggs on Nai Thon Beach. In 2008,  hundreds of baby turtles were hatched on the beach from three nests.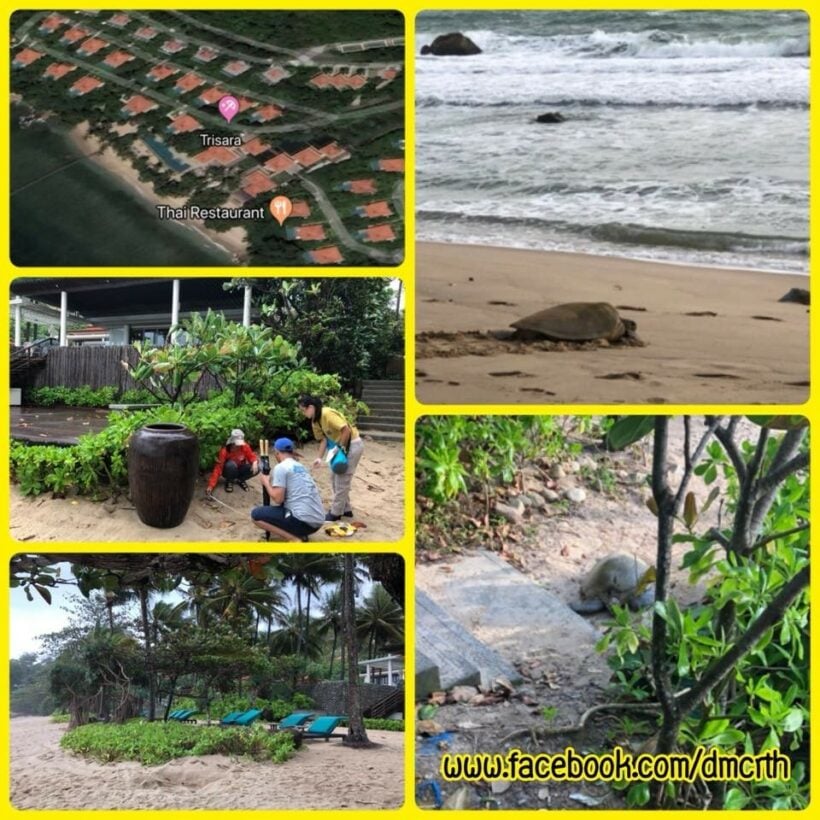 PHOTOS: DMCR