Psychiatric patient stabs sister to death at family home in southern Thailand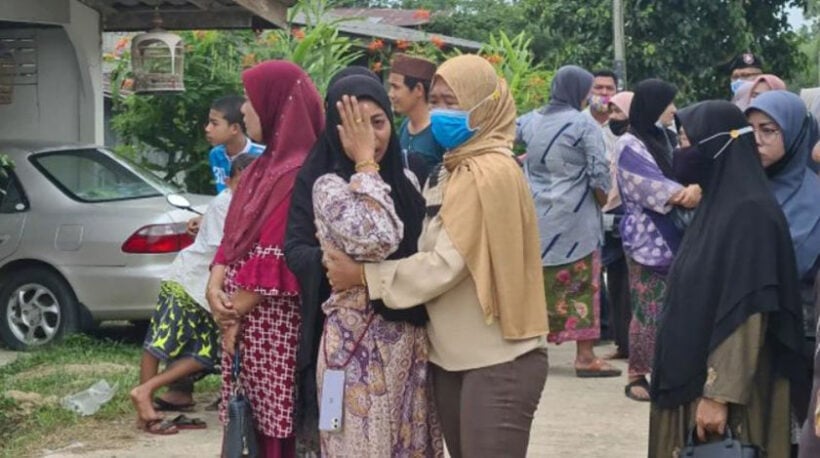 A man undergoing psychiatric treatment after prolonged drug use has stabbed his sister to death in the southern province of Songkhla. The man's family say he was being treated at Rajanagarindra Psychiatric Hospital, but on the day of the murder he'd been told by his doctor to rest at home.
The man has been named as 39 year old Boonya Yama. His family say he has a history of prolonged drug use, which has left him suffering from occasional hallucinations. A Nation Thailand report says he attacked his sister with a knife normally used for harvesting rubber, and also assaulted his mother, 68 year old Timoh Yama, and aunt, 80 year old Song Ma Sale, when they tried to stop him. The sister, 49 year old Johfah Reda Yama, sustained multiple knife wounds to her face, torso, shoulders, arms and legs, and died in the attack.
Boonya has been arrested and is being held on charges of murder and assault. Police have also seized the knife used in the attack. The suspect's father, 73 year old Doha Yama, says his son had been experiencing psychotic episodes as a result of his drug use, but that his hospital treatment had been helping.
"After receiving treatment, he becomes normal and helps with rubber harvesting, but he occasionally hallucinates. This is his fifth hallucination episode."
SOURCE: Nation Thailand
📱 Download our app on Android or iOS for instant updates on your mobile
📧 Subscribe to our daily email newsletter
👍 Like/Follow us on Facebook
🔔 Subscribe to or Join our YouTube channel for daily video updates
2 killed, 1 injured in early morning Songkhla car crash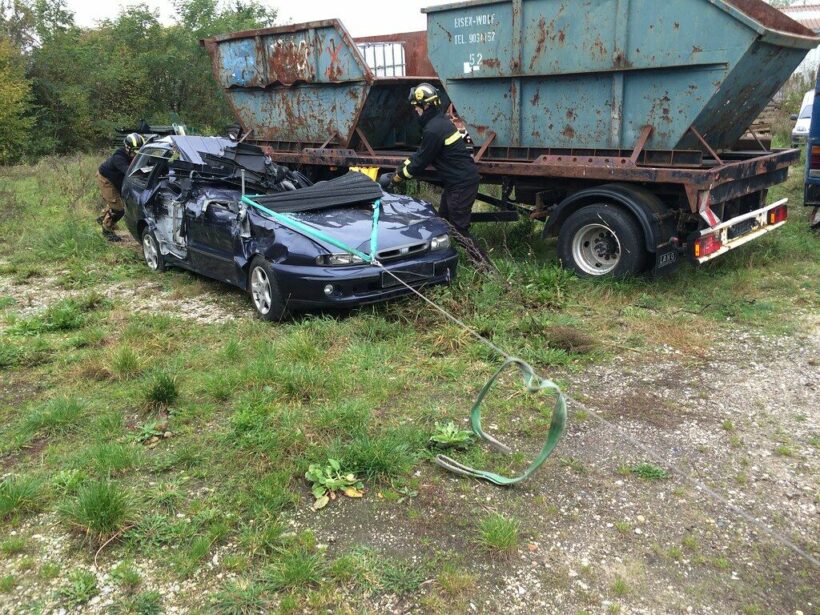 2 men were killed and 1 was injured in an early morning accident after their car rear-ended a container truck in Thailand's southern province of Songkhla. The crash occurred at 12:30am in Rattaphum district at the Khuha intersection on the main highway in tambon Khuan Ru, according to the district's deputy investigation chief.
The car, a Honda City, with Bangkok license plates, hit the back of a cargo truck and became wedged under its tray, trapping 2 people in the back seat and killing them. Rescue workers used a hydraulic jack to open the car and remove the bodies. The victims of the accident are thought to be migrant workers, as investigators found construction tools inside the wrecked car.
The car hit the container truck after it had stopped at the Khuha intersection, with investigators saying they believe the driver had fallen asleep at the wheel. Officials did not say whether the driver of the truck was injured, but did say they would call him in for questioning.
Meanwhile, a teenage scout drowned yesterday after jumping in a swamp during a mock war with teachers who were throwing rocks at the students, acting as if the stones were bombs. The teen was later reported missing when he did not return home. It took divers 4 hours to search the 3-metre deep swamp and find 15 year old Noppakao Sita's body.
Police say the Wat Na Ban Kor School in the Isaan province Kalasin had sent the students out to the nearby swamp for scout activities. Reports say teachers were throwing rocks at the students. The students pretended the rocks were bombs and jumped into the swamp, dodging the stones. Police suspect Noppakao did not know how to swim and was forced to participate in the activity. At around 2pm, people noticed that Noppakao didn't return home, and reported him missing to police 6 hours later.
SOURCE: Bangkok Post
📱 Download our app on Android or iOS for instant updates on your mobile
📧 Subscribe to our daily email newsletter
👍 Like/Follow us on Facebook
🔔 Subscribe to or Join our YouTube channel for daily video updates
Suspect arrested in Hat Yai murder and rape of schoolgirl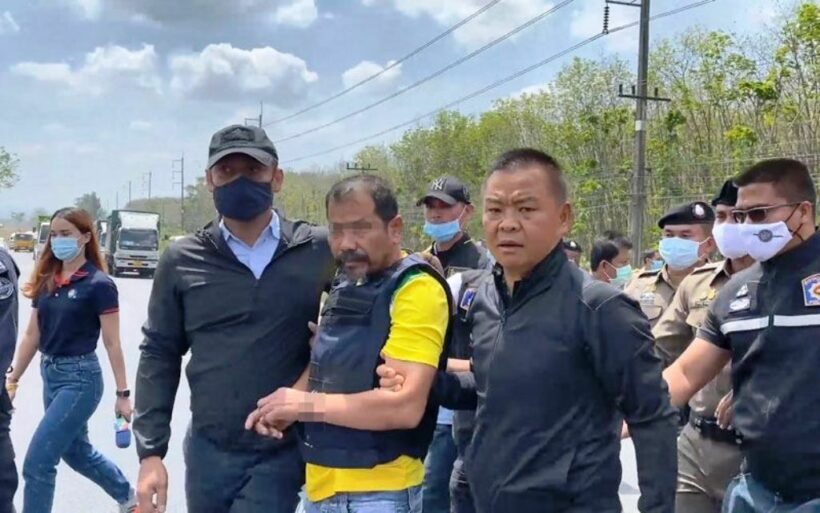 The suspect of a schoolgirl's disturbing rape and murder in Hat Yai is now under arrest. The alleged criminal, 49 year old Prathom Iadkhao, known as Bangmad Kongra, was already a convicted sex offender who spent 1 year in prison back in 2002. He was convicted of taking a young girl from her parents for lewd purposes in Songkhla.
Now, a top police officer in Songkhla province has given details of how the 15 year old girl on her motorbike was allegedly hit from behind by the suspect who then beat, robbed, raped and murdered her at around 12:30am last Saturday morning. Her body was found by police under her motorbike in a ditch in the middle of a local highway in Hat Yai.
Police tracked her last movements to a local petrol station where she filled her motorbike at 12:30 am approximately on Saturday morning. Prathom had pulled into the station just minutes before the girl arrived.
Prathom was arrested in the Kongra district of neighbouring Phattalung province, and was brought to the crime scene to stage a crime reenactment. Local residents were in tears with some being restrained by police from attacking the suspect.
Police say the suspect confessed to hitting the girl with his car, beating, raping, stealing and murdering her. His account matches the police's description of what happened along with his DNA matching DNA found under the victim's fingernails.
Prathom told police that when he saw the girl at the petrol station, he waited for her on the road and let her overtake him on her motorbike. Then, he rammed the girl's motorbike from behind sending her into the ditch. The suspect told police he pummelled her 3 times in the stomach before raping her and stealing 1,300 baht from her bag.
He then allegedly used a tyre wrench from his car to hit the girl on the head 2 or 3 times to kill her. Then, he used the girl's clothing to wipe off the semen from his body. He said he then put the motorbike on her body to make it look like a traffic accident.
Prathom has been charged with premeditated murder and rape of the girl as well as one count of theft.
SOURCE: Thai Examiner
📱 Download our app on Android or iOS for instant updates on your mobile
📧 Subscribe to our daily email newsletter
👍 Like/Follow us on Facebook
🔔 Subscribe to or Join our YouTube channel for daily video updates
Thai school director resigns after sexual abuse and firearms charges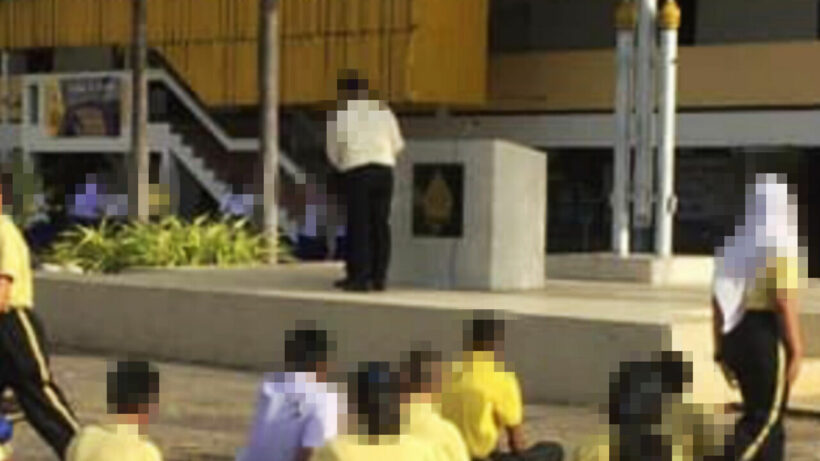 The school director who pulled out a gun during a school assembly amid allegations that he sexually abused a student has resigned. After a student's mother filed a police complaint accusing the director of rape and depriving a child of parental protection, 60 year old Sayan Chaleephol made a public apology at a school assembly for his "personal problem" and started to pull out a gun from his waistband. Students fled, but it appeared Sayan intended to hurt himself rather than the students.
The school director allegedly sexually abused a Mathayom 3 (grade 9) student at Thepha School in Songkhla's Thepha district. Along with sexual abuse charges, Sayan now faces charges of carrying a firearm in public. He submitted a resignation letter to the Zone 16 Secondary Education Office on Friday.
The resignation does not affect the disciplinary investigation against Sayan and he is found guilty, then he can be dismissed from government service, according to the education office's director Sangkorn Rakchuchuen.
SOURCE: Bangkok Post
📱 Download our app on Android or iOS for instant updates on your mobile
📧 Subscribe to our daily email newsletter
👍 Like/Follow us on Facebook
🔔 Subscribe to or Join our YouTube channel for daily video updates