Thai security officials search for attackers after 15 killed on Tuesday in Yala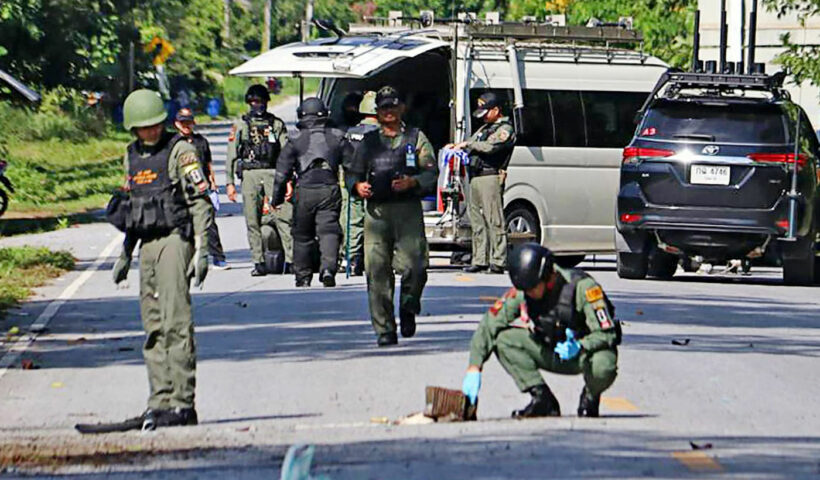 The 4th Army continues to hunt down suspects responsible for Tuesday's brutal gun attack on a security checkpoint in Yala's Muang district. The attack left 15 village defence volunteers dead and five others injured. The attack is believed to be a retaliation for extrajudicial killings of two insurgent suspects in Pattani's Sai Buri district last week, according to a source.
Gunmen attacked and killed 15 people at the security checkpoint in southern Yala Province late on Tuesday night. The victims' weapons were stolen in the raid. Security officials say there were at least 10 attackers. They approached on foot through a rubber plantation to attack a defence volunteer booth at about 11.20pm.
Eleven locals, mainly defence volunteers, were shot dead. Four wounded died later in hospital. Three other are being treated and remain in hospital. Only two volunteers survived unharmed. The dead include village and district officials and a police captain who was supervising southern border investigations.
The insurgents scattered road spikes, set fire to tyres, cut down a tree and bombed a power pole to prevent pursuit. This also hindered emergency services rushing to the scene. Three rescue vehicles were disabled.
Police say the attackers stole an assault rifle, two shotguns and five pistols.
Lt Gen Phonsak Phunsawat, the 4th Army chief, has offered condolences to families which lost loved ones in the attack.
The Thai PM Prayut Chan-o-cha has also condemned those behind the attack has asked security officials to rethink strategies in the region.
SOURCES: Bangkok Post | The Guardian
Keep in contact with The Thaiger by following our
Facebook page
.
Never miss out on future posts by
following The Thaiger
.
Roadside bomb explodes as rangers drive to a wedding in Southern Thailand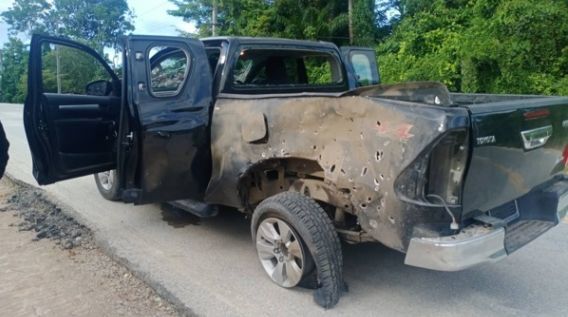 In the southern province of Narathawit, an area troubled by insurgency-related violence right on the Thai-Malaysia border, a bomb exploded as rangers were driving to a wedding. None of the soldiers were injured, but the bomb caused major damage to the pickup truck.
Here's is a longer explanation of the 2 decade-long southern insurgency.
The bomb was an improvised explosive device, or IED. It was planted along the roadside in the Rueso district by the Sawo Hile village in tambon Sawo.
Civic action team soldiers were on their way to a wedding in the nearby village Bue Cho when the roadside bomb exploded. The bomb damaged the left side of the Toyota pickup truck bed and left rear tyre. An explosive ordnance disposal team was called to the scene.
SOURCE: Bangkok Post
Keep in contact with The Thaiger by following our
Facebook page
.
Never miss out on future posts by
following The Thaiger
.
Man shot and killed, bomb explosion in deep south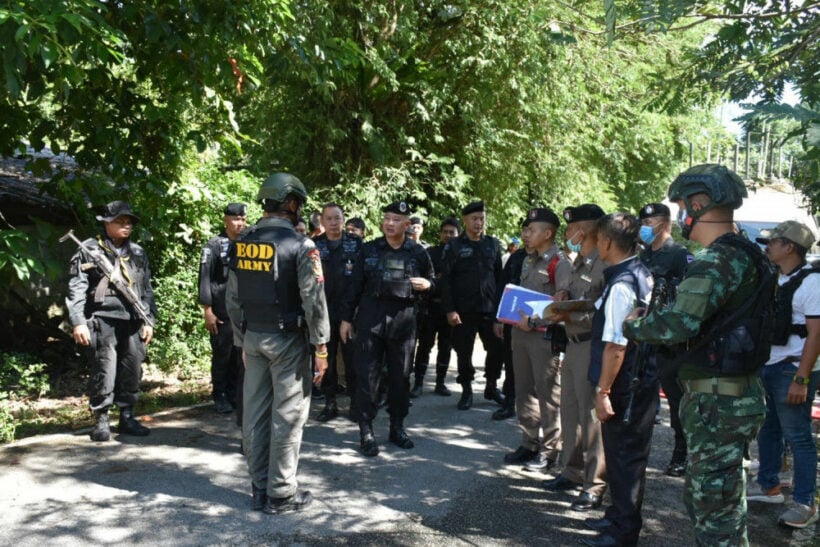 A man was fatally shot and later, as rangers were patrolling, a bomb exploded – both incidents were in the Southern province of Narathiwat, an area plagued with violence from the more than two-decade-long insurgency. Around 6am this morning, 48 year old Sorpree Arma was shot dead in the Sri Sakhon district just as he was leaving his home to go work on his rubber farm, according to the 49th Ranger Task Force.
About a couple hours later, in the Rangae district, a bomb exploded on the side of a local road as rangers were passing by. No one was injured and officers are investigating.
Thailand's more than two-decade-long insurgency in the southern provinces of Narathiwat, Pattani, Yala and Songkhla have led to over 6,500 deaths, mostly civilians, and reports of shootings, ambushes and bomb explosions.
Just a few days ago, a navy soldier riding a motorcycle through Narathiwat's Bacho district was shot and wounded.
In Narathiwat, just last month alone, there were multiple bombings. 2 bombs targeting rangers exploded in the Bacho district. No one was injured. In the Si Sakhon district, a car ran over a bomb. Luckily, no one was injured and the explosion just caused slight damage to the vehicle.
SOURCE: Bangkok Post
Catch up with the latest daily "Thailand News Today" here on The Thaiger.
Keep in contact with The Thaiger by following our
Facebook page
.
Never miss out on future posts by
following The Thaiger
.
2 insurgents killed, 4 ranger injured in Songkhla clash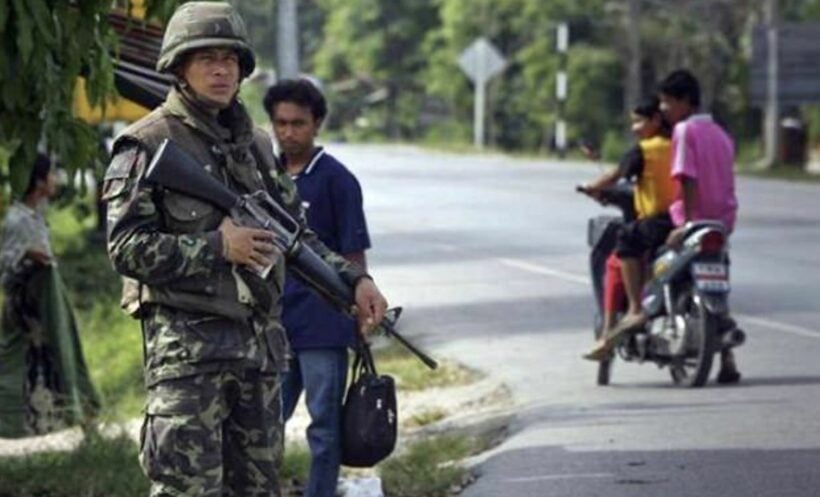 Rangers have shot and killed 2 suspected insurgents in the latest clashes in Thailand's Deep South, this time in Songkhla's Chana and Thepha district last night. Police and soldiers headed to the area after receiving reports that 4 insurgents were in the ares and travelling on 2 motorcycles. The suspects dispersed as the police and soldiers arrived. 3 separate clashes followed.
2 other suspected insurgents were killed in the first 2 clashes which occurred in Chana and Thepha districts. The 3 clashes happened in 3 different parts of the area.
In the 3rd of the clashes a 39 year old suspected insurgent was killed. 4 local rangers were also injured in that attack.
The man was suspected of being involved in a bombing out the front of the Pa Bon School in Khok Pho district, Pattani back in January, 2013. He was also a suspect of being involved in a bomb explosion on a road in Sabayoi district on February 24, earlier this year, where 10 people were injured.
The authorities combed the area and found the body of another suspect at a beach near the Krong Itam village in Koh Saba. believed to have died in the clashes.
He is believed to be Che Arong Baheng, an alleged insurgent operating in the Na Thawi district.
Clashes between religious insurgents and local Thais have been ongoing for 2 decades. More than 7,000 people, mostly civilians, are thought to have died in the territorial war. It originated in 1948 as an ethnic and religious separatist insurgency in a part of the Malay Patani Region, then comprising the 3 southernmost provinces of Thailand and parts of a 4th, but has become more complex and violent since the early 2000s where the violence has become entwined with activities from drug cartels, oil smuggling networks and Muslim insurgents.
SOURCE: Bangkok Post
Keep in contact with The Thaiger by following our
Facebook page
.
Never miss out on future posts by
following The Thaiger
.