UPDATE: Burmese Coup: Myanmar's banks told to close "because of internet problems"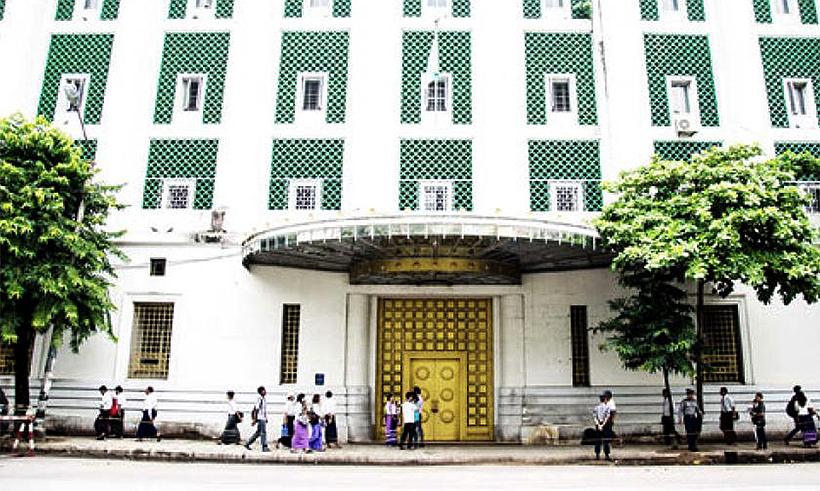 All Burmese bank branches have been closed across Myanmar today after the bloodless military coup this morning. The Burmese army have declared a state of emergency for the next 12 months and have arrested and detained de facto civilian leader Aung San Suu Kyi, along with other National League for Democracy politicians.
The country's banking association made an announcement this morning claiming that banks had to close down because of "poor internet connection".
"All member banks of Myanmar Banks Association are to close their bank unanimously starting from February 1".
"The banks would seek permission from the Central Bank of Myanmar for the temporary closure and inform it when they planned to restart services."
NLD leader Suu Kyi was detained as part of an early morning military coup before the Burmese army declared the year-long state of emergency. Army leaders have cited "voter fraud" since the landslide victory to the NLD in the November 2020 general elections. The military-backed political party only won 33 out of the 476 seats up for grabs in the election.
Read about the Thailand leadership reaction to the Burmese coup HERE.
Read more about Myanmar's bloodless coup early this morning HERE.
SOURCE: Bangkok Post
Keep in contact with The Thaiger by following our Facebook page.
Never miss out on future posts by following The Thaiger.
Indonesian and Thai foreign ministers meet with Myanmar counterpart, seek peace after coup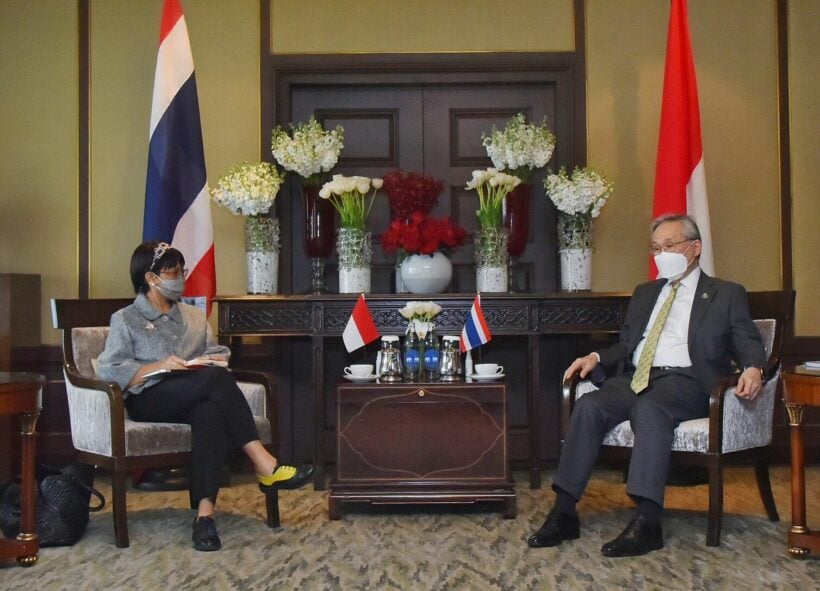 To seek a peaceful solution in Myanmar after the country's military seized power, foreign ministers of Indonesia and Thailand met with the new, military-appointed foreign minister of Myanmar Wunna Maung Lwinat at Bangkok's Don Mueang Airport for a brief, 20 minute discussion.
Both the Indonesian and Thai counterparts say they want peace, but the Indonesian foreign minister says Thailand has a "special position" to play because of its proximity to Myanmar and the number of Burmese nationals in Thailand. The Thai-Myanmar land border is 2,400 kilometres long. There are around 2 million Burmese people who live in Thailand.
With the elected civilian government pushed out and many political leaders arrested, including Aung San Suu Kyi, who won the election for state counsellor in a landslide and also served as the foreign minister, there have been daily protests in Myanmar. A strike on Monday shut a number of businesses. Burmese nationals living in Thailand have even held demonstrations in Bangkok. Some rallied outside the US Embassy in Bangkok, calling on the American government to step in.
The meeting between the 3 foreign ministers was the first overseas visit for a senior Myanmar official since the military coup on February 1. A spokesperson for the Thai Foreign Ministry, Tanee Sangrat, says the ministry insists on peace and stability in Myanmar and hopes to see the situation improve.
"It was also a good opportunity for Thailand to directly listen to Myanmar about issues that Myanmar prioritizes, as well as exchanging opinions on issues important to the people for both countries."
At a press conference in Jakarta, Indonesian Foreign Minister Retno Marsudi said she asked her Myanmar counterpart to "prioritise the safety and wellbeing" of the people. She says all 10 members of the Association of Southeast Asian Nations must respect the principles in the ASEAN Charter which outlines principles of democracy as well as protection for human rights and fundamental freedoms.
"This shuttle diplomacy is surely not easy to do during the times of pandemic, but Indonesia has to do it because there are some principles that must be respected…Indonesia chooses not to stay silent…To do nothing is not an option."
Indonesia has been pushing for a special ASEAN foreign ministerial session to discuss the Myanmar situation. Thai and Indonesian foreign ministers also discussed potentially holding an informal ASEAN meeting in August. The forum has not met in person since the Covid-19 pandemic.
SOURCE: Kyodo News
Keep in contact with The Thaiger by following our Facebook page.
Never miss out on future posts by following The Thaiger.
Facebook shuts down Burmese military news page, accuses it of inciting violence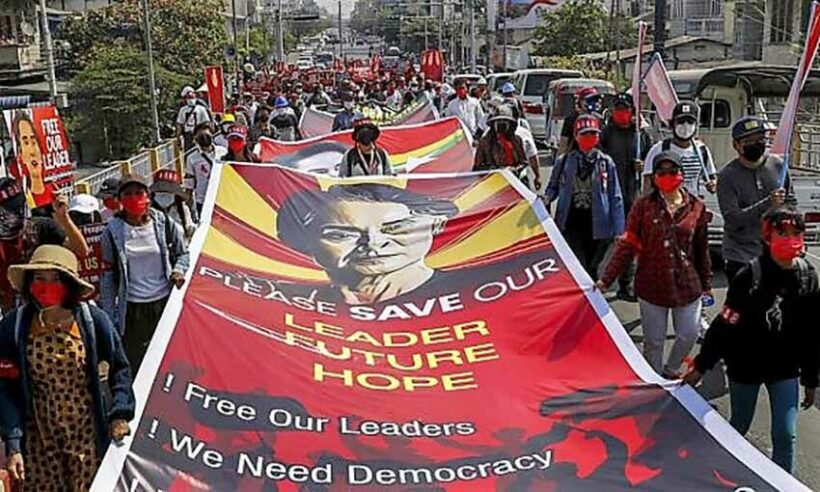 The "True News" social media page operated by the Burmese military has been shut down by Facebook, with the tech giant accusing it of inciting violence. Thai PBS World reports that the page was shut down yesterday as the authorities in Myanmar ramp up the violent response to citizens protesting the forced removal of leader Aung San Suu Kyi. The authorities continue to crack down on those protesting the coup and calling for the military to surrender power.
Suu Kyi is currently in custody alongside several members of her administration since February 1, when the army seized power in a bloodless coup. For its part, the military is insisting the power grab was lawful, claiming on its now-defunct Facebook page that Suu Kyi's victory in November was the result of a fraudulent election. There have been a number of large protests in major Burmese cities since Suu Kyi's removal. On Saturday, 2 people were killed when the army fired at protesters in the city of Mandalay. There have also been reports of nightly internet blackouts and authorities have banned several social media platforms.
For its part, Facebook says it has removed the Tatmadaw True News Information Team page for "repeated violations of our Community Standards prohibiting incitement of violence and coordinating harm". It has removed hundreds of similar Burmese army pages in recent years, including content targeting the Rohingya Muslim population. Around 750,000 stateless Rohingya Muslims are living as refugees in Bangladesh after fleeing a 2017 military crackdown.
A year later, Facebook banned the Burmese junta leader Min Aung Hlaing, along with other senior army figures after a United Nations recommendation that they be charged with genocide following the massacre of countless Rohingya Muslims. Facebook has also banned the pages of insurgent groups fighting the Burmese military, as well as those run by Buddhist monks accused of provoking anti-Muslim violence.
SOURCE: Thai PBS World
Keep in contact with The Thaiger by following our Facebook page.
Never miss out on future posts by following The Thaiger.
Border officials on alert for Burmese coup protesters fleeing military crackdown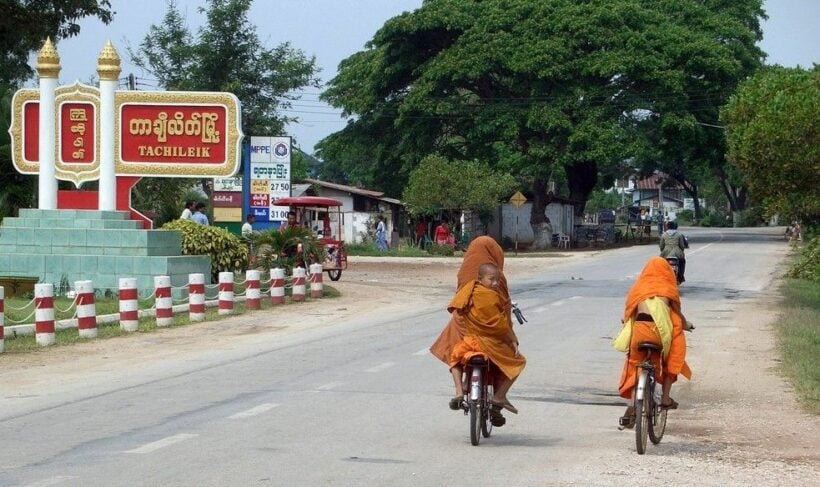 Border police have increased patrols in the northern province of Chiang Rai amid concerns that Burmese protesters may try to cross into the Mae Sai district. This follows a military crackdown in the Burmese border town of Tachilek as the army tries to quell anti-coup rallies.
According to a Bangkok Post report, Sompong Chingduang from Thailand's Immigration Bureau says the authorities in Mae Sai continue to monitor the situation in Tachilek. On Saturday, 2 protesters were killed in the Burmese city of Mandalay after officials opened fire on demonstrators protesting the February 1 coup.
The following day, thousands rallied in the town of Myawaddy, on the border of the Mae Sot district in the Thai province of Tak, while another protest was held in Tachilek. The Tachilek protest led to the border between Thailand and Myanmar being shut for 2 hours. It's understood the largest rallies yet are being planned for today.
Meanwhile, Sompong has issued a warning that nobody fleeing the military crackdown in Myanmar will be granted entry to Thailand but will instead be turned away from the border. He says to do otherwise would pose too much of a health risk for Thailand, given the Covid-19 situation.
SOURCE: Bangkok Post
Keep in contact with The Thaiger by following our Facebook page.
Never miss out on future posts by following The Thaiger.