Samui money share dispute ends in murder-suicide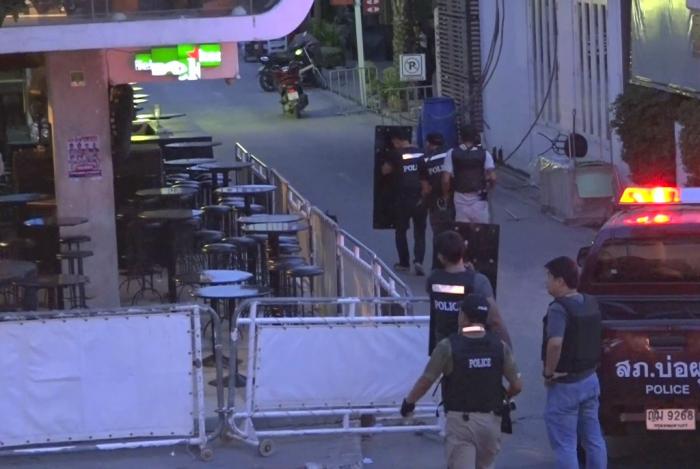 SAMUI: The manager of a popular bar near Chaweng Beach on Koh Samui reportedly shot dead his friend last night before turning the gun on himself after a shootout with police and a five-hour standoff.
Bor Phut Police officers arrived at Bar Solo around 1:30am to find the body of Chulit Somakert lying on the floor. His alleged killer, Samroeng Thongpan, reportedly shot at the officers before fleeing to the 2nd floor, where he barricaded himself in.
Police cordoned off the area and attempted to persuade Mr Samroeng to surrender.
"We tried to contact Mr Samroeng on his phone and we used a megaphone, but he did not respond," Bor Phut Police superintendent Thewet Pluemsut told the Phuket Gazette today.
At about 6am, two teams of armed police with bullet-proof shields broke down the barricade, to find Mr Samroeng dead from a gun shot to the head.
A witness said the men were friends but they had fallen out over a million-baht money sharing scheme and that Mr Samroeng owed Mr Chulit money.
"There were customers in the bar when Mr Samroeng opened fire on his friend, letting off several rounds, and they had to take cover," said Col Thewet.
— Suchat Hankij
Keep in contact with The Thaiger by following our
Facebook page
.
French tourist dies taking selfie in Koh Samui – VIDEO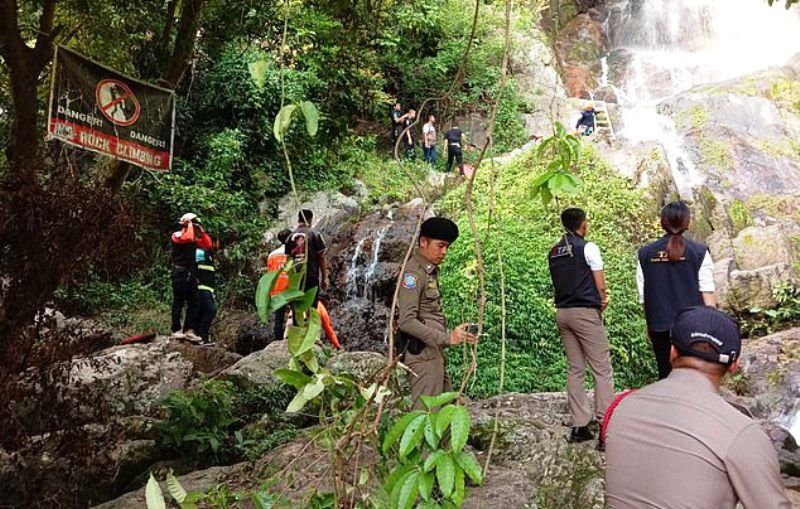 A French tourist has died attempting a selfie, in the exact spot where a Spanish tourist died just months ago. Read that story HERE.
Thirty three year old Bastien Palmier plunged to his death while trying to take a selfie at the Na Mueang 2 waterfall in Koh Samui. It was the same spot where Spaniard David Conesa died in July.
Local authorities say the area has "no entry" signs and a physical barrier (a rope) but tourists often ignore them".
Koh Samui tourist police told reporters that some tourists may want to get better photos, but it's quite steep and slippery there and he slipped. The man was in Koh Samui visiting a friend who'd recently moved to Thailand. The friend told authorities he warned Palmier about the danger but he jumped over the rope anyway.
Palmier was climbing near the edge of a cliff when he slipped, hitting his head on the sharp, wet rocks and falling into the pool below.
Samui Police say retrieving the body took more than three hours due to the slippery rocks and dangerous conditions. His body was finally tied to a stretcher, which was dragged up with ropes.
SOURCE: Chiang Rai Times
Keep in contact with The Thaiger by following our
Facebook page
.
Russian nabbed for 7 year overstay in Samui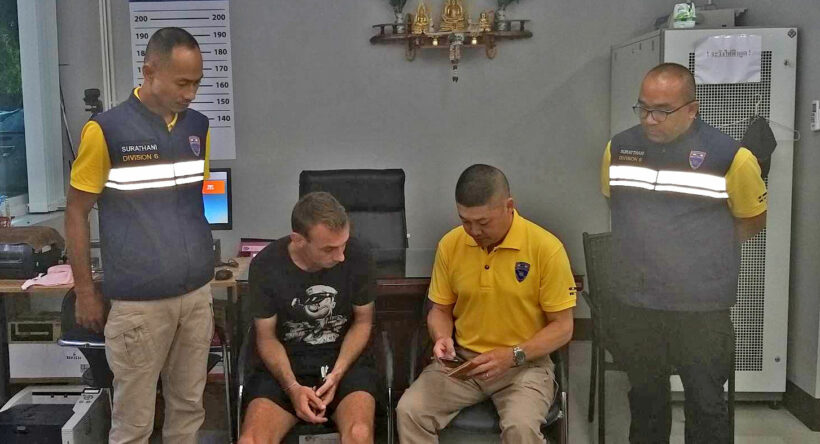 PHOTO: Matichon Online
A Russian man has been arrested for overstaying his visa by 2,861 days, 7 years and 9 months. The man was arrested on Koh Samui.
In a completely serendipitous inspection, immigration and tourist police were doing spot inspections on the island hen they were checking a man on Soi 3, off Maenam Road, in the north of the island. The inspection was yesterday afternoon.
Upon checking the man's passport the noted the visa had expired in 2012.
The man was identified as a Russian national, 32 year old Alexey Safronenkov. The man was handed over to the Koh Samui police for prosecution where he will likely end up being fined, deported and black-listed. The black listing for such a long overstay would be 10 years before he could return to the Kingdom.
The 32 year old, who would have been 25 at the time, entered Thailand through Khuan Don checkpoint in Satun, on the Malaysian border, on January 12, 2012. At the time he was given a tourist visa stamp allowing him to stay 30 days. He had never left the country since that time.
Avoiding police and staying in the Kingdom, without departing at any stage over 7 years, deserves some sort of award. But his only reward will be a return to Russia with a DCB stamp.
SOURCE: Matichon Online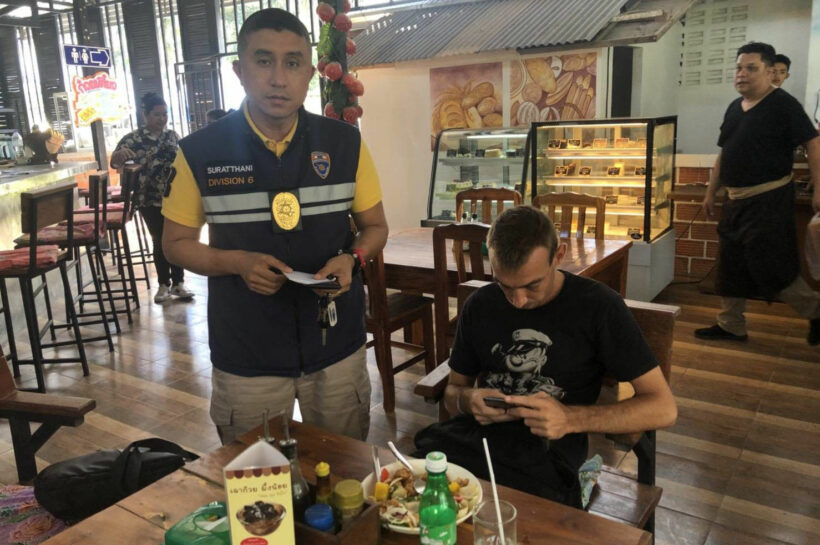 Keep in contact with The Thaiger by following our
Facebook page
.
Swiss man nabbed on Koh Phangan, overstayed visa by more than four years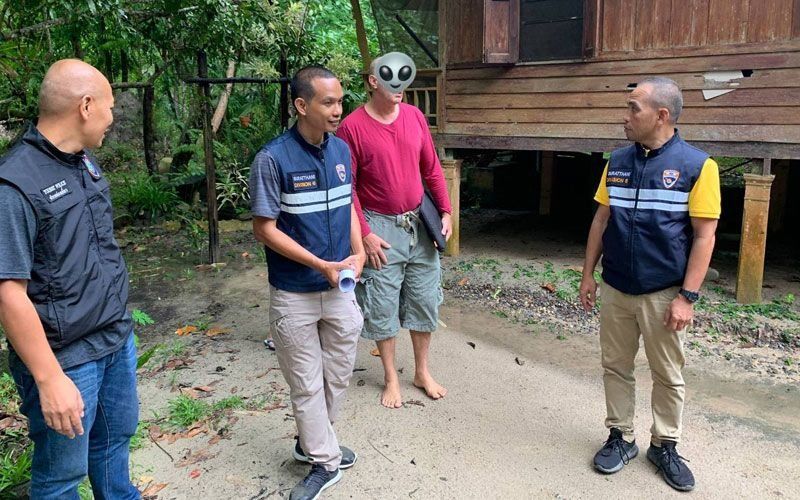 PHOTO: Naew Na
A 52 year old Swiss expat has been arrested on Koh Phangan in violation of his visa conditions. Naew Na reports that the man had overstayed his entry visa into Thailand by over four years.
Police tracked him down at a rented house on Koh Phangan, a small Gulf of Thailand island near Koh Samui.
He had overstayed by 1,539 days, (4 years and 2 months), and is now in immigration custody.
Naew Na reports that a crackdown was held in the province of Surat Thani, which includes the popular tourist islands of Koh Samui, Koh Phangan and Koh Tao, between November 6 – 11. The sweep was conducted by Koh Phangan police and tourist police.
They told the media that the command had come from immigration chief Lt-Gen Sompong Chingduang and they urged the public to continue to report immigration offenders by phoning 1178.
SOURCE: Naew Na
Keep in contact with The Thaiger by following our
Facebook page
.