Police in Phuket arrest Dutch national for alleged involvement in SPM Shopping Mall scam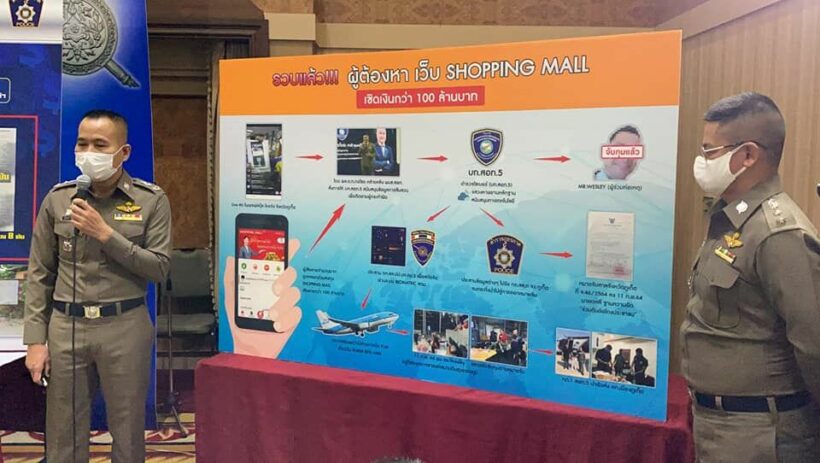 Police arrested a 37 year old Dutch national who was allegedly involved in the SPM Shopping Mall website scam, which police suspect is a huge pyramid scheme that defrauded hundreds of people on the island. Police say the man was a Line administrator for the scheme and they are still searching for 40 other suspected Line 'Admin'.
Wesley Halbach was arrested over the weekend after several Phuket residents filed complaints with police, accusing Wesley of tricking them into making an investment. People were getting paid to "click" on products as a positive rating to help boost SEO rankings, and the more they invested the more they could 'click', etc, etc. Many of the Admins, after acquiring 'customers' could earn a cash payment of 500 baht per day.
Victims say the more more they invested, the more money they would get back. Large investments led to 'promotions' in the 'pyramid', the victims say. Recently, money transfers did not go through and no one from the company could be contacted, victims say. Some members invested at least 1,000 baht while other invested around 200,000 baht, according to Kanchai Khlaikhleung from the Cyber Crime Investigation Bureau.
"At this stage, about 1,000 people have identified themselves as victims. Many of them came with tears on their faces, as they had spent all of their savings on this investment… Most of the victims are living in Phuket and on Koh Samui. Some of them understood well how the scheme worked, some just wanted to try it, some had no idea that it was a Ponzi scheme."
Kanchai says Wesley monitored the website and Line app every day and invited people to join. Wesley was charged with conducting an online scam and defrauding others. Reports say he was planning to flee to the Netherlands and he was detained at Bangkok's Suvarnabhumi Airport.
The SPM Shopping Mall website domains were registered in China and Hong Kong. Money invested in the scheme had been transferred into 44 accounts at 4 banks overseas, but police didn't specify which country or what banks. Police are working with transnational agencies for the investigation.
"The man, his wife and child were about to flee the country. If they could get out of the country, about 100 million baht would have gone with them, as they had already transferred it to the banks in a neighbouring country… We cooperated with Immigration officers to keep an eye on them after they took a flight from Phuket to Bangkok."
In Pattaya last week, 200 people filed complaints with police after losing money to SPM Shopping Mall. Officers suspect 10,000 people in Thailand fell victim to the scam.
People who lost money to the SPM Shopping Mall scam should file a report on Google Forms, police say. Click HERE to file a report.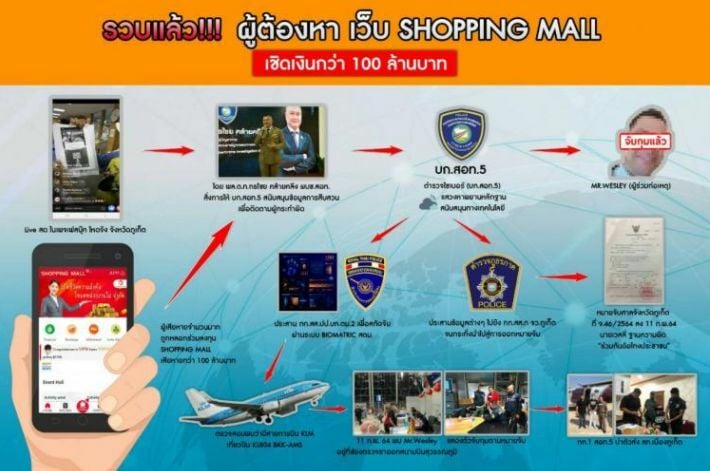 SOURCE: Pattaya News
Keep in contact with The Thaiger by following our Facebook page.
Never miss out on future posts by following The Thaiger.
2 Phuket Town nightclubs shut down after allegedly violating multiple laws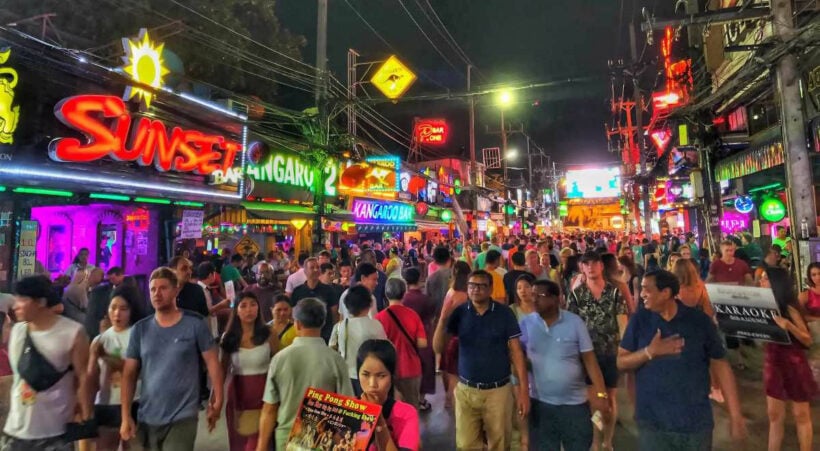 2 Phuket Town nightclubs are shutting down after allegedly violating multiple laws. The Maldives and H20 on Lim Sui Ju Road, on the south end of Phuket Town were ordered by the Phuket Governor to close immediately, with the Maldives being orderd to close for 5 years.
The order comes after the Phuket City Police inspected the Maldives club, arresting the manager for operating an entertainment venue without a permit, allowing people under 20 years old to work or "use services in the venue," and for selling alcohol without a permit.
Governor Narong cited his authority under Section 4 of NCPO order 22/2558 to order the Maldives nightclub to be closed for 5 years, from March 5, 2021 to March 4, 2026.
The order also prohibits the operators from opening any other entertainment venues during the same period. The H20 nightclub was ordered to close by a provincial order after Phuket City Police say they inspected the venue and charged the operator for selling or providing shisha, or baraku, without permission.
The owner was also accused of operating an entertainment venue without a permit and violating the provincial order for enforcing Covid-19 safety measures. But it is unknown what penalties were handed down to the operator of the H20 nightclub, unlike the Maldives operator, who received a penalty.
Instead, the governor cited the Revolution Council announcement of 1959, to shut down the establishment for 30 days from March 5, 2021 to April 3, 2021. The orders noted that both operators of the clubs have the right to appeal the closures, having 15 days to file an appeal directly with the Phuket Governor.
Meanwhile, Phuket is set to open its doors to vaccinated, international tourists by October, pending the government's approval. The local government's initiative, named Phuket First October, proposes vaccinating a majority of its population over 18 years of age in time for the high season.
The move would allow thousands of vaccinated Europeans to enter Thailand, while locals would be protected from the virus symptoms.
SOURCE: The Phuket News
Keep in contact with The Thaiger by following our Facebook page.
Never miss out on future posts by following The Thaiger.
Cambodian dog slaughterhouse shut down, owner says he is "ashamed"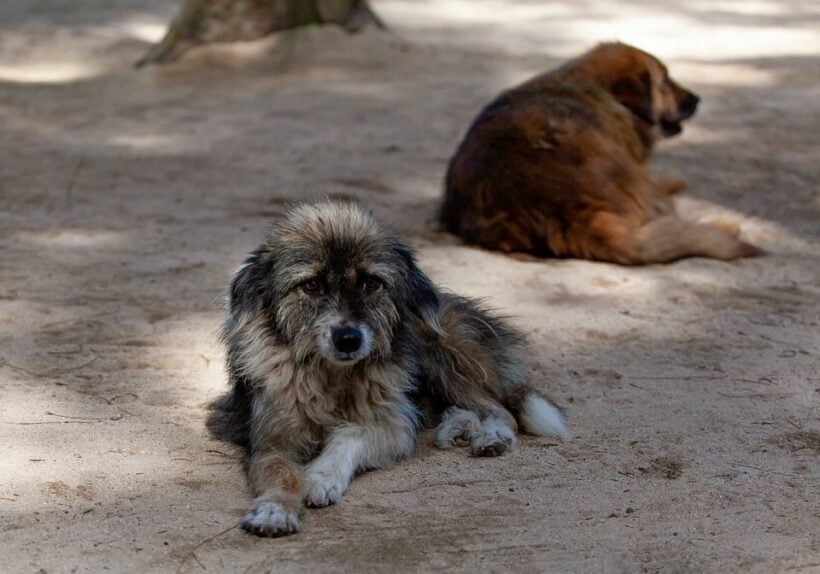 After increasing calls to end the dog meat trade, a Cambodian slaughterhouse is shutting down, with its owner saying he is "ashamed." Ouk Mol, the owner, says the dog slaughterhouse has killed more than a million dogs since opening in 1995.
According to Four Paws animal rights group, Cambodia slaughters between 2 to 3 million dogs per year, while offering the cheap meal of protein at more than 100 dog meat restaurants in Phnom Penh, its capital.
Mol's slaughterhouse is responsible for all the supply to Phnom Penh, but he says he will no longer be killing dogs, citing increasing pressure from animal rights groups and civilians alike. The 50 year old former soldier says he feels ashamed.
"But I want to quit the business because I am getting old and a lot of people have criticised me about the dog meat trade."
The operator was offered financial support from Four Paws to open a grocery store if they shut down their slaughterhouse with Ouk Mol's wife, Sao Phally, saying she is glad they have found a way out of the business.
"We were always worried about sin because of our killing. People looked at us in a bad way."
The slaughterhouse, which uses vats to drown the dogs, and blowtorches to remove their fur, slaughtered up to 200 dogs per day. Now, as of yesterday, the company has shut down, with the remainder of dogs being sent to animal charities for rehabilitation and placed for international adoption.
Phnom Penh is the 2nd city in Cambodia to follow increasing calls to close the dog meat trade, as Siem Reap banned the trade last year in a victory for animal rights groups. Until 2020, Siem Reap, Cambodia's largest tourist city, was known by rights groups as the "lynchpin" of the trade.
Despite Cambodia's efforts to begin closing down its dog meat trade, it is not the only Asian country that features dog meat as a cuisine. Consuming dog meat in Vietnam is more popular than in Cambodia, which shows the industry has a long way to go with regards to respecting animal rights.
SOURCE: Thai PBS World
Keep in contact with The Thaiger by following our Facebook page.
Never miss out on future posts by following The Thaiger.
Pattaya police raid nightclub suspected of presenting pornographic shows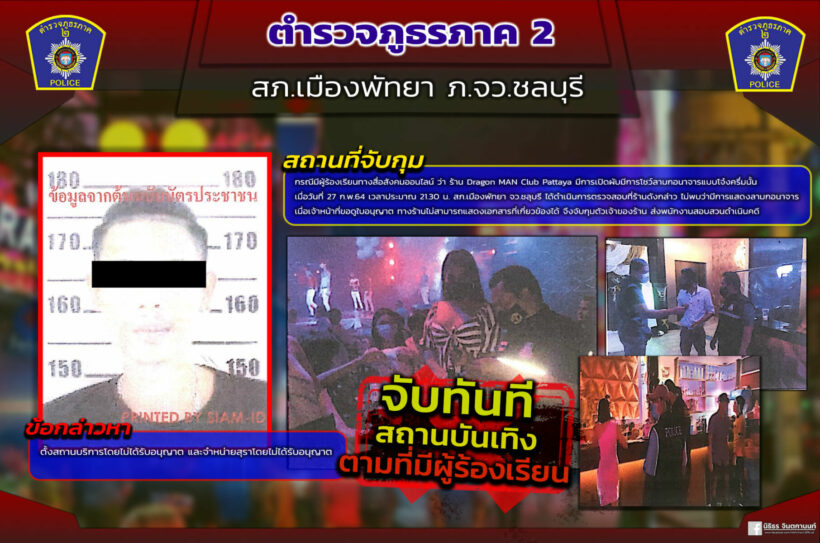 Pattaya City Police inspected a nightclub after reports that the venue was hosting pornographic shows on the weekends. Although the nightclub, Dragon Man Club, wasn't presenting a sexually explicit show when officers came by, the owner was arrested for operating an entertainment business and selling alcohol without the proper permit.
Police say a tip was made through social media from an anonymous source. Officers asked the nightclub owner for the venue's license, but the owner did not have the document at the time. Police arrested the owner. The nightclub owner was not named in reports.
SOURCE: Pattaya News
Keep in contact with The Thaiger by following our Facebook page.
Never miss out on future posts by following The Thaiger.