Sweden to Phuket: Epic cycling journey for island orphanage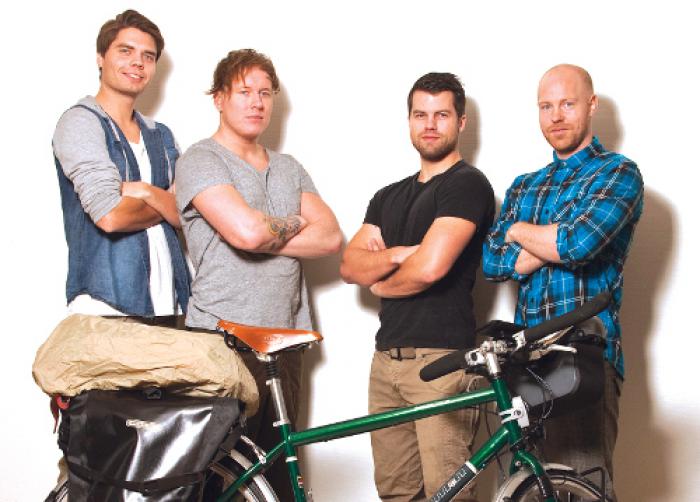 PHUKET: A man is standing out in the cold in the snowy town of Karlskoga, his fellow citizens walk briskly past, unaware that within about a month the man will be departing their homeland on an epic cycling journey across half of the world to the shores of paradise – Phuket.
Unlike many such great undertakings, which have been motivated by the historic words of Everest mountaineer George "Because it's there" Herbert, Calle Wollgard is embarking on his trip for family. Not his family in Sweden, but the caretakers and dozens of orphans of Barnhem Muang Mai in Phuket. The trip will raise money for the post-tsunami orphanage run by Susanne Janson and Hans Forssell, as businesses in Sweden, Phuket and the rest of the world pledge cash for each 10 kilometer Calle and his team of three put between them and their homeland.
The largest hurdle to date for Calle was not in obtaining any particular visa or in the training, but wrangling a blessing for the trip from his distraught mother.
"First she began to cry," Calle explains when asked about his mother's reaction to the news that he would be riding from Sweden to Phuket.
"She couldn't sleep for a couple of nights, and then she forbade me to do it."
"I was still on my own at this point. So, in late August last year, when three friends of mine joined me for the trip, she was very relieved!"
Now that the hard part is done, Calle merely has to conquer 18 countries (including Iran), 16,000km of questionable road, insane traffic, mountain passes, visas and all the other unknowns that lurk within the epic pages of an adventure.
"I don't know if it's crazy, it's just a way of travelling. I'm not going to worry about it."
The Team
The three men that have joined Calle and helped him secure his mother's goodwill for the trip are Fredrik Jessen, Tomi Blumen and Christofer Johansson, all 27 years old.
None are cyclists.Fredrik, reportedly handy in the kitchen, has been dubbed the cook. Christofer and Tomi's – the Sandal Sultans – current claim to fame is making it to Mount Everest base camp in flip-flops while serenading fellow travellers with their guitar.
"I would say zero," Calle replies when asked about distance-cycling experience on the team. Each member of the "Happy Tour" troupe is taking care of his own training – hitting the gym and spin classes as the heavy snows in Sweden keep them locked in doors.
The Trip
For an estimated eight months, with a Christmas Eve deadline, the team will be averaging 80 kilometers a day on their heavily laden bikes.
"We'll probably take one day of rest a week. Some days the rain will probably fall on us and there will be wind, so then maybe we will cycle for 50km or 60km. On other days, there might be perfect weather and the wind might be at our back so we might be cycling more," Calle explains, seemingly unfazed by spending a cold, rainy day in the saddle and then having to set up camp in some remote part of Kyrgyzstan.
Though the team expects to spend 80-90 per cent of their time abroad camping, countries such as Uzbekistan have laws requiring them to stay in hotels. They will be asked for receipts when they leave the country.
"It's a whole adventure in itself. We will be able to see so much, and meet a lot of people from so many cultures while we will live a very simple life in our tents," Calle says.
The 18 countries they will traverse, each filled with its own diverse cultural groups are: Sweden, Denmark, Germany, Czech Republic, Austria, Slovakia, Hungary, Romania, Bulgaria, Greece, Turkey, Iran, Turkmenistan, Uzbekistan, Kyrgyzstan, China, Laos and Thailand.
Dangers and Fears
"Traffic is a much bigger problem than terrorists. Of course there is a risk of that as well, but I think the traffic situation in Iran, especially around the capital, Tehran, is going to be crazy," Calle says from Sweden during a Skype interview.
"Really, my biggest concern is that the equipment will fail – especially the bikes. I'm also worried about the bikes being stolen, that would really suck," he says matter-of-factly.
The other major concern for Calle is visas, especially those for Iran, China, Turkmenistan and Uzbekistan.
"A lot of people think I'm just going to die by going into those countries. I don't think of it like that at all. I don't worry about it."
Failure? I Don't Understand The Question Calle, unflustered ahead of events, seems willing to roll with whatever chaos and misadventures they meet on their way. However, what he seems unwilling to do is finish anywhere other than Barnhem Muang Mai in Phuket.
"I really want to make it, but of course if something happens, I mean, worst case scenario and someone dies, we will cancel it. Hopefully, no one will… you never know though. There is a lot of traffic, I mean things can happen.However, when it comes to government red tape, Calle is taking a much harder line than Thomas Stevens. Mr Stevens is the first man to ride around the entire world from 1884-1886; he and his penny-farthing bicycle were refused permission to travel through Siberia, forcing him into Afghanistan, where local authorities expelled him. If visas fall through, and visas to alternate-route countries are also denied, Calle is prepared to do whatever is necessary to get to Phuket
"I can't turn around in Uzbekstan and say, 'No, let's turn around.' That's not going to happen."
Family
Sitting under a mango tree in the slightly over-grown court yard of Barnhem Muang Mai with Susanne and Hans, it is understandable why Calle has adopted the place and people as a second home. The orphanage is not shiny and new, it doesn't have bells and whistles – it is rustic, honest and openly full of love and care.
"We will follow him with mixed emotions, horror and joy, as he has become kind of like our little brother," Susanne says.
"He came down here as a volunteer, and we just connected. He got very close to Thailand and the children and the Thai staff here."
"He is the volunteer that we have gotten closest to over the years, and not just us. It would be the same if we were to ask a lot of the staff and the kids," Hans says.
Calle is the kind of person who blends in, becoming part of your life without a person even realizing it or understanding how it happened, they explained with contemplative smiles.Even Susanne's relatives in Stockholm consider him family.
"He went to Stockholm to meet a sponsor, and I get an email from my sister, 'Oh, our little brother was here sleeping.'"
The feeling is mutual for Calle.
"I spent so much time there that they have become like a second family for me. That's why I'm doing this. The kids are great, the staff is great, the Swedish couple… If you think this is something, it's nothing compared to her [Susanne's] story," Calle says.
"They have become, not parents, but like really, really close relatives. So I am doing it for them as well, but mostly for the kids of course."
Learn to Walk Before You Ride
Hans and Susanne are able to offer a glimpse beyond Calle's deep modesty, which could easily leave one wondering whether or not he and his friends fully understand the trials that come with this epic journey.
It was firsthand experience of Calle's tenacity that gives Hans and Susanne a deep belief in his ability to complete the task at hand.
In 2011 Calle organized a group with four other friends to walk from Bangkok to Phuket to raise funds for Barnhem Muang Mai. They raised around 1 million baht for the orphanage.
"If he hadn't been walking, I would have been like, 'Okay Calle, just give it up, you can't do it. It's impossible bicycling through all these countries.' But as he had already walked, I thought, 'okay, if Calle wants to do it, then he w
— Isaac Stone Simonelli
Keep in contact with The Thaiger by following our
Facebook page
.
Phuket's water bosses claim there will be enough water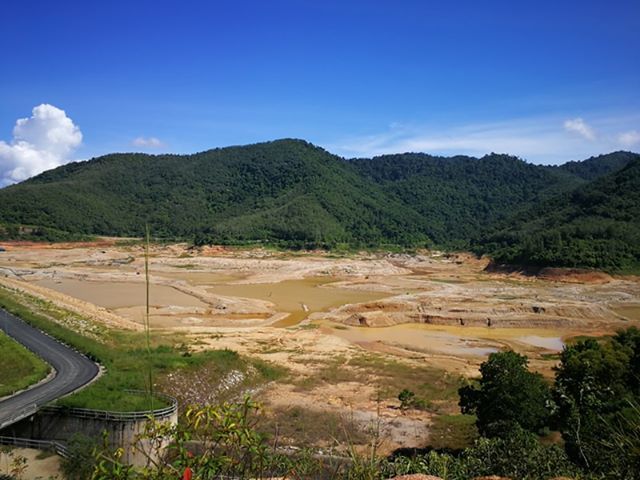 PHOTO: Bang Neow Dam in Thalang, just a few muddy ponds
Well into the second half of the Phuket wet season and the three main dams are well below capacity, Bang Wad Dam just over 13% capacity and the Bang Neow Dam in Thalang district around 5%, mostly unusable muddy ponds. The newer Khlong Katha in Chalong is at a much higher level, about 30% of capacity.
But this time of the year the three dams need to be well on their way to full capacity if the island is to get through the high tourists season and dry season without a repeat of last year's muddle where provincial obfuscation and confusion put the health of thousands of residents at risk by cutting off their water supply and water trucks became more populous than passenger vans.
The lack of water also co-incides with increased development and more tourists arriving each year.
Now the Director of the Phuket Provincial Irrigation Office, Somsawat Chaisinsod, is calling for province administrators and the Phuket Provincial Waterworks Authority to begin water saving campaigns as the annual heavy rains in October may not arrive or be less frequent. The suggestion of water 'restrictions' was not mentioned in the meeting.
At a meeting attended by Phuket's Governor Phakaphong Tavipatana, Mr. Somsawat claimed that the island's annual rainfall, for the first seven months of 2019, has only been 10% less than average.
But the dams are a LOT more than 10% lower in capacity. In the case of the Bang Neow Dam in Srisoontorn, it's virtually empty.
A representative from the PWA said that the Authority is currently buying 45,000 cubic metres of water per day from undisclosed "private sources" to top up the island's potable water needs.
"The PWA is in the process of securing water supply from a new supplier to improve the water supply and reduce the volume of water drawn from the dams."
Meanwhile Prapan Kanprasang, chief of the Department of Disaster Prevention and Mitigation in Phuket, told The Phuket News he "believes Phuket has enough water to the island through the next dry season, after the annual rains cease early November".
"We have enough water to use."
Keep in contact with The Thaiger by following our
Facebook page
.
Norwegian out on bail following death of British man at Centara Grand Resort in Phuket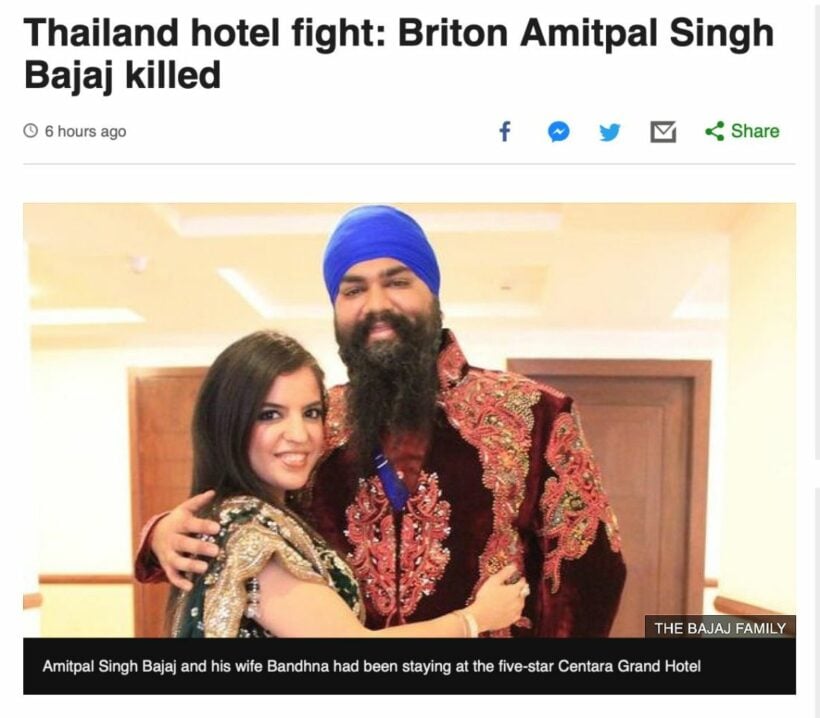 SCREENSHOT: bbc.com
The bbc.com are reporting that a British man died at the Centara Grand Hotel in Phuket in a fight after telling another guest to "keep the noise down" as his wife and son tried to sleep, according to the man's family.
The details in the BBC report conflict with earlier local reports out of Phuket.
The BBC report says that 34 year old Amitpal Singh Bajaj from the UK complained about noise from the next room at the five-star Centara Grand Hotel on Karon beachfront in Phuket.
The man's family claims that another man forced his way into their room via the balcony early on Wednesday, August 21. The family claims that the man strangled Mr Bajaj.
In a statement Amitpal's 34 year old wife Bandhna Kaur Bajaj described to police how the attacker "barged" into their room naked and attacked her husband.
"My husband sacrificed his life to save my son's life and mine. He will always be our hero."
"My husband tried to block the man and move me and my son away. As the man was kicking, punching and just, beating him up, my husband told me to please leave and save our son," according to the BBC report.
The rendering of the report from the BBC is quite different from Phuket's local news reports.
In Phuket reports it stated that a fight started at 4am, when the British man Amitpal Singh Bajaj confronted Norwegian Roger Bullman over the amount of noise coming from his room.
"Mr Bullman was drunk, and security had already visited his room twice to ask him to keep the noise down. When Mr Bajaj confronted him, he stabbed Mr Bullman in the shoulder with a steak knife.
Mr Bullman, trained in martial arts, then got the British man in a choke hold and maintained his grip on him. He says he did not mean to kill him, and did not think he had."
The BBC report says that Mrs Bajaj grabbed the couple's 2 year old son and fled the hotel room to look for help. She says she ran down a staircase and hid under a tree with her son in her arms while calling the reception from her mobile to tell them what had happened.
"I asked the reception to please make sure someone attends to my husband… "please give him some medical help, I'm very scared, I've escaped", according to the BBC report.
"I could still hear the attacker screaming. I didn't want to be attacked."
Mr Amitpal was taken to Patong Hospital where he was pronounced dead.
The Norwegian Foreign Ministry has confirmed that a Norwegian citizen has been arrested in Thailand and is being provided consular assistance.
According to Phuket News, Karon police said that "Mr Bullman had been released on bail posted at the court, but was unable to confirm how much bail was posted at. Reports in the Norwegian media said that bail was posted at about 200,000 baht."
Keep in contact with The Thaiger by following our
Facebook page
.
Huawei technology working with the 'smart city' project in Phuket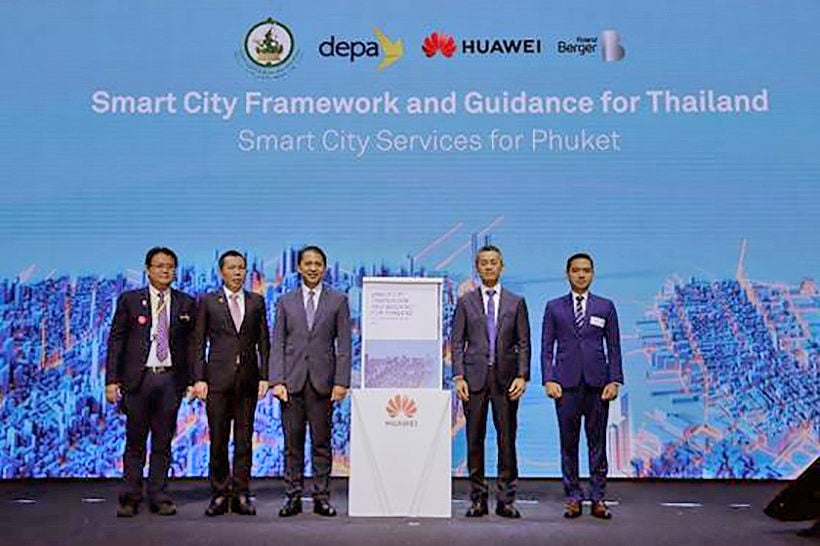 Huawei Technologies impressed participants at this week's ASEAN Smart Cities Network Conference & Exhibition in Bangkok with its white paper on smart city development in Phuket.
The paper aims to drive Thailand 4.0 initiatives to pave the way for major digital and infrastructure development in Phuket, one of Thailand's pilot smart cities, and to provide insights and guidance on an integrated framework needed for a successful and sustainable urban transformation.
Inspired by Thailand 4.0 economic development program launched in 2016, the paper focuses on a practical ideas that helps empower Phuket communities for digital future.
Huawei conducted an assessment and case studies on the services and utilities required for a fully-developed smart city. The resulting white provides comprehensive insights into action plans to transform Phuket into a smart city by 2020.
The services include smart energy and utilities, smart mobility, smart environment, smart living and smart economy while the enablers are smart governance, smart infrastructure and smart people.
In his opening address, Digital Economy Promotion Agency (Depa)'s president Dr. Nuttapon Nimmanpatcharin noted that thanks to the support from the National Smart City Committee and organizations from both public and private sectors, the smart city developments have already begun in 6 prioritized cities: Phuket, Chiang Mai, Khon Kaen and 3 EEC provinces.
"As one of our pilot cities, Phuket needs a clear development plan and a sustainable management model in order to fully transform into a smart city in 2020, this white paper will surely help facilitate smart city project for Phuket and other smart city candidates as well."
Chanchai Tanatkatrakul, Principal, Roland Berger Thailand added: "We looked at global best practices and analysed local issues and requirements to develop this Smart City Framework for Phuket. Talking to various stakeholders helped us tailor our recommendations that can address the needs of Phuket and its people very well:"
Deng Feng, Managing Director of Huawei Thailand agreed, saying: "At Huawei, we promote industry development at all levels. As Thailand embarks on the journey to become one of the first countries in the region to develop a smart city scheme, we will provide practical recommendations and solutions to ensure a smooth and complete city development for Phuket and the rest of Thailand."
SOURCE: The Nation
Keep in contact with The Thaiger by following our
Facebook page
.