Sweden to Phuket: Epic cycling journey for island orphanage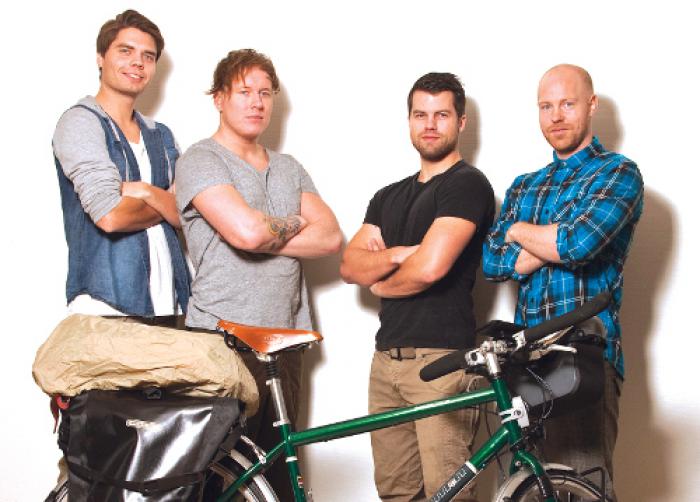 PHUKET: A man is standing out in the cold in the snowy town of Karlskoga, his fellow citizens walk briskly past, unaware that within about a month the man will be departing their homeland on an epic cycling journey across half of the world to the shores of paradise – Phuket.
Unlike many such great undertakings, which have been motivated by the historic words of Everest mountaineer George "Because it's there" Herbert, Calle Wollgard is embarking on his trip for family. Not his family in Sweden, but the caretakers and dozens of orphans of Barnhem Muang Mai in Phuket. The trip will raise money for the post-tsunami orphanage run by Susanne Janson and Hans Forssell, as businesses in Sweden, Phuket and the rest of the world pledge cash for each 10 kilometer Calle and his team of three put between them and their homeland.
The largest hurdle to date for Calle was not in obtaining any particular visa or in the training, but wrangling a blessing for the trip from his distraught mother.
"First she began to cry," Calle explains when asked about his mother's reaction to the news that he would be riding from Sweden to Phuket.
"She couldn't sleep for a couple of nights, and then she forbade me to do it."
"I was still on my own at this point. So, in late August last year, when three friends of mine joined me for the trip, she was very relieved!"
Now that the hard part is done, Calle merely has to conquer 18 countries (including Iran), 16,000km of questionable road, insane traffic, mountain passes, visas and all the other unknowns that lurk within the epic pages of an adventure.
"I don't know if it's crazy, it's just a way of travelling. I'm not going to worry about it."
The Team
The three men that have joined Calle and helped him secure his mother's goodwill for the trip are Fredrik Jessen, Tomi Blumen and Christofer Johansson, all 27 years old.
None are cyclists.Fredrik, reportedly handy in the kitchen, has been dubbed the cook. Christofer and Tomi's – the Sandal Sultans – current claim to fame is making it to Mount Everest base camp in flip-flops while serenading fellow travellers with their guitar.
"I would say zero," Calle replies when asked about distance-cycling experience on the team. Each member of the "Happy Tour" troupe is taking care of his own training – hitting the gym and spin classes as the heavy snows in Sweden keep them locked in doors.
The Trip
For an estimated eight months, with a Christmas Eve deadline, the team will be averaging 80 kilometers a day on their heavily laden bikes.
"We'll probably take one day of rest a week. Some days the rain will probably fall on us and there will be wind, so then maybe we will cycle for 50km or 60km. On other days, there might be perfect weather and the wind might be at our back so we might be cycling more," Calle explains, seemingly unfazed by spending a cold, rainy day in the saddle and then having to set up camp in some remote part of Kyrgyzstan.
Though the team expects to spend 80-90 per cent of their time abroad camping, countries such as Uzbekistan have laws requiring them to stay in hotels. They will be asked for receipts when they leave the country.
"It's a whole adventure in itself. We will be able to see so much, and meet a lot of people from so many cultures while we will live a very simple life in our tents," Calle says.
The 18 countries they will traverse, each filled with its own diverse cultural groups are: Sweden, Denmark, Germany, Czech Republic, Austria, Slovakia, Hungary, Romania, Bulgaria, Greece, Turkey, Iran, Turkmenistan, Uzbekistan, Kyrgyzstan, China, Laos and Thailand.
Dangers and Fears
"Traffic is a much bigger problem than terrorists. Of course there is a risk of that as well, but I think the traffic situation in Iran, especially around the capital, Tehran, is going to be crazy," Calle says from Sweden during a Skype interview.
"Really, my biggest concern is that the equipment will fail – especially the bikes. I'm also worried about the bikes being stolen, that would really suck," he says matter-of-factly.
The other major concern for Calle is visas, especially those for Iran, China, Turkmenistan and Uzbekistan.
"A lot of people think I'm just going to die by going into those countries. I don't think of it like that at all. I don't worry about it."
Failure? I Don't Understand The Question Calle, unflustered ahead of events, seems willing to roll with whatever chaos and misadventures they meet on their way. However, what he seems unwilling to do is finish anywhere other than Barnhem Muang Mai in Phuket.
"I really want to make it, but of course if something happens, I mean, worst case scenario and someone dies, we will cancel it. Hopefully, no one will… you never know though. There is a lot of traffic, I mean things can happen.However, when it comes to government red tape, Calle is taking a much harder line than Thomas Stevens. Mr Stevens is the first man to ride around the entire world from 1884-1886; he and his penny-farthing bicycle were refused permission to travel through Siberia, forcing him into Afghanistan, where local authorities expelled him. If visas fall through, and visas to alternate-route countries are also denied, Calle is prepared to do whatever is necessary to get to Phuket
"I can't turn around in Uzbekstan and say, 'No, let's turn around.' That's not going to happen."
Family
Sitting under a mango tree in the slightly over-grown court yard of Barnhem Muang Mai with Susanne and Hans, it is understandable why Calle has adopted the place and people as a second home. The orphanage is not shiny and new, it doesn't have bells and whistles – it is rustic, honest and openly full of love and care.
"We will follow him with mixed emotions, horror and joy, as he has become kind of like our little brother," Susanne says.
"He came down here as a volunteer, and we just connected. He got very close to Thailand and the children and the Thai staff here."
"He is the volunteer that we have gotten closest to over the years, and not just us. It would be the same if we were to ask a lot of the staff and the kids," Hans says.
Calle is the kind of person who blends in, becoming part of your life without a person even realizing it or understanding how it happened, they explained with contemplative smiles.Even Susanne's relatives in Stockholm consider him family.
"He went to Stockholm to meet a sponsor, and I get an email from my sister, 'Oh, our little brother was here sleeping.'"
The feeling is mutual for Calle.
"I spent so much time there that they have become like a second family for me. That's why I'm doing this. The kids are great, the staff is great, the Swedish couple… If you think this is something, it's nothing compared to her [Susanne's] story," Calle says.
"They have become, not parents, but like really, really close relatives. So I am doing it for them as well, but mostly for the kids of course."
Learn to Walk Before You Ride
Hans and Susanne are able to offer a glimpse beyond Calle's deep modesty, which could easily leave one wondering whether or not he and his friends fully understand the trials that come with this epic journey.
It was firsthand experience of Calle's tenacity that gives Hans and Susanne a deep belief in his ability to complete the task at hand.
In 2011 Calle organized a group with four other friends to walk from Bangkok to Phuket to raise funds for Barnhem Muang Mai. They raised around 1 million baht for the orphanage.
"If he hadn't been walking, I would have been like, 'Okay Calle, just give it up, you can't do it. It's impossible bicycling through all these countries.' But as he had already walked, I thought, 'okay, if Calle wants to do it, then he w
— Isaac Stone Simonelli
Keep in contact with The Thaiger by following our
Facebook page
.
Clean the Beach Boot Camp takes on Nai Harn Beach on World Clean Up Day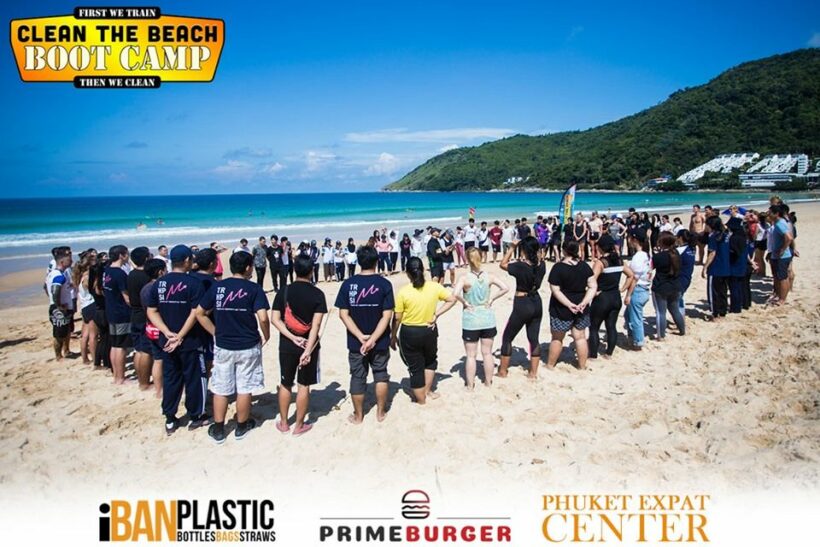 A very special Clean The Beach Boot Camp (CBBC) took place on last Saturday in support World Clean Up Day. In total, 170 people, including 120 students from the Faculty of Hospitality and Tourism at the Prince of Songkla University in Kathu headed to Nai Harn Beach, one of the island's favourites in the island's south. 
Involving some 18 different nationalities, Krix Luther, the founder of CBBC and iBan Plastic, provided participants with a very active and fun workout before cleaning the beach. Now in its 7th year, CBBC has become a global movement, visiting beaches all over the world with the aim of keeping them and the oceans beautiful, clean and free of trash. 
In total, 35 large bin bags (180 kilograms) of various garbage was collected (mostly single-use plastic). Nai Harn Beach was left in a much cleaner state than when the volunteers arrived and, at the end of the beach clean-up, all participants were treated to a delicious, free burger, from Prime Burger in Patong, sponsored by the Phuket Expat Centre. 
Well done to everybody who took part in this epic CBBC, and a special well done to the 120 volunteer students from the Faculty of Hospitality and Tourism at Phuket's PSU.
Krix Luther looks forward to seeing people at the next Clean the Beach BootCamp to get involved and keep our beautiful beaches clean.
"You can help keep Thailand clean by saying no to single-use plastic."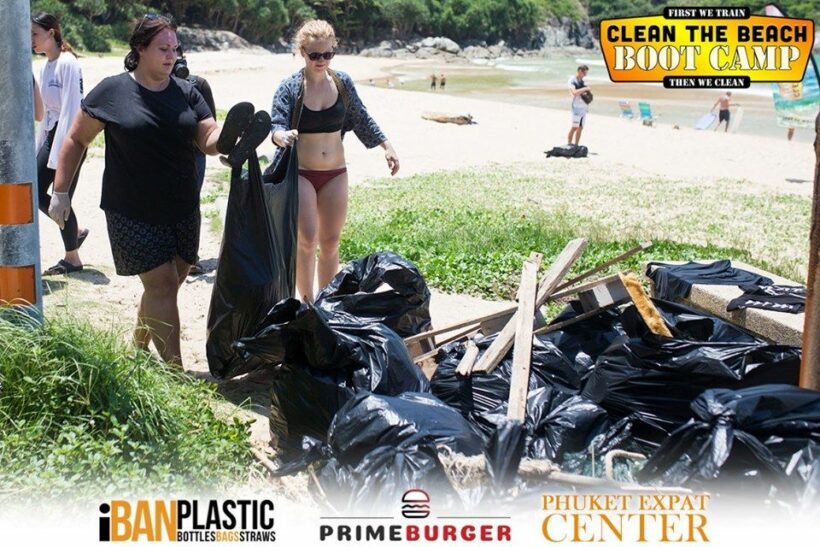 Keep in contact with The Thaiger by following our
Facebook page
.
Smoke-laced smog envelops Phuket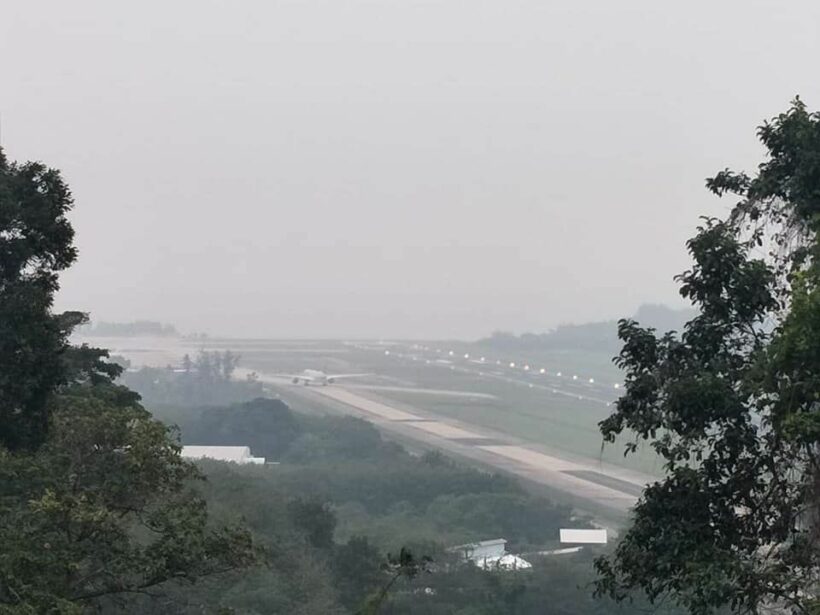 MAIN PHOTO: Phuket International Airport – Phuket People's Voice
Phuket awakes today enveloped by an eerie sea of smoke-laced mist and smog – a combination of light winds, smoke blowing up the Malacca Strait from the Indonesian plantation fires and low seasonal cloud. The conditions have reduced visibility generally around the island to less than a kilometre.
Planes have still been landing at Phuket International Airport without disruption but airport officials say they are monitoring the situation and getting feedback from pilots.
Officially, the Thai Meteorological Department forecast is for a cloudy day with rain, and its hoped that the monsoonal winds may kick in during the day. But the prevailing winds are also the direction from where the problem is happening, from the south and south-west.
Cloudy with scattered thundershowers and isolated heavy rain in Ranong, Phangnga, Phuket, Krabi and Trang. Minimum temperature 23-25 °C. Maximum temperature 29-33 °C. Southwesterly winds 20-35 km/hr. Wave height about 2 meters and above 2 meters in thundershower areas.
Singapore ran its showcase annual street-circuit Grand Prix last night amid the regional smoke crisis, caused by intentionally lit fires on the Indonesian islands, mostly Sumatra and Kalimantan. Indonesia President Jokowi has sent officials, army and fire-fighters to the areas to battle the blazes, arrest the farmers and representatives from the companies responsible. Some 30,000 people are now deployed to solve the urgent, but seasonal, problem.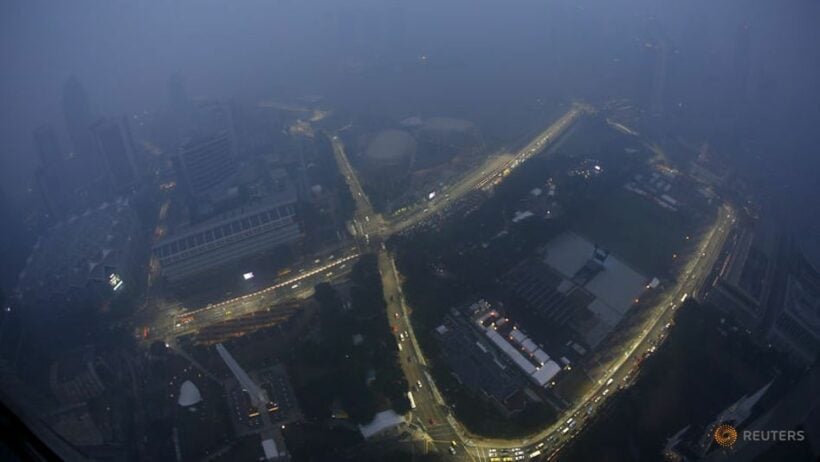 Singapore GP Circuit last night – Reuters
Meanwhile the air quality readings for Phuket this morning indicate the air pollution is three times the world upper-limit standard of 50 micrograms per cubic metre of air. Southern Thailand is also suffering the poor air quality with Narithawat also recoding readings over 150 this morning.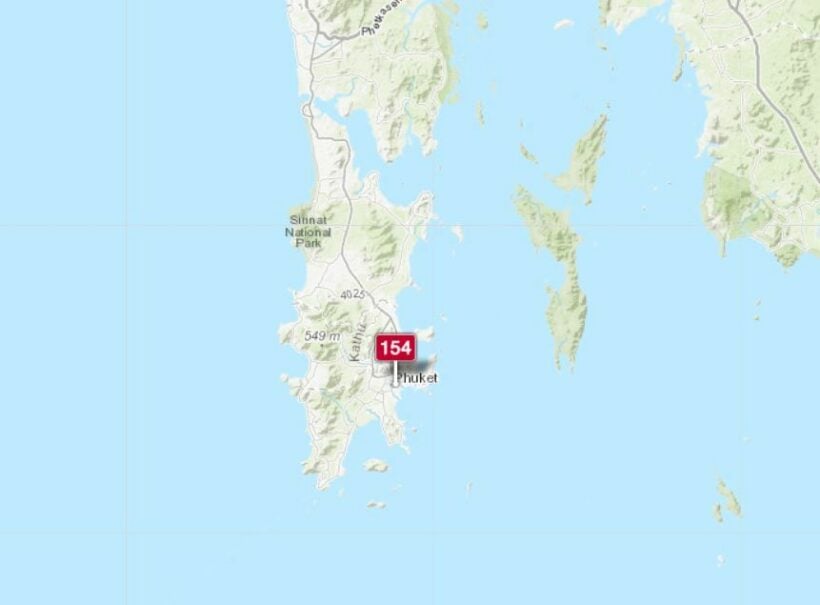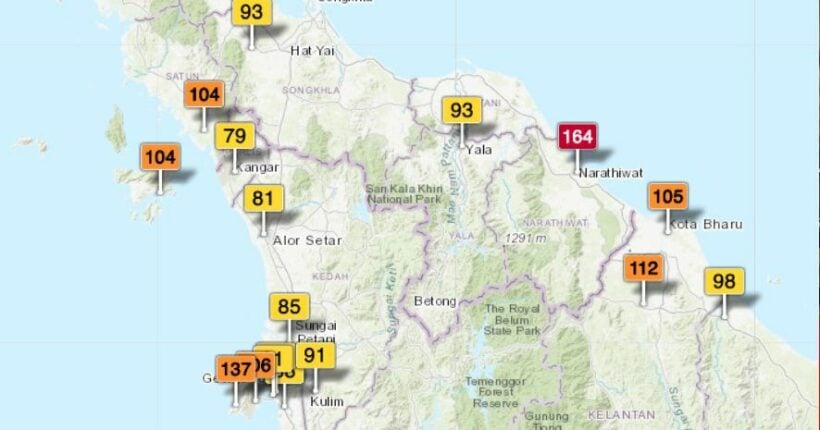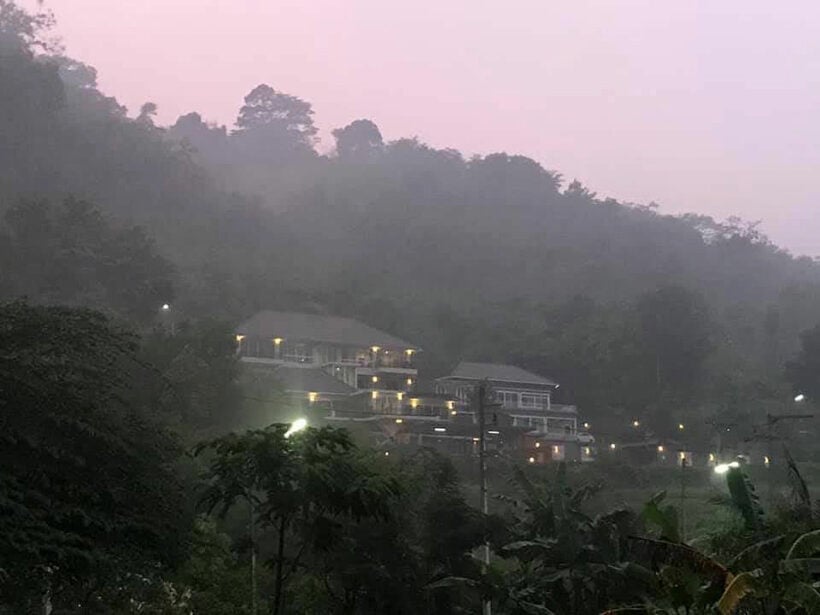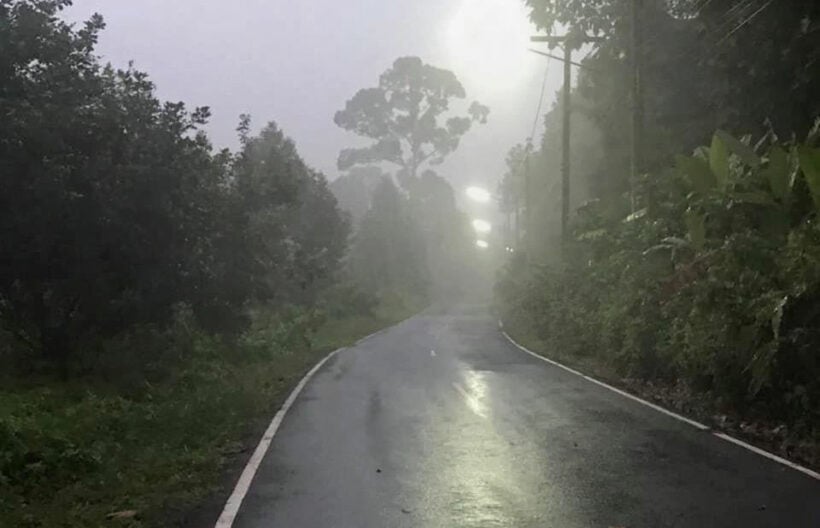 Phuket enveloped by misty smog causing a traffic hazard and reducing visibility – Ajarn GC
Keep in contact with The Thaiger by following our
Facebook page
.
Vietnam Airlines opening direct Phuket to Ho Chi Minh City flights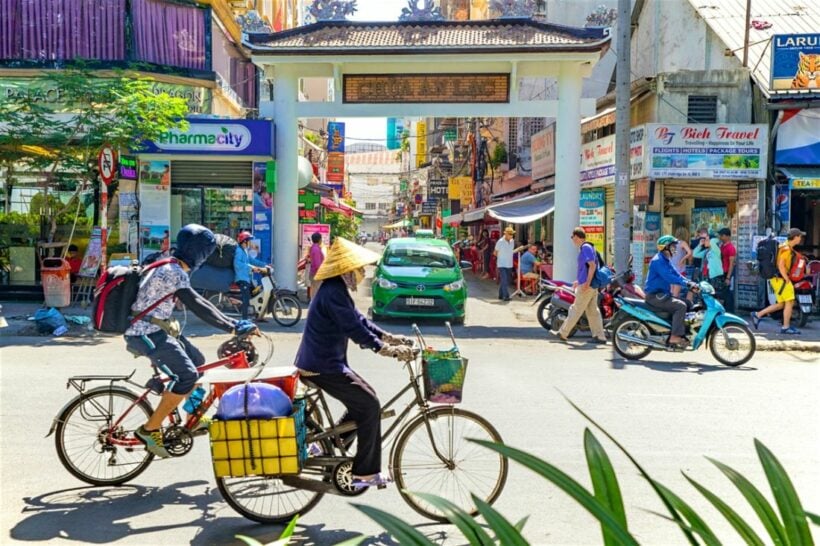 by Bill Barnett c9hotelworks.com
Vietnam Airlines will commence direct flights between Ho Chi Minh City (Saigon) and Phuket on October 27.
Flights will operate three days a week, on Tuesday, Friday and Sunday. The airline is also launching direct Ho Chi Minh City to Denpasar (Bali) service.
Vietjet Air, the popular new low-coast airline out of Vietnam, is currently servicing the increasingly popular route.
Keep in contact with The Thaiger by following our
Facebook page
.