Sea Shepherd hunts Interpol-wanted poacher that escaped Phuket
PHUKET: The hunt is back on for the internationally black-listed illegal, unreported, unregulated (IUU) fishing vessel that slipped through the fingers of Phuket officials earlier this year, confirmed Captain Siddharth Chakravarty of the Sea Shepherd ship Steve Irwin.
"The summer fishing season for toothfish starts now, so we have launched this campaign before the Kunlun can do further damage," Capt Chakravarty told the Phuket Gazette this morning.
The ship, which had recently changed its name from Kunlun to Taishan, was apprehended in Phuket after it falsely reported offloading 182 tonnes of illegally caught Patagonian toothfish, valued at 179 million baht, as 182 tonnes of grouper, valued at just 15mn baht (story here). However, after months of detention, the ship was able to flee the port it was moored at in Phuket (story here).
"Finding a vessel such as the Kunlun, once it had escaped, was like finding a needle in a haystack. Even with modern satellite technology and intelligence sharing, there remain enough avenues for such repeat offenders to disappear," Capt Chakravarty said. "Thailand took the first step and that was to arrest the vessel, detain her in port and aid the investigations into the vessel's operations."
"More can and must be done, but the responsibility must be shared by all countries involved, including those that consume the fish, and not left to be borne by the trading countries alone."
Three Phuket Customs Officials were transferred out of the province following the ship's escape in September.
"The Phuket Customs chief and two other officers were transferred to Bangkok," explained Charoen Chamniklang from the Thai Customs Investigation and Suppression Bureau (ISB). "They allowed the ship to re-fuel, as it needed to keep all 182 tons of toothfish on board frozen. Once completely re-fueled, the Kunlun managed to escape."
Other than levying a fine for falsely reporting the toothfish as grouper, officials had no authority to keep their cargo, explained Mr Charoen.
"The ship had already been through all the legal formalities at the Customs Office. However, the Phuket Marine Office was still investigating it for issues with its registration," Mr Charoen explained.
Since 2008, the boat has changed its name at least 10 times, according to a Sea Shepherd Conservation Society report.
Following the unprecedented success of Operation Icefish earlier this year, Sea Shepherd today announced its second campaign to target illegal Patagonian and Antarctic toothfish operators in the Southern Ocean.
At the conclusion of the last campaign, five of the six known illegal toothfish poaching vessels had been detained. The sixth and most notorious, Thunder, was scuttled in waters surrounding Sao Tome and Principe following a 110-day pursuit by the Sea Shepherd ship, Bob Barker. Sea Shepherd believes that the ship was scuttled in an attempt to destroy evidence of the Thunder's illegal fishing operations.
Sea Shepherd has continued to monitor the movements of the remaining illegal vessels throughout the year. This year's campaign will focus on bringing Interpol-wanted poachers Viking and Taishan to justice.
"Sea Shepherd's sole aim is to provide a parallel policing presence on the oceans. As the case of Thunder proved, we can intercept, chase, investigate and aid prosecutions to end criminality in its entirety. It is a disappointment that the Kunlun [Taishan] escaped from the clutches of law enforcement, but it also proves just how effective at-sea patrols are and why campaigns such as Operation Icefish are necessary," Capt Chakravarty told the Gazette.
Led by Capt Chakravarty, Sea Shepherd will once again focus its attention on defending the pristine waters of Antarctica, with the aim to eliminate illegal fishing of vulnerable toothfish from the region.
Top predators in the waters of the Southern Ocean, toothfish are a unique, long-lived species that are particularly vulnerable to exploitation due to their slowness to reach sexual maturity and high market value. Though only limited scientific information exists on the fish, it has been shown that illegal fishing has had a devastating impact on populations, leading to collapse and closure of some fishing areas.
The flagship of the Sea Shepherd fleet, the Steve Irwin, will depart from Melbourne, Australia in December to patrol the 'shadowlands' of the Southern Ocean. The 'shadowlands' is an area outside of national jurisdiction with limited legitimate vessel traffic, where the risk of detection of fishing crimes by law enforcement authorities is minimal, explained Sea Shepherd.
The Sea Shepherd crews will employ direct-action techniques to fill a law enforcement void that continues to be exploited by the remaining illegal toothfish vessels, the group explained.
Despite the commitment shown by Malaysia, Indonesia and Thailand to prevent operators of ships such as the Taishan from illegally using their ports, Capt Chakravarty was unable to rule out that South East Asia would not be re-visited by toothfish poachers when it came to unloading their cargo.
"The applicability of international fishing violations remains limited in these countries," said Captain Chakravarty.
"The oceans are in peril and our actions remain the only pro-active and definite policing presence to tackle illegality. We intend to embrace the responsibility with courage and fortitude, and once again locate, investigate and shut down the most notorious poachers on this planet."
— Isaac Stone Simonelli
Keep in contact with The Thaiger by following our
Facebook page
.
Vietnam Airlines opening direct Phuket to Ho Chi Minh City flights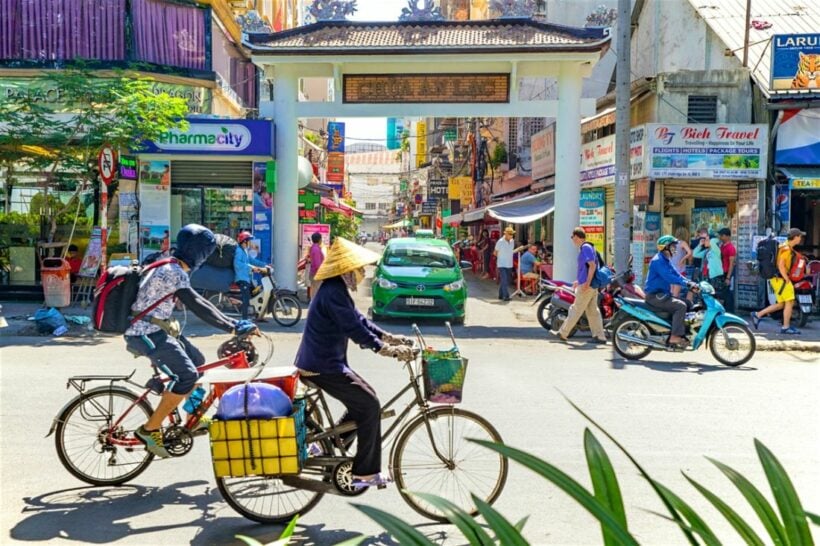 by Bill Barnett c9hotelworks.com
Vietnam Airlines will commence direct flights between Ho Chi Minh City (Saigon) and Phuket on October 27.
Flights will operate three days a week, on Tuesday, Friday and Sunday. The airline is also launching direct Ho Chi Minh City to Denpasar (Bali) service.
Vietjet Air, the popular new low-coast airline out of Vietnam, is currently servicing the increasingly popular route.
Keep in contact with The Thaiger by following our
Facebook page
.
Phuket social enterprise shop takes the first steps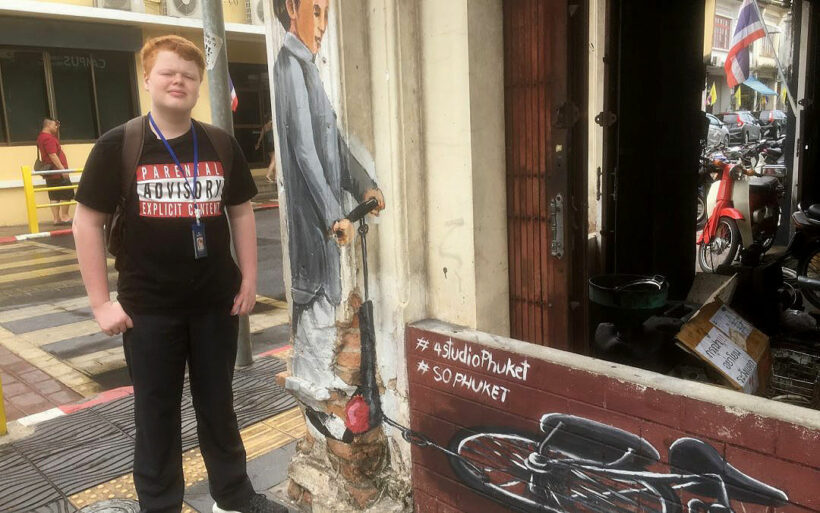 PHOTOS: stepswiththeera.com
A Bangkok-based social enterprise has made its debut in Phuket as it opened a new zero-waste shop, cafe and vocational training centre in Cherng Talay.
The shop is run by Steps With Theera and provides a range of plastic substitutes including bamboo straw sets, bamboo toothbrushes and SuperBee wax wraps, alongside a refill station with beauty products from HUG and cleaning products from Conscious Living and Pungungreen.
Steps with Theera runs vocational training centres for young people and adults with learning differences. Alongside the training centres, it runs businesses for trainees to get hands-on work experience.
"We're very excited to announce that Steps with Theera is expanding! We've now made our way down to Phuket. I'm Stacey, and I have been lucky enough to join the team and head up the Phuket branch. I am very excited to be a part of this great new adventure."
Max Simpson, one of the Steps founders, the shop will give trainees the chance to learn some key skills, stock taking and running workshops.
"Our mission is about providing opportunities for people with learning differences to demonstrate their capabilities, and how they can add value to all types of workplace. Zero-waste seemed the natural choice for us, since we take our environmental responsibilities very seriously and have pledged to go plastic-free in all our cafes by the end of October 2019."
The shop opened to the public back on September 9. The vocational centre is already running and taking on trainees, with the cafe due to open later this year.
"Our zero waste shop will be open from early September so please do come by. We are collecting secondhand furniture and workman's tools that need a second chance at life so that we can complete the set-up of the zero waste shop – donations are welcome!"
SOURCE: stepswiththeera.com | The Nation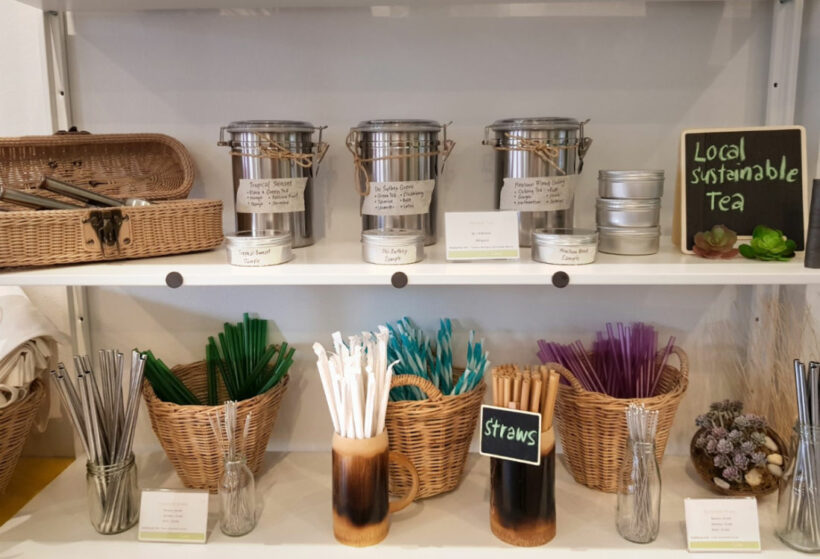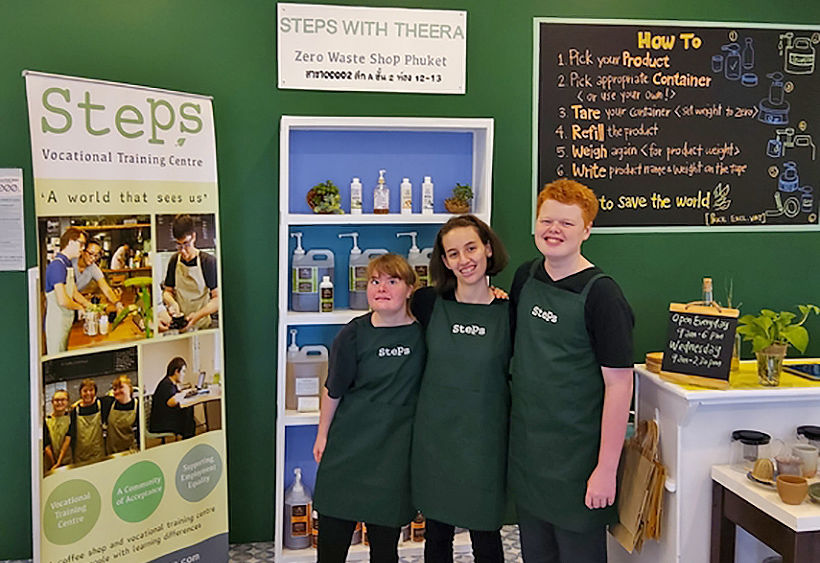 Keep in contact with The Thaiger by following our
Facebook page
.
6 year old Burmese boy dies from bike-pickup truck crash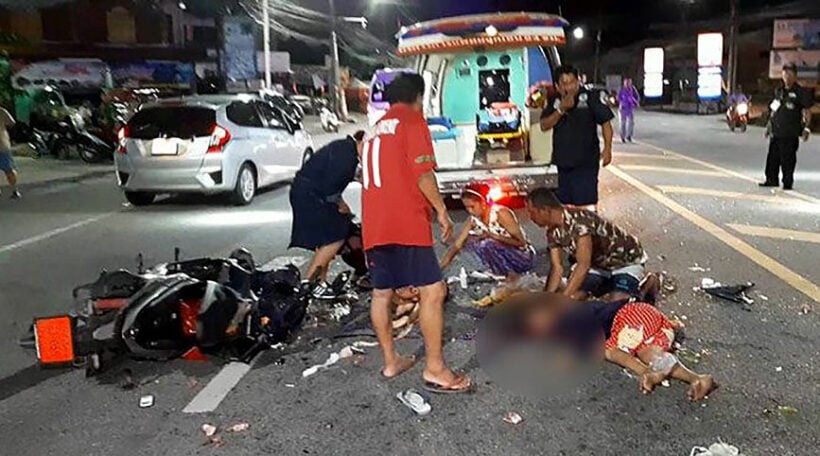 SOURCE: khaosod.co.th
A 6 year old Burmese boy has died following a motorcycle accident when his parents crashed the vehicle onto a pick-up truck earlier this week. He died in the intensive care ward at Vachira Hospital yesterday morning (Thursday)
The accident occurred on September 15 near Soi Pramote, Chaofa West Road, Chalong. The boy's father, 39 year old Thein Zaw, ended up with a head injury and his left leg was damaged. His mother, 39 year old Poehnin Phyu, suffered severe neck and head injuries and so did the boy. He was rushed to hospital in a coma but his mother was announced dead at the scene.
The father and son were rushed to Vachira Hospital in Samkong where the boy and his father received intensive treatment but the 6 year old succumbed to his injuries.
Witnesses told the police that they saw a Toyota Hilux Vigo pickup truck with Phang Nga number plates, driven by 39 year old Adit Pusuwan, heading from Phuket town towards Chalong circle. They told police they heard the loud noise of the pickup truck increasing speed before stopping at a 7-11 in front of Soi Pramote.
The driver was seen sitting in the car revving the engine with a loud noise. He headed into 7-11 before getting back in and then drove the car to the next U-turn and turned quickly. The motorcycle of the Burmese family was driving in the opposite lane and slammed into the side of the pickup truck.
After the accident, Adit waited for the police to arrive before being taken to police station for further questioning.
SOURCE: khaosod.co.th
Keep in contact with The Thaiger by following our
Facebook page
.