Sea Sheperd rails against allegedly wild caught dolphins for Phuket Dolphinarium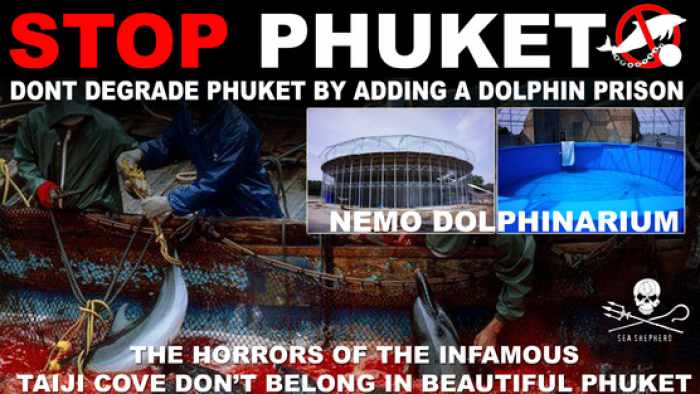 PHUKET: Sea Shepard Global has put out a call to stop the Nemo Dolphinarium from being built in Phuket.
Phuket Aqua Project Co Ltd's application for the facility has been handed over to the Department of Fisheries' head office in Bangkok, confirmed Kiattikhun Charoensawan, chief of the Phuket Fisheries Office, to the Phuket Gazette today.
"I don't see the construction facing any problems. However, there could be some issues with animal rights activists who don't agree with a dolphinarium being established in Phuket," Mr Kiattikhun said.
"We just passed the application along; the decision is beyond my authority."
The facility is about 90 per cent complete, said the project manager, who declined to be named.
"The owner expects it to be open by next high season," he added.
"Phuket is a world tourist destination. Having the dolphinarium in Phuket will be another option for tourists, and that will bring more tourists to the island."
Reports show that several of the six dolphins for the facility are being transported from Taiji via the Ukraine, says Sea Shepard Global on their post about the Phuket dolphinarium (see here).
"The copy of the CITES [Convention on International Trade in Endangered Species of Wild Fauna and Flora] document that I received was very low resolution. We have been told that the three females are coming from Ukraine and were wild caught in Japan. Close to 99% of the wild caught in Japan are from Taiji," says Gary Stokes, Sea Shepherd Conservation Society Director for Asia.
"From the pictures we received from a concerned individual who lives in Phuket, the tank looks to be very small. Not very deep, and no separate holding tanks to separate the animals if needed. That said, no tank can ever replace their natural environment. Dolphins can travel up to 100 miles a day, so ask yourself the same question. Is the tank adequate… I think not."
Mr Stokes emphasized the group's stance against wild animals being kept in captivity, whether bred in captivity or caught in the wild.
"The annual slaughter of dolphins in Taiji is what we are aiming to stop, and this is driven by the money from the wild caught dolphins, not the sale of meat. Therefore, any dolphin facility contributes to this slaughter, directly or indirectly. As many nations are closing down parks, others are now opening them up. China, for example, has plans for many across its secondary and tertiary cities; these will all come from Taiji."
Sea Shepard Global's petition, which aims to have 5,000 people copy and paste an open letter denouncing the facility, has already raked up 926 copies, according to the website Change.org.
The beginning of the letter reads:
"The beautiful island of Phuket draws holiday visitors from all four corners of the world. They come for the beauty that is Thailand, a country rich in natural biodiversity.
"It saddens me to hear that rather than continuing to strive and develop toward a sustainable and responsible future, Phuket is taking a step backward by allowing a dolphin park (prison) to open on the island.
"The Oscar-winning movie 'The Cove' shocked the world as it exposed the dark side of the captive dolphin industry. The film exposes a small group of fishermen in the coastal town of Taiji in Japan."
The Nemo Dolphinarium isn't the first attempt to bring a dolphin facility to Phuket.
In 2011, Mark Berman of the US-based Earth Island Institute and Edwin Wiek of the Wildlife Friends Foundation Thailand (WFFT) joined forces to halt plans to build a "dolphinarium" as part of a resort and tourism complex in Rawai (story here).
— Chutharat Plerin
Keep in contact with The Thaiger by following our
Facebook page
.
Two Thai restaurants grab their second Michelin star – new guide 2019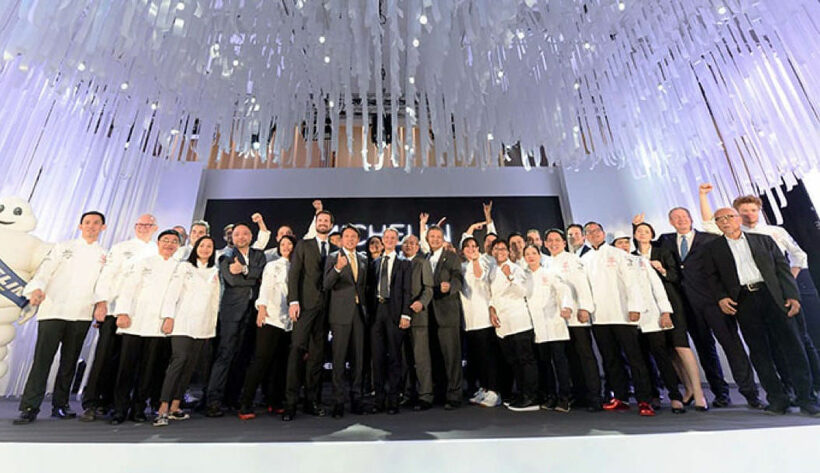 Traditional Thai restaurants 'R-Haan' and southern-style 'Sorn' have each scored two Michelin Stars for 2020, while 'Le Normandie', 'Mezzaluna', and 'Sühring' held onto their two stars. Another 24 restaurants in Thailand received their first Michelin gongs.
The awards were announced at the launch of the 2020 Michelin Guide for Thailand, featuring award winning restaurants in Bangkok, Chiang Mai, Phuket and Phang-nga. It's the third edition of the guide for the country.
Both R-Haan and Sorn received a Michelin Star last year, making their second star only a year later that much more impressive.
Twenty restaurants across the kingdom, which won a star last year, retained their awards, including Bo.lan, Canvas, Chim by Siam Wisdom, Elements, and many others, and 94 bagged the Bib Gourmand award, with 27 new entries including eight in Bangkok, 17 in Chiang Mai and two in Phang-nga.
"The 'locavore' movement, or the use of locally sourced ingredients, has become the true star of Thailand's foodscape," according to the Michelin Guide's international director.
"The trend indicates Thailand's rich diversity and high quality of local produce. In addition, we see the glorious rise of traditional Thai cuisine, as, for the first time globally, two traditional Thai restaurants, both promoted from one star, are on the Michelin Guide's two star list."
The 2019 Michelin Guide for Bangkok, Phuket and Phang-Nga is available HERE.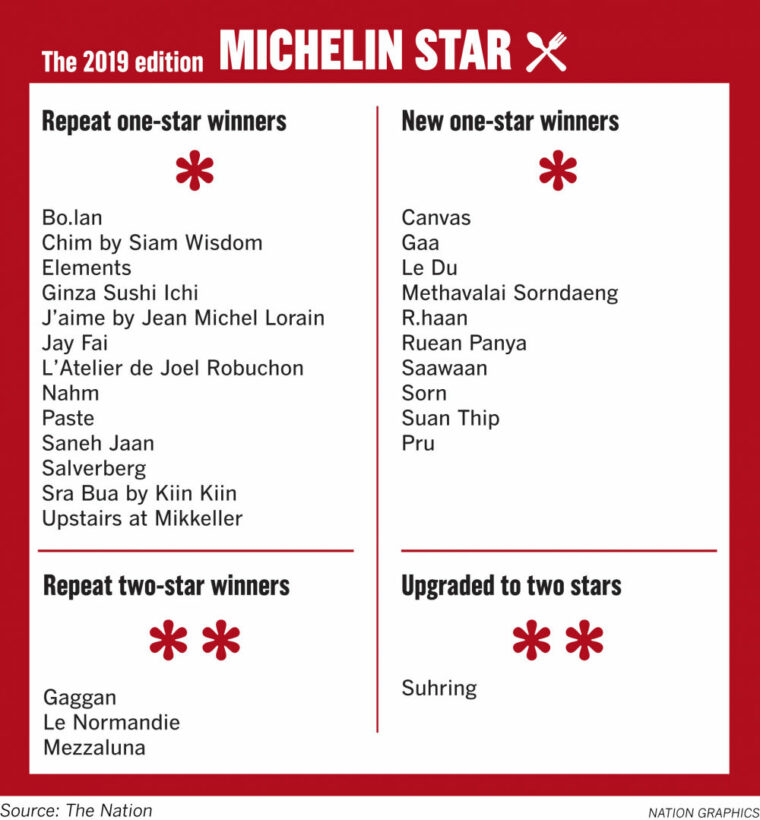 Keep in contact with The Thaiger by following our
Facebook page
.
Phuket scores #2 in Asia's most popular destination list – Trip Advisor survey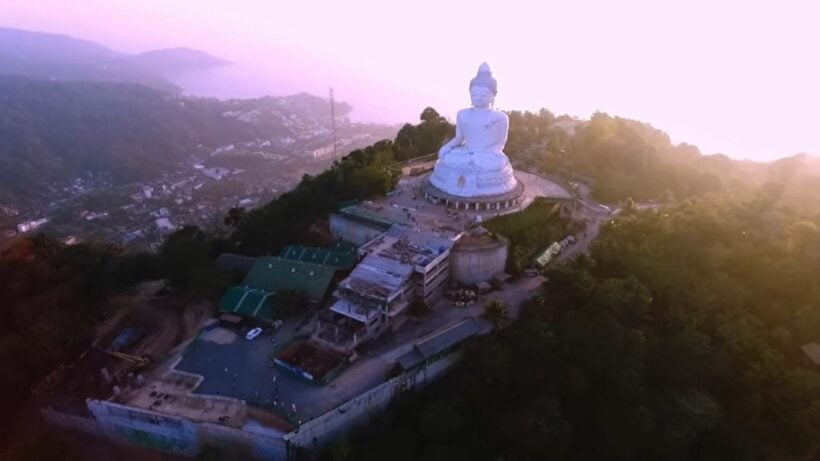 PHOTO: Bangkok Cheap Hotels
Phuket has scored the second position in the list of Asia's Top 25 Destination in a Trip Advisor survey. The survey is done across the travel website's million of users. Bali scored the #1 position in the extensive reader survey.
Three other destinations in Thailand made the Top 25 list – Bangkok at #11, Chiang Mai at #14 and Krabi at #18. Phuket also made it into the position of #6 most popular destination in the world for 2019.It was the only Thai destination to make it onto the Trip Advisor Top 25 World Destinations list for 2019.
About Phuket, Trip Advisor said…
"Phuket offers a rainbow spectrum of spectacular holiday sights from blue lagoons and pink sunsets to orange-robed monks. Three wheeled-Tuk Tuks, taxis, buses and long tailed boats transport visitors between these marvels. Phuket's south coast offers its most popular beaches. The north is more tranquil. Koh Phi Phi, Phang Nga Bay and Patong Beach are popular spots. Diving, snorkelling, wind surfing and sailing are just a few active options. Inland, forested hills, mountains and cliffs wait to be explored."
Apart from the three-wheeled tuk tuks, the survey's comments painted Phuket fairly accurately (Phuket has small Diahatsu vans for its local version of tuk tuks). It conveyed the kaleidoscope of activities now available on the island and its position as a stepping-off point for many of the offshore attractions.
For Bangkok, the survey described the capital…
"Bangkok is full of exquisitely decorated Buddhist temples – as you go from one to the next you'll be continually blown away by the craftsmanship and elaborate details. But if you'd rather seek enlightenment in a gourmet meal, or dance the night away, you'll also enjoy Bangkok – the restaurant and nightclub scenes here are among the best in the world."
Also in the Top ten list of Asia's Top 25 destinations….
3. Siem Reap, Cambodia
4. Hanoi, Vietnam
5. Tokyo, Japan
6. Kathmandu, Nepal
7. Jaipur, India
8. Hong Kong, China
9. Seoul, South Korea
10. Goa, India
Read the full Asian destination list HERE.
London, UK, Paris, France and Rome, Italy were the top three destination in the Worlds Most Popular Destinations list for 2019.
Keep in contact with The Thaiger by following our
Facebook page
.
85 year old Swiss man drowns off Mai Khao Beach, Phuket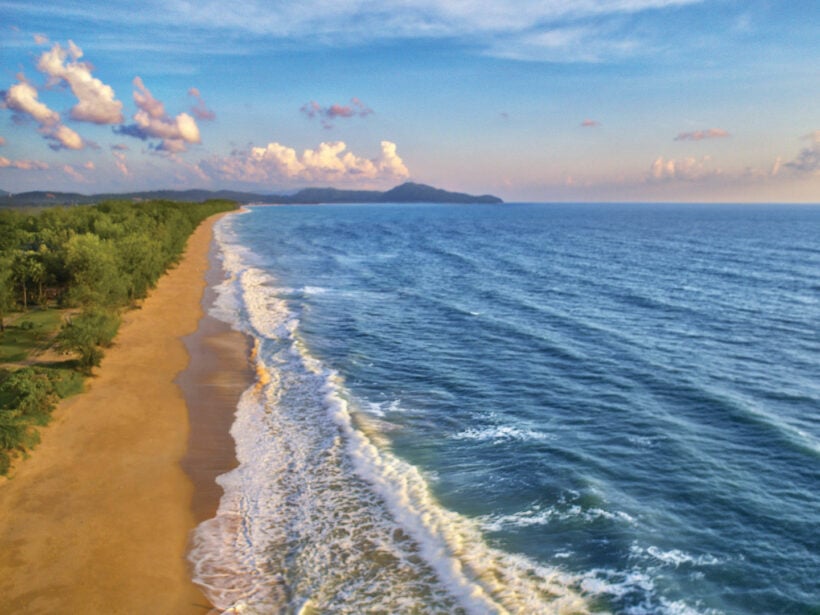 An elderly Swiss man drowned yesterday at a beach in Thalang district of Phuket on Thursday afternoon.
Paul Brunner, who would have turned 86 next month, was found dead at Mai Khao beach in the northern section of the island around 5.30pm, according to Tha Chatchai police.
Police report that he was wearing black swimming shorts. His body was discovered only about 500 metres from the hotel where he and his wife were staying. There were no bruises on his body, or indications of a struggle.
Paniti Thapthiang, a hotel employee, told police that Mr Brunner's 70 year old wife alerted the hotel around 3.30pm yesterday afternoon saying that her husband had disappeared. Hotel staff checked the CCTV which showed the man, wearing his swimming shorts, walking down towards the beach.
Hotel staff searched along the beach but were unable to find any trace of the man. Around 5.30pm, someone notified the hotel that a man's body had been found in the water. Police estimate that he had been dead about three hours before the body was discovered.
Police sent this body to Thalang Hospital for a post-mortem. Police noted that there appeared to be no suspicious circumstances in the man's death.
Conditions along Mai Khao Beach yesterday were reported to be calm but the stretch of beach has a notorious shore break that can be quite dangerous for inexperienced swimmers in some conditions. Mai Khao Beach is the longest stretch of beach in Phuket.
Keep in contact with The Thaiger by following our
Facebook page
.