Phuket Vegetarian Festival 2016 schedule announced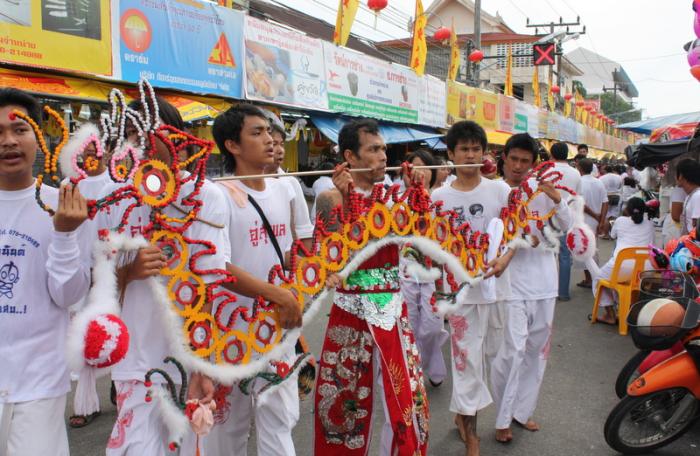 PHUKET: The controversial Phuket Vegetarian Festival, one of the most widely-celebrated events in Phuket each year, is being held from October 1-9 at various shrines and locations throughout the island.
Held in the ninth month of the lunar calendar, the festival features a host of events and draws large crowds to Phuket each year (story here).
The Phuket City Municipality has announced the following schedule of events for festival-goers:
Street processions:
Oct 2: Choor Su Gong Naka Shrine
Oct 3: Sapam Shrine, Bang Ku Shrine
Oct 4: Samkong Shrine
Oct 5: Ban Tha Rue Shrine, Jeng Ong Shrine
Oct 6: Bang Neow Shrine
Oct 7: Jui Tui Shrine
Oct 8: Kathu Shrine, Yokkekeng Shrine
Oct 9: Sui Boon Tong Shrine
Fire-walking:
Oct 6:
8:00pm: Jeng Ong Shrine, Jui Tui Shrine, Ban Tha Rua Shrine, Sapam Shrine, Yokkekeng Shrine
9:00pm: Tae Gun Shrine, Hai Yian Geng Shrine
Oct 7:
8:45pm: Tai Houd Tong
9:00pm: Bu Seng Tong
Oct 8:
2:00pm: Ban Don
8:00pm: Bang Niao, Pasak, Samkong, Ton Sai Waterfall, Ban Muang Mai, Cherng Talay, Chalong
Oct 9:
3:00pm: Kathu Shrine
7:30pm: BangKu Shrine
Bladed ladder climbing
Oct 7: Samkong and Bang Niao shrines
"On the last day of the festival, all participating shrines will stage street processions to Saphan Hin between 6 pm to midnight to bid the gods a 'grand farewell' before they proceed heavenward," says Phuket City Mayor Somjai Suwansupana.
A special prayer ceremony will also be held on October 2 at Saphan Hin for the good fortune of His Majesty King Bhumibol Adulyadej.
Ten rules for the vegetarian festival:
1. Maintain personal cleanliness
2. Use separate, clean kitchen utensils and do not share with others not participating
3. Wear white
4. Maintain polite behavior
5. Abstain from eating meat or other animal-based products
6. Abstain from sexual activities
7. Abstain from consuming alcohol
8. People in mourning should not take part
9. Pregnant women must refrain from watching festival rituals
10. Menstruating women should not attend festival rituals.
— Sukawin Tanthavanich
UPDATE: Search for Filipinos lost off Freedom Beach, Phuket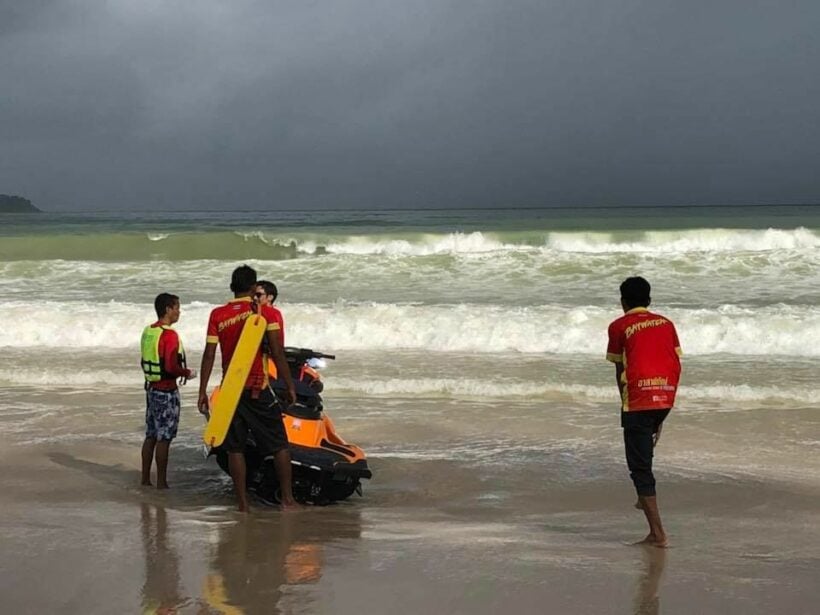 PHOTO: siangtai.com
Officials are still trying to push on with a search for two Filipino tourists who were washed out to sea by waves at Freedom Beach in Phuket last night around 5pm. With nearly 24 hours having passed since the pair's disappearances grave fears are now held for their survival.
Conditions have been quite rough and squally for most of Thursday. Freedom beach is also bordered with rocky cliffs making searching difficult north or south of the shores of the beach.
12 Filipino tourists were visiting the Beach, between Patong and Karon on the island's west coast, and were playing in the shallows despite quite strong winds and big waves.
Lifeguards from the nearby Patong Beach and rescuers from the Kusoldham Phuket Rescue Foundation rushed to search for the two but the search had to be called off due to the failing light and the waves up to 2 metres.
Patong Bay Watch volunteers resumed the search this morning in two boats. There has so far been no sighting of the two missing Filipinos.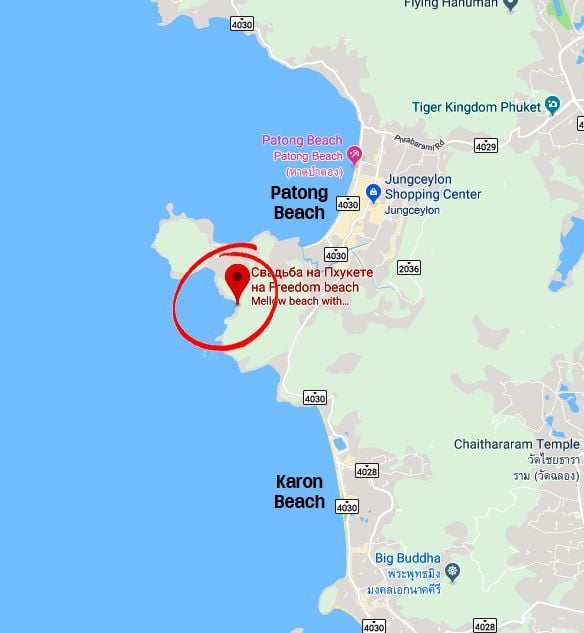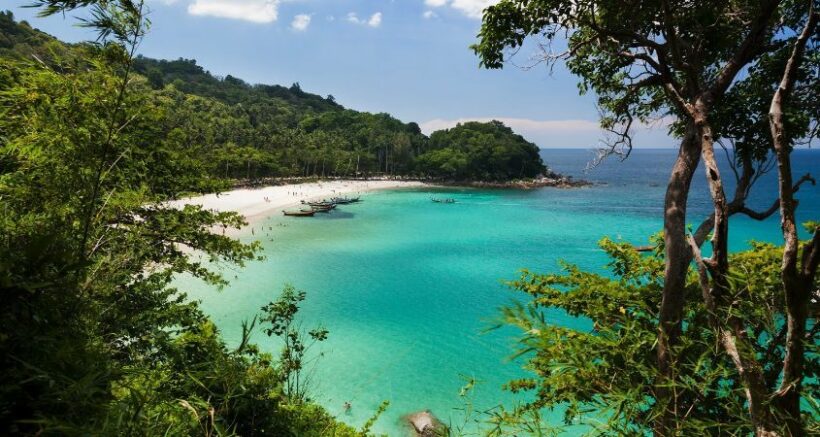 Freedom Beach in much better weather
Fire destroys 12 shops in Patong market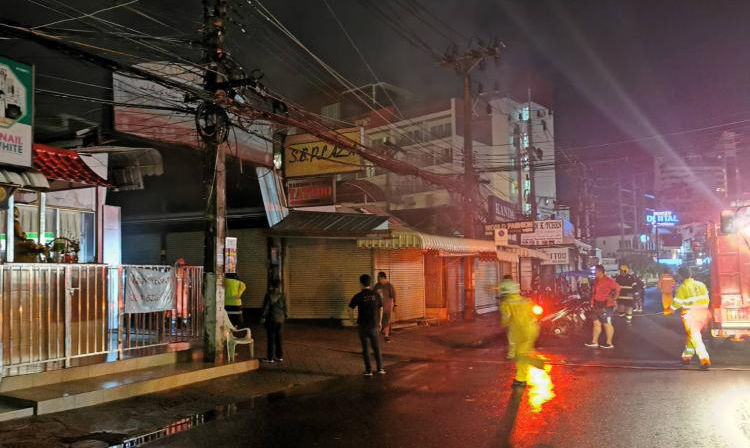 PHOTOS: Siam Rath
A fire at a market in Patong early this morning has caused damages estimated at 1 billion baht in value. Five fire trucks raced to the scene at the SB Plaza on Rat-U-Thit road at about 2am. It took firefighters an hour to bring the fire under control.
12 shops were destroyed. No one was injured in the blaze.
At this stage police speculate that the fire was caused by an electrical short-circuit. It was raining sporadically last night.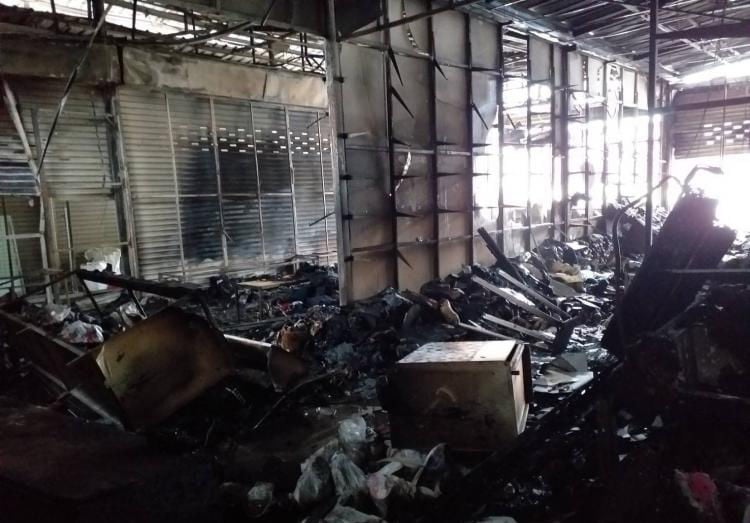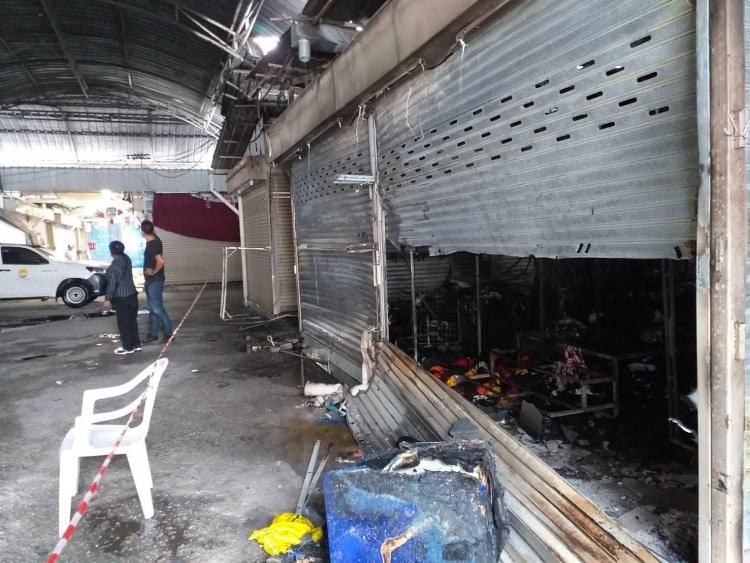 TMD issues a new weather warning for tropical storm Danas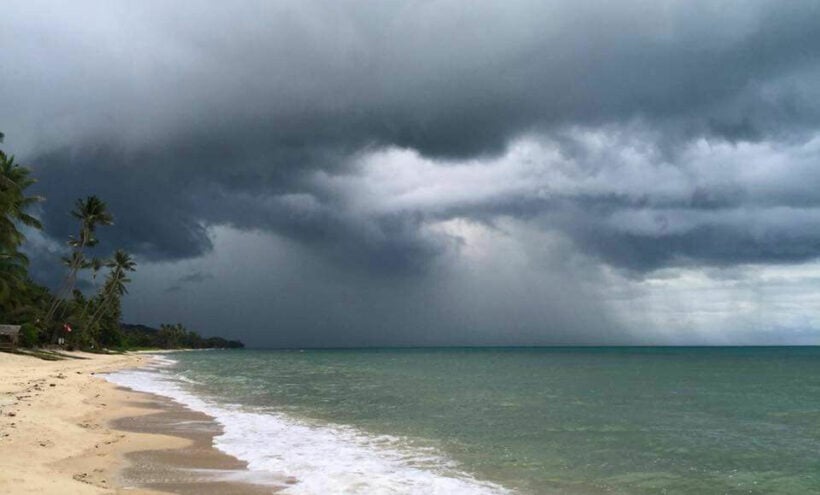 The Thai Meteorological Department has issued another warning about tropical storm Danas since saying it's on the move, from the Philippines' Luzon, north and north-eastward into the East China Sea. The storm appears headed for Taiwan and likely to dump plenty of heavy rain on the way.
The storm is 'sucking' in moisture from the Indian Ocean across southern Thailand, causing additional rain in the southern and central provinces.
The influence of DANAS will intensify the monsoon across the Andaman Sea and the Gulf of Thailand on July 18 and 19 brining outbreaks of heavy rain to the South, the East and the lower Central regions of Thailand.
"People should beware of flash floods and water runoff, according to the warning."
TMD advises that all ships proceed with caution, and small boats remain ashore.
Possible isolated heavy rains are forecast for…
July 18
Kanchanaburi, Ratchaburi, Lop Buri and Saraburi, Sa Kaeo, Chon Buri, Rayong, Chanthaburi and Trat, Chumphon, Surat Thani, Nakhon Si Thammarat, Phatthalung, Songkhla, Pattani, Yala and Narathiwat, Ranong, Phang Nga, Phuket, Krabi, Trang and Satun.
July 19
Kanchanaburi, Ratchaburi, Lop Buri and Saraburi, Rayong, Chanthaburi and Trat, Phetchaburi, Prachuap Khiri Khan, Chumphon, Surat Thani, Nakhon Si Thammarat, Phatthalung and Songkhla, Ranong, Phang Nga, Phuket, Krabi, Trang and Satun.