Phuket Immigration chief dodges long queue queries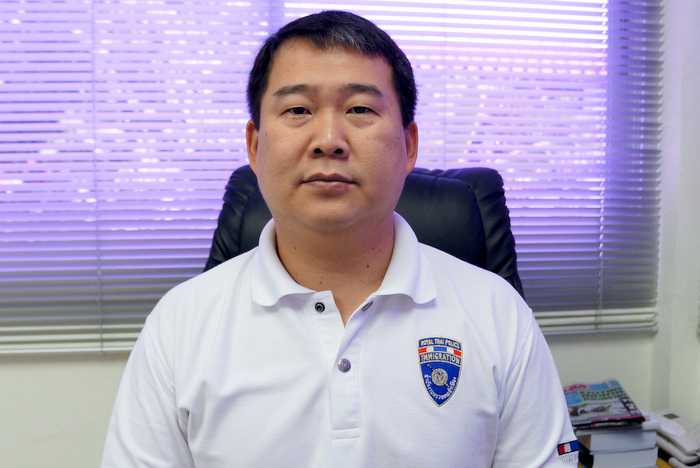 PHUKET: The Phuket Immigration chief has avoided answering questions regarding complaints from foreigners about slow service and long queues spilling out of the office in Phuket Town, with some foreigners having to return over several days in order for their applications to be processed.
One foreigner reported to the Phuket Gazette that he arrived at the office in Phuket Town at 9am on October 29 only to be told that to come back that afternoon.
"I was told to come back after lunch, at about 12:55pm, otherwise I would not get a number for the afternoon session," he wrote.
"Thinking I was clever, I returned to immigration at 12:30pm. By then the queue was already down to the bottom of the stairs outside the building. At 12:55pm one of the immigration volunteer foreigners came out with 30 numbers to give out to long-stay visa applicants.
"There was a scramble for the numbered cards. I managed to get the last one by demanding, 'Give it to me!'
"The volunteer looked a bit sheepish and retreated into the office. For what it was worth, he might as well have scattered the 30 numbered cards that ensured you would be processed, like so many breadcrumbs."
One elderly man who had been queuing since 9am just to get his passport given back to him with the appropriate visa finally received it at about 3:25pm, wrote the foreigner.
"I think he did anyway. I was the last and waited from 1pm until 3:25pm to be seen. The official mumbled something about finding my old passport record and told me to come back tomorrow to have the passport processed," reported the expat, a Brit.
"It is chaos every day. I asked one of the volunteers what had caused this farce and he replied that the number of applicants had increased."
When asked about the issue, Col Sunchai Chokkajaykij, chief of the office, only replied that the visitor lobby is currently undergoing renovations.
"The work will be finished within two weeks," he told the Gazette.
Col Sunchai did not comment when asked about the lack of officers on duty at the office, and did not provide any other explanation for the long queues.
He also declined to explain what would happen if a foreigner overstayed his or her visa because of the delay in passport processing.
The reports of exhaustive waits at the immigration office in Phuket Town come as Col Sunchai faces increasing pressure to explain to Phuket Governor Nisit Jansomwong why a foreigner filed a formal complaint about immigration officers at the Patong branch extorting cash payments from foreigners for services that should be free.
If the explanation fails to demystify the incident, the governor said he would launch an investigation (story here).
Governor Nisit earlier this week confirmed that Col Sunchai had until today to file his report (story here).
"I am not expecting any particular answer. However, I want to be told what is going on, and what the problems are. I will listen to everyone, both government officers and private individuals," he said.
"I would like to see more officers being sincere. Whether these allegations turn out to be true or false, this kind of news spreading is not good for the image of government officials."
Keep in contact with The Thaiger by following our
Facebook page
.
Transport Company interprovincial bus services to the South remain suspended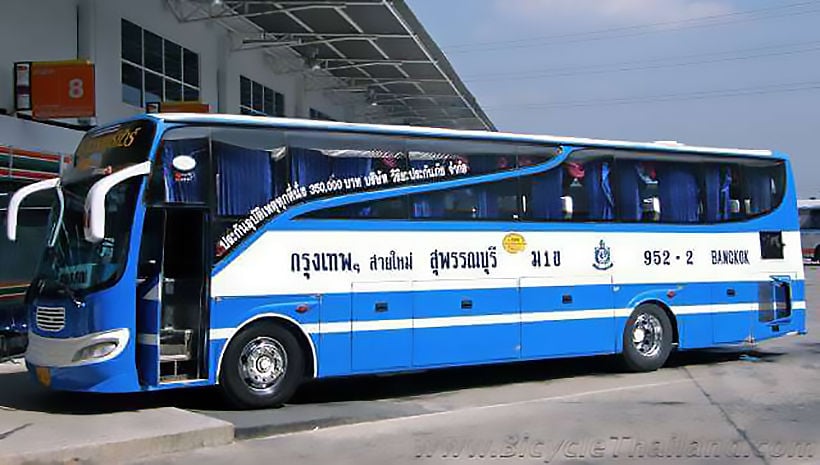 Transport Company, Thailand's interprovincial bus company, announced this week that it is continuing its suspension of all services to the southern provinces as the country will be under the state of emergency until June 30.
It did not say when services will resume. The company was expected to resume services from Bangkok to Koh Samui, Phuket and Trang from June 1.
The Cabinet decided on Tuesday to extend state of emergency in line with measures to control the spread of Covid-19.
Transport Company announced in April, when the national curfew came into force, that services on routes longer than 300 kilometres would remain halted nationwide until further notice.
Services on routes under 300km operated by minibuses are still allowed, from 5am-4pm, and parcel services can operate from 5am-8:30pm.
The decision is in line with the decision of the Centre for Covid-19 Situation Administration to maintain the night curfew, from 11pm-3am, and discourage travel between provinces to restrict the spread of the virus.
SOURCE: Nation Thailand
Keep in contact with The Thaiger by following our
Facebook page
.
Chiang Rai quarantines 26 returnees from Phuket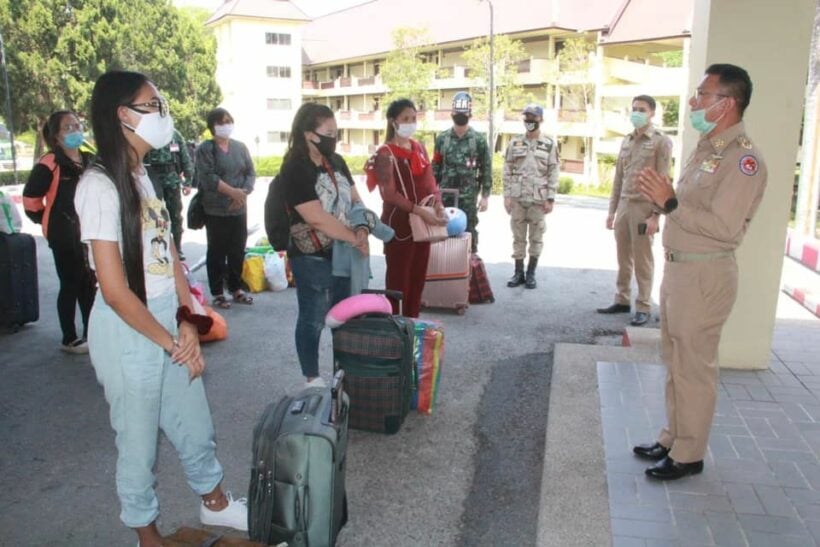 26 returnees from Phuket back to Chiang Rai arrived home on 2 passenger coaches today and were immediately placed in 14 day quarantine. The 26 arrived at the Wiang Indra Riverside Resort in Chiang Rai province (by the way, it looks VERY nice!).
The Deputy provincial governor of Chiang Rai welcomed them and asked them to adhere to the precautionary measures set by the health department. Thorough screening was reportedly conducted by Chiang Rai health officials and they were also reminded to eat only well cooked food, use a personal serving spoon when eating, wash their hands regularly, practice social distancing and most importantly wear face masks at all times.
Meanwhile a group of 400 Thais returnees from foreign countries were placed in state quarantine facilities in Chonburi province yesterday. 7 hotels in Pattaya City have been designated state quarantine facilities. The hotels have been approved by the health department for Thais returning from abroad. Around 2,000 returnees are now being quarantined there. Yesterday's 400 returnees, that had been stranded in Italy, Malaysia, Japan and Taiwan, arrived at Suvarnabhumi Airport before travelling to the quarantine facilities in Chon Buri.
Health officials today reported 11 returnees from overseas tested positive for Covid-19. The 11, 5 of them masseurs, raised Thailand's total cases to 3,065 since the outbreak began.
"We can say that there are no new locally infected Covid-19 cases as far as official reports are concerned. Even more, all the new cases reported daily were infected in other countries."
Of the 3,065 accumulated cases, 2,945 (96%) have recovered, with 14 more patients released over the previous 24 hours. Just 63 patients remained in hospital. The death toll remains at 57.
SOURCE: Chiang Rai Times
Keep in contact with The Thaiger by following our
Facebook page
.
Mayor's statement sparks hope Chonburi beaches may reopen soon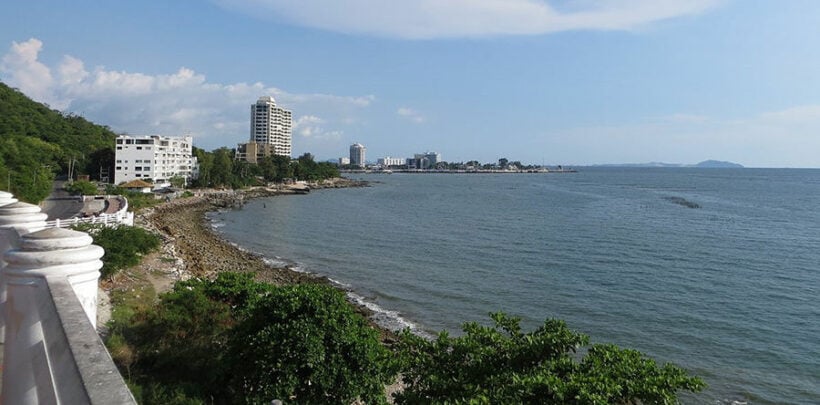 A Facebook post from the mayor of Saen Suk, home to the renowned Bangsaen beach, says beaches "may" reopen from June 1. (Before you ask, there is currently no official information on when Bangsaen, Pattaya or Phuket's beaches may actually reopen.)
Beaches in the eastern province of Chonburi were closed nearly two months ago as authorities enacted strict lockdown measures to control the spread of the Covid-19 virus. Chonburi has now had no new reported cases of the virus for more than 30 days and residents are getting antsy over the ongoing beach closures.
Authorities continue to state that the closures are to prevent unlawful gatherings and the risk of people travelling from nearby provinces, such as Bangkok, thereby causing a second wave of infections. Bangkok has the highest number of Covid-19 cases in the country. Despite this, local expats and Thais are demanding that Chonburi's beaches be reopened, particularly in light of this happening in other resort areas such as Hua Hin.
The Pattaya News reports that Bangsaen beach reopening does not necessarily mean Pattaya's beaches could also reopen as that decision lies with Pattaya's civic officials. Despite Pattaya not having any new reported cases of the virus for over 40 days now, Pattaya City Hall authorities remain concerned about mass gatherings, the consumption of alcohol and the risk that social distancing measures would not be adhered to were they to reopen the city's beaches.
SOURCE: The Pattaya News
Keep in contact with The Thaiger by following our
Facebook page
.